Paychex Flex HR Software Review 2023
Paychex Flex human resources (HR) software provides all of the tools to manage people across your company.
Paychex Flex can handle businesses' payroll, benefits administration, hiring, onboarding, and time and attendance needs.
Businesses of any size can choose from three Paychex Flex plans.
This review is for business owners who are considering Paychex Flex for their HR software needs.
Paychex Flex is popular HR software that can help nearly all businesses, from startups to large enterprises, with a variety of human resources functions. Paychex Flex is especially well suited for distributed workforces, with ample solutions to meet the needs of companies with remote employees. The time-saving platform automatically calculates, pays and files your state and federal payroll taxes, as well as most local payroll taxes. The platform makes it easy for remote employers to comply with wage and hour regulations in every city where they have employees. Mid- and top-tier plans also provide remote employees with a range of self-service capabilities, which are available through a user-friendly mobile app. 

Paychex Flex HR Software 2023
The Verdict
Paychex is great for businesses with remote teams looking for an all-in-one solution with desktop and mobile access to payroll, benefits, and HR compliance.
Paychex Flex Editor's Score: 94/100
| | |
| --- | --- |
| Features | 95/100 |
| Pricing | 90/100 |
| User interface | 90/100 |
| Integrations | 100/100 |
| Customer support | 95/100 |
Why Paychex Flex Is the Best HR Software for Remote Teams
Of the HR software providers we reviewed, Paychex Flex offered some of the most remote-friendly features, including paperless onboarding, e-learning courses for remote training, a user-friendly mobile app, and strong employee self-service features. Paychex Flex also automatically calculates payroll taxes for each employee based on their location, making it easier for employers to run payroll for remote employees distributed across different states. The regulatory tools are helpful for employers that must juggle compliance requirements across different cities and states.
The platform also offers excellent employee self-service tools on both the web platform and the mobile app. We got to test some of these self-service tools in the Paychex interactive product tour and were pleased by how easy they were to use. Remote employees don't have the benefit of hands-on, in-person support to walk them through new HR systems or processes, so it's really important for remote employees to have access to user-friendly self-service tools and platform training resources. We also found the tutorial content very easy to follow when we were learning how to use these tools proficiently.
Pros
Paychex offers compliance, onboarding and payroll features that are well suited for organizations with remote staff.
The employee self-service features are very easy to use on both the mobile app and the web platform.
Paychex includes tutorial content that helps new users get up to speed quickly.
Cons
Paychex runs primarily on a custom pricing model, so you have to speak to a sales rep to get a quote.
There is no free trial. If you want to test HR software before committing to it, see our Zenefits review or BambooHR review to learn more about software platforms that offer free trials.
Paychex Flex has 680,000 customers, making it one of the most widely used HR software platforms.
Usability
Paychex offers a relatively simple user interface. If you're transitioning from a spreadsheet or an accounting-oriented provider such as QuickBooks, you may feel right at home with the classic look and feel. But if you're used to newer solutions, like Zenefits and Rippling, Paychex may feel slightly outdated. 
That said, we like that the Paychex dashboard provides a clear overview giving you instant access to your current and most recent payroll, as well as the total cash required for your upcoming payday deadline. Other areas, like the hiring tool, let you publish new job openings on career sites and social media pages. Once your company receives applications, the tool also makes it easy to objectively compare candidates with interactive analytics.
Paychex users have the option to run payroll from any computer or handheld device. The mobile-friendly software also allows administrators to import data, edit individual checks, review financial information and access valuable reports in multiple formats. With many businesses across the country relying on a fully or partially remote workforce, the ability to access information and accomplish tasks from anywhere makes Paychex an attractive service.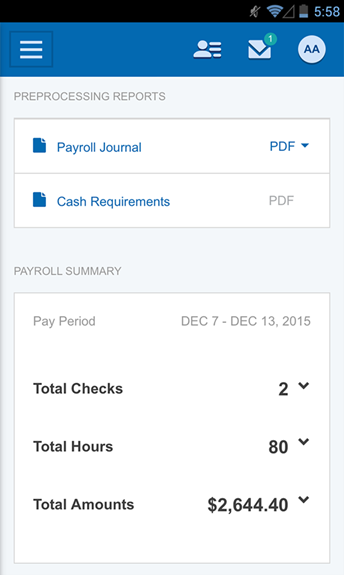 Users can access and run payroll reporting on their mobile devices with Paychex Flex's Android and iOS apps. Credit: Paychex Flex (via Google Play)
Employees can use Touch ID and/or Face ID to access their pay stubs, W-2s, 401(k) plans, balances and health-related benefits from the mobile app. Administrators can also access a variety of features in the mobile app, including payroll processing tools and HR reporting. Administrators can view reports of labor costs, turnover and current hiring metrics conveniently from their smartphone. We found this feature superior to those of some competitors, whose reporting tools were not as mobile-friendly.
Paychex Flex Features
| | |
| --- | --- |
| Pay and deductions | Auto-calculate employee pay and deductions for health insurance and garnishments. |
| Payroll tax | Easily manage and submit all of your payroll taxes and year-end W-2 and 1099 filings. |
| Integrations | Sync your payroll data with your existing accounting software programs, such as QuickBooks and Sage. |
| Onboarding | Use digital onboarding tools for new hires, including I-9, withholdings and banking forms. |
| HR administration | Track and store performance reviews, training tools and employee documents. |
| Hiring | Recruit and verify an applicant's identity, criminal activity, education and professional licenses. |
Pay and Deductions
Paychex simplifies the process of running payroll and reduces the risk of costly mistakes. The intuitive software automatically calculates the wages for each employee based on their location, pay rate and hours worked. The location-based calculations are helpful for managing payroll for remote staff who may have different minimum-wage laws and deductions for state-specific programs, like state disability. The system can also reconcile one-time bonuses, commissions and recurring wage garnishments whenever applicable.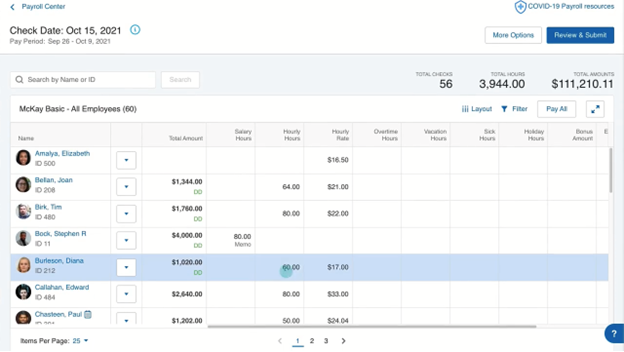 Paychex's payroll tools allow employers to review upcoming payroll reports, individual paycheck details and the total cash amount needed for each payroll cycle. Credit: Paychex
Payroll Tax
Staying up to date with local, state and federal payroll taxes is another potentially troublesome area for businesses, especially remote businesses that have employees spread across many regions. Paychex calculates, files and pays all of your payroll taxes on your behalf. Additionally, the company can file all of your W-2 or 1099 forms accurately and on time. If there are mistakes, Paychex takes care of any tax penalties you may incur.
Integrations
The Flex Select and Flex Enterprise plans offer the ability to securely link your company's payroll data to many accounting software programs, including those in our QuickBooks review and Xero review. Other integrations allow you to share data between Paychex Flex and dozens of your existing HR, point-of-sale, productivity and other third-party tools. Paychex Flex offers more integration options than several of the competing HR software vendors we reviewed.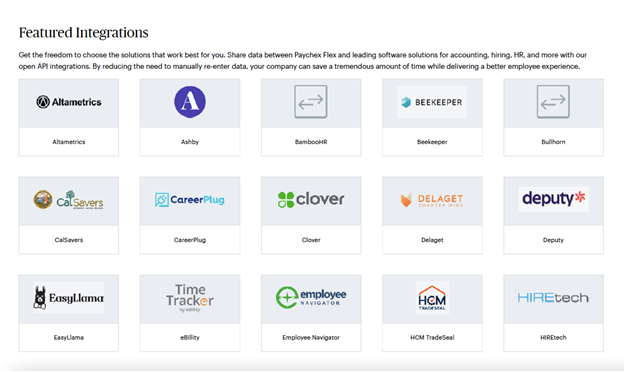 Paychex Flex offers a number of valuable integration options. Credit: Paychex
Onboarding
You can eliminate new-hire paperwork and provide your new team members with a positive user experience. Paychex Flex provides easy-to-complete digital forms, new-hire checklists and automated form collection, offering a completely paperless experience and the confidence of E-Verify solutions. The company offers tools for a fully paperless onboarding experience, which businesses will find useful when onboarding remote employees. 
On the employee end, the onboarding process is clear and relatively efficient. The paperless experience is great for remote employees, as they don't have to worry about printing or scanning anything. Employees can even access and fill out their onboarding materials from a smartphone.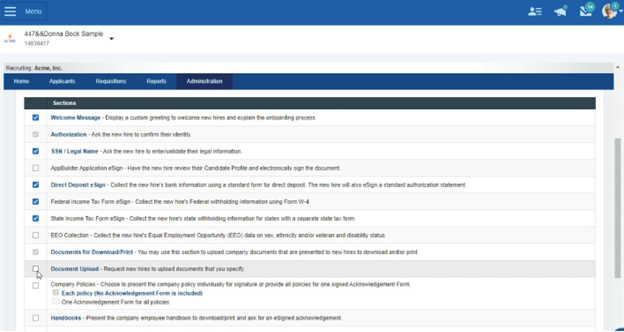 Paychex offers an onboarding checklist tool that simplifies the process for employees and the HR team. Credit: Paychex
HR Administration
The optional professional employer organization (PEO) platform offers services from highly experienced HR professionals who can proactively address key areas of risk and guide you through Occupational Safety and Health Administration regulations, state unemployment insurance administration, payroll processing and health benefits enrollment. Businesses that use this add-on service can consolidate their buying power for benefits that are normally available only to much larger organizations.
Hiring
Paychex's optional hiring integration helps companies recruit, screen and hire applicants from one simple dashboard. Paychex also integrates with a variety of job sites, applicant tracking systems and other hiring tools. Optional services, such as background checks and drug testing, can save you time as you screen candidates. The long list of talent acquisition tools can assist your HR administrators in verifying candidates' qualifications, reducing employee turnover, and minimizing potential claims of poor or illegal hiring practices.
Paychex Costs
Paychex offers three subscription options designed to fit the needs of small, midsize or enterprise-level businesses. The entry-level pricing, which starts at $39 per month plus $5 per person, is fairly transparent. For the Flex Select and Flex Enterprise plans, however, you will need to contact Paychex to get a quote.
Add-ons for accounting software integration, time tracking and attendance, and additional employee pay options — including paper checks, check signing and a check logo service — are available for an extra fee. Here is more information about each plan:
Paychex Flex Essentials
Pricing: Base price of $39 per month, plus $5 per person per month
Standout features: Online payroll, payroll tax administration, new-hire reporting, general ledger report, standard analysis and reporting, direct deposit and/or pay cards, automatic W-2s and 1099s, and U.S.-based customer service.
Paychex Flex Select
Pricing: By custom quote only
Standout features: Mobile app functionality, integrations with many third-party tools, $1,000 in prepaid digital marketing services, dedicated payroll specialists, employee financial wellness tools, and 24/7 employment income verification services.
Paychex Flex Enterprise
Pricing: By custom quote only
Standout features: Accounting software integration, workers' compensation reports and payment services, state unemployment insurance services, custom analytics and reporting, garnishment payment services, onboarding essentials and employee screening.
In addition to these three standard plans, Paychex offers custom solutions based on your business's size. These services are designed to help you comply with various regulations and stay in control of your HR infrastructure.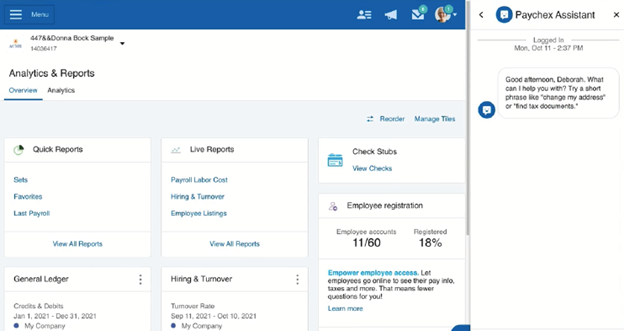 Paychex Flex offers a wide range of reporting and analytics tracking tools presented in a user-friendly dashboard. There is also an interactive chat assistant to help support administrators and employees. Credit: Paychex
Paychex Flex Time and Attendance
Paychex offers two timekeeping plans for small businesses looking for the best time and attendance tools, which can be purchased separately or added to the Paychex Flex platform. The solutions fully integrate with Paychex Flex and have several time clock options. We were impressed with both plans' employee self-service features and geotracking capabilities, especially since some competitors lock these tools behind more costly plan tiers.
Paychex Flex Time and Attendance Pricing
As noted with other Paychex Flex subscriptions, Paychex doesn't provide pricing information for all plans online. Instead, you must contact the company for a custom quote. However, the information provided by a Paychex representative showed that the costs are in line with other time and attendance solutions like When I Work and QuickBooks Time. The price drops further if you bundle the time and attendance solutions with other Paychex tools. 
Here are the three time and attendance service plans, with pricing provided for 22 or 23 employees:
Paychex Flex Time Essentials: For $59 per month or roughly $2.57 per user, Paychex provides self-service tools and online timesheets, and time clock options include web-based, mobile and kiosk apps. The plan offers time card approval functionality, a visual scheduler, custom overtime rules, job costing and geofencing.
Paychex Flex Time: For $99 per month or about $4.30 per user, Paychex offers additional time clock methods like biometric iris and fingerscan and interactive voice response (IVR). On top of all features from the Essentials plan, this plan adds shift swapping, schedule templates, additional alerts and messaging tools, leave management, mileage tracker, and real-time analytics.
Time-off management: For $29 per month or roughly $1.26 per user, Paychex gives salaried workers self-service tools for basic timesheet management as well as leave accrual, tracking and request features. 
Pricing information is only an estimate. Request a quote to determine your actual costs and fees. 
Time Tracking
Paychex provides Android and iOS mobile apps for clocking in and out regardless of the subscription. But the system also offers web-based time clocks and a kiosk app that you can use with your own tablet. Like TimeClock Plus, Paychex has physical time clocks, including a contact-free iris scanner. Alternatively, users can call in using an IVR service.
Administrators and managers can view employee statuses, including who is logged in or on break, through the dashboard. It also alerts business leaders to potential issues, like an absent employee or missing timesheet.
Employee Scheduling
Paychex's scheduling capabilities let employers create templates and duplicate shifts, which is similar to competitor products. Employees can connect Paychex to their preferred online calendar and view scheduled shifts within that program. Or they can check their schedule on mobile apps or any time clock device. We liked how workers can choose to receive scheduling alerts via email, text or smartphone notification. 
Leave Management
Along with time tracking, employees and supervisors can view and manage PTO accruals and time-off requests from a smartphone, computer or time clock device. On the administrator dashboard, leaders can view all pending and approved requests on a calendar and see a list of all pending requests requiring action. We appreciate the ability to block out dates, which can help companies during peak seasons.
Geotechnology
Not all time and attendance tools offer GPS tracking and geofencing. But Paychex builds these capabilities into both time tracking plans. When enabled, all mobile logins show a pin icon, and employers can click it to see where the employee clocked in based on GPS or geofencing data. Paychex also uses geotechnology to automatically record mileage, making Paychex an excellent solution for expense tracking.
Time and Attendance Reporting 
Paychex provides on-demand reports and a real-time dashboard. Both solutions increase visibility into your labor costs and key performance indicators (KPIs). Employers can compare scheduled and actual hours between weeks and monitor timesheets for accuracy. With the ability to schedule reports, managers can see the metrics that matter most without repeating the same steps weekly. 
Paychex Setup
You can expect to be up and running with Paychex in as little as 48 hours from the time you sign up for one of its plans. Paychex customer service agents will work with your team to collect all of the required information to set up your year-to-date payroll data, including your employee and business information. Depending on which payroll service provider you are switching from, Paychex may even be able to assist you in transferring old data from your previous system.
Then, an implementation specialist will set up your account. They will audit back to the beginning of the year and balance your year-to-date payroll data, and they will stay with you for your first few payroll cycles. Then, you will be assigned a payroll specialist who will be your main contact going forward.
Paychex Flex Customer Service
Administrators and employees can reach a member of Paychex's U.S.-based customer service team by phone, chat or an online form 24/7. Many competitors offer support only during an 8-to-10-hour window each day, so 24/7 support is a major perk. It's particularly helpful for remote teams, as employees may be spread out across different time zones or may work more flexible schedules. With 24/7 support, your employees will always be able to reach someone during their work hours.
Flex Select and Flex Enterprise customers are assigned a highly trained payroll specialist who serves as the key point of contact for help with tax or payroll needs. This one-on-one dedicated support can be extremely helpful for employers managing remote teams, as it can be tricky to navigate the different payroll and tax requirements in each state where you have work-from-home staff. Paychex also maintains a self-guided library of useful how-to guides and tips to improve your HR department's operations.
Paychex Drawbacks
One potential drawback of Paychex is that it is a sales-focused organization that does not provide much transparency about pricing for most of its products and services. That means you must request pricing information, and you may need to negotiate. Other providers in this space are more forthcoming with the costs of their services, and that transparency gives us more confidence when shopping and comparing service providers. 
For the Paychex Flex Select and Enterprise plans, your total monthly cost is based on how often you run payroll. If you employ both hourly workers and salaried staff, your costs can add up quickly. For example, if you run payroll for your salaried staff biweekly, pay your hourly workers on the same schedule and run a one-time bonus payroll for your top salespeople, you'll incur costs for five separate payroll runs in one month. If you need to correct any errors along the way, that also counts as an additional payroll run. 
We recommend that you tell the Paychex sales agent how often you typically run payroll so you get an accurate quote and aren't hit with surprise fees after you sign up for the service. See our Gusto review for an example of transparent pricing with unlimited payroll runs.
Methodology
We conducted comprehensive research and analyzed leading HR systems to identify the best HR software solutions on the market. We watched Paychex product videos and took the company's interactive product tour. When looking for the best HR software for remote teams specifically, we prioritized features such as the ability to automate local payroll taxes and compliance, a paperless onboarding experience, and strong employee self-service features.
Paychex FAQs
What HR services are included in Paychex Flex?
Paychex Flex's features include payroll, recruiting, employee onboarding, HR document management, HR reporting and benefits administration.
Does Paychex Flex offer payroll support?
Yes, payroll is included with Paychex Flex plans, including the entry-level Paychex Flex Essentials plan. Higher-level plans include access to a dedicated payroll specialist for support as well.
Can Paychex Flex help with 1099s?
Yes, if your business works with independent contractors, Paychex Flex can help you create 1099 tax forms at the end of the year. However, this is priced as an add-on service with all three Paychex Flex packages.
Is Paychex Flex free?
No, Paychex Flex does not currently offer a free plan. The company does not offer a free trial, either. However, you can sign up for a live demonstration of the software for no fee.
What is the difference between Paychex and Paychex Flex?
Paychex Flex is Paychex's all-in-one HR solution. The Paychex company also owns Paychex Oasis, a PEO service.
Is there an app for Paychex Flex?
Yes, Paychex offers a mobile app. Both administrators and employees can utilize this mobile app to access a variety of payroll and HR tools.
Overall Value
We recommend Paychex Flex for …
Large businesses with remote teams.
Small and midsize businesses that want help finding and hiring the best people for the job.
Any business that's looking for a simple, accounting-focused, all-in-one HR platform with desktop and mobile access to payroll, benefits and HR compliance.
We don't recommend Paychex Flex for …
Companies that value a more modern user experience when managing employee payroll, HR, time and attendance, health and benefits, and retirement services.
Business owners who appreciate transparent pricing and do not want to negotiate with a sales representative for standard service packages or add-on features.

Paychex Flex HR Software 2023
The Verdict
Paychex is great for businesses with remote teams looking for an all-in-one solution with desktop and mobile access to payroll, benefits, and HR compliance.

Kaylyn McKenna
Contributing Writer
Kaylyn McKenna is a freelance writer specializing in business, tech, and leadership. She received her MA in Industrial-Organizational Psychology from Touro University, and enjoys using her industrial psychology background to share management, HR, and organizational effectiveness tips with small business owners. She has covered topics related to business law, compliance, employee retention, company culture, and management strategies.