QuickBooks Time is our choice as the best time and attendance system for a mobile workforce because of the numerous ways employees can clock in and out. In addition, it has several geotracking tools that help you monitor where your on-the-go workers are.
Pros
Employees can clock in and out using the digital QuickBooks Time Kiosk, web dashboard or mobile app.
Geofencing tools remind staff to punch in or out when entering or leaving a job site.
The Project Activity Feed keeps mobile workers and managers connected by showing notes, new tasks and photos.
Cons
QuickBooks Time charges a flat monthly fee and a monthly per-user fee.
Phone and live chat support are only available Monday through Friday between 6 a.m. and 6 p.m. Pacific Time (PT).

QuickBooks Time supports shift-based and project-based scheduling, offering flexibility for diverse, mobile teams.
It offers clock-in and out options for remote, hybrid and on-premises workers.
Time and attendance systems with GPS capabilities make it easier to deploy field agents, track mileage expenses and billable hours, and verify locations. If these types of fleet management features appeal to you, consider our picks for the best GPS fleet management software next.
This review is for small business owners considering using QuickBooks Time as their time and attendance system.
Mobile workforces need flexible time and attendance solutions that help sales agents, field technicians and remote workers manage their time and schedules. Moreover, business leaders need to see where their workers are, update schedules or run reports from mobile devices. QuickBooks Time delivers on all accounts. We found it provides user-friendly mobile apps for iOS and Android devices. Users can also clock in through an onsite kiosk. Its key tools include GPS tracking and geofencing, making it an ideal time and attendance system for leaders overseeing remote or field teams.
QuickBooks Time Editor's Rating:
9.5 / 10
Cost

9/10

Features

9.6/10

Integrations

9.6/10

Usability

9.7/10

Customer service

9.5/10
Why QuickBooks Time Is Best for Mobile Workforces
Service-based organizations and field crews face unique challenges when monitoring employee time, attendance and location. QuickBooks Time has flexible punch-in and punch-out options, so workers can clock in and out whether they're at home, in the office or at a job site. Geofences and GPS tracking tools increase accountability and improve worker safety. In addition, we like that its geotechnology streamlines service technician deployment, helping administrators dispatch a nearby technician quickly.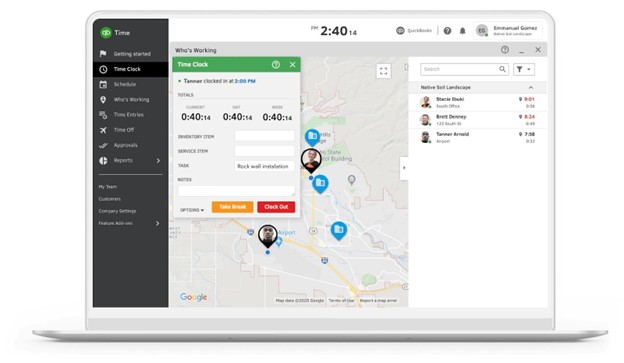 See who's working and where they're at from your QuickBooks Time dashboard. Source: QuickBooks Time
We especially liked that QuickBooks Time provides leaders with a snapshot of where every employee is at throughout the day and offers real-time project reports, allowing admins to view results by tasks, workers or jobs. It also has tools for optimizing your budget, including mileage trackers and the ability to measure billable and nonbillable time.
On the employee's end, the mobile apps show schedules and available paid time off (PTO). They can request PTO and receive alerts about schedule changes or new jobs. These features help mobile workforces stay informed and ensure payroll accuracy. However, we found that QuickBooks Time doesn't offer web and app usage tracking. Consider our TimeDoctor review to learn more about how this feature boosts hybrid and remote worker productivity.
QuickBooks Time customers save an average of 4 to 6 percent on payroll costs with automated time tracking.
Usability
QuickBooks Time is cloud-based software that you and your team can access via browser-based and mobile applications. We found the system relatively easy to navigate, with an interface similar to other QuickBooks products. Consequently, the learning curve is minimal for most administrators and employees.
Drag-and-drop scheduling tools work well for weekly schedules and last-minute changes. Managers can use geotechnology to add a new job, choose an employee nearby and send them a push notification. The mobile app lets remote teams punch in and out from any location, track time for projects or customers, view timesheets, and request time off.
QuickBooks Time also expands functionality by offering built-in mileage tracking and job costing tools. With these features and others, administrators can pull comprehensive reports with data and insights about time, attendance, schedules and budgets. We found that the software does have fewer integrations than When I Work or TimeClock Plus, but it connects with leading payroll solutions like Gusto and QuickBooks Online.
QuickBooks Time Features
QuickBooks Time has several features we looked for in the best time and attendance software that allow you to easily track and manage your mobile workforce. The tools let staff complete timekeeping and scheduling tasks from their mobile phone.
| | |
| --- | --- |
| Time reporting | Allow employees to clock in or out from mobile apps and transfer details to timesheets automatically. |
| PTO management | Set policy-based rules for PTO accrual and time off requests so staff can manage their leave from the app. |
| Employee scheduling | Use drag-and-drop tools to build schedules and instantly notify employees of changes or open shifts. |
| Geotechnology | Monitor locations of your mobile workforce to improve dispatching capabilities and client billing. |
| Job tracking | Create audit trails and track job progress with an in-app activity feed. |
Time Reporting
Accurate time reporting is vital when using time and attendance software, and most tools we reviewed offer onsite and mobile logins. Likewise, QuickBooks Time supports workplace flexibility, allowing users to punch in or out from a mobile app, web dashboard or on-premise kiosk. However, QuickBooks Time offers an additional advantage that we especially liked for field teams with its Crew functionality. With this feature, the crew leader can clock their entire team in and out as they move to job sites. OnTheClock is the only other provider we reviewed that has a group login option.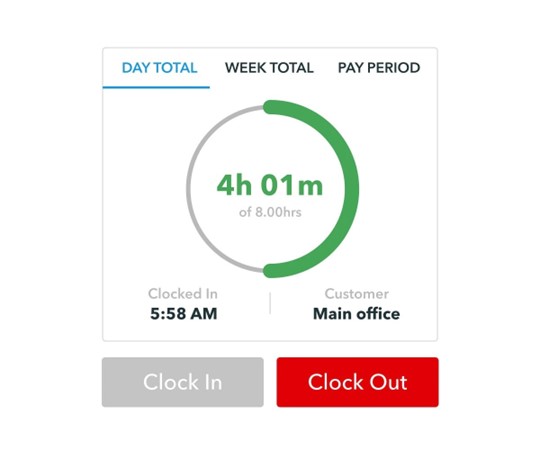 Employees can confirm their location before clocking in or out. Source: QuickBooks Time
We particularly liked that time data transfers to employee timesheets, giving individuals, account administrators and managers access to position-relevant information. With customizable alerts, QuickBooks Time can remind workers to clock in or out and notify supervisors when logins don't match the schedule.
PTO Management
Paid time off management tools aren't available with all time and attendance software. But QuickBooks Time lets you create custom PTO rules, including accrual settings. Mobile teams can use their smartphones to check PTO balances and request time off. With the request-and-approve workflows we tested, managers can authorize requests from the web dashboard and notify staff through text and email alerts. QuickBooks Time also has a bulk time off option for administrators, allowing them to create time-off entries for public holidays or company-wide closures.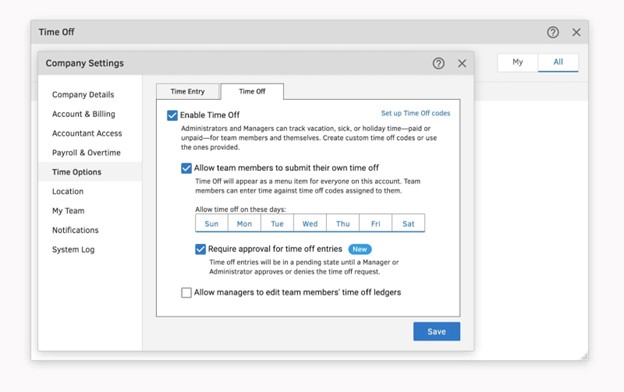 Configure the PTO tracking tool to reflect your company's time-off policies. Source: QuickBooks Time
Employee Scheduling
Unlike TimeClock Plus, every QuickBooks Time subscription includes employee scheduling capabilities, which can improve shift planning. You can build schedules by shift or job using drag-and-drop tools on your smartphone or computer. We also found it easy to save time by copying and editing a previous schedule.
The Who's Working? window shows managers which employees are available for urgent jobs. From there, managers can assign a technician to a task or customer and notify them of shift changes or additions, which we found effective for leading a dynamic project. Regardless of where your crew works, they can add work schedules to their favorite calendar tools like iCalendar, Google and Outlook.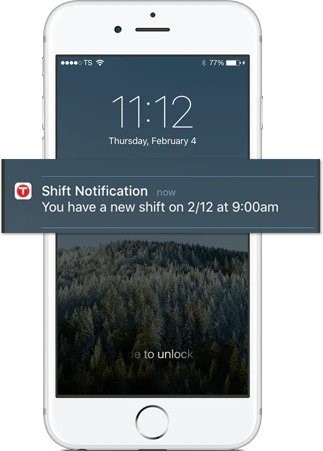 Alert workers to shift changes or additions through mobile notifications or email. Source: QuickBooks Time
Geotechnology
Several time and attendance platforms, including Clockify and When I Work, offer GPS capabilities when employees clock in or out. However, these programs don't track precise movement during shifts. QuickBooks Time, on the other hand, is able to monitor locations throughout your team's entire shift. We found this functionality lets dispatchers confirm a technician's location in real time and deploy them to nearby job sites quickly.
QuickBooks Time also has geofencing capabilities, which remind workers to punch in or out at job sites. Plus, the Elite plan comes with automatic GPS mileage tracking, a tool that few time-tracking tools offer. It tracks all mileage while your employees are on the clock and displays them on timesheets, mileage and payroll reports. We found these tools to be the most useful for mobile workforces out of any offered by time and attendance platforms in our review.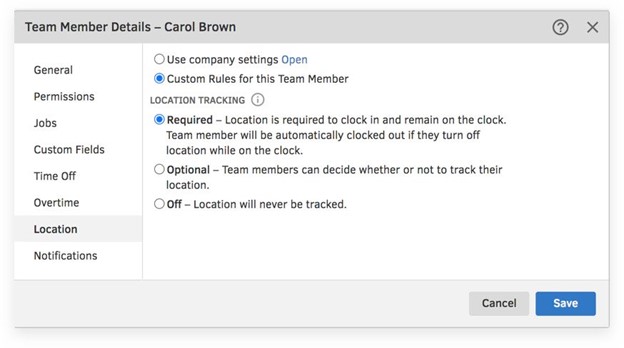 Customize geotracking settings to match job requirements. Source: QuickBooks Time
Job Tracking
Although QuickBooks Time offers fewer project management features than Clockify, it does help employees and managers monitor job schedules and task progress. Since it syncs with QuickBooks, you can import existing customers to your QuickBook Time program or create a new project and client.
Job or project-specific features include a chart comparing budgeted hours to actual hours worked and timesheet audit trails necessary for government contracts. QuickBooks Time doesn't offer in-app messaging, but the activity feed tracks all job-related details, including notes from employees and managers.
If you're looking for a time and attendance software that offers even more robust project management tools, consider our Clockify review.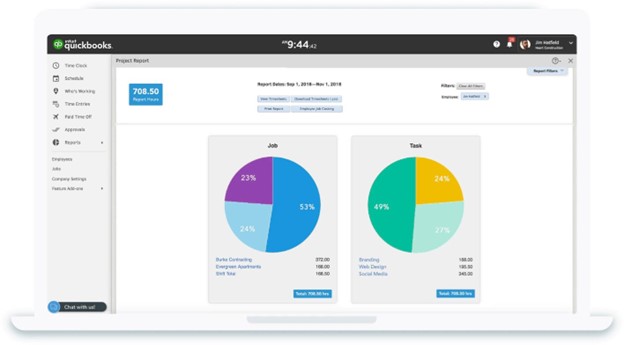 Real-time job costing tools monitor time and expenses for tasks, jobs and projects. Source: QuickBooks Time
QuickBooks Time Cost
QuickBooks Time has two service plans and offers a 30-day free trial, which is longer than most time and attendance software provides. The trial doesn't require a credit card and users can access support and training during the trial period. QuickBooks Time does cost more than competitors who offer similar features, such as Clockify and When I Work.
However, compared to those apps, QuickBooks Time provides more geotechnology features, and its scheduling tools work equally well for shift-based onsite teams, field technicians and work-from-home staff. We also like that it offers seamless integration with Intuit tools, making it a good choice for companies using QuickBooks as their accounting software or payroll processor.
QuickBooks Time offers discounts to companies with over 50 users, although it doesn't have deals for annual prepayment. All plans provide one administrator role, and QuickBooks Time charges additional fees to add more admins. While managers can track, edit and approve time, they don't have scheduling permissions. In this case, a scalable solution like TimeClock Plus may work better, as it allows three administrators per account.
Here's how the QuickBooks Time service plans differ:
Premium: The Premium version costs $20, plus $8 per employee per month. It includes mobile apps, GPS tracking, payroll integration, employee scheduling and multiple time clock options. Premium accounts can access real-time reports and time-off management tools.
Elite: The Elite plan costs $40 per month plus $10 per employee. It includes everything in the Premium plan and adds geofencing, timesheet signatures, project and mileage tracking, and project estimates vs. actual reports.
QuickBooks Time Setup
We tested QuickBooks Time's 30-day free trial and provides access to technical support with an expert to walk you through account setup. Alternatively, you can forgo the trial, sign up at a discounted rate, and receive a complimentary 60-minute guided setup call. During the call, we found that the agent helps configure your job codes and time-off rules and integrate existing payroll software.
After selecting your subscription and entering payment details, you can finish setting up your account. QuickBooks Time recommends integrating your app with third-party tools before proceeding. It provides guides for various payroll providers. From there, configure your company-wide settings, pay schedule, overtime rules and clock-in options.
You can also set up different time tracking features, such as location tracking and geofencing for mobile workers. We found these to be flexible, enabling a staff member to clock in from their mobile device at a job site and finish their day by punching out from your office kiosk. If your business bills customers for jobs and projects, you can configure these now so your employees can attach tracked time and expenses to a customer's account or project. After you complete the setup, invite your team or import them from your integrated payroll service.
QuickBooks Time Customer Service
Like other time and attendance services, QuickBooks Time has a vast knowledge base, video tutorials, on-demand webinars and a community forum. We liked that it also offers paid training programs. However, there's one caveat. Intuit has many products and services, and you may have to weed through search results to find answers applicable to QuickBooks Time.
The same goes for customer support. You may be transferred if your problem is associated with your QuickBooks accounting program or merchant account. With that said, the representatives are helpful and can guide you through nearly any issue. And, unlike When I Work, QuickBooks Time provides a toll-free number for phone support. You can also contact the company without leaving the mobile or desk apps. Customer support is available Monday through Friday, from 6 a.m. to 6 p.m. PT.
If a chat agent is not available, you can still send a message, and a representative will get back to you as soon as possible.
QuickBooks Time Drawbacks
QuickBooks Time generally costs more than the other time and attendance tools we reviewed. Unlike its competitors, QuickBooks Time requires a monthly subscription of $20 on top of $8 per-user fees. That said, it does offer more robust GPS and geofencing tools than other apps we tested.
QuickBooks Time also lacks in-app messaging and shift-swapping features, which make scheduling retail or restaurant shifts more challenging. Other software in our review, like When I Work, offered better shift coverage tools.
Methodology
After reviewing dozens of time and attendance tools, we identified the best solutions for small businesses. We attended live demonstrations, held Q&A sessions with company representatives, and  examined user reviews from customers of each vendor. We also test-drove the products ourselves and assessed them based on pricing, features, usability, integrations and customer support. For workforce mobility, we specifically checked for advanced geotracking and smartphone capabilities.
QuickBooks Time FAQ
No, QuickBooks Time doesn't offer free time and attendance tools. However, it provides a 30-day free trial , which is longer what than most competitors (such as Clockify and Paychex) offer.
No, QuickBooks Time doesn't track employee activity online. But it can monitor employee locations when GPS is enabled on mobile devices and QuickBooks Time software.
Yes, TSheets was renamed to QuickBooks Time in 2021. Although the name changed, QuickBooks Time has the same features and functionality.
Overall Value
We recommend QuickBooks Time for …
Businesses with mobile workforces, including sales teams, drivers and field technicians.
Employers wanting to track mileage and billable hours.
Companies with government contracts that need audit capabilities.
We don't recommend QuickBooks Time for …
Small teams with a small budget.
Companies looking for advanced plan and feature customization.