QuickBooks Online is a robust accounting software solution for businesses of all sizes. 
Freelancers and service-based businesses may prefer FreshBooks because of its time-tracking and invoicing tools. 
Both QuickBooks Online and FreshBooks have pricing tiers to fit business budgets of all sizes. 
This article is for small business owners evaluating accounting software that fits their organization's needs.
FreshBooks and QuickBooks Online are two popular internet-based accounting and bookkeeping tools for small businesses. Both have robust features and varied pricing tiers, but depending on your business's needs, one or the other may be a better choice for you. Here's a look at the features and pricing options for FreshBooks and QuickBooks Online so you can choose the best accounting software for your business.
Editor's note: Looking for the right accounting software for your business? Fill out the below questionnaire to have our vendor partners contact you about your needs.
FreshBooks and QuickBooks Online accommodate all types of accounting methods and offer 30-day free trials. Consider exploring both options before committing to one.
What is QuickBooks Online?
QuickBooks is an industry leader in accounting software. Developed nearly 40 years ago by Intuit, QuickBooks tailors its accounting software to small and midsize businesses, though it has enterprise-level tools as well.
The cloud-based QuickBooks Online (QBO) is designed for business owners and accountants. It's intuitive and offers a wide array of accounting features, including the following:
Invoices for clients and contractors
Organization of business expenses
Project time tracking time
Integration of credit card payments, automatic deposits and bank feeds
Simple financial reporting and financial statement reporting
Accounting reports, such as general ledger and bank reconciliation
Tax deduction maximization
Inventory management (in the Plus and Advanced plans)
Payroll management (as an add-on to any plan)
QuickBooks Online pricing and features
QuickBooks Online offers four pricing tiers with various features to suit the needs of many business types and sizes. Pricing specials and discounts are often available.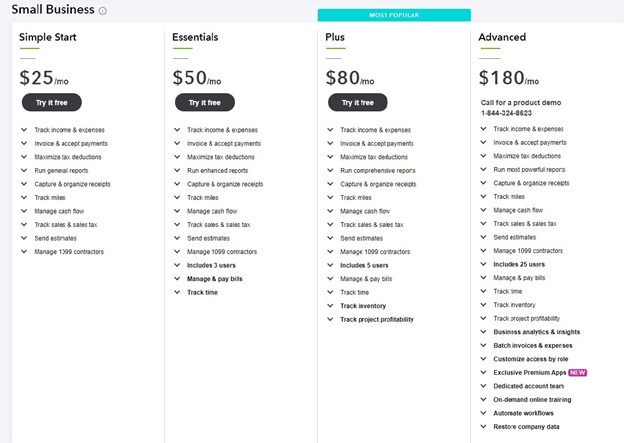 Simple Start: The QuickBooks Simple Start plan runs $25 per month and performs a plethora of accounting functions necessary for small business operations. Simple Start can manage income and expenses, generate reports, organize receipts, and perform general tax reporting and transactions. The main drawback is that this plan is limited to a single user.
Essentials: The QuickBooks Essentials plan is $50 per month and offers additional features and functionality, including time-tracking and bill-pay management. The Essentials plan allows up to three users. 
Plus: The QuickBooks Plus plan, at $80 per month, is the most popular option. It allows access for up to five users, and its features include inventory management and the ability to forecast and track a project's profitability. 
Advanced: The QuickBooks Advanced plan offers all the Plus plan's features along with more advanced functionality, including business analytics, premium apps, employee training, and the ability to batch invoices and expenses, which helps eliminate repetitive tasks. 
If you have employees, add QuickBooks Payroll to any available plan to make QBO a one-stop shop for your accounting essentials.
QuickBooks Online user ratings 
Here's a look at how users rate QBO for its features and pricing. QBO has an overall rating of 4.5 out of 5 stars. 
Excellent:
Accounting method
Hardware and software requirements
Overall features
Integrations and add-ons
Good:
Fair:
Pricing
Customer service and support
Reviews
QuickBooks Online users say these are product's biggest strengths:
Advanced invoicing
Cloud-based access
Multiple features
Ease of use
Nearly 700 integrations
Mobile apps
Tax support
Built-in lending
The same QBO users listed these as weaknesses:
High price
Only fair customer support
Unintuitive user experience at times
What is FreshBooks?
Created in 2003, FreshBooks is a QuickBooks alternative that offers small businesses an intuitive platform to manage their financial concerns. While FreshBooks isn't as big a name as QuickBooks, it's gained more than 24 million customers. 
Designed for business owners, FreshBooks offers many accounting features:
Invoicing for clients and contractors
Organization of expenses
Project time tracking
Time clock for employees
Communication function that allows employees to chat from anywhere
Integration of credit card payments and automatic deposits
Simple financial reports and financial statement reporting
Accounting reports, such as general ledger and bank reconciliation
Easy-to-use mobile app 
FreshBooks pricing and features 
FreshBooks offers four pricing tiers, including a custom tier for businesses with more complex needs. Note that you can also add team members to any of these plans for $10 per month per person. 
Lite: The FreshBooks Lite plan is $15 per month and features many of the functions a small business owner needs to manage their books. While the Lite plan helps track and organize expenses, receive payments and bank wires, and record revenues while generating reports, it's limited to five billable customers. If you're a freelancer or consultant with five or fewer clients, the Lite plan may be well-suited to your accounting needs. 
Plus: The FreshBooks Plus plan is its most popular at $30 per month. It greatly improves on the Lite plan's features, letting you run more advanced financial and accounting reports, giving your accountant more access to your records, and allowing up to 50 billable customers. 
Premium: The FreshBooks Premium plan is $55 per month. It lets you create invoices for an unlimited number of clients and includes additional advanced functionality, including an accounts payable feature and project profitability forecasting.  
Select: The FreshBooks Select plan cost is customized depending on your usage and the functions you need. This plan hides all FreshBooks logos from invoices, emails and other client communication channels. It includes more advanced credit card features, such as the ability to charge your clients' credit cards, receive subscription or recurring payments, and access lower credit card and automated clearinghouse fees. If you want another user to access your FreshBooks records via their own account, the Select plan is the way to go. 
If you have employees, note that Gusto Payroll integrates with FreshBooks and can be added to any of the above plans. Read our Gusto Payroll review for more information.
FreshBooks online user ratings
Here's a look at how users rate FreshBooks for its features and pricing. FreshBooks has an overall rating of 4 out of 5 stars.
Excellent:
Customer service and support
Hardware and software requirements
Reviews
Ease of use
Good:
Integrations and add-ons
Security
Fair:
Accounting method
Overall features
Poor:
FreshBooks users say these are the product's biggest strengths: 
Outstanding customer service
Well-designed user interface
Attractive, customizable invoice templates
Ease of use
Numerous integrations
Mobile apps
The same FreshBooks users listed these weaknesses:
High price
Limited number of users
Limited features
QuickBooks vs. FreshBooks: Which is best for your business?
Accounting software is an investment, as is the time spent learning to navigate the system, use and hide features, and train employees. 
While both QuickBooks and FreshBooks can help your business report, record, track and analyze its financial operations, ask yourself the following questions when choosing between QuickBooks Online and FreshBooks. 
Do you sell a product or provide a service?      
If your business sells a tangible product, QuickBooks Online is likely your better choice. QBO not only helps retailers manage inventory, but also syncs to popular payment platforms such as PayPal, Shopify and Square. It even has its own QuickBooks POS feature. 
If you provide an intangible service, as many freelancers do, FreshBooks may be your best bet. FreshBooks says many of its clients are self-employed as freelancers or consultants, and it has designed a user-friendly interface that's easy to use for even the least tech-savvy entrepreneurs. FreshBooks is a good choice for anyone who needs a safe, convenient way to record, store and report financial transactions. 
What is your business's size and growth potential?
If you have a small business or if your new business has growth potential, QuickBooks Online will likely serve you best. As your revenue and number of employees grow, the QuickBooks Online payroll option and other upgrades helps your accounting tool grow along with your organization. Small business owners say it's easy to upgrade QuickBooks Online's options to include more advanced features.
FreshBooks is best for sole proprietors, sometimes known as solopreneurs, who manage and run their business operations by themselves. Many solopreneurs are consultants and freelancers, and they tend to lean toward FreshBooks because of its time-tracking and project-tracking features. Additionally, its invoicing for time and projects is relatively easy. 
FreshBooks' invoicing features are intuitive, and the program's overall interface is straightforward. Read our in-depth FreshBooks review for more information.
Who needs access to your business's accounting records?
With the nearly four-decade longevity of QuickBooks and its increasing popularity, many tax preparers, accountants and bookkeepers are familiar with QuickBooks. QBO has various plans that range from one to 25 users, making it ideal for businesses with multiple users accessing or updating account records. 
Likewise, if you submit your accounting records to a certified public accountant (CPA) for tax purposes, your CPA probably trusts your QBO records. 
Choosing your accounting software
After answering the above questions, examining features and pricing options, and reading ratings and reviews, you should be able to choose the right accounting software for your business. 
There's a lot of overlap between FreshBooks and QuickBooks Online, as they perform similar functions. Choosing one or the other may come down to subtle differences and whether your business is a solo venture or growing enterprise. Both will help you uphold accounting standards and maintain meticulous accounting records for your business.