Mobile apps allow you to take parts of your life with you wherever you go, including your business. Accounting apps, in particular, help business owners keep tabs on company finances while away from the office and accomplish basic accounting tasks, such as capturing receipts for expense reports, creating and sending invoices and reconciling transactions all on a mobile device. 
The accounting features you can expect vary from app to app and, sometimes, the Android and iOS versions differ too. However, most are companion mobile apps that are included as part of a paid subscription for online accounting software, although there are stand-alone options as well. You'll have to weigh these factors as well as the pros and cons of using an app for accounting to begin with, before determining which tool is right for your business.
Best accounting apps for small businesses
Below, you'll find our top seven picks for the best small business accounting apps. All of these vendors have respectable products. It's just a matter of deciding which app best meets your needs and budget.
1. QuickBooks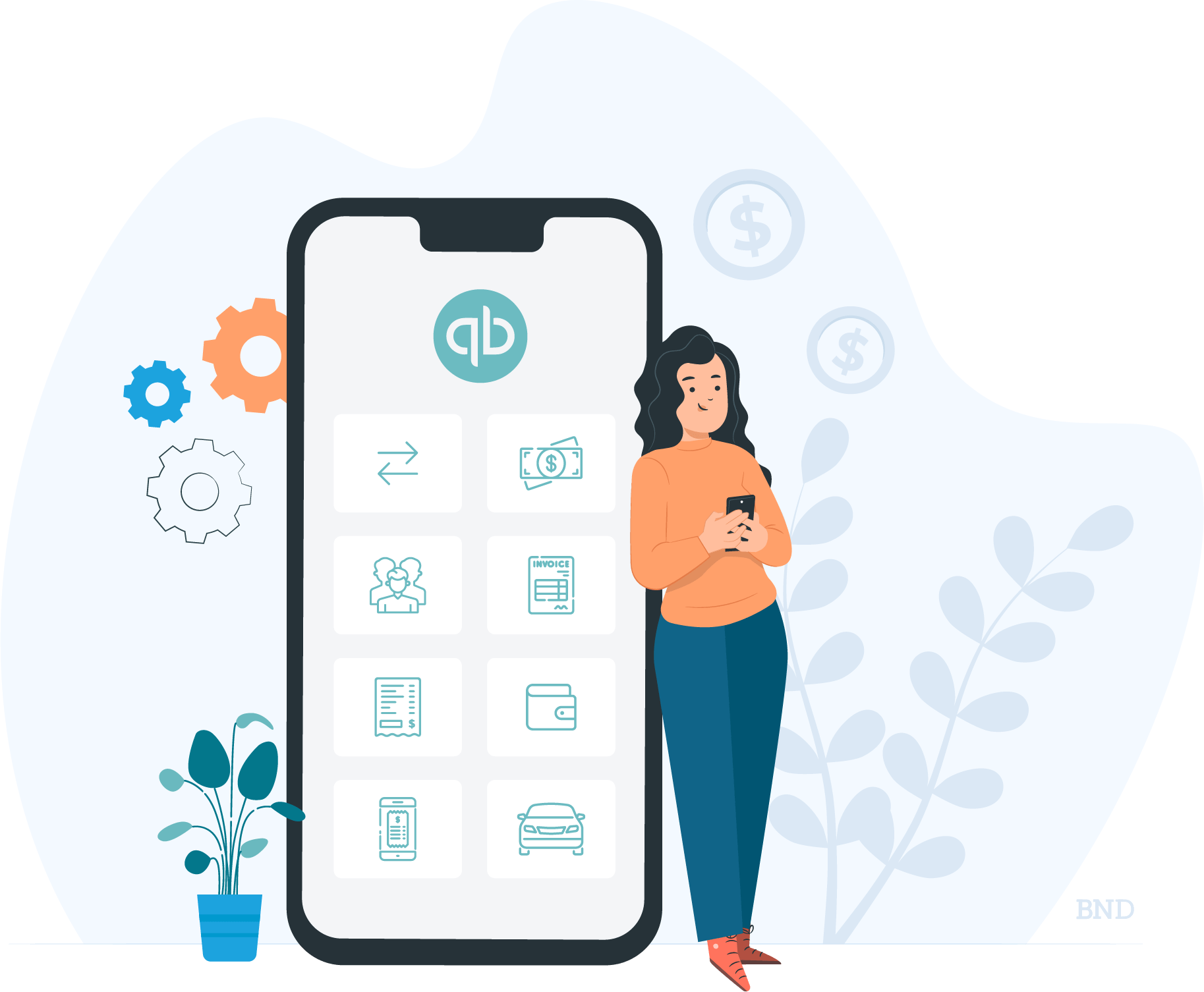 QuickBooks produces one of the most popular mobile accounting apps for small businesses. It's a companion app to QuickBooks Online, which is available for a free 30-day trial and costs $15 a month for the entry-level version. You can download the app for free once you've subscribed to a QuickBooks Online plan. See a complete breakdown of the available packages in our detailed QuickBooks Online accounting software review.
QuickBooks app features
A clean interface and practical functionality make QuickBooks Online and its app the ideal combination for business owners who want access to comprehensive accounting tools on any device. The software subscription comes loaded with features, most of which you can use on the mobile app.
The basic functions include the ability to manage expenses by taking photos of receipts. You can also use the app to generate invoices, add and search customer contact information, view reports, track invoices and reconcile transactions. [Related article: Which Version of QuickBooks Should You Use?]
Editor's note: Looking for the right accounting software for your business? Fill out the below questionnaire to have our vendor partners contact you about your needs.
If you're an independent contractor, the QuickBooks Self-Employed app is a good alternative. This is the companion app to the Self-Employed version of QuickBooks Online. The self-employed app has several of the same features as the regular accounting app, such as expense tracking and receipt image capture, but it also includes a GPS-enabled mileage tracker and a tax-filing assistant that integrates with TurboTax.
QuickBooks app pricing
Simple Start: $30 per month
Essentials: $55 per month
Plus: $85 per month
Advanced: $200 per month
QuickBooks app platforms
The app is available on iOS and Android devices.
2. Xero
Xero's cloud-based accounting software is comparable to QuickBooks in many ways but with a lower price. The platform has a number of advanced accounting features, which makes it a great option for midsize and large companies. However, the mobile app seems to have more issues than QuickBooks does and users often complain of bugs. Still, there is plenty to like about this offering.
Xero app features
One of the biggest advantages of signing up with Xero is that the mobile app allows unlimited users at all subscription levels. This is a significant perk for bigger companies since paying an additional charge per user adds up quickly. You can control the level of access employees have to your Xero account, so there is no need to worry about staffers having access to sensitive data.
You can use the app to create and send invoices, reconcile bank transactions and view any available bills. It also allows you to capture receipts and attach those receipts to an expense. Find out more about the software and app in our full Xero review.
Xero app pricing
Early: $13 per month
Growing: $37 per month
Established: $70 per month
Xero app platforms
The app is available for iOS and Android devices.
3. Sage Accounting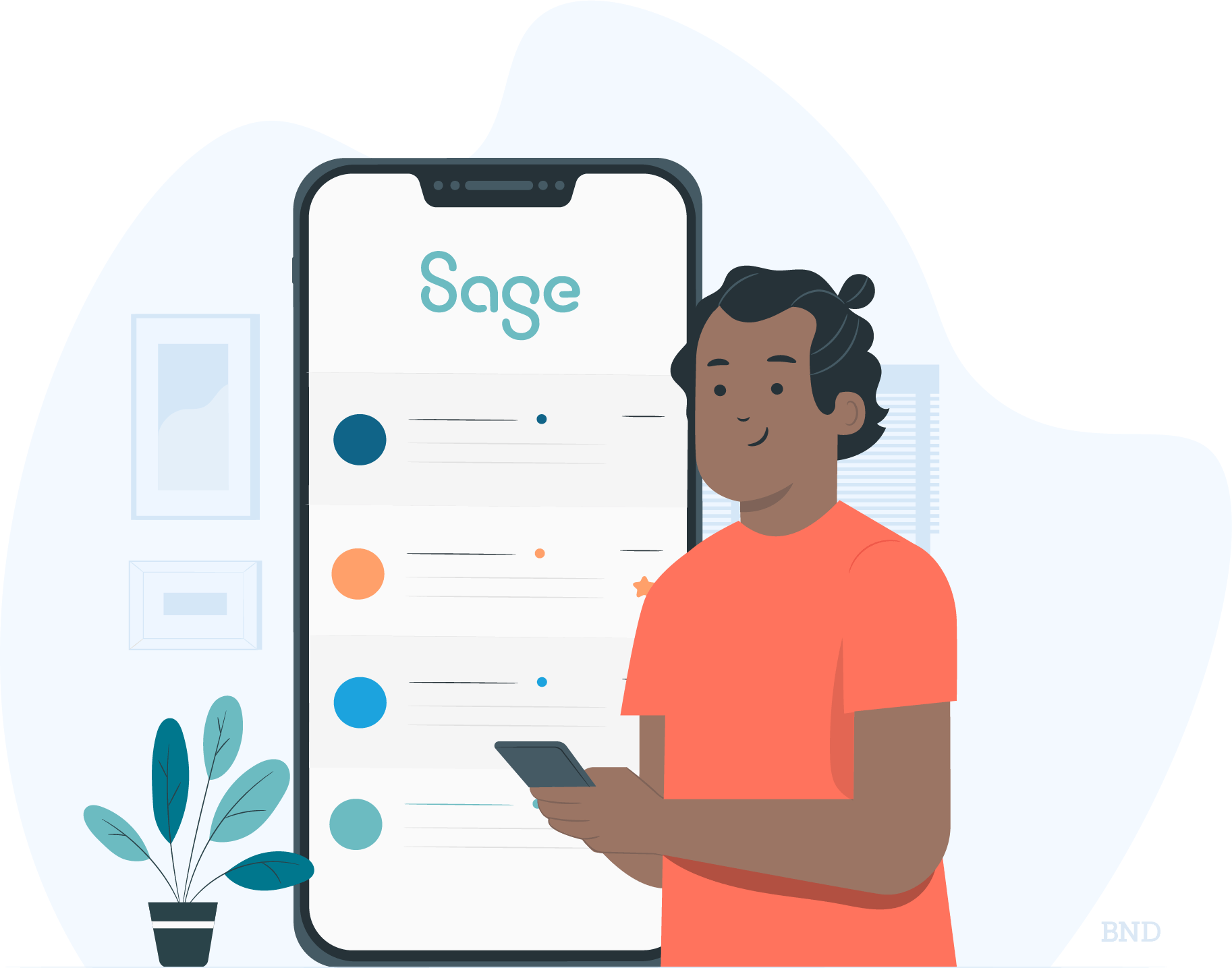 Sage might not boast the same name recognition as some other apps on this list, but it's a good option and its functionality is consistent across the company's computer software and mobile app. 
One of the biggest benefits of Sage is the vendor's robust customer support. You can contact customer service through phone, chat or email. The company also provides users access to a knowledge base with articles, product documentation and news about recent software updates. Get more familiar with the vendor in our comprehensive Sage accounting software review.
Sage Accounting app features
One of the most unique features Sage offers on its mobile app is a chat function that lets you send texts to manage your transactions. This chat function can help you track receipts, log recent payments and check your current balance.
The mobile app also lets you reconcile bank transactions and create and send invoices. Once invoices are sent, you can monitor the payment status from the app and follow up on overdue payments. [Related article: Find the Best Invoice App for Your Small Business]
Sage Accounting app pricing
Sage Accounting Start: $10 per month
Sage Accounting: $25 per month 
Sage Accounting app platforms
The app is available on iOS and Android devices.
4. Zoho Books
Although not nearly as popular as the QuickBooks app, this companion app to Zoho Books is a great option for small business owners who want an accounting app with a lot of functionality. It's been downloaded more than 1 million times and has more than 13,000 user reviews on Google Play — most of which rate the app highly. 
The Zoho Books accounting app is free to download and use alongside the Zoho Books accounting software, which has a 14-day free trial. Our full Zoho Books review details the different plans available. 
Zoho Books app features
Both the desktop software and app have a minimalistic interface that makes it easy to find the features you need. The app shares a lot of functionality with the computer software and allows you to set up notifications on your phone that update you instantly with customer activities, such as when invoices are viewed or paid.
The mobile dashboard shows you an overview of your account. From there, you can create and send estimates and invoices, record and categorize expenses and bills, send purchase orders, track billable time and download and print reports.
Zoho Books app pricing
Free: $0 for businesses with less than $50,000 in annual revenue
Standard: $15 per month
Professional: $40 per month
Premium: $60 per month
Elite: $120 per month
Ultimate: $240 per month
Zoho Books app platforms
The app is available for iOS and Android devices. 
>>Read next: The Most Important Money Moves to Make This Year
5. FreshBooks
Freelancers and service-based small businesses that do a lot of invoicing will appreciate the FreshBooks Invoicing app. This companion app to the FreshBooks accounting software has been downloaded more than 500,000 times and has a high average rating across more than 5,000 user reviews. 
The app is free to download and has a 30-day free trial followed by a subscription fee starting at $8.50 per month. All tiers are explained in our FreshBooks accounting software review.
FreshBooks app features
Like the desktop software, the mobile app is easy to use and allows you to track billable time, snap photos of receipts and record expenses, create and send invoices, check invoice status, accept online payments and review payment records. One especially notable feature is the ability to chat with clients through the app and review your conversation history.
FreshBooks app pricing
Lite: $8.50 per month
Plus: $15 per month
Premium: $27.50 per month
Select: Custom pricing
FreshBooks app platforms
The app is available for iOS and Android devices. 
6. Book Keeper
Book Keeper's accounting app has more than one million users and ranks highly among mobile accounting apps. 
The Book Keeper app — well-suited for accounting, goods and services tax (GST), invoicing and inventory — features a simple, straightforward design and immediate usability. The app is free to download and use for 14 days and then costs $70 per year for the vendor's most basic plan.
Book Keeper app features
Many users who left positive reviews mentioned trying other accounting apps and being overwhelmed by the number of features and busy interface. In contrast, if you're looking for a basic accounting and invoicing app that's easy to use and has unique functionality, Book Keeper is a solid solution.
One of the app's more impressive features is inventory management tools. It can track stock, generate barcodes and let you scan them with your phone's camera. The downside of this app is that the video tutorials aren't in English, and there isn't a United States phone number for customer support (the company is headquartered in India). You'll have to contact the vendor by email or live chat if you have questions or experience issues with the app.
Book Keeper app pricing
Single user, yearly: $70 annually
Single user, lifetime: $300
Two users, monthly: $14 per month
Two users, yearly: $105 annually
Two users, lifetime: $450
Three users, yearly: $140
Three users, lifetime: $600
Five users, monthly: $20 per month
Book Keeper app platforms
The app is available for iOS and Android devices.
7. Wave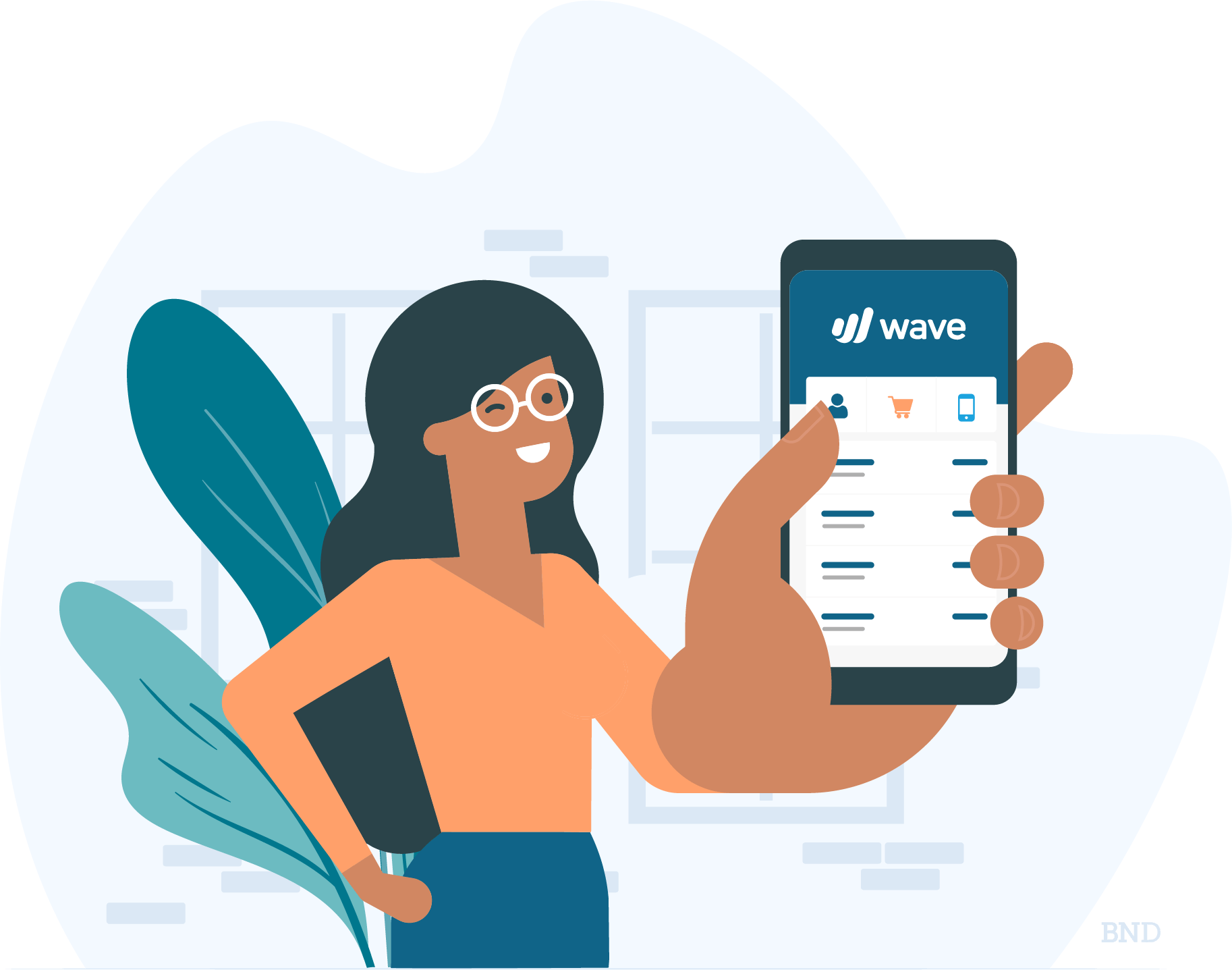 Wave offers a free invoicing app for small businesses to help you track your revenue. It costs nothing to download and use, similar to Wave's full accounting software. 
There are fees, however, if you use the app for credit card processing or bank payment processing. Additionally, if you use the company's optional payroll services, there is a monthly flat rate and a per-employee fee. Learn more in our Wave Financial review.
Wave app features
Wave allows you to create, customize and send invoices to customers. You can monitor the status of invoices and see when they've been read, paid or become overdue. You'll also receive notifications for these customer activities. 
You can use the app to send payment reminders and receipts as well. Invoices and revenue are recorded and backed up to your online Wave account.
Apart from mobile accounting apps, the top expense trackers also let you manage expenses from your mobile device in real time.
Wave app pricing
As mentioned above, Wave's accounting software is always free, although you will have to pay for add-on features like payroll if you so desire.
Wave app platforms
The app is available for iOS and Android devices.