RingCentral MVP is the best business phone system for collaboration. The platform offers an industry-leading list of software integrations, virtual conference room experiences, and data center geodiversity to support hybrid and remote teams effectively.
Pros
Every aspect of RingCentral is controlled through a single-pane view.
The platform is extremely stable, even when dovetailing with third-party APIs.
Extensive customization ensures you receive exactly as much data as you want or need.
Cons
It's not immediately obvious which RingCentral package might suit you best or which price point makes the most sense.
There's a lot to learn, which might be daunting for industry newcomers.
RingCentral has become a leading contact center software provider. The company also provides associated services like webinar hosting.
RingCentral's contact center software offers a wealth of analytics, reporting and training tools accessible via a single-pane interface.
Hundreds of APIs and extensions let users plug RingCentral into Microsoft Teams, Salesforce, Google Workspace and many other solutions.
This review is for small business owners considering implementing RingCentral as their contact center platform of choice.
RingCentral is a cloud-based business unified communications platform that offers contact center, phone, video, messaging, and other services. In this review, we're focusing on its contact center solutions for businesses: the MVP business communications platform and the CX customer service, support and engagement tool. Businesses can purchase these solutions separately or together, along with additional RingCentral services like its webinar platform.
Because RingCentral is a dedicated cloud-hosted platform, its services are less glitchy than legacy competitors or platforms that migrated online. Its cloud design and open ecosystem ensure extensive — and dependable — compatibility with third-party apps and utilities, including dedicated solutions for Microsoft Teams users. Its dependability and broad compatibility make RingCentral our top contact center software choice for companies that prioritize reliability.
RingCentral Editor's Rating:
9 / 10
Pricing

8.9/10

Features

9.6/10

Flexibility

9.2/10

Ease of setup

8.4/10

Support

9/10
Why RingCentral Is Best for Reliability
When assessing RingCentral's contact center solutions, we were impressed by the platform's stability, even when combining data from numerous platforms. The platform records calls and customer interactions across platforms as diverse as SMS, chat, WhatsApp, email and Twitter. Businesses can simultaneously juggle communication across digital platforms with traditional inbound or outbound calls. We like the fact that you can handle everything from faxes and SMS messages to webinars and analytics, all via a single dashboard. Additionally, we found that RingCentral's analytics provide more actionable feedback than many of its competitors.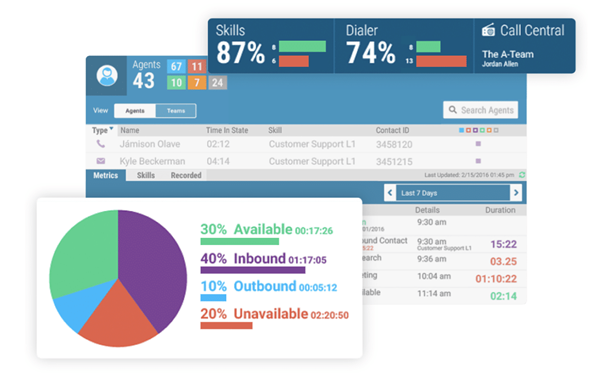 RingCentral's call dashboard. Image source: RingCentral
The RingCentral platform's robust nature also makes it highly flexible, with over 300 prebuilt integrations available. The sheer depth of available options could be intimidating — there are many more than we saw in competitors we reviewed. However, this advanced functionality will appeal to companies that want granular control over every aspect of their contact center operations. We also loved that RingCentral is both reliable and easy to use.
Usability
Despite its complexity, we found RingCentral's interface is reassuringly low-key. It resembles many other cloud-hosted packages, with a single off-white screen hosting various menus, windows and widgets. We liked that the dashboard is customizable, but we recommend sticking with the default layouts until your confidence builds.
Separate desktop apps (Windows and Mac) and mobile apps (iOS and Android) are free to install, and RingCentral will also sell you VoIP phones — from cordless to conference devices — and headsets from leading brands like Jabra and Poly. We also liked RingCentral's helpful features like spam call filtering, which some competitors' products don't offer.
Compared to other, more straightforward platforms (see our Nextiva review and Ooma review,) RingCentral's offerings can be somewhat confusing. RingCentral splits its products into two main categories:
RingCentral MVP (an acronym for Message, Video, Phone)
RingCentral Customer Experience (CX)
You can have both or one without the other. However, only CX includes the helpful Pulse mobile app, which resembles a typical smartphone messaging app. It provides an executive overview of agent activity while on the move, including agent behaviors, queue depth, abandonment rate and wait times. You can set criteria to trigger alerts and send all-clears to groups or individuals.
Although the RingCentral brand has been around since the late '90s, it stands out for its commitment to evolving and improving its features. In the fall of 2022, the company introduced a new supervisor console with unique features other brands don't offer. It allows you to take action against agents or investigate behaviors. Admins and managers can filter agent data or perform live monitoring. It can even identify if someone else is already observing a call or agent to avoid duplicate labor. It supports rapid agent timecard viewing so supervisors can silently monitor agents without their awareness. Other functionalities include starting three-way conversations, ejecting an underperforming agent and taking over the call.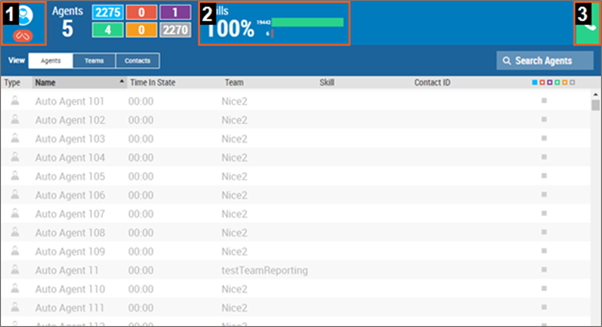 RingCentral's supervisor application screen. Image source: RingCentral
Did you know? RingCentral supports automated call whispers, offering prerecorded advice to callers and helping to improve call center phone etiquette.
RingCentral Features
| | |
| --- | --- |
| Single-pane view | Access everything you need to know through a single web page-style interface. |
| Granular agent overview | View agent experience, queue depth and the number of agents logged in. There's only a five-second reporting delay. |
| Coaching packages | Agents underperforming? Targets being missed? Create your own customized coaching packages to solve the issues. |
| Sentiment analysis | RingCentral's unique AutoDiscovery utility identifies keywords and phrases and links them into a grid. |
| Comprehensive contact history | Each caller has hyperlinks beside each interaction with a unique contact ID. |
| Data archiving | Information is stored for up to 25 months for retrospective analysis, including commonly asked questions. |
Single-Pane View
Unlike some contact center platforms, RingCentral admins and supervisors view a single screen in the contact center software and agent interface, moving between tabs as they access different platform features. Admins can turn different features on or off as required. This is ideal for companies with bigger teams.
Granular Agent Overview
We loved RingCentral's comprehensive agent activity overview. Tools include agent evaluation, live interactions, messaging, coaching programs and agent behaviors. You can evaluate agents, let them see their historical performance, and arbitrate if they disagree with their scores or critiques.
Coaching Packages
When you identify a deficiency or need to teach a new skill, you can customize preloaded templates with objectives, recordings and URLs to external modules. This is an excellent feature for firms keen to set and measure KPIs, ensuring they're delivering on client promises or expectations.
Sentiment Analysis
RingCentral's reporting includes sentiment analysis in reporting. It can identify particular words or phrases in written or recorded conversations and flag agents being hesitant, angry or repeating themselves. Analytics tools allow you to inspect 100 percent of conversations this way.
Comprehensive Contact History
Through our testing, we noted that each caller has hyperlinks next to each interaction with a unique contact ID that allows more detailed info on the agent, call length, phone type, caller's journey, number of times they were put on hold and who terminated the call. Every interaction is just a few mouse clicks away.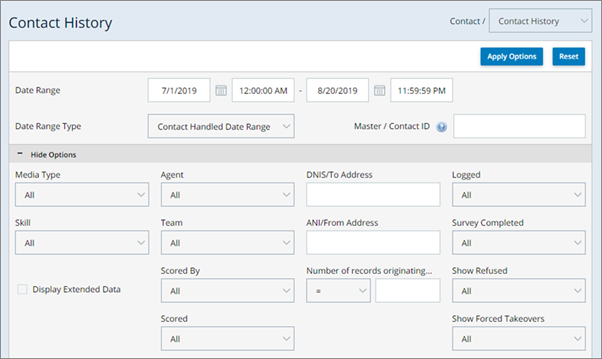 RingCentral customer contact history screen. Image source: RingCentral
Data Archiving
Compile pre-built reports using 25 months of historic data segmented by quality or analytics. It's also possible to save commonly used questions for future reference, with irrelevant subsequent questions automatically screened out.
RingCentral Cost
RingCentral prices depend on the services you want, your preferred payment plan, and user numbers.
RingCentral MVP

Essentials: $32.99 per user per month. This plan includes only messaging and phone calls.
Standard: $40.99 per user per month. The Standard pack adds video, unlimited users and audio conferencing, integrations with 365 and Slack, and 24/7 support.
Premium: $47.99 per user per month. Premium brings in hot desking, real-time analytics and loads of industry integrations, as well as integrations with the best CRM software.
Ultimate: $62.99 per user per month. This package is unique in offering unlimited storage, device status reports, and alerts.
Paying annually can save up to 40 percent on standard MVP prices. There are also economy-of-scale discounts for firms with over 100 users. If you have more than 20 staff members, the Essentials plan is off-limits, though Standard's additional features (integrations with 365 and Slack, 24/7 support) mean it more than justifies the premium.
RingCentral CX: RingCentral CX packages aren't advertised with specific pricing, so contact a sales rep to discuss rates. Confusingly, the four available CX packages share the same names as the MVP platforms.
Free options are available as well:
Installing a limited-use free app. It's possible to install any RingCentral app for free, but you'll be limited to the lesser of two video and messaging platforms. This gives you a limited steer on the wider platform's usability, but we feel it may be worth considering for industry newcomers.
RingCentral free trial. The free trial is so heavily restricted that we don't think it's worth bothering with; it covers just two phones, 50 minutes of domestic calls and a 21-day moratorium on charges for any provided hardware.
We recommend investigating both platforms in depth to determine whether you can manage with one or whether you should pay for both — they will work independently.
If you're searching for a business phone system, check out our reviews of the best business phone systems to find one that matches your needs and budget.
RingCentral Setup
Installing the RingCentral apps on a desktop or mobile device is simple. In fact, customer support throughout the setup process was exceptionally helpful. Challenges arise when it's time to immerse yourself in the software. We found the user interface to be uncluttered and reminiscent of other packages. However, the sheer number of subsections and various functionalities makes it challenging to quickly find what you need — especially if you're not taxing the platform's full potential.
We like that RingCentral offers extensive customization within the single-pane view, ensuring you can turn critical features on and off as needed. Users can also move elements and widgets around the dashboard and export reports in tabular and graphical form, depending on the data they contain.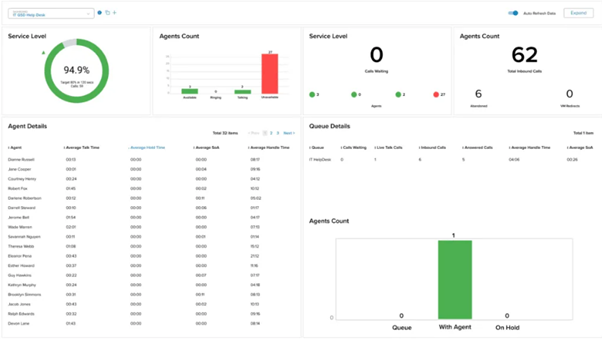 RingCentral contact center dashboard example. Photo Credit: RingCentral
Although the extent of customization complicates the initial setup, RingCentral is unique among its competitors in allowing users to build dashboards from a blank palette, dragging and dropping core contact center widgets like workforce management quality or analytics tools into place. Similarly, you can create bespoke reports from templates, copying examples of pre-builds, or make one from scratch using around 100 different metrics.
Technically minded users will welcome features like the bot-builder tool, enabling you to deploy your own chatbot for responding to live chat inquiries. Other clients may prefer to import bots from third-party platforms like Microsoft Azure, which is also straightforward.
RingCentral Customer Service
Because contact centers tend to operate across long (often antisocial) hours, it's vital to have customer support available whenever you need it. RingCentral provides 24/7 support — but critically, not to Essentials customers. While that's obviously intended to encourage purchasing more expensive platforms, it's potentially significant if you have fewer than 20 staff members and want low-cost contact center software.
RingCentral offers dedicated support for American and Canadian customers within and outside these countries. Its website offers live chat support, a community support forum and the ability to file a support case.
You can also contact the company via Facebook, Messenger, Twitter and Instagram. We like this feature because it demonstrates transparency and shows that RingCentral welcomes customer feedback — potentially good and bad — on a publicly visible forum. We've researched RingCentral competitors that were coy about offering support via channels where they can be publicly criticized.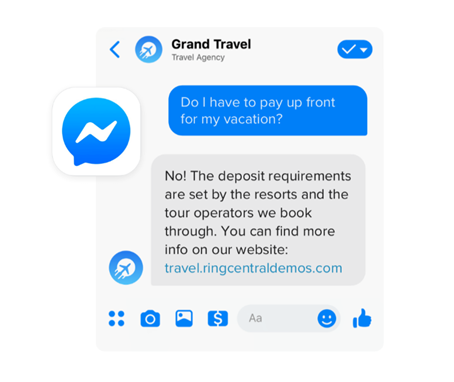 RingCentral sample Facebook Messenger customer-support interaction. Image source: RingCentral
RingCentral's online resources include company blogs, reports, demos, webinars, videos and a corporate newsroom.
RingCentral Drawbacks
The Essentials package, though less than $10 per month cheaper than the Standard tier, doesn't include crucial features like 24/7 support, unlimited audio conferencing and integrations. As a result, it's hard to recommend the basic package, which pushes up prices considerably.
If you're paying annually (at the discounted rate) for over 100 users, the Ultimate package costs $56 per user per month — and that's before adding helpful features and functions like toll-free, international or vanity numbers, which are all paid extras. We also have concerns that the CX packages aren't advertised with any indicative pricing — from a client perspective, the invitation to contact a sales rep for a quote is rarely a positive sign.
RingCentral's other primary drawback is its complexity. The interface looks straightforward at a glance, but it's akin to Google Analytics in that you can easily fall down a rabbit hole of sub-menus, struggling to find the page or widget you need. For industry newcomers, the time-poor or the less technically minded, RingCentral's sheer versatility may seem unduly complicated.
Additionally, we found RingCentral's customer service to be especially helpful throughout the setup and implementation process. However, once you're all set and the sale is secured, you may find it difficult to contact someone regarding concerns and training needs.
Methodology
As part of our investigations into RingCentral and other contact center solutions, we explored each platform's capabilities and features, speaking to agents and researching websites and user forums to identify pros and cons. We paid particular attention in every review to customer support, pricing, and available features while focusing on attributes of specific platforms, such as RingCentral's complex interface and extensive functionality. We haven't given coverage to industry-standard features, such as the 99.999 percent uptime SLA, that any contact center software provider should promise.
RingCentral FAQ
Yes, it does. The platform can dub white noise over audio and block screen recording during specific instances, such as when a customer enters card data. It can even block an agent from listening to a call while financial data is being entered. This all happens within the platform for optimum privacy instead of involving external redirection. Saved data is also encrypted unless it's being exported (e.g., historic agent performance data being exported as a CSV or a call recording being converted into an MP4 file).
Yes. The powerful webinar platform (still in development) can support up to 10,000 participants and 100 panelists. It dovetails with registration apps; users can access webinars through a no-download browser link. Participant statistics are automatically compiled, and the platform supports everything from recordings and advanced camera settings (which follow a presenter as they move around) through Q&As, polls and technical quality-of-service analytics.
RingCentral's offerings will work for firms in almost any industry. However, RingCentral lists a dozen industries best-suited to its software, including automotive, manufacturing, government, healthcare, construction and education.
Overall Value
We recommend RingCentral for …
Companies that want to keep granular tabs on their agents.
Firms where data from two years ago can still be of value.
Larger firms where third-party integrations and APIs are essential.
Companies that want to conduct webinars on the same platform their agents already use.
We do not recommend RingCentral for …
Small firms on a limited budget.
Technophobes or anyone intimidated by multilayered UIs.
Anyone considering the Essentials package.