RingCentral and 8×8 are among the top offerings on the market today. If you're shopping around for a business phone system, chances are, you'll compare the two. So we've done just that by placing our RingCentral review and 8×8 review side by side and lining up the key takeaways from our research.
RingCentral vs. 8×8 Comparison
Price and Plans
RingCentral
There are three plans, ranging from $20 to $35 per user per month when billed annually.
There's a volume discount for plans with over 50 users.
RingCentral offers a 14-day limited free trial.
Plan

Price (per user per month)

Features

Core

$20 (annually) or 

$30 (monthly)

Unlimited calling in the U.S. and Canada, SMS and MMS (limited), basic call queues, on-demand call recording, HD video conferences with up to 100 participants, unlimited video recording, basic integrations, basic analytics

Advanced

$25 (annually) or 

$35 (monthly)

All of the features in Core, plus advanced call queues and routing, automatic call recording, advanced call monitoring (whisper, barge, monitor), unlimited internet fax, custom roles and permissions, essential business analytics, 330+ integrations

Ultra

$35 (annually) or 

$45 (monthly)

All of the features in Advanced, plus unlimited file sharing and storage, HD video conferences with up to 200 participants, enhanced business analytics and customizable insights
We like that RingCentral offers a 14-day free trial for first-time users. The trial is limited to five users and two desktop phones. It doesn't include SMS, but it provides support for up to 20 phone lines. The free trial is a great way to see if the features and functionality of RingCentral work for your business before you commit to an annual contract or opt for the more expensive monthly billing plan. 
8×8
There are two plans: X2 ($24 per user per month with an annual discount), and X4 ($44 per user per month with an annual discount).
8×8 no longer offers an entry-level plan, and there's no volume discount.
Businesses can mix and match plans.
Plan

Price (per user per month)

Features

X2

$24 (annually) or 

$28 (monthly)

Unlimited users, unlimited voice calling to 14 countries, HD video conferences for up to 500 participants, over 50 integration options, unlimited internet fax, mix and match plans, Conversation IQ

X4

$44 (annually) or

$57 (monthly)

All of the features in X2, plus unlimited voice calling to 48 countries, call monitoring (barge, whisper, monitor), supervisor analytics, 8×8 Frontdesk
We were disappointed that 8×8 eliminated its basic plan, which offered an affordable solution for smaller businesses that don't have complex communication needs. However, we appreciate that there aren't any limits on users in either plan, so companies of all sizes looking for a complete system can choose the solution that best suits their needs. We also like that businesses can mix and match plans so that individual employees or teams work with only the features they need and the company avoids paying for unnecessary features across the board.
We would have liked the possibility of a free trial to allow businesses to get a feel for the system before making a commitment.
Winner: RingCentral
RingCentral offers a better overall value than 8×8. Although the two companies' midrange plans are similarly priced, RingCentral's Advanced solution offers certain features, like call monitoring and advanced analytics, that 8×8 offers only in its premium plan.
If your small business has only basic communication needs and doesn't want to splurge on an overly sophisticated business phone system, consider Dialpad's entry-level plan.
Usability
RingCentral
The system is easy to use and has a consistent interface across all devices.
You can jump from one device to another with one click.
Team chat and messaging create a digital workplace for collaboration.
RingCentral offers voicemail transcription.
The setup and onboarding are simple, with vendor support available.
RingCentral is designed to make collaboration as painless as possible, regardless of where your employees are working or how they are connecting. The interface is consistent and easy to use, whether on the desktop interface or the phone system's mobile app. We also like that RingCentral's team chat and messaging go beyond basic services, providing a digital workspace where employees can create threads, share files, search past communications and seamlessly switch to a video call.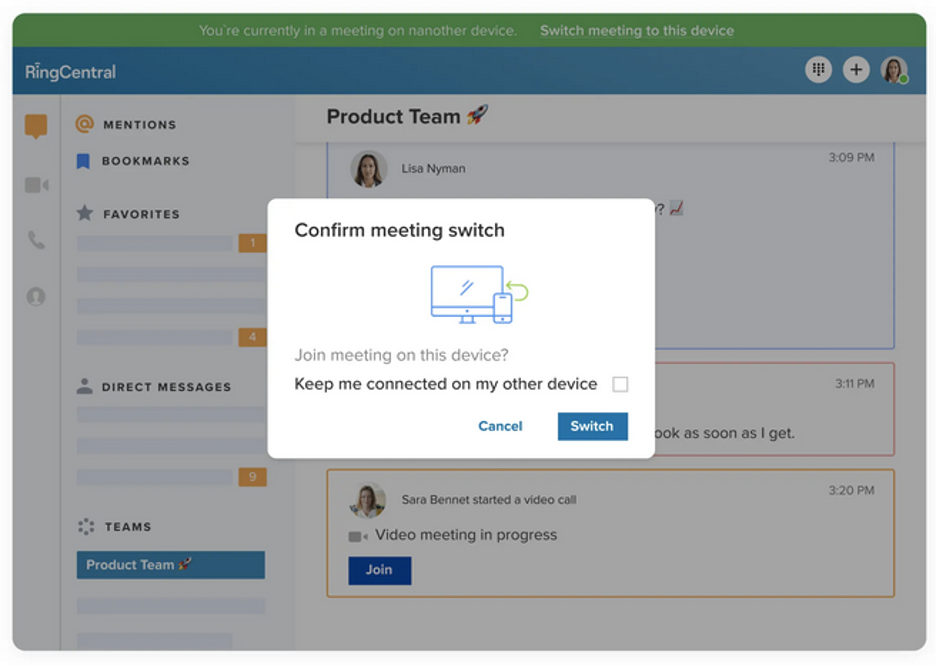 With one click, you can easily switch from one device to another mid-call. Source: RingCentral
We love that RingCentral can be set up quickly and effortlessly across all devices. Depending on how many integrations you want to implement, you should be ready to go in no time. The administrator portal is straightforward and includes video tutorials to help get things up and running. Plus, through a simple analytics dashboard, you can use pre-built or customizable templates to run data and receive engaging visual reports. 
8×8
The intuitive platform is quick and painless to set up.
8×8 offers searchable and shareable dual-channel recording and transcription of communications.
Conversation IQ provides key analytics, like sentiment analysis.
8×8 is easy to set up and use. It should take no more than 20 minutes for businesses with new phone numbers that don't have complex needs. Free and paid courses are available to help both administrators and users learn the system, but your employees should have no issues getting the platform up and running, thanks to the intuitive interface. We love that, unlike with RingCentral, 8×8 allows businesses to mix and match plans so each user gets to work with the system that best matches their needs.
We really love 8×8's Conversation IQ, a feature that makes this platform especially easy to use. All communications — whether calls, meetings or voicemails — are recorded and transcribed. These transcripts provide key analytics, like sentiment analysis. We especially like that audio recordings are dual-channel, meaning each side of the conversation is recorded separately. This allows for improved searching and sharing of important information.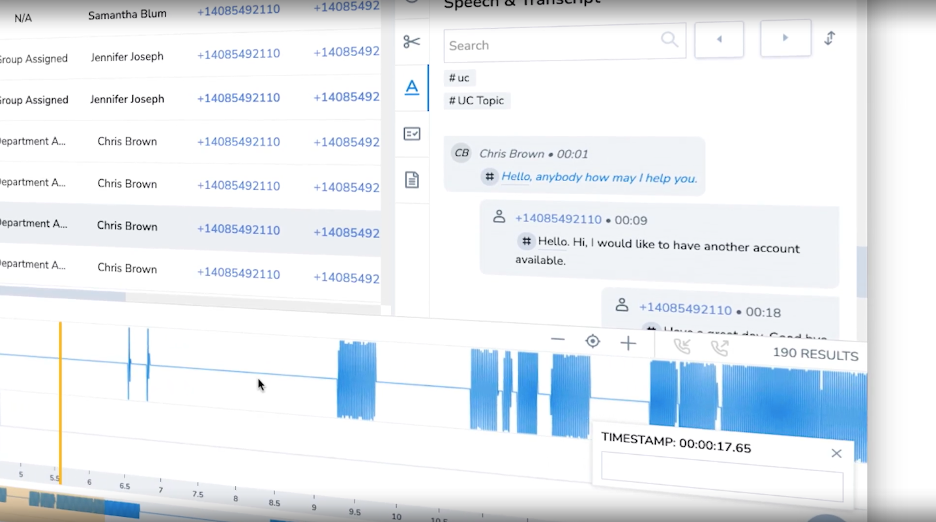 Conversation IQ records and transcribes calls, allowing you to search and share pertinent information. Source: 8×8
Winner: Tie
As far as ease of use goes, we think you can't go wrong with either RingCentral or 8×8. Both offer communication solutions that are simple to set up and highly user-friendly. We like that both vendors offer support to help admins and users set up and learn to use the system.
Video Conferencing
RingCentral
Video conferencing is easy to use from any device.
AI-powered features enhance the employee experience and boost collaboration.
The Core and Advanced plans allow up to 100 participants, and the Ultra plan gives you 200.
You get unlimited video storage for up to one year.
RingCentral's video conferencing can support up to 100 participants at the Core and Advanced levels, which is great for smaller businesses. But we were disappointed that the premium tier only offers an expansion of up to 200 participants without an additional cost. Unlimited video recording with up to one year of storage is available across all plan levels.
All HD video conferences use AI-powered features to enhance the employee experience. Live transcript generation is particularly useful for attendees who arrive late or need to catch up. For employees working remotely, especially those in the field, we found the noise reduction technology that filters out unwanted background noise to be an invaluable feature. After the meeting is over, AI provides summaries, advanced insights and searchable transcripts. 
8×8
Both plans allow up to 500 participants.
8×8 offers private or public YouTube streaming.
You can use the video API to customize the video conferencing platform.
The video interaction service provides excellent support to your customers.
You get unlimited 30-day storage with the X2 plan or 130 days with the X4 plan.
8×8 also offers a stellar video conferencing tool, which is notable for its ability to host HD calls with up to 500 participants. We appreciate that both the X2 and X4 plans allow the same number of participants, so larger companies that need to host sizable video conferences but don't need all of the features of a premium plan won't be forced into an expensive agreement.
Other notable features include seamless calendar integrations with Google Calendar or Microsoft Outlook, cloud recordings of meetings (30-day storage with X2, 130 days with X4), and advanced meeting analytics presented with easy-to-digest visualizations.
Winner: Tie 
Quality video conferencing capabilities are increasingly vital for all types of businesses. Both 8×8 and RingCentral offer superior products, and overall, there is no clear-cut winner in this category. The right video communication platform for your company depends on what you need to get out of it.
Video calls can easily go off track. Whether you're hosting 15 or 500 people, make sure your meetings go well for everyone joining in. Read our guide to hosting a productive video conference.
Vendor Support and Training 
RingCentral
RingCentral offers 24/7 customer support through chat and phone.
The company provides a wealth of resources for implementing and using the platform.
There's a RingCentral community forum.
You can get further training through RingCentral University.
In-person support is available for an additional cost.
We like that RingCentral now offers 24/7 customer support and professional onboarding across all plan levels — something that wasn't the case with the company's previous plan structure. Businesses have access to AI-powered chatbots and human representatives over the phone to troubleshoot problems as they arise.
A wealth of information — including video-guided tutorials, webinars, e-books, guides, reports, expert Q&A and support resources for all aspects of using the product — is readily available on RingCentral's website. The RingCentral Community provides a forum for users to share their experiences and assist other users with similar challenges. RingCentral University offers courses to train employees on different aspects of the system.
For larger companies with more complex needs, RingCentral provides professional service experts for an additional cost. These IT consultants can help implement, customize, support and manage the RingCentral service.
8×8
8×8 offers 24/7 customer support through phone and chat, including the AI chatbot Otto.
The company offers excellent resources for implementing and using the platform.
There's an 8×8 community forum.
For additional training, you can access 8×8 University.
In-person support is available for an added cost.
8×8 also offers 24/7 support through online chat and phone. Businesses can troubleshoot problems by speaking with Otto, 8×8's AI-powered chatbot, or be directed to a human representative through chat or over the phone. 8×8 has customer service staff around the world, so an agent can be reached for support anytime. Although that may be true for chat, we could reach phone support only from Monday to Saturday from 6 a.m. to 6 p.m. ET.
We found 8×8's training resources to be some of the best in the industry. The company's website provides access to easily searchable support topics, user guides and manuals in multiple languages. For further learning, users have access to 8×8 University, which offers free, quick tutorials; free longer, on-demand in-depth courses; and paid, instructor-led classes for a complete learning experience. Similar to RingCentral, 8×8 offers in-person support with a technical trainer and administrative outsourcing, also for an additional, undisclosed cost.
Winner: 8×8
8×8 is our choice for customer service because we found the company's comprehensive support to be among the best in the industry. Also, 8×8's large global presence allows the company to offer support in more languages — another factor that sets it apart. Still, RingCentral provides excellent support, so if that platform better meets your business needs, you can rest assured that you will receive exemplary customer service from RingCentral as well.
Choosing a business phone system means finding a product that meets your company's requirements. Both RingCentral and 8×8 offer exceptional, easy-to-use phone, messaging and video communication solutions. RingCentral has the edge on integrations and features to promote collaboration, but 8×8 is your best bet for international communications and large video conferences.
Integrations
RingCentral
Over 330 ready-to-use integrations are available with the Advanced and Ultra plans.
An open API allows you to build over 7,000 custom integrations.
There are industry-specific integrations.
When it comes to integrations, RingCentral is way ahead of its competitors. Advanced and Ultra plans offer over 330 ready-to-use integrations, helping you create a unified communications solution. RingCentral runs smoothly with all of the other systems your employees already use. We especially like that it integrates with leading CRM software, such as Salesforce and Zendesk.
8×8
8×8 offers more than 50 integrations with the most common business solutions.
An open API allows you to build custom integrations.
8×8 offers a decent number of integrations with most of the leading business software solutions.  The integration library has more than 50 connections to allow your teams to work more productively. Integrations include popular communication services (such as Microsoft Teams, Google and Slack), plus CRM solutions and workforce engagement and management products.
Winner: RingCentral
RingCentral is the industry leader in third-party integrations, offering over 200 more than 8×8 with the Advanced and Ultra plans. We like that both companies offer an open API for developers to create custom integrations, but RingCentral beats 8×8, boasting over 7,000.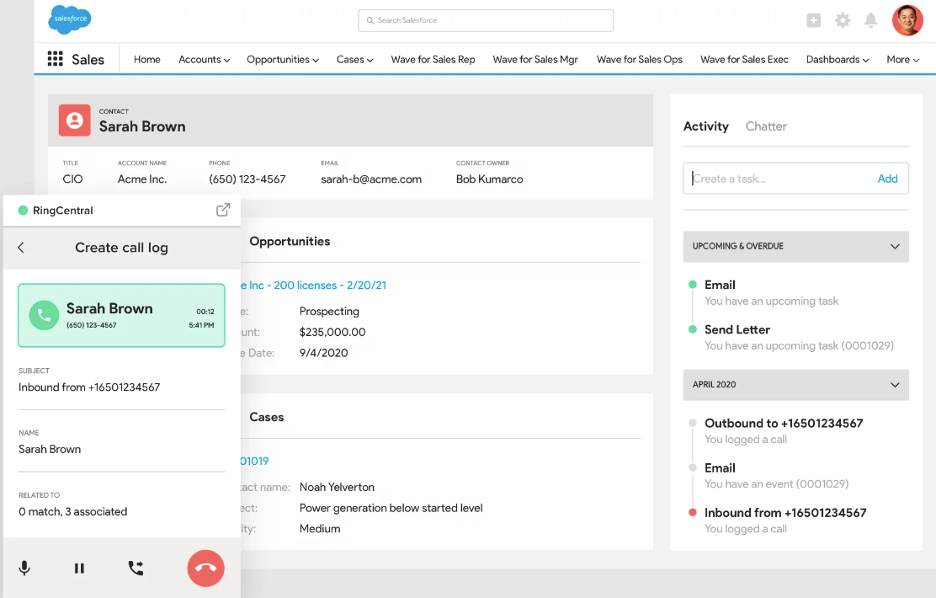 RingCentral integrates seamlessly with over 330 business solutions, like Salesforce. Source: RingCentral