NextivaONE Review
Nextiva keeps all of your communications tools within the same app for mobile and desktop use.

Nextiva lets you mix and match plans to build a custom, cost-effective business phone solution.

Nextiva includes 24/7 customer support by phone with all of its packages.

This review is for small business owners who are considering implementing a Nextiva business phone system.

Nextiva is a modern cloud-based business phone system with effective features and tools for messaging, video conferencing and phone calls. The platform is easy to set up with a drag-and-drop call flow builder and intuitive interface that makes it simple for someone without experience routing calls in a potentially complex system. Subscribers at every service level receive the same 24/7 customer support, mobile and desktop apps, unlimited calls within the U.S. and Canada, free toll-free and local numbers, toll-free minutes, unlimited fax, basic call routing and integrations with Microsoft Outlook and Google Contacts. Nextiva offers discounts of up to 25 percent for annual subscribers, and large businesses purchasing more than 19 user accounts can save an additional 17 percent. Many of Nextiva's communications services are HIPAA-compliant, making it an ideal choice for healthcare settings.

NextivaONE
The Verdict
NextivaONE is the best business phone system for multisite retail and healthcare. Its geographically diverse data centers and easy-to-use analytics make pinpointing busy times across multiple locations and time zones simple, so you can staff efficiently.
Nextiva Editor's Score: 96/100
| | |
| --- | --- |
| Pricing | 93 |
| Ease of use | 98 |
| Features | 95 |
| Integrations | 94 |
| Customer support | 99 |
Why Nextiva Is Best for Multisite Retail and Healthcare
Nextiva offers the security, encryption and data center redundancy needed to support multisite retail and healthcare organizations with a wide range of communications needs. We appreciate that Nextiva's mix-and-match plans allow organizations to provide the appropriate set of communications tools and permissions to the right employees without overspending on staffers who only need a basic VoIP phone solution. Nextiva's diverse data centers are located strategically across the country with eight points of presence and 24/7 monitoring to ensure potential issues are flagged and solved immediately. As a result, many of Nexiva's features and services are HIPAA-compliant, including voice phone calls, call recording, analytics, video conferencing and some integrations, including CRMs. 
In retail and sales settings, we love that Nextiva's Call Pop feature highlights everything you need to know about the caller to provide personalized service before you pick up the phone, including information about past interactions, experience score, survey responses and total account value from your desktop, softphone or mobile device. This tool helps ensure the employee answering the call has the details they need to deliver a satisfying customer experience. Whether your sector is retail or healthcare, Nextiva has the features to suit your needs.
The ability to mix and match plans is uncommon in the business phone system world; Nextiva and 8×8 are two of the few providers that allow it.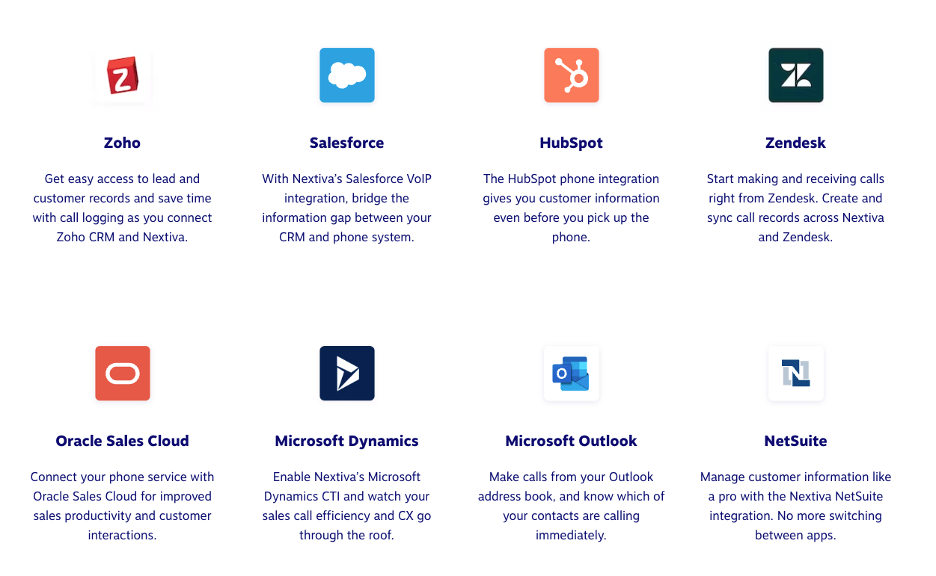 Nextiva offers integrations with many popular third-party apps to streamline business operations. Image source: Nextiva
Pros
You can mix and match Nextiva's plans to build a cost-effective phone system and avoid paying for features not everyone on your team will use.
Nextiva provides the same great 24/7 customer service with all subscription levels.
The vendor has many attractive features for businesses that speak with repeat customers on a regular basis.
Cons
Nextiva's cost is above average for small businesses with fewer than five user accounts.
Voicemail transcription is only available with the company's top-tier Enterprise plan.
The vendor's advertised pricing includes discounts that may not be available to smaller companies.
Usability
Nextiva's drag-and-drop call flow builder is one of the industry's simplest ways to implement a phone system. This easy-to-use visual tool lets anyone without prior experience managing a modern phone system set up a menu for callers and route calls based on set days, times, locations and devices without hassle. More complex routing activities, like round-robin ringing for a sales team, are suggested through drop-down menus that ensure you're able to use your phone system to its fullest potential. 
Once the system is set up, you can begin making or receiving calls from any internet-connected device with the mobile app, desktop app or standard office IP softphone — we like that switching between devices on voice or video calls is seamless. Plus, features like Call Pop provide you with a wealth of caller information, including the caller's previous interactions, survey responses, satisfaction score and total account value to help provide personalized service. This makes for a user-friendly experience that benefits the employee and the caller.
Nextiva Features
| | |
| --- | --- |
| Threaded conversations | Brings all contacts and conversations into a single, searchable stream for quick access |
| Call Pop | Provides personalized caller information for better customer interactions |
| Call flow builder | Makes building and changing call flows easy for first-time users |
| Security | Promises highly secure HIPAA-compliant voice, fax and video services |
Nextiva boasts a great combination of tools that make this business phone system straightforward to use without compromising on security measures. Here are the most important functions to know about.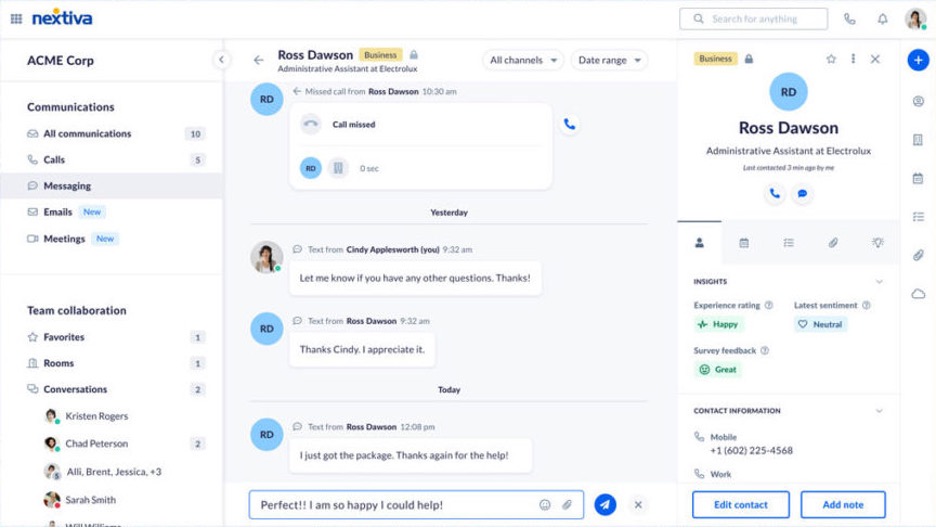 Nextiva's threaded conversations feature makes communication more efficient. Image source: Nextiva
Threaded Conversations
Nextiva helps you utilize the advantages of having your company's phone, chat, email and video conference communications unified via a single platform with threaded conversations. This feature provides a single, searchable timeline with all of your communications in one simple chronological pane. You can tag important communications, add notes, and track the activity of everyone interacting with the data to make sure nothing important is lost or overlooked.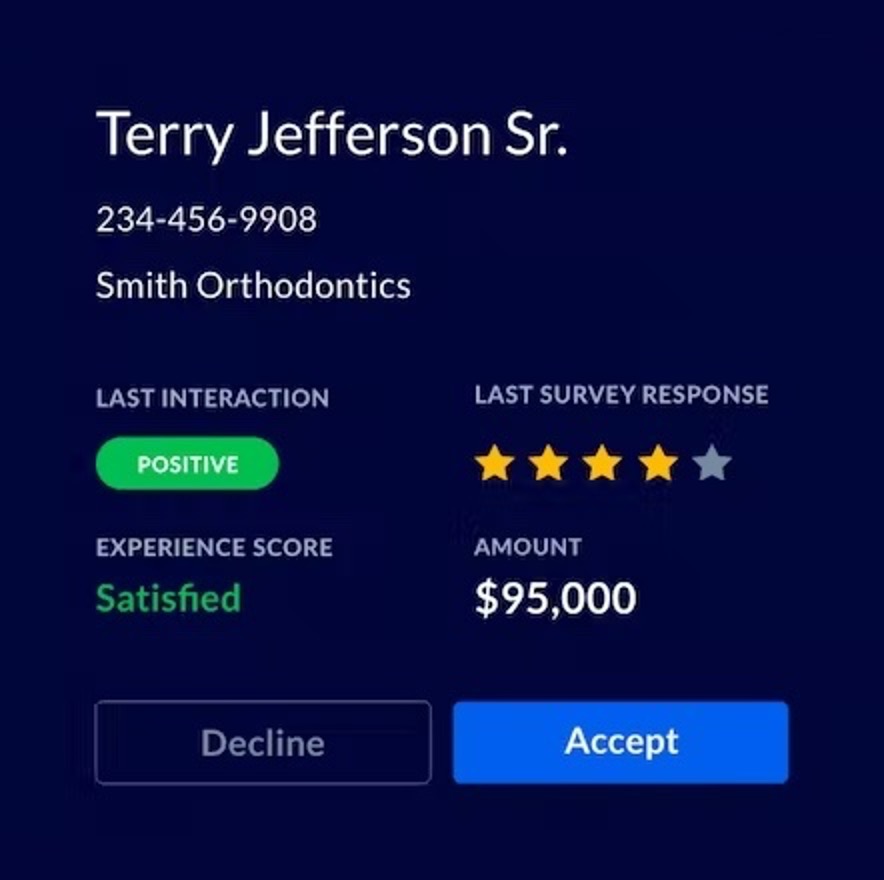 Call Pop helps personalize each interaction with a customer. Image source: Nextiva
Call Pop
Nextiva's Call Pop feature populates the user's display with important caller information to improve conversations with personalized service. Before you pick up the phone or make a call, you'll be able to see your company's last interaction with the customer, their experience score, any survey responses they've provided and the total value of their account to help tailor your service to their needs and expectations. Retail businesses using this phone system to close sales and respond to customer inquiries will find this tool particularly valuable.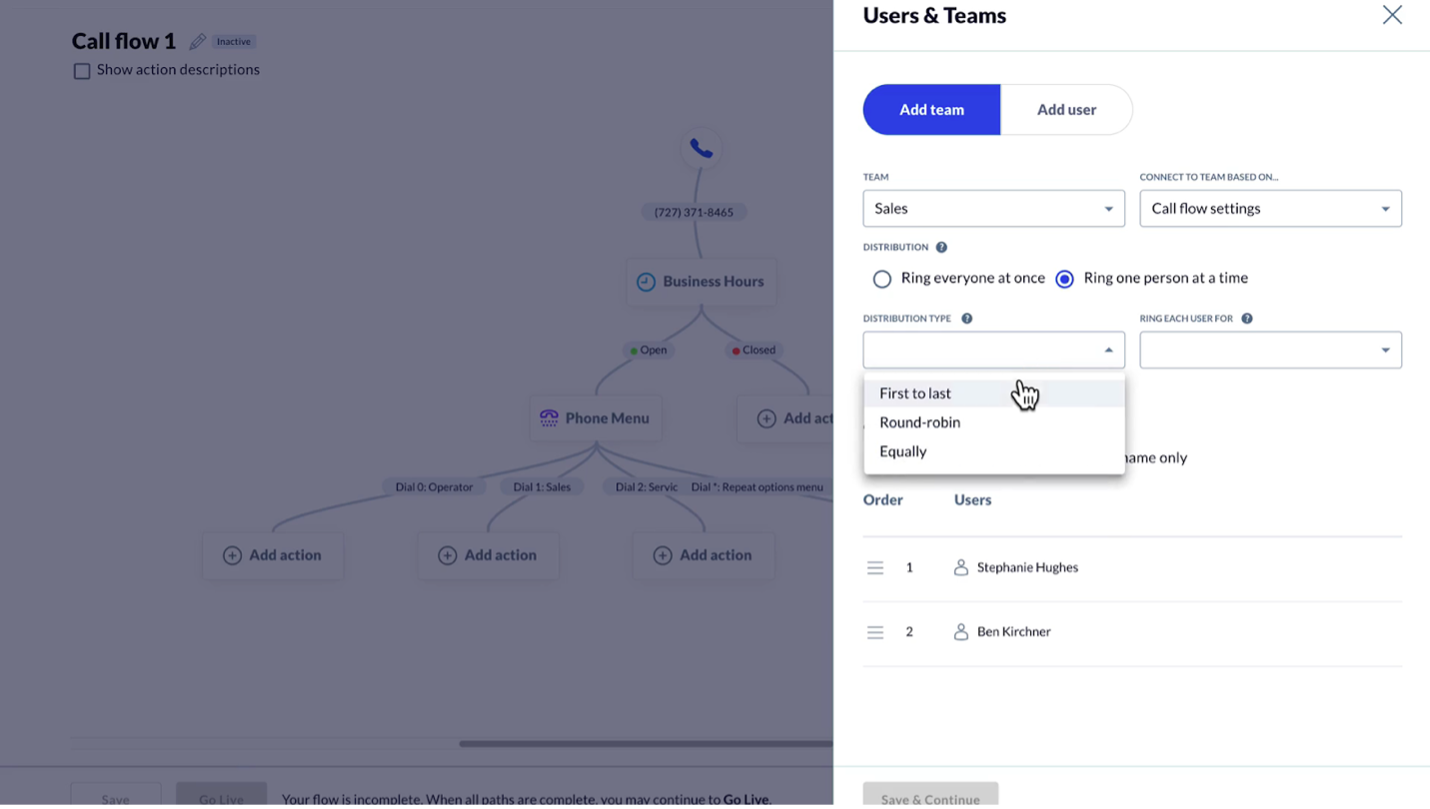 The simple drag-and-drop interface makes designing your call flow easy. Image source: Nextiva
Call Flow Builder
We like that the Nextiva program is structured around a convenient drag-and-drop system that lets you visualize your call flow when you're working from the demo template or starting from scratch. For new call flows, the system will prompt you to select the primary inbound number and any additional numbers you want to follow the same call flow. Suggested steps for the next action, like directing callers to your business hours, phone menu, users and teams, voicemail or transfer out, are provided to help you build a user-friendly system quickly. Drop-down menus with prefilled options are available to help you pick the best features for each stage, including turning on settings like round-robin distribution for your sales team to ensure each team member receives a fair number of opportunities to speak with new customers.
Nextiva offers the easiest way to design your call flow thanks to its drag-and-drop capabilities.
Security
Nextiva's core platform resides in North American data centers with eight points of presence that are SSAE 16-certified, SOC II-audited and offer PCI-DSS certification. Each data center has a dedicated power grid with dual OC48 (2.5 Gbps) rings to create redundant call paths. Nextiva's network is monitored 24/7 and data is protected with transport layer security (TLS) and secure real-time transport protocol (SRTP) encryption between all endpoints. As a result, Nextiva offers HIPAA-compliant services and features for phone, auto attendant, call recording, virtual fax, video conferencing and integrations with some of the best CRM software. This level of security is ideal for both healthcare organizations and multisite retail businesses. [Read related article: How to Find a HIPAA-Compliant CRM]
Nextiva Cost
Nextiva is slightly above average in terms of costs. Its plans start at $21.71 per monthly user, while most competitors offer entry-level packages with similar features for around $20 per month per user. Nextiva offers a discounted rate of 25 percent for annual subscribers, which is reflected in the listed prices below. The vendor also gives discounts to larger companies purchasing five, 20 and 100 or more accounts — that price cut is not represented below. 
Unlike many of their rivals, competitors 8×8 and Nextiva let you mix and match plans to suit the needs of your team. This means you can save money on accounts for employees who only need basic phone services to perform their duties while providing advanced features to just the staffers who need them. [Learn more in our detailed 8×8 review.]
| Plan | Price | Features |
| --- | --- | --- |
| Essential | $21.71 | Unlimited voice and video calling within the U.S./Canada, voicemail, toll-free numbers with up to 1,500 minutes, 24/7 support, unlimited internet faxing and integrations with Outlook and Google Contacts |
| Professional | $25.71 | Everything in the Essential plan, plus unlimited conference calls with 40 participants, unlimited video conferencing, screen sharing, multi-level auto attendant, up to 3,000 toll-free minutes, SMS/MMS and integrations with Salesforce and HubSpot |
| Enterprise | $32.96 | Everything in the Professional plan, plus voicemail transcription, call recording, up to 12,500 toll-free minutes, unlimited video conference recording, single sign-on, unlimited participants on voice and video conferencing, integration with Microsoft Teams and custom integrations |
On its website, Nextiva's advertised prices reflect two discounts: one for an annual subscription and another for purchasing at least 20 accounts.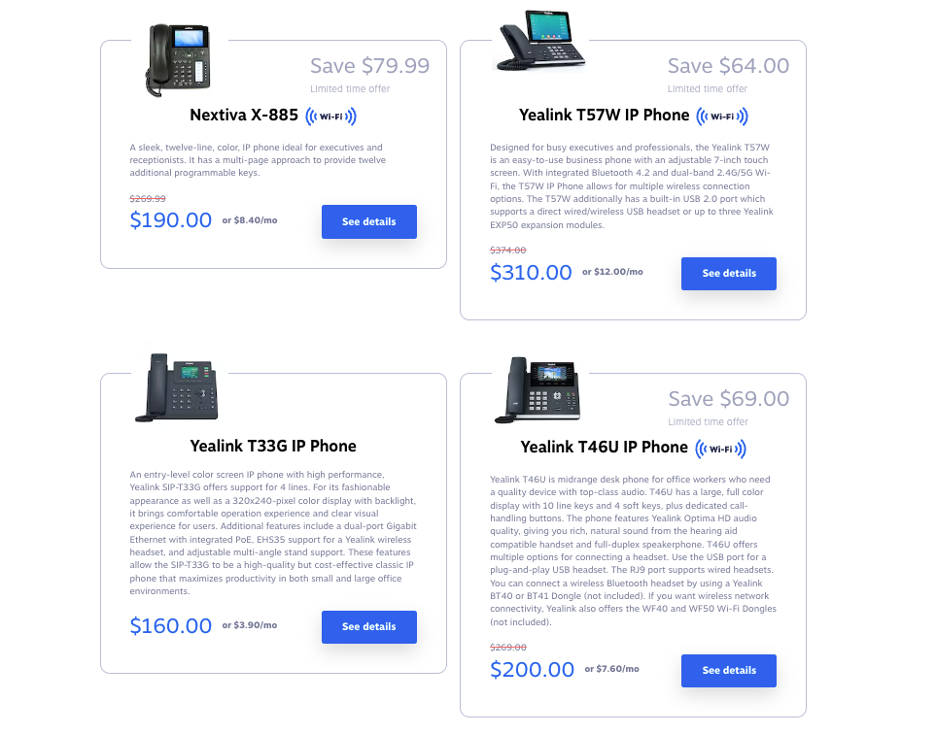 Nextiva offers a selection of high-quality desk phones to pair with your plan. Image source: Nextiva
Nextiva Setup
Most small businesses that select a new phone number for their Nextiva account can have their business phone system operating the same day it's ordered. Businesses transferring an existing number may have to wait for their previous carrier to release the number. Regardless, we like that the overall setup process is easy when it comes to adding users, setting up locations, assigning business phone numbers and voicemail, managing teams, and creating a phone menu. For most modern business phone systems, the bulk of the setup work is in building the call flow. Nextiva makes this process especially straightforward with its drag-and-drop call flow builder that lets you visualize how calls will move through your system. You can just as simply make adjustments as needed later on.
Nextiva Customer Service
Impressively, Nextiva is one of the few vendors in this category that offers the same 24/7 customer support to all of its subscribers no matter what plan they're on. You can reach a Nextiva representative by phone 24/7 or live chat on weekdays from 5 a.m. to 6 p.m. MT and on weekends from 5 a.m. to 4 p.m. MT. There is also an in-app help button and  an online self-help resource center stocked with webinars, quick start account guides, product updates, system status information and password reset options. Users can explore helpful how-to videos, get tips on setting up a menu to greet callers, and learn how to make the most of advanced features like voice analytics.
Nextiva Drawbacks
Small businesses with fewer than five user accounts will pay above-average prices with Nextiva. On its website, the company's pricing page settings are set by default to show the cost for businesses purchasing at least 20 user accounts for a savings of roughly 17 percent. Other providers with sliding scales, like RingCentral, show you the standard price for one user as the default setting. Compare cost information in our full RingCentral review and see our review of Ooma for another option that's especially great for small businesses.
It's also worth noting that Nextiva's voicemail transcription service is only available with its highest tier, the Enterprise plan, despite this being a fairly ubiquitous feature with cellular and other technology providers. For example, our review of Dialpad notes that the vendor includes it with AI-powered features that are standard with all plans. That said, aside from lacking voicemail transcription, Nextiva's entry-level Essential and mid-tier Professional packages feel more than adequate in terms of basic features and functionality.
Methodology
We researched and analyzed more than a dozen of the industry's leading business phone systems. Our investigations included participating in product demos, conducting independent research, and testing a variety of phone systems through paid and free trial accounts. Each examination considered factors like pricing, ease of use, features, customer service availability and implementation. We found Nextiva to be the best business phone system for multisite retail and healthcare organizations because of its easy-to-use interface, mix-and-match plans and HIPAA-compliant security features.
Nextiva FAQs
Are Nextiva and NextivaONE different?
Nextiva and NextivaONE are not different. Rather, NextivaONE is just the name of the software application announced by the company in 2022. It replaced the previous Nextiva desktop app with an updated user experience and feature enhancements. Nextiva updated existing customers free of charge.
Does Nextiva work with cell phones?
Yes, Nextiva works with cell phones. You can use the system on any cellular phone or mobile device running Android, iOS, Windows or macOS. 
Is the NextivaONE app free?
While it doesn't cost anything to download the NextivaONE desktop or mobile apps, you will have to pay for the Nextiva service, which starts at $21.71 for businesses purchasing fewer than five user accounts with an annual commitment. 
Overall Value
We recommend Nextiva for …
Businesses that can benefit from the ability to mix and match phone plans for different employees, teams or locations.
Companies that prioritize receiving 24/7 customer support with a basic, entry-level subscription.
Healthcare organizations that need HIPAA-compliant communication methods.
We do not recommend Nextiva for …
Very small businesses and independent contractors looking for basic phone service.
Companies that would prefer an extensive list of third-party integration options.
Organizations that want voicemail transcription without signing up for an enterprise-grade phone plan.

NextivaONE
The Verdict
NextivaONE is the best business phone system for multisite retail and healthcare. Its geographically diverse data centers and easy-to-use analytics make pinpointing busy times across multiple locations and time zones simple, so you can staff efficiently.

Jeff Hale
Contributing Writer
Jeff Hale is a writer and editor based in San Diego with a background in business development and marketing. He has identified new market opportunities for Fortune 500 companies and developed communications strategies and digital branding for tech startups and small businesses. Jeff covers emerging technologies and business solutions with a focus on efficiency and growth. He holds a Bachelor's degree in English from the University of California, Irvine, and an MBA from Chapman University.