GoTo Connect excels at supporting phone, meeting and messaging communications both in and out of the office with a fully-featured mobile app and strong reporting capabilities to track your team's activities across the organization.
Pros
Free international calling is available in 52 countries.
Take or make calls from anywhere on any internet-connected device.
All plans include the same 24/7 customer support through email, phone and chat.
Cons
The basic plan limits video conferencing to four participants.
Real-time analytics are only available with the standard plan.
Toll-free minutes are limited with all plans.

GoTo Connect includes free international calling to more than 50 countries from any device with the standard plan.
All GoTo Connect plans include the same 24/7 customer support through phone, email and a chat widget.
GoTo Connect's mobile app offers the same full-featured experience as the desktop and browser versions of the platform.
This review is for small and midsize business owners who are considering implementing GoTo Connect's all-in-one communications platform.

GoTo Connect (formerly Jive) is an all-in-one business communications platform that combines a cloud-based business phone system with one-click video conferencing and instant team chat. The service is available through two plans — basic and standard — starting at $24 per monthly user for businesses that purchase at least two user accounts with an annual plan. The platform is especially useful in remote work and hybrid office settings where employees use different hardware, thanks to compatibility with over 180 desk phone models, access through any internet-connected device, and a full-featured mobile app for Android and iOS that offers the same functionality as the desktop application.
For businesses with a global reach, GoTo Connect includes free international calling to more than 50 countries with its standard plan. Both plans include the same 24/7 customer support and modern phone features like ring groups, call queues, call routing, toll-free and vanity numbers, auto attendant, and unlimited extensions. For an extra $5 per month, the standard plan removes limitations on phone features like ring groups and call queues while adding multisite compatibility, 1,000 toll-free minutes, e-faxing and other communications features.
If a limit of 150 meeting participants is too restrictive, consider our 8×8 review which offers HD video calls with up to 500 participants.
GoTo Connect Editor's Rating:
9.3 / 10
Pricing

9/10

Ease of use

9.5/10

Features

9.2/10

Integrations

9.3/10

Customer support

9.7/10
Why GoTo Connect Is Best for Remote Teams
GoTo Connect puts all-in-one communications on any device with an internet connection, making it easy for teams with different hardware to collaborate effectively from anywhere in the world. The platform is compatible with 180 desk phones and accessible through the desktop application on macOS and Windows, mobile app on Android and iOS devices and web browsers to provide remote teams with a multitude of ways to connect. 
GoTo Connect's team messaging and one-click video conferencing tools make it easy to jump into ad hoc meetings with screen sharing to reduce the barriers between remote workers and teams. With the standard plan, you'll have access to real-time analytics to track micro and macro phone traffic patterns and view statistics for your phone system's call count, time of day, call duration, caller geography and call information to improve your operations and provide better service. GoTo Connect keeps remote communications secure with encryption and continuous monitoring, as well as regular SOC 2 audits and public SOC 3 reporting.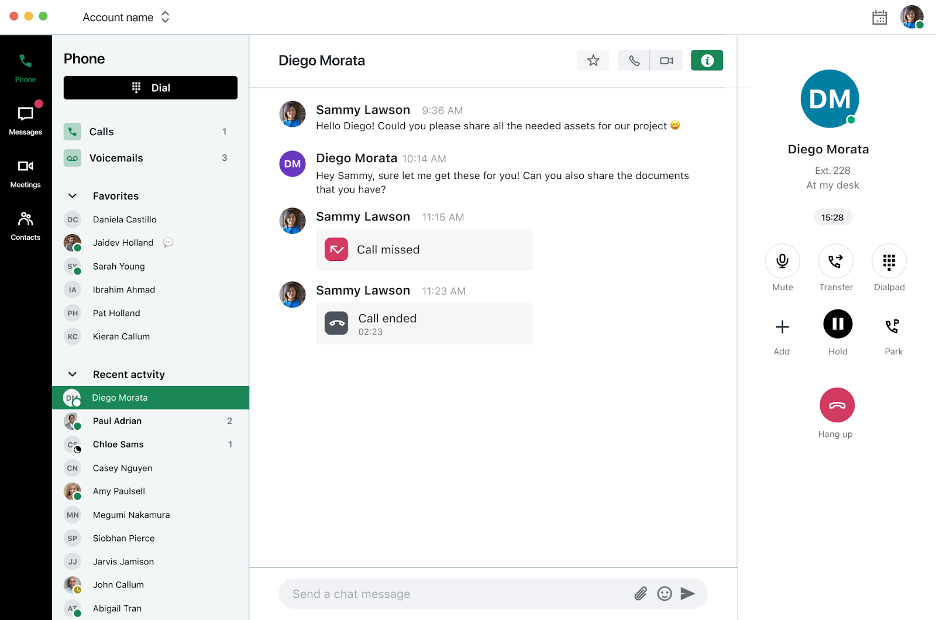 Usability
GoTo Connect's look and feel put it somewhere between a consumer- and a professional-focused software product, but it is missing some of the helpful automation and AI-powered features of its competitors. That keeps it slightly behind competitive platforms like Ooma and Dialpad in terms of ease of use. 
Interested in automation features and AI tools? Consider our review of Dialpad for a business phone system that includes cutting-edge capabilities.
GoTo Connect does have an easy-to-use visual dial plan tool with a handful of templates to help you implement your first call flow and customize features like call routing and ring groups later down the road. Beyond complete system access through Windows, macOS, Android, iOS and web browsers, the platform's usability also shines through compatibility with 180 desk phones and the option to add an adapter to older analog phone models to deliver Voice over Internet Protocol (VoIP) communications. 
The video conferencing tool included with both plans is designed to lower barriers to communications with one-click meetings that don't require participants to download or install any software. Other available add-on features like customer engagement can consolidate your company's two-way communications across multiple channels to increase response times and improve customer experiences.
GoTo Connect Features
| | |
| --- | --- |
| Mobile app | The full-featured business phone mobile application is available with all subscription plans. |
| Analytics | Historical and real-time data are presented in easy-to-understand color-coded charts. |
| Screen sharing | Share from multiple devices and control what your meeting participants can see. |
| Customer engagement | Tools to boost customer engagement through SMS, web chat and social. |
GoTo Connect's collaborative and flexible features make it natural to communicate and manage teams effectively from a distance in remote and hybrid office settings. Check out a few of the standout functions from our research.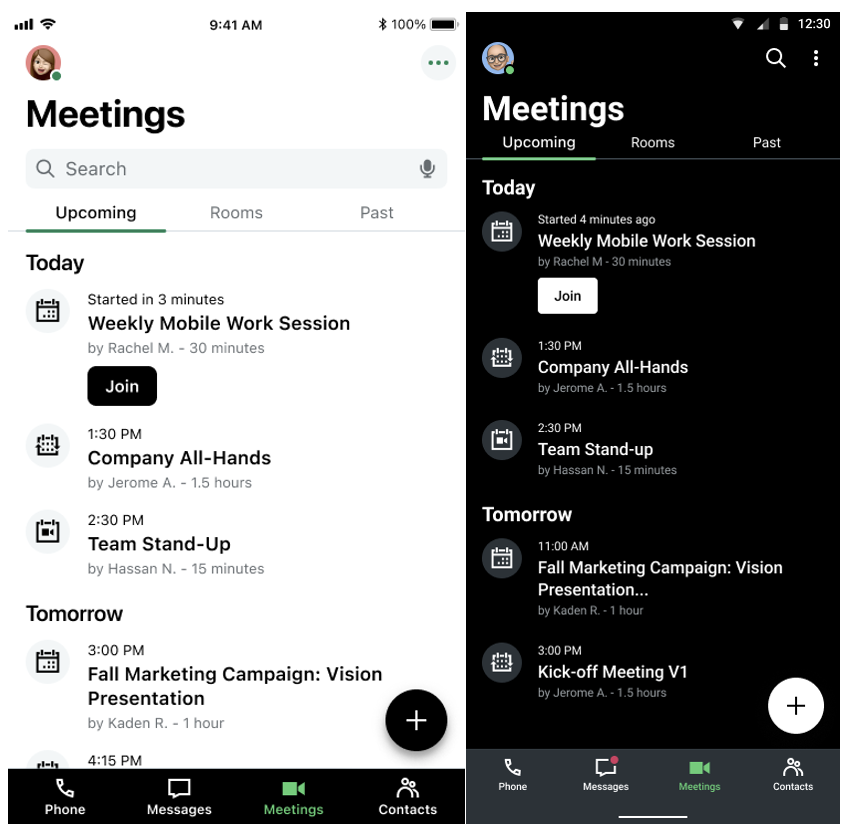 All of your communication tools are readily available through GoTo Connect's mobile apps for Android and iOS devices. Source: GoTo
Mobile App
While the majority of cloud-based phone services include mobile access, not all service providers offer a full-featured version at every subscription level. GoTo Connect's mobile experience that's included with both plans is on par with the desktop and web browser versions, providing the same user experience and available features for users on the go or anyone who needs a quick backup due to home-office internet interruptions. You can also use your cell phones as part of a call flow or ring group to ensure important calls are never missed when you step away from your computer or desk phone. Switching between devices during calls is seamless, which means the person on the other end will not be aware that you're moving the conversation between your desk phone, computer or mobile device.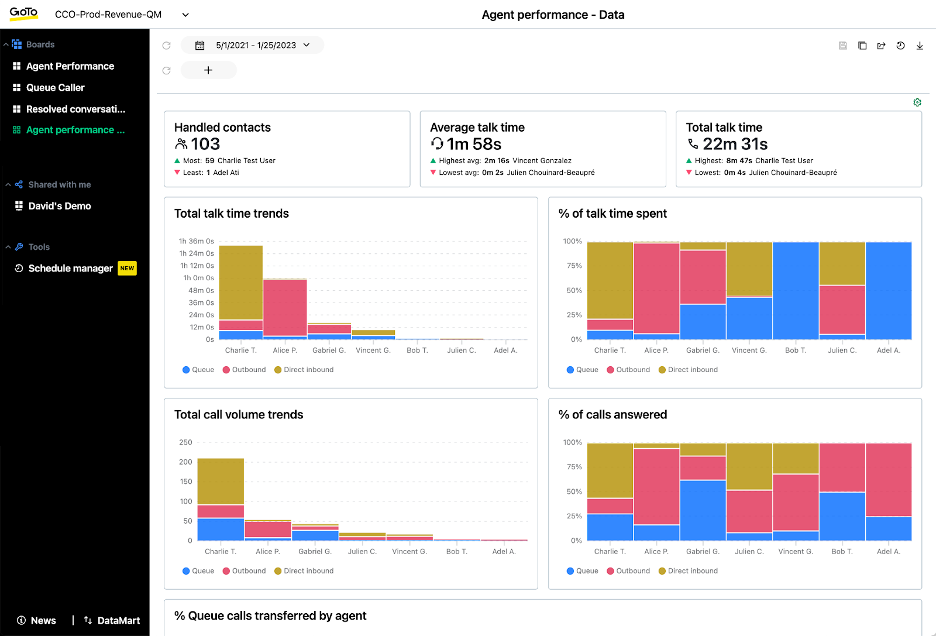 Analytics
GoTo Connect's information display with color-coded charts makes it easy to identify key metrics in areas like total calls and percent of calls answered to measure agent performance. Admins can glance at data sets and immediately spot calling trends to make scheduling changes or help identify a top performer within the sales team. With the standard plan, you'll expand your access to real-time, predictive analytics to better inform customer satisfaction and pivot quickly to allocate the proper resources as needed. 
Screen Sharing
When you can't get everyone in a room together, screen sharing without any downloads or software installations becomes an essential part of meetings and projects. GoTo Connect lets you share your mobile and computer screens with drawing tools to mark up your documents and highlight points of interest or illustrate new ideas. Anyone in a meeting can share their screen, with robust organizer controls that allow you to start and pause screen sharing, assign a new presenter, and mute attendees when needed. This feature can support up to 25 video streams at 720p resolution. The addition of custom backgrounds is a great way to provide everyone on your remote team with a consistent and professional appearance when meeting in a group setting with clients. 
Customer Engagement
This add-on feature is designed to help small businesses spend less time meeting complex customer expectations. The customer engagement tool collects two-way conversations across SMS, web chat and social media channels and delivers them to a shared team inbox. You can use your multichannel inbox to improve response times and pick up conversations quickly to help provide requested information or resolve a pressing issue. You can also conduct customer surveys to boost engagement, execute outbound SMS campaigns with scheduling tools, and collect feedback with trackable results to help improve your customer outcomes. 
GoTo Connect Cost
GoTo Connect's cost depends on the term and number of users. Our prices reflect an account with one user, but discounts are available for businesses purchasing two, 11, 21, 51 and more than 101 user accounts. GoTo Connect also offers annual discounts with savings of up to 11 percent, which we've included in our pricing. Other fees to consider include toll-free minutes at $0.03 per minute for basic users and $0.019 per minute for standard users who exceed their 1,000 minutes shared across the account. GoTo Connect also offers a number of paid-add ons for customer engagement, business continuity, SD-WAN, Microsoft Teams and phone hardware. The basic plan has a limit of 20 users, but the standard plan does not have any user restrictions. 
GoTo Connect's price and value depend on the number of user accounts and the length of the term you select.
| Plan | Price | Features |
| --- | --- | --- |
| Basic | $29 | Local and toll-free number options, video meetings with up to four participants, smart call routing, unlimited extensions, call forwarding, auto attendant, ring group, call queue, dial plan, team messaging, 40-minute meeting durations and 40 SMS credits  |
| Standard | $39 | Everything in the basic plan, plus unlimited use of most calling features, hot desking, e-faxing, international calling, paging, intercom, call recording, real-time analytics, video conferencing with 150 participants and 80 SMS credits |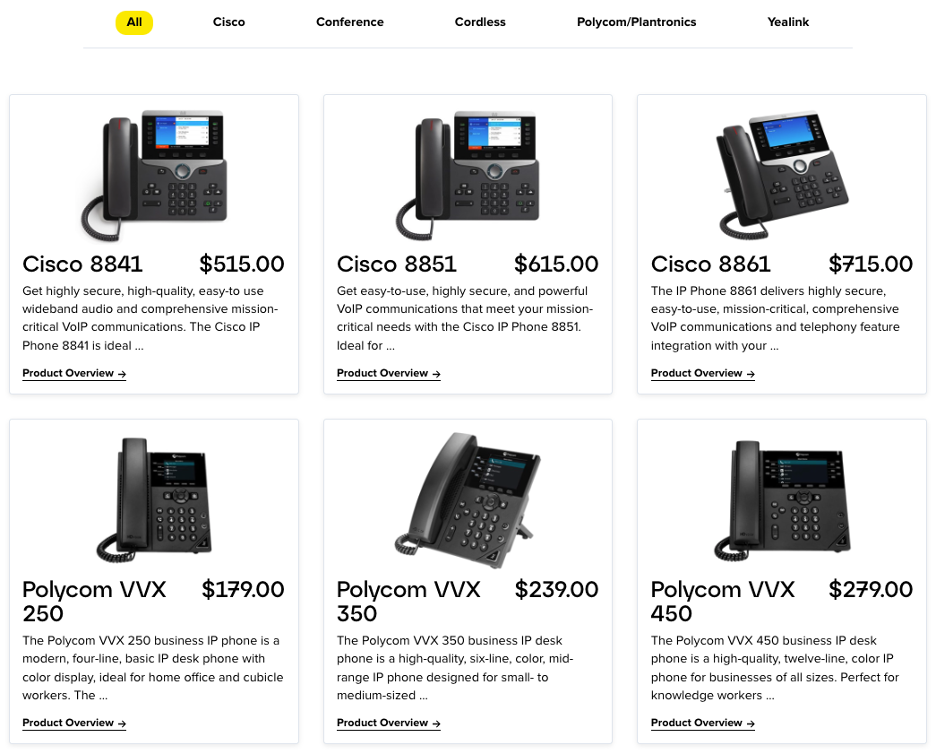 GoTo Connect Setup
Most small business users will be able to navigate through the DIY setup wizard and get their basic business phone system up and running in one day. Some delays of anywhere from one week to one month could occur if you're porting an extensive list of phone numbers from your previous service provider, which is the case with all cloud-based phone systems.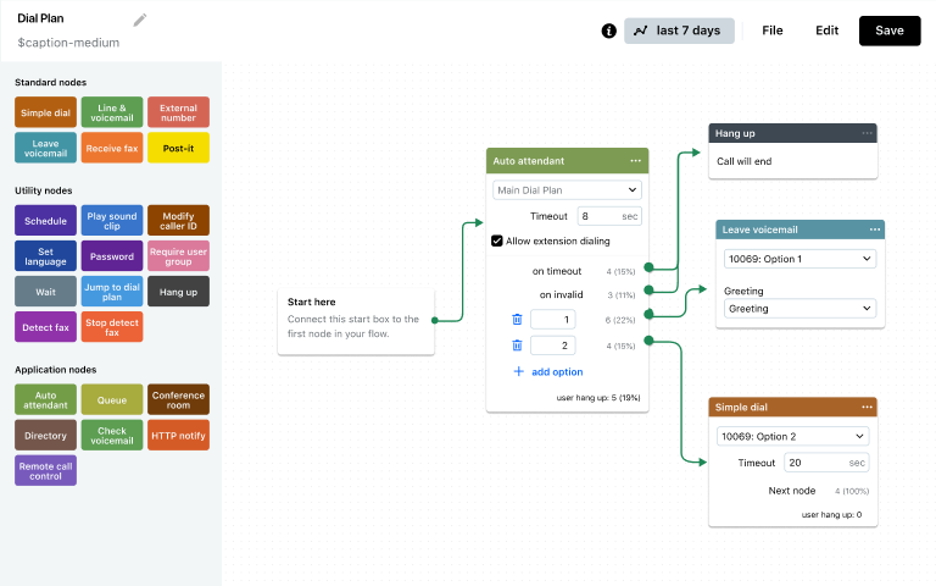 One area where GoTo Connect makes implementation and management easy is the dial plan editor. You can select from templates for an auto attendant with a schedule, call queue, simple dial plan, external number and simple auto attendant to help map your system for you. From here, you can drag and drop your nodes or basic phone actions to customize your call flow with the right schedule for your business hours and after-hours routing needs. 
If ease of use is your top priority, check out our Ooma review, which covers the business phone system that we found to be among the easiest to implement and use.
GoTo Connect Customer Service
GoTo Connect includes the same 24/7 customer support with both of its unified communications plans. Customers can reach a support specialist by phone, email or chat widget on the support site virtual assistant. In addition to personal support and troubleshooting, GoTo Connect also offers an online DIY resource center with remote work tips, webinars, product guides, e-books, white papers and industry insights to help you make better use of your communications tools. The company also provides training through YouTube videos and a series of on-demand courses. 
GoTo Connect Drawbacks
GoTo Connect's entry-level basic plan feels limited by the restriction of four video conferencing participants with a 40-minute meeting limit. Other free standalone video conferencing tools offer similar, if not better, features with far more participants in the case of Zoom and longer meeting durations with Dialpad Meetings.
GoTo Connect users with very small businesses who aren't ready to make an annual commitment will pay a premium for this service. An independent contractor with one standard account would pay upward of 79 percent more for their user account than a much larger organization.
Methodology
In searching for the top business phone systems, we investigated more than a dozen platforms. We researched and analyzed each offering, participated in demos whenever possible and tried free and paid plans. We evaluated each solution based on its tools and features, pricing, limitations, ease of use, setup process and customer service options. We determined GoTo Connect is the best business phone system for remote teams, thanks to its easy access across desk phones, computers, mobile devices and web browsers, and its features like one-click conferencing for immediate face-to-face collaboration from any device in any location.
GoTo Connect FAQs
To use GoTo Connect on your phone, download and install the mobile application and log in using your account credentials. To add or provision a new device, log in to your admin portal, select the devices icon on the left and click activate from the "assigned to" column. You can either assign the device to a specific user or set it up as a standalone device for something like the back-office phone.
A GoTo Connect softphone refers to the software application used to make and receive phone calls using an internet connection. Softphone systems like GoTo Connect use Voice over Internet Protocol (VoIP) to deliver voice, text and video communications through computers, laptops, smartphones, tablets and other internet-connected devices.
GoTo Connect's prices range from $22 to $32 per month for the basic plan, depending on the number of users and length of contract. Pricing for GoTo Connect's standard plan ranges from $24 to $43 per month. Discounts are available for enterprise clients purchasing more than 101 user accounts.
Overall Value
We recommend GoTo Connect for …
Any business that makes regular international phone calls.
Businesses with hybrid or remote teams that use a wide range of desk phones and devices for calls, conferencing and chat.
Any business already using one of GoTo's other business products, including IT support, remote access, training and customer engagement.
We don't recommend GoTo Connect for …
Businesses with extensive integration requirements for their phone, video or chat tools.
Businesses looking for advanced AI-powered tools and features as standard options to optimize communications and workflows.
Businesses that want to host very large webinars and conference calls through their unified communications platform.