Vonage offers a strong list of basic phone features and many paid add-on options that allow you to build a custom plan with the unified communications features you need.
Pros
All plans come standard with more than 50 business phone features and apps.
All plans include the same 24/7 U.S.-based customer service and tech support.
You can customize any plan with a large number of paid add-ons.
Cons
All plans require a minimum contract term of one year.
The middle- and upper-tier plans lack major feature upgrades.
IP desk phone compatibility is not a standard feature with all plans.
Vonage includes more than 50 phone and cloud-based communications features with all of its unified communications plans.
All Vonage plans include the same 24/7 customer support hours and methods of contact.
Vonage offers paid add-ons you can use to customize any service plan.
This review is for small business owners who are considering implementing Vonage's Unified Communications platform.

Vonage's Unified Communications platform is a cloud-based service that combines business phone, video conferencing and team messaging. It's available through one of three plans that range from $19.99 to $39.99 per month, per user, with an annual contract. In addition to more than 50 standard phone and communications features, Vonage offers a number of paid add-on features like the artificial intelligence (AI)-powered virtual assistant that adds voice intelligence to every conversation. 
While Vonage doesn't have the longest list of integrations in the industry, it does some of the big essentials like G Suite, Office 365, HubSpot, Microsoft Dynamics, Zapier and Zendesk right out of the box. All Vonage plans include 24/7 United States-based customer service and access to a project manager or coordinator to help with onboarding and basic administrator training.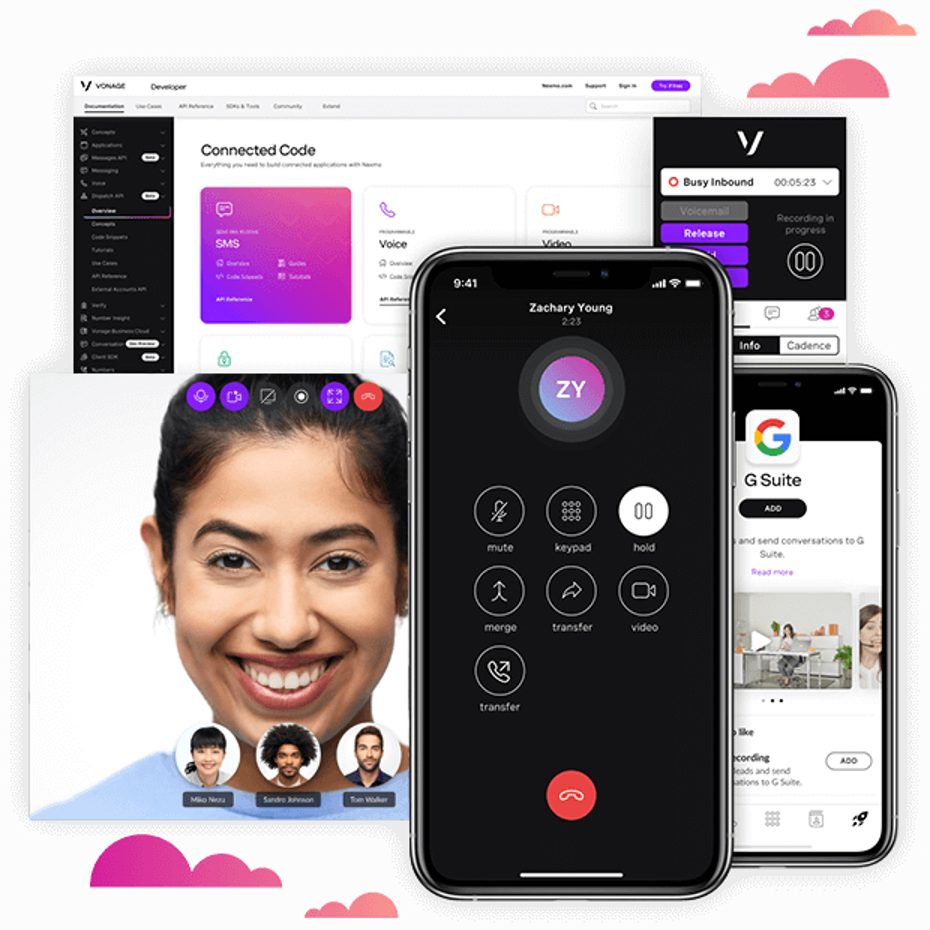 Access your communications tools from any of your internet-connected devices. Source: Vonage
Vonage Editor's Rating:
8.7 / 10
Pricing

8/10

Ease of use

9/10

Features

8.5/10

Integrations

8.5/10

Customer support

9.7/10
Why Vonage Is Best for Best for APIs and Customization
Most cloud-based business phone systems offer a handful of optional paid add-ons that allow you to modify your service plan slightly. With a limited pool of add-on options, you often need to jump to a top-tier plan to get every feature you want. Vonage offers 18 paid add-ons you can apply to any plan, offering many businesses the opportunity to take advantage of a lower-cost plan without sacrificing one or two higher-level features like on-demand call recording or a virtual assistant. Vonage also allows unlimited admin user accounts, ensuring each phone user can customize their features and functionality to their preferences.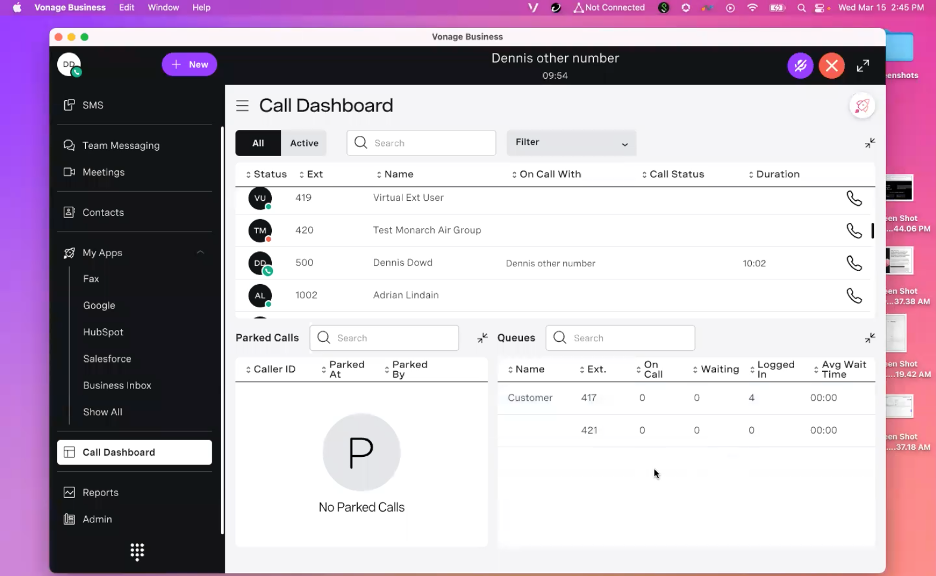 You can access your standard add-on features from the main dashboard. Source: Vonage
Vonage also has a separate communications application programming interface (API) product with pricing based on the action in instances like two-factor authentication and in-app messaging or time in examples like the video API with cost-per-minute pricing for video streaming and recording. Vonage offers a wide range of APIs across more than a dozen categories including video, voice, messaging, short message service (SMS), email, SIP trunking and dispatch to orchestrate multichannel message delivery with failover.
While Vonage offers a great deal in terms of customization, your monthly bill can increase quickly if you're selecting more than a couple of the add-on features.
Usability
With such a high level of customization, Vonage's ease of use can change depending on the way you build your phone system. While it is generally considered an easy-to-use voice-over-internet-protocol (VoIP) platform, many users will have the best experience working from the desktop and mobile apps as opposed to a web browser integration or desk phone, which can have limitations. 
For example, if you prefer to handle most of your business calls from your IP desk phone, you'll need to select the middle- or upper-tier plans to access that capability. If you want to initiate a call from a web browser, you'll need to install the integration suite browser add-on that's available for Chrome, Firefox and Microsoft Edge.
Flipping calls between the desktop and mobile app is seamless and jumping from a team chat window to a video meeting within those apps only takes a few seconds. With the ability to assign as many administrator accounts as you want, your team members can customize their platform or make changes to their accounts if you allow it. From the admin portal, it's easy to add and remove communications features or upgrade lines temporarily for busy times like new product launches or specific holidays when you know you'll need extra support on the phone.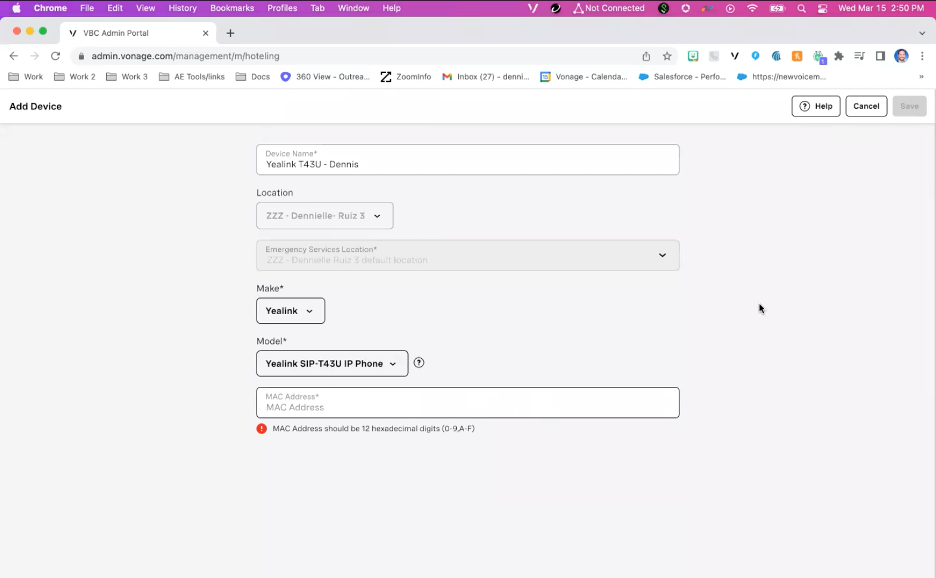 Adding a new desk phone for a new employee is fast and easy with a helpful dropdown menu to guide you through the process. Source: Vonage
Vonage Unified Communications Features
| | |
| --- | --- |
| AI Virtual Assistant | An add-on feature that uses conversational AI for voice-enabled customer self-service. |
| Call announce | Answer every call accurately and professionally. |
| Business call recording | Choose what you want to record with 500 hours of storage. |
| Vonage Meetings | The video and audio conferencing tool with solid features for small businesses. |
Vonage's available add-on features make it easy to build a custom communications system to suit your needs without paying for many advanced features you won't utilize. Read about a few of the standout features from our analysis. 
AI Virtual Assistant
Vonage's AI-powered virtual assistant uses a voice-driven self-service model to address customer inquiries immediately, expedited conversations and carry out simple actions without the assistance of a human agent. This time-saving tool can analyze customer sentiment and find meaning in words with context to respond with efficiency. If deployed properly, the assistant can use machine learning models to optimize responses with higher-performing messages over time. For customer service agents who spend a lot of time answering relatively simple questions, this tool can reduce wait time and free employees to focus on higher-priority items. The virtual assistant can also summarize interactions, analyze discussions and provide recommendations to help sales reps throughout the customer journey. 
Call announce
This included feature lets you know the reason for a call before it's connected, helping you make faster and more accurate decisions when answering or routing your incoming calls. It works with custom tags that can be set to business phone numbers to track things like a specific product, ensuring your support staff is alerted to the caller's issue before they pick up the phone. The call announces feature works in conjunction with your call screening and call menu, allowing you to answer the incoming call, send it directly to voicemail or transfer it to another extension when appropriate. Even if you decide to transfer the call to a personal line, the call announce feature will still let the recipient know the incoming call is a business call.
Business call recording
This paid add-on allows you to record all of the phone conversations for everyone in your organization. It works for inbound and outbound calls with the option to schedule when you want to record conversations. From the admin portal, you can customize the recording rules to determine who has access to download, playback and share recordings for review and training purposes. The software also meets compliance regulations with preset messages informing inbound callers they are being recorded. Vonage provides 500 hours of storage, with additional time available for purchase in 250-hour increments. To ensure privacy, all of your call recordings are protected by a password.
Vonage meetings
For small businesses, Vonage's no-download video and audio conferencing tool provides all of the collaborative features and tools needed to conduct meaningful meetings that keep audiences engaged. The video communications tool includes strong features, such as whiteboarding for collaboration, blurred and virtual backgrounds for a professional look, recording options so you can reference important conversations later and emojis to help gauge the reaction of your meeting participants. Jumping to a video call from a team messaging or SMS chat window is instant when using the desktop or mobile app, or you can schedule a meeting with Google and Outlook calendars and provide a dial-in number from 60 countries. Video conferencing is limited to 25 users but audio conferencing is available for up to 200 users.
Vonage Unified Communications Cost
Vonage offers three paid options that all require a one-year contract with early termination fees up to the total price of your service contract. Discounts are available for companies purchasing five, 20 and 99 user accounts, but our prices reflect one user account. 
All of Vonage's unified communications plans come standard with more than 50 modern voice and phone features including an auto attendant, call routing, music on hold, toll-free and local business telephone numbers, business SMS and team messaging, voice and video conferencing, simultaneous ring, visual voicemail and do not disturb. Vonage offers a great deal of customization with 18 paid add-ons including on-demand call recording, AI virtual assistant, international phone numbers, business call recording and IP phone paging. 
Many of the business phone system providers we've reviewed offer monthly and discounted annual contract terms. Check out our review of RingCentral or our Nextiva review if you're looking for these payment models.
| Plan | Price | Features |
| --- | --- | --- |
| Mobile | $19.99 | Unlimited calls and SMS, 50-plus business phone features, mobile and desktop apps, 20-plus third-party integrations, team messaging, advanced video conferencing, and 24/7 support.  |
| Premium | $29.99 | Everything in mobile plus unlimited meetings with up to 100 participants, multilevel auto attendant, customer relationship management integrations and IP desk phone capabilities.  |
| Advanced | $39.99 | Everything in premium plus on-demand call recording, visual voicemail and call groups. |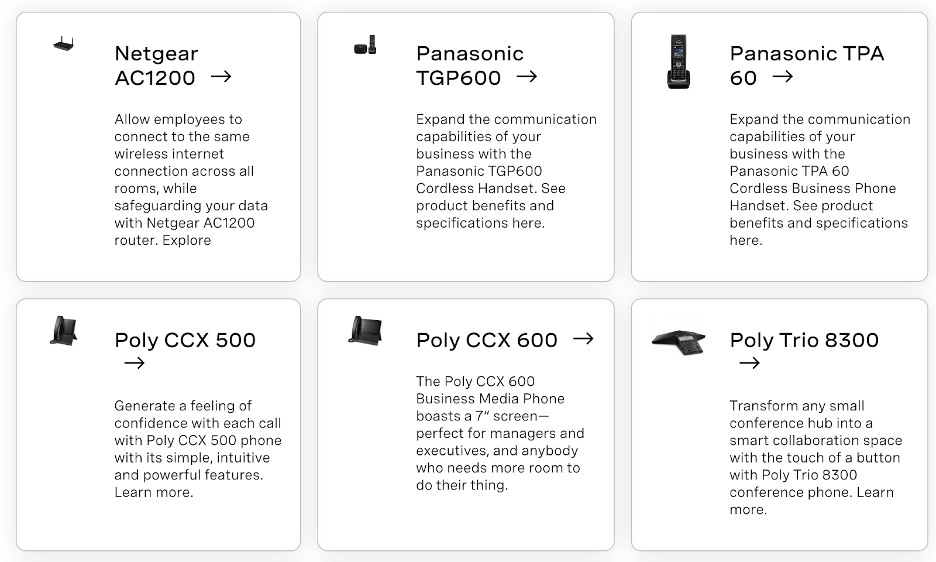 Vonage offers more than 20 pre-provisioned phones and wireless internet devices from Netgear, Panasonic, Poly and Yealink. Source: Vonage
Vonage Unified Communications Setup
Small businesses that will not need to port an existing number can get their service up and running within a few minutes. As with all business phone solutions, the wait to port numbers could range from a few days to a few weeks depending on your previous carrier. New Vonage customers will have access to a project manager or coordinator who can provide basic system training for the admin portal and help with setting up the account, which is not something you'll find with most business phone systems we've reviewed.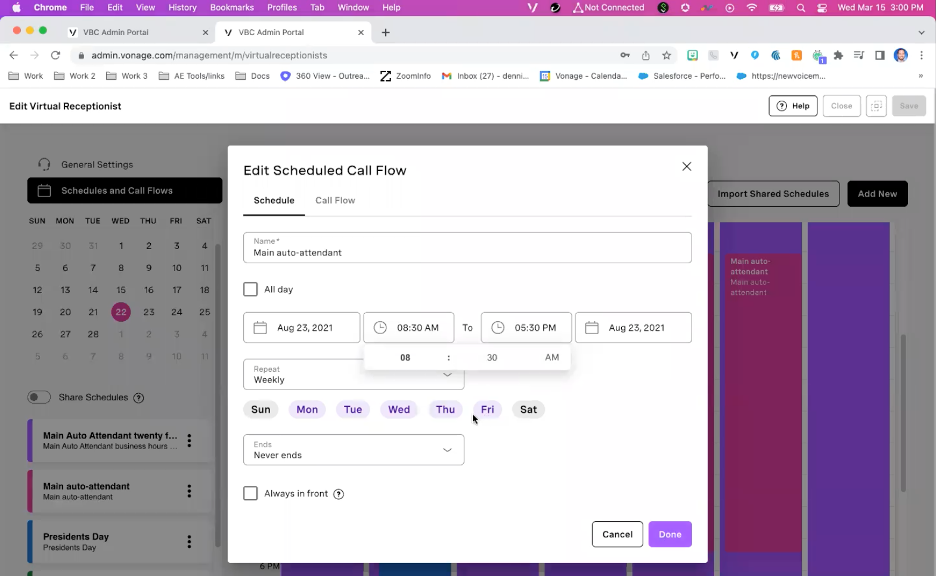 Making changes to your call editor is similar to changing your Outlook or Google Calendar. Source: Vonage
Setting up your call routing and flows is typically the most time-consuming part of the implementation process. First-time VoIP phone users should take advantage of the complementary customer support, but anyone who's managed these types of systems won't have any trouble using features like the call routing schedule that looks and functions much like an Outlook or Google Calendar. If you decide to purchase phones from Vonage directly, they will arrive pre-provisioned for your account. All you'll need to do is plug them in and assign your preferred extension from the administrator's portal to begin making and receiving calls.
Vonage Customer Service
Vonage includes the same 24/7 U.S.-based customer service and technical support with all three of its unified communications plans. You can contact a support specialist by phone or directly through the app with a support ticket.
The Vonage Training Center is home to a set of tutorials, guides and webinars. This is where you can find videos demonstrating the features and functions of your desk phones and tips on using your business apps. You can also register for live customer training or webinars covering the mobile app's features or dive deeper into the entire platform with sessions designed for administrators and end users. The company also hosts an online resource page with more than 350 posts for its unified communications platform. While much of this content is focused on basic educational topics like defining a softphone, some do provide easy-to-understand training to help you set up a multi-phone system for your business. 
If instructor-led or self-guided training is important for your team, you might want to consider RingCentral MVP which includes access to many free and paid RingCentral University courses.
Vonage Drawbacks
Most of the unified communications platforms we've reviewed offer a monthly contract option that's typically priced a bit higher than the annual plan, giving businesses an opportunity to test a new system for a few months before deciding to sign a long-term contract. Vonage's lack of a monthly plan and early termination fees that cover the whole plan's term could be a drawback to businesses that like to stay lean by avoiding long-term software and service commitments.
For large businesses, Vonage Meeting is a limited video conferencing tool with a maximum of 25 participants. While this feature does support screen sharing and audio conferencing with up to 200 participants, other standalone video conferencing services like Zoom allow up to 100 participants free of charge. 
If you're looking for an all-in-one platform for very large audiences, you might want to consider our 8×8 review, in which we found the platform supports up to 500 participants.
Methodology
In searching for the top business phone systems, we investigated more than a dozen platforms. We researched and analyzed each offering, participated in demos whenever possible and tried free and paid plans. We evaluated each solution based on its tools and features, pricing, limitations, ease of use, setup process and customer service options. We determined Vonage is the best business phone system for customization thanks to its long list of available add-ons, unlimited admin accounts and a separate communications API product that you can use to engage with customers across messaging, voice and video.
Vonage Unified Communications FAQs
No, Vonage is not owned by AT&T. Vonage was an independent American cloud communications company until July 21, 2022, when it was acquired by Ericsson in a $6.2 billion cash transaction. Ericsson is a publicly traded telecommunications networking company with headquarters in Sweden.
Vonage starts at $19.99 for its entry-level plan, but discounts are available for users who purchase five, 20 and more than 99 user accounts. Vonage's most advanced plan ranges from $34.99 to $39.99, depending on the number of user accounts you plan to buy.
Like most cloud-based phone service platforms, the quality of the phone service is often tied to the strength of your wireless mobile device or internet signal. Most of the service providers in this category have advertised uptimes of 99.999%, meaning service interruptions are generally very rare. 
Overall Value
We recommend Vonage for …
Businesses that prioritize customization with their software-as-a-service products.
Any business looking for a well-featured entry-level unified communications platform.
Small businesses that want help setting up their VoIP phone system and training to use it.
We don't recommend Vonage for …
Any business that's not ready to make an annual contract commitment. 
Small businesses looking for as many modern business phone features as possible.
Any business that wants to host very large video conferences or webinars.