HubSpot's CRM Suite offers a complete set of customer engagement and support tools with an expansive list of software integrations to customize your platform.
Pros
You can integrate your HubSpot CRM platform with nearly any popular business application.
You can manage your website, marketing, sales, service and operations from the same bundled platform.
You can provide everyone at your company with limited user accounts for free.
Cons
The Professional plan includes a mandatory $3,000 onboarding fee.
The advanced plans are relatively expensive for smaller businesses that aren't able to benefit from a price structure based on unlimited seats.
Plans are limited by the number of marketing contacts, forcing many businesses to purchase additional contacts at a significant rate.
The best CRM helps all of your customer-facing employees work smarter and faster to achieve better outcomes. 
HubSpot's CRM Suite includes all of the company's marketing, sales CRM, customer service, CMS and operations software in one platform.
HubSpot has one of the industry's largest app marketplaces, with more than 1,000 software integrations. 
This article is for business owners and professionals searching for a robust sales, marketing and service platform like HubSpot CRM.

HubSpot's CRM Suite bundles the features and tools from its stand-alone marketing, sales, customer service, content management system (CMS) and operations product offerings to create a unified platform for customer engagement. All of HubSpot's paid CRM Suite plans include a limited number of user accounts to utilize your paid features, but anyone at your company can still access your platform through unlimited free user accounts. HubSpot also lets you create custom bundles with its Hub products to grow your business. The company's app marketplace is filled with more than 1,000 free and paid integrations covering all of your traditional online business tools, such as Gmail, Outlook, WordPress, Zoom and Facebook. You will also find a wide selection of role-based tools for marketing, sales, customer service, productivity and finance. The flexible plans and ability to customize with a bevy of integrations make HubSpot worth considering for any businesses searching for a unified customer relationship management (CRM) platform that serves all customer-facing departments and roles equally.
HubSpot CRM Editor's Rating:
9.3 / 10
Ease of use

9.3/10

Features

9.6/10

Integrations

9.8/10

Pricing

9/10

Customer service

9/10
Why We Chose HubSpot CRM as Best CRM for Integrations
HubSpot works especially well with others, going as far as offering multiple integrations with its direct CRM competitors, including Zendesk, Pipedrive, Salesforce, Freshsales, NetSuite and Zoho CRM. While many of these competitive software applications are designed to work with HubSpot's CMS, it's still a strong signal of the company's commitment to providing its customers with the right tools for the job. 
Among the platform's thousands of applications are popular essentials like Gmail, Google Calendar, WordPress, Outlook, Zapier, Facebook, Zoom, LinkedIn, Slack, MailChimp, Instagram and Asana. Marketers can find an assortment of tools for A/B testing, salespeople can utilize tools for predictive dialers, and customer service agents can choose between multiple solutions for ticketing. Most of the popular and essential business integrations are free to use, but some do require one-time, monthly, annual or pay-as-you-go fees.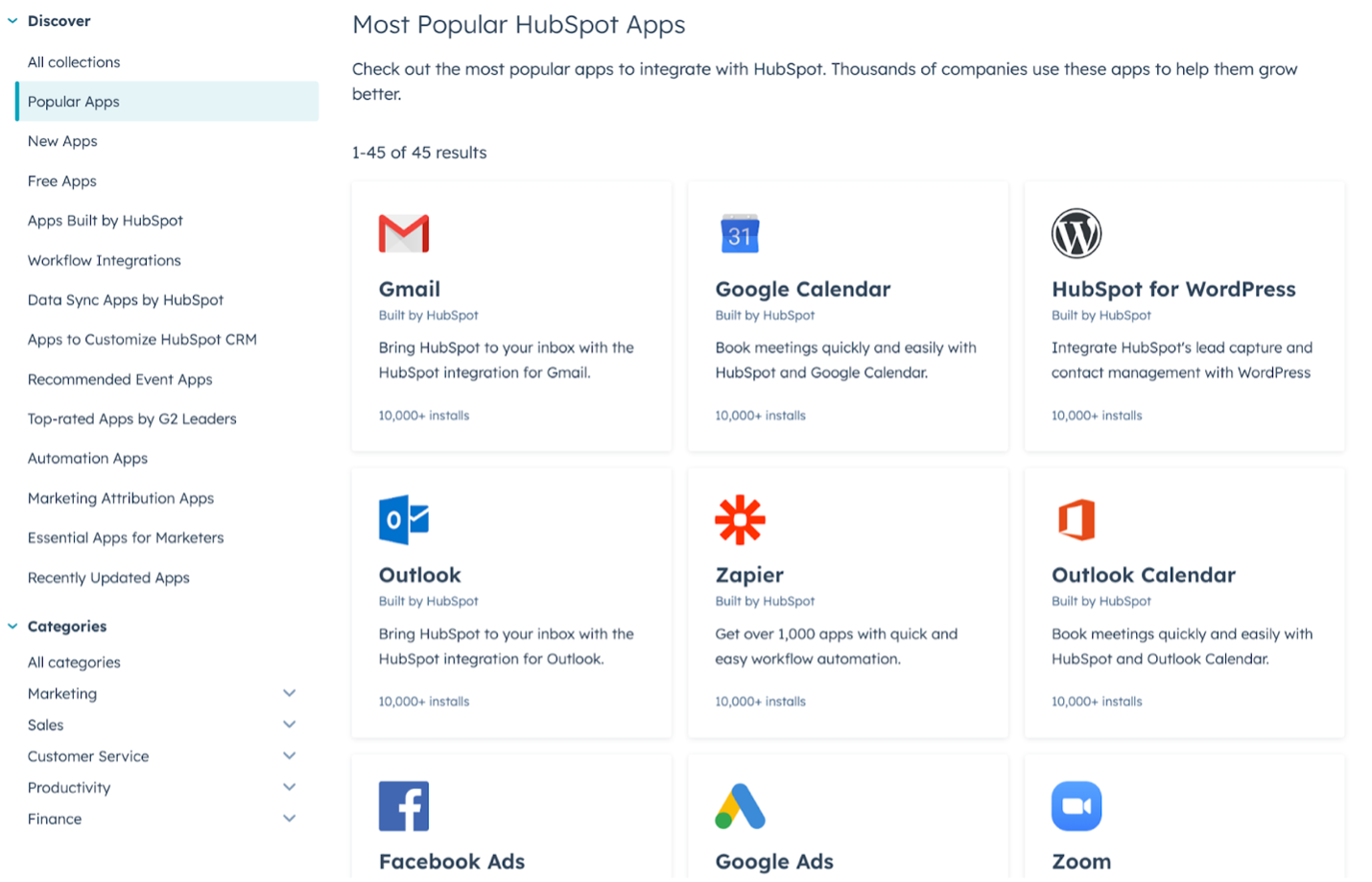 Choose from dozens of popular applications and more than 1,000 total integrations. Source: HubSpot
Usability
HubSpot CRM Suite has a more approachable consumer product look and feel compared to some of the enterprise-focused CRM suites, like the ones in our Salesforce review and Oracle NetSuite review. As a result, HubSpot is easier to get up and running and start using for basic customer engagement. However, more than anything, HubSpot's vast app marketplace, with thousands of integration options, ensures you can merge your CRM with all of the other software applications you rely on to run your business, making the transition much easier for new users. In addition, HubSpot's setup tool will configure your new system to meet your goals, whether that means engaging in outbound marketing activities, managing your sales funnels or building a high-functioning sales platform to ensure you hit the ground running.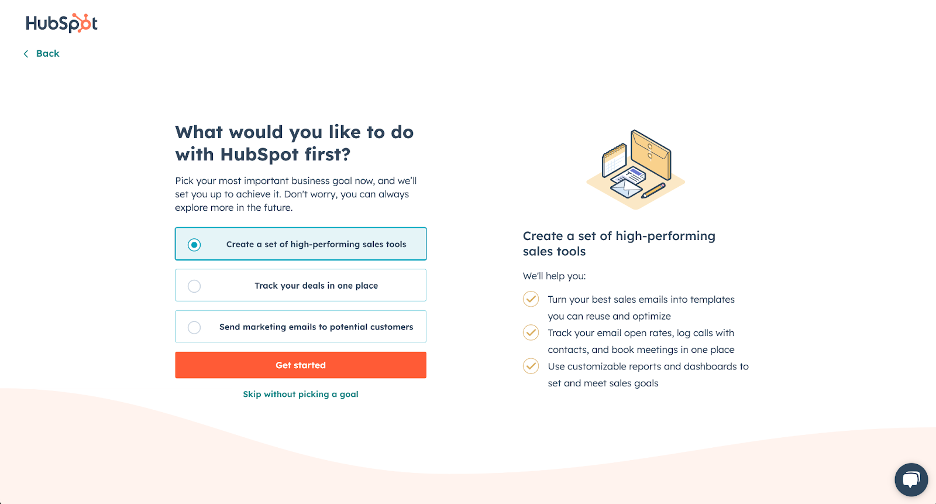 The setup wizard adds to the platform's long-term ease of use by ensuring new users are able to configure their platform for their goals. Source: HubSpot
When it comes to building fully automated custom workflows and sales sequences that are the heart of a modern CRM platform, HubSpot's learning curve increases. Many of the premade sequence templates can get you started in the right direction, but most businesses will need to invest time customizing each CRM feature to fit their real goals. Most teams will craft their automations and reminders from scratch using the sequences tool that's built from populated lists, including automated email, manual email task, call task and general task. If you're working on a sequence outside of these options, you may find yourself hunting and pecking for the right selections and may need to use one of HubSpot's learning resources to accomplish your goals in a timely manner. 
HubSpot is considered easy to use for basic CRM functions but about average in difficulty when it comes to implementing and utilizing the platform's advanced features and tools.
HubSpot CRM Features
| | |
| --- | --- |
| App marketplace | More than 1,000 software integrations to customize your CRM with the business tools you already use |
| Contact management | Tools with automatic updates to build relationships at scale |
| Deal pipeline | A drag-and-drop visual sales pipeline with AI-powered tools to focus your sales efforts |
| Reporting and analytics | Reliable data that's easier to understand and navigate than Google Analytics |
App Marketplace
One of the biggest reasons we think HubSpot is easy to use for new and small businesses alike is the seamless integration with so many popular business tools. Rather than forcing you to adopt a service provider's technology as a single solution, HubSpot essentially allows you to add your CRM to your existing tech stack. As a result, team members from different departments, who often rely on a unique mix of business applications, won't see a significant disruption to their routine as a result of moving to a new CRM. HubSpot organizes its apps with dozens of categories, serving a wide variety of options for marketing, sales, customer service, productivity and finance. While the platform provides native tools for marketing automation, you'll also find nearly 20 third-party applications to automate marketing tasks, highlighting HubSpot's interest in conforming to the way you want to do business.
Contact Management
While some platforms like Pipedrive are built around sales pipelines, HubSpot is built around contacts. The first drop-down menu option you'll see when you log in. You can enrich your contact records with company details from HubSpot's database of 20 million businesses, complete sales tasks from within a contact's records and eliminate manual data entry with automatic updates. Contacts can be added easily in a variety of ways, including form submission, corporate email addresses or pulling them directly from your inbox. Because there is a centralized source of customer data, you'll be able to see each contact's communication history, understand their past history on your website, and reach out by email or phone to schedule a meeting directly from the contact's listing.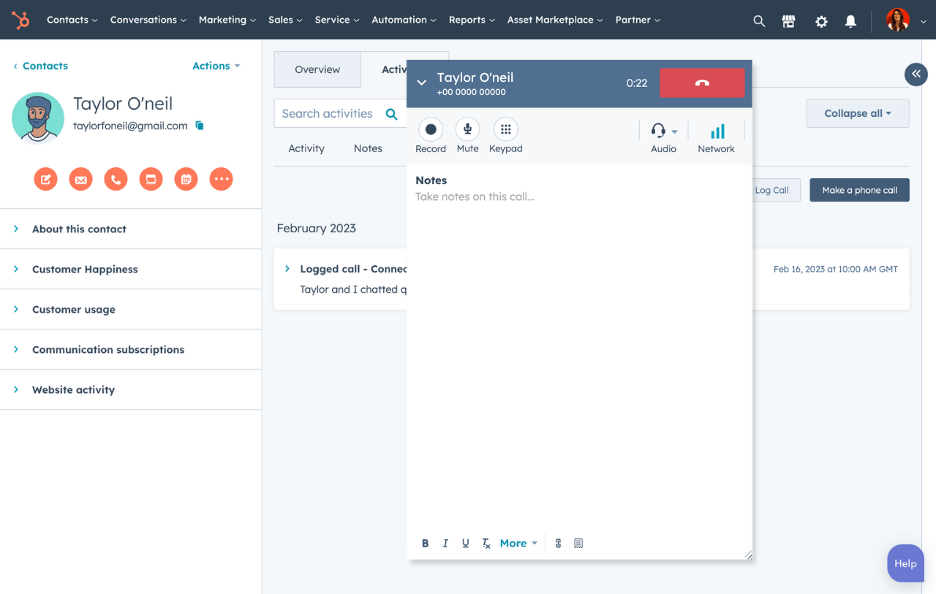 Increase efficiency and accuracy with centralized contact details, communication history and activities. Source: HubSpot
HubSpot limits the number of contacts available with each service plan, which means companies with large contact lists may need to purchase additional monthly contacts.
Deal Pipeline
Not to be outdone by its sales-focused competition like Pipedrive and Freshsales, HubSpot's deal pipeline provides everything you need to easily add new deals, assign them to the appropriate people and keep track of the prospects with the highest sales potential. The drag-and-drop editor makes for easy customization, with plenty of opportunities for automations to trigger administrative tasks, notifications and project assignments. HubSpot also offers predictive lead scoring that can automatically prioritize leads based on thousands of data points that will provide more accurate assessments over time through machine learning. Businesses can also identify the best opportunities with simple sales forecasting to determine the value of a potential deal so you can allocate your resources effectively. 
Reporting and Analytics
Many small business owners and employees without "IT" or "SEO" in their job title have a difficult time setting up reporting tools like Google Analytics with the proper tags to provide accurate and actionable data. Especially when configured with HubSpot's CMS, the analytics and reporting tools make it clear where your new qualified leads are coming from, which can help you decide whether to invest more money in top-of-funnel marketing activities like paid search and SEO instead of email marketing. As with most of HubSpot's dashboards, you can begin from a standard template or build your reporting tools from scratch and start sharing them on Slack or email from within HubSpot.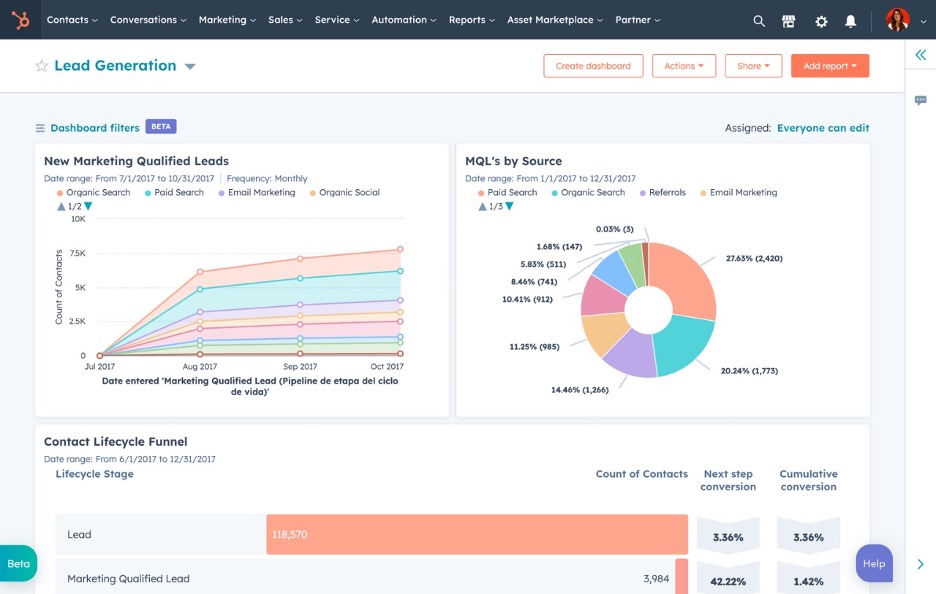 Understand your lead generation in a clear snapshot to allocate your resources with confidence. Source: HubSpot
HubSpot Pricing
HubSpot's CRM Suite offers plans for individuals, small teams, businesses and enterprises that all include a limited number of paid user accounts and unlimited free user accounts. Adding additional paid users who have access to your higher-tier features in the Sales and Service Hubs will cost $25 per month, but everyone in your company will have access to the free features in your platform. HubSpot is also one of the few CRMs we've reviewed with a totally free version that includes basic CRM functionality. 
With HubSpot, you can create a custom bundle of products or purchase stand-alone software for marketing, sales, customer service, CMS and operations. Additional add-on expenses may include a dedicated IP address, custom SSL service, transactional email and additional business units. Other features, like ads, reporting, API, workflows, lists, teams, e-signature and domains, are limited with each plan but can be extended with a monthly fee.
| Plan | Starting price (per user per month) | Features |
| --- | --- | --- |
| Free Tools | $14.90 | Email reply tracking, list segmentation, 1 shared inbox, multi-language content creation,1 deal pipeline,  analytics, ad management, 3 dashboards, SEO recommendations, 2,000 monthly emails, mobile app, landing pages and live chat |
| Starter | $27.90 | Everything in Free Tools, plus 4 paid users, 25 active lists, 10 automated actions, conversational bots, additional ad types, 10 dashboards, expanded email marketing, email and in-app support, ACH payments with up to 5 currencies, analytics, 10 reporting dashboards, 5,000 email templates, 500 calling minutes, 1 phone number, and 1,000 marketing contacts |
| Professional | $49.90 | Everything in Starter, plus 10 paid users, unlimited automations, 2,000 marketing contacts, up to 100 inboxes, advanced analytics, 25 reporting dashboards, phone support, video hosting, product library, 300 workflows, ACH payments with 30 currencies, 3,000 calling minutes, 3 phone numbers, call transcription and 10 e-signatures  |
| Enterprise | $99 | Everything in Professional, plus 20 paid users, 10,000 marketing contacts, 100 ad events, 300 teams, 1,000 workflows, advanced revenue attribution, customer journey analytics, one sandbox and extended transcription hours  |
Setup
Most CRM platforms take anywhere from a couple weeks to a month to set up and begin using properly, and the same is true for most businesses using HubSpot. However, for new and smaller businesses, it's possible to manage the entire process in one week by following HubSpot's five-day implementation calendar. The recommended process includes the following seven steps: email integration, creating filters, importing contacts, defining your deal stages, creating a lead ad, integrating your website and inviting your team. Larger businesses with thousands of contacts and exiting deal stages can expect to take closer to a month to implement their new system. Advanced and premier onboarding services with multiple meetings per week are available for $8,000 and $15,000.
Professional and Enterprise subscribers will be charged a one-time onboarding fee of $3,000 and $6,000, respectively, for required implementation services.
Customer Service
HubSpot's customer service options vary quite a bit depending on the plan you select. The free plan does not include any one-on-one technical support; free users will need to make use of the community forums and knowledge base for any troubleshooting. The entry-level paid plan offers email and in-app support chat. To add phone support, you'll have to upgrade to the Professional plan, which starts at $800 per month. 
HubSpot does have a robust, academy-style catalog with dozens of courses and certifications to sharpen your business acumen and teach you how to utilize your CRM to its fullest potential. HubSpot also offers a comprehensive online three-day marking hub fundamentals course and in-person private training.
Drawbacks
Most CRM service providers bill by the number of user accounts, but HubSpot uses a single rate regardless of the number of seats required. For many large businesses, this makes HubSpot an especially affordable platform. But for some smaller businesses that want advanced features and tools from an upper-tier CRM plan, the monthly fees can be relatively high when compared to similar offerings. 
Part of the reason HubSpot doesn't charge based on the number of user accounts is because it does charge based on the number of marketing contacts. The Professional plan includes only 2,000 marketing contacts, with a fee of $225 per month to add an additional 5,000 contacts. For businesses that grow large marketing lists or cast very wide marketing nets, reaching your desired number of contacts can become expensive very quickly.
Methodology
Our editorial team and contributing writers considered all of the major CRM software providers for review. After performing our initial research into each platform, we selected 13 of the leading CRM solutions available today for small businesses, including Salesforce, monday.com Sales CRM, Freshsales, Zoho, Oracle NetSuite, HubSpot, Pipedrive and Zendesk. After spending many hours participating in live product demos and testing each platform, we identified the best use case for  each of the 13 providers to help small businesses owners and managers choose the best CRM software for their needs. We've also taken a deeper dive with nine of our top performers, providing greater insight into the features and tools that separate these CRMs from the rest of the competition. HubSpot stands out in a competitive CRM field for its tremendous list of software integrations that help make the platform such a natural fit for numerous use cases and business units, earning it our choice as the best CRM for integrations. 
FAQ
Yes. HubSpot does offer a limited-but-free version of its software products, including the CRM Suite, Marketing Hub, Sales Hub, Service Hub, CMS Hub and Operations Hub. The limited plans include access for up to five users, who can email new leads, close deals, build a website and sync data between HubSpot and dozens of third-party apps.
HubSpot is a CRM platform with separate products geared toward different use cases, like sales and marketing. Customers can purchase the stand-alone Sales Hub for sales teams or implement the complete CRM Suite to support marketing, sales, service and operations teams from the same platform.
Both platforms offer a full suite of CRM tools for every type of engagement between marketing, sales and support. SalesForce is considered an enterprise-level software platform that's best suited for larger companies with complex workflows. HubSpot has an easier learning curve and a more user-friendly interface, making it more suitable for smaller businesses with standard operating procedures.
Overall Value
We recommend Hubspot CRM Suite for …
Large businesses that can benefit from a pricing structure that's not based on user seats.
Any business looking for a single CRM to satisfy the needs of multiple customer-facing departments.
New businesses that want to launch a website fully integrated with their marketing, sales and customer support tools.

We don't recommend Hubspot CRM Suite for …
Small businesses in need of advanced features that won't benefit from HubSpot's non-user-based pricing structure.
Any business that doesn't want to worry about purchasing add-ons to extend the number of times they can use a CRM feature.
Large businesses that don't want to pay thousands of dollars extra for the required onboarding fee.