Zendesk is a data-driven sales platform with modern tools for prospecting, engagement, lead generation, communications and pipeline performance visibility.
Pros
Zendesk comes with access to nearly 1,500 software integrations.
The user interface is easy to use and customize.
Zendesk Sell integrates with the company's service platform to provide an all-in-one customer engagement system.
Cons
Most plans limit the number of sales pipelines.
The entry-level plan has very limited reporting and analytics capabilities. 
You have to purchase a customer service add-on for 24/7 phone support.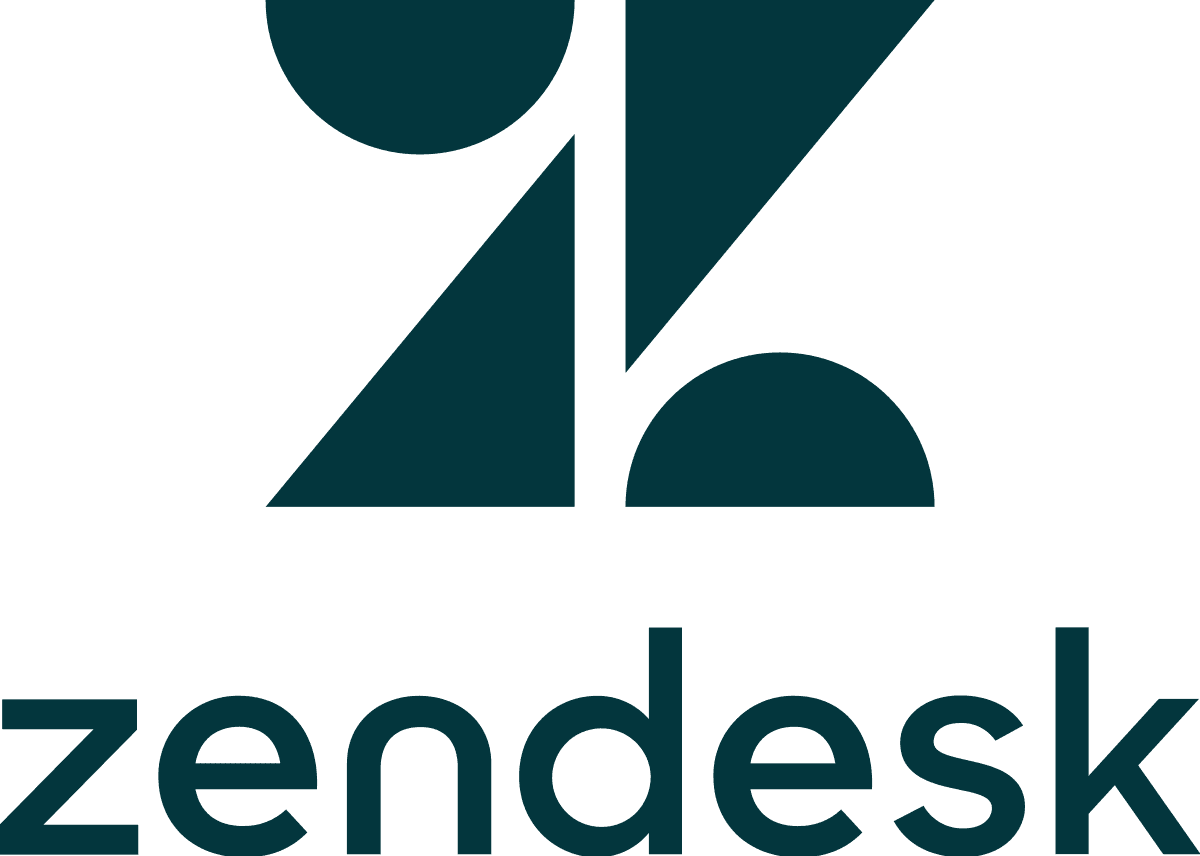 Zendesk Sell plans start at $19 per agent per month.
Zendesk Sell works well with Zendesk Suite to connect customer service and ticketing data with the customer relationship management (CRM) tools. 
Zendesk has nearly 1,500 integrations in its app marketplace.
This review is for business owners and professionals who are searching for a sales-focused CRM platform like Zendesk.

Zendesk Sell is the sales-focused version of the company's popular service and ticketing platform. This customer relationship management (CRM) system is designed to help teams streamline the sales process through pipeline visibility, and it provides the tools that salespeople need to grow revenue. The platform is built for productivity: It includes sales sequences that can automatically engage leads and expand your outreach, as well as sales triggers that can automate your workflow and make sure customers get the attention they need. When combined with Suite, the company's service and ticketing platform, the Zendesk becomes an effective tool for managing every stage of the customer lifecycle.
Zendesk Editor's Rating:
9 / 10
Ease of use

9.4/10

Feature

9/10

Integrations

9.6/10

Pricing

9.1/10

Customer support

8/10
Why We Chose Zendesk as the Best CRM for Complete Customer Life Cycle
Zendesk began and grew as a complete service solution and ticketing platform. The company's newer sales-focused CRM is built on the same philosophy of providing efficient, personalized customer experiences to grow revenue. Features such as sales forecasting provide a clear picture of predicted revenue or the lifetime value of a new customer to help you determine which opportunities to prioritize. With a growing list of almost 1,500 available integrations through the app marketplace, you'll be able to streamline your sales process with the business software you already use daily for marketing automation, billing and internal communications. 
Additional features, like sales triggers and sequences, can help you automate administrative work, freeing you to give your customers your full attention. We particularly liked how Zendesk Suite and Sell worked together to support lead generation, dead lead revival and lead qualification. By joining the customer service and CRM platforms together, Zendesk enables your team to provide a tailored sales experience and turn your leads into loyal customers with an exceptional post-sales support experience.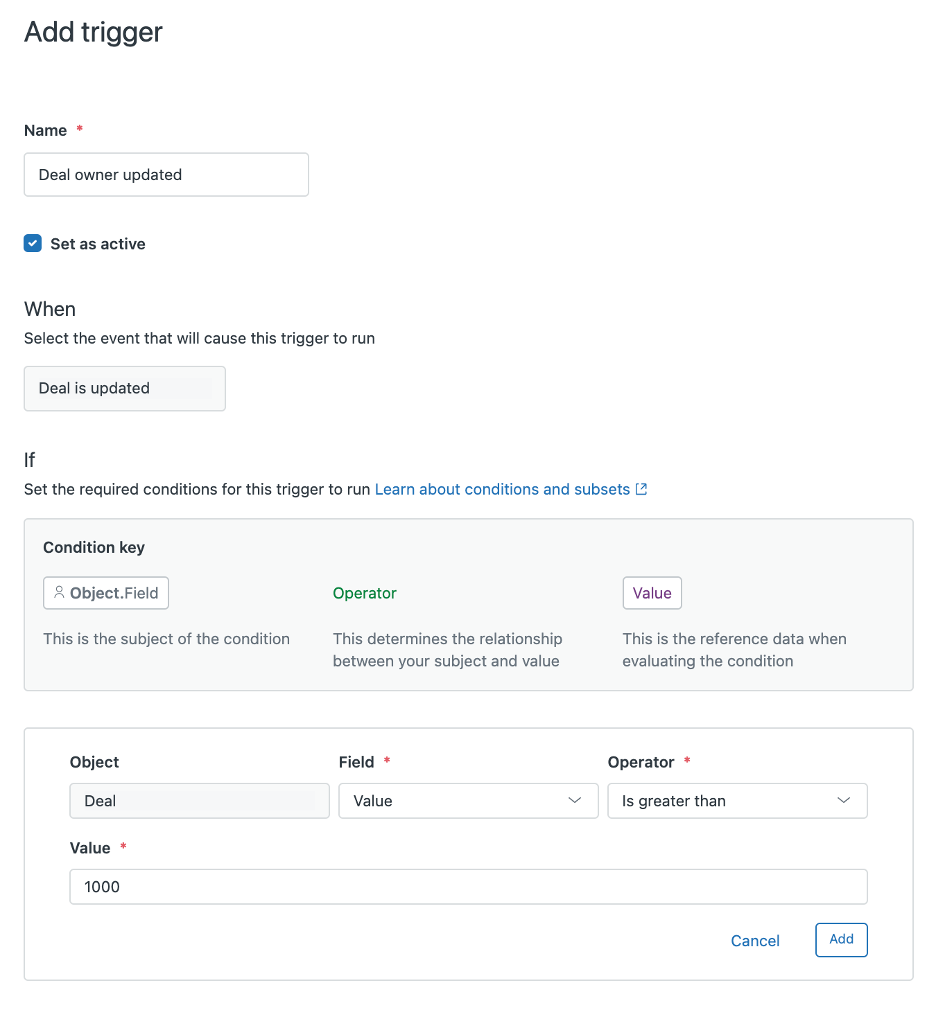 Admins can build sales triggers to automate specific parts of the workflow, thereby reducing tedious tasks for sales reps. Source: Zendesk
Usability
The home dashboard's drag-and-drop widgets make Zendesk easy to customize for anyone with experience using a CRM for sales. If you're new to this type of platform, you can use the many "Learn more" buttons in the widget selector to see more about each option and build the best dashboard for your requirements. 
In addition to selecting widgets for your home dashboard, you can resize them and add filters for a truly custom view. Your daily sales workflow is built around your assigned tasks, which could include cold calling, follow-up emails or new-deal creation. Instead of treating your tasks as a static to-do list, you'll "play" them through the Task Player. This focused work mode provides you with all of the context you'll need for your group of tasks, such as your lead's active notes, experience with your product and previous conversation history.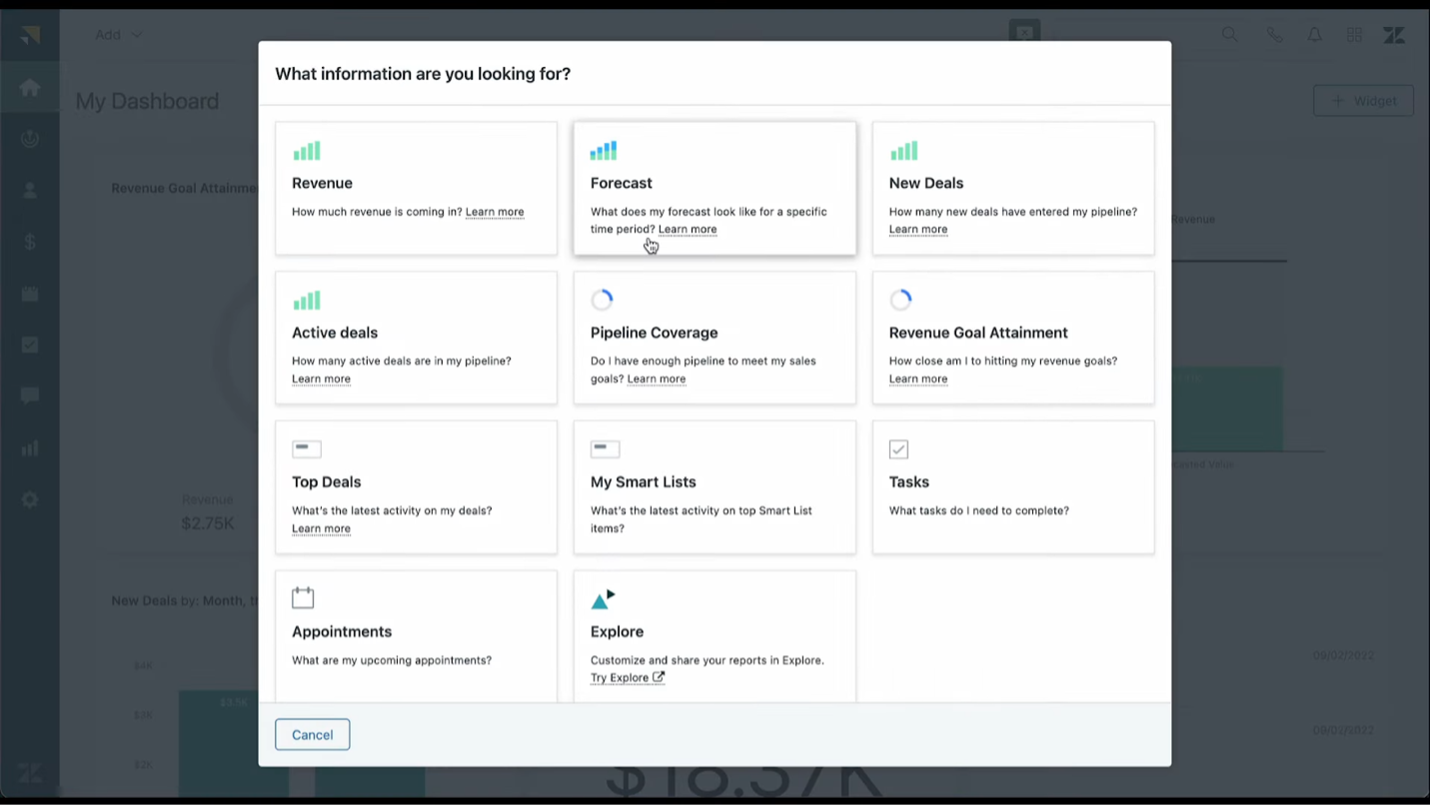 Zendesk makes it easy to customize your dashboard with a wide range of valuable information displayed in a way that makes sense for you. Source: Zendesk
Zendesk provides one of the most customizable dashboards we've seen in a CRM platform.
Zendesk Features
| | |
| --- | --- |
| Prospecting and enrichment | Strengthen your leads and contacts by adding full profiles and replacing out-of-date information. |
| Integrations | Access more than 1,000 free software integrations. |
| Smart lists and templates | Build customized lists to identify your most valuable leads. |
| Power dialer | Create an automatically dialed call list in your Sell account. |
| Zendesk Suite Integration | Zendesk Sell seamlessly integrates with Zendesk Suite, the platform's customer service and help desk solution.  |
Prospecting and Enrichment
Most Zendesk plans include a limited number of monthly prospecting and enrichment credits. You can use these credits to generate valuable data about an existing lead — such as the company size, phone number and market capitalization — to help build a comprehensive profile. If you don't have any information about a lead or contact, you can use a prospecting credit to identify a point of contact for your initial outreach. You can also enrich your leads one at a time or in bulk with up to 1,000 people or companies at one time. The feature is powered by Clearbit, a data engine for customer interactions that draws from more than 44 million businesses and 50 million prospect records.
The Sell Enterprise plan includes 10,000 enrichment credits and 300 prospecting credits per month.
Integrations
Zendesk has one of the largest app marketplaces, with nearly 1,500 available software integrations, and most are free to install and use. Although most of the integrations were introduced to bolster Zendesk's service product, you'll find more than 100 sales-specific apps to enhance your platform's features across categories such as lead generation, quoting, billing, social media and productivity. Most Zendesk plans include premium API access for syncing and the ability to add private custom applications that you can develop for the Zendesk Apps framework.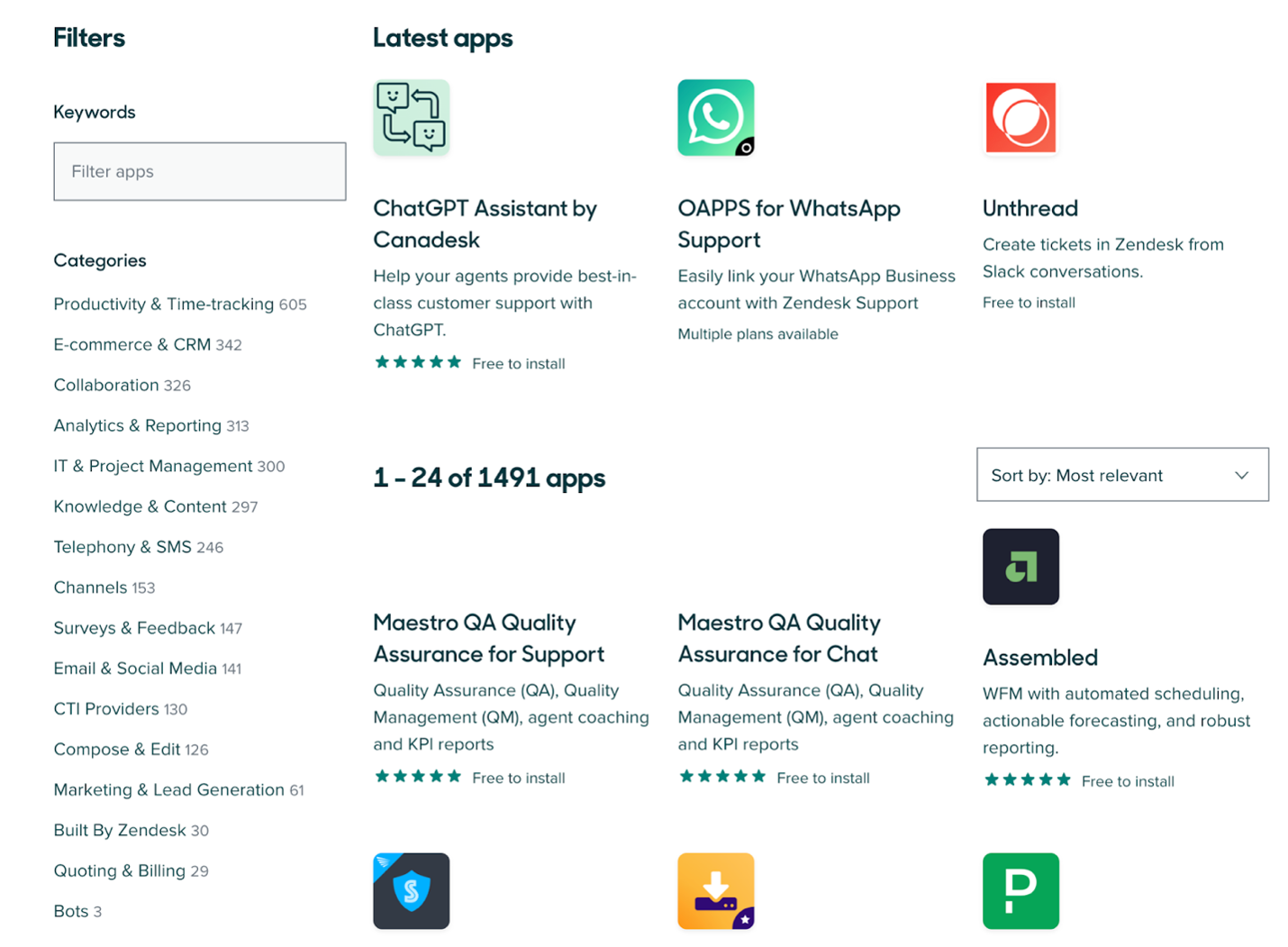 You can customize your CRM with native and third-party software applications from Zendesk's marketplace. Source: Zendesk
Smart Lists
This feature lets you filter your leads by a wide variety of criteria, such as the date the leads were added to your system, their place in your sales pipeline or their potential value as a customer. As you generate new leads, your smart lists will automatically add the appropriate contacts based on the criteria you've selected. You can also create a smart list template to share with others at your organization. With an active lead-generation strategy in place, you can easily filter new leads and identify the hottest ones that deserve your immediate attention. This helpful productivity feature is available with all Zendesk plans.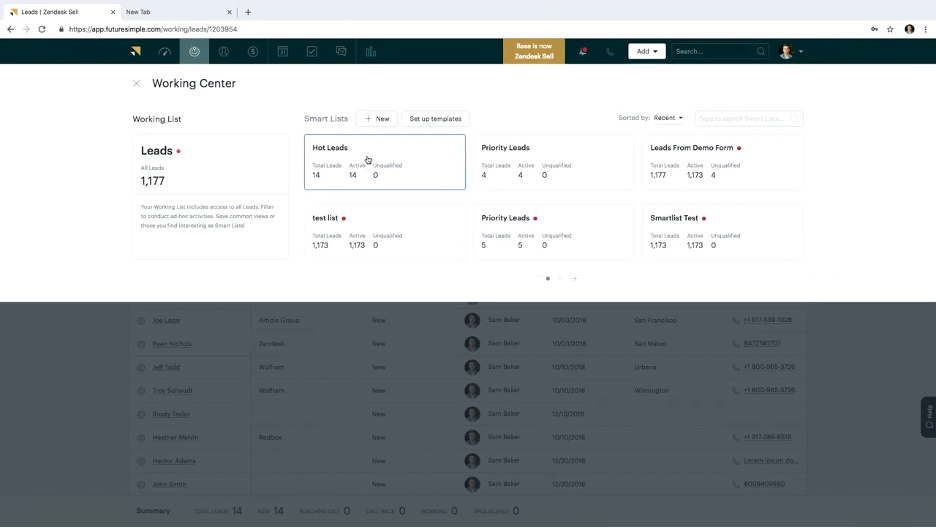 Organize your leads with a variety of criteria to help you identify where you should spend your time for the biggest sales impact. Source: Zendesk
Power Dialer
According to Zendesk, 48% of salespeople never attempt follow-up calls — which is a lost opportunity, given that 80% of sales require five follow-up calls to be successful. Speed also plays an important role: Salespeople who contact prospects less than an hour after they receive a query are 60 times more likely to qualify a lead than those who wait 24 hours or longer to contact the prospect. When an agent is available, the power dialer will immediately dial the next number on an assigned contact list and provide agents with relevant context from the call recipient's contact card. You can customize your power dialer with countdown timers and notepad icons to ensure you have time to review your scripts before the call begins. This feature comes standard with the Sell Professional and Sell Enterprise plans. 
Zendesk users are responsible for using the voice and text features in compliance with all applicable laws.
Zendesk Suite integration
Zendesk Suite is a separate solution with an additional subscription cost, but in our opinion is well worth the added expense. Sell and Suite seamlessly integrate to create a close connection between customer service and sales. By connecting the data from all customer service interactions directly to the CRM software, Zendesk grants your team insight into the entire customer journey. By understanding customer pain points and analyzing feedback in this way and storing it in the CRM this way, your agents can boost customer satisfaction. With a clearer connection to your existing customers, your marketing and sales teams can also more effectively pitch your products and services to the right target audience. We found this combination helpful for both building customer loyalty while generating and nurturing leads to grow your business.
Zendesk Cost
Zendesk offers monthly and annual payment options for each of its four sales-focused CRM products, with discounts of around 30% for annual subscribers, depending on the plan you choose. In addition to Zendesk Sell, the company offers a basic service-focused platform that starts at $19 per agent per month and a service suite that starts at $49 per user per month. While you cannot mix and match plans within your company, you can switch your plan at any time. None of the Zendesk Sell plans come with a minimum or maximum number of seats.
| Plan | Starting price (per user per month) | Features |
| --- | --- | --- |
| Team | $19 | Two sales pipelines, custom deals, single sign-on, sales triggers, tasks, calendar integration, email tracking, text messaging, 50 minutes of talk time, call recording, offline mobile access, public apps and integrations, pre-built reporting dashboards, 2GB of document storage, duplicate detection, required fields, smart lists and online support |
| Growth | $49 | Everything in Sell Team, plus 10 sales pipelines, product and price book, round robin distribution, 50 sales sequences, 1,000 enrichment credits, 25 prospecting credits, company phone number, bulk emailing, unlimited email templates, premium API access, custom apps, advanced reporting, sales forecasting, scheduled reporting and 5GB of document storage |
| Professional (most popular) | $99 | Everything in Sell Growth, plus 20 sales pipelines, lead and deal scoring, 300 sales sequences, task automation, custom notifications, 3,500 enrichment credits, 150 prospecting credits, automated power dialer, call scripts and 10GB of document storage |
| Enterprise | $150 | Everything in Sell Professional, plus unlimited sales pipelines, unlimited sequences, 10,000 enrichment credits, 300 prospecting credits, direct dial phone and 25GB of document storage |
If you want to combine Zendesk's CRM capabilities with data on every customer service interaction your team has, you'll also need a subscription to Zendesk Suite. This is a monthly cost on top of Zendesk Sell and is available in the following plans:
Team: Priced at $55 per agent per month, the Team level of Suite provides your business with a ticketing system, help center, standard chatbots and an analytics dashboard that are well worth the price tag for businesses that want to get serious about customer service. 
Growth: At $89 per agent per month, the Growth tier expands on Team's core offerings with a customer self service portal, service level agreements (SLAs), and customer satisfaction ratings, helping you better understand each customer as an individual.
Professional: For $115 per agent per month, Suite becomes a powerful tool that includes artificial intelligence (AI) add-ons that provide advanced bots with the ability to provide intelligent insights and suggestions to enhance decision making. This tier is also HIPAA compliant, making it suitable for healthcare organizations to use as a customer service platform.
Enterprise: Contact a sales representative for a quote on a custom solution that suits your unique circumstances. 
Zendesk Setup
The average CRM onboarding and implementation process can take anywhere from a few days for a new business to more than a month for a large business that's migrating a lot of customer and sales pipeline data. Small businesses will get the setup started from an admin account and can expect the process to take about two weeks to finish and another couple of weeks to learn how to navigate effectively. Large businesses can speed up the process with the Professional Services add-on, which includes data migration and configuration, with a custom price quote.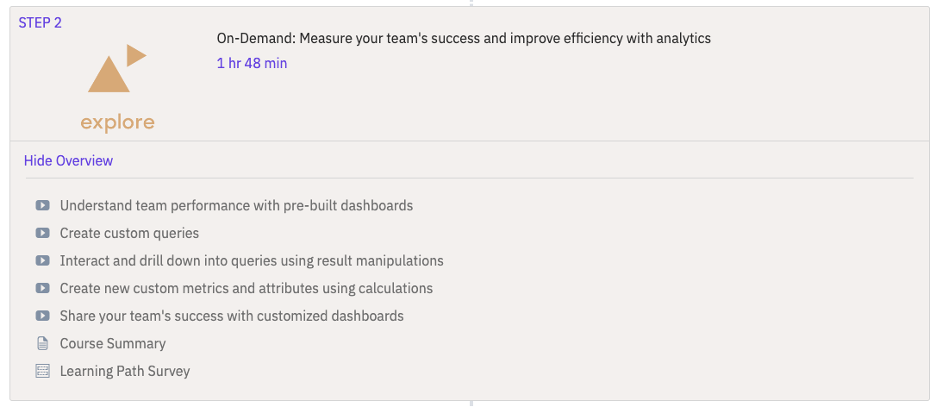 Ensure your team understands how to measure success and improve efficiency through one of Zendesk's on-demand courses. Source: Zendesk
To help lower the learning curve for setting up and running your CRM, Zendesk offers a deep catalog of on-demand training, credentialing and certification programs. Through these courses, you can learn about onboarding, platform adoption, platform optimization and more. The courses are organized by role for admins, agents, developers, analysts and sales teams.
Zendesk Customer Service
All Zendesk Sell plans come with online access to customer support during your business hours. Zendesk offers three paid add-ons to upgrade your support. The Premier service plan adds 24/7 support, a one-hour response time guarantee, proactive monitoring and designated support team oversight. You can also add a technical account manager to bring consistency across your technology projects, including a roadmap to optimize your CRM. For large corporations, the Professional Services add-on provides platform configuration, solution design and consulting services for data migration, and custom apps. Zendesk does not list the pricing for its service add-ons.
Zendesk Drawbacks
Zendesk's limited customer support availability and methods of contact fall short of its competitors' offerings, most of which provide 24/7 customer support with their middle- and upper-tier plans. Even the most expensive Zendesk plan, Sell Enterprise, requires a paid add-on for 24/7 phone support, which is a standard feature with most other top-tier CRM plans. Without transparent pricing for these service add-ons, it's difficult to accurately compare Zendesk with other platforms in this area. 
In addition, reporting and analytics for the entry-level Team plan are very limited, with only pre-built sales reports. Team users also have to wait 24 hours for data to be refreshed and cannot share their dashboards with other users. The platform is also missing key reporting tools, like goal tracking and scheduled report delivery.
Methodology
Our editorial team and contributing writers considered all of the major CRM software providers for our review. After performing our initial research into each platform, we selected 13 of the leading CRM solutions based on what they're best for, and took a deeper dive into the following available today for small businesses: Salesforce, monday Sales CRM, Freshsales, Zoho, Oracle NetSuite, HubSpot, Pipedrive and Zendesk. After spending many hours participating in live product demos and testing each platform, we identified the best use cases for 13 providers to help small businesses owners and managers choose the best CRM for their needs. We also took a deeper dive with nine of our top performers, providing greater insight into the CRM features and tools that separate these CRMs from the competition. 
Zendesk's products provide businesses with all of the tools needed to reach more qualified prospects in less time, enrich contact data to identify the decision-makers, automate email sequences to engage with efficiency, and follow up with post-sales support to build loyalty and turn leads into lifelong customers.
Zendesk FAQs
Zendesk offers two distinct customer relationship management products: one designed for sales and another built for service and support. Both options have the same pricing structure, which starts at $19 per agent per month.
No, Zendesk Sell does not have a free version of its sales CRM. However, you can try Zendesk Sell for free with a 14-day trial. If you're looking for a totally free CRM system to handle very basic contact management and engagement, you may want to consider HubSpot, which offers free tools for up to five users.
Zendesk Sell is a sales-focused CRM that supports sales teams when it comes to lead generation, qualification and nurturing. Zendesk Suite is the customer service platform and ticketing system designed to help businesses resolve customer issues and gather feedback. The two can work together to create a holistic customer lifecycle management tool that's useful for customer support, sales and even marketing teams.
Overall Value
We recommend Zendesk for …
Businesses that already use a Zendesk product to manage their customer service requests.
Businesses that want to customize their CRM with native, third-party and custom integrations.
Sales teams that spend a large portion of their time making phone calls.
We don't recommend Zendesk for …
Large businesses that don't want to pay extra for 24/7 customer service and phone support.
Small businesses that want more than very basic reporting and analytics with an entry-level service plan.
Large enterprises that expect to receive a per-user discount when buying a significant number of accounts.