Customer relationship management (CRM) software is designed to help businesses capture leads, communicate with customers and grow revenue. While some CRM platforms offer comprehensive solutions for team collaboration across all business departments, others focus on a specific area, like sales or marketing. Choosing the best CRM software for your company means finding a product that matches your business's needs.
Pipedrive and Salesforce are top CRMs with very different audiences and feature sets. We've researched details from our comprehensive Pipedrive review and Salesforce review to help businesses compare these platforms and determine which is best for their growth. 
Pipedrive vs. Salesforce Comparison
Price and Plans
Pipedrive
Pipedrive offers five reasonably priced service plans. 
Unlimited seats, contacts and sales pipelines are standard in all tiers.
Many Pipedrive features are available across plans but have limitations.
Pipedrive has five reasonably priced plans that include essential tools to boost sales. Most plans include Pipedrive's best features, although some are limited. We love that the slight price difference between plans means you can scale with Pipedrive as your business grows. Plus, you can save up to 32 percent when paying annually.
We like that all plans have unlimited seats, contacts and sales pipelines and that you can try any plan with a 14-day free trial. We also appreciate that Pipedrive offers cost-effective add-ons, like Lead Booster and Campaigns, to expand your CRM capabilities affordably. However, we would have preferred to see less-restrictive automation limits. 
Plan

Price (per user per month)

Included features

Essential

$21.90 (billed monthly)

$14.90 (billed annually)

Lead, deal, contact and pipeline management
Leads inbox
Deal rotting
24/7 live-chat support
400-plus integrations
Sales assistant
API access
3,000 open deals and 30 custom fields per company
15 reports 
One dashboard per user 

Advanced

$37.90 (billed monthly)

$27.90 (billed annually)

Everything in Essential, plus the following:

Customizable email templates
Group email
Email and call scheduling 
Web-to-mobile calls
10,000 open deals and 100 custom fields per company
30 active automations per user
30 reports per user

Professional

$59.90 (billed monthly)

$49.90 (billed annually)

Everything in Advanced, plus the following:

Automatic lead assignment
Visual contacts timeline
Team management and goals
Smart Docs add-on
Revenue forecasts 
100,000 open deals and 300 custom fields per company
60 active automations per user
50 reports per user 
Unlimited dashboards per user

Power

$74.90 (billed monthly)

$64.90 (billed annually)

Everything in Professional, plus the following:

Phone support
Projects add-on 
Custom onboarding 
200,000 open deals 
500 custom fields per company
90 active automations per user
250 reports per user
Unlimited dashboards per user

Enterprise

$119 (billed monthly)

$99 (billed annually)

Everything in Power, plus the following:

Security rules and alerts 
Unlimited open deals and custom fields per company
180 active automations per user
Unlimited reports and dashboards per user
Salesforce
Four primary Sales Cloud CRM plans aim to meet the needs of various businesses.
The Starter plan includes essential features and has a 10-seat limit.
The most valuable features require an expensive premium plan.
All plans require an annual contract.
Salesforce offers four plans in its Sales Cloud CRM packages. In general, we found Salesforce to be on the expensive side. We appreciate the 30-day free trial for all plans but were disappointed that most features that make the platform so potent require a premium plan or add-ons.
The entry-level plan includes essential sales features such as lead management tools. However, the 10-seat limit means you must upgrade to a significantly more expensive plan as your business grows. The expansive tools in Salesforce's premium plans are excellent for large businesses and enterprises. Still, the limited features and relatively high costs of lower-tier plans, as well as the required annual commitment, could be barriers for many small businesses.  
Plan

Price (per user per month, billed annually)

Included features

Starter

$25 (10-seat user limit)

Lead management
Automatic lead routing
Web-to-lead capture
Mass email
Contact management
Customizable reports and dashboards
Mobile app 
Email integrations 

Sales Professional

$80 

Everything in Starter, plus the following:

Forecasting
Quotes 
Order tracking
Developer sandbox 
Five workflows

Sales Enterprise

$165 

Everything in Sales Professional, plus the following:

AI opportunity scoring and deal insights
Advanced reporting
Advanced pipeline management 
Unlimited automated workflows

Sales

Unlimited 

$330 

Everything in Sales Enterprise, plus the following:

Advanced AI functions and insights
Lead scoring
Full sandbox
Advanced automations 
Premium support
Winner: Pipedrive
Pipedrive is our choice for an affordable CRM. We like that its plans are reasonably priced and include essential features so you can find a solution that fits your organization. As your business grows, you can upgrade or purchase add-ons without the painful price jump of Salesforce's options. However, large businesses with complex needs might find Pipedrive's features limiting and see better value in Salesforce's comprehensive software. 
Artificial Intelligence
Pipedrive
We love that Pipedrive's Sales Assistant, powered by AI and preprogrammed algorithms, is available with all plans. Using your sales data, the Sales Assistant can do the following: 
Provide insights and advice to optimize your workflows and drive sales
Tell you which CRM metrics you should track
Determine which leads to engage 
Advise on which activities to prioritize
Send timely notifications and visual performance graphs
However, while the Sales Assistant can help your employees convert leads more efficiently, we would have liked to see Pipedrive's AI functions extend to communications.
Salesforce
Salesforce offers multiple AI-powered tools, but Einstein GPT and Einstein Conversation Insights stand out.
Einstein GPT: Einstein GPT can respond to customers via email or chat and summarize communications between contacts and your team. It can study your sales and customers to provide recommendations, like telling you the right time to reach out to close the deal. It can also study your teams and offer tips and automation suggestions to improve efficiency.
Einstein Conversation Insights: Einstein Conversation Insights can record and analyze customer interactions and provide key insights in a searchable and shareable transcript. It can also track your business mentions across the internet and create visual trend reports so you can see where and how people are talking about your business.
Salesforce's AI capabilities are state-of-the-art. However, we were disappointed that most functions are restricted to premium plans. In fact, the only standard feature is Einstein Activity Capture, which syncs data from your email and calendar accounts.
Winner: Salesforce
Salesforce's powerful AI tools far outpace Pipedrive's. Pipedrive's AI assistant provides helpful tips, CRM analytics and recommendations, but Salesforce's Einstein is a more robust machine-learning tool. It offers insights and helps you communicate effectively with contacts to stay on top of the best leads and close more deals quickly.     
Sales Features
Pipedrive
Lead generation is a breeze thanks to Pipedrive's visual pipeline and robust sales features. We like that all plans include most tools but with varying limits, so you get access to everything you need but only pay for the functionality that's appropriate for your business size. 
Visual sales pipeline: You get unlimited customizable pipelines, templates and helpful visual reports with all plans. We love the color-coded Kanban pipeline that shows the status of every deal at a glance.
Deal rotting: The deal rotting feature, which highlights inactive deals in red so your team can take action, is especially useful. 
Filters: Filters make the platform even better for managing deals and monitoring employees. 
Add-ons: We appreciate that you can take your sales capabilities even further with cost-effective premium plans and add-ons such as Lead Booster. However, we were disappointed with the automation limits in all plans.
Salesforce
Salesforce combines the tools and information your sales team needs to manage leads, collaborate with other departments and close the deal.
Basic sales features: We appreciate that all plans include basic features to capture leads, route them to the right reps and manage their journey down tailored sales pipelines.
Customizable dashboards: Customizable CRM dashboards and performance reports come standard in all plans.
Premium sales features: Premium plans have many more excellent sales features — like AI-powered lead scoring, sophisticated insights and advanced pipeline management tools — but most small businesses will be priced out of these benefits. 
We were disappointed that Salesforce's most powerful features are available only with premium plans. We think all users would benefit from Salesforce's accurate sales forecasting tools and time-saving workflow automations.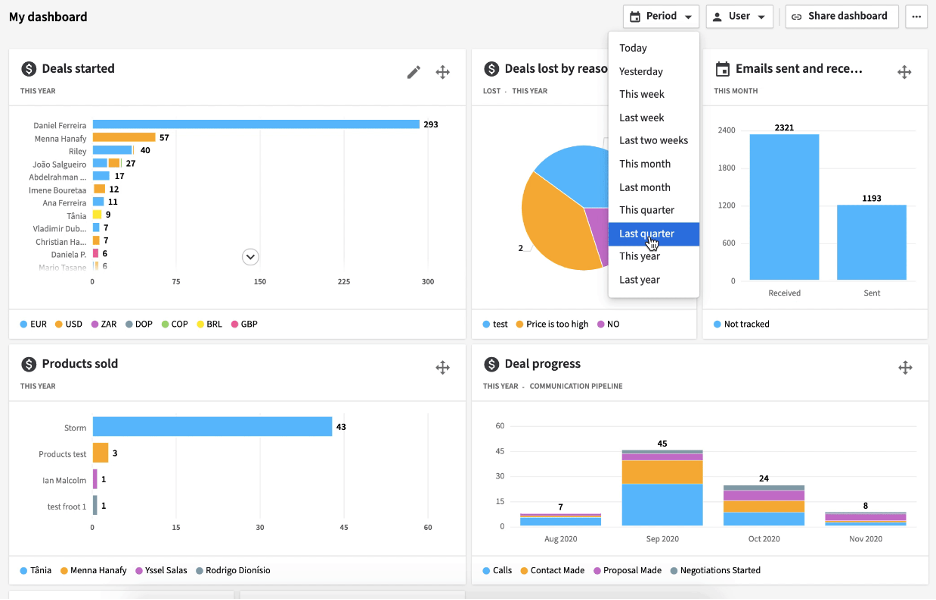 Salesforce provides visual reports and helpful filters that let you stay on top of deals and monitor employees. Source: Salesforce
Winner: Tie
The best CRM for sales features depends on your business's size and characteristics. Small and midsize businesses will find a better value in Pipedrive's easy-to-use platform and the second-tier plan's essential features and automations. However, large businesses with complex sales cycles and processes will likely be constrained by Pipedrive's limitations, thus making Salesforce's premium plans a better choice.  
Contact Management
Pipedrive
Pipedrive provides contact management and email marketing tools, including the following: 
Unlimited contact database: From the unlimited contact database, your reps can see customer information and interaction history with a click.
Centralized lead inbox: You get a centralized lead inbox for uniform communications and a tool to filter contacts by location. 
Email features: We appreciate that all plans include two-way email syncing with over 25 email providers, customizable templates, email open-and-click tracking, mass emails, automations and email scheduling.
Contacts Timeline: We especially like the Contacts Timeline, which shows a contact's activities and interactions at a glance. However, this feature becomes available only with the Professional plan.
We were disappointed that some of the best features to reach customers and nurture leads aren't available in Pipedrive's Essentials plan. Still, you can augment your contact management with these value-priced add-ons: 
Smart Docs: Smart Docs helps create, send and track important documents. 
Campaigns: The Campaigns tool expands email functions and organizes marketing efforts. 
Salesforce
Salesforce has everything you need to manage contacts successfully.
Contact management tools: Excellent contact management tools come with all plans. For example, you can get communication history at a glance, receive alerts, and reach out by email, chat or phone right from the customizable central platform. 
Email tools: We love that essential email tools — like mass email, templates, email engagement tracking and campaign management — are included in all plans.
Activity feed: The activity feed is a standout feature. It keeps you updated on customer interactions and alerts you when consumers want to engage.
Customizable cadences: We found the customizable cadences feature especially useful. Cadences allow your team to follow a set path when communicating with leads. 
Premium features: While most features come standard, upgrading to a premium plan enhances your contact management with AI-powered insights, recommendations, and communication transcripts and summaries.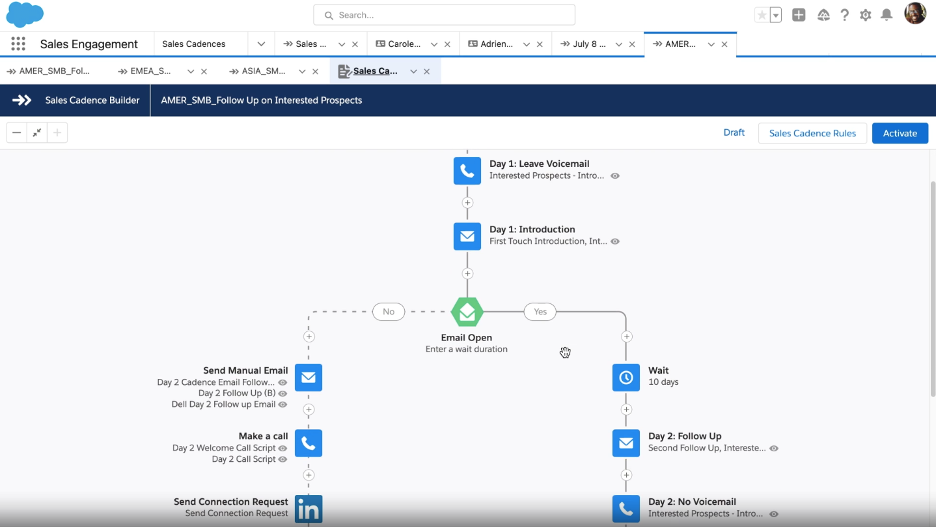 Salesforce's cadences allow you to create custom paths for communicating with contacts. Source: Salesforce
Winner: Salesforce
Salesforce edges out Pipedrive for contact management because most of its powerful tools to help you communicate with customers and leads come standard. We appreciate that Pipedrive offers competent email capabilities, but we would have liked to see them available across all plans. 
Ease of Use
Pipedrive
Pipedrive's simple visual interface and straightforward, sales-focused features make it a highly user-friendly platform.
Visual features: Thanks to the handy templates and drag-and-drop menus, your sales pipelines will be up and running in no time. 
Mobile CRM app: We appreciate that the mobile CRM app lets you work from anywhere. 
Integrations: You can integrate with over 400 external apps so your teams can keep using the tools they love. 
Online resources: Some advanced functions and add-ons are complex, but Pipedrive offers articles, training videos and other online resources to help you navigate the platform. 
Salesforce
Salesforce offers a more extensive list of features than most competitors, and you can complete almost any task right from the platform. The learning curve for such a complex solution can be steep, but we think that once you get the hang of things, Salesforce is easier than it seems.
Tools and integrations: Salesforce has tools for almost every business area and allows thousands of must-have CRM integrations, so you're guaranteed to have the functionality you need to succeed. 
Mobile app: Salesforce's excellent mobile app lets you connect from anywhere.
Einstein AI: We especially love the time-saving benefits of Einstein AI, including automations and content generation.
Still, we were disappointed that many helpful features, like integrations and AI, don't come standard across all plans. 
Winner: Pipedrive
Pipedrive beats Salesforce because of its simple, easy-to-navigate visual platform. We think most teams will start selling better right off the bat, thanks to its foolproof features. For businesses that need the advanced functions of a more robust platform, Salesforce is a better option and is relatively easy to use despite its complex feature set. 
Customer Service
Pipedrive
Online resources: We like that Pipedrive provides extensive online resources, including its Knowledge Base articles; Pipedrive Academy tutorials, courses and webinars; and Pipedrive Community forum. Anyone can learn how to use the platform and solve problems on their own.
Live support: We were disappointed with Pipedrive's live support. Most users only have access to 24/7 chat. 
Phone support: For phone support, you must subscribe to a premium plan.
Salesforce
Salesforce offers three support tiers: 
Standard Success: Standard Success is free with all plans and includes online learning tools, a help portal, community forums and online technical support through case submission. 
Premier Success: Premier Success is included free with Unlimited Plans or for 30 percent of your license fees. It has all the features of Standard Success, plus 24/7 phone support, developer support, coaching and onboarding. 
Signature Success: Signature Success includes expanded service, but you must speak to a sales rep for pricing.
We appreciate Salesforce's online self-help resources and the ability to get a callback when you require additional support. Still, the wait time could be costly. We would have liked to see phone support included with all plans.
Winner: Tie
We appreciate that Salesforce and Pipedrive offer excellent online resources to help users navigate the platforms and troubleshoot problems. However, we were disappointed that neither plan includes phone support as a standard feature.