Ooma Review
Ooma Office and Office Pro are designed to be easy for nontechnical business owners to use.
Ooma offers more than 35 essential calling and communications features.
Ooma's small business phone service plans have flat pricing without any long-term contracts.
This review is for small business owners who are considering implementing Ooma Office.
Ooma's two small business phone plans provide any company or individual with the calling features and apps required to give the impression of a large, professional organization. Their platform was designed to be simple and easy for nontechnical business owners and managers to set up and use. Ooma Office includes 35 standard calling features available from any internet-connected device, and every plan includes 24/7 customer support through phone or chat. Setting up the system can take as little as 15 minutes and does not require the support of an IT professional. For business owners who've never managed a modern business phone system with virtual receptionists, ring groups and multidevice ringing capabilities, Ooma is an excellent choice for a simple yet effective communications solution.

Ooma
The Verdict
Ooma is the best business phone system for small businesses, thanks to its easy-to-use calling features, pre-activated IP desk phones, and administrative portal designed for nontechnical business owners and managers to use effectively.
Ooma Editor's Score: 94/100
| | |
| --- | --- |
| Ease of use | 99 |
| Features | 90 |
| Integrations | 90 |
| Pricing | 95 |
| Customer support | 96 |
Why We Chose Ooma for Small Businesses
Ooma is one of the few business phone service providers that delivers such a focused set of features, tools and support for small businesses. According to Ooma, small businesses account for more than half of the company's annual revenue. While Ooma does offer separate plans for enterprise clients and call center services, their Office and Office Pro plans are clearly designed, priced and marketed with the needs of smaller teams in mind.
Ooma's entry-level plan includes a virtual receptionist, music on hold, call forwarding, call transfer, call flip, call logs, virtual faxing, call blocking, multi-device ring, SMS messaging and many other features that makes it easy for small businesses and teams to communicate effectively from anywhere with an internet connection. Businesses can keep their existing phone number or choose a new local number at no extra cost.
Pros
Ooma has 35 great standard calling features and tools.
It has flat and transparent pricing with no long-term contracts.
All plans provide 24/7 customer support by phone and chat.
Cons
The entry-level plan has no desktop app or video conferencing.
Some features have usage limits.
The integrations are limited compared to other providers' selections.
Usability
One of the ways Ooma Office sets itself apart is its ease of use. The platform and dashboard have a consumer-oriented feel, meaning they don't require technical expertise or experience with modern business phone systems to use. If your business decides to purchase one of their many available IP phones, it'll arrive pre-activated with your relevant account information so you can plug it in and immediately begin making and receiving calls. Setting up and editing Ooma's virtual receptionist is easy, with text-to-speech greetings and information that can be set to custom schedules for after hours and holidays.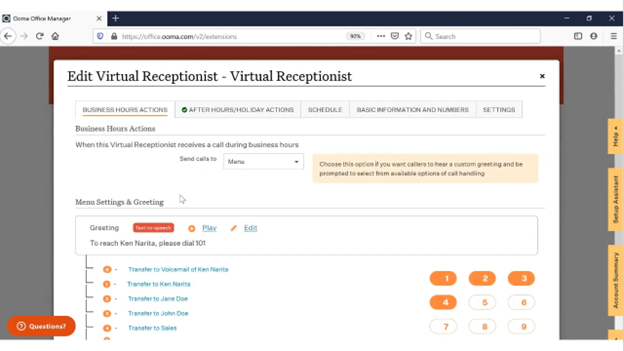 For many companies, ring groups that can route calls to groups of individuals or teams with simultaneous and sequential settings in an order you specify are an excellent way to make sure no call is missed. Setting these basic or advanced groups requires the group name, ring mode (simultaneous, sequential or hybrid) and the members. Ring group members can be assigned by their number or a specific device, such as an iPad or the back warehouse phone. The DIY setup and the overhead paging system are easy to implement for business owners who don't have dedicated IT support on staff.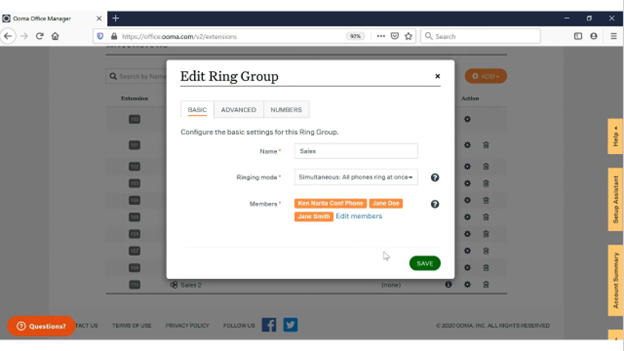 Ooma Features
Ooma Office offers more than 35 communications features designed to provide a small business with everything they need to direct customers to the right extension and collaborate with team members effectively from one app. Many of our favorite features for small businesses are only available with the Office Pro plan.
| | |
| --- | --- |
| Virtual receptionist | Sound like a big business with an automated tool to direct callers efficiently. |
| Call analytics | Get actionable insights that are easy to understand. |
| Caller info match | Receive valuable information from Google, Facebook, LinkedIn and CRM tools based on the caller's ID. |
| Simple admin portal | Build call flows and edit ring groups without an IT staff. |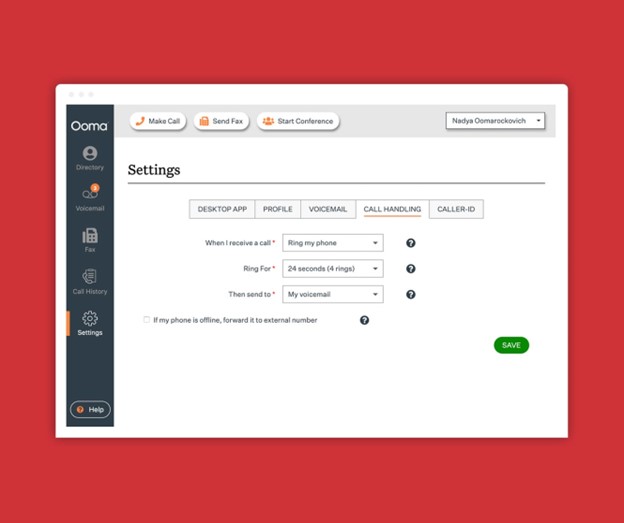 Virtual Receptionist
For small businesses that don't have a dedicated individual to field incoming calls, a virtual receptionist is a vital tool for directing callers and providing customers with important information about the business. Ooma Office and Office Pro make it easy to customize messages (with support for multiple languages), set business hours, route calls to the proper extensions, and allow callers to dial to extensions by name to get to the right person.
Call Analytics
Office Pro administrators are provided with easy-to-understand statistics on call volume trends that can be used to staff teams as efficiently and cost-effectively as possible. Business owners can see data through heat maps to immediately improve issues like customer wait times without pouring through large lists or sets of numbers. The dashboard includes call metrics by day of the week, hour of the day, heatmaps with three-hour intervals, and custom time ranges to visualize calling data.
Caller Info Match
Available with Ooma Office Pro, caller info match can pull information from preconfigured websites including Google, Facebook, LinkedIn and others. You can also search popular CRM software, including Salesforce Classic, Salesforce Lightning, HubSpot, Zoho, ServiceNow, LeadMaster, and Clio. With info match, you can determine between a customer and a source of spam, or automatically pull up a customer's profile and add notes to their account during the call.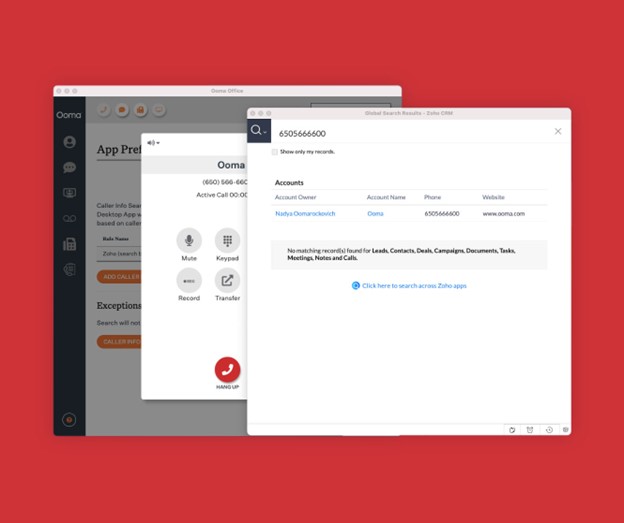 Simple Admin Portal
Everything, including the initial DIY setup and changing the virtual receptionist and ring groups, is easy for new business owners who lack experience with modern phone system features. Through the web portal's easy-to-use interface, admins can review call and fax logs, manage extensions, buy IP phones, update account preferences, manage business phone numbers, and review the entire Ooma Office account from any device with an internet connection. While administrator accounts are currently limited to one user, Ooma plans to add additional admin account options in a future update.
Ooma Cost
Compared to the rest of the industry, Ooma keeps things simple with two business phone plans geared toward small businesses, Ooma Office and Ooma Office Pro. Both plans have a transparent and flat pricing structure without any long-term contracts.
| Plan | Price | Features |
| --- | --- | --- |
| Ooma Office | $19.95 | More than 35 features, including a virtual receptionist, call park, music on hold, overhead paging, online faxing, multidevice ring and a mobile app |
| Ooma Office Pro | $24.95 | All Office features plus video conferencing, a desktop app, call recording, enhanced call blocking, voicemail transcription, caller info match and higher usage limits for some features |
There are no limits on the number of users allowed or required for either Ooma Office plan.
Ooma Setup
Ooma Office plans are among the easiest and fastest for new businesses to set up. Designed with small business owners in mind, Ooma's simple and straightforward process makes it easy to transfer an existing number or choose a new one in almost any area code for free. For businesses that also purchase IP phones, Ooma will assist with setting up an extension and provide preactivated phone hardware that works as soon as it's plugged in. For most small businesses, the total setup time can be accomplished in less than 15 minutes. Ooma Office works with any analog phone, Ooma IP phone or smartphone.
You won't need an IT specialist to set up your Ooma phone system or hardware, including the IP phones, Wi-Fi phones and base stations.
Ooma Customer Service
Both of Ooma's Small Business Phone Plans include 24/7 customer support. Ooma Office and Office Pro users can reach a customer service representative anytime by phone or chat through the app. Many competitors limit customer support availability in their entry-level plans (as seen in our review of Dialpad, for example). During our live demo, we found Ooma's representatives to be especially knowledgeable and helpful.
Ooma also has a small but useful resource center with articles and videos to help users navigate their setup, use features such as call park, and request number porting with Ooma Office Manager. While this resource center falls short of RingCentral University's robust educational tools, it gets the job done for most small business owners and teams.
While DIY setup is simple for most businesses, setting up an account with help over the phone is the easiest method, according to Ooma's representatives.
Ooma Drawbacks
The Ooma Office desktop app is only available with the Pro plan. Businesses looking for a basic phone system that consider a desktop app an essential feature may find better value with competitors, like those in our review of 8×8 or our RingCentral review.
One of the other drawbacks is the current lack of screen sharing from the mobile app. Ooma Office subscribers who won't have access to the desktop app may find this limitation frustrating during the course of a meeting. However, during our live demo with Ooma's representatives, we were informed that mobile screen sharing will be added in a future update.
Methodology
Our editorial staff considered more than a dozen of the best business phone system providers for review. After conducting our initial research into each potential modern phone solution, we identified 11 of the best communications tools on the market today for small businesses: Ooma, Nextiva, 8×8, RingCentral, Dialpad, GoTo Connect, Grasshopper, Vonage, Kinetic Business by Windstream, Zoom and Net2Phone. Our team spent dozens of hours conducting research, participating in guided product demos, and testing each platform through trial and paid accounts when possible. Finally, we selected the best use case for each platform to help businesses determine which phone system provider offers the best features, tools and price for their unique needs. We chose Ooma as the best business phone system for small businesses because it offers nearly all the essential features we looked for and enables nontechnical businesses to easily set up and use the platform.
Ooma FAQs
What type of phone service is Ooma?
Like most modern business phone service providers, Ooma is a cloud-based or Voice over Internet Protocol (VoIP) phone system. Instead of transferring voice data over copper phone lines, as with older landline systems, Ooma uses your computer or mobile device's internet connection to transfer voice, video and other data.
Does Ooma Office offer enterprise plans?
In addition to its two small business VoIP plans, Ooma offers two separate plans for unified communications as a service (UCaaS) through Ooma Enterprise and Ooma Enterprise Call Center. These plans feature advanced call flows, hot desking, custom CRM integrations and more. Enterprise-level organizations should reach out to Ooma for pricing information.
Is Ooma free?
No, Ooma does not have any free business communications plans or products. It does have a risk-free 30-day return policy for its business phone system plans, which can be viewed as a free trial. Most business phone system providers have a similar policy.
Overall Value
We recommend Ooma's business phone service for …
Small businesses looking for a simple yet modern phone system.
Small businesses that prefer using mobile phones for communications.
Businesses that want a flat phone service fee without a long-term contract.
We DON'T recommend Ooma Business Phone Service for …
Businesses that require numerous phone system integrations with other software and tools.
Businesses looking for advanced call management features.
Small businesses that want video conferencing and a desktop app with an entry-level plan.

Ooma
The Verdict
Ooma is the best business phone system for small businesses, thanks to its easy-to-use calling features, pre-activated IP desk phones, and administrative portal designed for nontechnical business owners and managers to use effectively.

Jeff Hale
Contributing Writer
Jeff Hale is a writer and editor based in San Diego with a background in business development and marketing. He has identified new market opportunities for Fortune 500 companies and developed communications strategies and digital branding for tech startups and small businesses. Jeff covers emerging technologies and business solutions with a focus on efficiency and growth. He holds a Bachelor's degree in English from the University of California, Irvine, and an MBA from Chapman University.