Ooma is the best business phone system for small businesses, thanks to its easy-to-use calling features, pre-activated IP desk phones, and administrative portal designed for nontechnical business owners and managers to use effectively.
Pros
Ooma has more than 50 standard communications features.
The vendor provides excellent 24/7 customer support for all subscription levels.
The company has flat and transparent pricing without any long-term commitments required.
Cons
Ooma's entry-level plan is missing a video communications tool that's usually free with other providers like Zoom.
The vendor's desktop app is available only with the Pro and Pro Plus plans, which could frustrate entry-level subscribers who primarily work from their computers.
There are no discounts publicly listed for larger businesses purchasing user accounts in bulk.
Ooma's features and tools are easy to use for nontechnical business owners.
Ooma provides more than 50 standard communications features with its small business phone service plans.
Ooma offers 24/7 phone and in-app support with all of its plans.
This review is for small business owners who are considering implementing an Ooma business phone system.
Ooma is a cloud-based business phone system provider with plans, features and services tailored for small business owners. All plans come standard with more than 50 communications features, like a virtual receptionist, ring groups and call routing, to ensure your business never misses an important call. Ooma stands out in a competitive field thanks to its comprehensive features and easy-to-use interface, making it an excellent choice for someone who's implementing their first business phone system. While it's simple to use, the platform also has a number of advanced features, like CRM integration and caller info match capabilities that pull additional caller information from LinkedIn, Facebook and Google. Just as notably, in 2023, Ooma added a third tier to its service offerings, with more advanced functions such as hot desking, call queuing, meeting recording and additional integrations with the best CRM software. 
Ooma Editor's Rating:
9.5 / 10
Pricing

9.4/10

Ease of use

9.9/10

Features

9.2/10

Integrations

9.1/10

Customer service

9.9/10
Why Ooma Is Best for Small Businesses
Ooma's small business phone system walks the walk and talks the talk with features, pricing and support tailor-made for small businesses across industries. The vendor's core focus is supporting micro- and small-business solutions through ease of use, customer support and speed of implementation. It does just that here, and does it well, providing a business phone system with high usability, 24/7 customer support and almost instant implementation. Furthermore, its extensive list of standard features in its lowest-tier plan isn't common in this sector.
Ooma's roots as a consumer-focused product and software provider are most apparent in the easy-to-use interface that makes setting up the phone system and using it very easy for nontechnical business owners and users. Helpful drop-down menus make it simple for new business owners without phone system experience to set up and change where calls will be sent, the receptionist's greeting, business and holiday hours, and more advanced features like hot desking and call queuing. While we found Ooma to be the best business phone system for small businesses, it's worth noting that for larger businesses, the company offers a separate three-tier enterprise product that includes call center functionality for $49 per user per month. [See our picks for the top contact center services.]
Ooma has one of the most robust entry-level phone plans you'll find in terms of its standard features and tools.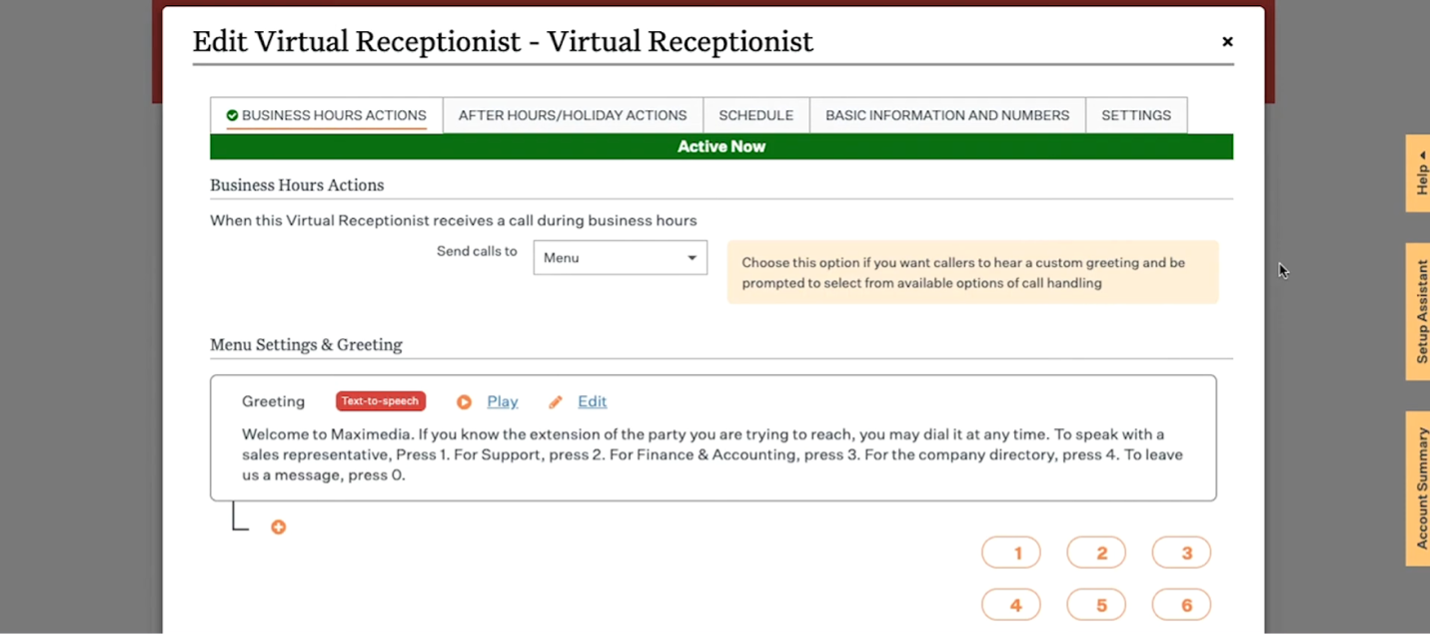 Usability
Part of what makes Ooma's phone system so attractive to small and nontechnical business owners is its ease of use in terms of the setup process and making adjustments for day-to-day operations. Business administrators can use the simple drop-down menu to record a custom greeting, create menu options for different languages, and set modes for business and after-hours calls with the virtual receptionist. While we don't expect you to need it often, it's reassuring to know Ooma provides 24/7 customer service in the event you do get hung up trying to accomplish something.
The iOS and Android mobile apps that are free with all Ooma small business plans keep the same look and feel as a standard operating system, making it especially easy to navigate for new users. Taking and making calls, flipping between devices, blocking robocalls and setting up automatic call recording feel intuitive and quick. With helpful tools like automatic voicemail transcription, you can quickly prioritize your voicemails and even listen to them played back at 1.5 or two times the normal speed to gather pertinent information quickly and accurately. [You may also be interested in these free visual voicemail services.]
Ooma Features
| | |
| --- | --- |
| Find Me Follow Me | Receive a call on multiple devices at the same time. |
| Caller Info Match | Match callers with detailed background info pulled from your customer relationship management system and other sources like social media. |
| Overhead paging | Make customer, employee or emergency announcements over your existing overhead paging system. |
| Admin portal | Manage your business phone system from a simple portal. |
With more than four dozen features included, it's hard to go wrong with Ooma's entry-level Essentials offering. Still, there are a few specific tools worth highlighting, some of which are available only on the higher tiers.
Find Me Follow Me
For most businesses, the ability to stay connected with customers, clients and co-workers is the most critical feature of their phone system. Ooma helps ensure you never miss an important call with the "Find Me Follow Me" function, which lets you set up multiple devices to ring at the same time or follow a sequential order of your choosing. For example, you can set your office desk phone to ring two times, begin calling your mobile device on the third ring and finally the conference room phone on the fourth ring. Find Me Follow Me can be set to ring on any of your phones or mobile devices, guaranteeing important calls follow you wherever the day leads. Note, however, that this feature is only for Pro Plus users, Ooma's highest package.
Caller Info Match
This advanced feature, which is available through Ooma's desktop app with the Pro and Pro Plus plans, goes beyond typical caller ID capabilities by pulling information from your customer relationship management (CRM) software as well as LinkedIn, Facebook and Google. Ooma's Caller Info Match can connect with Salesforce, Hubspot, Zoho CRM and ServiceNow to help identify callers you've contacted before, see their past interactions, review notes from your CRM and find other valuable information from search engines and social media profiles and posts. [To learn more about CRM integrations, see our Salesforce review and our review of the Zoho CRM.]
Overhead paging
For large retail stores, distribution centers and other businesses that utilize an overhead paging system, such tools often play a critical role in daily communications and important emergency announcements. We like that Ooma's phone system works with your existing overhead paging system through an adapter that's sold separately. Once connected through your dashboard, you can use the multicast paging button on your phone to initiate an overhead announcement that can be heard by everyone in your facility. 
Admin portal
Ooma's consumer product origins show in the simplicity of its administrator's portal. The ease with which you can set up and adjust your business phone system's basic and advanced features is especially ideal for smaller organizations without any in-house IT staff to troubleshoot systems. In the admin portal, business owners and managers can purchase IP phones, review call and fax logs, manage extensions, and review the phone system from any device with an internet connection. 
Ooma Pricing
Ooma's costs are about average for this market, with most competitors selling a similarly featured entry-level plan for around $20 per user per month. In 2023, Ooma added a third, top-tier plan to its previous offerings and altered the package names slightly. What was called the Ooma Office plan is now known as Office Essentials, followed by Office Pro and Office Pro Plus. 
While Ooma doesn't give discounts for larger teams, the vendor does occasionally run promotions, so it's worth reaching out to a sales representative to see if you can get a better rate or learn about any upcoming deals. Regardless, keep in mind that, in addition to the monthly fee noted below, Ooma charges a one-time $49.95 activation fee.
| Plan | Price | Features |
| --- | --- | --- |
| Essentials | $19.95 | More than 50 communications features, including virtual receptionist, ring groups, hold music, email audio attachments, digital faxing, mobile app access, one toll-free number and 24/7 support |
| Pro | $24.95 | Everything in Essentials, plus the desktop app, text messaging, video conferencing, call recording, enhanced call blocking, voicemail transcription, Caller Info Match, dynamic caller ID, analytics, Google integrations and Office 356 integrations |
| Pro Plus | $29.95 | Everything in Pro, plus call queuing, Salesforce integration, Microsoft Dynamics integration, hot desking, Find Me Follow Me, Ooma meetings recordings and advanced call management |
If the ability to mix and match plan features is necessary to manage your costs for employees who don't need advanced tools, check out our review of Nextiva and our 8×8 review. Both competitors let you pair the right plan with the right individual user.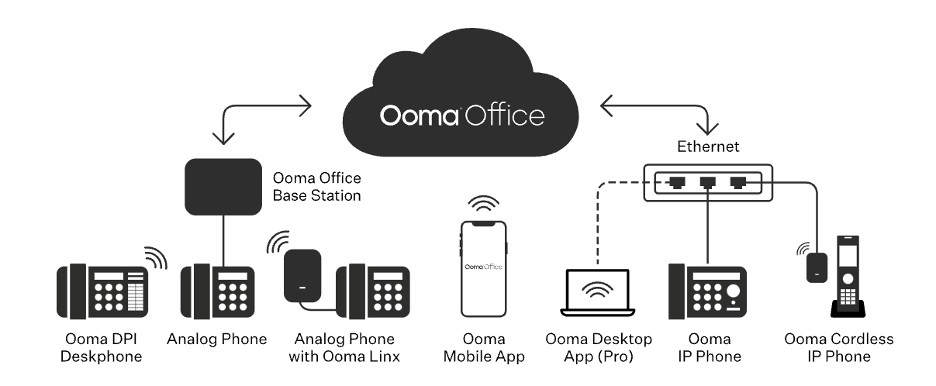 Setup
Ooma is extremely straightforward to get started with. Businesses can sign up for the business phone service online and begin making calls in as little as five minutes after transferring their existing business phone number or selecting a new number in almost any area code. Ooma's user-friendly administration portal adds to the ease of use when setting up calling features like ring groups and call routing to ensure calls are never missed during business hours. We love how simple it is for nontechnical users to start using the platform.
For companies that need to purchase phone hardware, Ooma's support staff will assist with setting up an extension and providing preactivated phones that work as soon as they're plugged in. Of course, your total implementation time will be dependent in part on how long it takes to get the equipment.
Customer Service
In an era where more and more companies are cutting back on customer support availability to trim expenses, Ooma still offers the same 24/7 customer service to subscribers at every service level. Other providers we've reviewed don't offer the same support hours with entry-level plans as they do for their higher packages, as seen in our review of Dialpad, for example. We love that Ooma Essentials, Pro and Pro Plus subscribers can reach a support specialist anytime by phone or live chat through the app.
On Ooma's website, you can find FAQs, webinars, case studies, a blog and even a company podcast, though these offerings aren't as extensive as what some rivals provide. The lack of a larger online resource center may not be much of an issue given the Ooma platform's high usability and the availability of 24/7 phone assistance. However, you'll get more education tools with RingCentral and 8×8, both of which provide in-depth training courses for their users. Learn more in our detailed RingCentral MVP review.
Drawbacks
We like how Ooma tailors its business phone offerings and features for smaller companies and teams, but in some areas, like bulk discounting, it would be nice to see support for larger businesses. Many competitors, including RingCentral and GoToConnect, offer significant discounts for businesses purchasing dozens of user accounts. Of course, this isn't actually a downside if your organization is small and plans to stay that way.
Ooma does fall short of its competitors in terms of its available software integrations. While Ooma does offer integrations with CRMs such as Salesforce and Microsoft Dynamics 365, even those connections are limited by your plan. For example, Ooma's pro plan can integrate with Microsoft unified applications, but you'll need the top-tier pro plus plan to integrate with Salesforce Lightning, Essentials, Professional, Enterprise and Unlimited Salesforce editions. Most competitors in this category offer far more integration options with their middle- and upper-tier plans.
If integrations matter to your organization, you should consider RingCentral MVP, which leads the industry with more than 2,000 integration options.
Methodology
To find the best business phone systems on the market, we researched and analyzed more than a dozen offerings. We used paid and trial accounts to test different solutions and conducted demos whenever possible. Factors we considered in our evaluations included features and tools, usability, the setup process, pricing, customer support availability, integrations, and limitations. We identified Ooma as the best business phone system for small businesses because of its simple interface, advanced features and overall ease of use in a small business setting.
Ooma FAQ
Yes. Ooma charges a one-time $49.95 activation fee for its Essentials, Pro and Pro Plus plans.
No, Ooma does not offer a free business phone plan. However, the company does have a 30-day money-back guarantee for Ooma Office and Ooma Office for Mobile. Any hardware purchased can be refunded if it is returned within Ooma's free-guarantee time frame.
No, you do not need a special phone to use Ooma. The services work with any standard home phone, office phone, headset or internet-connected mobile device. That said, the vendor does sell preconfigured, Ooma-branded IP and Wi-Fi phones in addition to phone hardware from Yealink.
Overall Value
We recommend Ooma for …
Small businesses in need of a simple, easy-to-use phone system.
Companies that prefer using mobile phones for most communications.
Organizations looking for a month-to-month phone solution.
We do not recommend Ooma for …
Businesses with a complex tech stack in need of custom communications integrations.
Companies that want to use a desktop app with an entry-level plan.
Large organizations that prioritize getting the most advanced features over ease of use and fast implementation.