Rapid Finance provides small business owners with fast funding at competitive rates. With flexible terms, an easy online application, and relaxed qualifications, it's our choice as the best alternative lender for fast funding.
Fast funding is important to meet short-term cash flow needs, purchase more inventory, and/or take advantage of growth opportunities. But it's important not to overpay to access capital. You want a lender that won't take advantage of your quick funding needs, providing you with an affordable, flexible loan that doesn't have any hidden fees.
Rapid Finance has an easy application process and flexible terms, and it can provide funding the same day in some cases.
Many of Rapid Finance's loan options don't require collateral.
This review is for small business owners considering borrowing money from Rapid Finance.
When selecting a small business lender that can fund your loan in 24 hours or less, you want one that makes the process easy. Without an easy online application and light documentation requirements, is it really quick funding? Rapid Finance lets you apply for a loan through its online application or mobile app and, in some cases, can get you the money you need that same day. It is for these reasons and more that Rapid Finance is our choice as the best alternative lender for fast funding.
Rapid Finance Editor's Rating:
9.5 / 10
Collateral

9.7/10

Online application

9.6/10

Quick funding

9.3/10

Credit requirements

9.4/10

Variety of loan types

9.5/10
Cost
Rapid Finance loan products' rates vary based on your credit score. The higher your score, the lower interest you'll pay. Alternative lenders tend to charge more in interest than their banking counterparts, but they are also willing to loan to borrowers the banks may not consider.
Currently, the APR on a small business loan from an alternative lender ranges from 2.5% to the high double digits. Depending on your credit score, a loan from an alternative lender may not be worth it. However, Rapid Finance does not charge any origination or documentation fees. You only pay interest on its small business loans, but some of its loan products may charge fees beyond the interest. Make sure to inquire about that before proceeding with this lender.
Even if you get approved for a loan, be mindful of the terms. Your credit score will dictate your cost of borrowing. Sometimes same-day funding isn't worth it if your interest rate is too high.
Applying for a Loan
Applying for a loan with Rapid Finance starts with completing a simple online application. Rapid Finance asks you a series of questions, such as about your years in business, annual sales, percentage that comes from credit cards, and credit score. It will then tell you the maximum you can prequalify for. You choose the amount and provide more information (including your Social Security number), and Rapid Finance will then process your loan. Using the Rapid Finance mobile app, on-the-go business owners can easily apply for a loan without being in the office. That's not true of all lenders we reviewed. For example, Crest Capital, which also provides same-day funding, doesn't have a mobile application option.
This lender will work with borrowers with imperfect credit and doesn't require much documentation. You need a business bank account, three months of business bank statements, and a form of ID for its merchant cash advances. For its short-term loans, you need to have been in business for two to four years.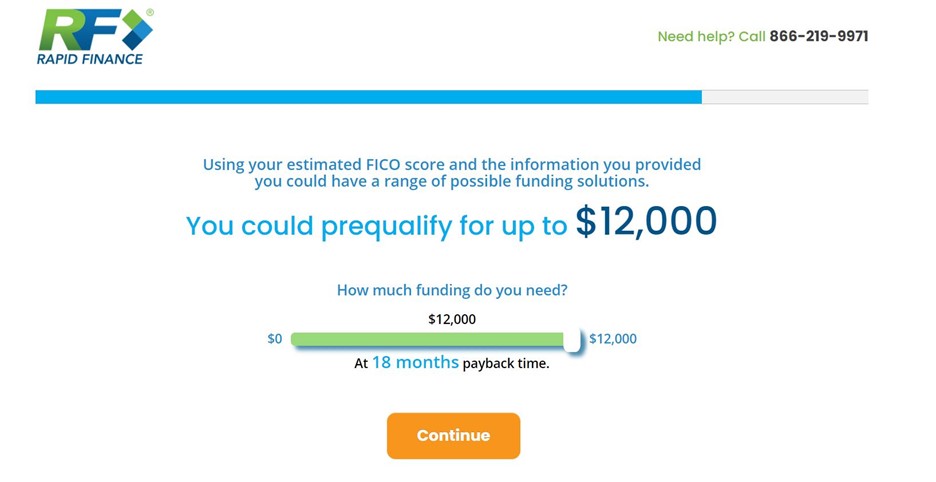 Loan Types and Terms
Rapid Finance offers small business financing in amounts from $5,000 to $10 million. You can pay back its loans in terms of three to 60 months.
This lender offers a wide variety of alternative financing options, including term loans, lines of credit, bridge loans, SBA loans, invoice factoring, merchant cash advances, asset-based loans, commercial real estate loans and healthcare cash advances. You can use the loans for any business purpose, including inventory and payroll.
With its small business loans, you are charged a fixed interest rate and required to make daily, weekly, or monthly payments. The money is automatically deducted from your bank account. That ensures you don't miss a payment, which could negatively impact your credit score. You can borrow $5,000 to $1 million with repayment schedules of three to 60 months. [Related Content: How to Choose a Business Loan]
Rapid Finance charges a percentage of your monthly credit card sales with its merchant cash advance, which is often referred to as a split percentage or holdback amount. You can borrow $5,000 to $250,000 and pay it back over three to 18 months. You can choose to make the payments daily, weekly, or monthly, which is another thing we like about Rapid Finance. Other lines-of-credit lenders, including Fundbox, require weekly payments.

Helpful Tips
Borrowing money is complicated. There are so many options in terms of financing type, amount, and payback periods. Rapid Finance helps you find the best loan with its online calculator, regularly updated blog and customer service.
With the online loan calculator, you input your credit score and monthly sales, and Rapid Finance will show you what you can qualify for. That will help you in the decision-making process. Its blog and business guides provide actionable advice to support your business as you borrow money and grow. In case you still have questions, Rapid Finance offers customer service by phone, email and live chat.
Rapid Finance Features
| Fast funding | Rapid Finance can fund small business loans within hours of approving them. |
| --- | --- |
| Easy application | This lender has a quick and easy online application, making the process painless. |
| No collateral | Rapid Finance does not require collateral for a loan. |
Fast Funding
Fast funding isn't the only reason Rapid Finance is one of our best picks, but it's a big one. All of its loan products offer same-day funding, which is pretty impressive for a lender with such a breadth of products. Noble Funding also offers many financing options, but it can't fund all the loans on the same day as approval.
Rapid Finance gets money in your bank account within hours after approving you and won't charge you an arm and leg for it. That's important for business owners who need cash fast. Far too often, they get stuck in loans that will get them the money quickly but charge exorbitant interest and/or fees for it.
Easy Application
Fast funding doesn't mean anything if the application takes forever to complete. That's not the case with Rapid Finance. It has an online and mobile application that is intuitive and quick to complete. You only need three months of bank statements and ID to apply. That will be welcome news to small business owners who are pressed for time.
No Collateral
When you borrow money from Rapid Finance, you won't have to worry about offering collateral, such as real estate or company vehicles. Most of its loans are unsecured, which is another reason we like this lender. This gives you one less thing to worry about when borrowing money.
Some alternative lenders require you to complete a long application, even if they have quick funding times. That makes fast funding slow funding if you have to spend hours to apply.
Customer Service
Rapid Finance borrowers can contact the lender's customer support team Monday through Friday from 9 a.m. to 6 p.m. ET or chat with the company through its live support feature on its website.
Another benefit of Rapid Finance is its client portal. You can log in to the portal to view your loans and track your payments.
Rapid Finance is accredited with the Better Business Bureau, where it sports an A+ rating and 4.78 out of 5 stars from customers. It also has solid scores on various other review websites.
Drawbacks
Rapid Finance has been lending to small businesses for years, but not every business owner can qualify for a loan with this lender. If you are a startup business, you may be shut out of its loans, given Rapid Finance's requirement that you be in business for at least three months for its merchant cash advances. For its short-term loans, you need two to four years in business.
Rapid Finance is willing to work with borrowers who have questionable credit scores. That increases the number of small businesses that can get approved for a loan, but it may be too costly. Ultimately, your credit score dictates the interest you'll pay on the loan. If your score is low, the high interest rate may not be worth it, even if you can get funding in less than 24 hours.
If you are looking for a lender that has an easy online and mobile application, can quickly approve your loan, and will fund it the same day, look no further than Rapid Finance. While this lender isn't for everyone, it has flexible terms and several loan products that it can fund rapidly, making it our best pick for fast funding.
Summary
We recommend Rapid Finance for:
Small business owners who need quick access to financing and don't want to endure a lengthy application process
Small businesses that need a lender with multiple financing options
We DON'T recommend Rapid Finance for:
Borrowers with low credit scores
Startups (less than three months in business or, for short-term loan applicants, two to four years)