Stax is the best credit card processor for high-revenue small businesses thanks to its flat-rate, tiered pricing and robust features.
Pros
Flat-rate pricing and tiered plans allow high-volume businesses to scale up their processing service as they grow and spread out fixed costs.
Higher-risk businesses can access more funds through Stax's partnerships with top-tier banks.
Stax offers a variety of customer service options, including phone support, live chat, email and an FAQ knowledge center.
You can set up partial payments and recurring subscription transactions and store customer payment information.
It integrates with most POS providers and offers a wide variety of additional features, including report generation and invoicing.
Cons
The high price may put the service out of reach for small businesses on a budget.
No proprietary hardware is available, so you must purchase your own hardware.
It's not ideal for restaurants that use Square and Toast POS systems.
Stax is our pick for the best credit card processor for high-revenue businesses.
Stax offers a dedicated account manager for high-volume businesses.
The company offers in-house IT support, which makes life easier for business owners when technical issues arise, as they often do when businesses are scaling.
This review is for business owners who want to learn about Stax's credit card processing service and why it's our best pick for high-revenue businesses.
For most small businesses, growth is a top goal. If your business is expanding rapidly with high revenues, you'll need a credit card processor that can grow with you. We selected Stax (formerly Fattmerchant) as the best credit card processor for high-revenue businesses with a lot of transactions. Stax keeps customer service and tech support in-house, so you won't experience the inconvenience of dealing with outsourced, third-party representatives. Stax also offers a dedicated account manager to businesses that earn over $500,000 annually, as well as numerous integration options.
Stax Editor's Rating:
8.7 / 10
Pricing

3.5/10

Contract

10/10

PCI compliance

10/10

Early-termination fee

10/10

Fast deposits

10/10
Why Stax Is Best for High-Revenue Businesses
With its interchange-plus pricing model, Stax is our top credit card processor for businesses that generate an annual revenue of $500,000 or more. Stax features a variety of hardware and point-of-sale (POS) system choices, as well as numerous free integrations. The company also offers add-ons, like the ability to store card information, sales tracking, and brand customization for invoices, receipts and websites. Stax also provides funding for merchants, particularly those with inherently higher risk businesses. Through partnerships with lenders like Bank of America, Chase Bank and Wells Fargo, merchants can leverage Stax's technology layer to get direct access to these banks and more funds. 
Usability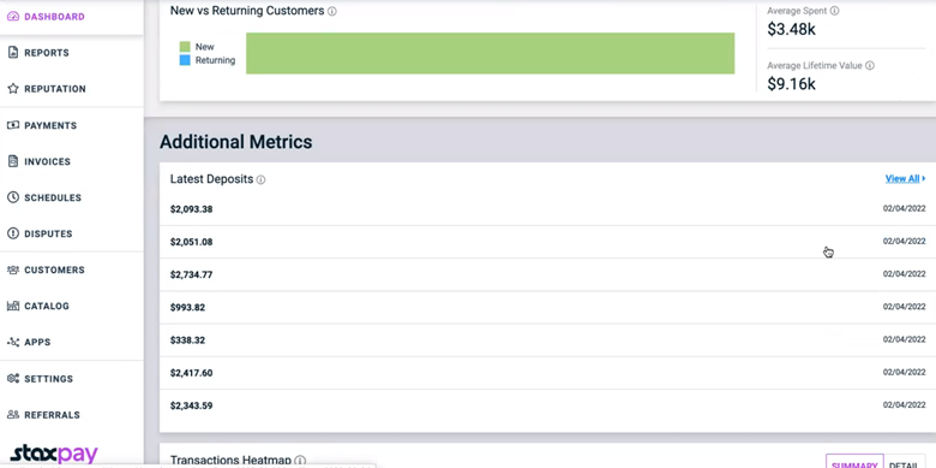 Stax offers a centralized dashboard that provides an overview of the metrics that are most important to your business. Source: Stax
We found Stax's user interface to be straightforward, feature-rich and fairly intuitive. The software goes well beyond the technology offered by most payment processors, and Stax boasts better functionality than many POS packages that provide similar capabilities.
A panel on the left side lists Stax's main features, including report generation, payments, invoices and disputes. The main dashboard displays information such as settlements and deposits, sales and refunds, and a reconciliation report to help you reconcile your bank account deposits. You can filter your transaction reports by day, week, month or year, or select from a preset time period to review your transactions. Plus, you can see who processed a transaction, the volume of sales they made, the number of overdue invoices and more.
Stax's advanced customization allows users to edit their display settings for things such as color coding.
One popular feature is the recurring payments system, which allows business owners to securely store payment information and schedule payments to the exact day. If customers change payment methods, you can simply edit their information rather than set up a new payment profile.
We found the Stax Pay mobile app to be similarly well developed, with a sleek, easy-to-use interface, although some customer reviews complain about technical issues with the mobile card reader.
All of Stax's systems are PCI-compliant with no liability for the business owner, which takes care of a technical challenge that frustrates many small businesses.
Stax Features
| | |
| --- | --- |
| Credit card terminals | Stax offers a range of card readers and payment gateway integrations. |
| Security | All systems are fully PCI-compliant; Stax ensures encryption on all devices. |
| POS integration | Stax integrates with various POS systems, including ShopKeep, Revel and Vend. |
| Customer support | There is 24/7 customer support by phone, email or live chat, as well as an FAQ knowledge base on Stax's website. |
| Mobile payments | The Stax Pay mobile app allows you to process transactions, review sales metrics and more. |
| Customization and integration | You can customize the branding on invoices, receipts and payments, as well as integrate with popular business software packages, such as QuickBooks. |
| Invoicing | You can send invoices and accept partial or recurring payments from subscriptions. Branding options are available so you can add your logo on invoices before sending them to your customers and send payment reminders for overdue invoices. |
Credit Card Terminals
Stax offers a number of card readers for purchase, as well as a variety of payment gateway integrations. Card readers and protection plans range from $9 to $29 per month for each device. Protection plans cover device upgrades and replacements. Stax covers free gateway integration, whereas gateway providers themselves often charge a fee. This is a great benefit of working with Stax, especially if you've already set up a POS system for your business.
Security
As a Level 1 PCI Service Provider, Stax offers the highest level of PCI compliance. The company tokenizes and encrypts payment data on all devices to protect cardholder data. The information is removed after the completion of the transaction. This secure payment process helps prevent third parties from accessing data or intercepting transaction information. 
Stax is also HIPAA compliant, making it ideal for merchants, particularly those in the healthcare industry, to accept payments securely. 
POS Integration
Stax integrates with some of the best POS systems, including ShopKeep, Revel and Vend. These integrations are free of charge with Stax, but the POS system may charge its own fees for integration. According to Stax, the company supports approximately 90% of third-party POS systems. Customers are encouraged to reach out directly to Stax to inquire about integration with specific POS systems.
Want to learn more about POS systems and how credit card processors integrate with these platforms? Read our guide on how to set up a POS system.
Customer Support
Stax offers 24/7 customer support via phone, email or live chat, and the company covers a broad range of frequently asked questions on its website.
Mobile Payments
The Stax Pay mobile app allows small businesses to process transactions, review sales metrics, manage inventory and send receipts. App users can connect a mobile swiper to their tablet or phone via Bluetooth to accept payments. Stax Pay is compatible with iOS and Android devices. Another useful feature is the text-to-pay option, which allows businesses to text customers a mobile-friendly link. Few credit card processors provide this feature.
Customization and Integration
Stax offers small businesses the option to customize invoices, receipts and payments to match their individual brand, as well as set permissions for other employees. Customers can also seamlessly integrate software such as QuickBooks, Wave, Xero, Mailchimp, HubSpot and Zoho.
We also like that Stax is platform agnostic, particularly with POS systems. If you prefer a particular POS system, Stax can resell it to you, as it can connect to POS systems like Clover, Lightspeed and others, but not Square and Toast, which don't connect to other POS providers.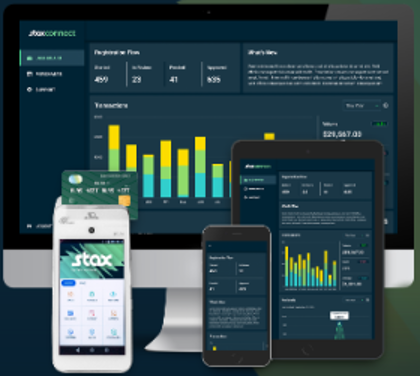 Stax offers top-notch customization options for every business type. Source: Stax
Invoicing
One advantage Stax has over bare-bones credit card processors is that you can send invoices by email or text, making it easier for customers to pay you. And you can accept recurring payments. This feature is useful for subscription-based businesses. By using Stax's invoice reminders or partial payments and automating recurring payments, you can increase your business's cash flow and reduce subscriber churn. We especially liked that Stax also offers payment links, which you can embed on customer invoices so they can pay easily and quickly. 
Stax Pricing
Stax is popular for its interchange-plus pricing model. If your business brings in a consistently large number of sales, Stax's pricing model may come with major savings. Unlike Square credit card processing and other processors, which price per user or offer SaaS licenses, Stax allows you to have as many team members as you want within the parent platform and save money.
The following pricing tiers are available from Stax:
Growth: At $99 per month, this plan includes a free terminal or mobile reader, ACH processing, free surcharging capabilities, a dashboard and analytics (Lite version), and quick payments and backup processing.
Pro: At $159 per month, this plan includes all of the features in the Growth plan, plus digital invoicing, text-to-pay, website payment links, secure credit card information storage, open API integration capabilities, enhanced dashboards and reporting, and accounting reconciliation sync with QuickBooks Online. [Learn more about this software in our QuickBooks Online review.]
Ultimate: At $199 per month, this plan includes all of the features in the Pro plan, plus recurring invoices and scheduled payments, automatic updates for saved credit cards, one-click shopping cart setup with catalog management, advanced dashboards and reporting, data exports, and access to premier support.
Enterprise: The pricing for this plan varies because it is customized to each business's needs. This option is best for businesses that bring in over $1 million per year.
If your business is not yet processing at least $5,000 per month, Stax could be one of the most expensive credit card processing companies on our list for you.
Early-Termination Fee
Stax does not require a contract or charge an early-termination fee. However, it does require a 30-day written notice prior to service cancellation.
Monthly Fees
Rather than imposing fluctuating fees, Stax charges a flat monthly subscription fee. With a starting rate of $99, the fee is hefty compared with those of other credit card processors on our list. That said, businesses with a large sales volume can actually save with Stax as their credit card processor because that fixed fee is spread out over many transactions. Additionally, Stax charges fixed interchange rates.
PCI Compliance Fee
Stax includes the PCI compliance fee in its subscription price rather than making it an additional fee. This built-in cost is another way Stax beats the competition when it comes to serving large-volume businesses.
In addition to subscription plans, Stax offers add-on features for every plan. These optional features include custom branding, digital gift cards, same-day funding and a one-click shopping cart.
Stax charges a $25 fee for all chargebacks related to customer disputes, regardless of the outcome.
Equipment Costs
Stax does not require you to buy or lease equipment, and you can use the terminal of your choice. Your hardware requirements depend on the types of payments you wish to accept (in-store, mobile, e-commerce, etc.).
These are some of the hardware options:
Dejavoo terminals
PAX A920 terminals
Mobile card readers
Chipper BT
Chipper 2X BT
Other mobile readers are available for $75. If you already have equipment, it will likely integrate with Stax. The company says it offers integration with 99% of hardware and software.
Stax Pay, the company's free integrated payments platform, features a dashboard to view customer data, review inventory, manage invoices, process transactions and handle reporting.
Add-ons are also available (with custom pricing), including these extras:
Advanced dashboard customizations
Dispute manager for chargeback monitoring
QuickBooks Online integration that syncs data between Omni and QuickBooks Online
Terminal protection
While interchange fees don't fluctuate with Stax, you can expect to pay additional transaction fees. Each in-person transaction is an additional $.08, while manually entered transactions are an extra $.15 each.
Setup
To apply for Stax's services, you must get in touch with a sales representative by calling or submitting an online form. A questionnaire will help you determine which package is right for your business, using several criteria, including your business's industry, your personal background and your hardware needs. After that, you will receive a quote for the pricing tier that matches your needs. (Businesses that process more than $500,000 annually can contact the company for a custom quote.)
Once your application is approved, a Stax representative will introduce you to a dedicated account manager, who will begin the onboarding process specific to your business's needs and walk you through any payment methods you require.
Customer Service
Stax offers 24/7 customer support via phone, email, fax or live chat. The company also covers a broad range of frequently asked questions on its online knowledge base. Customers also gain access to a dedicated account manager and in-house technical support.
The range of Stax's customer service options decisively beats out many alternatives on our list of the best credit card processors. Moreover, we found Stax's customer service representatives to be responsive and knowledgeable about the service's features.
Drawbacks
Although Stax stands apart as one of the most feature-rich offerings, you must be willing to pay up for that functionality. The minimum $99 monthly subscription fee may put the service out of reach for many small businesses on a budget, and customers must purchase their own payment hardware. On user review sites such as Trustpilot, some customers complained about add-on fees and price increases. Although Stax offers 24/7 customer service by phone, it may sometimes be understaffed; some reviewers wrote of long hold times and wait periods between messages. 
Methodology
To conduct our review of Stax's credit card processing service, we arranged a live demo with the Stax team, which gave us a walk-through of the product and conducted a thorough question-and-answer session. In addition, we analyzed Stax's website, marketing materials and customer reviews on the web. To make our decision, we zeroed in on criteria such as affordability, ease of use and features that are relevant to small businesses. In the end, we chose Stax's credit card processing services as the best for high-revenue businesses because of its tiered, flat-rate pricing model, which allows high-volume businesses to scale without switching providers.
Stax FAQs
Stax is a payment technology company that rebranded as Stax in 2021 to better reflect its position as an overall financial solutions provider.
Stax's entry-level plan starts at $99 per month.
There is no early-termination fee. You can cancel anytime by calling Stax customer support.
Overall Value
We recommend Stax for …
Fast-growing businesses that process a high volume of transactions.
Subscription-based businesses.
Businesses that want data visualization and other features that credit card processors don't normally offer.
Business owners who want access to a wide variety of customer service and technical support options.
We don't recommend Stax for …
Businesses that process less than $5,000 per month.
Businesses on a tight budget.
Businesses that want an integrated POS and credit card processing system or proprietary hardware from the same company that does the processing.
Elsier Otachi also contributed to this article.