Your small business needs a credit card processing account to accept more than credit card payments. The best credit card processing services also facilitate payments via invoices, automated clearing house (ACH) bank transfers, digital wallets and manual entry. 
Both Stax and Square, which rank among our top credit card processing vendors, offer a breadth of payment options. This makes them well worth comparing when choosing a credit card processor. To do exactly this, we dove back into the key takeaways from our Stax review and our Square review and investigated each platform's latest updates. The results of our research are below.
Stax vs. Square Comparison
Price and Plans
Stax
Here's how Stax's pricing plans break down:
$99 per month for annual processing volume of up to $250,000
$199 per month for annual processing volume of more than $250,000 and up to $500,000
Custom pricing for larger annual processing volumes
We like that this pricing is easy to understand. It's a refreshing change from the convoluted pricing plans on which credit card processing companies so often operate.
Square
Square's pricing is pay-as-you-go, meaning there's no monthly premium unless you opt into a special plan designed for your type of business. Without such a plan, you'll only pay the rate per transaction — there are no additional fees. Should you seek a subscription, the following options are available:
Plus plan for restaurants: $60 per month, per countertop POS device, with $40 per additional countertop device or $50 per mobile POS location
Plus plan for retail businesses: $60 per month, per location
Premium plan for eligible restaurants or retail businesses: Custom pricing 
Plus plan for appointment-based businesses: $29 per month, per location
Premium plan for appointment-based businesses: $69 per month, per location
Winner: Square
We prefer Square's payment model. It's almost certainly going to be your lower-cost option when comparing Stax vs. Square — unless your transaction volume is high. In that case, we might instead recommend Stax. The flat monthly subscription can be more cost-effective than paying for each transaction as your volume increases.
Rate per transaction
Stax
Stax charges 8 cents per transaction for in-person payments and 15 cents for manually entered transactions, such as those taken over the telephone. We like this about Stax. Since there's no percentage charged per transaction — only a flat rate — your per-transaction costs remain low and easy to calculate. Plus, with only two categories of transactions, you don't have to remember a bunch of transaction types and rates.
Square
Like many credit card processors, Square charges interchange fees on each transaction. This means each transaction incurs a percentage fee plus a small additional flat fee. Although standard in credit card processing, this pricing model can lead to cost confusion for the average business owner. It doesn't help that Square charges different rates for four types of transactions, as detailed below:
In-person credit card transactions: 2.6% plus 10 cents per transaction
Online API, store or checkout payments: 2.9% plus 30 cents per transaction
Keyed-in/manually entered via card on file: 3.5% plus 15 cents per transaction
Invoice payments via ACH bank transfer, Apple Pay, Google Pay or credit card details given via phone: 3.3% plus 30 cents per transaction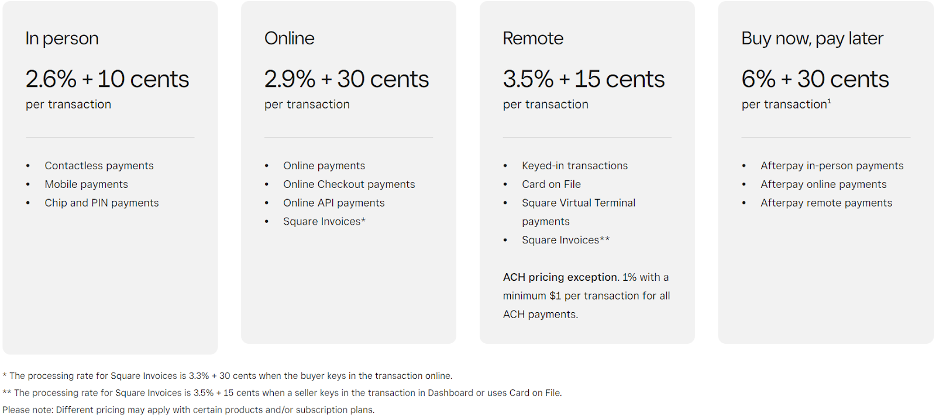 Square is very clear on which types of payments fall under which of its four interchange fee groups. Source: Square
Winner: Stax
We prefer Stax's approach to the rate per transaction. This rate is the same no matter the transaction's size, and it's always smaller than the rate per transaction that Square charges.
Additional fees
Stax
Beyond its monthly premiums, the only fees Stax charges are chargeback fees. These fees result from customers disputing credit card transactions, and they'll cost you $25 per transaction no matter how the dispute is resolved. Additionally, Stax doesn't charge early termination fees, and other fees, such as Payment Card Industry (PCI) compliance and gateway fees, are included in your monthly premium.
Square
We like that Square charges no fees whatsoever — not even chargeback fees, which are common (and often pricey) in credit card processing. There are no fees for PCI compliance, early termination, gateway integrations or setup, either. Name a fee you might encounter among credit card processors other than interchange fees and Square will never charge it.
Winner: Square
Since chargeback fees never happen when you're a Square customer, Square beats Stax when it comes to additional fees. 
Third-party integrations
Stax
We were impressed with Stax's integrations with many of the best accounting software platforms, including QuickBooks, Xero, Zoho Books and Wave. We also like that Stax integrates with some of the best email marketing software platforms, such as HubSpot and Mailchimp. 
QuickBooks is the accounting software platform we recommend most strongly for small businesses. Read our QuickBooks review to learn more.
Additionally, Stax integrates with prominent payment gateways, such as WooCommerce and Magento, as well as most of the best POS systems. However, its integrations with Toast and Square POS are lacking since these platforms won't connect with other POS platforms — which, to them, includes Stax.
Square
With Square, you get access to a custom API for integrating your system with in-person, remote and mobile payment options. We like the flexibility that these integrations offer your customers for making payments — and you for accepting payments. Beyond this, Square integrates with many types of business applications to streamline your sales and accounting data. 
However, we were disappointed that Square lacks email marketing integrations. Since you can use Square to manage your online store, we expected email marketing integrations — they're a great way to drive traffic to your store. In general, we found the brands with which Square integrates relatively unimpressive — many aren't top names in their fields.
Winner: Stax
Stax's integrations are more diverse and robust. We recommend Stax over Square for combining all your platforms seamlessly into one smoothly flowing workflow.
Payment methods
Stax
You can use Stax to process payments made in-person, via invoice, over the phone or using mobile or contactless technology. Stax can also process keyed-in payments and e-commerce payments. We like that, through this breadth of payment methods, you can serve nearly any customer.
Square
When customers hand you a credit card in person or read you their information via phone, you can process the transaction via Square. You can also process payments via invoice, digital wallet and ACH payment. We were happy to see ACH payments on Square's list as this is a direct transfer of money between bank accounts. That's about as transparent and direct as payment gets and we like that Square facilitates it.
Winner: Square
Square edges out Stax on payment methods because, unlike Stax, it facilitates ACH payments. That said, in virtually every other payment category, the two vendors are even.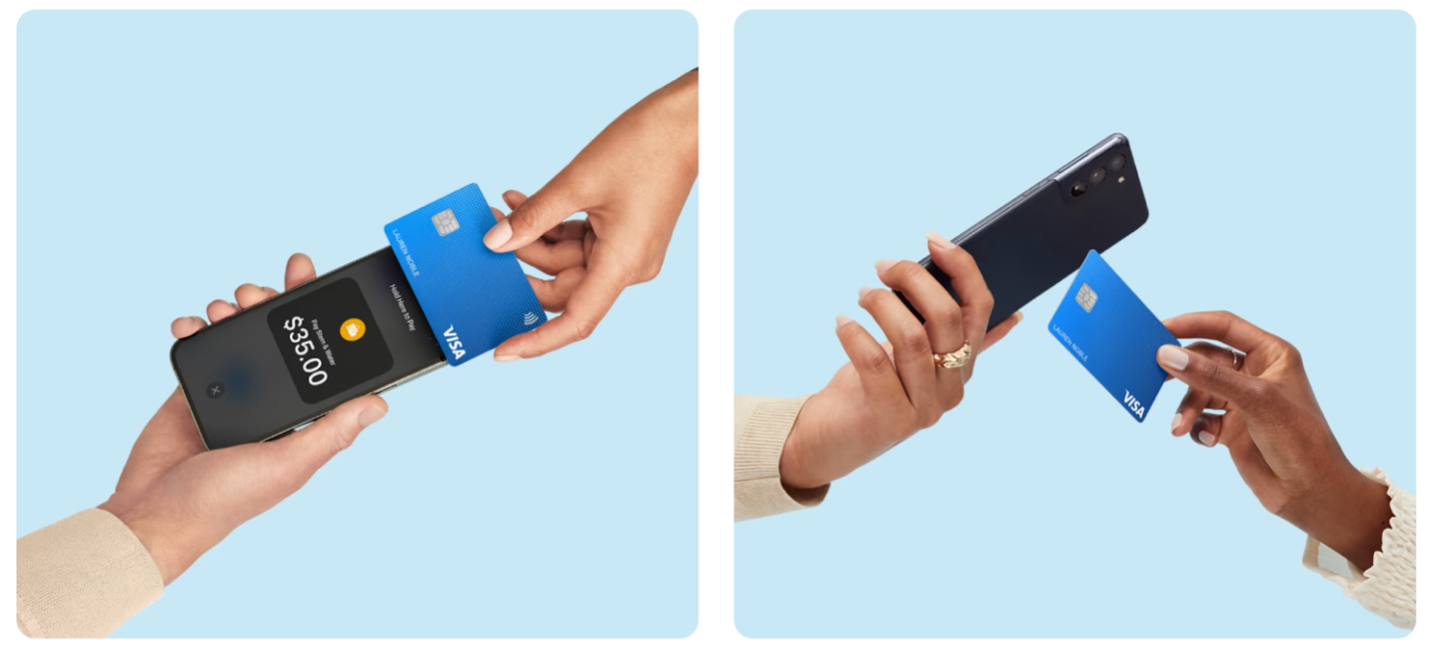 With Square, your smartphone becomes your contactless payment device. Source: Square
E-commerce and reporting
Stax
Through Stax, you can generate reports that you can use to reconcile all your business bank accounts. We like that Stax includes this accounting feature. It gives you one more fundamental accounting need you can handle from within the platform rather than jumping to your accounting software. There are also transaction reports you can set to cover any period, and every account comes with dashboards and analytics.
Square
With Square, all your data and analytics arrive in real time so that you always have the most up-to-date information. You can look at your data without awaiting your team's end-of-day inventory reports. You'll also know which items to restock based on your real-time sales data. Additionally, when customers pay through your payment links, Square tracks your transaction, order and customer data automatically.
Winner: Stax
Stax barely edges out Square on reporting in our eyes. While we do like Square's reporting, we find Stax's time-filterable reports and clear dashboards especially useful.
Customer support
Stax
All Stax customers can access email, phone and live chat support 24/7. We like that all Stax customer support agents are employed in-house too, which always makes for better customer service. We also like that Stax pairs you with a dedicated account manager if your annual transaction volume exceeds $500,000. 
Square
You can message Square for support from 6 a.m. to 6 p.m. PT on weekdays. Additional support is available via email or phone, though not 24/7 unless you opt into a monthly subscription. Your support options are much more limited if you go with the more affordable pay-as-you-go plan and this disappointed us.
Winner: Stax
Stax is the obvious winner between these two credit card processing brands when it comes to customer service. There are far fewer barriers to accessing Stax support relative to Square support.