If you run an online or retail store, you need a small business credit card processor that will let you accept credit card payments as well as debit cards and other payment types. Small businesses sometimes have trouble choosing between two of the biggest names in the industry: Stripe and Square.
Stripe and Square both offer a single merchant account and allow you to accept payments through online point-of-sale (POS) stations or portals. Both services come with unique benefits and have different advantages and downsides.
With that in mind, let's take a closer look at Stripe and Square. This comparison page should help you determine which payment processor best fits your business needs. 
Editor's note: Looking for the right credit card processor for your business? Fill out the below questionnaire to have our vendor partners contact you about your needs.
Stripe vs. Square side-by-side comparison
Stripe payment processing offers reasonably low rates and a variety of mobile-focused and online-focused tools, including the following: 
Small POS devices
Easy integration with third-party apps 
Developer-friendly API kits
In contrast, Square focuses on providing hardware POS systems for brick-and-mortar businesses or larger online enterprises. Many business owners find Square a little easier to jump into and get working immediately, but it lacks Stripe's payment versatility.
| Similarities | Differences |
| --- | --- |
| They charge the same for online payments. | Stripe is better for developers, and Square is better for those without coding experience. |
| They offer similar hardware and POS services. | Square offers better POS hardware and solutions, while Stripe is better for online stores. |
| They both integrate with third-party tools. | Stripe is better overall for integrating with third-party apps. |
| They both offer a variety of customer support channels. | Square is easier to use overall. |
Similarities between Stripe and Square
Processing costs: Stripe and Square have the same online payment processing cost – 2.9% plus 30 cents per transaction.
Hardware: Both offer POS hardware like card readers or POS terminals and online payment processing.
Integration: Both can integrate with third-party tools.
Customer support: Both offer multiple customer support channels.
Differences between Stripe and Square
User focus: Stripe is more developer-friendly, while Square is better for brick-and-mortar business owners.
Ease of use: Square is easier to use and jump into, whereas Stripe requires a bit more setup time if you want to take full advantage of its capabilities.
Suitability: Square is better for POS hardware needs and site building, whereas Stripe is more suitable if you have an online business or primarily accept payments online.
Software: Stripe is much better in terms of third-party integration but doesn't offer its own POS software as Square does.
Square is one of the best POS systems for retail stores and restaurants. Its retail POS plans include an online store so that you can also sell your products online.
Stripe: Who do we recommend it for?
Stripe is a versatile and easy-to-use online payment service that gives your customers a speedy and convenient checkout experience. It offers a dedicated POS terminal and a handheld terminal for multiple credit card readers, with integrated readers available as an add-on.
But Stripe's real focus is the online space. It's a perfect solution for businesses that conduct international e-commerce or that are mostly or entirely online. Its online payment tools make it great for accepting various currencies from all around the world.
Stripe may also be a better choice if you have an in-house developer who can make the payment processor work for you. The company provides extensive documentation and tutorials to speed things along.
These are a few of Stripe's primary benefits: 
Integration: Stripe offers excellent integrations with hundreds of third-party apps.
Design: It's designed to be an online payment system.
Payment methods: Stripe accepts all kinds of payment methods as well as multiple currencies.
Convenience for developers: Stripe is great for businesses with in-house web developers. 
Square: Who do we recommend it for?
Square is another big name in POS and payment solutions for businesses, and for a good reason: It's been a dominant market force since 2009. It's one of the best choices for small businesses thanks to its excellent POS tools and hardware solutions. 
Square is also easy for employees to use, featuring quality out-of-the-box business management and employee management tools. No developer experience is necessary to use Square, and it can help you manage your company and your customer base relatively quickly.
However, Square isn't quite as versatile in terms of accepted currencies. On the plus side, Square is a little cheaper if you need a POS hardware terminal, since you get your first one for free when you sign up.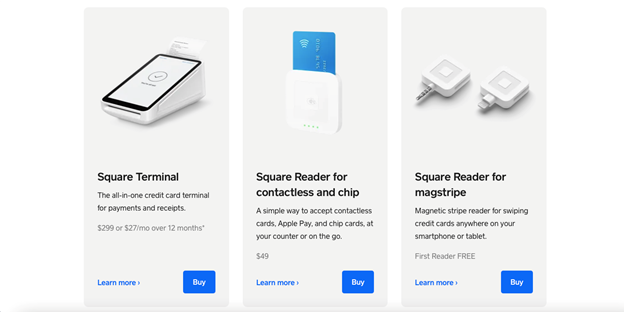 These are some of Square's main benefits:
Free POS terminal: The service includes a free POS hardware terminal.
Additional tools: Square includes management and productivity tools in addition to payment processing.
Ease of use: Square is easy to get up and running.
Versatility: Square is designed for brick-and-mortar payment processing, but it offers online payment options as well.
Product and service criteria comparisons 
Still not sure which of the two payment processors you should choose? Let's break down the major features of Stripe and Square to see which software has the advantage.
| | |
| --- | --- |
| Plans | Square |
| Pricing | Square |
| Features | Square |
| Ease of use | Square |
| Integrations | Stripe |
| Support | Stripe |
| Employee self-service | Square |
| Additional services | Tie |
Plans
Stripe's two plans: Stripe offers two main plans for its customers. The Integrated plan is a complete payment platform for online business owners who want to accept credit card payments. This plan is relatively robust, offering hundreds of free updates with no monthly or hidden fees.
The Customized plan lets you design a custom package for your business and choose precisely what you want to pay for. The Customized plan may be a better choice for larger businesses with many international customers.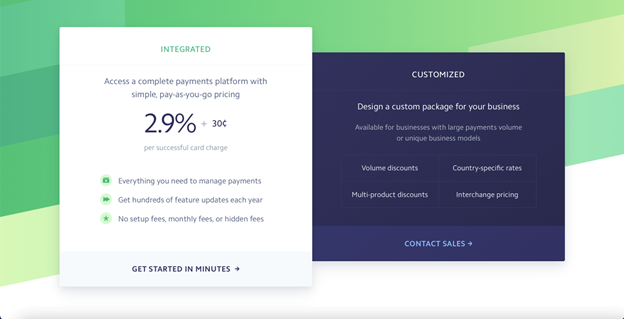 Square's four plans: Square offers four plans. The Free plan is great for building a website and selling products online ASAP. The Professional plan is $12 per month and comes with a custom domain and password-protected pages. It also removes Square ads from the free version of your website. 
The Performance plan is $26 per month and allows you to accept PayPal purchases. It has additional features like abandoned cart tools, advanced reporting tools and product reviews.
The Premium plan is a little pricier at $72 per month, but it has lower credit card processing fees and discounted shipping. You'll also be able to provide your customers with real-time shipping information. This plan is designed for larger businesses that need advanced features.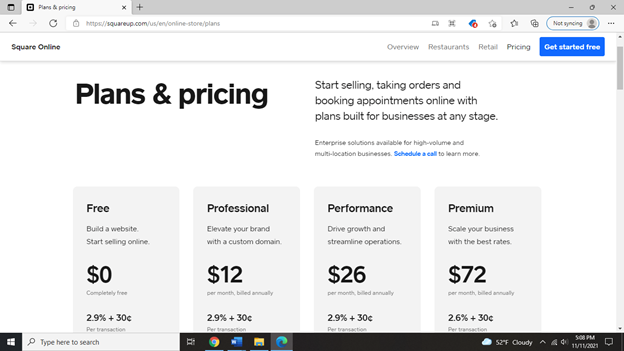 Winner: Square. The company's plans are more straightforward and broken down in a way that makes it easy for online business owners to understand what they're getting. 
Pricing
Stripe: Stripe has a straightforward fee and pricing scheme. If you want to use Stripe's payment platform for your current website, it'll cost you a fee of 2.9% plus 30 cents for each credit card charge. 
In-person credit card processing costs 2.7% plus 5 cents per credit card charge. International cards are more expensive, with another 1% processing fee for either type of credit card payment above. 
Stripe doesn't charge any monthly fees, and there aren't extra charges if you accept mobile payment options like Google Pay or Apple Pay. But it does charge a $15 disputed payment fee if you ever have an issue with chargebacks.
The first Stripe card reader you buy is a $59 flat fee. Stripe does offer a slightly cheaper POS terminal than Square, at $249.
Square: If you only use Square to accept online payments, the company's pricing is straightforward. It costs 2.9% plus 30 cents per transaction, which is the same fee that Stripe charges. 
Square is a little cheaper if you use it for in-person credit card payments. That fee is just 2.6% plus 10 cents per transaction. However, if you want to build an e-commerce store using Square, you need a paid plan and will likely incur a monthly fee.
Square gives each customer their first card reader for free. An additional card reader costs $10. POS terminals start at $299, which is a little more expensive than what Stripe charges.
Winner: Square, thanks to its low in-person fees.
Features
Stripe: Stripe offers a wide range of features for small business owners, including universal payment options. This makes it easy for businesses to accept niche payments from customers – another reason Stripe is well suited to online purchases.
On top of that, financial reporting tools are built into Stripe's plans, along with customer reporting tools if you sign up for Stripe Sigma. The software easily integrates with QuickBooks and includes features like invoice customization and payment requests.
Square: Square also provides top-tier features, especially for online payments. It comes with fast deposits and excellent reporting tools. The software is PCI compliant, making it an excellent choice for larger businesses looking to expand their markets. 
If you build an online store with Square Online, you'll also receive customizable website themes, an integrated mobile app, and a free domain name for a year. Square offers POS software, whereas Stripe does not. 
Winner: Square, thanks to the inclusion of its POS software.
Ease of use
Stripe: Stripe is relatively easy to use, though its reliance on third-party tools makes getting started more of a challenge. One area where Stripe stands out is the developer tools. It offers a branded and custom UI toolkit, which is ideal for business owners who know how to code or have in-house developers. 
Square: One of Square's biggest benefits is how easy the software is to use. You can get it up and running fairly quickly, whether you need to build a website from scratch or integrate payment processing into your retail storefront. Also, Square's POS tools are better than Stripe's overall. Most of these tools are all-in-one solutions and take every major payment type.
Winner: Square, because the software is so easy to set up.
Integration
Stripe: Stripe is known for how easily it integrates with third-party apps and tools like WooCommerce and Squarespace. You can also integrate these tools with Stripe Billing or similar apps. 
Square: Square doesn't come with as many integrations as Stripe, but this is less important, since Square offers its own POS software. 
Winner: Stripe, thanks to the numerous third-party integrations it offers.
Support
Stripe: Stripe offers an excellent range of customer service options, including live chat, 24/7 phone support, an educational blog, and a detailed knowledge base.
Square: Square provides live chat, a knowledge base, and a blog, but it doesn't offer phone support.
Winner: Stripe, thanks to its 24/7 phone support.
Employee self-service
Stripe: Stripe may not be the easiest option for your employees. They may have a hard time learning how to perform basic functions like clocking in or managing inventory. 
Square: Square does a little better than Stripe in this area. Its POS solutions include inventory management, employee time tracking, and other tools that both managers and employees can access quickly and easily. 
Additional services
Stripe: Stripe focuses more on online business owners. It offers additional services like CRM software and a dedicated mobile app. The software also has a single dashboard that lets you manage your business operations from one place.
Square: You can use Square to create an online store, add payment links, and include additional checkout features on your existing site. Square also offers team management tools when you purchase POS software or a terminal from the company.
Winner: Tie. Both offer a wide range of features aside from payment processing.
Stripe vs. Square recap 
Both Stripe and Square could be excellent choices for your small business. However, the best option depends on your payment processing and business needs. 
Choose Stripe if these statements are true:
Your business is mostly or entirely online.
You have experience with coding or an in-house developer.
You don't mind using third-party tools to get extra features or benefits.
You want to accept as many currencies as possible.
Choose Square if these statements are true:
You run a retail business primarily with a secondary website.
You need high-quality POS hardware and software.
You'll benefit from additional customer and employee management tools.
You want a payment processing service you can jump into quickly.
Stripe vs. Square FAQs 
What are the differences between Stripe and Square?
The primary difference between Stripe and Square is the type of business these companies serve. Stripe has a host of online payment tools and is clearly designed for online businesses. Square is better for brick-and-mortar retailers that need quality POS hardware, like credit card readers or terminals.
Is Stripe good for small businesses?
Yes, but primarily for small businesses that do most of their sales online. It's also a better choice for small businesses with an in-house web developer who can handle an in-depth setup.
What percentage does Stripe take?
Stripe takes 2.9% plus 30 cents for each successful credit card transaction.
What percentage does Square take? 
Square also takes 2.9% plus 30 cents for each successful credit card transaction.