PayPal Here and PayPal Zettle are the digital payment processor's credit card reader and app solutions that allow businesses to accept payments through a single platform.
PayPal Here and PayPal Zettle are celebrated for their ease of use and ability to accept multiple forms of payment.
Users of PayPal's mobile payment solutions can expect to pay fees on transactions and, in some cases, to purchase the card reader.
This article is for business owners looking for a way to accept payments from customers who shop in person.
PayPal is best known for its payment processing solutions for online merchants and shoppers. But did you know that the company also has a processing solution for in-store and mobile merchants? The newer PayPal Zettle offers and what you need to know before signing up.
What is PayPal Here?
Introduced in 2012, PayPal Here is a credit card reader and accompanying app that allows businesses and individuals to accept a wide range of payments, including credit cards and contactless payments, on iOS and Android devices. 
What is PayPal Zettle?
As of 2021, PayPal has transitioned its mobile and POS transaction solutions from PayPal Here to PayPal Zettle. All new merchants will be signing up under PayPal Zettle. This is a benefit for many businesses, because not only does PayPal Zettle offer a full suite of POS hardware and free POS software, but its processing fees are less than PayPal Here at 2.29% + $0.09. 
However, existing PayPal Here merchants can still access and use the mobile app and continue doing business the same way. This is a good option if you do not need all the POS bells and whistles or if you have a high volume of low-dollar-amount purchases.




Credit card processing can be pricey, but the costs associated with using PayPal's payment processing apps and readers are reasonable. It's free to sign up for the service, and there are no contracts or monthly fees. You only pay a fee for each payment you accept. Businesses or individuals sign up for a business account with PayPal – or upgrade their existing accounts – and then download the PayPal Zettle app (also free) on a mobile device.
If you sign up for PayPal Zettle directly through PayPal, you'll receive a Chip, Swipe and Tap card reader for $29 rather than the regular price of $79. If you want additional card readers, a POS terminal, a cash box or other accessories, you will pay extra for those.
PayPal Zettle is a great solution for mobile credit card processing. Some business owners are unsure about mobile card processing, but it is easy to set up, affordable, and secure.
PayPal Zettle is a credit card reader and business solution connected to your company's PayPal account.
PayPal vs. PayPal Zettle: What's the difference?
PayPal is a consumer-centric product, while PayPal Zettle is designed as a business solution. PayPal's website and app make it easy for friends and family to send money to one another at no extra cost. Consumers can also use their PayPal accounts to make payments to businesses, both brick-and-mortar and online, and to make charitable donations to their chosen organizations.
PayPal Zettle is primarily a business solution for merchants looking for a way to accept all types of payments, including PayPal, for goods and services. PayPal Zettle allows merchants to process payments from all the major credit cards, debit cards, PayPal and Venmo accounts, and other mobile payment apps. PayPal Zettle has a separate app for accepting and managing these payments; this app also includes tools that allow merchants to send invoices, manage inventory and set prices.
PayPal is a consumer product that allows users to send and receive money from friends and family, while PayPal Zettle is a business solution that allows merchants to accept all types of cards and other payment methods.
PayPal card reader options
If you've ever used a mobile credit card reader, then you know just how important the design of the devices can be. PayPal Here gives you three designs to choose from: the Chip and Swipe Reader, the Chip and Tap Reader, and the Chip and Tap Bundle.
The Chip and Swipe Reader 
This reader is free when you set up your account, but additional units cost $24.99. It accepts major credit cards, whether they have a magnetic stripe or chip. You swipe the card in the slot on one side of the reader or insert the EMV chip at the top of the reader for fast and secure payment processing. The device is 3 by 2.1 inches and connects to your iOS or Android phone or tablet via Bluetooth. It includes a micro-USB cable for charging. 
This reader is compatible with the Heckler Design Windfall Stand, which fits the iPad Air and Air 2, as well as the Studio Proper Swivel Stand, which fits the iPad Air, Air 2 and Pro 9.7-inch in a more permanent way for fixed operations. If you want the ability to print receipts, you can get the Star Micronics SM-S230i Mobile Bluetooth printer.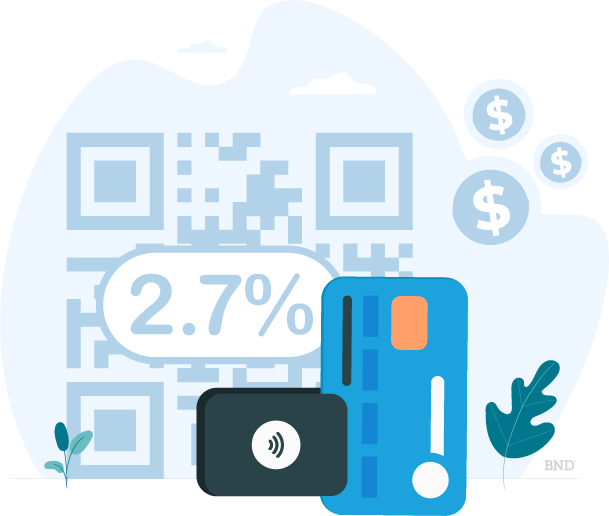 The Chip and Tap Reader 
The Chip and Tap Reader costs $59.99. It accepts cards with magnetic stripes, EMV chips and contactless technology (where consumers tap their card to the reader). It also accepts digital wallets such as Apple Pay, Samsung Pay and Google Pay.
The reader is 2.64 by 2.46 inches and weighs 2.3 ounces. Like the Chip and Swipe Reader, it has one slot for swiping and another on the top for inserting chip cards. In addition, buyers can tap their cards on the flat surface of the reader where the contactless icon is printed. 
Likewise, when making a payment from alternative digital wallets like Apple Pay, Samsung Pay, or Google Pay, your customer will open the appropriate payment app on their phone and place the phone on the contactless icon on the Chip and Tap Reader. When the transaction is complete, you will hear a ding and a checkmark will display on the customer's payment app. Some contactless payments require a signature; if this is the case, the signature window will automatically appear on your mobile device.
The Chip and Tap reader is compatible with the Studio Proper Swivel Stand, which fits the iPad Air, Air 2, and Pro 9.7-inch as well as the Epson TM-T20II Ethernet Plus thermal printer for printing hard copy receipts.
The Chip and Tap Bundle 
The Chip and Tap Bundle costs $79.99 and includes the Chip and Tap Reader and a charging stand for the reader.
These Bluetooth-enabled devices sync with any smartphone or tablet equipped with Bluetooth 4.0 or above, eliminating the need to attach the devices to a charge port or headphone jack on your smartphone or tablet. All PayPal Here devices are rechargeable, with an optional charging stand available for more permanent placement at checkout. To get started, all a merchant needs to do is download the PayPal Here app, set up their account, and pair their chosen reader to their devices.
Neither the Chip and Swipe nor the Chip and Tap device currently allows customers to input a PIN for debit transactions, although all PayPal Here readers accept debit and credit cards. If you want to give your customers the ability to input their PINs, PayPal offers a more robust point-of-sale solution called Zettle. The Zettle card reader costs $29 and has all of the capabilities of the Chip and Tap reader, plus the ability for customers to input their PINs. Zettle also has a range of POS store kits, including stands, printers, card readers and barcode scanners.
PayPal Here benefits 
When you sign up for PayPal Here, you'll have access to a suite of features that lets you accept many forms of payment while issuing invoices, managing inventory and more. Here are the benefits you can expect when you sign up for PayPal Here:
Merchant-friendly software
The PayPal Here app is easy to use and, like most mobile payment apps, uses end-to-end encryption (in addition to an encrypted card reader) to keep your transactions secure.
Merchants can set up the app to calculate sales tax, apply discounts and suggest tips. One unique feature is that it allows you to accept PayPal and Venmo payments using QR codes.
You can manage inventory with PayPal Here using the item catalog. You can upload a photo for each product, add prices and variations like size or color, and organize your items into categories or lists.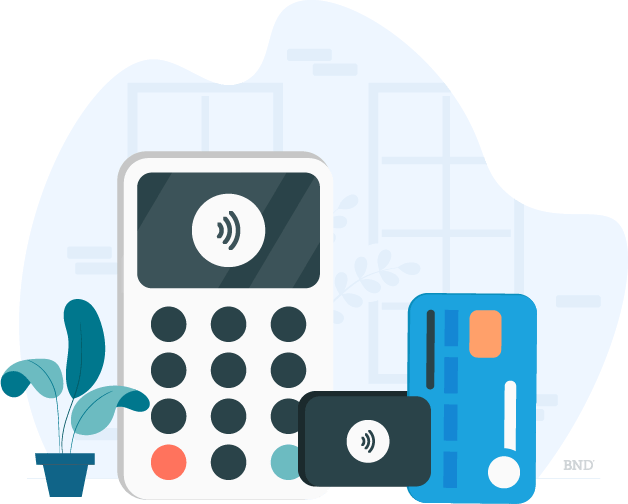 If you have employees, you can add them to your account as users. Each will have their own username and password, and you can decide which features they'll be able to access.
When you're running sales reports from PayPal Here, you can choose weekly, monthly, annual or custom time periods. You can also filter your sales by date, salesperson, product or payment type. Reports can be printed, emailed or exported to CSV files.
PayPal Here can fully integrate with other POS hardware, like cash drawers and receipt printers, making checkout easier for small retailers.
More ways to get paid
Like most mobile payment processors, PayPal Here lets merchants accept all major credit and debit cards, including Visa, Mastercard, Discover and American Express. In addition to accepting cards, merchants can accept mobile payment apps like Venmo, Apple Pay and Google Pay. This is a huge advantage, since 60% of Americans use mobile payment apps, including 65% of millennials and 54% of Gen Z, according to a YouGov survey. You can even record and track cash payments through the app, making accounting easier.
Customers using PayPal's mobile app on their smartphones can choose to pay through the app. They simply sign in to the app on their phones, check in with a business, and confirm their payment to a merchant's PayPal account.
PayPal Here also allows you to send customers invoices directly through the app, making it easy to keep track of your accounts receivable.
While PayPal Here's wide selection of payment methods is a big draw for many merchants, some companies prefer not to use PayPal as their payment processor because of the company's alternative method of depositing merchant funds. Unlike traditional card processing companies, which deposit the funds from credit card and other payments directly into a merchant's bank account, PayPal deposits merchant funds directly into a merchant's PayPal account. From there, you can transfer the funds to your business bank account. If you want faster access to your money, you can apply for the PayPal Business Debit Mastercard, which allows you to use your PayPal funds to make purchases in person or withdraw cash from your account at any ATM. 
Great customer service
One of the benefits of using a well-established payment processing company like PayPal to accept mobile payments is that you have access to a wide array of support and troubleshooting resources. If you have trouble with PayPal Here, you can reach out to PayPal via email, telephone and even social media.
The company has a Twitter account just for troubleshooting (@AskPayPal), where it answers customer questions in English, French, German, Portuguese, Russian and Spanish. PayPal also has various sites for troubleshooting and answering questions about its products, including a help center and a community forum.
But its solid customer service doesn't seem to make up for what some merchants view as PayPal's overly suspicious approach to fraud detection. PayPal often receives negative feedback from merchants who have had their funds withheld or their accounts frozen or terminated because of suspected fraud or suspicious processing activity. 
Many other credit card processors, including Square, are accused of the same thing. After all, merchants are susceptible to credit card fraud, and payment processors are generally cautious. Some things that can cause the processors to flag your account are abnormally large transactions, sudden spikes in transaction volume, and an excessive number of chargebacks.
Because having your funds withheld or your account frozen is more common when you use a mobile card processor (because the risk of fraud is considered greater), merchants looking for a payment processing solution that's less prone to these glitches may want to consider traditional credit card processing companies that also offer mobile solutions for business.
PayPal Here gives business owners a convenient way to accept credit cards and contactless payments from their customers. The app is easy to use, card readers are equipped with the newest technology, and the company offers extensive customer support.
What does PayPal Here cost?
The cost of using PayPal Here's card processing service is fair, with a card-present discounted rate of 2.7% and no additional transaction fees. Keyed-in credit and debit card payments are a bit pricier (due to the greater risk of fraud with card-not-present transactions), costing you 3.5% of the total sale plus a transaction fee of 15 cents. 
You can accept your customer's PayPal or Venmo QR code for the standard 2.7% fee. All PayPal Here transactions conducted internationally are charged an additional 1.5%, no matter which transaction is conducted.
Merchants can also accept other forms of payment with PayPal Here, including direct payments from a customer's PayPal account. This payment option, called PayPal Check-In, also carries a discounted rate of 2.7%. For detailed information about the merchant fees associated with PayPal Here, visit the company's merchant page.
In addition to paying transactional fees, you need to purchase PayPal Here hardware to use the service. As mentioned above, PayPal Here offers three options. The Chip and Swipe Reader is free for new PayPal Here customers; existing customers can purchase the Chip and Swipe Reader for $24.99. The Chip and Tap Reader costs $59.99 (or $79.99 if you want a charging stand bundled with it), and the Chip Card Reader costs $99.99.
PayPal Here users will pay fees depending on the transaction type. The PayPal Here Chip and Swipe Reader is free for new customers. Other card readers cost $24.99 to $99.99, depending on the model.
Pros and cons of PayPal Here
While PayPal Here has its good points, it is not for everybody. The pros and cons of PayPal Here include the following:
Pros 
It has a variety of card readers to fit your needs.
The merchant-friendly software is easy to use and can be customized to calculate sales tax, apply discounts, send invoices, run sales reports and track inventory.
It can integrate fully with other POS hardware, like receipt printers and cash drawers.
It gives you the ability to accept payment via PayPal mobile app, Venmo, Apple Pay, Samsung Pay, and Google Pay with the Chip and Tap Reader. 
It has great customer service.
It has flat-rate pricing across payment types with no monthly fees.
It's compatible with a variety of mobile devices.
Cons
It has fewer features than Square's mobile payment system, which gives users the ability to scan and print barcodes for retail, adjustable floor plans, a kitchen display system for restaurants, and a loyalty program module.
It's not ideal for high-volume merchants.
It's prone to fraud freezes (this is when PayPal freezes access to your account because it suspects fraudulent transactions).
Sales proceeds are deposited into your PayPal account rather than your bank account, entailing an extra step.
How to get started with PayPal Here
Merchants can no longer sign up for PayPal Here, but they are eligible for PayPal Zettle. If you already have a PayPal Here account, you may continue using the mobile application by following these steps:
Apply for a PayPal business account.
Download the PayPal Here app. This is separate from the regular PayPal app, so make sure you're downloading the right one. The app is available for both iOS and Android.
Set up your business profile. This includes inputting your business name and address and uploading a logo or other recognizable branding to your profile so customers can easily find you.
Customize receipts. You can customize the information that appears on receipts, such as your website, customer service information or social media handles.
Jennifer Dublino contributed to the writing and research in this article.