Square is the best credit card processing company for small businesses overall because it has transparent flat-rate pricing, free point-of-sale software, and add-on services that expand its capabilities as your business grows.
Pros
Square offers a variety of free business tools and software for accepting payments in-store, remotely, via mobile or through a virtual terminal.
Its custom application programming interface (API) integrations give merchants flexibility and full control over the customer experience.
Square's setup is instant — there's no application or approval process, no complex contract and no long-term commitments.
Through Square Capital, merchants can get loans from $300 to $250,000 to help them maintain proper cash flow.
Cons
Flat-rate pricing isn't cost-effective for high-volume transactions.
Square's 24/7 customer support is only available through its paid plans.
Square is our best credit card processing company for customization.
Its free business tools, customizable solutions, easy setup and transparent pricing options help merchants accept in-person, remote and mobile payments easily and quickly.
Square offers merchants an instant setup process with no application or approval, complex contracts or long-term commitment requirements.
This review is for merchants who are considering implementing or switching to Square to process in-person, online and mobile transactions.
We chose Square as the best credit card processor for customization. The processor helps merchants accept credit card payments, manage transactions and sales, process invoices, set up online ordering or checkout and accept contactless payments. Plus, it offers free business tools and transparent, competitive rates and next-working-day payouts, which is great for cash flow. Free data and real-time analytics come as a standard.
Editor's note: Looking for information on credit card processors? Use the questionnaire below and our vendor partners will contact you to provide you with the information you need.
Square Editor's Rating:
8.6 / 10
Pricing

8/10

Business tools

9/10

Setup

10/10

Fast deposits

9/10

Customer support

7/10
Why Square Is Best for Customization
Retailers, restaurants and service providers trust Square to accept card payments anywhere. We like Square's pay-as-you-use structure, which is beneficial for merchants wanting to get set up quickly and start processing payments with no application or approval process. Unlike many other credit card processing companies we've reviewed, Square doesn't have complex contracts or long-term commitments, which we found in our reviews of National Processing and Merchant One.
We also liked Square's free business tools and software, such as the free point-of-sale (POS) app and free data and real-time analytics, which come as a standard like Stripe's analytics reports. You can check your sales information without waiting for end-of-day reports from your team and view an itemized breakdown to spot what's selling and what you need to stock up on.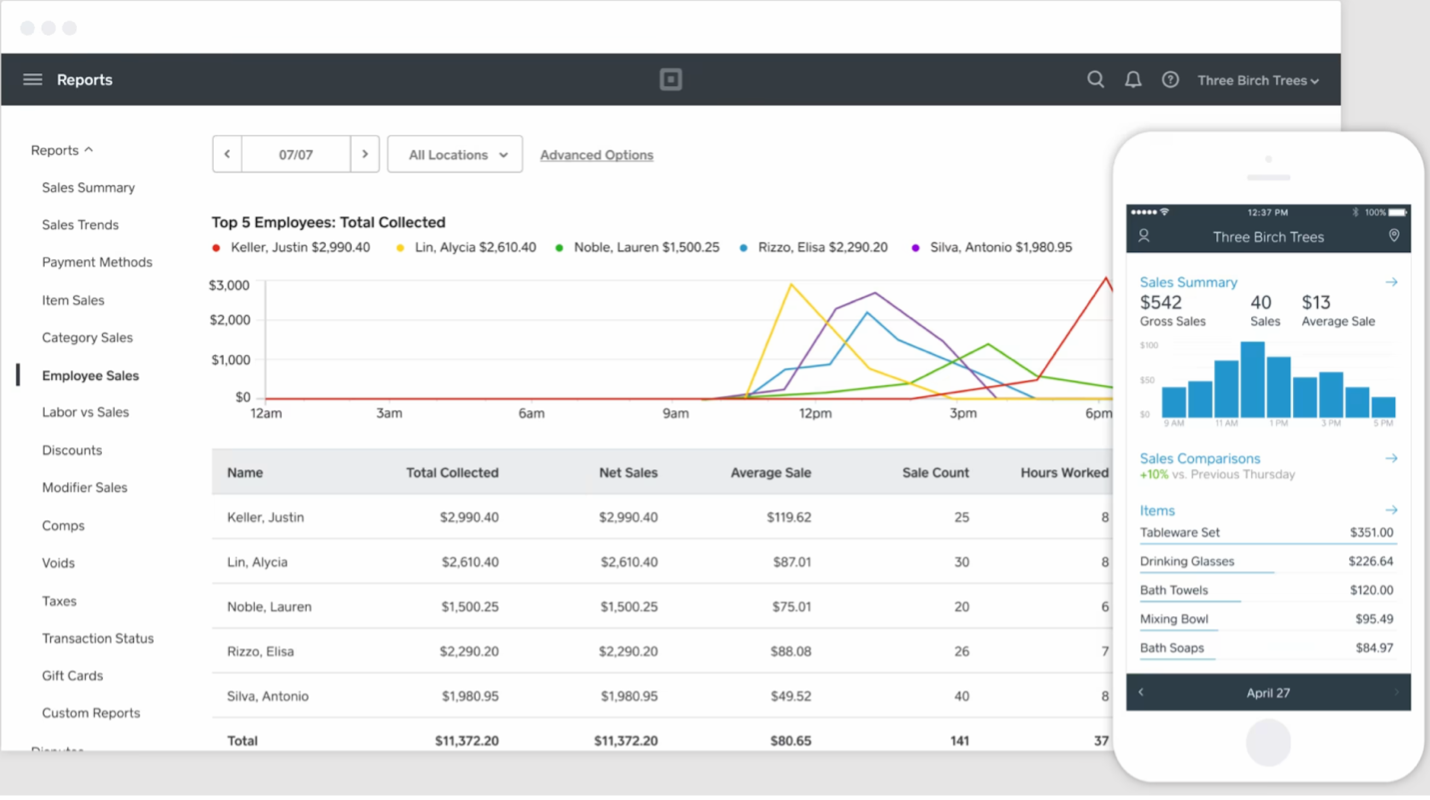 You can access Square Analytics from your desktop of the free Square Dashboard app to get a handle on sales, customers and more. Image source: Square
While Square Analytics gives you an overview of your most frequent and recent visitors, new vs. returning and average spend per customer, we think Chase's Customer Insights business intelligence (BI) tool offers more advanced analytics. Beyond subscription metrics, Chase's BI tool also shows your customers' shopping habits — purchase time, spend and channel — and how they shop with similar businesses in your location and industry. [Read our Chase credit card processing review for more information.]
You can use the Square Charge desktop app for Mac to take payments, send receipts and store customer details in one place. You don't need to open a browser, get extra hardware or interrupt your primary workflows.
Usability
Square has a sleek, easy-to-use and navigable interface. From the main dashboard, you can see your business at a glance and get quick access to various features. Once you set up your Square account, you can add items to your store and features like buy buttons and payment method badges. 
You can customize the main menu to your needs by picking the tools you want displayed on the main screen for instant access. This is similar to what we found in our review of Helcim, whose dashboard allows you to pin the tools you use more often than for easier accessibility.
Square also redesigned its app so merchants can create and manage items, categories, discounts and more for a smoother checkout experience. To create or manage bulk items, you can still import and export them through your online Square Dashboard.
We particularly liked that Square offers a free website builder with beautiful, pre-built themes merchants can use to build and publish free sites easily and quickly. These tools are beneficial for merchants without websites as it only takes a few minutes to set up, publish and start selling.
If you need help with building or customizing your store, you can contact the Square support team or Square Seller Community, where you can connect with fellow sellers and ask questions about Square or your business needs.
Square's custom API integrations provide greater flexibility and control over the customer experience. It's a powerful tool you can use to create integrations with in-person, remote and mobile payments and accept payments securely. 
Integrating with your existing business systems isn't as seamless with Square as it is with other providers like Stax or Chase. You'll need to use Square Bridge — a hosted integration application — with your Square POS or account, then sync the relevant data with your existing business system. Currently, Square Bridge only syncs data with enterprise resource planning systems like SAP Business One, Dynamics 365 Business Central and Oracle NetSuite.
We were happy that Square offers an Offline Mode feature for offline payment processing. With Offline Mode, you can take card payments securely anytime, anywhere, even if there's no Wi-Fi and they'll be processed automatically when you have connectivity again.
Square Features
| | |
| --- | --- |
| POS | A POS built to streamline and speed up your operations packed with tools for sales, inventory management and staffing. You can take online orders, accept contactless payments and view, create or accept client appointments. |
| Online store | An online platform from where you can accept and manage in-store, online and mobile orders. It also comes with built-in integrations to connect your online store with popular social media sites like Instagram and Facebook shops to drive new customers to your site. |
| Square Invoices | A free, easy-to-use, all-in-one software that helps you request, track and manage invoices, estimates and payments. You get paid faster as your customers can pay online invoices via desktop or mobile devices with their credit card, ACH bank transfer, Apple Pay or Google Pay. |
| Online checkout links | An online checkout button or link that lets you accept payments with or without a website. Square Online Checkout quickly generates a checkout button or link for any of your products or services, which you can post anywhere online — email, short message service, social media posts or website — and accept payments from multiple customers. |
| Virtual terminal | Square Virtual Terminal lets you accept payments remotely from a computer or mobile device and manage your business on the go, anywhere and anytime. You can enter customer card details manually to complete transactions in a few clicks without needing extra hardware. |
| Square Marketing | A tool to help you connect with and engage your customers or reach new ones through personalized, one-time and automated social media, text and email campaigns. |
POS
A POS is important to any credit card processing company as it lets you accept payments however you sell and manage your operations. 
With Square's POS, you can sell in-store or online while managing your inventory, sales and employees. It's available for all sizes of businesses, particularly restaurants, retail and merchants offering professional services. 
Each Square POS lets you:
Accept contactless payments
Take online or over-the-phone orders
Manage order pickup and delivery 
Sync with Square hardware for payment processing
Integrate with other Square tools to manage operations
Manage the client booking experience using Square Appointments 
You can download the POS app for free and set it up within a few minutes. We like that Square is intuitive, so you don't need to get trained on how to use its POS system. You can send invoices or estimates to clients and let them pay online.
Online Store
Credit card processors like Helcim and Shopify offer online stores as well, but Square makes it especially easy to use by incorporating a website builder and prebuilt themes.
You can build and launch your online store with Square Online's free plan, then use the e-commerce tools to accept and manage customer orders and take payments.
We especially like the fact that Square offers merchants free ecommerce tools for:
Tracking customer data in a central directory 
Syncing online and in-store items, inventory and orders
Managing staff access through team-based permissions
Driving customers to specific items you want to move
Scheduling discounts, product drops and flash sales to launch automatically
Taking orders on social (shopping on Instagram or Facebook Shop)
With your free Square account, you can use the website builder to design a professional-looking site and start selling. There are no startup costs or monthly fees. You only pay when you make a sale.
Square Invoices
Beyond a POS system, we looked at providers that offer an invoicing tool or make it easy for merchants to send invoices to customers. We gave higher scores to providers who offer online invoicing along with payment links, which makes it easier for their customers to make payments without being physically present. 
We were impressed by how fast it is to send digital invoices and estimates to customers using Square Invoices. It's easy and fast to send invoices, take payments and track paid or unpaid invoices from anywhere. Plus, you can schedule recurring invoices and automatic payment reminders and save and charge cards on file. 
Customers can pay in-store, online or from their mobile device using a card, digital wallet or ACH bank transfer. Alternatively, they can buy now and pay later with Afterpay.
Online Checkout Links
We weren't able to find this feature with many providers we reviewed, except for Stripe, Merchant One, Stax and Clover. We liked Square's online checkout links unique because you can:
Accept online payments easily
Set up and customize the links in minutes
Give customers more options to pay
Unlike Stax, whose payment links are only available with its paid plans, Square's online checkout links are free to use any of its plans. You only pay Square's standard 2.9% plus 30 cents e-commerce processing fee when you make a sale, after which Square deposits the funds to your bank account. 
Square's payment links are easy to set up from the Online Checkout section of your dashboard or in the Square POS app. You can format your payment links as buy buttons or quick response (QR) codes and share them via text, email or social media. These links integrate with all Square solutions and come with built-in tracking and reporting so you'll know when a customer pays your invoice, see transactions, orders and customer data.
Virtual Terminal 
With a virtual terminal, merchants can take over-the-phone and remote payments whether their customers are present or not. It's a useful feature, which we found in several providers we reviewed, such as Chase, Clover, Helcim and Payment Depot. 
We found Square's browser-based Virtual Terminal beneficial for merchants as you can process payments regardless of the operating system you use. The terminal works as a POS system on any computer, allowing you to itemize sales, charge customers and create recurring payments.
Square Marketing
This is another feature we think is important in our review. We didn't find it with other providers like Stax or Helcim, so it was nice to see this thoughtful inclusion in Square's ecosystem. Chase's Customer Insights tool, which displays useful intelligence for marketing or retargeting purposes, comes close but doesn't provide built-in email marketing or retargeting options.
Helcim has an encrypted card vault that stores customers' card details. From here, you can see customers' transaction history, but you can't retarget them using email or text marketing like you would with Square Marketing. Instead, you'll have to create marketing material or send individual emails to let them know of upcoming promotions.
With Square Marketing, you can choose text, email or social media campaigns based on your business goal to connect with your customers and promote your business. 
You can try the service for free for 30 days, then pay $10 for text marketing or $15 per month for email marketing. Included with your subscription are customizable email templates, small targeting groups, on-demand reports and Square Customer Directory — a free customer relationship management (CRM) tool to build your opt-in list and see attributed sales and coupon redemption.
Square makes it easy for merchants to get set up and start taking payments from customers without unnecessary application and approval processes or startup, cancellation, PCI compliance and refund fees. Its free suite of business tools — Square POS app, advanced reporting, Square Marketing, payment links and more — also help you run, manage and grow your business.
Square Cost
Many credit card processors we've reviewed offer a flat-rate pricing structure like Square, which keeps things simple for business owners. But we like that Square doesn't have hidden fees, startup fees, refund fees or PCI-compliance fees. Unlike National Processing, which charges you for early contract termination, Square has no cancellation fees, either. You only pay when you make a sale.
Funds are deposited into your linked bank account in one to two business days or immediately transferred to your bank account for a small fee (1.5% per transfer). 
Processing fees remain the same:
In-person: 2.6% plus 10 cents per transaction
Online: 2.9% plus 30 cents per transaction
Keyed-in/manually entered: 3.5% plus 15 cents per transaction
Invoices: 3.3% plus 30 cents per transaction
Like Stripe, Square works with Afterpay, a partnership that has unlocked the Buy Now Pay Later (BNPL) option for merchants. We didn't find BNPL options in Helcim, Merchant One or Stax. Chase offers its own BNPL feature called My Chase Plan in certain Chase credit cards, which lets customers break up card purchases into equal monthly payments.
Square Setup
We found Square easy and quick to set up. Once you download the Square POS app and sign in to your account, you can start accepting payments within minutes of setting up the system. 
Square has no application and approval process and doesn't run credit checks, but you'll still need to verify your identity by providing your name, contact details (address and phone number), birthday and the last four digits of your Social Security number before processing payments. 
You don't need any training to use Square. Its intuitive interface allows you to set up items and use Square's suite of products to run your business. You can use Square POS without additional hardware, but you can still order or pick up a Square Reader to accept in-store chip and PIN or contactless payments. We also liked that Square Online lets you create buy buttons or QR codes as checkout links so merchants can get paid faster.
Square Customer Service
Square's customer support team is available via phone, email or live chat. The messaging support team is available to assist Monday through Friday from 6 a.m. to 6 p.m. Pacific time. 
We're concerned that Square's support is restricted to business hours, which could inconvenience merchants that need urgent troubleshooting support during the off hours.
While Square aims to respond to emails within 24 hours, we sent out an email requesting assistance, but received a response after two days.
Phone support is available for active Square account holders and even then, you'll need to log in to your account to access the Call Support option and input your unique customer code to get help. Alternatively, you can use the chat option in the Square POS app.
The Square chatbot offers near-instant responses. Live agents typically respond within five minutes during open business hours, but we were disappointed that it took more than two hours to get a reply. When we did, it was an automated chatbot response, notifying us that there were no available agents. 
Thankfully, there's a Seller Community where merchants can connect with fellow Square sellers, ask questions and learn more about Square's offerings. Plus, Square has various self-serve resources — how-to guides, articles, tips and video walkthroughs — its Support Centre, which you can access anytime.
Square POS interface got a modernized look and feel and new, customizable navigation bar. You can now switch between tabs easily, quickly access your most-used tools and add more features and use the mobile item grid to customize your checkout screen and find products and services easily. Read our full Square POS review to learn more about these upgrades.
Square Drawbacks
As with other credit card processors, Square has its share of limitations. 
While we like its quick setup process, its customer support can be a bit slow and unresponsive, which is an inconvenience particularly for merchants with complex issues. 
You can find complaints online about Square's support being slow, unresponsive and difficult to get a hold of. If your business keeps regular hours and you encounter issues, you'll have to email support and wait for a response, which may be frustrating. In addition, some users have complained about Square lacking certain capabilities, which are important for their businesses and the company isn't forthcoming about it — something National Processing takes seriously for its customers by going the extra mile to get them what they need. 
We don't recommend Square for businesses with high transaction volumes owing to the large fees they'd incur from Square's flat fee per transaction, which can add up quickly for such businesses. Plus, its hardware and add-on services can be pricey for startups or very small businesses and Square Payments lacks some advanced features that other payment processing platforms provide, such as the ability to accept recurring payments or process payments in multiple currencies.
Methodology
We spent more than 30 days reviewing eight credit card processing companies through research, demos with company representatives and reading real user reviews. In addition, we compared providers based on features, transaction fees, setup processes, support options, knowledgeability, response times and their pros and cons to narrow down the best services available for different merchants types and business sizes.
Square FAQ
Setting up a Square merchant account takes a few minutes. There are no complex contracts or long-term contracts and there's no wait time for account application or approval. Once you sign up for a free account, you can get set up in a few minutes and use Square's business tools to run and grow.
No. You'll need a transactional bank account to transact and for any chargebacks or refunds. If you receive transfers between locations, you can link multiple external bank accounts. Otherwise, you'll only need one account to manage a single business with multiple locations.
Square offers a free basic plan for merchants with no setup or monthly fees along with a free POS app. You only pay when you take payments.
Square charges a standard processing fee of 2.6% plus 10 cents for swiped or inserted chip cards, contactless payments and swiped magstripe cards.
Square has a standard transfer schedule for all merchants where it transfers funds within one to two business days of a transaction. Same-day transfers are available depending on your bank's processing speeds.
Overall Value
We recommend Square for …
Low-volume sellers.
Merchants who need multiple payment processing channels.
Merchants looking for quick setup with no application or approval process.
We do not recommend Square for …
High-volume businesses.
High-risk businesses.