Helcim is the best credit card processor for established small businesses because of its transparent rates and rate-lock guarantee.
Pros
Helcim offers transparent fees that are cost-effective compared to other credit card processing companies we reviewed.
An easy and fast application approval process means you can get set up and process payments with Helcim quickly.
Helcim includes a free suite of business management tools that can help you grow your business.
Cons
Helcim is not suitable for low-volume merchants, as the real cost savings come for higher volume businesses.
Limited third-party integrations mean you won't necessarily be able to connect your preferred business software through Helcim.
Helcim is our pick for fast-growing businesses, especially those processing high-volume transactions.
Its interchange-plus pricing model and automatic volume-based discounts help high-volume merchants save more money.
Helcim offers a suite of free tools to grow your business, such as invoicing, payment links, and a virtual terminal for taking secure payments online on web-enabled devices.
This review is for small business owners who are considering implementing Helcim to get online easily and start accepting payments from more customers. 
We chose Helcim as the best credit card processor for fast-growing businesses — particularly those that want to accept payments from more customers. Helcim charges low, transparent rates in its interchange-plus pricing model, and offers automatic volume discounts, which help high-volume merchants save more money. There are no contracts or separate fees for gateway access or PCI compliance.
Helcim Editor's Rating:
9.4 / 10
Pricing

9/10

Business-friendly features

9/10

Security & PCI Compliance

10/10

Fast deposits

10/10

Customer support

9/10
Editor's note: Looking for the right credit card processor for your business? Fill out the questionnaire below to have our vendor partners contact you about your needs.
Why Helcim Is Best for Fast-Growing Businesses
Helcim prides itself on its quick and easy approval process, transparent pricing, and its human approach to customer support. Its interchange-plus pricing model scales with the size of your business, rewarding merchants who process $25,000 or more in monthly sales with automatic volume discounts, so they can save money as their businesses grow.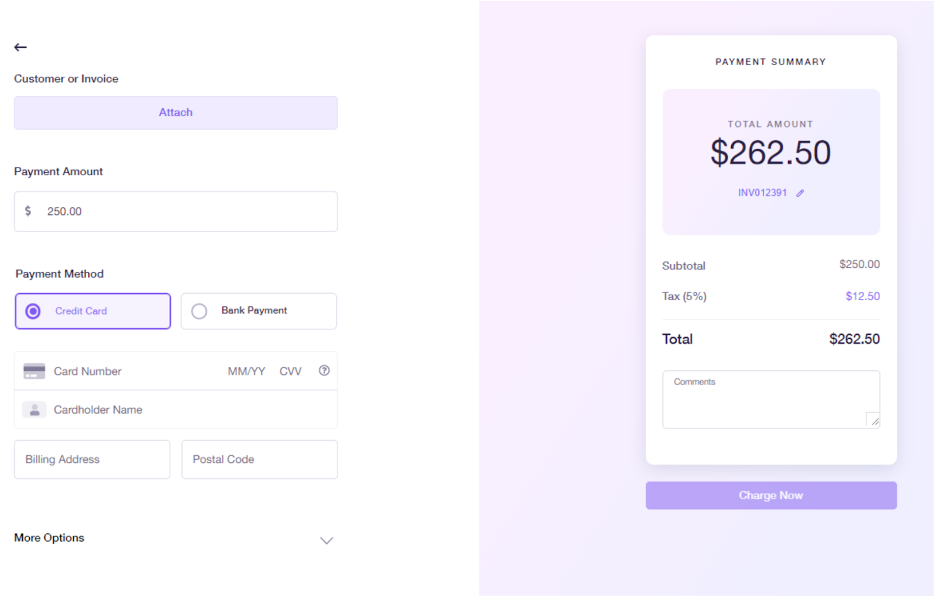 On Helcim's virtual terminal, you can key in or void transactions, accept ACH payments, and issue refunds. Image source: Helcim
A wide range of free tools are available to help you manage your business. We particularly liked the virtual terminal, which allows merchants to process payments from any location via a smartphone, tablet, or computer without needing a physical terminal or any additional hardware. We also found its round-the-clock, hands-on, live customer support beneficial, which other vendors in our review, like Chase, didn't offer.
As part of its efforts to bring its hardware and technology up, Helcim plans to release a smart terminal for merchants to process more in-person transactions. The stand-alone terminal will offer everything from a POS, inventory, a built-in thermal receipt printer, and customer management tools all in one device.
Usability
During our demo of the Helcim software, we found its interface easy to use and navigate. You can sign up directly on the Helcim website from your mobile phone or computer without filling out and signing lengthy, complicated contract paperwork. If there are incomplete, missing, or outdated details in your application, you'll receive prompts to complete each required action. That way your account settings will be correctly configured and your deposits won't get delayed. 
Upon completing Helcim's easy onboarding process, you'll be taken to the merchant dashboard where you'll find the built-in Helcim shop. From here, you can use the available self-service options to link a bank account, order equipment directly, view your statements, manage employees and more. You can pin the tools you use more often than others to the left side for easier accessibility.
We were impressed with how easy it is to add employees as users and assign default or custom roles and permissions. Helcim intends to expand this function to accommodate merchants in the restaurant industry, so their employees can easily access their accounts and authorized role-specific tools. And if you no longer want an employee to access your account, you can easily deactivate or delete them using the provided options.
Whether you accept and process payments in-store or on the go, you can connect Helcim's card reader to any device you already own and accept tap or chip and PIN payments quickly and securely. Though optional, you can add Helcim's lightweight thermal printer to provide customers with receipts.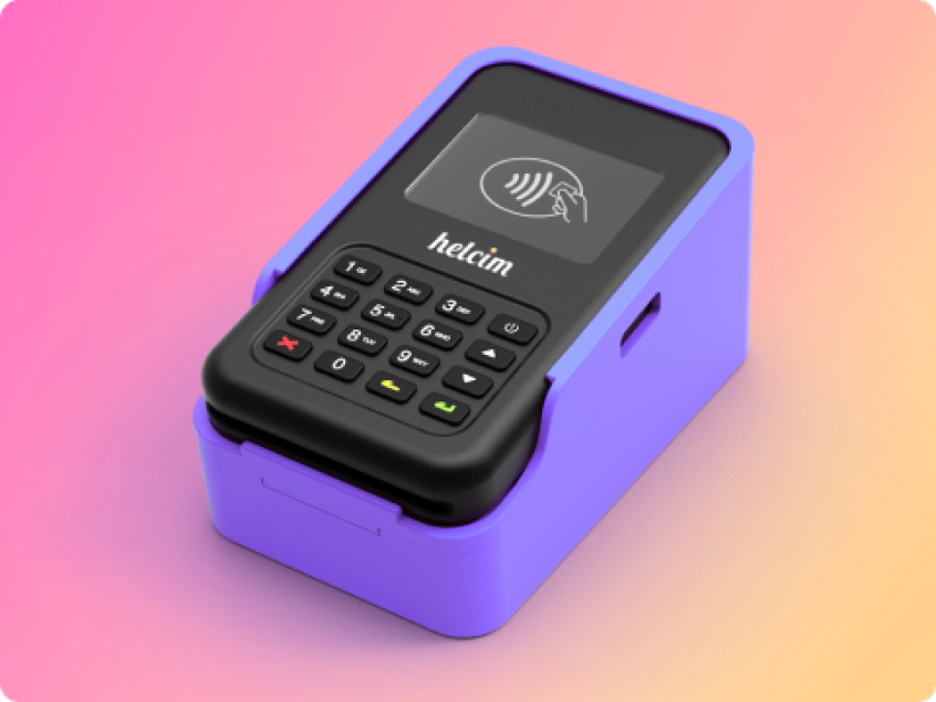 Helcim's lightweight, portable card reader connects to multiple devices so you can accept payments wherever you are. Image source: Helcim
Helcim's integration options are limited for now, as it's smaller than vendors like Square, Stripe, or Chase, which have more dedicated time to build out their integrations. However, the company plans to build out its hardware, technology, and current integrations to make them a bit more robust.
Helcim Features
| | |
| --- | --- |
| Automatic volume-based discounts | Helcim offers discounts based on your business needs and the volume of transactions you process. |
| Virtual terminal | A secure way to accept payments online using a web-enabled mobile device or computer. |
| Point-of-sale software | Helcim's POS software helps you accept in-person payments through a workstation or mobile device. |
| Invoicing | Free invoicing software that simplifies billing and payment management and saves money. |
| QR code payments | Print and display unique QR codes customers can scan to access your quick-service menu or make payments. |
| Payment pages | Add Helcim's hosted payment pages to your website to accept online transactions. |
Automatic Volume-Based Discounts
Transaction and processing fees can rack up quickly, which is why we think this feature, along with Helcim's free business management tools, gives it an edge over other providers. It favors high-volume merchants processing over $25,000 monthly in sales, helping them lower their processing fees as their monthly transaction volume increases.
Virtual Terminal
A really great benefit when you sign up with Helcim is that you can log on to the virtual terminal and accept payments from any smartphone, tablet, or computer. You can manually enter your customer card or invoice details to your payments, set up onetime or recurring payments, and accept multiple currencies.
Point of Sale
Helcim offers a standard POS software, such as what you'd see at a restaurant or coffee shop. You can: key in different prices you're looking to charge customers; add tipping and payment tracking options; and perform manual entry, credit and debit split payments, and more. It works on any device or workstation so you can accept in-person payments, saving more time and money.
Invoicing
Invoicing is a critical part of any business, and we like that Helcim offers free invoicing software, complete with templates that can be customized with your branding.  You can create professional invoices, quotes, and purchase orders while managing and tracking your payments in real time.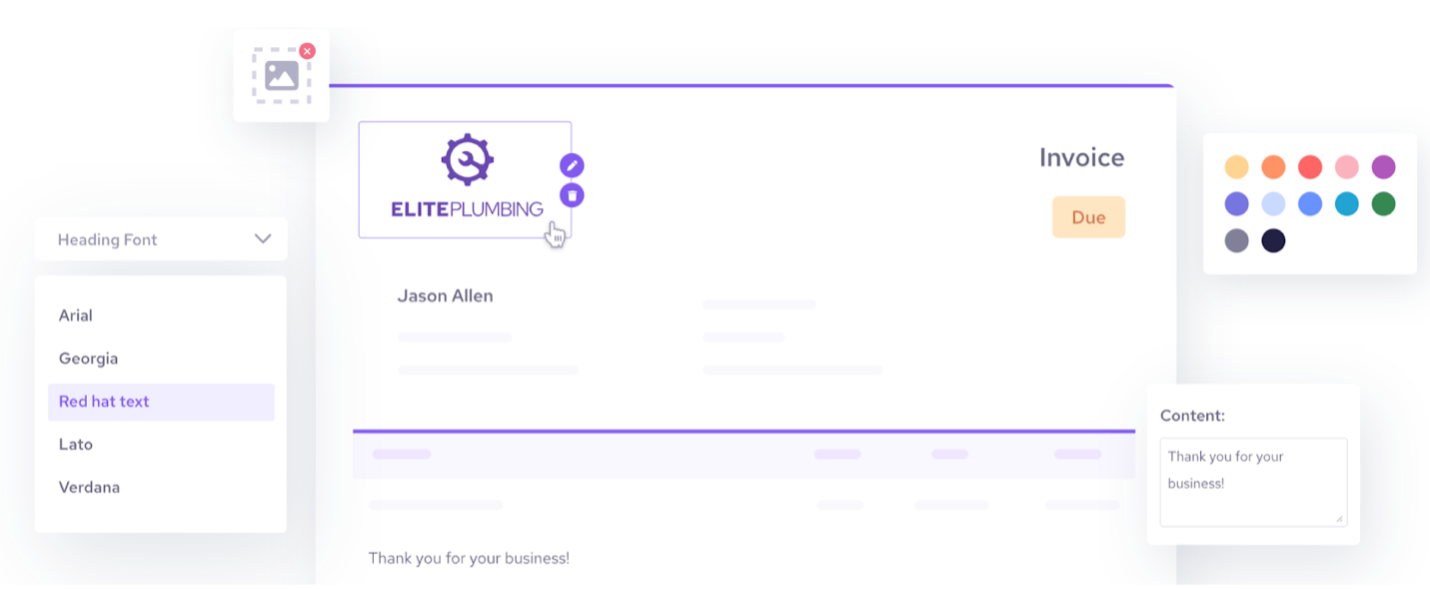 Add your logo, brand colors, or custom greetings to Helcim's invoice templates to create invoices that reflect your business. Image source: Helcim
From our Helcim demo, we also found that you can add payment links or a "Pay Now" button to your invoices and send them to your customers via email or SMS. Plus, you can print off 1099s for tax purposes and track everything to ensure all your finances are in order. 
QR Codes
Many credit card processing services we've reviewed offer this feature as well, but Helcim uses a unique approach to QR codes by allowing you to create a code for different denominations or link to a blank payment page with tipping options to meet different business and customer needs. This makes the checkout experience smooth, more convenient, and fast.
Payment Pages
This feature isn't available on many other providers we reviewed — except Stripe, which offers prebuilt, checkout payment pages. But we like it because it lets you create payment links, turn them into QR codes and buy buttons, and link them to ACH and credit card purchases. So, you have more ways to accept payments online securely.
You can sync the Helcim app on your smartphone, tablet, or computer with Helcim's card reader to process sales and accept payments. Beyond credit card processing, the Helcim app also offers capabilities like invoicing, customers' products and services, and payment pages.
Helcim Cost
Helcim offers an interchange-plus pricing model, which displays how much you're paying the credit card processor. We like the company's transparency and honesty in the rates and margins they charge merchants, which you can always find on its website.
During our demo, a Helcim representative explained to us how they implement the interchange rates. Merchants pay a certain portion — the interchange rate tied to the credit card company — while the Plus portion or margin goes to Helcim. These rates typically vary across different credit card companies, the individual cards they offer, and rewards programs, among other factors.
Helcim only takes the rate on the merchant's card at the time of the transaction and passes it on to them, along with a small margin. Here's a breakdown of the pricing and terms:
In-person processing: 0.3% + $0.08 above interchange (average 1.56%)
Online (online invoice payments or e-commerce sales) and keyed-in processing (over the phone or via virtual terminal): 0.5% + $0.25 above interchange (average of 1.9%)
In-person and online international transactions (ACH bank payments): 0.5% + $0.25 above interchange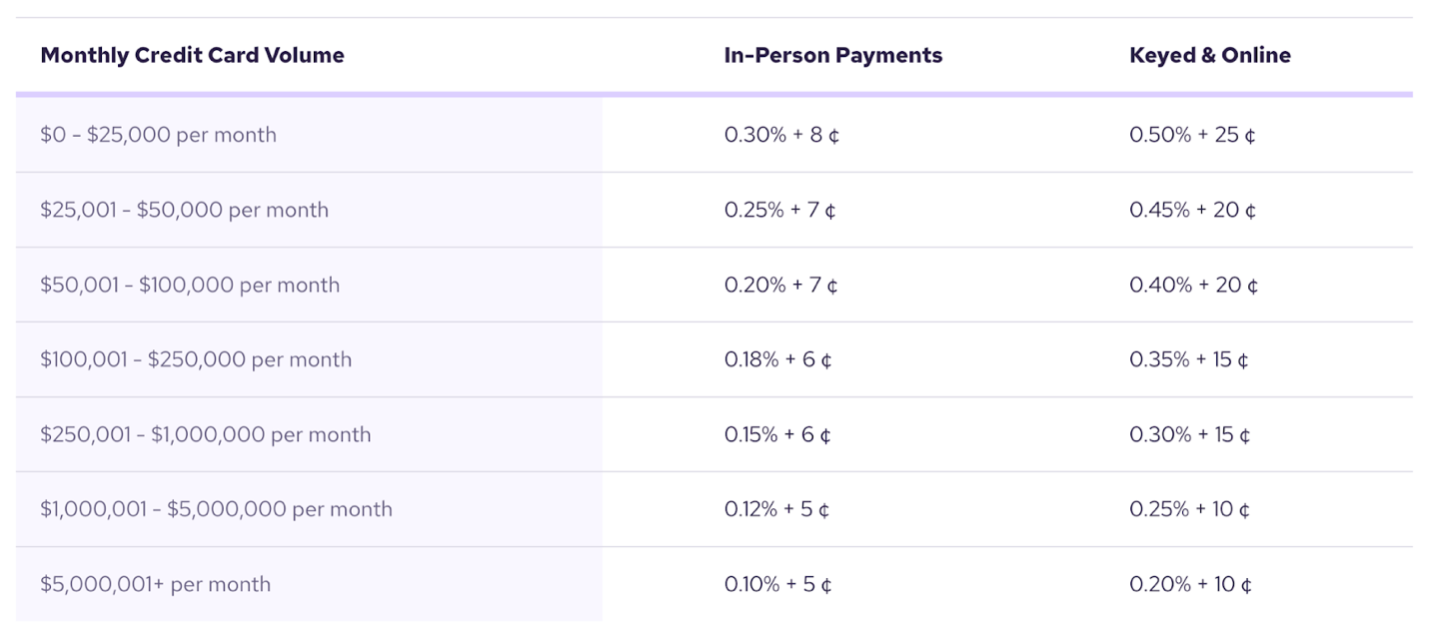 Helcim automatically lowers your rates as your transaction volumes increase, helping you save money. Image source: Helcim
The platform is good for ACH payments because there's no credit card or interchange rate associated with it, so merchants get lower fees. Its online payment processing option also offers a low barrier to entry because there are no contracts or monthly fees.
We found Helcim's automatic volume-based discounts beneficial for growing businesses, which vendors like Stax don't offer, and instead add the processing costs to your monthly subscription fees. 
While Helcim takes two business days to deposit funds to your account, compared to Clover and Stax, which offer same-day fund deposits, you still benefit from lower, transparent rates and round-the-clock support.
Helcim Setup
We found Helcim's merchant three-part sign-up process simple: apply, get verified, and get approved. This process typically takes about a week, depending on how quickly you're onboarded.
When applying, you'll first create your login credentials (username and password), then fill out an online form, which takes about five to 10 minutes. 
Helcim's onboarding team will email you requesting some business information, such as your tax ID, DBA, processing history, and more. After about two days, the team will manually review your application to verify your details and perform a soft credit check just to make sure they can work with you. 
U.S. merchants will need to provide a Social Security number, which helps Helcim's trust and safety team with their due diligence — especially for new businesses with no processing history. It also helps ensure they're not bringing on a lot of fraudulent businesses. 
Standard approvals take two business days, but the timings can vary depending on the information you provide and the nature of your business. At this point, you'll be prompted to link your bank account and begin processing online. You can also order equipment like a credit card reader or thermal printer, which typically arrives in about one to two business days (depending on the weather).
Helcim Customer Service
Helcim's friendly merchant experience team is available seven days a week (Mon-Fri 7.00 a.m to 7.00 p.m MT and weekends 9.00 a.m to 5.00 p.m.). You can call (877) 643-5246, email, or submit a support ticket through Helcim's mobile app.
We found the email option slower than calling support directly, as we received a reply about six to seven hours later. Helcim doesn't offer a live chat option either, which other vendors like Stax, Square, and Chase (via the Chase Mobile app) provide.
Fortunately, Helcim scores well in its human approach to customer support in what's often considered an "inhuman" industry. Instead of chatting with a bot, you'll speak to a friendly human agent from the company's merchant experience team. We appreciated how friendly, knowledgeable, and their readiness to help with any troubleshooting issues.
If you operate a seasonal business with high-volume transactions at specific months of the year, Helcim is a great choice because it doesn't lock you into a contract or charge any monthly minimums or fees.
Helcim Drawbacks
While we love Helcim's simple and quick signup process, transparent pricing, and volume-based discounts, it has a few limitations you should consider before deciding whether it's right for your business. 
One major drawback is Helcim's third-party integrations. The company is still quite small, so you won't get robust integrations with popular software as you would with vendors like Chase or Square. However, the representative we spoke to during our demo said they're looking to build out their integrations as they move forward and grow their merchants.
Also, Helcim isn't favorable for low-volume merchants processing small regular payments or transaction volumes below $5,000. And, like other vendors, Helcim doesn't work with high-risk businesses. If that's what you want, read our ProMerchant review to find out whether it supports your type of company and its offerings.
Methodology
We spent 30 days researching eight credit card processing companies. We looked closely at each company's hardware and software offerings, considering their usability, target audience, contract terms, rates, fees, and transaction volumes. Plus, we tested each vendor's customer service, evaluating their available support options, response times, and knowledgeability.
Helcim FAQs
Helcim's application-to-approval process typically takes about a week, depending on how quickly the merchant is onboarded.
For in-person transactions, Helcim charges 0.3% + $0.08 above the interchange rate (average 1.56%) and for online transactions, it's 0.5% + $0.25 above the interchange rate (average of 1.9%). For international transactions (ACH bank payments), it's 0.5% + $0.25 above the interchange rate.
Without holds or processor delays, your funds should appear in your bank account within two business days.
Yes. Helcim offers automatic volume-based discounts for transactions of $25,000 or more.
Overall Value
We recommend Helcim for …
Fast growing businesses that expect transaction volume to increase.
Professional service businesses.
Seasonal businesses with high-volume transactions for part of the year.
We don't recommend Helcim for …
High-risk businesses.
Businesses that need POS hardware and equipment.
Merchants processing small regular payments or low-volume transactions.