Helcim Review

BusinessNewsDaily.com Editor
Updated Dec 02, 2022
Helcim is our pick as the best payment processor for established small businesses in 2021.
It has competitive rates and uses the interchange-plus pricing model.
Helcim provides, at no extra cost, extra features like basic point-of-sale software, a hosted online store, a virtual terminal, invoicing, recurring payments and more.
This review is for small business owners who want to learn about Helcim's credit card processing service and why it's our best pick for established SMBs.
We chose Helcim as the best credit card processor for established small businesses – specifically, those that regularly process more than $5,000 per month and want better rates and more features than what they can get from a flat-rate plan. Helcim has transparent interchange-plus pricing with competitive rates, month-to-month service, and a price-lock guarantee for the life of your account. There are no separate fees for statements, gateway access or PCI compliance.

Helcim
The Verdict
Helcim is the best credit card processor for established small businesses because of its transparent rates and rate-lock guarantee.
Helcim
| | |
| --- | --- |
| Pricing | 1.5/2 |
| Contract | 1.5/2 |
| PCI compliance | 2/2 |
| Early termination fee | 2/2 |
| Fast deposits | 1.3/2 |
| Editor's score | 8.3/10 |
Pricing
Helcim is a full-service credit card processor that offers interchange-plus pricing to all of its customers. Industry experts recommend this pricing model over tiered pricing for its transparency, as it allows you to know exactly how much you're paying the processor in addition to the base interchange fees set by the card networks. Although many credit card processors claim pricing transparency because they offer interchange-plus pricing, few actually publish their rates and fees online. Helcim posts all of its rates, fees and other costs on its website, so you can easily compare its pricing as you shop for a provider and feel confident that there will be no hidden fees once you get your bill.
Helcim's interchange-plus rates for in-person credit card transactions are lower than average, and it's one of the few credit card processing companies that have a rate guarantee, which is a promise that it won't increase its margins for the life of your account. On its website, you use simple dropdown lists to select your industry, monthly processing volume and average transaction amount. It then shows you the margin you'll pay above interchange and how much your average transaction rate, including interchange rates, will cost. To see a breakdown of the processing rates you'll actually pay when you accept different types of cards, you can click "View Pricing Detail." You can also see its volume-based rate table, which shows you the dollar amount of sales you'd need to process each month to qualify for discounted rates.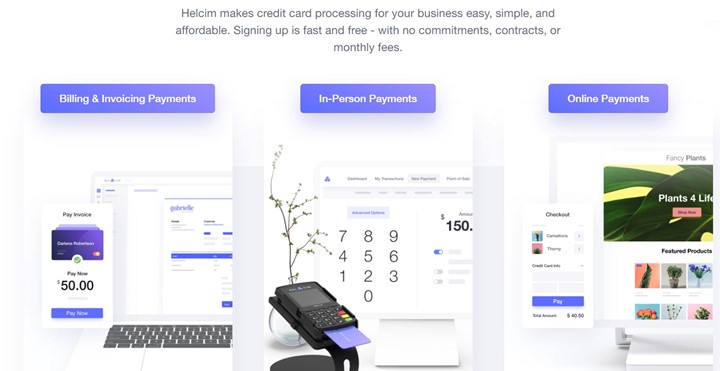 Helcim is also transparent with its fees. There are no additional fees for some of the nicer features it offers – like its virtual terminal, hosted online store and recurring payments. It also posts pricing for its card reader and countertop stand.
Editor's note: Looking for the right credit card processor for your business? Fill out the questionnaire below to have our vendor partners contact you about your needs.
Transaction Rates
As mentioned above, Helcim uses the interchange-plus pricing structure, and the in-person merchant rates posted on its website are lower than average. When evaluating interchange-plus pricing, keep in mind that the percentage rate and the per-transaction fee are the processor's margin and will be added to the base interchange rate and card brand fee set by the credit card networks. Here's how Helcim's pricing works:
In-person sales accepted using a card reader have an additional fee of 0.30% + $0.8 above interchange
Online and keyed transactions (including invoices and e-commerce sales) are 0.50% + $0.25 above interchange
International in-person and online transactions are 0.50% + $0.25 above interchange
Volume-based discounts are available for businesses that process more than $25,000 per month. You can view Helcim's complete discount rate table on its website.
Fees
Unlike other full-service processors, Helcim does not charge a monthly fee for its services. It also offers additional services that many processors charge extra for, including a point-of-sale app, virtual terminal, invoicing, hosted payment pages and an online store, and customer management tools.

Chargeback fee: Most processors may charge certain fees that are triggered by certain events. The only one Helcim charges are for chargebacks. This fee, which is $15, is only charged when a customer disputes a transaction and requests a payment reversal. If you win the dispute, Helcim reimburses this fee to you.
Currency conversion for multicurrency processing: If you sell internationally, you can accept local currencies for a small fee. Helcim's fee is 1% above daily market rate.
Fees Helcim doesn't charge: There's no application or setup fee, and because it provides services on a month-to-month basis, there's no cancellation or early termination fee. There's no PCI compliance fee, as it's already included in the monthly fee, and there's also no bank deposit fees or customer service fees.
Hardware Costs
The Helcim Card Reader costs $199 and the countertop stand for it costs $39. It's EMV and NFC enabled and has a swiper, so you can accept magnetic stripe cards, chip cards, contactless cards and mobile wallets like Apple Pay and Google Pay. It also has a built-in PIN pad so you can accept PIN debit cards as well.
Terms of Service
Helcim provides its services on a month-to-month basis, so you can cancel your account at any time without incurring an early termination fee. Nevertheless, as you would with any processing service, you should read the contract, terms of service, and program guide before signing up so you're aware of all the possible fees and the procedures you need to follow to cancel your account. Read them also to verify that the products and services your business provides don't violate the company's acceptable use policy.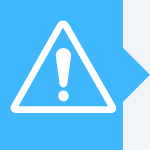 Did you know? Helcim is an affordable credit card processor with an interchange-plus pricing model. It's one of the few that has a rate-lock guarantee and automatically pauses the monthly fee for the months you don't process transactions.
Features
Like other full-service credit card processing companies, Helcim provides you with your own merchant account and allows you to accept all major credit and debit cards: Visa, Mastercard, Discover, and American Express. Your Helcim account includes the Helcim Payments app for smartphones and tablets. You can connect to the Helcim Card Reader to ring up sales and manage your processing account, sales, inventory and customers. Here are more features available from this credit card processing company:
POS app. Merchants receive access to Helcim's Payments app, and the price is included in your monthly fee, so there's no extra cost to use it. It works on Android and iOS phones and tablets, and it supports an unlimited number of users and mobile devices. You can connect it to the Helcim Card Reader, a receipt printer and cash drawer and use its point-of-sale features to check out customers and accept payments.
Hosted online store and payment pages. Included with the monthly account fee, merchants receive access to Helcim's fully hosted online store. It has a built-in content management system, shopping cart, SSL certificate and SEO settings. It also has fully customizable themes in which you can use your brand colors, font and logo.
Online food ordering. This is included with your Helcim account. Restaurants can create a quick-order online store that Helcim hosts or embed a menu and order form into their existing websites.
QR code payments. You can use QR codes with the online store, online food ordering and payment pages to facilitate contactless payments.
Virtual terminal. Your account includes a virtual terminal, so you can accept payments using your computer. You can also preauthorize cards, void a transaction, issue a refund, schedule recurring credit card payments and accept ACH e-checks.
Online invoicing and customer portal. Helcim includes invoicing tools that allow you to create and email or text invoices to your customers and automatically email past-due reminders. Your customers can click the "Pay Now" button or access a self-service customer portal to view their orders and pay their invoices.
Integrations. Helcim integrates with a handful of third-party business software, including QuickBooks Online and QuickBooks Desktop, payment gateway Authorize.net, and third-party shopping carts such as Magento and WooCommerce. It also has an API that you can use to integrate with your website or app, and developers can request a developer sandbox to test your custom integrations.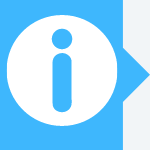 Key takeaway: Helcim includes multiple valuable processing features for no extra cost.
Security
This payment processing company is a PCI Level 1 Service Provider, which means it complies with the highest level of the Payment Card Industry's data security standards. Helcim's PCI compliance program is included in its monthly account fee, and you get access to a PCI portal and tutorials to help you complete the self-assessment questionnaire each year.
Helcim uses two-factor authentication to secure your account, and it secures credit card payment data using sophisticated encryption and tokenization technology. It stores payment data in a card vault on its servers, so you don't have to worry about how you'll safely store data in your system.
Your account includes Helcim Fraud Defender, a tool that analyzes and scores the fraud risk for every transaction. It automatically declines transactions that have scores below the risk threshold you set.
Customer Support
If you need to contact the company, you can call, request a callback at a time convenient for you, email or fill out a form on the company's website. Helcim has extended customer support hours, with after-hours support provided by Elavon, its partner bank and back-end processor.
We called Helcim, posing as a small business owner, and asked about its pricing, terms and setting up an account. The rep was helpful and patient, taking the time to explain how things work and what services are included in the monthly account fee. He also explained why leasing equipment is always a bad idea, which was refreshingly honest.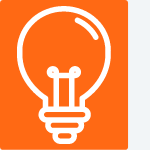 Tip: Helcim is best suited for businesses that process more than $5,000 per month. Businesses in high-risk industries should check the company's acceptable use policy before applying.
If you prefer to troubleshoot issues yourself, Helcim offers a searchable database with an exhaustive collection of step-by-step instructions. There, you can find everything from how to set up your account to how to use the API. It also offers a blog with articles written for small business owners, with tips, updates and explanations of how different aspects of credit card processing work.
Limitations
Helcim is one of the most transparent credit card processing companies we've evaluated, with interchange-plus pricing, rates, and fees clearly listed on its website and representatives who are candid about the service's limitations. However, there are some things you should consider before signing up with this company, such as:
Like many processors, Helcim doesn't work with certain industries and business types. You can see its list of prohibited businesses in its acceptable use policy.
Low-volume businesses (those processing less than $5,000 per month) may find it less expensive to work with a mobile credit card processing company that offers flat-rate pricing. See our review of Square, our top choice for small businesses.
Online businesses may find lower rates elsewhere, but when comparison shopping, you should also consider the features Helcim includes with its service and how much other processors charge for them.
Editor's note: Looking for information on credit card processors? Use the questionnaire below and our vendor partners will contact you to provide you with the information you need.

Helcim
The Verdict
Helcim is the best credit card processor for established small businesses because of its transparent rates and rate-lock guarantee.

BusinessNewsDaily.com Editor
Business News Daily was founded in 2010 as a resource for small business owners at all stages of their entrepreneurial journey. Our site is focused exclusively on giving small business advice, tutorials and insider insights. Business News Daily is owned by Business.com.