Rippling vs. Gusto Comparison
Price
Rippling
Customizable plans start at $8 monthly per user.
You have to speak to a sales rep for a price quote.
Plans offer a wide variety of add-ons.
Rippling offers a highly customizable product so you can craft a practical solution without paying for unnecessary features. Plans start at $8 monthly per user, but you'll need to contact a sales rep to see how much your custom plan will cost.
All users must purchase the Rippling Unity platform. From there, you can choose from an array of HR, IT and Finance features. Common HR options include US and global payroll, time and attendance, benefits administration, hiring tools, compliance courses, employee surveys, and PEO services. 
We appreciate that Rippling offers tailor-made plans, but we would have liked to see more straightforward pricing and the ability to test-run the platform with a free trial. 
Gusto
The platform offers four plans starting at $40 per month, plus $6 per person.
A Contractor-Only plan is available.
Flexible add-on options are offered at all plan levels.
Gusto offers four service plans, all of which include basic payroll processing and tax services. For additional functions, including time tracking and multistate payroll, you'll have to skip the Simple plan. We especially like that Gusto offers a Contractor-Only plan for businesses that don't hire full-time employees. 
Here's a breakdown of Gusto's plans and pricing.
Plan

Price

Simple

$40 per month, plus $6 per person/month

Plus

$80 per month, plus $12 per person/month

Premium

Contact a sales rep for pricing.

Contractor Only

$35 per month*, plus $6 per contractor/month

*At the time of this review, Gusto waived the $35 fee for the first 6 months.
We like that Gusto charges on a monthly basis so you can scale up or down as your business evolves. Gusto also offers a ton of add-ons, like state tax registration, workers' compensation, life or disability insurance, and retirement or college savings. Some standard features of the Premium plan are available as an add-on with lower-tier plans, which gives you more flexibility.
Winner: Gusto
Gusto is our winner for pricing. We like that their prices are straightforward and that add-on options allow you to find a flexible solution.
If you want premium service for your business, you'll have to contact both Gusto and Rippling for a price quote. Rippling offers a more customizable product, so you could find a better deal if you're only looking for certain features and tools.
Onboarding
Rippling
Extensive features and user-friendly dashboard
Advanced automations complete onboarding tasks in mere minutes
Hiring, tracking and offboarding are also quick and simple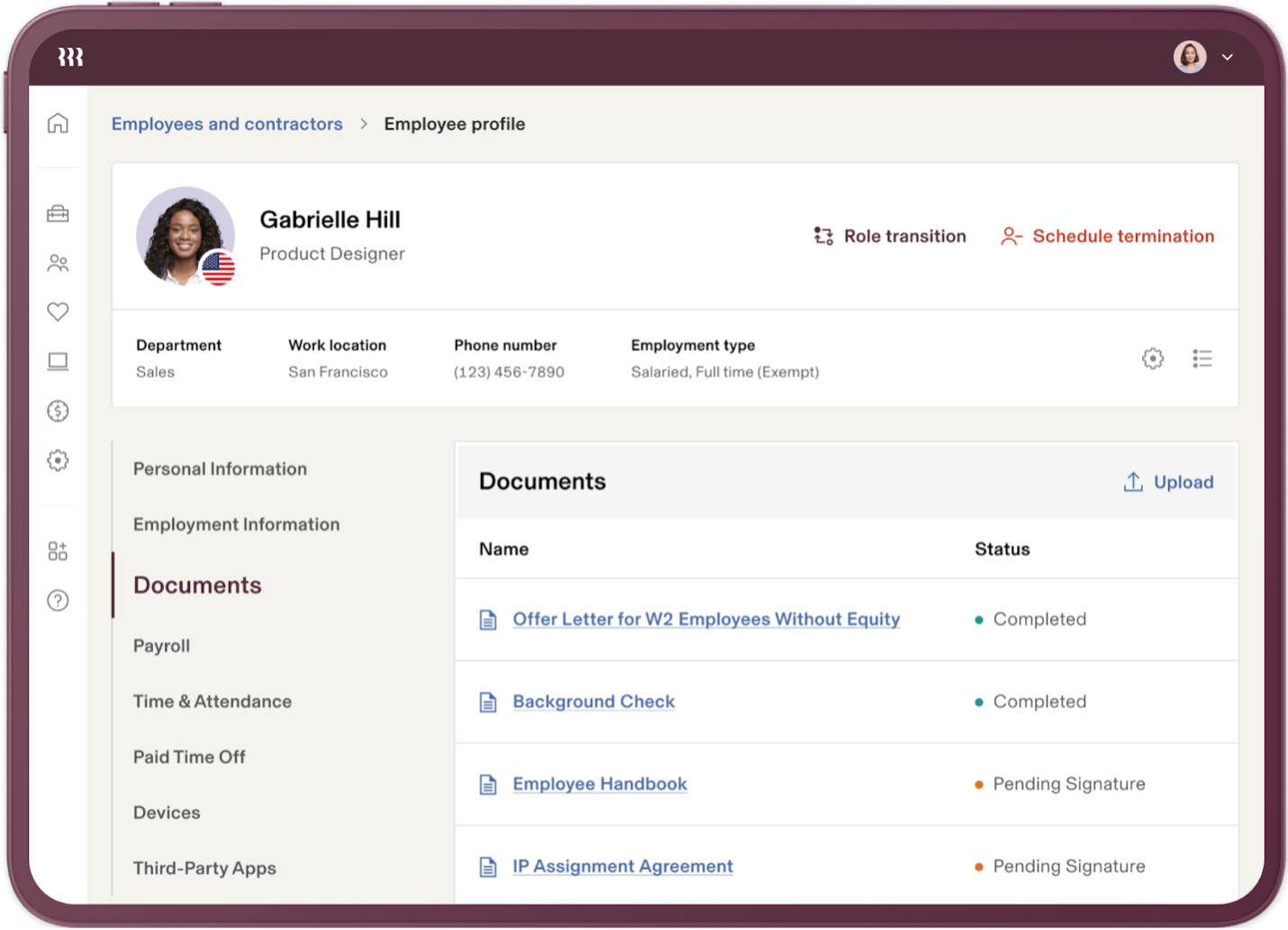 Onboard new employees in minutes and keep track of everything simply on the dashboard. Image source: Rippling
Rippling makes new employee onboarding lightning fast with its easy-to-use dashboard and highly automated features. In less than two minutes, you can send an offer letter, run a background check, E-verify, add new hires to payroll, enroll them in benefits programs, order and ship devices, and set up accounts with third-party integrations. 
We love that Rippling automates the documentation process so the right forms, paperwork or manuals are sent based on a new hire's position and location. Plus, they can fill out paperwork easily from their smartphone. 
Rippling also lets you post jobs, screen candidates, set up interviews from the dashboard, and then seamlessly transfer that information into your system when you hire someone. Offboarding is also painless, as you can eliminate employees, transfer responsibilities, and take over or delete accounts with just a few clicks.
Gusto
Straightforward task lists and intuitive features make onboarding easy.
The employee self-onboarding process is simple.
Hiring tools are only available with Plus or Premium plans.
Gusto offers convenient task lists and customizable tools to help you enter new employees into the system quickly. You can use templates or create your own offer letters, run background checks, sign and store important documents, and automatically file new hire paperwork. 
We loved that the platform allows employees to input their information to help speed up onboarding. It's easy to create, manage or remove employees from email software like Google or Microsoft Office 365. But for managing other business accounts, like Slack and Zoom, you'll need to opt for the Plus or Premium plan. 
Gusto offers hiring tools like job postings and applicant tracking, but we were disappointed that these features were not included in the Simple plan. 
Winner: Rippling
Rippling is our clear choice for onboarding. The entire process can be completed in 90 seconds, faster than the competition. We especially love that setting up onboarding automations is foolproof, even without a dedicated HR person. But, it does take time, so it might not be worthwhile for businesses that only hire a few people a year.
HR software helps small businesses run complex processes like hiring and onboarding even without a dedicated HR person. As your business grows, hiring a full-time HR employee could make things run even smoother.
Payroll
Rippling
Lets you run payroll in minutes in all 50 states and around the world.
You can automatically calculate deductions; file federal, state and local taxes; and stay compliant.
Employees can see payments and request time off via the mobile app.
You'll be able to pay international employees and contractors in local currency and stay compliant with foreign regulations.
Rippling allows you to run speedy, accurate payroll with automated deduction calculations, payroll tax filing and compliance. We found the mobile app where employees can see pay stubs and request time off especially useful. We like that Rippling helps you speed things up with hundreds of workflow templates. 
Rippling's global payroll capabilities set it apart from its competitors, facilitating payments to employees and contractors in their local currency. The platform also includes built-in time and attendance tools plus global compliance automations. 
Gusto
Unlimited payroll cycles are available with all plans.
The platform offers extensive tools and automations, including the ability to run payroll automatically with AutoPilot.
Time tracking and multistate payments don't come standard.
Gusto stands out for its unlimited payroll cycles available with all plans. This offers flexibility in deciding payroll frequency, paying bonuses or reimbursements and correcting errors, features most competitors don't offer.
Gusto's payroll tools and automations are excellent and easy to use. The platform calculates and files taxes, helps with compliance regulations, and pays both employees and independent contractors. You can even run payroll cycles automatically with AutoPilot. We especially like that there's a plan for businesses that only hire contractors. This plan allows unlimited payments across all 50 states, plus international payments for an additional cost. 
Businesses hiring employees in multiple states should keep in mind that only the Plus and Premium plans allow for multistate payroll. We were disappointed that none of the plans allow for international employees and that time tracking is only available with the Plus and Premium plans.
Winner: Gusto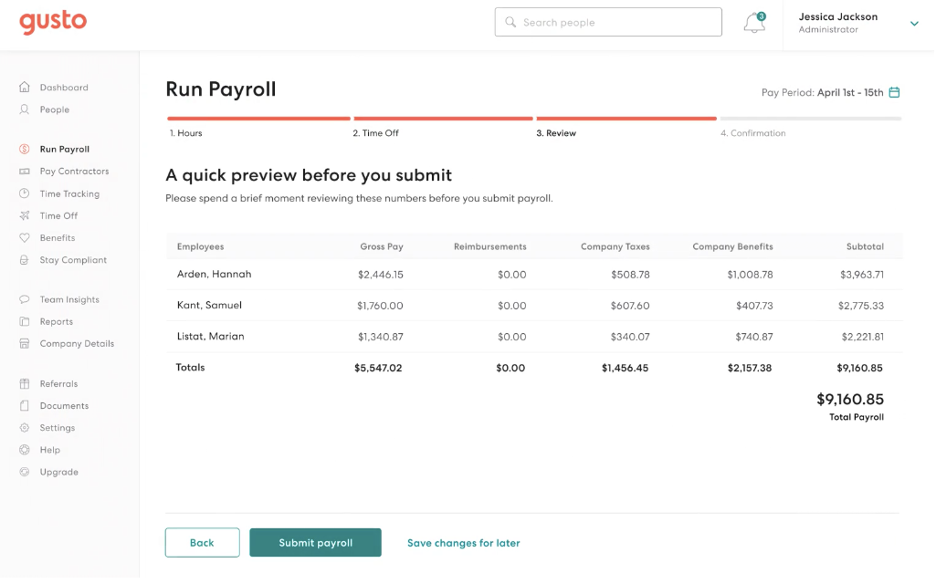 Running payroll is as simple as a click with Gusto. Image source: Gusto
When it comes to payroll, Gusto beats the competition, thanks to its unlimited payroll cycles, foolproof automations, and ability to pay contractors and employees from the same platform.
We like that small businesses that only hire in one state can save money with the Simple plan, with the option to add on needed tools that don't come standard. We love that the Contractor-Only plan takes the complexity out of payroll for businesses that don't hire full-time employees.
The only downside is that Gusto doesn't support international payments for employees. If you have a global company, Rippling is a better bet. 
Failure to pay employees for overtime can result in serious fines or even criminal charges. Read our guide to federal overtime rules so you can pay your employees fairly and avoid costly oversights.
Ease of Use
Rippling
An intuitive dashboard gives access to a heap of features.
Over 500 external app integrations with single sign-on are available.
The platform offers excellent and straightforward reporting.
For a platform with so many customizable tools, Rippling is surprisingly easy to navigate. Admins can see deadlines, approval requests and other pertinent information all on the dashboard. A Quick Action Springboard allows users to effortlessly switch between tasks such as onboarding, payroll and running reports. 
Users can access internal tools and over 500 external integrations with single sign-on, and administrators can control which employees get access to which apps.
Implementation takes about two and a half weeks. A sales agent will help you customize a solution, and from there, setup guides make getting everything up and running a walk in the park. Though it takes some time to set up custom workflows and automations, it will be worth it in the long run.
Gusto
Easy to use dashboard lets you keep an eye on everything. 
Almost 200 external app integrations.
Gusto Wallet app provides free financial tools to employees.
Gusto's user-friendly dashboard makes it easy to keep an eye on tasks, approval requests and important celebrations, such as birthdays or work anniversaries. You'll find a customized list of HR compliance, taxes, hiring and other recommendations based on your business profile. The platform also offers almost 200 external integrations.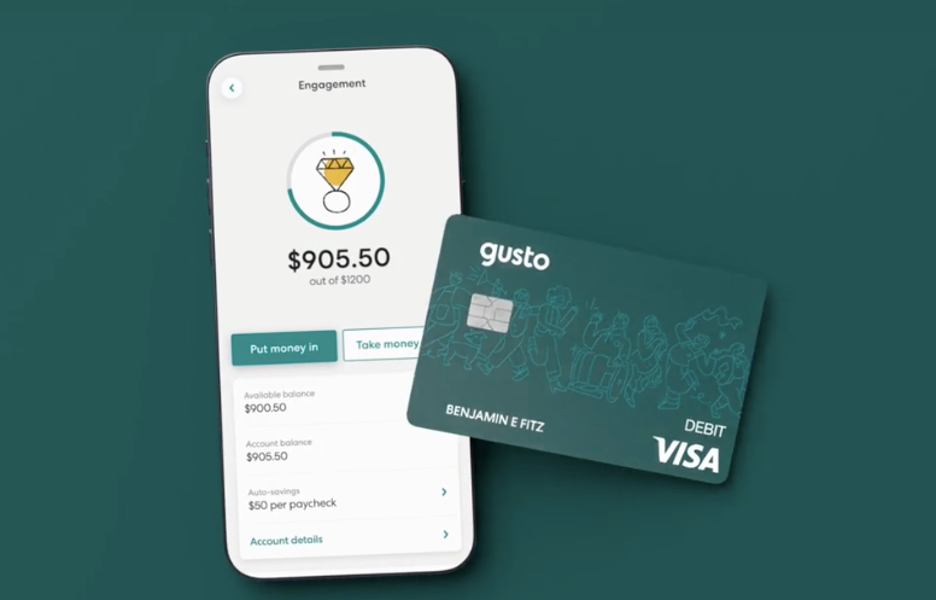 The Gusto Wallet app allows employees to track their hours and manage earnings, plus it comes with an exclusive debit card. Image source: Gusto
We like the Gusto Wallet app for employees that helps them set financial goals, build savings, access a personal debit card, use budgeting tools, get spending insights, manage paychecks and track their time. 
Setting up Gusto is simple and the platform will guide you through the process. It usually takes about two weeks to get Gusto operating, but companies with less complex HR and payroll needs won't need as long.
Winner: Tie 
Gusto and Rippling both offer foolproof platforms that anyone can navigate. If you're looking for a solution with an abundance of features and a variety of integrations, Rippling is right for you. If you don't need as many features and want to provide financial planning tools to your employees, we recommend Gusto. 
Customer Service
Rippling
Rippling support staff helps you with implementation.
In-company admins can get help through live chat, email and the Help Center.
Employees can't contact Rippling directly for help.
Rippling provides a dedicated support person reachable by phone or email to help choose the right set of features and get the platform running. Once in use, your admins can get quick help through live chat and email. A Help Center offers extensive articles to help troubleshoot issues. 
We like that you can sign up for support from certified HR professionals for an additional cost, but we would have liked to see phone support come standard. We were also disappointed that employees need to go to their in-company Rippling administrator for help.
Gusto
Users can access support via phone, email, live chat and the Gusto Help Center
You can schedule a call back to avoid waiting on hold.
Gusto users can access support via phone, email and live chat. We especially love that you can schedule a call back, which can save employees valuable time. Employees and admins also have access to the Gusto Help Center, which provides articles on how to best use the platform and solve any issues. Similar to Rippling, Gusto offers a premium level of customer service through a dedicated customer success manager. 
Winner: Gusto
We found that Gusto and Rippling offer prompt and thorough customer service. Gusto slightly beats out Rippling because it allows all users to speak to a customer support person by phone and doesn't require an in-company point person. 
Additional Features
Rippling
Admins can effectively manage company devices. 
Employees have access to over 4,000 benefits plans.
Managers and employees can easily track time and attendance.
Keep everyone informed with compliance courses.
Admins can manage company devices, including setting passwords, buying and shipping equipment, configuring encryption, assigning roles and remote wiping all from the dashboard.
Rippling's benefits management capabilities are also effective. Auto-enroll new hires with a few clicks right from the dashboard. Rippling offers more than 4,000 benefit plans for medical, dental, vision, commuter, FSA/HSA, 401(k) and more. You can easily integrate your existing plans, too. Rippling provides brokers, but also allows you to bring in your own for free.
Rippling offers stellar time and attendance functions, including hundreds of templates, automations, notifications, reports and useful insights. Employees can quickly check in and keep track of hours worked right from their smartphones.
Rippling's learning management tools help keep your employees informed and up to date with prebuilt courses and certifications for U.S. and global compliance. 
Gusto
Gusto brokers help employees choose from over 3,500 benefit plans.
All types of performance reviews are provided.
Many features are only available as add-ons or with higher-tier plans.
Most features come exclusively with the Plus or Premium plans, and some options are only offered as add-ons for an additional cost.
Gusto offers benefits management support from brokers to help you choose from over 3,500 benefit options, including those for out-of-state employees. Add-ons exist for life and disability insurance, 401(k)s, college and retirement savings, workers' compensation and commuter benefits. You can keep your broker with the Premium plan or for an additional fee.
Gusto also supports employee performance management directly from the dashboard with self-assessments, manager reviews, peer feedback and formal performance evaluation options. Track and review progress through straightforward reports. Integrations with performance management software are also available. 
Winner: Rippling 
Although both platforms offer excellent features, Rippling stands out for the sheer number of options and the flexibility in integrating them into your plan. We love that you can get a tailor-made solution without having to pay extra for a rigid package with features you don't want. 
We recommend Rippling for its rapid automated features like onboarding. We recommend Gusto for its straightforward and flexible payroll function. Remember that HR goes beyond hiring, onboarding and paying staff. Read our article on the future of HR to best serve your employees.