Rippling is a modern automation-focused HR software and service solution suited for small to midsize businesses that want to provide an effortless employee onboarding experience.
Pros
Rippling makes the onboarding process user-friendly for both employers and employees.
The company offers prompt customer support via live chat.
Rippling allows business owners to automate a wide range of HR processes.
Cons
Rippling does not offer a free trial, so you can't take the platform for a test drive before signing up for the service.
Rippling offers custom pricing only. This does offer some flexibility in terms of building a package to fit your budget and needs, but it also means that you need to speak with a sales agent.

Rippling is a robust cloud-hosted HR software platform that offers all of the features businesses need to onboard employees.
The software can manage your onboarding paperwork, benefits administration, payroll processing, and time and attendance needs.
We selected Rippling as the best HR software for onboarding employees.
This review is for small business owners who are considering implementing Rippling as their HR software.
Rippling is an employee management platform that turns the often-arduous task of people operations into a seemingly effortless digital experience with the help of intuitive automation. With the platform, employers can send offer letters, run background checks, collect new-hire paperwork, add employees to payroll and process health insurance enrollments. The platform can also be used to order and ship work equipment to new hires and set them up with everything they need to be successful, including Google Workspace, Slack and Microsoft Office 365. This makes it an ideal option for seamlessly onboarding remote, hybrid or in-person employees.
Rippling HR Software Editor's Rating:
9.6 / 10
Features

10/10

Pricing

9.0/10

User interface

10/10

Integrations

10/10

Customer service

9.0/10
Why Rippling Is Best for Employee Onboarding
With Rippling, the onboarding process is manageable and user-friendly, even for small business owners who don't have a dedicated HR employee to manage the process. The CEO of Rippling even reportedly onboarded every initial hire himself using the platform. It offers extensive features for each step of the onboarding process, including the offer letter, E-Verify, payroll setup, benefits selections and onboarding paperwork. Employers can onboard new employees in a matter of minutes, which we found to be the quickest onboarding process in our review of HR software. The employee-facing side of the onboarding process is equally simple. Employees can even fill out all of their new-hire paperwork from their smartphone.
We also like how simple and user-friendly the onboarding process is on the employee side. Rippling's device management functions are also helpful for onboarding remote hires, making this software a great choice for today's remote work climate. Rippling also has an applicant tracking system that allows employers to track applicant data and easily convert that data when someone is hired, eliminating the need for duplicate data entry.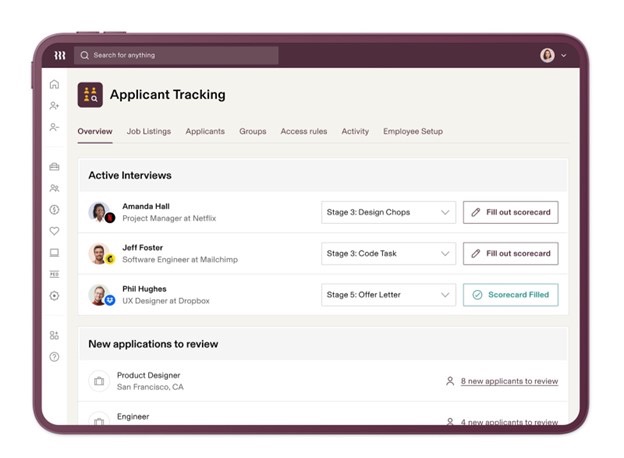 Rippling recently added an applicant tracking feature to its platform. Employers can now post jobs, review candidates and schedule interviews within the system. Credit: Rippling
Usability
We found Rippling to be one of the more user-friendly HR software solutions in terms of day-to-day navigation. Once setup is complete, administrators can use the Quick Action Springboard on the left side of their dashboard to jump to tasks, including onboarding new employees, creating custom reports and syncing new third-party applications. The home dashboard view keeps administrators on track with a to-do list that's tied to high-level deadlines, approval requests and significant milestones.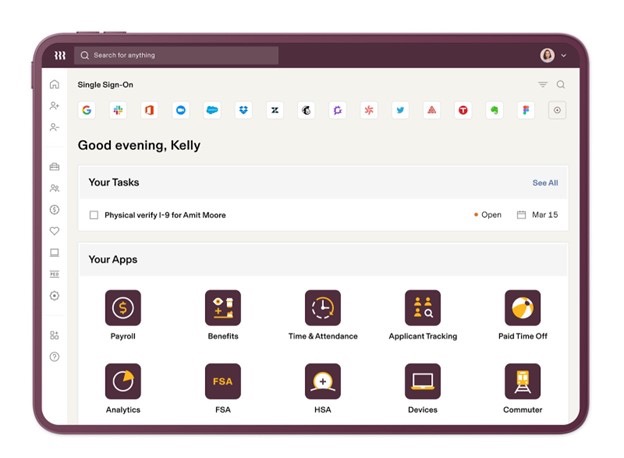 The Rippling dashboard makes it simple to navigate the software. Credit: Rippling
Rippling provides you with easy access to its applications for payroll services, onboarding and preconfigured company devices to ship to your different facilities or the home of your newest remote hire. Rippling apps are followed by a list of third-party software applications, letting admins manage user access across the organization from a single sign-on page.
The App Shop layout simplifies finding and syncing essential business tools, including Slack, Zoom, Asana, Zendesk, Dropbox, Adobe, HubSpot, and other business software solutions and service providers, which are manageable from the administrator's dashboard.
We liked how easy it is to create valuable reports and visualizations that can lead to better business decisions across the entire organization. When creating new reports, administrators are prompted to choose one of six report types, each of which has a seemingly endless list of customization fields.
While it may seem like it's easy to get lost with so many options, the layout presents you with useful fields to explore your data. Each time you make a selection, the dynamic reporting tool populates the selected variables in the top right corner. If you don't see the variable you're looking for on the left-hand navigation menu, you can use the search function to find it. Once you've identified the raw data for analysis, you can home in on details or rearrange your data sets to your liking. While Rippling's reporting functions weren't our top choice for reporting and analytics (that honor went to Paycor), we did find that they are more robust than those of other HR software services.
Proper onboarding sets new hires up for success and reduces the time it takes to realize their productivity potential. Check out our guide on how to onboard new hires for tips to improve your process.
Rippling Features
| | |
| --- | --- |
| Onboarding | You can handle all of your new-hire paperwork and onboarding tasks in just a few minutes. |
| Offboarding | Employers can quickly deactivate employees and transfer responsibilities when an employee leaves the company. |
| Device management | Give your in-office and remote employees the hardware they need to succeed.  |
| Benefits management | Shop thousands of plans from the nation's leading health and financial benefits providers. |
| Payroll | Run payroll in a matter of minutes with automatic calculations and a user-friendly processing experience. |
| Third-party integrations | Find more than 500 popular software apps to seamlessly integrate with your HR software. |
| Reporting | Create any report you can dream up to visualize employee turnover, track app usage and more. |
Onboarding
Every HR software platform strongly emphasizes speeding up the onboarding process, but nobody does it as well as Rippling. With this highly automated software, administrators can accomplish tasks like sending offer letters, completing new-hire paperwork, managing payroll and enrolling employees in benefits in only a couple of minutes from the home dashboard. 
Rippling's seamless document management features make onboarding even easier. All key onboarding documents, such as offer letters, W-2 forms and direct deposit paperwork, can be sent out to new hires quickly. The process of signing them is also user-friendly on the new hire's side. 
Once signed, the documents are loaded into the employee's electronic file within the Rippling platform. Employers can also set rules to ensure that each hire receives all of the right documents. For example, businesses may have different versions of their employee handbook for employees in different states or countries. One of our favorite Rippling features was the automation of this process so that the proper handbook is sent out automatically based on the hire's location.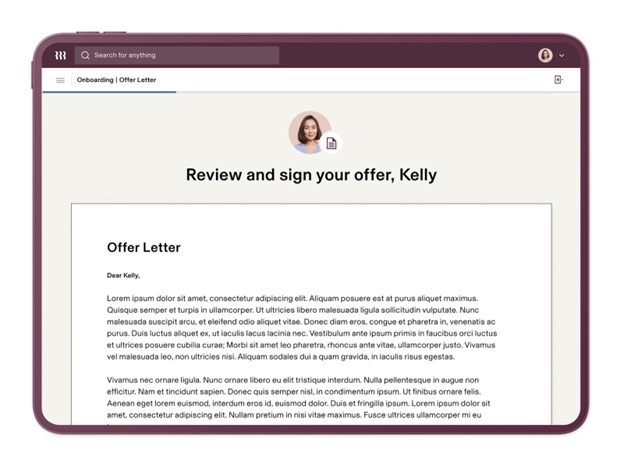 Rippling makes sending offer letters easy with simple templates. Candidates can use Rippling to digitally sign and accept their offer. Credit: Rippling
Offboarding
Rippling also offers a solid employee offboarding process, which we found particularly important to ensure a smooth transition when an employee departs the company. Employers can easily terminate employees in the system and add notes about their reason for leaving or eligibility for rehire. They can also transfer responsibilities to another employee in the platform for a clean handoff process. Rippling also allows administrators to reset all of a terminated employee's passwords to a designated master password so that they can gain access to the accounts and no ex-employees can access company accounts.
Device Management
Many employers now choose to provide company devices rather than taking a BYOD approach. The Rippling platform allows you to manage all of your company-issued laptops and devices from the dashboard. Admins can view equipment inventories, set password policies and configure hard drive encryption. You can purchase and ship equipment through Rippling's online store, as well as preconfigure software based on each individual's role in your organization. You can also remotely wipe and reassign a device upon the termination of an employee.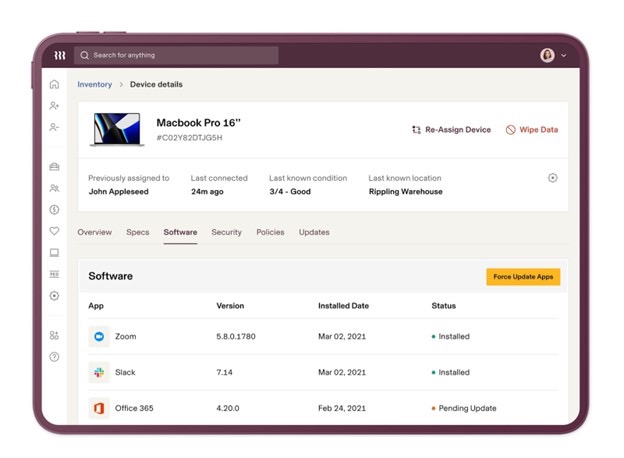 While onboarding new employees in Rippling, employers can order or ship devices such as company computers and cell phones to new hires. Credit: Rippling
Third-Party Integrations
Rippling's open API allows you to share information with the applications your business already uses daily. Your team has access to more than 500 third-party cloud-based tools, all accessible with a single sign-on from one location. The administrator's dashboard makes it simple to modify access to the software and apps your employees need to do their jobs.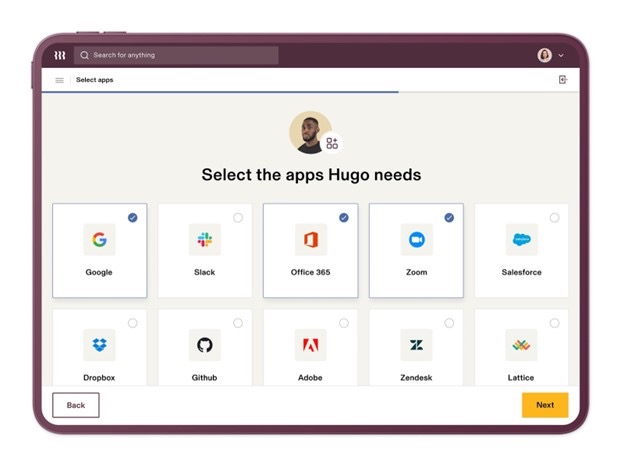 Rippling integrates with a number of popular software tools. Employers can sign up employees for new accounts with these tools during the Rippling onboarding process. Credit: Rippling
Benefits Management
Rippling makes it incredibly easy for administrators to auto-enroll new hires, update payroll deductions, define contribution strategies and complete other tasks from the home dashboard. New employees and existing team members with a qualifying life event can find guided enrollment features, with intuitive navigation and side-by-side comparisons of your company's health and financial benefits. All of your employees' benefits automatically sync with payroll deductions for seamless management.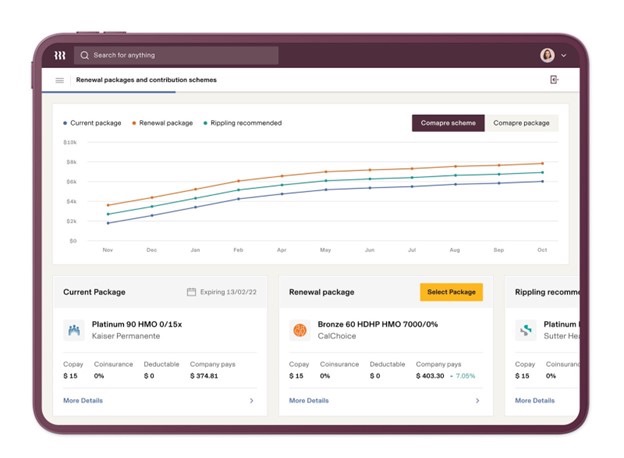 Rippling allows employees to select and review their benefits data. Credit: Rippling
Payroll
We liked that payroll can be run in minutes, thanks to Rippling's automated deduction calculations and tax filings. Rippling can even help automate your payroll compliance by enforcing state or local laws related to minimum wage, overtime, meal and rest breaks, and more.
One feature that sets Rippling apart from many of the competitors we reviewed is its new global payroll capabilities. Rippling has launched global payroll in five countries: Canada, Mexico, India, Germany and the United Kingdom. Rippling also supports payments to contractors in over 150 countries.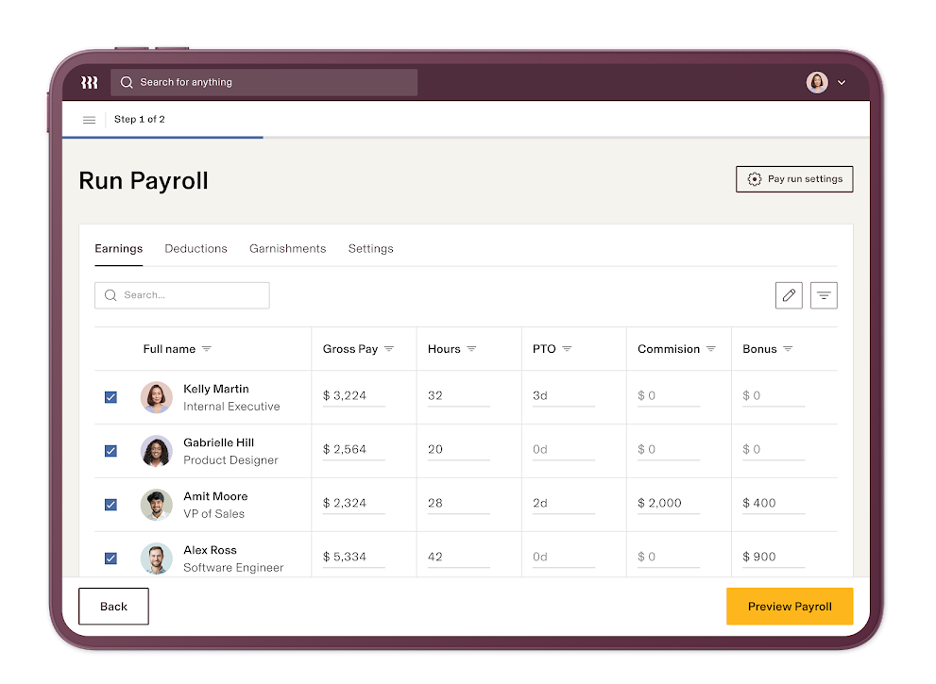 Rippling provides a quick and easy payroll process by automatically calculating payroll deductions. Credit: Rippling
Reporting
Make better business decisions for your organization with easy access to built-in reports. There are also customizable reporting options for companies that need more in-depth information. You can visualize data from any endpoint tracked within the platform. This includes a wide array of data, such as payroll, documents, time off, hardware and insurance.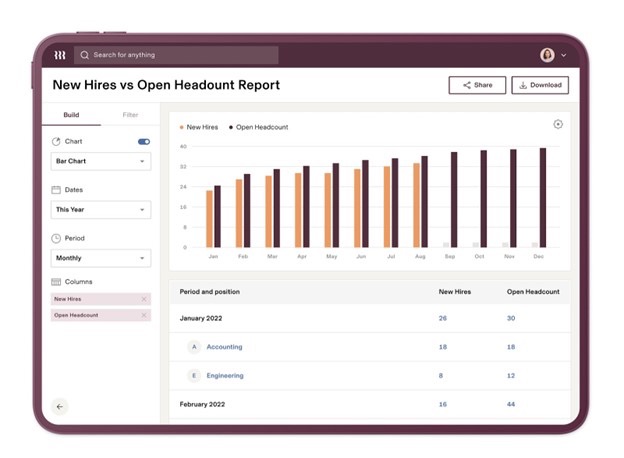 Rippling provides flexibility to create reports that provide the most value to your company. Credit: Rippling
Rippling PEO
Rippling is a scalable PEO service that is well-suited for growing businesses. Adding a new employee to the platform takes only a few minutes. When growing businesses need to add new locations or hire remotely, Rippling can handle local tax registration and configure different labor laws and minimum wages for employees across various states. It's also a very scalable solution that businesses don't need to worry about outgrowing. When the time comes to transition from a PEO model to an in-house HR team, the transition between Rippling PEO and Rippling HR software is also incredibly quick and seamless.
Rippling PEO Pricing
Rippling charges a fixed-rate administrative fee. The exact rate you are charged depends on your agreement with Rippling, so you will need to contact the company for a custom quote. The specific services you need and the number of employees you have dictate how much you will pay. However, based on the company's sample pricing, you can expect to pay about $65 per employee per month.
Rippling also offers pay-as-you-go workers' compensation, which can be helpful for teams that fluctuate in size. If you need a PEO that is tailored to your specific industry, read our review of TriNet.
Employee Benefits Administration
One great aspect of partnering with a PEO is gaining access to enterprise-level benefits for your small business. Rippling can administer employee benefits to your workforce, including medical, dental and vision insurance; retirement savings plans; commuter benefits; and tax-advantaged savings accounts (HSAs and FSAs).
Employee self-service tools enable your workers to access their benefits plans at any time, review current information, and make changes as needed. Self-service tools can be accessed via desktop and mobile devices using a web browser or Rippling's mobile application.
Risk Management and Legal Compliance
It can be difficult to stay up to date with federal, state and local laws, especially when you are managing remote employees. To help you with risk management and legal compliance, Rippling can perform automatic state and local tax registration, provide mandatory workplace posters, and manage Affordable Care Act and COBRA documentation and compliance. The company also can help to ensure you are following minimum-wage laws, which vary by state.
Employee Training and Development
Rippling helps you manage your team from onboarding to offboarding. You can track job applicants through the onboarding process and then provide them with access to hundreds of training tools and courses after they are hired. Rippling users can access pre-built training courses or create unique courses based on employee needs. The platform also integrates with a variety of learning management systems.
Rippling Pricing
The basic service starts at $8 per user per month. Rippling does not offer the standard monthly service options that other providers in this category often do. That means most businesses will need to explore custom pricing options with a Rippling sales agent.
Basic features include a unified employee database, onboarding/offboarding automation, e-document management, time and attendance tools, workflow and approval automation, customizable reporting, an open API, and more than 500 third-party cloud-based application integrations.
You can also read our reviews of Rippling's PEO service and Rippling's time and attendance service to learn more about other software that can be used in conjunction with the Rippling HR platform.
Setup
The Rippling implementation process starts by working with a sales agent to customize a service package for your business' needs. Once you have built your service package and signed up for Rippling, your company and employee data will need to be loaded onto your account.
According to Rippling, the average time to implement the platform is two-and-a-half weeks, which is a somewhat longer time frame than those of other HR software platforms we reviewed. However, if you want to reap the time-saving benefits Rippling offers, you need to lay a solid foundation that will allow your repetitive processes to run smoothly and accurately. 
You're not building everything on your own from scratch, as Rippling's intuitive forms will guide you through the most common processes with easy-to-answer questions and preconfigured fields for every aspect of your HR tasks. You can set up custom workflows and input your company policies to allow Rippling to automatically apply them to the correct employees. Rippling also integrates with more than 500 applications, giving users plenty of customization and integration options during setup.
You can shop for more than 4,000 health and financial benefit services with Rippling.
Customer Service
During setup, you'll work with a dedicated contact who is available by phone and email; once your system is up and running, you can use email or Rippling's self-help tools, which are available with your login information. Your employees will need to reach out to your team's Rippling administrator to troubleshoot issues that come up.
Rippling users can receive live chat and email support. The company prides itself on providing prompt support over live chat, so much so that it shares up-to-date data on response times on its website. If you want one-on-one support from certified HR pros, you can add the HR Help Desk feature to your plan for an extra monthly fee.
There is also a Help Center with articles to guide users through key features. The Help Center articles are available only to active Rippling subscribers. Rippling also periodically has events centered on key topics or features. Users can reference a library of recordings from past virtual events as well.
Drawbacks
The lack of phone support could lead to frustration, especially for smaller teams without a tech-savvy HR administrator on staff. This means your admins should dedicate time to understanding how the system works and anticipate issues or concerns employees are likely to have accomplishing tasks or understanding their benefits. For some employees, the option to speak with someone outside your organization about a technical HR issue is usually the most attractive solution. That's something we'd like to see improved with Rippling in the future.
If you are looking for a platform that provides 24/7 phone support, you might be better served by a solution like the one in our Paychex Flex review.
Very small businesses may not find the benefits of automation worth the time it takes to build the right workflows. For example, if your company is onboarding and offboarding only a handful of employees each year, it may not be worthwhile to build a custom workflow for a single position that may be used only once or twice each year.
Methodology
We conducted comprehensive research and analyzed dozens of HR systems to identify the top HR software solutions on the market. We watched product videos and attended a software demo with Rippling staff. When looking for the best HR software for employee onboarding specifically, we prioritized features such as onboarding and implementation, payroll processing, benefits administration, usability, integrations, reporting, and customer service.
Rippling FAQ
Rippling is an all-in-one employee management platform. It includes basic HRIS tools, as well as advanced features that integrate payroll and IT functions for more comprehensive onboarding and employee management functionality.
Employers can use Rippling for performance management through one of its many compatible third-party integrations. Rippling does also have a learning management system for training and development.
Rippling does offer PEO services, but employers can fully use the HR platform without engaging in a co-employment model. Rippling's PEO services allow small and midsize businesses to share ownership of their employees and access better HR benefits.
Rippling's HR software plans start at $8 per user per month. Employers interested in implementing Rippling will need to contact a sales agent for a custom quote.
Overall Value
We recommend Rippling for …
Businesses looking for an automation-focused, all-in-one HR software platform that can integrate with all of their existing business software, benefits and apps.
Midsize businesses that want to save time and ensure accuracy with all of their HR-related tasks, from onboarding to offboarding and everything in between.
Businesses looking for the flexibility provided by a highly customizable HR software platform with endless reporting options.
We don't recommend Rippling for …
Small businesses that do not have a high-frequency of repetitive HR tasks, including hiring, onboarding, equipment allocation, benefits management and offboarding.
Small and midsize businesses that need a lot of help from customer service when managing or modifying their operations-related tools and software.