Paycor HR Software Review
Paycor is well-rounded HR software that includes payroll, benefits, workforce management and analytics tools.
The software provides tools to help businesses improve their decision-making through predictive analytics, benchmarking and customizable reporting. 
We reviewed the top HR software options on the market and chose Paycor as the best HR software for reporting and analytics.
This review is for small business owners who are considering implementing Paycor.
Paycor's human capital management software keeps your team out of the weeds when it comes to payroll, talent acquisition, workforce management, benefits administration and, perhaps most importantly, your employees' overall experiences. We especially liked Paycor's advanced reporting and analytics features, which make it an ideal human resources (HR) software tool for businesses that want to dig into their data to make more informed business decisions. Based on these user-friendly reporting tools and advanced predictive analytics capabilities, we have selected Paycor as the best HR software for reporting and analytics. 

Paycor HR Software
The Verdict
Paycor is our choice as the best HR software for service customization. The platform, which can cater to businesses of all sizes, best serves nonprofits and companies based in the healthcare, manufacturing, restaurant, retail, professional services, and e
Paycor Editor's Score
Paycor Editor's Score: 92/100
| | |
| --- | --- |
| Features | 100/100 |
| Pricing | 80/100 |
| User interface (UI) | 100/100 |
| Integrations | 90/100 |
| Customer service | 90/100 |
Why Paycor is Best for Reporting and Analytics
Paycor offers extensive reporting and analytics features that allow business owners and HR managers to drill down into specific data about their employees, including feedback and surveys, diversity initiatives and company culture expectations. We appreciated how customizable the reporting options were. The analytics data is presented in helpful visual formats as well, which makes the information easier to understand and share.
Paycor offers analytics features designed to help organizations tackle some of the most pressing issues right now, such as employee turnover and diversity, equity and inclusion (DE&I). With predictive analytics, Paycor can help employers project future turnover rates and identify employees that are most at risk of leaving. We also found the DE&I reporting tools to be effective and thorough when we tested them during our product tour. The reporting provides clear, actionable insights that we feel would help employers improve their DE&I initiatives in a meaningful manner.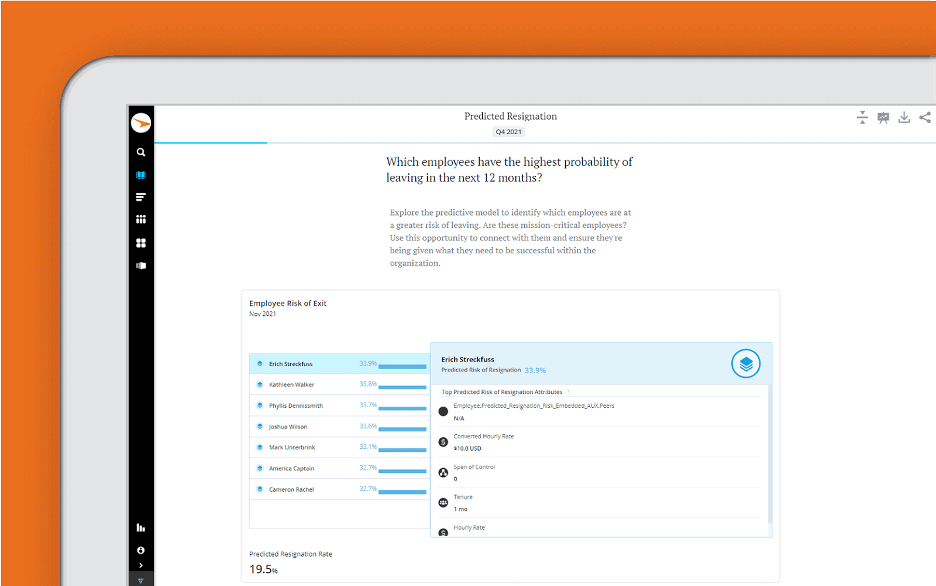 Paycor offers extensive analytics and reporting to help business owners assess trends, turnover risk and other key metrics. Source: Paycor
According to Paycor, 82 percent of midmarket organizations believe that people analytics is important to their growth, but only 56 percent are currently mining their HR data to optimize business processes.
Pros
Paycor offers advanced analytics tools, including those tailored to DE&I initiatives.
Both the web platform and mobile app are very user-friendly.
Reporting features are highly customizable.
Cons
The implementation process is slow compared to competing software options.
The subscription prices are higher than those of several competitors.
Many key features are available only with higher-priced plans or as add-ons.
Usability
Paycor's HR software is very user-friendly and easy to navigate. We particularly liked that the software allows users to customize their home page, enabling each user to personalize their experience and put the tools most relevant to their roles front and center.
Paycor does a great job at providing high-level HR tools in a UI that doesn't feel intimidating. The platform guides you through complicated processes, such as employee onboarding and creating complex analytical reports. Paycor provides helpful tips along the way that are built into the UI. For example, they provide resources on properly classifying employees so that a new business owner does not accidentally make a costly error while onboarding a new hire.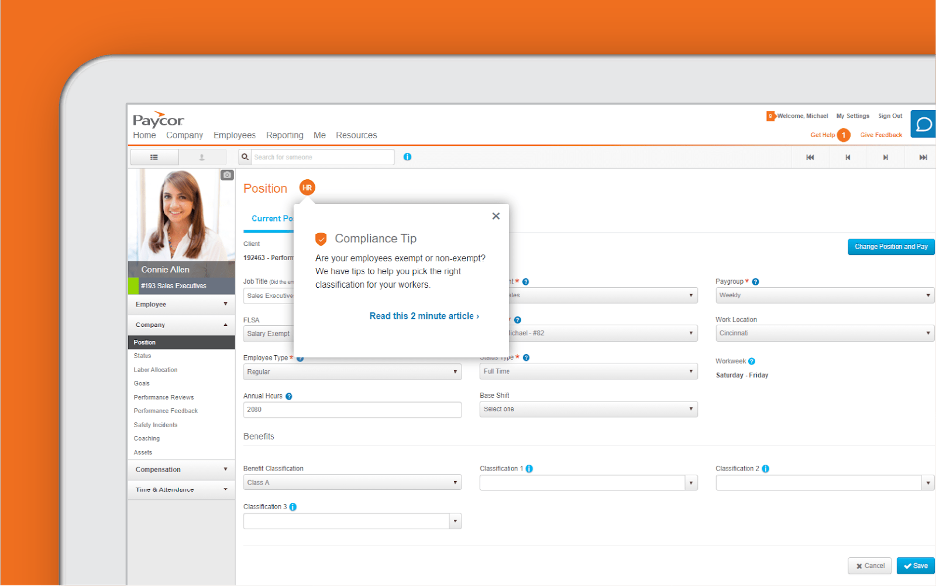 Paycor provides helpful tips for administrators, including compliance tips to help guide them through key processes such as onboarding. Source: Paycor
The analytics tools were similarly easy to navigate by answering basic questions to create advanced reports, such as one that can help predict employee turnover risk. The final reports also display in a clear, visual format that can help anyone in the company understand the data. We thought that this was very important as many small businesses do not effectively utilize their data due to the steep learning curve associated with data analysis, especially when you're trying to do it in a spreadsheet.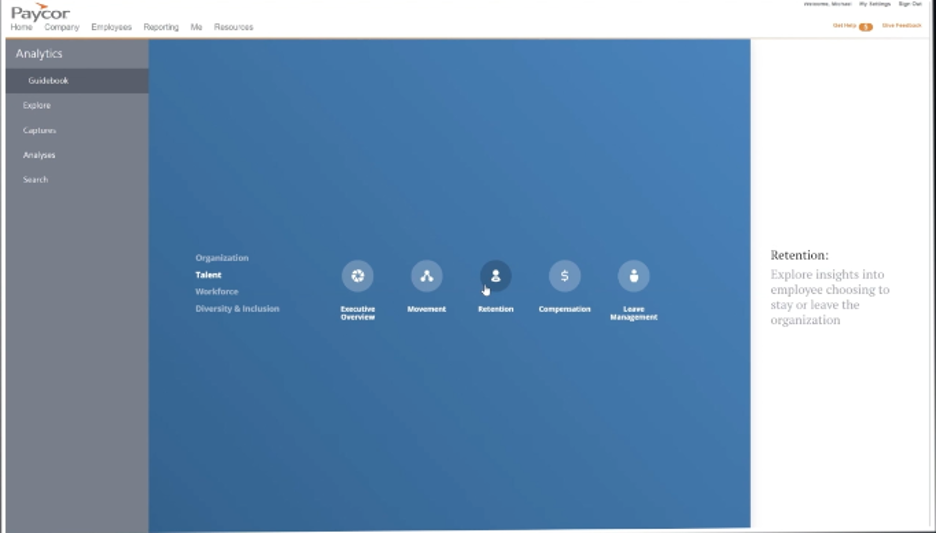 Paycor's visualization tools help users build complex data reports and gain actionable insights in a manner that is simple and easy to understand. Source: Paycor
Paycor integrates well with popular benefits, retirement, background check and hiring tools. We recommend checking out the Paycor Marketplace to see if your preferred vendors offer integration with Paycor. There are currently more than 250 apps in the marketplace, although some popular tools, such as QuickBooks, are notably missing from the list. 
If you would like to try out the platform's UI for yourself, check out Paycor's guided tour option on its website. 
Paycor Features
| | |
| --- | --- |
| Analytics and Reporting | Access key analytics that can help businesses address current workforce issues and make data-driven business decisions. |
| Employee Surveys | Use Paycor's helpful survey templates to collect feedback on engagement, benefits and more from your employees. |
| Payroll | Process payroll with automated calculations and compliance tools. |
| Benefits Administration | Streamline your open enrollment process and stay up-to-date with Affordable Care Act (ACA)-compliance requirements. |
| Workforce Management | Manage employee scheduling and time tracking to optimize your workforce. |
| Expense Management | Expenses can be entered, approved and added to payroll seamlessly. |
Analytics and Reporting
Paycor provides advanced tools that provide business owners with real-time insights and valuable benchmarking. Users can create customized dashboards for quick access to the most relevant data for their current business needs or areas of focus. The reporting function includes access to a wide range of prebuilt reports as well as customizable reporting capabilities.
Paycor also uses a predictive data model to help businesses assess future turnover risks and labor costs. Paycor's predictive data model can predict turnover over a 12-month period. It can even tell you exactly which employees have the highest probability of leaving, which gives employers a great opportunity to conduct stay interviews or otherwise intervene to mitigate potential turnover. We appreciate how practical and actionable the insights provided by the platform are.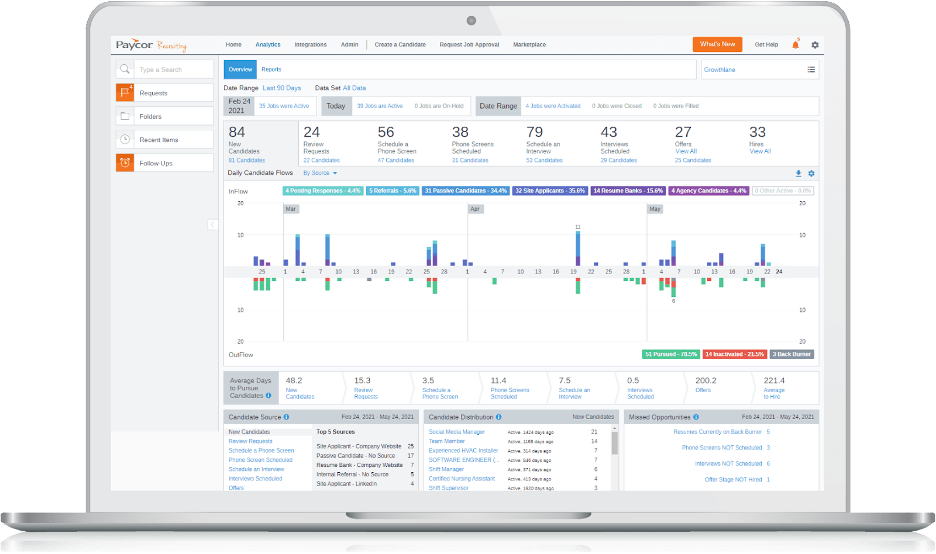 Paycor's analytics tools provide detailed and actionable insights based on your HR data. Source: Paycor
Employee Surveys
In addition to helping you analyze your current data, Paycor can also help you collect helpful data and feedback from your employees with the Pulse surveys feature. Paycor offers three survey templates: a one-question Pulse survey for quick feedback on a specific issue, a 15-question employee engagement survey and a six-question benefits survey. These templates make it easy to collect feedback. Business owners and HR teams can also create a survey from scratch to address different questions or concerns.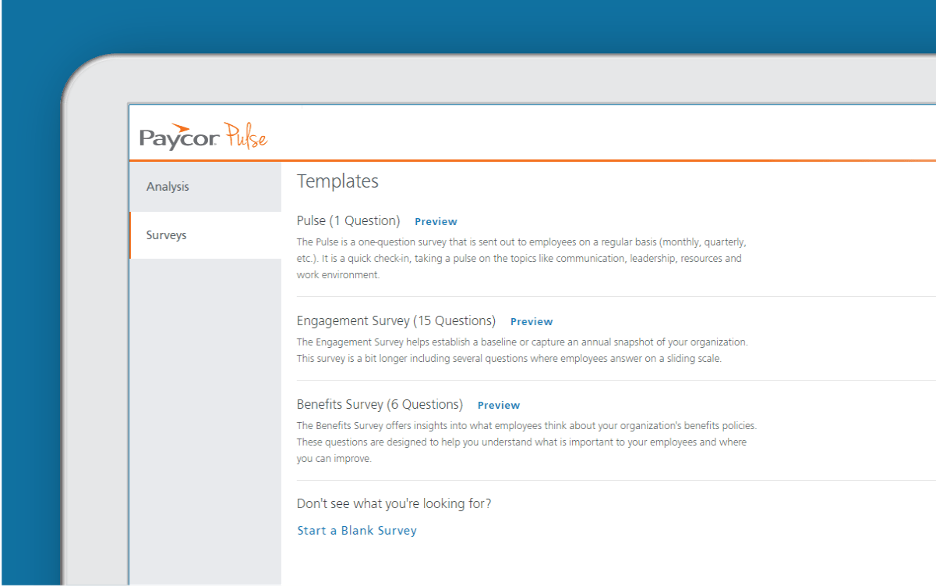 Business owners can use one of Paycor's survey templates to easily collect feedback from employees. Source: Paycor
Payroll 
Paycor's payroll processing tools help guide users through the process. The software can calculate payroll tax withholdings and other deductions automatically based on the data entered during onboarding and the benefits selections made. Paycor also offers an AutoRun option that allows payroll administrators to set payroll to run automatically at the regularly scheduled dates.
Benefits Administration
Paycor can help businesses and employees navigate employee benefits during new-hire onboarding and annual open enrollment. Overall, we found their benefits offerings to be on par with those of other HR software that we reviewed. The benefits enrollment process is user-friendly, and Paycor can help employers shop for competitive benefits packages. 
One thing that we did appreciate was the ACA reporting and compliance tool. Paycor's ACA software helps businesses prepare, generate and file required forms like 1094-C and 1095-C for benefits compliance. It also helps employers ensure that the plans they are offering are ACA-compliant.
Workforce Management
Paycor's workforce management tools include scheduling and time-tracking tools. The platform offers a web-based timekeeping software tool for timesheet entry. Employees can also clock in and out on the mobile app. The timekeeping tools help businesses track time off, hours worked and labor distribution.
In addition, Paycor offers scheduling tools to help managers assign shifts to employees to maintain proper coverage. The software allows administrators to set scheduling rules based on employee availability and required rest periods between shifts. You can also use the scheduling tools to track daily labor costs.
Use Paycor's overtime insights tool to view a breakdown of overtime worked by department, manager, location and other segmentations. This can help business owners see where additional staffing support may be needed.
Expense Management
Expense management is not a feature that is commonly included in HR software directly. It often requires a third-party integration. However, Paycor takes a more unified approach. Paycor's expense management tools allow employees to enter eligible expenses directly into the system. Managers can then easily approve them, and payroll administrators can submit reimbursement.
Paycor Costs
Paycor offers plans geared toward small (fewer than 50 employees) and midsize (50 to 1,000 employees) businesses. We like that it doesn't require an employee minimum, unlike some competitors we reviewed.
If you are looking for a small business HR plan for fewer than 50 employees, you can choose from four tiers:
Basic: For $99 per month plus $6 per employee, per month, businesses can access Paycor's automated onboarding, payroll and tax services, HR management tools and compliance support.
Essential: For $159 per month plus $9 per employee, per month, this plan gives you access to everything in the Basic plan, plus features for time and attendance, new-hire onboarding, e-verification, HR checklists and templates and reporting.
Core: For $199 per month plus $12 per employee, per month, this plan includes everything in the Essential plan, plus automated workflows, employee directory and org charts, scheduled reminders, HR analytics and benchmarks, prebuilt dashboards and a wealth of performance management features
Complete: For $299 per month plus $16 per employee, per month, this plan gives you access to everything in the Essential plan, plus advanced HR features like scheduled reports, payroll analytics, general ledger reporting and integrations, 360-degree 401(k) EDI integration and one-on-one guidance from a certified HR professional. Paycor claims this is its most popular plan.
It is worth mentioning that Paycor was waiving setup fees on these plans at the time of this review, but it has previously charged a one-time setup fee for the Essential, Core and Complete plans, which ranged from $59 to $199 depending on the plan tier chosen. 
If your business has 50 to 1,000 employees, you can use Paycor's online tool to select which features you are looking for to get a custom price quote. Paycor also offers add-on services such as workforce management (time and scheduling), talent management (recruiting, talent development, learning management) and benefits administration. Paycor also offers a free trial so that you can try out the product for yourself.
Paycor Setup
The Paycor implementation team will ensure a seamless transition by working with you to establish timelines, share training resources, collect and review employee and customer data and configure your database. Essentially, the team does the heavy lifting while your team is learning how to use the new technology.
The Paycor platform is relatively robust, so it can take anywhere from six weeks to six months to implement. However, the average implementation time is between two and three months. During this time, a representative will work with you to ensure that you have access to all the features you need and that your employee data has been transferred successfully.
Once your system is live, you'll be introduced to your ongoing support team, which will prepare you for long-term success. The Mid Market plan offers all the features available in Paycor's smaller bundles, but it's designed for companies with 40 to 1,000-plus employees. This plan is fully customizable, but you'll need to talk to the Paycor sales team about pricing for your business.
Paycor Customer Service
Paycor's customer service agents are available by live chat, email or phone. The support hours are 8 a.m. to 8 p.m. Eastern time, Monday through Friday. That is a larger window than what many competitors provide. Many competing software vendors also operate in the Pacific Time Zone, which can make getting support in the morning challenging for East Coast businesses. We like that Paycor covers standard business hours for all United States time zones. However, if you'd prefer 24/7 customer service, check out our Paychex HR software review.
Paycor also offers a helpful training hub for customers who want to access resources, videos and e-learning classes. This is a helpful support tool for new users that need help completing tasks like payroll or onboarding on the platform for the first time.
Paycor Drawbacks
Smaller companies with the most basic requirements may find the service expensive compared to other HR software providers. We like that they have packages geared toward businesses with fewer than 50 employees, but they may not be the best value for small businesses that don't have extensive reporting, benefits or scheduling needs. Businesses also have to upgrade to higher plans to access Paycor's standout features like the analytics tools, report builder and compliance support options.
Another drawback to consider is the implementation time. Paycor provides a lot of support during the implementation phase, but you likely won't be able to get up and running right away. Expect the process to take several weeks or even a couple months. If you need to get started with new HR software more quickly, check out our best picks page to find HR software with a shorter setup time. Competitors, such as those featured in our Zenefits HR software review and Rippling HR software review, often offer implementation times that span from several days to a couple of weeks.
Methodology
We conducted comprehensive research and analyzed dozens of HR systems to identify the top HR software solutions on the market while comparing their features, customer service and pricing. We watched product videos, took an online tour of the platform and attended a demo with Paycor staff. When looking for the best HR software for reporting and analytics, we prioritize ease of use, customization and actionable insights related to key business concerns like employee turnover.
Paycor FAQs
Does Paycor have time-tracking tools?
Yes. Paycor does offer time and attendance features. Employees can clock in and out through the web platform and mobile app. These features are available as a subscription add-on.
Does Paycor have a mobile app?
Yes. Paycor has a mobile app for both iOS and Android devices.
Do all Paycor plans include reporting and analytics?
No. The Basic plan does not include reporting and analytics. To access reporting tools and the report builder, select the Essentials, Core or Complete plan. To access the full analytics tools, select the Complete plan.
Does Paycor support employee scheduling?
Yes, Paycor features scheduling tools to help managers create custom schedules. Paycor can also automate scheduling by automatically filling in your scheduling template based on employee's availability.
Overall Value
We recommend Paycor for …
Businesses that want access to advanced reporting and analytics features.
Small businesses with DE&I initiatives.
Organizations that want access to reports and employee feedback surveys that can help address retention issues.
We don't recommend Paycor for …
Companies that need to set up their new HR software service quickly.
Small businesses looking for the most affordable HR software option.

Paycor HR Software
The Verdict
Paycor is our choice as the best HR software for service customization. The platform, which can cater to businesses of all sizes, best serves nonprofits and companies based in the healthcare, manufacturing, restaurant, retail, professional services, and e

Kaylyn McKenna
Contributing Writer
Kaylyn McKenna is a freelance writer specializing in business, tech, and leadership. She received her MA in Industrial-Organizational Psychology from Touro University, and enjoys using her industrial psychology background to share management, HR, and organizational effectiveness tips with small business owners. She has covered topics related to business law, compliance, employee retention, company culture, and management strategies.