Gusto HR Software Review
We examined several HR software providers and chose Gusto as the best for payroll.
Gusto offers expansive payroll processing tools that provide a more seamless experience for employers and employees.
Payroll taxes are automatically calculated in Gusto, even if you have employees in different states with different withholding needs.
This review is for small business owners who are considering implementing Gusto.
Gusto is an easy-to-use, all-in-one human resources (HR) platform that helps small businesses handle payroll, employee benefits, hiring, onboarding, time and attendance, and compliance. While the platform offers a comprehensive suite of tools for business owners and HR managers, its payroll system is especially great for small businesses. Gusto will automatically file all of your local, state and federal tax forms on your company's behalf, offering the ability to electronically file, sign, fax and store all of your documents within your Gusto dashboard. It also makes it easy for employees to get the most out of their paychecks, with free financial tools and paperless pay through Gusto Wallet and debit cards.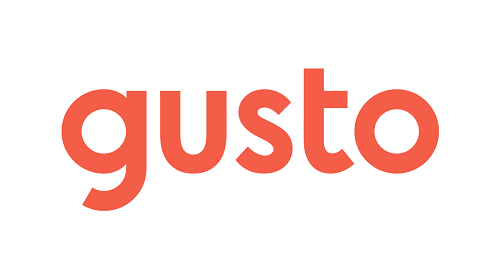 Gusto HR Software
The Verdict
Gusto's strong focus on easy-to-use payroll services and benefits for small businesses and their employees makes it stand out in a crowd of all-in-one HR software platforms, earning our best pick for payroll.
Gusto Editor's Score: 96/100
| | |
| --- | --- |
| Features | 95 |
| Pricing | 95 |
| User interface | 100 |
| Integrations | 100 |
| Customer service | 90 |
Why Gusto Is Best for Payroll
While payroll processing is a staple feature among most HR software services, Gusto stands out among the competition for its comprehensive payroll tools and useful automations. Gusto can calculate payroll taxes and deductions for employees based on differing federal, state and local laws. Gusto also automatically calculates the employer's share of payroll taxes and files them with the appropriate government agencies. We found its payroll features to be very user-friendly, and Gusto customers seem to agree. A reported 85% of Gusto customers said Gusto was easier to use than their last payroll tool.
Pros
Gusto can be used to pay both employees and independent contractors, eliminating the need to use multiple platforms to process payments.
Gusto offers unlimited payroll runs per month for all plan levels.
Gusto's onboarding process is easy and efficient for new customers.
Cons
Gusto's customer service hours are more limited than those of many of their competitors, particularly for phone support.
Gusto does not support payroll processing for employees living abroad.
Usability
We found the overall user experience with Gusto to be straightforward and intuitive from the employee and administrator dashboards. The home dashboard provides a convenient to-do list for admins, with reminders for all time-sensitive tasks and requests that require approval. This is also where you'll find a personalized list of compliance, finance, taxes, hiring and other recommendations based on your company's industry, location and size. Personal touches, such as the "celebrations" widget, help you remember to acknowledge employees' milestones or send a digital birthday card signed by everyone on that employee's team. We really like how easy it is to see everything going on with your team at a glance.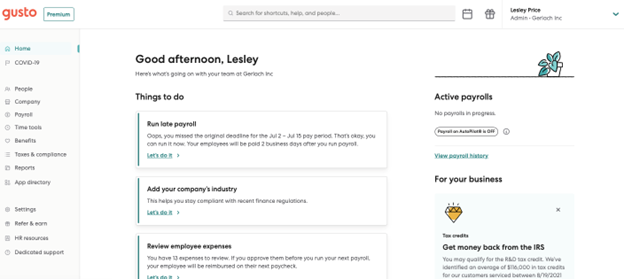 Gusto's home dashboard makes it easy to view tasks and company information at a glance, including time-off requests and celebrations. Credit: Gusto
You can run payroll for employees with direct deposit in just a few clicks or through the AutoPilot feature, which lets you pay automatically one day before your payroll deadlines. We tested the payroll system multiple times using the live demo that comes preloaded with 12 salaried employees and found it to be very fast from start to finish, with no significant wait times between steps.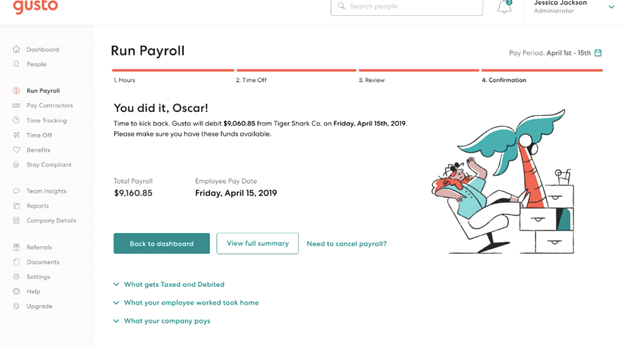 Running payroll is easy in Gusto, which displays a list of your employees and allows you to monitor their hours worked, overtime, bonuses and other pay. Credit: Gusto
The entire process of running payroll takes only a few minutes, even if you thoroughly check your team's hours worked and time off. You can initiate bonus payroll, off-cycle payroll, non-Gusto payroll or dismissal payroll, and you can also adjust or cancel a recent payroll easily and quickly. Each irregular payroll option has easy-to-follow navigation, with simple buttons to guide you through the process and account for any deductions or contributions.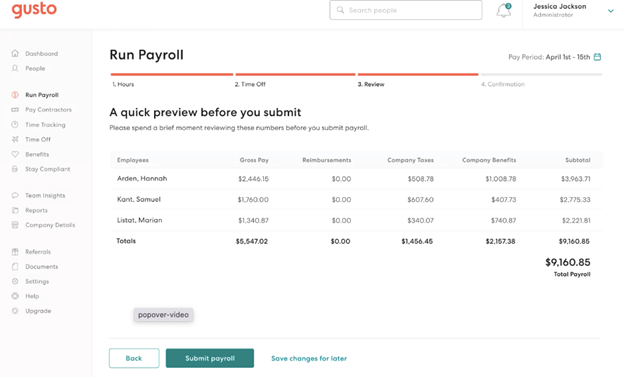 You can do a final payroll review to ensure everything is accurate before running payroll with one click. Credit: Gusto
Gusto Features
| | |
| --- | --- |
| Full-service payroll | Automatic and easy direct deposit payments, deductions, tax filings and more |
| Employee benefits | An easy way to build the right benefits package for your team without any administration fees |
| Onboarding | Simple checklists and reliable reminders to set your new hire up for success |
| Taxes and compliance | Assistance with changing tax laws and regular filings |
| Concierge support | Certified HR pros and a dedicated support team for day-to-day questions and expert advice |
Full-Service Payroll
Gusto shines brightest with its time-saving payroll features. It automatically calculates and files your payroll taxes with the appropriate government agencies in all 50 states each time you run payroll for employees. The convenient AutoPilot option lets you set payroll to run automatically. The system can support hourly and salaried employees, as well as paying an employee different rates depending on the work they performed in a particular period. All functions are easy to manage from your smartphone or tablet as well.
Employee Benefits
Gusto offers over 3,500 small-group health insurance options, with hundreds of carriers and expert support customized for your team and budget. This includes optional plans for dental, vision, retirement, HSAs and FSAs, commuter benefits, and workers' compensation. Other helpful employee tools, like a paycheck splitter and the Gusto Wallet app, can make financial health a reality for your team.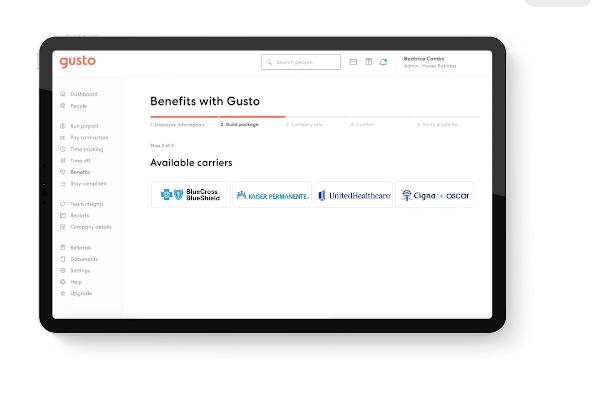 Gusto can help employees enroll in health plans from popular insurance providers, including Kaiser Permanente and BlueCross. Credit: Gusto
Onboarding
Another great time saving feature is Gusto's extensive and customizable onboarding tools. You can send tailored offer letters, get all of your necessary forms signed and stored online, and check off a custom list of tasks to get your new hires into your system and up to speed with your company so they can hit the ground running on their first day of work. Gusto also makes it easy to create or remove software accounts for new hires in Google Workspace, Microsoft Office 365, Slack, Zoom, Dropbox, Asana, Box and GitHub.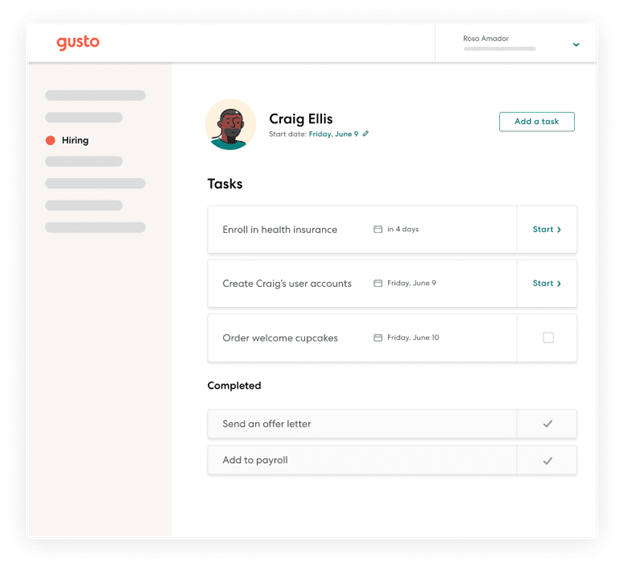 Gusto makes it easy to keep track of onboarding paperwork with a user-friendly onboarding task list. Credit: Gusto
Taxes and Compliance
The automatic calculations will lead to fewer mistakes and help you stay up to date with tax laws. Gusto will keep your team on track with I-9s, W-2s and 1099s that are signed and stored online. The simple time-tracking tools will help you comply with regulations if you have hourly employees who need to track lunches, breaks and overtime.
Gusto's HR software includes a tax filing service, which means Gusto will automatically file all local, state and federal tax forms on your company's behalf.
Concierge Support
This feature of the top-tier plan gives you dedicated access to experts with an average of 10 years of experience in state and federal employment law compliance and HR best practices. With this service, you can get help creating an employee handbook, advising employees on benefits, reviving your existing policies and more – everything short of legal or tax advice. This is especially helpful for new or growing companies that don't have a full-time HR specialist on staff.
Gusto Pricing
Unlike some payroll services that offer only one or two plans, Gusto lets businesses choose from four service plans. Each plan includes payroll processing and payroll tax services, but beyond that, the plans differ in the number of HR features and tools they include.
Contractor: $0 per month, plus $6 per contractor per month
Simple: $40 per month, plus $6 per employee per month
Plus: $80 per month, plus $12 per employee per month
Premium: Custom pricing based on client needs
If you receive a referral from an existing Gusto customer, you may be eligible to receive your first month's payroll free as part of the Refer & Earn program.
You may also incur costs for any added services you elect to include with your Gusto plan. We were impressed with Gusto's wide range of add-ons, which include the following:
Workers' compensation insurance: Gusto doesn't charge you administration fees; you pay the premium only. These pay-as-you-go workers' compensation plans integrate with your payroll.
Health insurance: Again, you won't pay administration fees, just the premium.
Broker integration: If you want to keep your current benefits broker, Gusto can integrate them (in most cases) into the system for an additional $6 per eligible employee per month.
401(k) retirement savings plans: Pricing varies depending on retirement savings plan selection.
529 college savings plan: Employees can set aside a portion of their earnings for education expenses. Gusto charges $6 per participant per month, with an $18 monthly minimum. There are no setup fees.
Health savings account (HSA): Gusto doesn't have a minimum if you want to offer an HSA with your other insurance benefits. The cost is $2.50 per participant per month.
Flexible spending account (FSA): Adding an FSA costs $4 per participant per month. There is a $20 minimum.
Dependent care FSA: If you want to offer a pretax FSA for qualified dependent care expenses, you can add it to your plan for $4 per participant per month. There is a $20 minimum.
Commuter benefits: Commuter benefits are pretax dollars that workers can use to pay for transportation to your workplace. Gusto charges $4 per participant per month, and there is a $20 minimum.
Gusto also offers unique features, such as international contractor payments, state tax registration, and research and development tax credits for various fees.
Setup
You don't need to be a technology wizard to get your Gusto account up and running quickly. For online payroll, you simply add your company's pertinent information, including your location(s), pay schedule, bank account, federal and tax information, and signatory. After you add employees and contractors with some basic information, you'll then request that your workers fill out their tax and banking data. Gusto's platform essentially walks you through each step, with customer service available should you need it.
Once you complete the setup process, Gusto will help confirm you got everything right and that you're ready to run your payroll for the next cycle. The entire process can take as little as 30 minutes.
Customer Service
Gusto provides customer support over phone, email and live chat. Current Gusto subscribers can send an email, start a live chat or schedule a call back when signed in to the platform. We like that Gusto provides an option to schedule a call back, as many competitors do not have that support option. It is a great way to avoid wasting time on hold during the workday.
Gusto also has a support number with representatives available from 7 a.m. to 6 p.m. MT, Monday through Friday. This 11-hour support window is great, as many competitors offer support for only eight hours per day, which can be challenging when dealing with different time zones.
The Gusto Help Center also provides support articles to help customers navigate the platform and provide answers to common questions. There are help articles designed for employers and administrators, employees who need support with self-service functions, contractors, and account partners.
Drawbacks
One notable shortcoming of Gusto is its inability to process payments for employees living abroad, including those working from U.S. territories such as Puerto Rico and the U.S. Virgin Islands. To make up for this payment gap, it offers payment options in a beta program for international contractors in 34 countries. For international contractors, Gusto will automatically provide the negotiated foreign exchange rate without charging extra. However, companies with numerous international employees would be missing out on many of the time-saving payroll features that make Gusto such an attractive platform.
Companies with employees in multiple states will need to enroll in the Plus or Premium plan to gain access to multistate payroll functionality. This is something to keep in mind as many employers, even small businesses, are hiring out-of-state remote employees now.
Methodology
We conducted comprehensive research and analyzed dozens of HR systems to identify the top HR software solutions on the market. We reviewed product videos and attended a demo with Gusto staff members. When looking for the best HR software for payroll specifically, we prioritized features such as onboarding and implementation, payroll processing, benefits administration, usability, integrations, reporting, and customer service.
Gusto FAQ
Can businesses pay independent contractors with Gusto?
Yes, businesses can use Gusto to pay contractors. Gusto will also automatically file and send out their 1099s at the end of the year at no additional charge.
Can businesses pay international employees with Gusto?
Gusto can be used to pay employees in the United States only. However, Gusto recently added support for international contractor payments.
Does Gusto offer employee health benefits?
Yes, in most states. Gusto supports health benefits in 37 states and the District of Columbia. It does not currently offer health plans in Alabama, Alaska, Hawaii, Louisiana, Mississippi, Montana, Nebraska, North Dakota, Rhode Island, South Dakota, Vermont, West Virginia or Wyoming.
Overall Value
We recommend Gusto for …
New and small businesses that do not have a great deal of experience or confidence with payroll, benefits and HR compliance.
Small and midsize businesses that want to save a lot of time onboarding, insuring and paying their employees and contractors.
Any business looking for a low-cost, all-in-one HR platform that is easy to use.
We do not recommend Gusto for …
Companies with a lot of international employees who cannot be compensated through Gusto.
Enterprise-level companies with large accounting and HR departments, which may not find Gusto's automated tools and features necessary.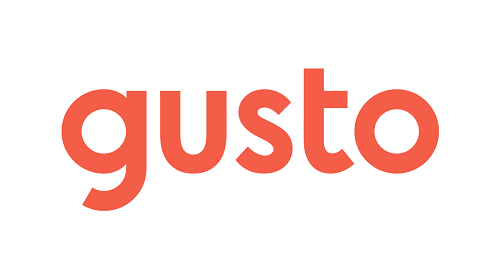 Gusto HR Software
The Verdict
Gusto's strong focus on easy-to-use payroll services and benefits for small businesses and their employees makes it stand out in a crowd of all-in-one HR software platforms, earning our best pick for payroll.

Jeff Hale
Contributing Writer
Jeff Hale is a writer and editor based in San Diego with a background in business development and marketing. He has identified new market opportunities for Fortune 500 companies and developed communications strategies and digital branding for tech startups and small businesses. Jeff covers emerging technologies and business solutions with a focus on efficiency and growth. He holds a Bachelor's degree in English from the University of California, Irvine, and an MBA from Chapman University.