BambooHR offers lots of add-ons, customization options and third-party integrations. The performance features are especially impressive, making BambooHR our pick for the best HR software for performance management.
Pros
BambooHR has strong performance management features that support goal tracking, performance assessments and ongoing 360-degree feedback.
BambooHR offers robust reporting tools that enable managers to keep tabs on progress toward performance management goals.
BambooHR offers a seven-day free trial.
Cons
Pricing is not transparent; you must speak to a sales agent to get a price quote.
BambooHR's scheduling and benefits administration features are a bit limited compared with those of some competitors.

BambooHR is an all-in-one HR platform with advanced performance management tools.
BambooHR supports a wide range of performance management tasks, including goal setting and tracking, 360-degree feedback, and performance assessments.
We examined the leading HR software providers and chose BambooHR as the best for performance management.
This review is for business owners who are considering BambooHR for their HR software.
BambooHR is a popular general HR software platform for small and midsize businesses. The software offers robust performance management features like goal-setting, performance feedback and employee surveys. BambooHR also offers intuitive reporting and dashboards to help managers monitor employee performance. The platform is highly customizable, with a long list of add-ons available directly from BambooHR or through its marketplace solutions partners, including integrations with several popular performance management tools. It places a strong emphasis on the people within your organization, making it our best pick for performance management. 
BambooHR Software Editor's Rating:
9.4 / 10
Features

9/10

Pricing

9/10

User interface

10/10

Integrations

10/10

Customer support

9/10
Why BambooHR Is Best for Performance Management
BambooHR offers advanced management tools to set and track employee goals, gather 360-degree feedback and send out self-assessments. We particularly liked that the platform provides a simple manager feedback process with four templated questions that help managers deliver clear, direct feedback to employees within the BambooHR platform. Using this tool, employers can add up to three custom questions to address role or organization-specific performance areas. Managers can also select co-workers to answer two peer feedback questions and ask the employee to complete a self-assessment, allowing for valuable 360-degree feedback. We found these features helpful for encouraging regular check-ins and communication around performance management, which is critical for employee development.
BambooHR also offers a wide array of reporting options that support performance management, including both company-wide and team-specific reporting. Managers can view reporting centered on goal progress and performance assessment progress to easily track each of their team members' performance and any outstanding performance assessments.
We also liked that the software also lets you create an automated schedule to send these surveys on a recurring basis to facilitate ongoing discussions regarding employee performance. BambooHR also integrates seamlessly with several other performance management tools, giving employers even more options and resources. These robust features make BambooHR stand out as the top HR software option for employee performance management.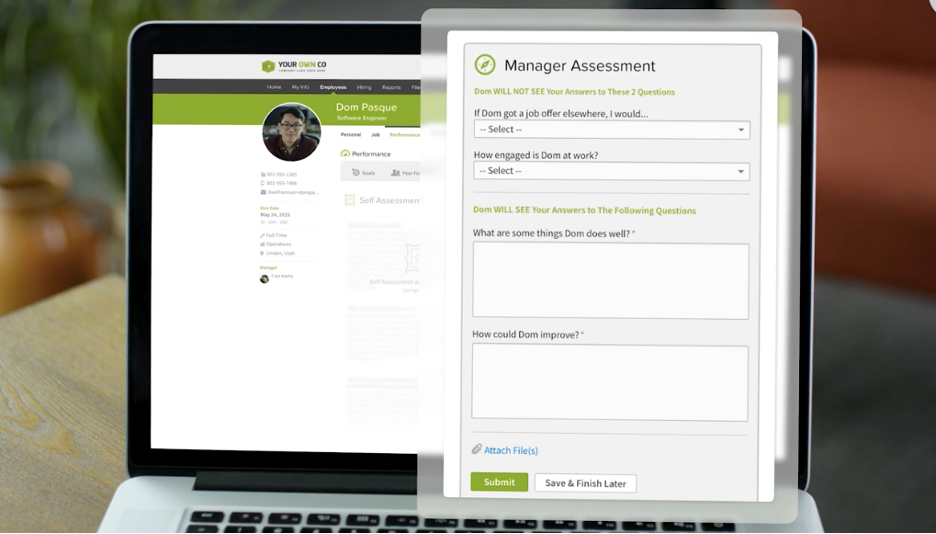 BambooHR provides a simple manager assessment process with four simple questions to help managers give clear, relevant feedback on a regular basis. Credit: BambooHR
Usability
BambooHR offers a clean user interface that presents the most important information to users right away. No more than a couple of clicks are required to get to the tools you need. The data BambooHR selects and displays for measurement revolves around the people in your company. The people-focused admin dashboard shows you who's out for the day and displays any approved time off in the upper-left widget. It also gives you a list of "celebrations" for birthdays and work anniversaries to encourage you and other admins to help everyone at the company feel noticed and appreciated.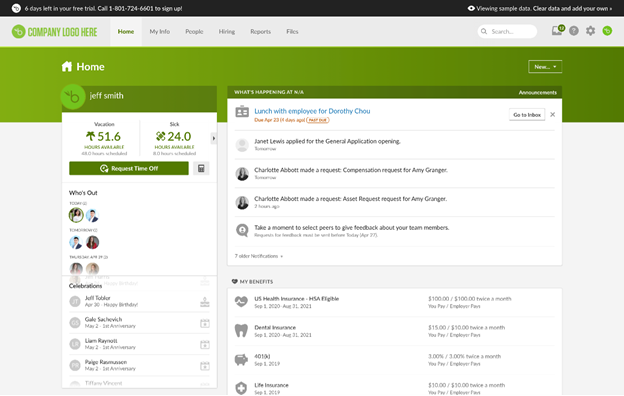 The top of BambooHR's dashboard shows vacation and sick time at a glance, as well as team members who are out, ongoing chat messages and task updates. Credit: BambooHR
The large center widget for announcements gives you access to time-sensitive notifications regarding lunch appointments, new applicants, employee requests, document signatures and more. We like the home dashboard reminders that encourage managers to provide feedback about their team members. Keeping communication-centric features like these at the top of the dashboard will help ensure that your team leaders and HR admins are making the time to understand how team members are succeeding and where they may need help growing within their roles or working with their peers.
The dashboard offers intuitive navigation, notifications and reminders, making it easy to stay on top of pending tasks.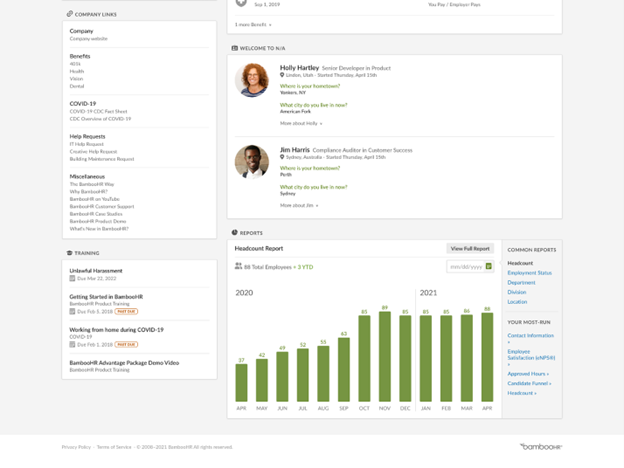 The bottom of the dashboard includes customizable reporting graphics, key company links and training resources. Credit: BambooHR
The bottom of the home admin dashboard displays a wealth of custom report data on your employees, including headcount, employment status, department, division and location. We really like how your most-run reports auto-populate in this section, giving you and your HR admins intuitive modifying abilities to increase efficiency in your day-to-day tasks.
One standout feature here is Employee Satisfaction with eNPS (employee Net Promoter Score). You can create employee surveys to get easy-to-understand, actionable insight into your employees' satisfaction levels. Use the results to increase productivity, reduce turnover and boost your company's reputation.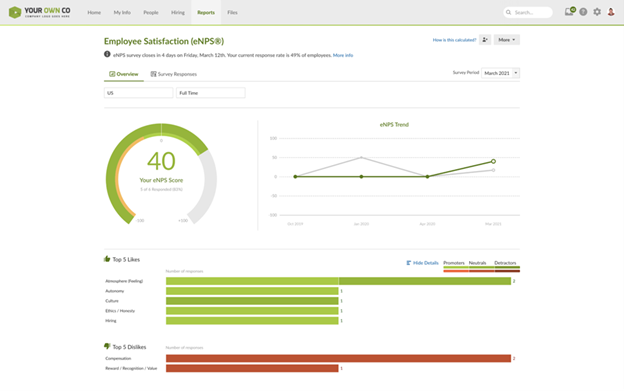 The Employee Satisfaction (or eNPS) feature helps you measure employee morale. You can also see the top five things people like about working for your company, as well as their top five dislikes. Credit: BambooHR
Employees or managers can set goals within the platform and allow employees to get involved in their own professional development if desired. We especially liked that managers can access a goal status dashboard to see, with clear progress charts, how all of their reports are progressing on their set goals. They can also use in-platform tools to provide performance assessments or solicit peer reviews and self-assessments.
BambooHR Features
| | |
| --- | --- |
| Performance management | Evaluate and improve performance in your organization via a three-piece approach. |
| Employee satisfaction (eNPS) | Reduce turnover costs, increase productivity and improve your company's reputation. |
| Open API | Find the right developer to build custom integrations. |
| Onboarding | Create an effective program to retain new hires and keep them engaged. |
| Marketplace | Integrate with popular tools and benefits providers. |
Performance Management
We found BambooHR's three-pronged approach to evaluating an employee's performance, consisting of manager and self-assessments, peer feedback, and goals, to provide a complete perspective of how the employee is doing. This system does more than determine if someone is ready for a raise; it asks questions designed to improve performance, which we found helpful in improving the quality and depth of performance reviews. Review cycles can be set to run annually, semiannually or quarterly. By tracking and measuring employees' performance and goals with built-in analytics, managers and executives get actionable insights for both individual employees and the company as a whole.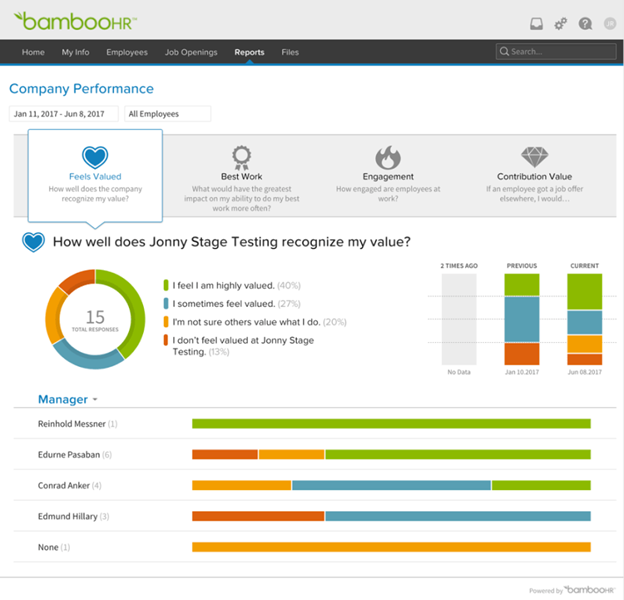 BambooHR's performance analysis tool helps you understand individual employees' attitudes about your company and identify possible shortcomings, especially concerning key players on your team. Credit: BambooHR
Employee Satisfaction (eNPS)
Regular internal surveys with anonymous submissions are necessary to improve company culture, but digesting that information can be time-consuming. This feature assigns you an employee Net Promoter Score based on a series of quick questions your team has answered. The software scans the responses for keyword analytics before identifying them as positive, neutral or negative feedback. We liked that the eNPS tool allows you to see trends in your results, filtering by age, employment status, length of service and location for each department or division. Over time, these analytics make identifying trends in employee satisfaction easier. You can use your insight into those trends to reduce employee turnover, increase productivity and improve your company's reputation.
Open API
BambooHR uses a RESTful API that can help modify employee data and generate reports in multiple formats. The open API makes it easy for your developers to integrate other applications with your account to share data seamlessly across your systems. We found this makes it a good option for midsize businesses that have their own internal IT teams and want to get inside the software to customize it to their needs. 
Onboarding
BambooHR's structured process ramps up new hires quickly and keeps them engaged. You can easily modify your onboarding checklist and set due dates that trigger automatic reminders. The customizable new-hire packet lets you handle all of the normal paperwork quickly with e-signature capability. This platform gives you everything you need to make sure your newest team members hit the ground running on their first day.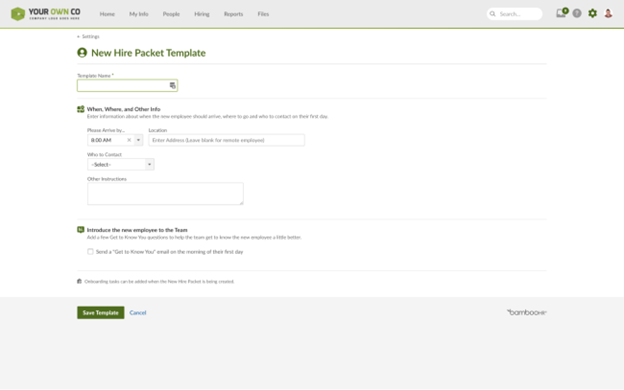 BambooHR provides customizable onboarding templates to streamline the new-hire paperwork and onboarding process. Credit: BambooHR
Marketplace
You can find a solid list of free and paid apps and integrations through the BambooHR Marketplace, including those for hiring and onboarding, people and culture, compensation and benefits, and business operations and growth. Access to Google Single Sign-On, Indeed, Glassdoor, SAML, Gifted and Truework is free. 
Organizations focused on performance management will also enjoy the many performance software integrations. BambooHR offers solid performance management tools on its own, but it can also integrate with popular solutions like Lattice, 15Five, Culture Amp, and PerformYard.
BambooHR HRO
BambooHR is a comprehensive HR outsourcing service and software platform that includes many of the services and tools needed to manage your workforce, such as recruiting, document management, and hiring and onboarding solutions. You can also add on services for payroll, employee benefits administration, time tracking and performance management. BambooHR's HRO offerings combine helpful digital tools with expert advising to support small businesses as they navigate HR management.
BambooHR Pricing
Pricing for BambooHR varies based on company size, the selected service tier and chosen add-ons. For companies with more than 20 employees, BambooHR charges on a per-employee-per-month basis. For companies with 20 or fewer employees, BambooHR has a flat monthly rate. There is no annual contract required. You will need to contact BambooHR to get a custom quote. There is a free trial available that you can use to test out BambooHR's platform, including the applicant tracking features.
Applicant Tracking
The BambooHR platform has a built-in applicant tracking system so that employers can manage candidates and current employees in one unified solution. Companies can use BambooHR to post jobs to popular job boards like Indeed, Glassdoor, LinkedIn and ZipRecruiter. Then, BambooHR pulls in applicants from all of those sources to provide a central location for employers to review candidates and manage candidate communications.
Recruiting Analytics and Reporting
BambooHR offers robust talent acquisition analytics and reporting. Businesses can access a number of customizable reports, complete with a "favorites" tab to easily identify and take action on crucial reports. With features like the Candidate Source Report, businesses can also see a visual breakdown of where and why candidates are dropping off in the recruitment process – a valuable insight that can enhance your scaling process. Additionally, BambooHR helps employers craft compensation packages and workplace policies that make a company more attractive to candidates.
Payroll and Taxes
Accurately and compliantly managing payroll and taxes can be time-consuming for small businesses. With BambooHR, payroll can be automated and simplified with the company's easy payroll process. Employees can track their time using the platform and submit timesheets each week or pay period. BambooHR will automatically calculate pay and deductions, and employers can review and approve the information for payroll processing. BambooHR can also take care of all federal, state, and local payroll tax deductions and filings.
BambooHR Costs
BambooHR offers two subscription packages, Essentials and Advantage, to cover the HR needs of most small and midsize businesses. Unfortunately, the company does not publish or advertise the pricing for any of its products or services. 
Most of the companies we've reviewed in this category at least provide a starting cost (usually a monthly per-user fee on top of the monthly base fee) for their lower-level service packages and add-ons. Existing BambooHR customers have reported pricing from $5 to $40 per user per month, which would make this one of the more expensive HR software providers we reviewed. 
The lack of clear pricing could make comparing plans and services from alternative providers much more difficult. If price comparison is a priority for you in your search for an HR software solution, consider our Paychex Flex review or Gusto review for vendors that offer transparent pricing plans.
Essentials
Pricing: Custom quote required
Standout features: Employee records, benefits tracking, standard reporting, document storage, email alerts, time-off management, single sign-on, mobile app functionality, workflows and weekday email support
Advantage
Pricing: Custom quote required
Standout features: Advanced reporting, branding, audit trails, open API, BambooHR Marketplace access, employee satisfaction gauge with eNPS, onboarding, offboarding, e-signatures, training progress and weekday telephone support
Add-ons
Many add-ons are available that cover payroll, time tracking and performance management, including full-service tax filing, employee access, timesheets, automatic overtime calculations, manager and self-assessments, and performance reports. However, these features are not included in either subscription package; you must pay extra for them, and some add-ons may be available only with the Advantage plan.
We really like that BambooHR offers a seven-day free trial that doesn't require a credit card. After answering a few short questions about your company, the size of your operation and your HR needs, you get full access to a demo account that's customized to your business's requirements.
Before you buy, take advantage of BambooHR's seven-day free trial to be sure it is the right fit for your company and your team. If you need a bit more time to decide after your trial period expires, reach out to the BambooHR team to get an extension.
BambooHR Setup
You can expect to receive a great deal of assistance when implementing your new BambooHR account. Once you sign up for a plan, BambooHR will assign a dedicated HR project manager as part of your implementation team to guide you through each step of the setup process and customize your account to suit your company's needs.
Your project manager can help you define all of the correct permission levels across your enterprise, configure any important workflows and approval processes, customize employee onboarding information, and implement anything else you need to get your HR department up and running smoothly. Organizing your HR account the right way from the beginning will save you significant time and frustration down the road. BambooHR will ensure you're ready for success.
BambooHR Customer Service
Customer service is available for all subscribers by email on weekdays from 10 a.m. to 7 p.m. ET. Telephone support is available for Advantage plan subscribers on weekdays from 10 a.m. to 7 p.m. ET. This service window is about average for HR software vendors, but many of Bamboo HR's competitors include phone support in all packages, rather than requiring a higher-level package to unlock phone support. 
The BambooHR website also has a vast library of self-help articles, interactive guides and webinars to answer the most common questions related to the software and settings. We liked that the self-help content was very thorough and that users have different delivery formats to choose from. Many help articles provide the option of watching a video tutorial or following a step-by-step article tutorial with screenshots to learn new processes. Since everyone has different learning styles and preferences, we love that there are multiple tutorial options available.
BambooHR Drawbacks
One downside of BambooHR is that the lack of transparent pricing means you will have to devote some time and effort just to discover if BambooHR is a viable option for your business; you must call and discuss your needs just to get a ballpark quote. Without published price estimates, it's difficult to compare service providers, and adding new features down the road could significantly increase your monthly cost. On the plus side, companies without set prices may allow you to negotiate a better deal if you speak to a sales agent at the end of the month or quarter.
Another limitation is that there's no direct option to manage your employee benefits, such as health insurance or retirement plans, through BambooHR. However, the platform can track your benefits. BambooHR has a large app marketplace with full integrations for benefits administration through Maxwell Health, PlanSource, BeneTrac and Effortless Admin. It has similar integrations for financial services, including 401(k) and retirement benefits, through Human Interest and LoanBenefits. However, as some customers have pointed out, all these additional piecemeal features can make the cost of your overall HR service skyrocket quickly. If you would prefer additional benefits administration tools or plans, check out our Zenefits HR software review; we picked Zenefits as our top choice for benefits administration.
Methodology
We conducted comprehensive research and analyzed dozens of HR systems to identify the top HR software solutions on the market. We reviewed product videos, product tours and the available free trial to get a feel for the BambooHR platform. When looking for the best HR software for performance management specifically, we prioritized features such as peer feedback, goal-setting and performance review templates.
BambooHR FAQs
Yes, the BambooHR platform is cloud-based. Users do not have to download or install anything to access any of the included HR tools.
No, BambooHR is not a free software, though the company does offer a seven-day free trial. Employers can expect to pay somewhere between $5 to $40 per user per month with BambooHR, though you'll need to contact a sales representative for a precise price quote. 
Yes, BambooHR includes payroll processing in its core services. Employers can use BambooHR's Payroll Center to review, approve, and run payroll.
Yes, BambooHR can integrate with a wide variety of other software tools, including QuickBooks.
No, BambooHR is an HR software platform. However, it does integrate with some customer relationship management software, including Pipeline CRM.
BambooHR integrates with many of the top background check services, including Checkr, GoodHire, and Backgrounds Online.
Overall Value
We recommend BambooHR for …
Businesses that are looking for a people-focused, general HR platform with a strong emphasis on employee performance.
Small and midsize businesses that want to improve their company culture through a deep understanding of employees.
Any business that wants to assemble a highly customizable HR platform.
We don't recommend BambooHR for …
Small and midsize businesses that are looking for a straightforward HR service to handle onboarding, employee benefits, payroll taxes and compliance through one subscription plan.
Business owners who like to see transparent pricing rather than having to contact a sales rep for a quote.