TriNet is our choice as the best PEO for tailored industries due to its proprietary PEO platform, vertical customization and industry-first expert support teams.
Pros
TriNet works with specialists from a wide variety of industries to provide customized, industry-specific support.
The company offers a diverse range of benefits options, including premium benefits.
Cons
Businesses in some high-risk industries, like heavy construction, are not eligible for PEO service.
TriNet's plans and pricing options are not as flexible or as transparent as some competitors'.
TriNet provides transparent pricing and customizable PEO plans with industry-specific tools and support.
TriNet charges per employee, which makes it easy to predict costs as your company grows.
TriNet is accredited by the ESAC and the IRS, two of the major PEO accrediting agencies.
This review is for small business owners who are interested in learning about TriNet's PEO services, features, strengths, limitations and pricing.
TriNet has a proprietary professional employer organization (PEO) platform, extensive customization options and industry-specific expert support teams, making it our choice for the best PEO for industry-specific support. TriNet is one of two PEOs we reviewed that provide industry-specific support teams. The best PEO services offer a dedicated team of experts who coordinate your services, and with TriNet, you have access to experts who are not only knowledgeable in their field (like payroll, HR or benefits administration) but also have experience in your type of business. This is a valuable feature for small businesses that need targeted assistance.
TriNet PEO Editor's Rating:
9.7 / 10
Customer service `

9.5/10

User interface

10/10

Benefits offerings

10/10

Payroll functionality

9.5/10

Pricing

8/10
Why TriNet Is Best for Industry Expertise
Of all the PEOs we reviewed, TriNet was one of only two to offer industry-specific tools and guidance. TriNet has customer support teams with expertise in your industry and provides the most comprehensive industry-specific support features. This is a valuable resource for business owners who need help navigating the issues and regulations that are unique to their industry. TriNet even offers tools for highly regulated industries, such as financial services or healthcare. 
TriNet's team of HR and industry-specific experts can guide employers through changing industry regulations. They can also provide guidance on unique competitive challenges relevant to specific industries, including manufacturing or supply chain issues. TriNet can even help small businesses reduce overhead costs and manage other cost-cutting strategies to work through this challenging time of inflation and economic uncertainty. Employers in highly competitive or heavily regulated fields are likely to benefit from TriNet's unique industry expertise.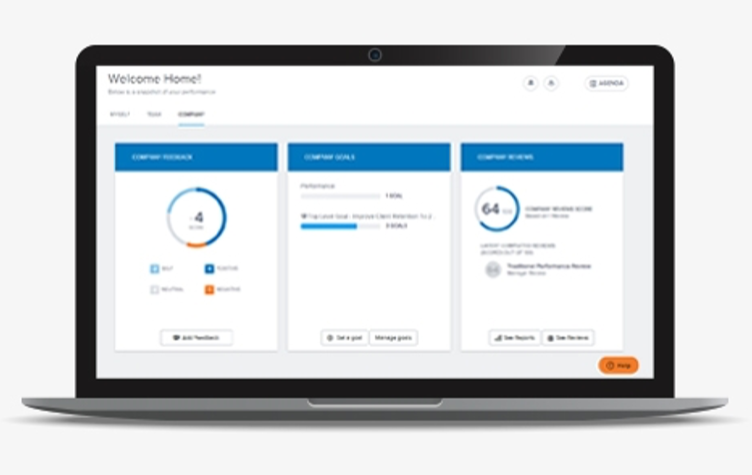 TriNet shows key information at a glance, with simple, organized dashboards and widgets. Credit: TriNet
TriNet offers specialized support to meet the HR and risk-management needs of different industries. View a list of the industries for which TriNet provides specialized support on the company's website, or inquire about support for other industries.
Usability
We found TriNet's platform intuitive and easy to navigate. The platform presents information such as payroll alerts, pending tasks and benefits enrollment in a clear, easy-to-read manner on the admin and employee dashboards. Users can quickly navigate through different actions, such as viewing reports or accessing company policies on the platform's left-hand menu. We liked that everything was laid out clearly and there was no need to search to find the pages or features that you need.
The reporting and analytics tools on the platform are thorough, but still relatively user-friendly. TriNet offers a wealth of prebuilt reports that cover key topics such as payroll, taxes, compliance and benefits.We particularly liked TriNet's workforce analytics dashboard, which provides quick links to recently reviewed reports and customizable widgets visualizing key metrics.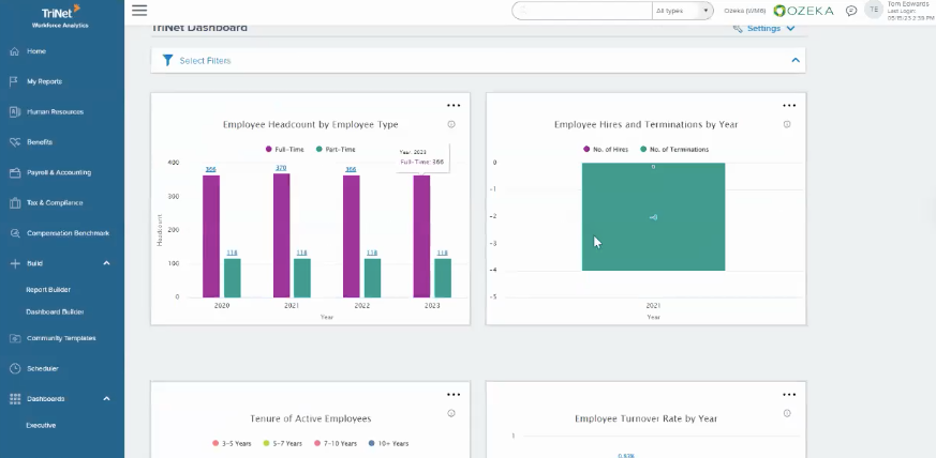 Employers can quickly review key metrics with the TriNet workforce analytics dashboard. Credit: TriNet
Part of what makes TriNet such a simple, easy-to-use service is its customization. TriNet can provide industry-specific services and features that add up to one of the most tailored service offerings of any PEO we reviewed. TriNet also includes an integration center where users can easily install prebuilt integrations and application programming interfaces (APIs) for enhanced data visualization and reporting tools.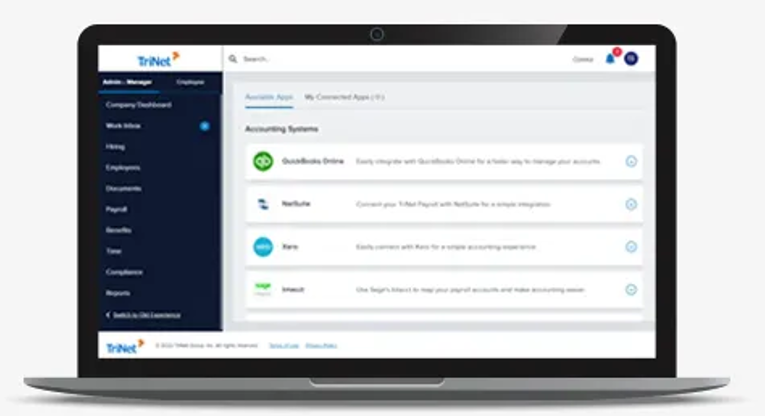 TriNet subscribers can use the Integration Center to access prebuilt integrations and APIs. Credit: TriNet
TriNet provides great self-service features for employees. Employees can update their information, download an employment verification form, submit expenses, view their time and payroll data, and review their performance goals in the TriNet platform. Employees can also access their benefits information, such as their 401(k) plans or health insurance, as well as educational materials about their plans at any time through TriNet or the mobile app.
TriNet Features
| | |
| --- | --- |
| HR administration  | TriNet offers a full-fledged HR administration offering, with services ranging from handbook development to termination assistance. |
| Employee benefits  | Because of its co-employment model, TriNet offers competitive benefits to all of its small business partners. |
| Payroll and taxes  | TriNet's online platform makes payroll processing and tax administration simple and easy. |
| Risk and compliance  | TriNet offers OSHA and ACA compliance. |
| Recruiting | TriNet integrates with popular job boards and social media networks for a seamless recruiting process. |
| Training and development  | Partnering with TriNet means you and your workers will have access to an extensive learning management system. |
HR Administration
TriNet can facilitate various HR tasks, including employee onboarding, handbook and policy development, workforce reporting and analytics, performance management, employment tracking, recruitment tools, and termination and dispute assistance.
Like many PEOs, TriNet provides businesses with access to HR experts for help with common employment and payroll questions or concerns. These experts can help with recruiting, compliance, payroll processing, and the creation of employment policies. Where TriNet goes above and beyond the competition is in its industry-specific consulting support. Business owners can work with specialized consultants who have years of industry expertise to navigate industry-specific compliance and HR issues.
Employee Benefits
TriNet gives users access to their employee benefits plans, including health insurance, vision insurance, dental insurance, retirement plans, health and wellness programs, commuter benefits, auto and home policies, and marketplace discounts. Some PEOs we reviewed partnered with only a few health insurance vendors, but we were impressed by TriNet's extensive benefits offerings. The company offers health plans through a variety of major carriers, including Kaiser Permanente, Blue Shield, Aetna and UnitedHealthcare.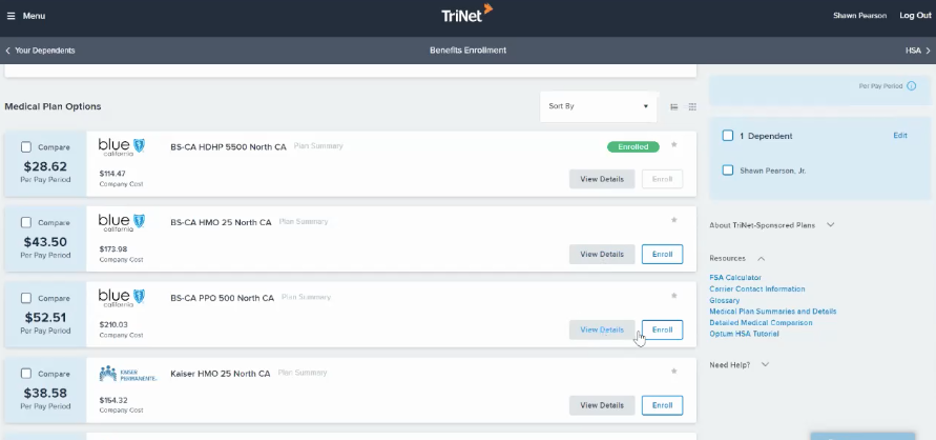 TriNet provides an intuitive benefits enrollment process, with helpful tools such as plan comparisons and a cost calculator. Credit: TriNet
The benefits enrollment process is also user-friendly for employees. We like how easy it is for employees to compare coverage and costs across the available plans with TriNet's helpful comparison charts. This makes the selection process much simpler, especially for employees who don't have a comprehensive understanding of different health insurance plan types and options.
TriNet's health plans also include access to a Health Advocate. The Health Advocate acts as a resource for employees that need help understanding their plans or bills. They can also guide employees through processes like getting preauthorization from the insurance provider for medical treatments.
Payroll Processing
TriNet has software to process payroll and pay taxes, as well as tools for time and attendance tracking, expense management, W-2 preparation and tax administration. TriNet also has payroll experts to provide support with payroll questions and compliance. The payroll self-service tools make it easy for employees to electronically access their pay stubs and tax forms and update their direct deposit information. This information is also accessible from the mobile app.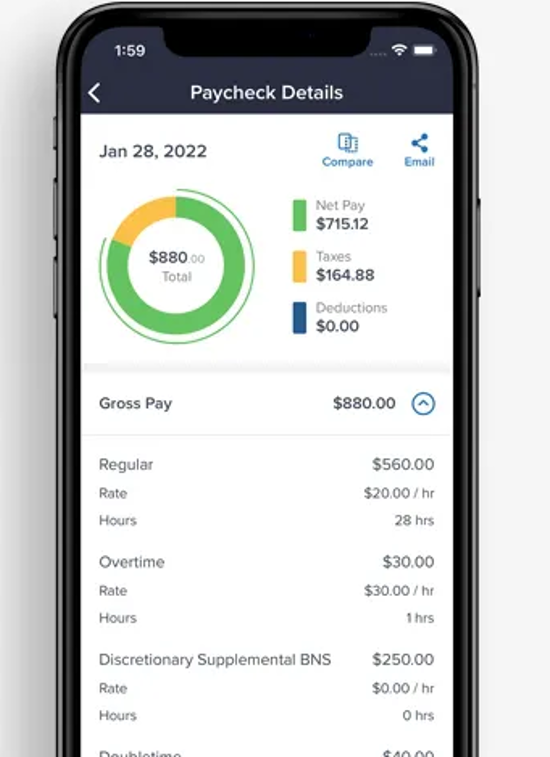 Employees can easily view their pay stubs and other payroll information through the TriNet mobile app. Credit: TriNet
Risk and Compliance
TriNet can help your business stay compliant with federal, state and industry-specific laws and regulations through workplace safety training, claims management, workers' compensation insurance, Occupational Safety and Health Administration (OSHA) and Affordable Care Act (ACA) guidance, and employment practices liability insurance.
TriNet's industry-specific experts also act as a compliance resource for businesses that need to abide by industry regulations. Businesses in industries with a high risk of workplace injuries, like manufacturing and distribution, can benefit from onsite safety assessments from one of TriNet's experienced PEO risk management consultants.
Recruiting
TriNet can be used to recruit employees with ease. Employers can build their job posts within the TriNet platform and then share them to social media sites like LinkedIn and job boards. TriNet can post your job to Indeed, Monster, Glassdoor, Jobs.com and Jobted for free. Paid posting options are also available to employers who want to extend their reach further or post on more industry-specific sites. Employers can also set up skills assessments for applicants to complete and add interview questions for the hiring team to ask.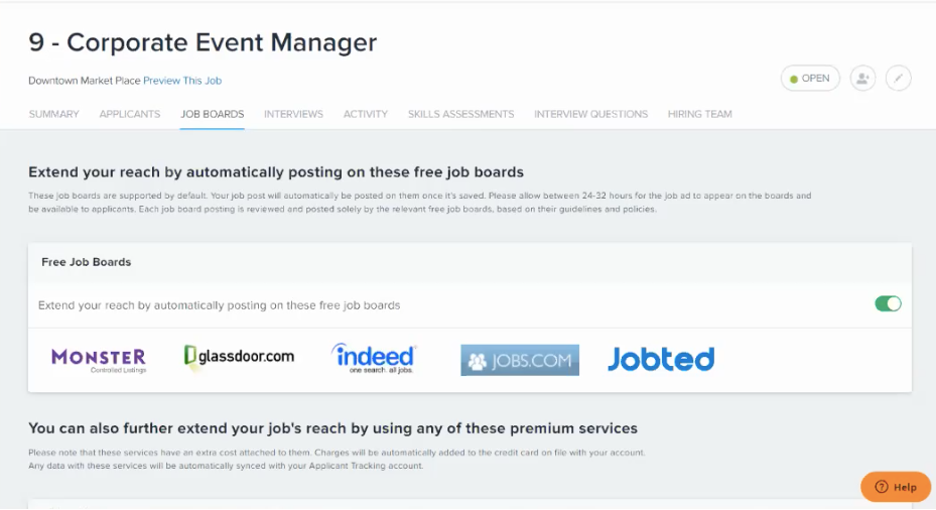 Create a job posting in TriNet and seamlessly share your job opening to tons of job boards and social media sites. Credit: TriNet
Once applications start coming in, TriNet shows them all in the "Your Talent Pool" tab. This feature allows you to review candidates on one centralized portal regardless of what job board or site they applied on. Recruiters can also contact applications and set up interview meetings within the platform. Lastly, TriNet partners with GlobalHR for background checks. TriNet customers receive preferred pricing on background checks from GlobalHR and can order a variety of industry-specific background checks within the TriNet platform.
Employee Training and Development
TriNet comes with access to its proprietary technology platform, which includes a learning management system. The learning management tools allow administrators to assign learning activities to employees and track their completion. Employees can track resources and build on their education over time. You also can use this platform to administer virtual training seminars and encourage employee professional development.
The performance management tools allow managers to set goals for employees and provide ongoing feedback. The platform also provides intuitive dashboards for tracking performance progress. One feature we really liked was the ability to add notes throughout the year and easily use them to complete annual performance reviews or provide feedback on projects between reviews.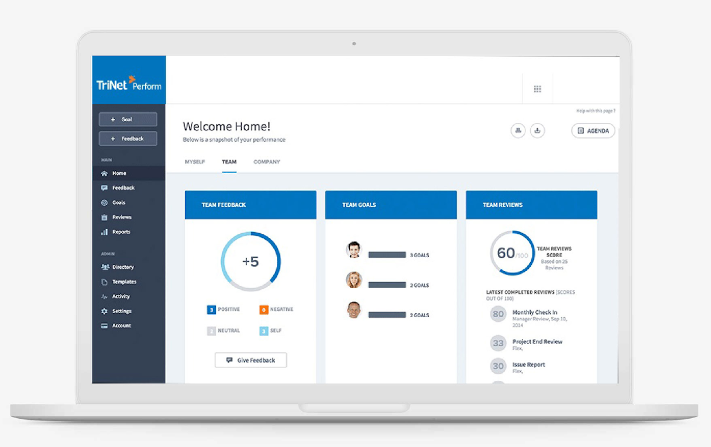 The TriNet home dashboard displays key information in a user-friendly format. Credit: TriNet
Zenefits HRO
Zenefits offers human resources outsourcing (HRO) services that combine the company's user-friendly tech platform and advisory services from HR, payroll and tax experts to help small businesses navigate common HR concerns. Businesses and employees gain access to a wide range of self-service tools such as benefits enrollment, timekeeping and onboarding paperwork and more through Zenefits' intuitive platform. When paired with expert support from Zenefits' team of HR, payroll and tax experts, the platform and HRO services can save small businesses a lot of administrative time while ensuring that they're operating compliantly.
Zenefits HRO Pricing
Zenefits HRO offers three pricing levels: 
Essentials: For $8 per employee, per month (billed annually) or $10 per employee, per month (billed monthly), employers access to onboarding, employee management, time-off tracking and scheduling tools. It also includes access to integrations and the Zenefits mobile app.
Growth: For $16 per employee, per month (billed annually) or $18 per employee, per month (billed monthly), businesses can get everything in the Essentials plan, plus the compensation management and performance management features.
Zen: For $21 per employee, per month (billed annually) or $27 per employee, per month (billed monthly), businesses can get everything in the Growth plan, plus employee well-being and employee engagement surveys as well as people hub features.
Additional add-ins, such as payroll processing, HR and payroll advisory services and recruiting support, are available for an added cost. Zenefits also offers a free two-week demo account, allowing you to explore and orient yourself with the service and the software interface before signing up.
HR Advisory Services
Zenefits' HR advisory services give small business owners access to a team of HR and payroll experts to consult on HR challenges that arise. This includes navigating compliance challenges, difficult employee situations and updating company policies. This is a great service for small businesses that don't have the resources to build a full internal HR team but need expert support in handling employment matters. Businesses can also work with payroll managers and HR managers through Zenefits HR outsourcing advisory services who will assume the role of a typical payroll or HR department for your business.
Tax Services
Zenefits offers expansive tax advisory services for small businesses that need help navigating complex payroll tax matters. One of the most useful tax services offered by Zenefits is tax account setup. Zenefits' team of experienced tax accountants can assist with payroll taxes as well as additional taxes related to your business's income and sales tax obligations. This is great for small businesses that are just getting started, transitioning away from a PEO model or expanding into new states. Zenefits' tax advising team can also conduct payroll tax compliance audits, payroll tax jurisdiction monitoring and help with tax filings.
Tech Platform
Zenefits includes access to its user-friendly HR platform in its HRO packages. The company has a user-friendly platform that makes using the workforce easy for administrators and managers. It also offers a mobile-friendly version of the software, so you can check in on your team even when you're on the go. Companies can use this tech platform to offer a more seamless employee onboarding experience, simplify payroll processes and streamline benefits enrollment for their teams.
TriNet Costs
TriNet charges per employee with the option to create a customized PEO agreement. Specific pricing depends on the services you choose, so you'll need to contact a TriNet representative for a custom quote.
TriNet doesn't require a long-term contract. Instead, the company creates contract terms based on your needs. You can pay for the tools on an ongoing basis and cancel at any time with 30 days' written notice. Cancellation fees may apply in certain situations.
While TriNet provides a lot of flexibility in its pricing and agreement structure, the features are bundled into one solution. Although TriNet provides unique solutions based on your vertical, every plan includes access to payroll, risk mitigation, employee benefits, HR and the technology platform. This isn't necessarily a downside; it just means that when you partner with TriNet, you'll pay for the full service offering. You need at least five employees to sign up, which is standard for PEOs. The PEO plans are easily scalable to grow with your business.
TriNet's per-employee pricing model allows you to predict how your costs will change as you add employees.
TriNet Setup
Once you sign up, you'll work closely with a TriNet tech and services specialist to get started with your new PEO offering. This transition should be seamless as long as you have your employee and business information ready. Implementing TriNet takes approximately two weeks, though larger businesses or those with more complex needs may have longer setup times.
TriNet's platform integrates all of your HR needs into one easy-to-access online portal, which allows everyone to make changes to their plans and view plan information as needed. This usability is important in ensuring your team gets the most out of the PEO service you choose.
TriNet is ideal for businesses that have industry-specific needs for a PEO. Although every TriNet PEO plan comes with the bundled HR services (including payroll, risk mitigation, employee benefits and a technology platform), the company can customize its services for you. You'll receive HR support from experts in your industry as often as you need it.
TriNet Customer Service
TriNet, like many of the PEOs we reviewed, provides a team of consultants and experts to work with you on various HR issues. However, TriNet is one of the few companies we reviewed that offer industry-specific HR management and consulting teams. The company can provide teams that specialize in one of many industries, like automotive, financial services or healthcare. This means you'll have access to experts who know not only about PEO services but also how to apply them to your specific industry
You have multiple avenues to get in touch with TriNet. Support is available via webchat, email, phone and FAQ pages, and you can also reach out to your designated HR consulting team. TriNet offers wider support hours than several other PEOs we reviewed: The company offers 24/7 live chat support, as well as phone support from 6 a.m. to 12 a.m. ET.
We interacted with TriNet representatives over live chat, email and phone. All of the representatives we spoke to were helpful, informative and knowledgeable about TriNet's features and tools.
TriNet Drawbacks
If you are looking to choose only the specific PEO features you need in an effort to keep costs low, TriNet may not be your best option. Every plan comes with bundled features — like payroll, risk mitigation, benefits, HR and the online portal — so if you're in the beginning stages of your business's growth, you'll be paying for features you may not need. Keep in mind that the bundled features are essential HR services that you will likely need anyway, but some small businesses need very few and specific PEO features.
Another minor disadvantage is that TriNet requires a minimum of five employees. This is an industry standard for PEOs and a requirement we've seen in most of the PEOs we reviewed. However, this could take TriNet out of the running if you have a very small business. If you don't meet the five-employee minimum, check out our Justworks PEO review and Justworks comparison to learn about a service with a two-employee minimum.
Methodology
We analyzed the offerings of the top PEO services on the market to identify our top picks. While conducting our research, we reviewed product videos and attended a demo with TriNet staff. When selecting the best PEO for industry-specific support, we looked for a PEO with expertise across a wide range of industries, including highly regulated industries such as finance. We also looked for a PEO with industry-specific offerings built into its platform, as well as workers' compensation options and client support tools.
TriNet FAQs
TriNet supports most industries. Some of the primary-focus industries are education, financial services, technology, consulting and e-commerce.
TriNet's HR solutions include benefits enrollment, payroll processing, risk mitigation and industry-specific HR consulting.
Yes, TriNet is a certified PEO with both IRS and ESAC accreditation.
TriNet's PEO service includes online payroll processing with direct deposit and debiting. TriNet also handles physical and electronic pay stubs and tax forms.
Overall Value
We recommend TriNet for …
New and small businesses that require flexible pricing plans.
Businesses that need industry-specific guidance.
We don't recommend TriNet for …
Businesses that are looking for low-cost or a la carte solutions.
Businesses with fewer than five employees.
TriNet Human Resources Outsourcing
TriNet is a human resources outsourcing (HRO) provider that shines in the areas of customer service and industry-specific expertise. TriNet can help small businesses with a variety of HR needs including recruiting, benefits administration, payroll and compliance through a combination of expert support and a robust tech platform.
TriNet HRO pricing
TriNet offers bundled HR service packages as well as the ability to customize your own service plan. This service flexibility results in a lot of price variance so TriNet does not provide pricing options online. You will need to contact the company directly to get a custom quote. The cost will be based on the services you want to outsource to TriNet and how many employees you have. TriNet doesn't require you to sign a long-term contract. As long as you provide a 30-day written notice, you can cancel at any time, though a cancellation fee may apply in some situations.
HR Support
Like the other HR outsourcing services we reviewed, TriNet offers support for the core HR functions like recruiting and hiring, compensation, benefits administration, and regulatory compliance. One of TriNet's unique qualities is its industry-specific HR support teams. TriNet designates its HR teams based on a business's industry, size and location. This means your support team not only will be HR experts (with knowledge in payroll, benefits, risk management and so on), but they will also have either direct or indirect experience in your company's field or industry.
Hiring and Onboarding
TriNet's platform makes it easy to hire and onboard new employees. The platform has a built-in applicant tracking system that allows employers to post jobs across different job boards and manage applicants in one centralized location. Once you're ready to make a hire, TriNet provides an intuitive digital onboarding experience that guides new hires through their onboarding paperwork.
Reporting and Analytics
TriNet's HRO services provide access to TriNet's robust technology platform with strong workforce reporting and analytics tools. TriNet offers a large number of prebuilt HR reports as well as a user-friendly report builder for customized reporting. Organizations can also schedule reports to run on a regular basis. Administrators can choose the frequency of the report, who should receive it, and its format. They can also create customized reporting dashboards for quick access to the most relevant data.