Justworks Review
Justworks offers a comprehensive PEO platform with an intuitive dashboard.
The company provides 24/7 customer service and fast responses from dedicated account managers.
Justworks can help with payroll, employee benefits, risk and compliance, and standard HR functions.
This review is for business owners who want to learn more about the features, costs, and pros and cons of Justworks PEO.
Justworks is a professional employer organization (PEO) that is designed to support small and midsize businesses. Every Justworks partner gains access to essential features such as self-service employee onboarding, document storage, payroll processing, payroll tax filing, reporting and HR compliance assistance. With its responsive 24/7 customer support, transparent pricing and intuitive tech-first platform, Justworks is our choice for the PEO with the best customer service.

Justworks
The Verdict
Justworks is a tech-first PEO, providing small business owners with easy-to-use, DIY software so they can fulfill their HR, payroll and benefits needs. You can choose between two different plans and scale them as needed.
Justworks Editor's Score: 96/100
| | |
| --- | --- |
| Customer service | 100 |
| User interface | 100 |
| Benefits offerings | 90 |
| Payroll functionality | 90 |
| Pricing | 100 |
Why Justworks Is the PEO With the Best Customer Service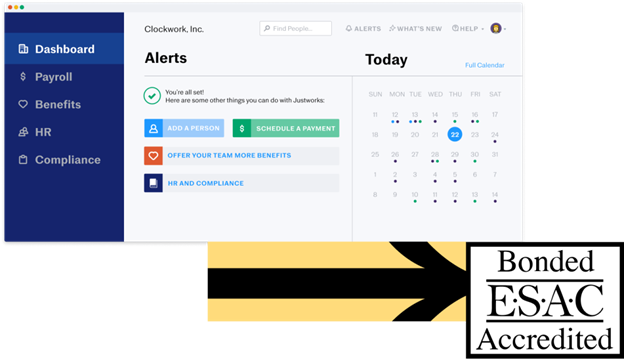 Justworks offers an intuitive dashboard with tools for easily managing your alerts and tasks. Credit: Justworks
Justworks prioritizes its customers by offering 24/7 customer support. Having customer service staff available around the clock is especially helpful in the modern workforce, which frequently includes remote or hybrid teams scattered across time zones. As such, being able to access support outside standard daily business hours is beneficial for many companies.
Justworks subscribers also get access to a dedicated account manager who offers prompt, personalized support. The average response time from Justworks account managers is two hours, which is faster than most PEOs we reviewed, particularly for email support.
Pros
24/7 customer support is available to all customers.
Justworks is one of the only PEOs that offer easy, transparent pricing on their websites rather than requiring a custom quote.
Cons
The reporting features are not as robust or as customizable as those of some competing PEOs or HR software vendors.
The basic plan does not include employee benefits such as health insurance.
Justworks is designed to support small businesses. The company's customers have an average of 20 employees. However, Justworks can provide continued support as your business grows; some of its clients have 400+ employees.
Usability
The Justworks platform is easy for administrators and employees to use. The interface feels very sleek and modern, and even your least-tech-savvy staff should find it easy to navigate. Adding new employees to the system and running payroll are both user-friendly processes.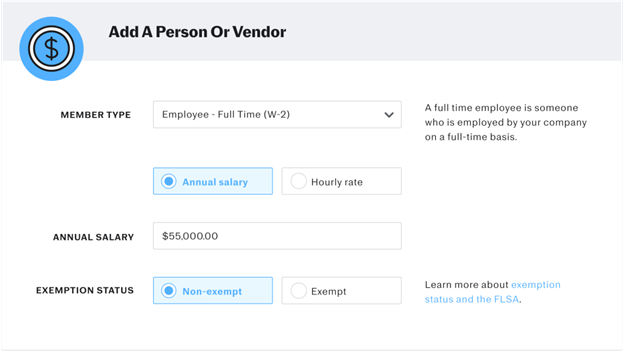 Adding a new employee in Justworks' system is quick and easy. Credit: Justworks
For an overview of how your company is performing, you can access one of many Justworks reports. Justworks breaks down data into digestible reports so you can make business decisions based on accurate information. There are many pre-built reports covering topics such as benefits and payroll, and administrators can customize the reports by selecting or deselecting different fields. You can also create and use custom fields for reporting. All of the Justworks reporting tools are located on the Reports page, which appears in the Company section along the side menu. You can also export your reports as a CSV file to easily save or share them.
Employees can use the platform for a variety of self-service tasks on both the desktop platform and the mobile application. For example, they can edit their personal profile, elect and modify employee benefits, view pay details, record hours worked, and submit time-off requests. Justworks makes these processes very straightforward, and employees can access step-by-step instructions and tutorials in the Help Center if they get stuck. The platform syncs in real time, so your entire organization has an up-to-date view of all HR details. The platform also has organization charts and company directories for easy reference.
Justworks Features
| | |
| --- | --- |
| HR services | Justworks offers self-service employee onboarding, document storage, employee handbooks, company directories, permission settings and employee profiles. |
| Payroll and tax management | You can manage employee hours, run payroll and have Justworks file payroll taxes for you. |
| Employee benefits administration | With the Plus plan, you can provide employee benefits (e.g., health insurance, dental and vision insurance, life and disability, 401(k), an HSA, an FSA, workers' comp). |
| Risk management and legal compliance | Justworks helps you maintain legal compliance by filing legal documents for you and offering legal guidance and online training programs. |
| Time tracking | With Justworks' time tracking tools, businesses can keep track of employees' hours and view up-to-date time-and-attendance reporting. |
HR Services
Justworks customers have access to several HR services from employee onboarding to termination. The intuitive online platform can streamline your employee onboarding process, letting your new hires enter their information directly into the system and thus freeing up your team to perform other HR tasks. Justworks also offers standard administrative HR management tools, like document storage, employee handbook creation and company directories. Flexible permission settings give you even more control over the platform and how your team accesses it.
Payroll and Tax Management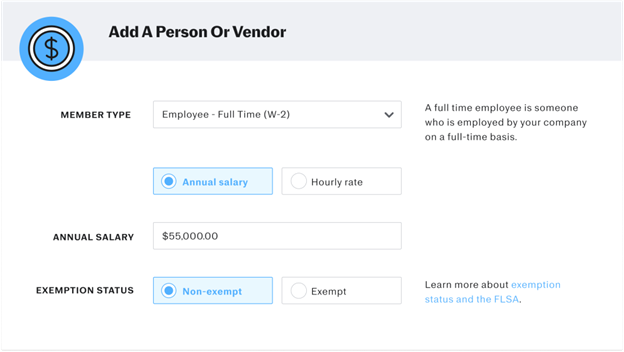 Justworks offers flexible payroll tracking and reporting, including employee reports. Credit: Justworks
The Justworks platform allows users to manage employee time and attendance. You can track and manage paid time off (PTO) requests, sync PTO calendars and set holiday calendars. When employee hours have been submitted, Justworks helps you run payroll. Payroll tools support automated direct deposit, bonuses, commissions, reimbursements, one-time payments and overtime payments. Payroll supports all types of payees, including full-time employees, part-time employees, hourly workers, contractors and vendors.
Justworks can file your payroll taxes and forms for you, such as W-2s, 1099s and payroll taxes (Form 940 and Form 941). You also have the option to run payroll reports to get a clear view of how your company is performing.
Employee Benefits Administration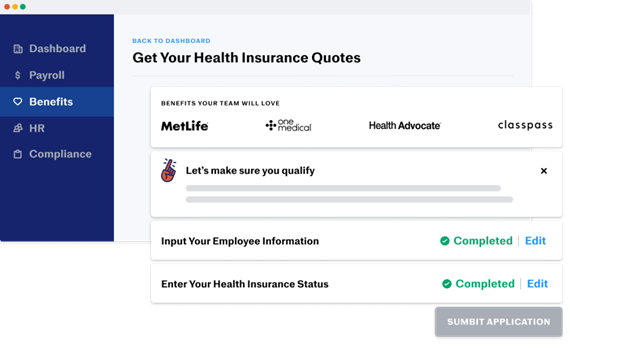 Employees can enroll in a wide range of benefits through the Justworks portal. Credit: Justworks
If you sign up for the Justworks Plus plan, your employees have access to several affordable employee benefits, including medical insurance, dental and vision insurance, life and disability insurance, workers' compensation coverage and retirement savings plans. Employees can also access additional benefits, like tax-advantaged savings accounts (health savings accounts and flexible spending accounts), commuter benefits, health and wellness perks, fitness memberships and health advocacy services.
PEOs typically charge fees for benefits services. However, these fees do not include the actual cost of your benefits plan, which is charged separately by your benefits plan providers.
Risk Management and Legal Compliance
Justworks can help your small business with risk management and legal compliance with federal, state and local employment laws. By filing your taxes and unemployment insurance for you, offering workers' compensation and taking care of Affordable Care Act filings, Justworks takes the guesswork out of legal compliance. The platform has several online resources and tools to keep you informed on current policies and regulations, as well as a free suite of online training programs, such as workplace harassment prevention training.
Time Tracking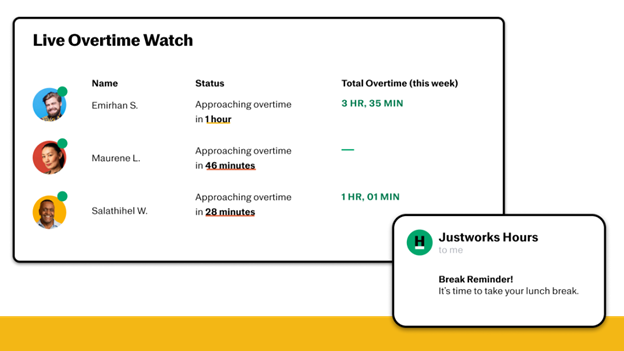 Justworks Hours includes compliance tools to avoid meal violations or unapproved overtime. Credit: Justworks
Justworks Hours, a newer addition to the platform's service offerings, acts as integrated time and attendance software. It provides time tracking functionality so that PEO customers can view real-time insights on their employees' time and attendance. Employees can check this tool throughout the week to see hours worked and overtime accrued by employee, department or overall.
Employees can clock in and out through Justworks Hours via the desktop software or mobile application. The tool also can be configured with the relevant employment laws or company policies to provide reminders to employees about required breaks or meal periods. This feature helps businesses avoid incurring fines or penalties and ensures that employees take their breaks.
Justworks Cost
Justworks offers two PEO plans, and it is one of the few PEOs we researched that share their pricing online. Most competitors make businesses contact the PEO sales team for a quote, but Justworks prioritizes a quick and transparent experience for potential customers. The company charges per employee, which is standard among PEOs. You can pay monthly or annually; if you pay annually, you receive a 15% discount.
Basic Plan
The Basic plan comes with all the essential HR services you would expect from a PEO, like employee onboarding, document storage, payroll processing, payroll tax filing, HR compliance and risk management, and HR consulting. Here's a breakdown of the per-employee costs for the Basic plan:
Fewer than 50 full-time employees: $59 per employee per month (billed monthly)
50 or more full-time employees: $49 per employee per month
Plus Plan
The Plus plan includes everything in the Basic plan, as well as access to employee benefits such as medical, dental and vision insurance; workers' compensation; tax-advantaged savings accounts; and health and wellness perks. Here's what you can expect to pay per employee with Justworks' Plus plan:
Fewer than 50 full-time employees: $99 per employee per month (billed monthly)
50 or more full-time employees: $89 per employee per month
Plus plan members can access discounted rates for part-time staff. The fees for part-time employees (defined as 29 or fewer expected hours per week) are $59 per part-time employee for companies with 49 or fewer total employees, and $49 per part-time employee for companies with 50 or more total employees.
Justworks Setup
Getting set up with Justworks PEO is simple. You select which plan you want, provide some details about your business and choose whether you want workers' compensation. Once your company is approved for workers' compensation, you can finalize the remaining details to enroll in the program.
Users can start using Justworks on the first or 16th of the month (current or upcoming), as this is when your first payroll will run. A dedicated Justworks onboarding manager will work with you to activate your account (e.g., setting up employees and benefits). According to the Justworks sales team, the full setup typically takes two to three weeks. This is on the lower end of the average setup time for the PEOs we reviewed.
The Justworks platform makes setup very easy. Administrators can enter an employee's email address to send them a link to set up their Justworks account. The platform setup process is straightforward and user-friendly on both the administrator and employee sides.
Justworks also has an expansive help center, which includes resources such as articles and video tutorials for business owners and their employees. Employees can quickly access these resources to learn more about setting up their Justworks accounts, selecting their benefits plans, enrolling in direct deposit and more.
Justworks Customer Service
Justworks has several online resources to help employers and employees manage their HR tasks. For example, the company's resource center includes guides, FAQs, articles and videos. Justworks also hosts events and webinars for HR-related education.
If you need hands-on assistance, Justworks provides 24/7 support via phone, email, chat, Slack and SMS. The dedicated and knowledgeable representatives are quick to respond to customer questions; according to Justworks, the average response time is two hours, which is considerably faster than the response times of some of the other PEOs we reviewed.
The customer experience is also great when it comes to enrolling in the service. Justworks offers transparent pricing and an easy sign-up process, thus helping busy small business owners save time. With other services, business owners may have to invest quite a bit of time working with sales teams to get a price quote and assemble a PEO package.
Justworks Drawbacks
Although Justworks offers great customer service and a solid tech platform, the PEO does not offer as much customization as some competitors. You have two plans to choose from; even if you don't need one of the services in these plans, you will likely pay for it anyway. This may not be a problem for most businesses, but it is something to consider if you want to outsource only a few specific HR functions. If you need a PEO that offers tailored plans, check out our review of TriNet.
In addition, the Justworks reporting functions are not as robust or as customizable as some business owners may want. The reports are adequate for the average HR manager's needs, but super-data-driven organizations may want to check out our Rippling PEO review for a more reporting-focused alternative.
Methodology
We conducted comprehensive research and analyzed dozens of PEO offerings to identify the top PEO solutions on the market. We reviewed product information and attended a demo with Justworks staff members to evaluate the platform's features and user interface.
We independently reached out to Justworks customer service to assess the level of support offered and to seek answers to questions that arose from our research. When evaluating PEOs for customer service, we prioritized 24/7 availability, quick response times, dedicated support and high-quality service.
Justworks FAQs
Does Justworks have a mobile app?
Yes, Justworks has mobile apps for iOS and Android.
Is Justworks PEO accredited?
Yes, Justworks PEO has IRS and ESAC accreditation.
Does Justworks offer time tracking?
Yes, Justwork Hours launched in 2021. The feature supports time tracking via desktop software and a mobile app.
Does Justworks PEO support part-time employees?
Employers can enroll part-time employees (defined as working 29 or fewer hours per week) through Justworks PEO. Businesses on the Plus plan can get discounted rates for part-time employees.
What health plans does Justworks PEO offer?
Employees registered with Justworks PEO can choose from health plans from Kaiser, Aetna and United Healthcare.
Overall Value
We recommend Justworks for …
Businesses that want transparent, upfront pricing.
Businesses that want an HR solution that employers and their employees can manage on their own (with legal guidance).
Businesses that need customer support outside standard business hours.
We don't recommend Justworks for …
Large enterprises.
Businesses that need a completely customized PEO solution.

Justworks
The Verdict
Justworks is a tech-first PEO, providing small business owners with easy-to-use, DIY software so they can fulfill their HR, payroll and benefits needs. You can choose between two different plans and scale them as needed.

Kaylyn McKenna
Contributing Writer
Kaylyn McKenna is a freelance writer specializing in business, tech, and leadership. She received her MA in Industrial-Organizational Psychology from Touro University, and enjoys using her industrial psychology background to share management, HR, and organizational effectiveness tips with small business owners. She has covered topics related to business law, compliance, employee retention, company culture, and management strategies.