Professional employer organizations (PEOs) help small businesses by serving as third-party support for HR functions. The best PEO services help employers that cannot hire a full HR staff. Our TriNet review and Justworks review cover two of the leading PEOs on the market, and each company has unique benefits. We compared the findings from our reviews to evaluate these PEO services side by side and help you choose the one that's best for you.
TriNet vs. Justworks Comparison
Pricing
TriNet
TriNet's pricing is based on the total number of employees and does not increase just because your payroll does. The pricing is customized according to the services you choose, but each plan includes access to payroll, risk mitigation, employee benefits, HR and the technology platform. These services are bundled, so you cannot choose to omit some. However, you may add more services that fit your company's or industry's needs. Growing companies will appreciate the PEPM pricing model because it will make it easier to predict future costs. 
The cost is based on the total number of employees.
The pricing is customizable and transparent.
All services are bundled.
Justworks
Justworks offers two pricing plans: Justworks Basic and Justworks Plus. The pricing for each plan is based on the total number of W-2 employees at your company. The Justworks Basic plan starts at $59 PEPM for up to 49 employees and is reduced to $49 PEPM for 50 or more employees. The Justworks Plus plan is $99 PEPM for up to 49 employees or $89 PEPM for 50 or more employees.
The Basic plan includes the following services:
Payments and payroll
Compliance support
HR support and consultation
Reporting tools
Contractor and vendor payments
Commuter benefits
Workers' compensation (required)
Life and disability insurance
Health and wellness perks
Fitness memberships
401(k)
The Plus plan includes all of the services in the Basic plan, as well as the following:
Medical, dental and vision insurance
Health savings account and flexible spending account
One Medical (based on availability) and Teladoc access
Justworks Hours is an add-on product; it is not included in the Justworks Basic or Justworks Plus package. The service costs $8 per user per month.
The pricing is based on the total number of W-2 employees.
There are two pricing plans.
Justworks Hours costs extra.
Winner: Justworks
We appreciate that Justworks offers two pricing plans to choose from. The Basic plan includes a comprehensive set of features, and the Plus plan is perfect for employers that are also looking for benefits, including medical, dental, vision and retirement options. Justworks' pricing is fairly transparent, although there are add-ons, such as Justworks Hours, that can increase the cost.
Features
TriNet
HR administration: TriNet's bundled offerings can help you manage a variety of critical HR functions, including employee onboarding, performance management and dispute resolution. We appreciate that TriNet has skilled industry-specific professionals to support customers. Employers in highly regulated industries, such as healthcare and finance, will find great value in having access to an expert who is well versed in the policies and regulations that affect their business.
Employee benefits: TriNet provides customers with access to extensive benefits offerings, including medical, dental, vision and retirement plans. TriNet also offers access to wellness programs, commuter benefits and discount programs. Many small businesses are unable to offer these benefits alone, so we appreciate that TriNet helps provide more support for employees. Some of the brands TriNet has access to include Aetna, UnitedHealthcare and Kaiser Permanente.
Payroll and taxes: TriNet offers a single online payroll processing platform, making it easy to track time and make informed decisions about your workforce. Employers will find TriNet's detailed payroll analytics and reporting very helpful. In addition, TriNet can calculate and withhold the correct tax amounts, submit withholdings and manage digital W-2 delivery. TriNet's payroll processing can integrate with common accounting systems and top payroll providers.
Risk and compliance: TriNet offers access to experienced risk management consultants. Employers in heavily regulated fields will appreciate having someone with industry-specific knowledge on their team. TriNet can provide on-site safety assessments, help businesses navigate employment laws, and assist in identifying and mitigating risks as your company grows. TriNet's experts will help you make decisions related to payroll compliance, benefits and the Affordable Care Act (ACA). 
Recruitment: TriNet offers integrations with popular job boards and social media networks. The PEO makes it simple to manage job listings on various job boards, including LinkedIn and Glassdoor. For an additional fee, TriNet can also recruit through industry-specific job boards. TriNet uses the latest technology to help streamline the recruitment process. Employers can view applications, contact applicants and schedule interviews, all through TriNet's recruiting platform. TriNet also offers international talent support and partners with GlobalHR to complete thorough background checks.
Training and development: TriNet's platform includes learning tools for both employers and employees. Employers can offer training via TriNet's platform, and learning and development initiatives can be tracked. TriNet provides performance management tools so you can track goals and feedback to help your teams succeed.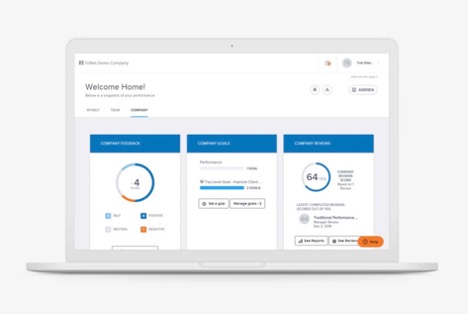 TriNet's performance management application enables employers to manage goals, capture feedback and view performance trends over time. Source: TriNet
Justworks

Onboarding: Justworks' seamless onboarding services can help you grow your team in all 50 states. New hires can review and sign paperwork within the Justworks account, eliminating the time your HR team spends on administrative tasks. Justworks offers an employee-facing onboarding checklist so new hires don't miss any important tasks. The company also provides support in the creation of employee handbooks and company policies, thus ensuring your employees have the important information they need to succeed from day one.
Payroll and tax management: It can be difficult to keep up with overtime laws and payroll requirements, so it's important to have accurate timekeeping procedures in place. Justworks Hours enables you to connect to payroll and human resources information system platforms to ensure important data is synced. Admins can set reminders and alerts, or customize overtime rules per appropriate regulations. Justworks can help you run payroll, file payroll and tax forms, and run payroll reports.
Employee benefits administration: The best benefits options are typically reserved for large employers, but Justworks customers also have access to expansive, high-quality benefits. Justworks uses a data-driven underwriting process to help determine the best options for your needs. The company offers access to both national and regional carriers, and there are several affordable benefits options, including medical, dental and vision insurance. Employee subscribers can also access other benefits, such as wellness perks and retirement plans. Employees can enroll and manage benefits from the Justworks platform.
Risk management and legal compliance: Justworks offers free online training to help employers meet compliance requirements. The company also provides access to compliance support for workers' compensation, unemployment insurance filings and ACA filings. Justworks' time-tracking solutions help to ensure that employers remain in compliance with rest- and meal-break rules, overtime tracking, and payroll and invoice reports, among other things. The platform's online resources help you stay informed about any new policies or regulations. 
Time tracking: Justworks Hours, an add-on to the company's PEO plan, costs $8 per user per month. It enables employers to create a centralized punch-in clock for employees to use via the web or Justworks mobile app. It also allows employers to customize overtime rules, set reminders for breaks, track projects, and manage labor budgets by viewing overtime hours. 
Winner: TriNet
TriNet offers performance management, which can help employers identify trends and make more informed workforce decisions. In addition, TriNet provides payroll tax processing; Justworks does not. We appreciate these two additional offerings because they can eliminate the time spent on these tasks.
When you're selecting a PEO, be sure to ask which features are included in the base price or package and which features are add-ons or part of a buy-up plan. It's important to know which features you need so you can make the best choice for your business.
Customer Service
TriNet
TriNet provides customers with a designated HR consulting team. Customers in highly regulated industries will appreciate having access to industry-specific professionals. In addition, TriNet users can access support via web chat, email or phone. TriNet offers 24/7 access to live chat support. Phone support is available Monday through Friday from 6 a.m. to midnight ET. For basic questions, customers can access helpful FAQ pages and online resources on the TriNet website.
Justworks
Justworks offers a catalog of online resources to help employers and employees with various questions. Subscribers get 24/7 support via telephone, email, chat, Slack and text, and employers have access to dedicated account managers who understand the company's unique needs and can assist with any questions. The typical response time is two hours.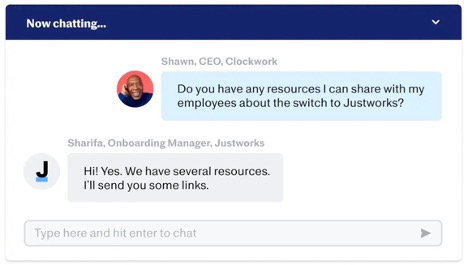 Justworks' 24/7 live chat feature makes it easy to access support when you need it. Source: Justworks
Winner: Justworks
Justworks has the infrastructure to offer stronger customer support. We appreciate that Justworks offers around-the-clock help via multiple channels. This is especially beneficial for companies that operate in multiple time zones. 
Usability
TriNet
TriNet's user interface is easy to navigate, regardless of your technical knowledge. The intuitive employee dashboard presents important information, such as payroll alerts and upcoming tasks. Employees will find the main menu easy to use, whether they need to view important documents or company calendars. All of the basic features are easy to find. 
TriNet offers reporting and analytics tools that show you how the platform and various HR services are being used. There are pre-built reports related to payroll, taxes, compliance and benefits, among other topics. These reports, in addition to any customized reports you create, provide the data you need to make informed business decisions. 
Customers can install pre-built integrations and application programming interfaces (APIs) that allow for enhanced data and reporting. Common integrations include Xero, Intuit QuickBooks, Oracle NetSuite, and Sage Intacct.
We appreciate TriNet's employee self-service features because they help reduce administrative time and empower employees to manage their information. New hires can complete a self-onboarding process to learn more about the features. Employees can easily update important information, view their hours and payroll data, and see their professional development goals. The TriNet mobile app makes it easy for employees to access benefits information on the go. 
Justworks
The Justworks platform has a clean design that is easy for both employers and employees to navigate. Justworks offers many pre-built reports, so you can view data and trends related to benefits, payroll and more. These reports can be customized so that you have the data you need to make informed business decisions.
Justworks' employee self-service platform and mobile app make it easy for employees to view and manage information on the go. The company directory and organization charts help you navigate new contacts. Employees can easily update their profiles, modify benefits selections, view pay details, and submit time-off requests, among other things. If employees have questions, they can view tutorials and instructions in the Justworks Help Center.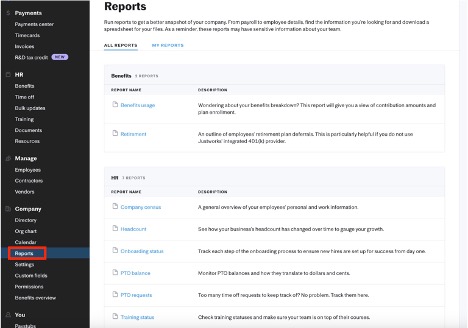 The Justworks platform is very modern and easy to navigate. Employers without experience in other HR systems will have an easy time locating what they need. Source: Justworks
Winner: JustworksWhile both platforms are very intuitive, we appreciate Justworks' modern design. In addition, Justworks offers support via Slack and text.
Setup
TriNet
TriNet tech and services specialists work with clients to set up new PEO services. You must have important information and employee data ready to begin the implementation process, which typically takes two weeks, although larger organizations may experience increased setup times. 
The TriNet platform seamlessly integrates all HR functions into one online portal, allowing for easy access. Bundled packages include basic services such as payroll, risk mitigation, employee benefits and a technology platform, and you can add customizations to fit your company's needs. 
Employees can view their plans and make updates as needed, without intense training on the new tech. The simple user interface means less HR administrative time so you can focus on other company goals. Once your PEO is set up, you'll have access to experts whenever you need it. 
Justworks
The Justworks PEO setup is fairly simple. First, you will need to decide if you want the Basic or Plus plan. The enrollment time depends on your workers' compensation application. Justworks needs to learn more about your business operations, ownership structure and other important business functions. 
Once you've been approved for workers' compensation and your enrollment is complete, you can select a start date to launch with Justworks as your PEO. This date, which is when your first payroll will run, must be the first or 16th of the current or upcoming month. 
You will be assigned a dedicated onboarding manager to help activate your account and set up employees. Once the setup begins, it typically takes two to three weeks.
Winner: TriNet
TriNet's setup is more streamlined than Justworks', since all of the basic services are bundled. Smaller businesses that are just ready to get started with their PEO and that do not have many customization concerns may find this easier to manage. Processes with other PEOs can be more complicated due to multiple add-on options. TriNet can create a more customized service for those who need it. TriNet also offers industry-specific support, which we find incredibly valuable. Experienced industry professionals can help guide you in selecting the best setup for your company.