TriNet vs. ADP Comparison 
Pricing
TriNet
TriNet's pricing is based on the number of employees. The biggest benefit of TriNet's pricing is its flexibility and transparency. As your company grows, there will be little room for surprises. This is a great benefit for companies that need to monitor finances during a growth phase. Customized PEO packages are also available. 
Based on number of employees
Customizable and transparent
All services are bundled together
ADP
ADP has a five-employee minimum. Unlike TriNet, the pricing is less transparent. Interested employers should contact ADP to learn more about its pricing plans and packages. If you choose to include any add-on services, the price will go up. You'll want to know what the base price is, as well as the cost of any add-on services so you can determine what is best for your company and current budget.
Less transparent
Not required to bundle all services under one price
Add-ons cost extra
Ask your ADP contact for a pricing breakdown so you have a clear understanding of your base price plus the cost of any additional add-ons. This will help you determine the ROI on any add-ons in case you wish to make changes in the future.
Winner: TriNet
When it comes to pricing, we appreciate TriNet's transparency and flexibility. It's important for small businesses to select a solution they can grow into while maintaining financial and operational stability. TriNet allows for this because all its features are bundled into one solution. However, if you don't need all the features offered in the TriNet bundle, you may be able to save money with ADP by only selecting the features you really need.
Features 
TriNet Features
HR administration: TriNet offers full HR administration and can manage a variety of critical HR functions, such as employee onboarding, performance management, handbook development and dispute resolution. TriNet has skilled professionals in each of these areas. However, where we believe TriNet really stands out is its industry-specific experts. Employers in highly regulated industries will find great value in their ability to manage HR and compliance issues related to specific industries.
Employee benefits: TriNet customers receive access to extensive benefits offerings. Its employee benefit plans include health, vision, and dental insurance, as well as retirement plans. In addition, TriNet offers access to auto and home policies, commuter benefits, health and wellness programs, and marketplace discounts. These options allow small business owners to provide employees with several options through some of the biggest name brands, including Aetna, UnitedHealthcare and Kaiser Permanente.
Payroll and taxes: TriNet can calculate and withhold appropriate taxes, submit withholdings, and manage electronic W-2 delivery, among other critical functions. The single online payroll processing platform makes time tracking easy and enables employers to make informed workforce decisions using detailed reporting and analytics. In addition, TriNet's self-service platform allows employees to enroll in direct deposit, view and print W-2s, track paid time off, and more. TriNet's payroll processing services can be integrated with some of the best accounting systems and top payroll providers.
Risk and compliance: For employers in heavily regulated fields, partnering with a PEO that understands your unique challenges can make a huge difference. TriNet has experienced risk management consultants who are able to provide onsite safety assessments. TriNet helps small businesses mitigate risk and navigate ever-changing employment laws, even as the business grows. Its team of experts is available to help employers make informed decisions as they relate to ACA, benefits, and payroll compliance. They also offer a comprehensive employment practices risk management program. 
Recruiting: Through its integration with popular job boards and social media networks, TriNet offers seamless recruiting support. We found it easy to manage job listings on many of the most popular sites, including LinkedIn, Glassdoor and Monster. The PEO's industry-specific support enables employers to share roles on key industry sites for an additional fee as well. TriNet uses the latest technology to help employers recruit the right talent quickly and easily. Through the recruiting platform, employers can view applications, contact applicants, and schedule interviews all in one place. The company offers international talent support and partners with GlobalHR for background checks.
Training and development: TriNet customers receive access to a proprietary technology platform that includes easy-to-use learning tools for both administrators and employees. The platform provides a space for employers to offer training and track learning and development over time. In addition, TriNet offers performance management tools to support goal setting, constructive feedback and performance tracking.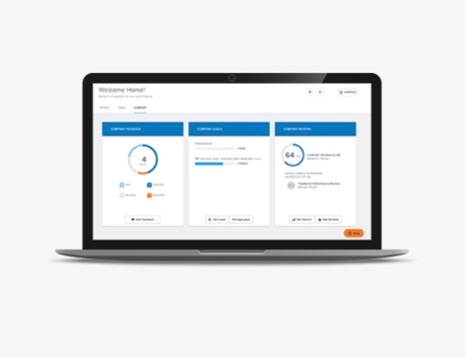 TriNet's professional growth tools make it easy to give and receive feedback, track goals, and view performance progress via the online platform. Source: TriNet
ADP Features
Benefits: ADP provides companies with access to benefits advisors and offers high-level benefits at rates that are typically only available to larger companies. The PEO provides access to all of the common benefits, including health insurance, dental, vision and an employee assistance program (EAP). Customers also have options for commuter benefits, employee perks and a 401k plan. Employees can access benefits options via the ADP platform or app, making benefits management easy for anyone, anywhere. The company is able to offer benefits to employees in all 50 states.

Onboarding: ADP offers full-time recruiting support, including talent acquisition tools and specialists. Unfortunately, some of ADP's recruiting features are offered only as add-ons. You will need to determine what functions are most important for your business. ADP's onboarding workflow templates help guide both employers and employees through the basic steps of onboarding new hires with ease. New hires have the ability to complete any required information and sign necessary documents online or on the mobile app, helping to move them through the hiring process and prepare for their first day in a timely manner.
Payroll processing: ADP's services provide access to helpful payroll tools, in addition to HR specialists who are knowledgeable in payroll processing. ADP's payroll processing services provide managers and employees with easy self-service access via the platform or mobile app. ADP's platform and app are easy to use and offer simple checklists and resources to make it easier for managers and employees to take care of important tasks in a timely manner. The system supports critical functions, such as calculating and withholding necessary taxes and ensuring they are sent to the proper government body. Payroll support assistants are also available to answer any questions employees may have.
Compliance: APD's compliance services offer extensive tools and resources to help employers stay in compliance as new regulations and laws arise. Additionally, ADP assigns customers a business partner to provide guidance around updating and refining previous policies. ADP also helps employers maintain good ACA standing, properly manage a contingent workforce, and improve unemployment claims management. When employees have necessary compliance tasks to complete, the tasks appear on the ADP homepage. This feature increases visibility and awareness to ensure all important tasks are handled in a timely manner.

Reporting and analytics: The ADP Workforce Now technology suite helps customers make data-driven decisions. ADP provides access to more than 300 prebuilt templates for key HR functions. The dashboard makes it easy to access compensation benchmarks, executive and manager insights, and turnover probability data. In addition, customers can easily view real-time insights, request one-off reports, or set up recurring reports to monitor workplace trends.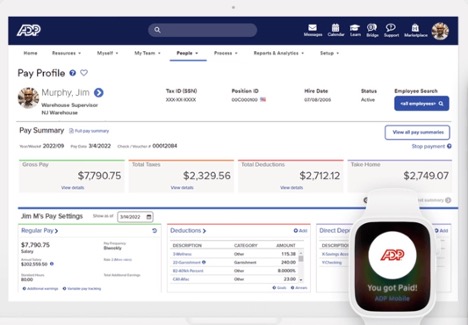 ADP's payroll platform provides an easy way for managers and employees to navigate important tasks, including direct deposit, W-2 documentation and tax withholdings. Source: ADP
Winner: ADP
TriNet and ADP both offer core HR functions, but we appreciate ADP's experience in the benefits and payroll space. The company offers more detailed reporting and analytics and can provide additional resources and tools related to onboarding.
Customer Service
TriNet
TriNet's industry-specific HR experts and consultants are available via multiple channels. Customers can choose to receive support via webchat, email and phone, in addition to contacting the company's designated team of consultants. Helpful FAQ pages and other online resources are also available for basic support.
TriNet's live chat support is available 24/7, while phone support is available Monday through Friday from 6 a.m. to midnight ET. The company is closed on select holidays. We found it easy to access support through all of these channels. 
ADP
ADP offers basic customer support via live and automated phone options, and email. Like TriNet, ADP has a robust FAQ page that addresses more common concerns. A live customer service agent can be reached via phone Monday through Friday from 7:30 a.m. to 10 p.m. ET. In addition, employers have access to their own designated HR consultant.
Winner: TriNet
Both companies offer excellent and robust customer service options. However, if you're looking for around-the-clock support, we recommend TriNet. You may find the company's live 24/7 chat is helpful when critical issues arise outside of standard services hours. TriNet also offers longer customer service hours via phone. What really stands out about TriNet is that support includes industry-specific experts. 
Integrations
TriNet
TriNet offers integrations with popular software and systems, including Oracle NetSuite, Xero and Lattice. TriNet's integration center makes the process very easy. These integrations enable TriNet customers to share data efficiently and provide more accurate data and tracking for critical functions. 
ADP
ADP integrates with more than 300 business software applications and systems, including Slack, Wave, Workday and Sage. The software can also create a custom API or integration if the systems you use are not included in its current list of partner integrations. ADP's add-ons enable customers to continue using their preferred tools, while still receiving seamless HR support through ADP's own offerings and experts.
Winner: ADP
If your business uses several other tools and systems and it's important that your PEO integrates with all of them, ADP is the best choice. With more than 300 integrations to choose from, it's unlikely you'll have trouble finding your software or system of choice. But if you do, ADP can provide a custom API or integration system to ensure all of your critical tools can work together efficiently and effectively. 
Optional Add-Ons
TriNet
TriNet's services are offered as a bundle, meaning you receive all its PEO has to offer at one price based on the number of employees you have. TriNet's solutions are based on your industry, but every plan includes access to previously mentioned features. Payroll features, risk mitigation, benefits, and the HR and technology platform will all help small business owners scale efficiently.
ADP
ADP does not have a single price point that includes a bundle of service offerings. Instead, customers are able to select add-ons as needed. ADP's third-party integration tools, organizational development consultations, talent acquisition tools, and resume search services are just a few of ADPs optional add-ons.
Winner: Tie
ADP offers several add-on services, while TriNet's packages represent more standard bundles. If you want the opportunity to pick and choose what HR functions you want and just how much support you need for those functions, ADP is likely the best choice. However, TriNet's simplicity and lack of add-on options may appeal to smaller businesses that are more concerned about receiving basic support.