Sage Accounting offers fundamental-yet-effective accounting software features at unusually low prices. It's our top pick if you're seeking a user-friendly platform that lacks confusing, costly bells and whistles.
Pros
Sage Accounting primarily offers the most fundamental accounting software features, making it highly approachable for first-time accounting software users.
Sage Accounting offers two plans with especially competitive pricing and a highly compelling six-month discount if you start with its more expensive plan.
Sage Accounting's setup and user guides are especially thorough and granular, leaving virtually no stone unturned and facilitating the platform's usability.
Cons
Sage Accounting lacks tools for calculating, reporting and filing taxes.
Although Sage offers many integrations, few are with leading platforms.
Sage Accounting offers basic accounting software tools and little else, and it's highly user-friendly and easy to set up. Freelancers, sole proprietors, new entrepreneurs and longtime business owners who prefer simplicity benefit from these strengths.
Sage Accounting couples its unimposing slate of features with prices that are among the lowest we encountered in our review of dozens of accounting software platforms.
Sage Accounting's basic features don't include typical tax calculation, filing and payment tools. Additionally, Sage Accounting's integrations, though abundant, more often link the platform to second-tier apps rather than leading products.
This review is for business owners who are considering Sage Accounting and are curious why we chose it as the best software for basic accounting features.
Some accounting software users want only the basics. These users are often freelancers, sole proprietors or owners of very small businesses who don't have the time or money for any bells and whistles. Instead, they need accounting software that offers core functions — bank reconciliations, invoicing, expensing, quotes, estimates and financial reports — at affordable prices. We chose Sage Accounting as the best accounting software for basic features because it checks all these boxes at some of the lowest prices available.
Sage Editor's Rating:
9 / 10
Affordable pricing

10/10

Free trial

10/10

Robust integrations

5/10

Invoicing and bill pay

10/10

Mobile app

10/10
Why Sage Accounting Is the Best Basic Accounting Software
We chose Sage Accounting as our top pick for basic accounting software because it mostly includes fundamental accounting tools. There are user-friendly features covering bank reconciliation, quotes and estimates, automated invoicing, online customer payments, expense management and financial reporting. Plus, Sage Accounting offers these functions at lower prices than most competitors. This is an ideal combination, since often, users who need only basic accounting software are also looking for the least-expensive option.
Sage Accounting is so basic that the ease of use and simple setup are part and parcel of the technology. No two accounting software users have quite the same amount of prior experience. Sage Accounting knows this, and it offers the most in-depth setup and user guides we encountered while researching accounting software. From its very structure to the resources that accompany it, Sage Accounting is designed for simplicity.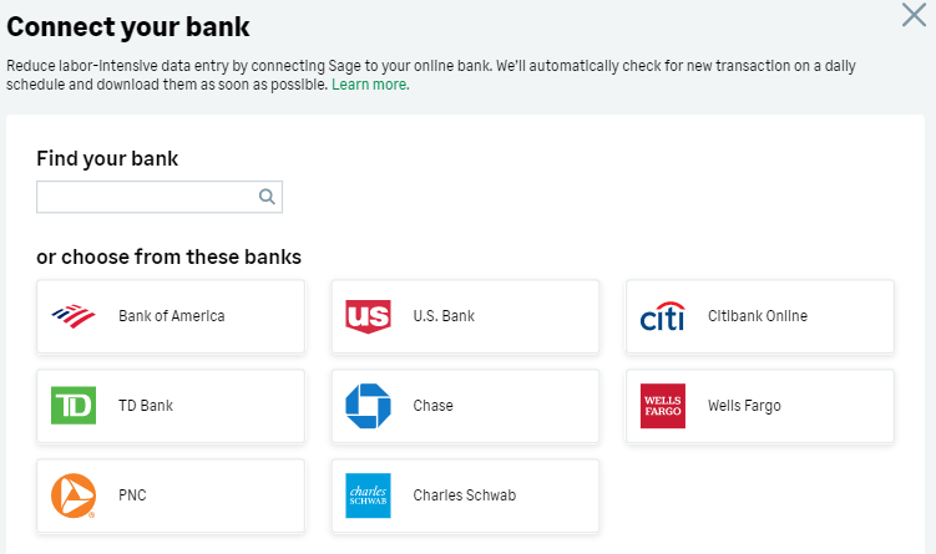 With Sage Accounting, adding your bank is as basic as it would be for a personal retirement account. Image credit: Sage
Choosing Sage Accounting is a great way to get the accounting software basics you need at a highly budget-friendly price.
Usability
Given the software's focus on just the basics, Sage Accounting is highly usable. The platform's tools for finance basics such as reconciliation, expense and financial reporting, invoicing, quotes and estimates are straightforward. So, too, is finding those features in the first place. The software was so easy for us to use that we could envision new businesses, sole proprietors and mature small businesses alike enjoying the platform.
Notably, Sage Accounting lacks the dashboard customization options that are common among vendors such as Xero. However, whereas Xero is best for tracking and paying bills — read our Xero review to learn why — Sage Accounting is best for basic accounting. Therefore, you shouldn't need to customize your dashboard to make the most of the platform; everything you're looking for will already be there. 
Sage Accounting offers hundreds of integrations to streamline your use of the platform. Popular integrations include Gusto Payroll and Sage Sales Tax, which is powered by the sales tax platform Avalara. The Gusto integration is especially powerful; it merges streamlined employee payments and added HR services with your simple accounting software. Read our Gusto Payroll review to learn more.
Although Sage Accounting doesn't offer guided training from a Sage representative, the vendor's help center includes guides to just about every process. You'll find several how-to guides for each of the potential major user concern areas, such as reporting and data importing. 
We were impressed with how Sage Accounting combines leading usability with clear guidance for making the software work. Although written guides are par for the course with accounting software, Sage Accounting's guides are more granular than those of the competitors we reviewed.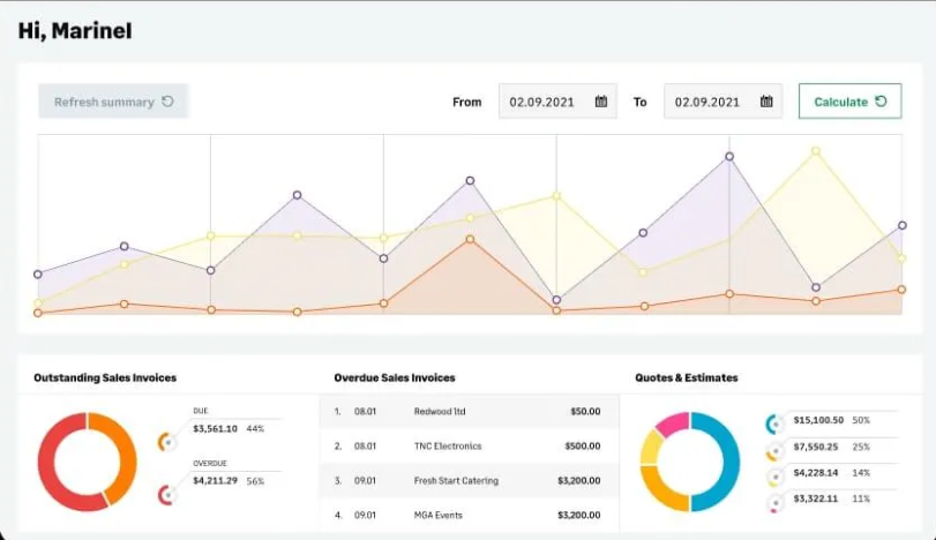 The Sage Accounting dashboard makes it easy to see your key invoice, quote and estimate data from any period. Image credit: Sage 
Sage Accounting Features
| | |
| --- | --- |
| Bank reconciliation | Sage Accounting seamlessly populates all of your bank and credit card transactions into the software and matches it to your expenses and invoices. |
| Automated invoicing with customer payments | It takes just a few clicks to invoice your customers, offer payment options via Stripe and see whether customers have viewed your invoices. |
| Streamlined expense recording | With AutoEntry, you can capture expense data from receipts, invoices, and credit card, bank or sales statements. |
| Financial reports | Basic financial data — such as cash flow, balances, and profit and loss reports — is accessible through Sage Accounting. |
| Quotes and estimates | You can instantly create quotes and estimates through the Sage Accounting mobile app, and converting them to invoices takes mere seconds. |
| Basic inventory management | Entry-level stock management tools, such as out-of-stock and reorder alerts, come with Sage Accounting. |
Bank Reconciliation
Bank reconciliation is among the most important features of accounting software, and Sage Accounting excels in this area. It takes just moments to connect all of your accounts with Sage when you get started. With your accounts connected, Sage Accounting automatically populates all of your transactions and matches them to your invoices, bill payments and expenses. We were impressed with how seamless and straightforward this core feature felt with Sage Accounting.
Automated Invoicing With Customer Payments
Sage Accounting automates the vast majority of the invoicing process. For example, the software can auto-generate invoices if you integrate it with your POS system. You can also navigate to your customer's information and then select the products or services you provided. After that, your invoice — which you can easily customize with your logo and branding — is ready to go. 
This is among the easiest invoicing processes we encountered while researching accounting software. It comes close to that of FreshBooks, our top pick for invoicing. Read our FreshBooks review to learn why this vendor's invoicing features narrowly edge out those of Sage Accounting.
Once you've created and sent an invoice in Sage Accounting, you can easily track what you're owed. The platform shows whether your customer has viewed or paid their invoice. Additionally, through the Sage Accounting mobile app for iOS and Android, you can view customers with outstanding invoices by the total amount owed. From there, you can pursue payment from the customers who owe you the most money. You can also add photos, files and attachments to invoices; this is especially easy to do from the mobile app.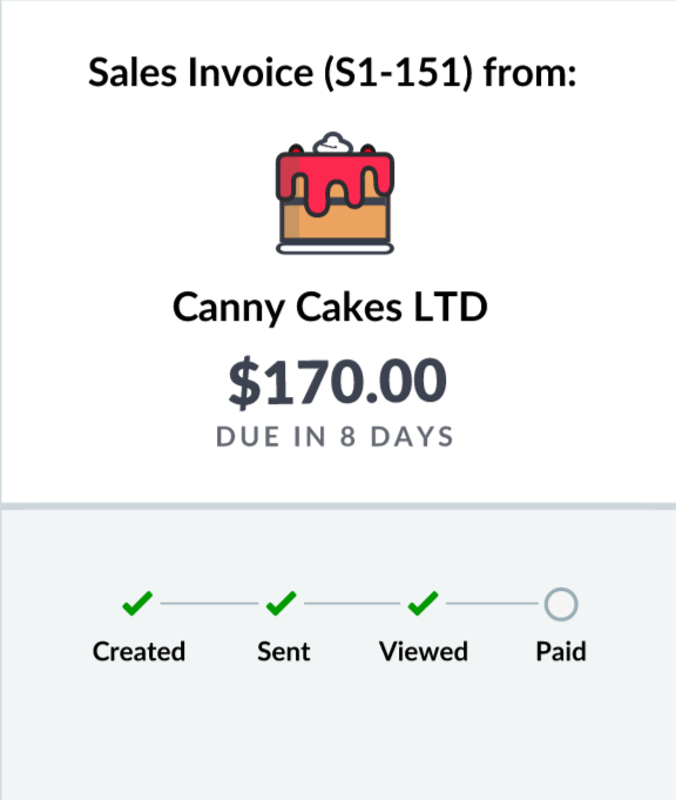 Through Sage Accounting, you can see whether a customer has viewed or paid your invoice after you create and send it. Image credit: Sage
Sage Accounting also integrates completely with Stripe so that you can obtain customer payment right from the invoices you've sent. This feature isn't unique to Sage Accounting — it's becoming standard among accounting platforms — but we liked the complete Stripe integration.  However, it was a bit less intuitive than accepting card payments with Plooto, which features native card payment within the platform. Read our Plooto review to learn more.
Streamlined Expense Recording
Sage Accounting is one of many accounting software platforms to streamline expense reporting through technology for capturing data from paper receipts. Sage's tool for this is called AutoEntry, and you can use it both via the Sage Accounting mobile app and the desktop browser version. If you're using the browser version, you'll probably find the drag-and-drop tools especially helpful for quickly uploading your expenses. 
Although automatic expense recording tools are common among accounting software platforms, we were especially impressed with AutoEntry. Besides capturing receipt data, it can do the same for invoices and bank, supplier and credit card statements. Data capture for these documents is less common among other accounting software platforms.
AutoEntry also learns more about your transactions the more you use it. When you verify the transaction data that AutoEntry has added to your system, you'll set supplier and account categories. AutoEntry will remember them and offer them as suggestions for future expenses. You can also create rules that tell AutoEntry to automatically categorize expenses however you please and implement auto-publish to further streamline the process. We were impressed with AutoEntry's ability to learn as it goes; only Xero's reconciliation tools rival this intelligence.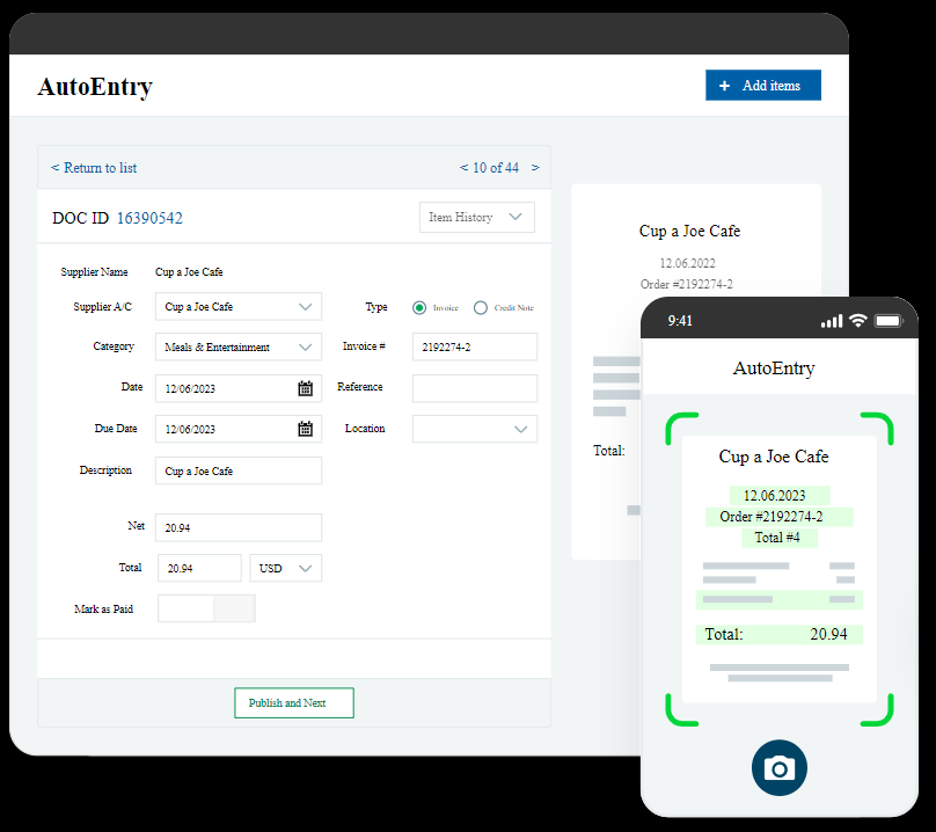 A mobile receipt scan via Sage Accounting's AutoEntry tool populates the corresponding information on both mobile and desktop. Image credit: Sage
Financial Reports
Sage's financial dashboard and reports provide you with real-time updates on your cash flow. You'll see simple line graphs depicting your balance, cash in and cash out. This makes it easy to see how much you owe your vendors and how much you're waiting on from customers.
Additional reports are available for longer-term analysis. For example, you can compare and contrast your current financial performance with your past data. You can also create custom reports on sales, opening and closing balances, and profit and loss data. Whatever reports you generate, sharing them with your team members or accountant is a breeze as well.
Creating profit and loss statements in your accounting software is a great way to quickly assess your business's debt, income and overall financial health.
We found these financial reporting features to be satisfactory. However, they're not the most extensive out there. On that front, we recommend Intuit QuickBooks, which is generally regarded as the very best accounting software platform. You can access over 20 pre-built reports through QuickBooks Online and customize many more. Read our QuickBooks Online review to learn more about this industry-leading platform.
Quotes and Estimates
You can easily create quotes and estimates in Sage Accounting, especially through the mobile app. During in-person customer meetings, the app can be especially useful for negotiating prices. You can create quotes and estimates in just seconds from the app, right in front of the customer. We liked how useful this could be for securing sales on the spot. 
We also liked how simply you can convert quotes and estimates to invoices in Sage Accounting. Once your customer approves your estimate or quote, you can convert it to an invoice with just one click. This ease of conversion parallels that of QuickBooks Online and other vendors known for offering advanced features to small businesses at competitive prices. We liked seeing a platform as basic as Sage Accounting parallel QuickBooks Online.
Basic Inventory Management
Although most of Sage Accounting's other features cover the fundamentals, the platform also includes inventory management tools. Not all accounting software includes these tools, so this is a nice bonus.
You can use Sage Accounting to get out-of-stock warnings, set minimum reorder levels, categorize products or services, and identify your bestsellers. You can also set several types of prices, including wholesale, trade and purchase. This gives you the fundamentals of inventory management, but you'll need the advanced Sage 50cloud Accounting platform for more inventory features. Or, you can use accounting software from ZarMoney, our top accounting software pick for inventory management. Read our ZarMoney review to learn more.
Sage Accounting Costs
Given the software's basic features, we weren't surprised to see Sage Accounting's low costs — but we were certainly happy about it. The less expensive of Sage Accounting's two pricing tiers, Sage Accounting Start, costs $10 per month. It allows one user to create and send invoices, reconcile transactions and track outstanding customer payments. All other features become available with Sage Accounting, which costs $25 per month. However, at the time this review was written, Sage was offering a deal in which you pay only $7.50 per month for your first six months.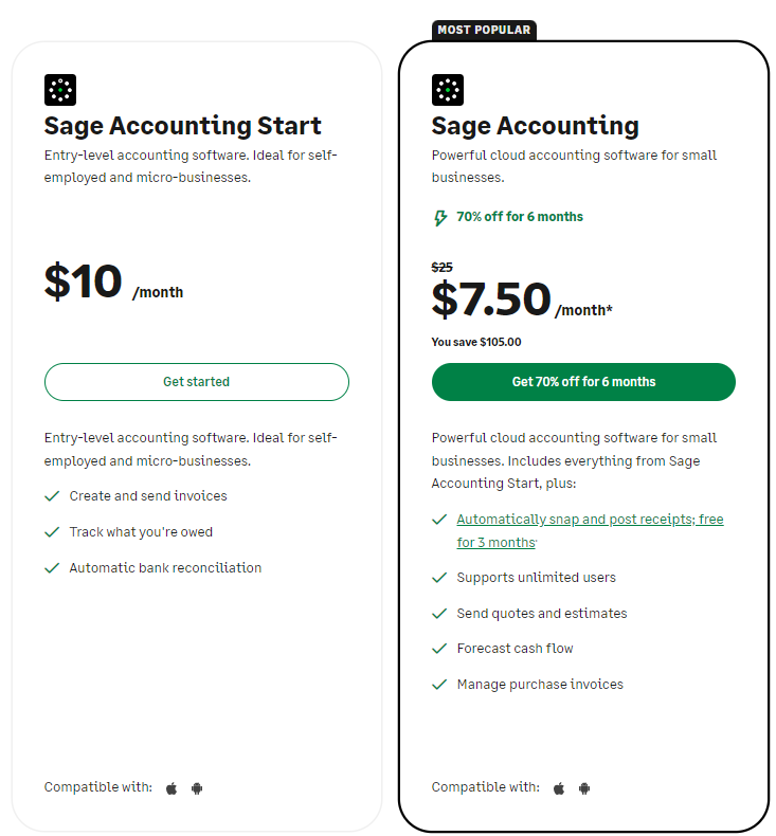 Alongside its highly competitive pricing, Sage Accounting makes it very clear and simple to understand what you get with each pricing tier. Image credit: Sage
Before you commit to Sage Accounting, you can sign up for a 30-day free trial. You won't have to put down a card or other payment method. There are no add-on fees or implementation costs if you decide to commit to Sage Accounting, and there's no cap on the number of users. 
Other than Wave Financial's free accounting software and Zoho Books' free version for low-revenue businesses, Sage Accounting offers the best pricing among accounting software platforms. Read our Zoho Books review to see what you get if you qualify for this free accounting software.
Sage Accounting Setup
Sage Accounting advertises an easy setup, and it follows through on that promise. Although Sage doesn't offer dedicated setup assistance, the "getting started" module within its help center is quite thorough. This module gets highly granular on what the setup requires, giving you just about everything you need. You can also access modules for data migration and invoice customization as you get started.
The numerous integrations that Sage Accounting offers are also easy to set up. These integrations cover needs such as e-commerce, sales tax and document management. One area you don't need an integration for is contact import; the Sage Accounting mobile app can instantly import your phone contacts. We liked how much this expedited the setup process, and we found Sage easy to get started with on both the mobile app and the desktop browser.
Despite lacking dedicated setup assistance, Sage Accounting was among the easiest platforms to implement among all the accounting software we reviewed.
Sage Accounting Customer Service
You can find Sage Accounting's customer service phone number from the Contact Us page in the footer of the website homepage. We liked that support is accessible even before you open your account. That said, competitors such as Xero include support links at the top of their pages, increasing their visibility. We were disappointed to see Sage's contact page a bit further out of reach. 
Once you do access Sage's support offerings, you'll find that its resource center is replete with how-to guides and tutorials with videos. The Sage blog is also a breeze to navigate, since you can filter it by category. Live chat and email support are available once you've logged in to your Sage account. These offerings rivaled competitors'; they were not extravagant, but they got the job done.
Sage Accounting Drawbacks
In Sage Accounting's focus on the basics, it excludes tax calculating, reporting and filing capabilities. This surprised and disappointed us, since, in our eyes, properly paying small business taxes is a basic accounting need. We recommend QuickBooks for this instead, given its competitive pricing and the fact that its parent company, Intuit, also owns the tax software TurboTax. However, if you hire an accountant, they can still handle your taxes using the financial data available through your Sage Accounting dashboard.
We were also disappointed that Sage Accounting integrates with relatively few leading-name payroll and point-of-sale (POS) platforms. While Sage does offer integrations for a handful of platforms in each category, only one or two in each bucket rank among the very best. For payroll, if you want the best in show, you can integrate only with Gusto, not the other best payroll systems. For POS systems, your integration options for high-quality platforms are Lightspeed and Shopify. [Interested in these POS systems? Check out our Lightspeed review and Shopify review to learn more.]
Methodology
As we researched the best accounting software for basic features, we sought a competitively priced, easily usable platform with primarily the fundamentals. After careful research and analysis, we found that Sage Accounting best met this goal. This low-cost platform guides you through the use of its elementary bank reconciliation, invoicing, expense management and financial reporting features. It's a simple-yet-powerful tool for covering your accounting basics and doesn't come anywhere close to breaking the bank.
Sage Accounting FAQs
Although Sage Accounting isn't a payroll system and doesn't include payroll features, Sage does offer separate payroll software. This service integrates fully with Sage Accounting, as does Gusto Payroll.
Sage has two pricing tiers. The basic tier costs $10 per month and allows users to create and send invoices, reconcile transactions and track outstanding customer payments. The other pricing tier costs $25 per month and includes additional features, like cash flow forecasting, quotes and estimates, and invoice management tools.
Yes. Alongside Sage Accounting, which is cloud-based, Sage offers Sage 50cloud Accounting, which is desktop-based software with a cloud connection. This platform may be better for businesses that have dozens or hundreds of employees and require advanced budgeting, reporting and inventory management tools.
Overall Value
We recommend Sage Accounting for …
Freelancers, sole proprietors and very new or small businesses.
Businesses of any size that need only basic accounting software features.
Small business owners who are looking for high-quality accounting software fundamentals at highly competitive prices.
We don't recommend Sage Accounting for … 
Small businesses that don't have an accountant who calculates, files and pays their taxes.
Small businesses that are looking for high-quality payroll or POS system integrations.