ZarMoney is our top accounting software for inventory management since it offers tools that other platforms lack. This includes, but isn't limited to, multisite inventory management, barcodes and split transactions.
Pros
ZarMoney offers by far the most advanced inventory management features of any low-cost accounting software platform. 
ZarMoney is competitively priced, especially given the advanced nature of its inventory management features.
Cons
ZarMoney offers limited features for snapping photos of receipts to generate or justify expenses in your ledger.
There is no ZarMoney mobile app.
For a business that sells tangible products, inventory is a key financial concern. These businesses may fare best when their accounting software and inventory management systems are fully integrated. In most cases, you would need an expensive, complicated enterprise resource planning (ERP) system to handle both from within one interface. ZarMoney, though, is a non-ERP, low-cost accounting software with robust inventory management features. It's thus our top pick for inventory management features within accounting software.
ZarMoney Editor's Rating:
9 / 10
Affordable pricing

10/10

Free trial

10/10

Robust integrations

7.5/10

Invoicing and bill pay

7.5/10

Automation features

10/10
Why ZarMoney Is Best for Inventory Management
ZarMoney is our top pick for inventory management because it includes inventory tools simply not available with other similarly priced accounting software platforms. Inventory features that are typically exclusive to ERP platforms such as Oracle NetSuite are included for all ZarMoney users no matter which plan they choose. These features include but aren't limited to pick lists, multisite inventory, barcodes, real-time inventory data and split transactions.
Yes, some similarly priced accounting software platforms – QuickBooks, Xero and Zoho Books – do offer inventory management features. However, ZarMoney offers far more inventory management features than any of these platforms. Even QuickBooks, often considered the leader among accounting software platforms, lacks ZarMoney's tools for multisite inventory management, two-step warehouse transfer, pick lists and split transactions. For this reason, we've named ZarMoney the best accounting software for inventory management.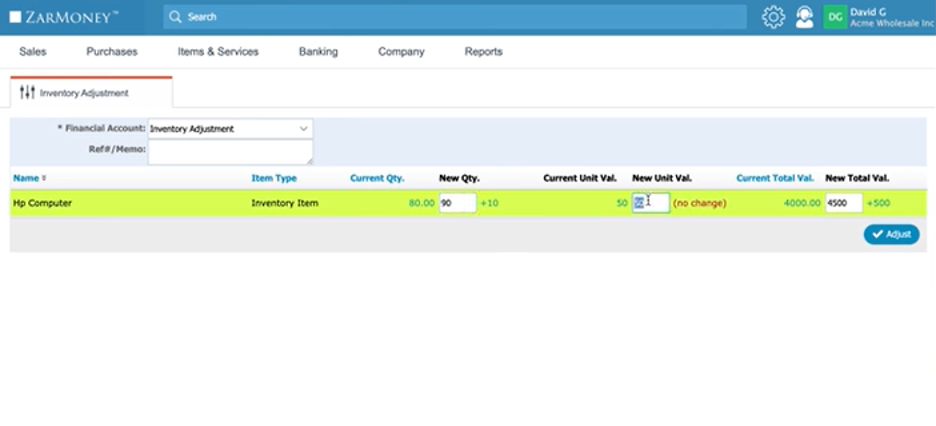 ZarMoney's bulk inventory adjustment tools are available from within the same interface as your accounting data, and they're easy to use too. Image source: ZarMoney
Choose ZarMoney if you're looking for advanced inventory management features within a low-cost accounting software package. Among the accounting platforms we reviewed, only Oracle NetSuite offers similarly advanced inventory management features, and it's designed and priced for larger businesses. Read our Oracle NetSuite review to learn more.
Usability
ZarMoney is fairly easy to use. It's not necessarily the most intuitive platform in the world, but it's not so complex that you'll struggle to master it for weeks on end. Plus, if you use ZarMoney's highest-priced plan, you'll get specialized training, a dedicated account representative and priority support – all features that improve its usability.
The highest-priced ZarMoney plan also offers custom features. We liked that ZarMoney offers this user-friendly feature. It's a simple way to make the platform work well for your needs. It's also something with which your account representative can help. However, you're out of luck on the customization front if you can't afford ZarMoney's most expensive package. We were impressed, though, that all of ZarMoney's powerful payroll, e-commerce and payment integrations are available for all customers.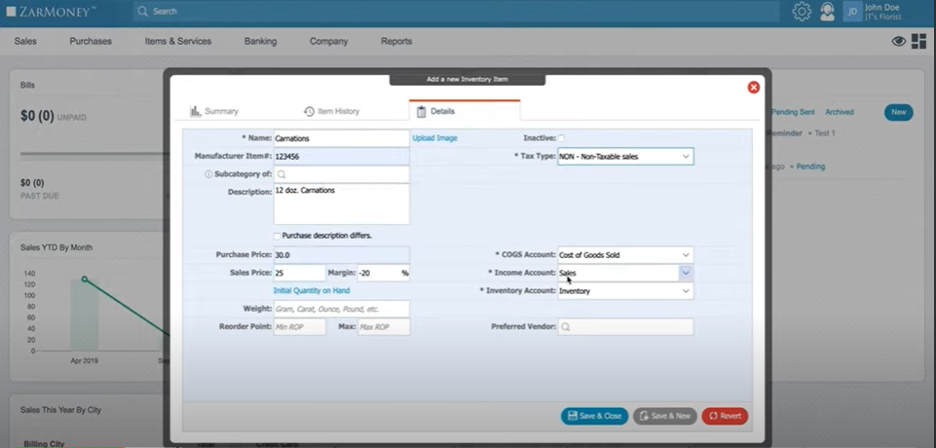 It takes just moments to add a new inventory item in ZarMoney, with clear product fields you can quickly fill in. Image source: ZarMoney
ZarMoney Features
| | |
| --- | --- |
| Multilocation inventory management | ZarMoney is the only non-ERP accounting software platform we reviewed with features for managing inventory at more than one location. |
| Customized, real-time inventory data | You can create your own fields for labeling data, for which updates are available in real time. |
| Financial reporting | Numerous financial reports are available in ZarMoney, including tax reports. |
| Automatic invoicing with customer payments and updates | You can manually create invoices or generate them in just two clicks from quotes or estimates. |
| Customer payment reminders and order updates | ZarMoney comes with email and text message tools that keep customers in the loop about the payments they owe you. |
| Payment calendar | You can organize your bills into a calendar for easy tracking and timely payments. |
Multilocation Inventory Management
ZarMoney's inventory management suite is designed with multisite businesses in mind. We were impressed with its split view, through which you can review all your locations side by side. It's a great way to look at the status and history of each product you offer across locations and make smarter restocking and purchasing decisions. 
We also liked that ZarMoney's accounting management platform includes real-time product information alongside demand prediction and vendor evaluation reports. These are all powerful data points for assessing and planning your stock and materials spending. So too are the sales and purchase histories you can access through ZarMoney.
Perhaps most importantly, ZarMoney's multisite inventory management tools simply aren't available with some other accounting platforms that include inventory features. For example, among the platforms we reviewed, only ZarMoney offers tools for barcoding and two-step warehouse transfer. We were surprised and impressed with this. ZarMoney is a true dark horse when it comes to inventory tools among accounting platforms.
Customized, Real-Time Inventory Data
Within the inventory management side of ZarMoney's platform, you can customize your product fields. This is a standout feature in the inventory management suite – the more customizable any SaaS product is, the better. A related feature is the ability to create inventories specific to a product line. This can streamline inventory management on just about every level.
Alongside these customization features, ZarMoney offers real-time data tracking. You can use this tool to power fully up-to-date product availability information at customer touch points. When customers place orders, ZarMoney also collates your order data in one location so you can most efficiently meet your customers' needs. There's also a single-information view that can come in handy if your customers inquire about their orders. We liked that ZarMoney addresses your customers and your bottom line from the same tool.
Financial Reporting
ZarMoney couples its leading inventory management features with reporting tools that we found competitive with bigger names in the accounting space. We found it easy to generate balance sheets, earnings reports, and cash flow statements and projections within the platform. The reports were visually appealing too, clearly displaying the data and context required for smart financial decisions. 
Similarly, ZarMoney's tax reporting tools were easy to use. The platform auto-calculates your taxes and prepares reports for you to file. However, we were slightly disappointed that ZarMoney doesn't file tax reports on your behalf. It's not the only platform with this flaw; Zoho Books also lacks this feature. Zoho Books platform is nevertheless our top pick for microbusinesses. Read our Zoho Books review to learn why. 
We felt that ZarMoney makes up for its tax filing flaws with its tools for assigning different tax rates to different locations. This multilocation finance management tool keeps your bookkeeping and tax payments compliant, a core function of accounting software. We were also happy that ZarMoney offers tax tools at all since Sage Accounting, for example, lacks them entirely. Still, Sage Accounting remains a strong choice for basic accounting functions. Read our Sage Accounting review to learn more.
Automatic Invoicing With Customer Payments and Updates
ZarMoney makes it easy to create and send branded invoices manually or automatically. An example of the latter we liked is that you can transform a quote or estimate into an invoice in just a few clicks. You can also enable customer payments directly from invoices, with payment options including debit cards, credit cards, PayPal and Stripe.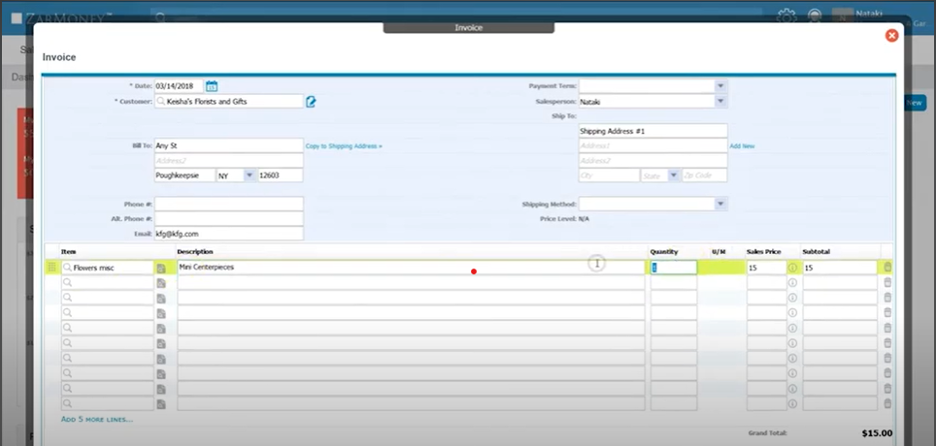 The ZarMoney invoicing interface lacks bells and whistles, making it easy to use even for first-timers. Image source: ZarMoney
A feature we found especially useful in ZarMoney was that you can track a customer's order status and payment history. This is all possible through ZarMoney's advanced search feature and invoice tags. These classification tools enable easy invoice management that plays nicely with ZarMoney's automatic invoice generation. We were happy overall with ZarMoney's invoicing suite, even though it wasn't our favorite invoicing system. That award goes to FreshBooks.
FreshBooks is our top accounting software platform for invoicing. Read our FreshBooks review to learn more.
Customer Payment Reminders and Order Updates
ZarMoney includes a tool for notifying your customers of changes in their product order status via email or text. You can also save, print or send reports detailing a customer's open invoices. This doubles as a way to notify clients of overdue payments and manage your cash flow. It's also unique to ZarMoney among the accounting software platforms we reviewed, as is the order status notification tool. The platform is equally interested in improving your customer loyalty and accounting operations.
You can automate customer payment reminders and alerts in ZarMoney as well. There's also the option to allow for partial invoice payments that result in the client being notified of the amount they still owe. When clients pay your invoices, you can also reconcile your transactions in just one click. We liked that ZarMoney keeps your customers so on top of what they owe you.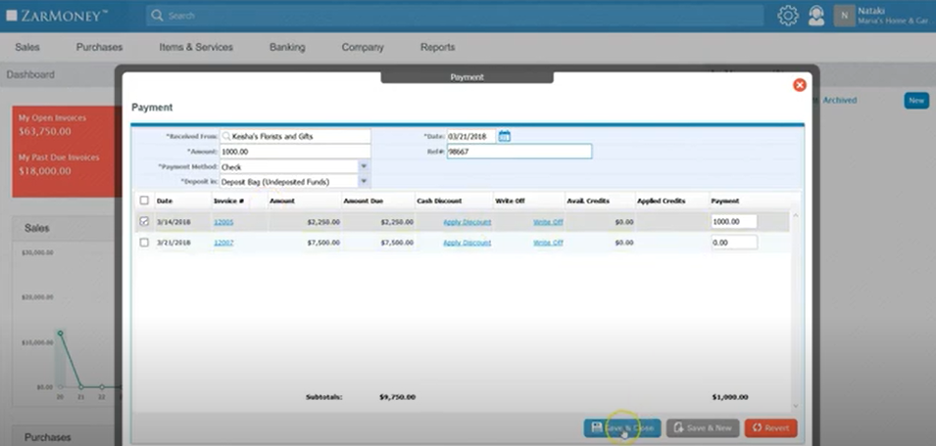 Receiving and recording payments in ZarMoney is a highly intuitive process that requires minimal work on your end. Image source: ZarMoney
Payment Calendar
Through ZarMoney, you can access all your outstanding payables in a calendar view. From this calendar, you can make bulk vendor payments and add invoices. We liked that this keeps your payments on track and well organized. We also liked that ZarMoney comes with user permission tools so that only certain users can approve bills before payments. Between the payment calendar and these permission tools, common errors such as double entry and overpayment become less common.
ZarMoney Pricing
ZarMoney offers three plans. The first two of these, Entrepreneur and Small Business, offer the same features despite their different names. The former costs $15 per month and limits you to one user. The latter costs $20 per month for a team of two plus $10 per month for additional users.
For teams of at least 30 users, ZarMoney offers an Enterprise plan that starts at $350 per month. This package includes exclusive features such as priority customer support, a dedicated account representative and specialized training. For all three tiers, you can get a 15-day free trial, and there are no fees or add-on costs. The two lower-cost tiers are also competitively priced – especially given ZarMoney's high-quality inventory features – though Zoho Books, QuickBooks and Sage Accounting all cost less.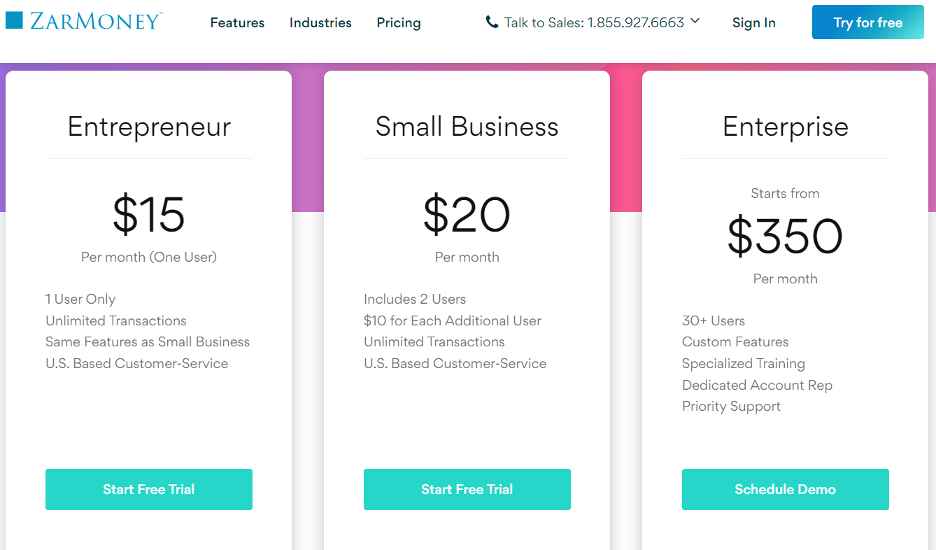 ZarMoney's pricing chart is among the more transparent and digestible ones we encountered in our accounting software reviews. Image source: ZarMoney
Setup
Setup with ZarMoney is simple. There are no desktop applications to download, and importing your vendor and customer data is a breeze. Upon starting with ZarMoney, all your customer opening balances, and product or service quantities and values, will be readily available. Enterprise users also get dedicated, direct support and training from ZarMoney during implementation, with abundant custom features as well.
Accompanying these key setup advantages is a repository of customer self-service tools. You can find useful information on the ZarMoney blog, and the company offers dozens of articles and videos on getting started. We felt confident during our early stages of testing ZarMoney since we had all these resources on our side.
However, we would have liked to see more integrations available as we set up our ZarMoney test account. Although most of ZarMoney's integrations are with brands that lead their field – Gusto for payroll, Shopify for e-commerce – there are only a handful of integrations. This puts ZarMoney at a major disadvantage compared to QuickBooks, which offers hundreds of integrations. Getting started is nevertheless straightforward and free of added costs.
ZarMoney takes the pain out of getting started with an accounting software platform. However, its integrations are lacking compared to those of industry-leading platform QuickBooks. Read our QuickBooks review to learn why this vendor is so acclaimed.
Customer Service
The ZarMoney support team is reachable via phone from 9 a.m. to 5 p.m. PT, Monday through Friday. There's also 24/7 support availability via live chat, and you can email the company at any time. We found the brand's customer support representatives to be responsive and helpful upon contacting them. There are no extra costs involved in doing so, though you get priority support and a dedicated account manager only with the highest pricing tier.
You can also use ZarMoney's self-service tools to address many of your support concerns. There are hundreds of articles and videos available across its help page and its ZarMoney Academy page. This combination of online self-service resources and unobscured access to actual human support is standard for accounting software customer service. That said, we did appreciate how transparent ZarMoney is about its phone availability, as not every vendor makes this so well known.
Drawbacks
We were surprised to see that ZarMoney lacks features for easily taking photos of bills or expense receipts and capturing the data therein. This feature has become standard across accounting platforms, with Xero and Sage Accounting providing especially user-friendly features on this front. The absence of such technology within ZarMoney is a major drawback of the platform. 
This feature's absence may stem from ZarMoney's lack of a mobile app. This is another accounting software standard inclusion on which ZarMoney drops the ball. It's not that there's a low-quality mobile app; it's that there's no app at all. We were also unable to obtain information as to whether ZarMoney plans to launch a mobile app in the future. If this is a make-or-break factor for you, check out QuickBooks. Its mobile app is another area in which it's the industry leader.
Methodology
As we investigated the best accounting software for inventory management, we sought non-ERP platforms that coupled bookkeeping and taxation with stock reordering and availability tools. This involved dozens of hours poring over several vendors' websites and customer service resources and reviews. When possible, it also involved product demos, free trials and direct conversations with vendor representatives.
Four platforms that we reviewed offered some level of inventory management functionality: QuickBooks, Zoho Books, Xero and ZarMoney. It quickly became clear that ZarMoney was the standout on this front, as it offers tools that only ERPs or dedicated inventory management platforms typically include. 
ZarMoney FAQ
ZarMoney is an accounting software platform that couples fundamental accounting features with advanced inventory management tools. Businesses of any size may find it useful.
ZarMoney offers three pricing tiers: $15 per month for one user, $20 per month for two users, and $350 per month for teams of 30 or more users. The most expensive tier, the Enterprise plan, offers additional features like priority customer support, a dedicated account representative, specialized training and customizable tools.
ZarMoney was founded in Los Angeles in 2006. The company's founders sought to create reasonably priced accounting software suited for new, growing and mature teams alike.
Overall Value
We recommend ZarMoney for …
Businesses looking for accounting software that includes inventory management but isn't as complex as an ERP.
Businesses seeking competitively priced, feature-rich accounting software.
We don't recommend ZarMoney for …
Businesses seeking receipt and data capture technology within their accounting software platform.
Businesses that require mobile apps for their accounting software.