FreshBooks is our choice as the best small business invoicing software because it is affordably priced, is simple to use and has a feature-rich platform that allows users to quickly and easily send invoices and accept payments.
Pros
It's easy to create and send invoices.
The cloud-based app is intuitive.
The pricing and features appeal to freelancers and self-employed professionals.
Cons
FreshBooks doesn't include quarterly tax estimates.
You can't view reports or manage team members from the app.
FreshBooks is our pick for the best accounting software for invoicing.
FreshBooks has multiple invoicing features and is easy to use, making it ideal for business owners who send a lot of invoices.
With FreshBooks' automation and customization features, you can send recurring, branded invoices and accept payments online.
This review is for small business owners who want to learn about FreshBooks accounting software and why it's our best pick for invoicing.
It's not easy to find invoicing software with accounting capabilities. It's even harder to find cost-effective invoicing software with accounting features. That's what makes FreshBooks such an excellent option for small businesses, particularly those that send a lot of invoices and accept a large number of payments.
FreshBooks Accounting Software Editor's Rating:
9 / 10
Affordable pricing

10/10

Free trial

10/10

Robust integrations

5/10

Invoicing and bill pay

10/10

Mobile app

10/10
Why FreshBooks Is Best for Invoicing
FreshBooks offers a comprehensive slate of invoicing tools that enable easy creation, sending and tracking of your invoices to clients. You can create a new invoice on a single screen, which wasn't always possible with other software we reviewed. In addition, the customization tools are intuitive, making it easy to create a branded template that keeps your company at the forefront. 
It's equally easy to send invoices and collect payments; you can distribute your invoices with one click. For ongoing services, you can make the invoice recurring and automate the send so you don't waste time manually recreating it month after month. Clients can also pay your invoices online, directly from the documents. Streamlining payment makes it easier to collect what you are owed and can reduce the number of days in accounts receivable. And if some clients are too slow to pay, you can easily send reminders and set late fees using FreshBooks.
If you need a free accounting platform as powerful as FreshBooks for invoicing, you might be in luck if your business is low income. Read our Zoho Books review to explore strong invoicing software available to businesses with annual revenue under $50,000.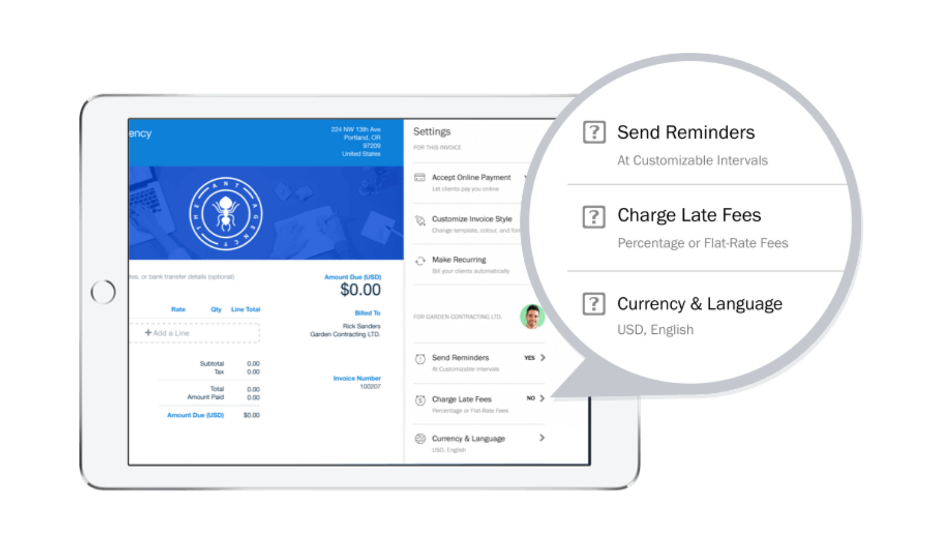 With FreshBooks, you can create professional, customized invoices that clearly show your work and costs, all ready to send with one click. Source: FreshBooks
Usability
The FreshBooks dashboard is so simple to navigate that even most novices won't have any trouble setting up an account and creating and sending invoices. Everything you need is available on your dashboard, including the ability to track your business expenses and your time, manage your projects, and create proposals to send to prospective clients. 
With FreshBooks Payments, you can arrange for your customers to pay directly through the invoices, and the double-entry accounting system makes sure you are organized and prepared for tax time. If you want accountants to have access to your dashboard, reports, invoices and expenses, you can assign them permission, as well as grant other users access to different features. If you have employees, you can give them access to their projects, as well as track their time and additional expenses. Be aware, though, that business partners do not have complete control, since they can't remove apps or integrations. 
FreshBooks Features
| | |
| --- | --- |
| Invoicing tools | The invoice screen allows you to customize and brand invoices and preview how documents will appear. Invoices can be set to recur at certain intervals. |
| Estimate and proposal conversion | FreshBooks lets you convert estimates and proposals into invoices.  |
| Mobile application | FreshBooks' mobile app has most of the same features as the browser version. |
| Internationally friendly tools | The software supports multiple languages and currencies.  |
| Integrations | FreshBooks can integrate with more than 100 third-party applications. |
| User roles and permissions | Setting user roles and permissions can improve security by ensuring that only authorized users have access to sensitive data. |
Invoicing Tools
The invoice screen shows you exactly how your documents will appear when you send them, so you don't have to click a preview button to make sure they look right. You click the applicable fields to add new customers, products or services, descriptions, terms, and notes. We like that you don't have to create them on a separate screen and then add them to an invoice, which was the case with other software we reviewed. If you want to rearrange lines on an invoice, you drag and drop them into place. 
You can also customize invoices and other documents to match your branding by adding your logo or a photo and changing the template, font and accent color. These customization features are standard among accounting software platforms, but they're especially strong with FreshBooks. Additionally, you can schedule and send recurring invoices and payment reminders. You may also set up the program to add late fees to past-due invoices either as a percentage or a flat fee.
Estimate and Proposal Conversion
FreshBooks lets you convert estimates and proposals to invoices in two clicks, so you don't have to create new invoices from scratch. You can also duplicate a past invoice and tweak the details, which may be faster than creating a new invoice. We liked how seamless this made the invoicing process. It felt even more efficient than with other platforms, such as QuickBooks Online, that also offer estimate and proposal conversion to invoices. (Read our QuickBooks review and QuickBooks comparison to learn why this vendor is nevertheless our top small business pick.) 
Mobile Application
When you're away from the office, you can use FreshBooks' mobile app to send invoices, track mileage, stay in touch with clients, and receive notifications and updates about outstanding invoices. The application is available for iOS and Android devices, and is also accessible through any mobile web browser.
Internationally Friendly Tools
FreshBooks supports multiple languages and currencies – a useful and convenient feature if you have international clients. Supported languages and currencies include those used in Denmark, England, Estonia, France, Germany, Greece, Italy, the Netherlands, Norway, Portugal, Romania, Spain and Sweden.
Integrations
FreshBooks integrates with over 100 third-party apps, so you can add plenty of features and connect with other business programs. Some of the most useful integrations are DocuSend for printed invoices, Gusto for payroll, and Everlance for tracking your mileage and identifying deductions.
User Roles and Permissions
When you add a user to your account, you assign them a role that determines which features they can access. Business partners can do everything except add or remove apps and integrations. Accountants can access your dashboard, reports, invoices and expenses. Employees can access projects, as well as track their time and additional expenses. Contractors have their own accounts, and they can see only the projects you've invited them to and track their time against those projects.
FreshBooks Pricing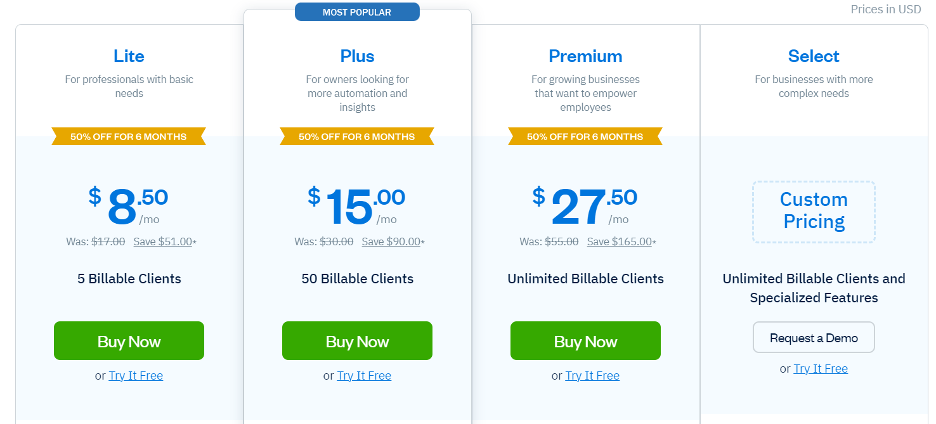 FreshBooks discounts each of its plans for new users for the first six months. These discounted prices are listed above, and the regular prices are included in our description of each tier below. Source: FreshBooks
FreshBooks has three set plans, and you can customize each with add-ons. There is also another plan that is customizable from the beginning. You can try FreshBooks for free for 30 days. No credit card is required, and you can cancel anytime.
Lite: Regularly priced at $17 per month, FreshBooks' Lite plan supports up to five billable clients. With the Lite plan, you can track unlimited expenses, send unlimited estimates, accept credit card payments and ACH transfers, track sales tax, access reports, and use the mobile application.
Plus: The Plus plan is regularly priced at $30 per month and increases the maximum number of billable clients to 50. It offers the same features as the Lite plan, as well as recurring billing, business health reports, automatic receipt capture and expense tracking, double-entry accounting reports, CPA accessibility and mobile mileage tracking.
Premium: The Premium plan is regularly priced at $55 per month and offers support for an unlimited number of billable clients. In addition to all the features included in the Plus plan, the Premium plan includes unlimited invoice sends, automatic payment reminders, full accounts payable tools, project profitability tracking, and custom email templates and signatures.
Select: The Select plan is a custom plan that requires a demo and quote from a FreshBooks sales representative. In addition to the features in the Premium plan, the Select plan may include reduced credit card transaction rates and capped ACH fees, a dedicated account manager, data migration support, custom onboarding services, and removal of FreshBooks branding from client-facing emails. It also includes the Advanced Payments add-on that costs $20 per month with the other plans.
FreshBooks' plans cost significantly less than the prices we saw with QuickBooks, which has monthly plans ranging from $30 to $200 per month. To add team members to your plan, it costs $11 per person per month. Advanced Payments (which includes the ability to save and charge clients' credit cards, subscription-based billing, and a virtual terminal) is an additional $20 per month and is available on all tiers. 
Setup
FreshBooks provides a series of webinar tutorials to guide new users through the setup process. When you sign up, you'll be put on a 30-day trial so you can try out all of the features before committing to a plan. You will add information about your clients, expenses, items (when you're billing for goods or products that you sell to clients), taxes and vendors. Once you complete these steps, you can begin using the program.
After you've chosen a plan, you can immediately start importing your data. You have the option to start from the beginning by manually typing in information or to import existing data into your account. We found the complete setup takes about an hour with sample data manually entered. 
Sign up for the Select plan if you want to receive data migration support from FreshBooks.
Customer Service
FreshBooks offers customer support by phone and email; there's also an in-program live chat that pops up immediately. Phone support isn't available 24/7, but there are extended weekday hours: Monday through Friday from 8 a.m. to 8 p.m. ET. You can email the company at content@freshbooks.com or use the online email form that pops up on the dashboard.
FreshBooks also has resources that demonstrate how to use the software, and you can type your question into the integrated toolbar. We found FreshBooks to have an edge over QuickBooks Online in the customer support department. 
Drawbacks
Although FreshBooks offers the best invoicing features for small businesses, it does have some drawbacks. For instance, it lacks vendor, inventory management and purchase-ordering features, so it isn't well suited for businesses with inventory or for much larger businesses with more complicated accounting requirements. Rather, it's designed for service- or project-based agencies and includes time tracking and project management tools. [ZarMoney is our top accounting software for inventory management.]
Another drawback is that you can't view reports or manage team members from the app. Although you could use the browser on your phone or tablet to do this, other accounting software we reviewed made it more convenient by including these capabilities in the app.
Finally, if you're looking for the best software to track your business's performance through a dashboard, be aware that FreshBooks can be lackluster in this regard. Check out our Xero review for a closer look at a product that provides more detailed dashboard reporting.
In our review of Oracle NetSuite, we chose the platform as the best accounting software for advanced features. If you need powerful accounting tools, NetSuite could be the solution for you.
Methodology
When we searched for the best accounting software for invoicing, we looked for applications with time-saving features, such as the ability to automate recurring invoices, send invoices from a mobile app, and track billable time and expenses and add them to invoices. After much research and analysis, we recommend FreshBooks as the best accounting software for invoicing. We spent several hours reviewing FreshBooks and comparing it with the top accounting software platforms. We went through all the steps of setting up and using the software for the first time. We also conducted online research and examined customer reviews to find out more about real users' experiences with FreshBooks.
FreshBooks FAQ
There is a charge of 2.9 percent plus $0.30 on each credit card transaction, with the exception of American Express, which is 3.5 percent plus $0.30 per transaction. For ACH payments made with bank transfers, FreshBooks charges 1 percent.
Payment processing may take one to three days, depending on the financial institution, and FreshBooks will not deposit on weekends or holidays.
FreshBooks is best for small business owners who don't have an accounting background. You can create and send invoices, track expenses, manage projects and clients, and view reports.
Overall Value
We recommend FreshBooks for …
Small businesses that need quick and easy invoices. 
Small business owners with little or no accounting background. 
Small businesses that are looking for a bargain. 
We don't recommend FreshBooks for …
Small businesses that need thorough accounting reports. 
Larger businesses that want advanced features.