Oracle NetSuite Accounting Software Review
Oracle NetSuite is an enterprise resource planning (ERP) platform that comes with a robust financial management solution.
Its pricing is customized for each user based on the needs and circumstances of your business.
Oracle NetSuite is ideal for midsize businesses, manufacturers and companies that need advanced features.
This article is for entrepreneurs considering implementing Oracle's NetSuite ERP platform as their financial management and accounting solution.

As your business grows out of the startup phase and into a more mature company, you may want to invest in software solutions that will keep your operations moving forward. Companies that reach this point often find it's easiest to streamline all of their systems – including accounting and financial management – into one convenient enterprise resource planning (ERP) platform. For this reason, we chose Oracle NetSuite as the best pick for businesses that are seeking advanced features.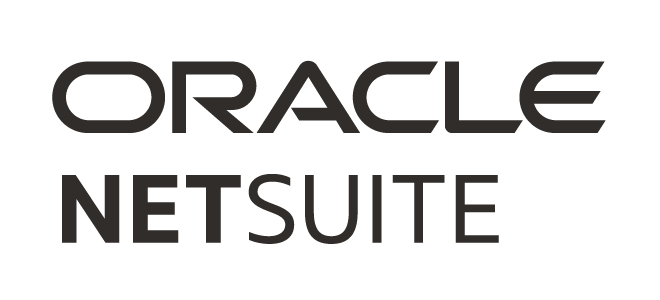 Oracle NetSuite Accounting Software
The Verdict
Oracle NetSuite is our choice as the best accounting software within an ERP platform because of its robust services that can drive a business's entire financial management needs.
Oracle NetSuite Editor's Score: 90/100
| | |
| --- | --- |
| Affordable pricing | 50 |
| Free trial | 100 |
| Robust integrations | 100 |
| Invoicing and bill pay | 100 |
| Mobile app | 100 |
Why Oracle NetSuite Is Best for Advanced Features
As part of its robust ERP offering, Oracle NetSuite offers an intuitive cloud-based financial management solution that allows businesses to track their financial data and automate many essential accounting functions. Like any top accounting software, it offers reporting, planning and billing features and easily integrates with other software, including Oracle's suite of business solutions. It can also be used seamlessly with multiple currencies, so it's a great option for growing companies with a global customer base.
If your business needs to expedite its accounts receivable and payable, accelerate deal closings, and keep up with more complex financial compliance obligations while taking advantage of a full suite of powerful business management features, Oracle NetSuite is ideal. Compared to QuickBooks Online Advanced, a top contender in the space, Oracle NetSuite doesn't limit the number of users or rely on third-party apps for customization.
Pros
Oracle NetSuite seamlessly supports small and midsize companies as they grow to large companies.
Its full product suite allows your organization's various departments and systems to operate in real time so that every person in your company will remain up to date.
Currency management supports more than 190 currencies and a variety of exchange rates and payment options for easy international business operations.
Cons
Oracle NetSuite may be too expensive for businesses on a tighter or smaller budget.
For sole proprietors or startups, this software may offer excess functionality and be too complicated.
Usability
Oracle NetSuite is not cookie-cutter software; there are versions for different business types, including manufacturing and not-for-profit organizations, and it's easy to add features as needed. It integrates with many leading business software providers, so if you use other vendors to manage your operations, you can use NetSuite's open APIs to introduce new integrations. While this level of specificity is impressive, it does mean there is a significant learning curve for new users. Some small businesses may even find its exhaustive slate of features overwhelming.
Since Oracle NetSuite is a cloud-based business solution, you can access all your company's accounting and operations data on any device, no matter where you are or when you need it. Users can create and access reports with its powerful front-end search functionality, but it should be noted that this software is not tailored to novices. You may want to hire a dedicated NetSuite implementation team to deal with the initial stages of the ERP platform, integrations and project management planning.
Once you're comfortable with the program, you can take advantage of the ERP features: order, production and supply management. You'll be able to manage your team and human resources processes with SuitePeople, which will streamline employee onboarding and information collection for new hires while also giving visibility into your workforce operations. For warehouse and fulfillment, NetSuite will help you with inbound and outbound logistics, inventory management, and warehousing operations. It offers customized user-defined strategies and advanced real-time updates and integrations.
Oracle NetSuite is a powerful software platform with exceptional features, but it might be overkill for some small businesses. If you don't have a dedicated Oracle NetSuite expert on your team or you don't have a clear need for all of its advanced features, you might consider a simpler accounting software. One example can be found in our Zoho Books review.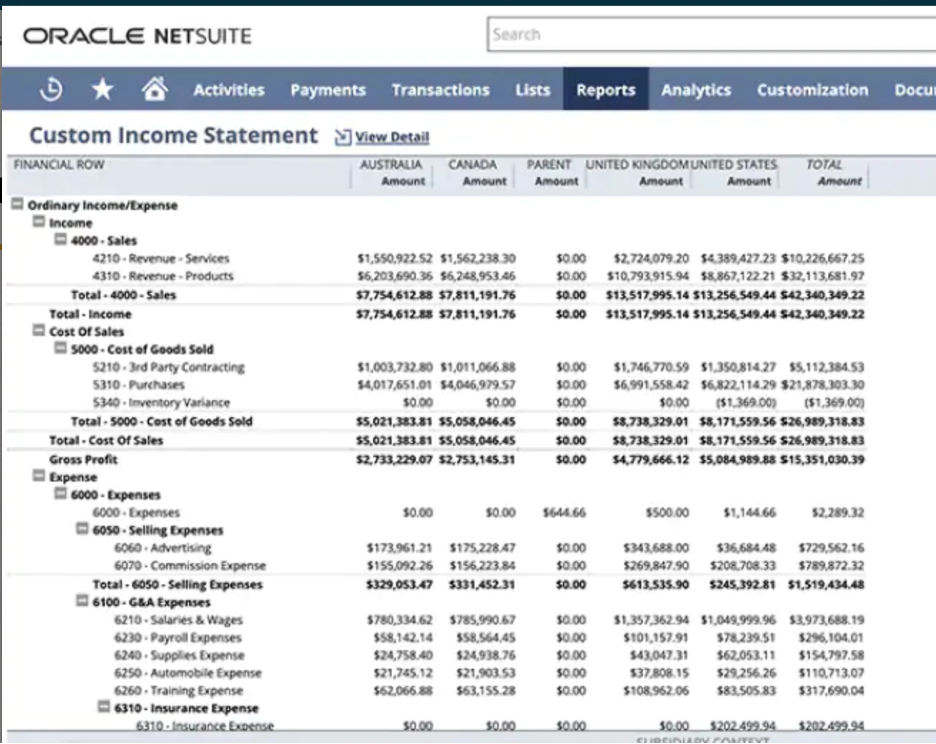 This is an example of a custom income statement generated in Oracle NetSuite. You can tailor these documents to suit your needs and workflow. Photo Credit: Oracle NetSuite 
Oracle NetSuite Features
| | |
| --- | --- |
| Finance and accounting tools | Oracle NetSuite offers all the finance and accounting tools we looked for in our review of accounting software. |
| Billing management | It supports billing management for business models ranging from transaction to subscription. |
| Accounting standards compliance | Oracle NetSuite can ensure your accounting practices meet general standards and that your books are being managed properly. |
| Financial planning and projections | It has functions that allow your business to project its financial future with real-time analytics. |
| International tools | It offers global account management and consolidation capabilities. |
Finance and Accounting Tools
With Oracle NetSuite, your business can seamlessly combine its core finance and accounting functions with strong compliance management. This ERP's financial management solution offers real-time access to your financial data to help you drill into important details, resolve delays, and generate compliance statements and disclosures for your stakeholders. NetSuite provides the following basic accounting functions to streamline and simplify your financial processes:
A general ledger
Accounts receivable
Accounts payable
Tax management
Fixed assets management
Cash management
Payment management
Billing Management Tools
Whether your business operates on a transaction, subscription, usage-based or hybrid model, Oracle NetSuite can help you manage your billing operations. It fully integrates into the platform's advanced revenue management and compliance functions. Be aware that NetSuite is exclusively cloud-based, which is great if you want to work from the cloud only. Other software, such as SAP Business One, can be used on both the cloud and your IT system.
Accounting Standards Compliance
Businesses with financial reporting obligations can use NetSuite to easily comply with accounting standards, including ASC 605 and 606 and IFRS 15. Using the platform's rule-based event-handling framework, you can easily automate numerous revenue management and reporting functions, such as forecasting, allocation, recognition, reclassification and auditing.
With Oracle NetSuite, your business will always be audit-ready. This ERP platform supports your company's governance, risk and compliance (GRC) programs so you can handle increasingly complex regulatory, operational and compliance challenges as you scale. The platform can also establish a sustainable risk management and compliance process for your company so you can anticipate major risks before they happen.
Financial Planning and Projections
NetSuite's planning, budgeting and forecasting functions allow your business to plot out its financial future based on real-time analytics. Use your business data to forecast revenue, plot out what-if scenarios and develop accurate budgets. Oracle's powerful reporting and analytics tools also allow you to gain a more complete picture of your business at any time to make better-informed decisions about your finances.
International Tools
If your business plans to expand its borders and go global, you need a financial management solution that helps you manage your international transactions and compliance obligations. Oracle NetSuite's powerful financial engine gives you maximum transparency and visibility into your business across countries and in real time so you can manage your operations at the local and global levels. To make it easier to run an international business, NetSuite offers a variety of language interfaces to overcome language barriers and a multicurrency management system that supports over 190 currencies and automatically accounts for the current exchange rate for real-time conversion.
Oracle NetSuite Cost
Oracle NetSuite does not publish a fixed price list on its website. It varies depending on such factors as which product configuration your company selects, the add-on modules required, the total user count, contract duration and specific industry requirements. Monthly subscription costs begin at $99, but the total price will depend on the solution you want. Implementing Oracle NetSuite may cost even more, with some estimates in the thousands of dollars.
Due to its high price point, Oracle NetSuite is likely not well suited for smaller businesses with basic bookkeeping and invoicing needs. In that case, you may want to consider our review of Intuit QuickBooks, which has plans currently ranging from $15 to $42 per month. However, if your business is growing internationally and you anticipate needing an ERP platform to manage everything, this can be an excellent accounting solution that sets you up for financial success as your company grows. Thanks to NetSuite's integrated ecosystem, you can save time and money that would otherwise be spent managing multiple software solutions from different vendors.
Oracle NetSuite does offer a free trial, which begins with a demo. You would be set up with a customized plan for your business. Once set up, you will have two weeks to test it out.
Setup
Oracle NetSuite publishes a detailed "Creating Accounts" document that takes you step by step through the setup process:
Go to Lists > Accounting > Accounts > New.
Enter general account information.
If the Multiple Currencies feature is enabled and the Account Type is Bank, select a currency to associate with the account.
For NetSuite OneWorld, select rate types for exchange rates used to value financials.
If you use the Multiple Currencies feature and want to be able to select this account for revaluation, check the Revalue Open Balance for Foreign Currency Transactions box.
Check the Eliminate Intercompany Transactions box if this is an intercompany account used only to record transactions between subsidiaries. Amounts posted to intercompany accounts are eliminated when you run the intercompany elimination process at the end of an accounting period.
Enter a description of the account.
The Date field indicates the date for the account's opening balance.
If you are not using NetSuite OneWorld, enter an opening balance for this account.
Check the Summary box to make this a reporting account record.
To make an account inactive, check the Inactive box.
Enter classification information.
If you have the GL Matching SuiteApp installed, check the Include in GL Matching box if you want to include this account for GL Matching or account reconciliation. Including an account in GL Matching enables you to select this account type from the Account dropdown filter in the GL Matching Dashboard.
Click Save.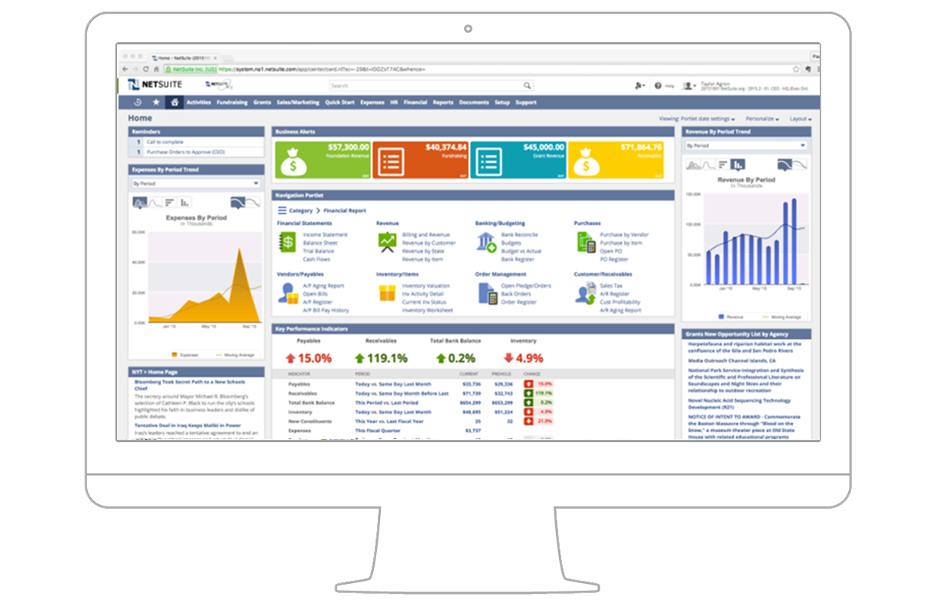 This is an example of the dashboard you can customize in Oracle NetSuite. The platform provides insight into virtually every aspect of your enterprise resource planning and can scale indefinitely with your business. Photo Credit: Oracle NetSuite.
The length of time it will take to set up the account varies tremendously. It depends on the complexity of your business and add-ons. Based on our research, it can take a couple of hours to input all the information. FreshBooks, on the other hand, which is designed for startups and specializes in invoicing, can easily take under an hour to create an account.
Customer Service
Oracle NetSuite delivers top-notch customer service across its entire ERP platform, including its financial management solution. The company's educational resources give users the opportunity to learn about NetSuite's full range of products and stay updated on any new features or capabilities.
NetSuite offers 24/7, real-time support for industries by phone at 877-638-7848, email and a built-in chatbot on its website. The automated chat functionality can answer simple FAQs or connect you with a customer service representative. The company also offers free live and online NetSuite training, which is essential for new users to become proficient with the system.
Drawbacks
There are some considerations to weigh before enrolling in Oracle NetSuite. The software can be complicated to set up and manage. It's easy to get overwhelmed if you are a novice. For example, the interface enables you to modify reports, but if the data source is not available, you'll need to take extra steps to customize your reports. Training is essential for new users and teams to make the most out of Oracle NetSuite.
In addition, the annual subscription price is on the expensive side, and the cost of implementation can vary depending on your needs. Some businesses may find it necessary to maintain in-house staff that specialize in Oracle NetSuite to properly configure and manage the system, which represents an indirect expense to keep the system running. For small businesses trying to keep costs low and in need of a simple accounting software, Oracle NetSuite may not be the best fit.
Methodology
When we searched for the best accounting software for advanced features, we looked for a comprehensive platform that not only offered accounting software tools, but also integrated with every facet of a business's operations. After much research and analysis, we recommend Oracle NetSuite as the best accounting software for advanced features, since its ERP system covers virtually everything a business needs. After comparing and contrasting the dashboard, features, pricing and customer service, we test-drove the product with an initial setup. Overall, we found Oracle NetSuite to be a very powerful, robust platform that has all the bells and whistles to manage many moving parts.
Oracle NetSuite FAQ
Is Oracle NetSuite good for e-commerce?
Yes. The SuiteCommerce platform is pre-integrated into Oracle NetSuite's ERP, so there is no extra cost.
How many users does the platform allow per account?
This accounting software does not limit the number of users, which makes it ideal for a company needing total flexibility.
Does Oracle NetSuite offer a month-to-month contract?
No. The Oracle NetSuite contract is for a minimum one year and a maximum of three years. However, you can pay monthly or annually.
Overall Value
We recommend Oracle NetSuite for …
Businesses that are outgrowing basic accounting software solutions.
Manufacturing businesses needing to manage warehouse operations, inventory and supply chain processes  while lowering operating costs and increasing revenue.
International businesses that need a platform that can help manage operations that span multiple national borders.
We don't recommend Oracle NetSuite for …
New users who are unprepared for a steep learning curve.
Businesses needing only invoicing and basic accounting reports.
Businesses on a budget.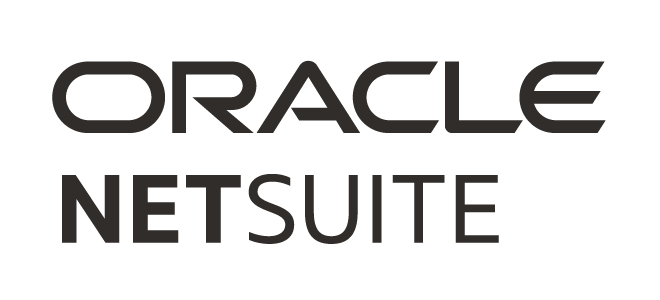 Oracle NetSuite Accounting Software
The Verdict
Oracle NetSuite is our choice as the best accounting software within an ERP platform because of its robust services that can drive a business's entire financial management needs.

Erica Sandberg
Contributing Writer
Erica Sandberg is a personal finance writer, reporter, and author of Expecting Money: The Essential Financial Plan for New and Growing Families. Her work appears in many outlets, including U.S. News & World Report, Bankrate, CreditCards.com, CardRates, and Experian. Erica has been a spokesperson for J.P Morgan Chase, Western Union, the Better Business Bureau, and Learning Resources, as well as a credit expert in court hearings. She has spoken at national personal finance and journalism events. She hosted her KRON-4 television program, Making it in San Francisco, as well as her financial podcast, Adventures in Money. Her syndicated credit card advice column ran for over seven years. Erica is a small business advocate, and currently writes two columns centered on entrepreneurs: Business Banter and Small Business Credit Profile.