Investing in an excellent customer relationship management (CRM) platform can help small businesses better manage their sales and marketing efforts. CRM systems organize customer data and communications, helping sales teams execute consistent follow-up strategies, track in-progress deals, and identify additional sales opportunities. 
Who Do We Recommend NetSuite For?
We recommend NetSuite for small and midsize businesses seeking an all-in-one CRM solution. It's an ideal choice for businesses that want to handle accounting, sales activities, marketing, and HR all in one place. In contrast, businesses that rely on existing software tools may prefer a more traditional CRM with robust CRM integrations like Salesforce or HubSpot. 
NetSuite CRM provides a centralized platform to help businesses manage customer relationships and communicate with prospects and suppliers. NetSuite's CRM product operates as an added module to the core Oracle NetSuite enterprise resource planning (ERP) platform. The ERP platform provides access to various tools, including accounting software, inventory management features, and HR software alongside CRM functionality.
Unlike most CRM vendors we reviewed, NetSuite doesn't have transparent pricing tiers or plans. This lack of pricing transparency may be a downside for many small businesses shopping on a budget. However, this approach will benefit businesses that want a higher degree of package customization.
NetSuite excels in the CRM arena because of the following features:
NetSuite can manage all your business's primary functions in one unified platform.
The platform and service packages are highly customizable.
NetSuite offers more substantial e-commerce features than many other CRM vendors.
NetSuite is an excellent CRM if your business has e-commerce functions and needs a CRM to manage e-commerce sales activity.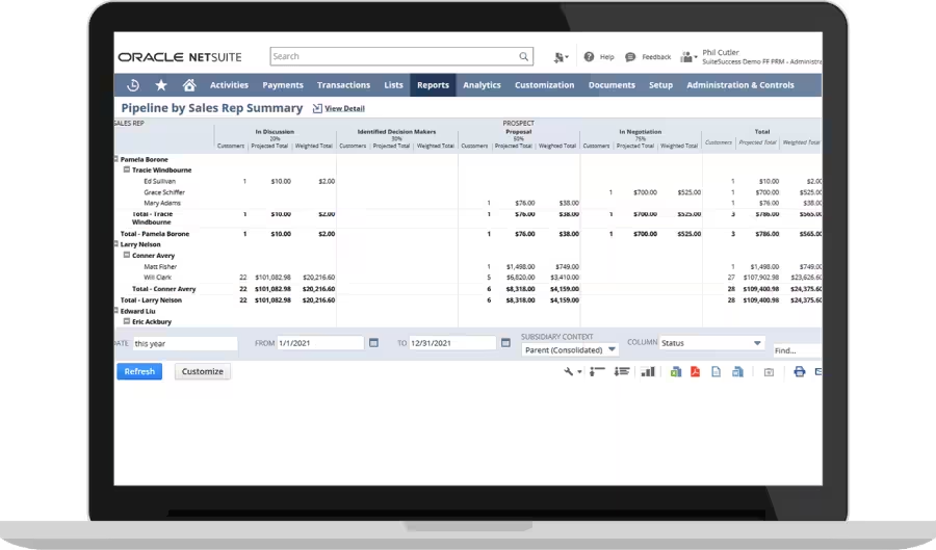 NetSuite tracks key sales activities, including deals and revenue, to help organizations manage their sales efforts. Source: NetSuite
Salesforce vs. NetSuite Comparison
Features
Salesforce
NetSuite
Sales automation: Customized and automated sales workflows can guide teams through the sales cycle more effectively.
Marketing automation: NetSuite's marketing automation tools can help businesses with lead management by tracking each prospect's activity, creating targeted marketing efforts, and identifying when a lead meets set buyer-readiness conditions.
Reporting and analytics: Access real-time analytics, role-based dashboards and customizable reporting on sales activities.
Upsell recommendations: NetSuite analyzes buying patterns and sales data to generate upselling and cross-selling recommendations.
Commission tracking: You can track sales rep commission earnings and special incentives and process payments in-platform.
E-commerce customer portal: Businesses can use NetSuite's e-commerce portal to manage product inventory, handle e-commerce customer data and sales activity, and build e-commerce websites.
Winner
Both vendors offer feature-heavy CRM services. However, NetSuite offers more robust e-commerce-focused features along with additional services, such as accounting and finance tools.
Pricing 
Salesforce
Salesforce offers a discount for annual billing; you'll pay more for monthly billing. It also requires an annual contract for all tiers.
Paid add-ons for analytics, marketing and more can improve any service tier's functionality. 
You can access a free 30-day trial at all service levels. 
Salesforce offers several plans to accommodate businesses of different sizes and varying needs. The most popular small business plans include the following (prices reflect monthly charges with annual billing):
Starter: $25 per user per month. Features include basic sales, marketing and service tools. This plan is ideal for newer small businesses that need core CRM features.
Professional: $80 per user per month. It includes everything in Starter, plus sales forecast management and more advanced sales features like customizable reporting and sales quoting.
Enterprise: $160 per user per month. This level includes everything in Professional, plus more advanced functionality like workflow automation, advanced sales pipeline and deals management, opportunity scoring, deal insights, web service APIs and more. 
Unlimited: $330 per user per month. This level includes everything in previous tiers, plus high-level features like lead scoring, enhanced Einstein AI tools, premium support and more. 
NetSuite
NetSuite does not provide publicly available pricing data. Our research indicates that you can expect to pay around $1,000 per month as a base price with an added per-user fee of around $100. To get a price quote, businesses must contact Oracle NetSuite and meet with a sales team member.
Winner
Salesforce wins this round because many businesses prefer vendors with clear and transparent pricing tiers and service packages. This is particularly important for small businesses with limited budgets. With Salesforce, you can choose packages and add-ons and understand your cost obligations immediately. Additionally, NetSuite's base pricing may be too expensive for many businesses, while Salesforce provides some relatively budget-friendly starter packages.
Ease of Use
Salesforce
Salesforce is a complex CRM. However, many users find it relatively easy to use after an initial learning curve. Users with prior CRM software experience tend to fare better. We appreciate that the platform does a great job visually displaying data and key insights, along with providing personalized AI insights and sentiment analysis. This makes the platform more intuitive. Additionally, your Salesforce package's complexity level (basic vs. advanced features and add-ons) will affect your ease of use. 
Most businesses should expect a learning curve when using the Salesforce CRM; understanding the platform and its functions may take a while.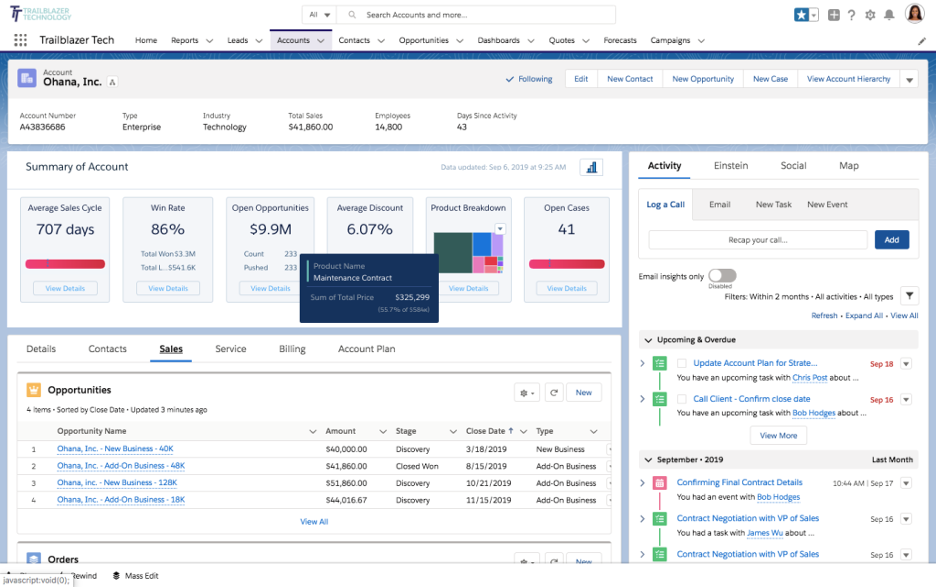 Salesforce offers intuitive dashboards with key insights to help sales and marketing teams work more effectively. Source: Salesforce
NetSuite
NetSuite is also one of the more complex CRMs to navigate. Those with experience using other Oracle products will have an easier time. When we researched customer feedback and reviews, we found that users were split on NetSuite's ease of use. Some found it fairly straightforward, while others cited a steep learning curve and a challenging interface. 
In our testing, we found the user interface a bit clunky and outdated. However, information is presented in a relatively clear manner on each dashboard or screen. Reports are easy to customize and export, which we appreciate. 
Ultimately, the NetSuite CRM isn't the most modern or intuitive system. However, with the right training and some patience, users should pass the initial learning curve and navigate the platform without problems.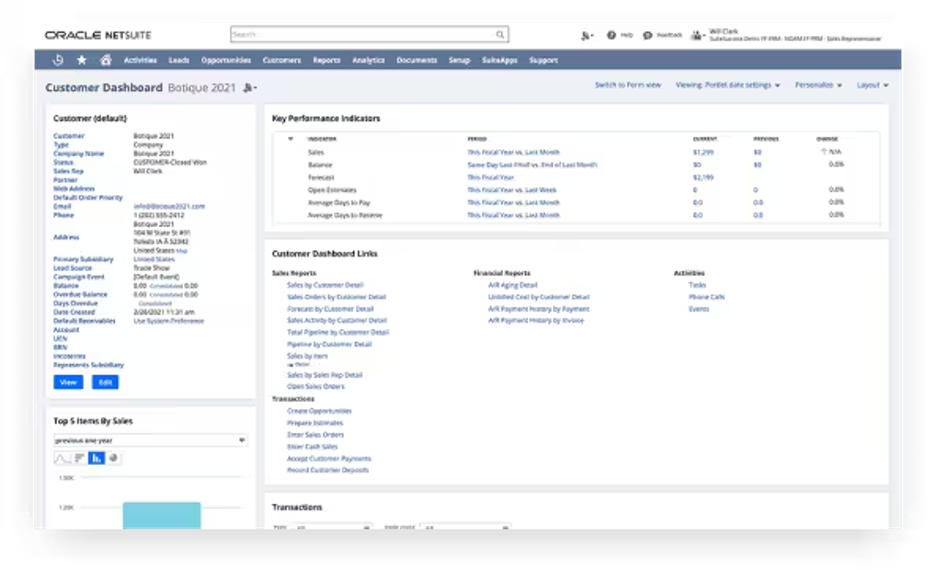 NetSuite's customer dashboards are straightforward and present detailed information. Source: NetSuite
Winner
Neither vendor necessarily comes out on top as the best CRM for ease of use. However, we found Salesforce to be the more user-friendly option. Salesforce's AI tool, Einstein, adds significant usability value via personalized coaching and insights, writing and task assistance, and automating complex processes.
Customer Service
Salesforce
Salesforce's customer service team is available by phone, email and chat 24 hours a day, seven days a week. Higher plans gain access to premier support with extended support for noncritical issues, expert guidance and tailored resources. Premier support is also available as an add-on; this service costs 30 percent of your net license fees.
Salesforce also provides an online form where users can open a tech support case. 
NetSuite
NetSuite includes 24/7 basic customer support in all plans. You can also access extensive online self-help resources, including an online tech support forum and how-to guides. NetSuite Premium Support is a higher support tier with additional assistance, including support for noncritical issues, priority case queuing, and commerce response services.
Winner
Both vendors offer solid customer support and self-service options. They've both received mostly positive customer support ratings from current customers. We appreciate that both vendors offer 24/7 support but acknowledge that accessing a higher support tier for more comprehensive support can be costly with both plans. 
Implementation
Salesforce
The Salesforce implementation process will vary based on your selected plan and customization needs. Salesforce is a highly customizable platform; businesses with advanced customizations or complex CRM workflows will face a longer implementation process and should consider working with a Salesforce consultant for added support. 
However, average small businesses with the Starter plan will have a reasonably quick and easy setup process. Your primary task will be importing existing customer data and setting up minor customizations. Salesforce provides guides and to-do lists to help businesses navigate the setup process. 
NetSuite
NetSuite's implementation process can be quite lengthy because it also requires the implementation of NetSuite's ERP software. The company charges a one-time setup fee for the initial implementation process. The setup period requires significant planning, data migration, configuration, testing and employee platform training, so the process can take several weeks or even months. According to Oracle, businesses with more basic needs can get set up in around 30 days. 
Your company must assign a staff member to act as a project manager to work with the NetSuite team throughout the process. Many companies opt to work with a NetSuite consultant for advanced customization or additional training support. NetSuite maintains a partner directory where companies can find certified consultants.
Winner
Salesforce can be implemented more quickly than NetSuite for many customers. Small businesses choosing a more affordable plan with basic CRM features can get up and running reasonably quickly. We appreciate that Salesforce provides plenty of self-help resources.