Customer relationship management (CRM) software combines everything you need in a unified platform to connect with leads, focus communications and bring home sales. The best CRM software harnesses the power of AI, along with automations and advanced tools, to optimize how your teams work.
Salesforce vs. Zoho
Price and Plans
Salesforce
Salesforce offers an assortment of solutions.
You have to commit annually after a 30-day free trial.
The best features come with expensive premium plans only.
Salesforce has multiple solutions for different needs, but most are designed for large enterprises and expensive. We've focused on the Sales CRM plans. You can also opt for a service-oriented CRM at the same price points or the Marketing Cloud Account Engagement solution with monthly prices ranging from $1,250 to $15,000. All four Sales CRM plans offer a 30-day free trial, but we don't like that subscriptions require an annual commitment. 
We appreciate that the Starter plan contains the essential tools to work effectively, but we were disappointed by the 10-seat limit. As your needs grow, changing plans comes with a steep price increase. Unfortunately, the best features are restricted to the most expensive plans, and add-ons are costly.
Plan

Price (per user per month)

Features

Starter

$25 (billed annually)

30-day free trial

10-seat user limit

Lead management, automatic lead routing, web-to-lead capture, mass email, contact management, customizable reports and dashboards, mobile app, and email integrations 

Sales Professional

$80 (billed annually)

30-day free trial

Starter features, plus forecasting, quotes and orders tracking, developer sandbox, and 5 workflows

Sales Enterprise

$165 (billed annually)

30-day free trial

Professional features, plus AI opportunity scoring and deal insights, advanced reporting, advanced pipeline management, and unlimited automated workflows

Sales

Unlimited 

$330 (billed annually)

30-day free trial

Enterprise features, plus advanced AI functions and insights, lead scoring, full sandbox, advanced automations, and premium support
Zoho
You can choose from stand-alone plans or bundled options.
All plans offer free-trials, and there are no contracts or commitments. 
Essential features come standard, and scaling is affordable.
Zoho offers five stand-alone CRM plans, including a free option, plus two bundled packages. We like that you can pay monthly or discounted yearly, with no contracts or commitments. There's a 14-day free trial for stand-alone plans and a 30-day trial for bundles.
We love that price jumps between plans are small so you can scale affordably. CRM Flex includes the standard CRM platform and a choice of paid apps, so you can customize a plan to meet your needs. CRM Plus includes all eight fully featured Zoho apps.  
Plan

Starting price

Features

Free

$0 

3 users, essential leads, contacts and deal tools, standard reports, 10 email templates, 1 GB storage, 30 personal fields, 1 sales pipeline, 2,000 active workflow rules, 1 webform/module, and limited integrations

Standard

$14 per user per month (annual billing)

$20 per user per month (monthly billing)

15-day free trial

Free features, plus sales forecasting, multiple currencies, social media integrations, 100 custom reports, 10 custom dashboards, 250 mass emails/day, 100 email templates, 1 GB plus 512MB per user storage, 5 sales pipelines, 1 Canvas page view, additional automation tools, 5 webforms/module, 10 email addresses, and more integrations, including Google

Professional

$23 per user per month (annual billing)

$35 per user per month (monthly billing)

15-day free trial

Standard features, plus SalesSignals, Motivator, unlimited custom reports and dashboards, 500 mass emails per day, 10 sales pipelines, unlimited email templates, inventory management, customer support tools, 3 Canvas views, basic process management, webhooks, and 10 webforms/module

Enterprise

$40 per user per month (annual billing)

$50 per user per month (monthly billing)

15-day free trial

Professional features, plus Zia AI, territory forecasts, advanced analytics, 1,000 mass emails per day, 1 GB plus 1 GB per user storage, 25+ custom modules, 5 Canvas views, advanced process management, more automation functions, 20 webforms plus analytics and A/B testing, advanced integrations, sandbox, and translations

Ultimate

$52 per user per month (annual billing)

$65 per user per month (monthly billing)

15-day free trial

Everything in Enterprise, plus 2,000 mass emails per day, additional Zia predictions and recommendations, 5 GB plus 1 GB per user storage, additional customizations, and 100 webforms/module

CRM Flex

Starts at $14 per month (annual billing)

30-day free trial

2 users and a choice from Zoho's 8 sales, marketing and service apps

CRM Plus

$57 per user per month (annual billing)

$69 per user per month (monthly billing)

30-day free trial

Full access to Zoho's sales, customer service, email marketing, business intelligence and analytics, social media marketing, website visitor tracking, project management, and customer survey management apps 
Winner: Zoho
We think Zoho is the best choice for small businesses looking for a flexible CRM that can affordably scale as your company grows. We love that prices are straightforward and you don't have to pay a lot to upgrade. In fact, the top plan is cheaper than Salesforce's mid-range option. 
Sales Features
Salesforce
Lead management tools come standard.
You get clear, accurate forecasts.
Advanced selling tools come with high-tier plans only.
It's right in the name: Salesforce excels when it comes to capturing leads, managing pipelines and making sales. We especially love the potent lead management tools. Salesforce automatically routes contacts to the appropriate rep, who has access to a customized contact information page with tools to follow up and close the deal.  
We also found the forecasting feature to be a highlight, although we wish it came standard. You get a complete, accurate view of sales forecasts from the dashboard or the Forecasting mobile app. 
We were disappointed that many advanced features, like AI powered insights, advanced customizations and workflow automations, are restricted to expensive plans.
Zoho  
You get essential sales tools for free.
SalesSignals tracks multichannel lead interactions. 
Motivator keeps your teams competitive.
Zoho makes lead generation and sales management a breeze. Everything you need to communicate with contacts and win deals, like automations and reports, comes free. The bargain-priced Standard plan expands features, adding forecasting and better analytics. 
We love that Zoho is geared toward providing excellent communications with up-to-date information so your team can close deals efficiently. We especially like the SalesSignals feature, which sends alerts when leads interact with your brand across multiple channels, including social media or third-party apps, but it doesn't come standard.
We think the Motivator feature is especially useful. Through gamification, it creates challenges and rewards to keep your teams competitive and on task. But we were disappointed that it's missing in basic plans. Other excellent features are restricted to top-tier plans, like AI tools, unlimited customizations and social media data enrichment. Still, advanced tools are a bargain compared to the competition. 
Winner: Tie 
Salesforce is an industry leader for a reason, boasting top-of-the-line sales features, but when it comes to value, Zoho offers many of the best tools for a steal. Larger companies with complex needs should consider Salesforce, but smaller companies will find a robust, economical platform in Zoho. 
Artificial Intelligence
Salesforce  
Most features come with the Unlimited plan only.
Einstein tracks brand mentions and interactions online.
EinsteinGPT offers personalized content and recommendations.
Salesforce offers stellar AI-powered features, but apart from email and calendar data sync, none comes standard. In fact, most features, like predictions and forecasts, are restricted to the Unlimited plan or as Enterprise plan paid add-ons.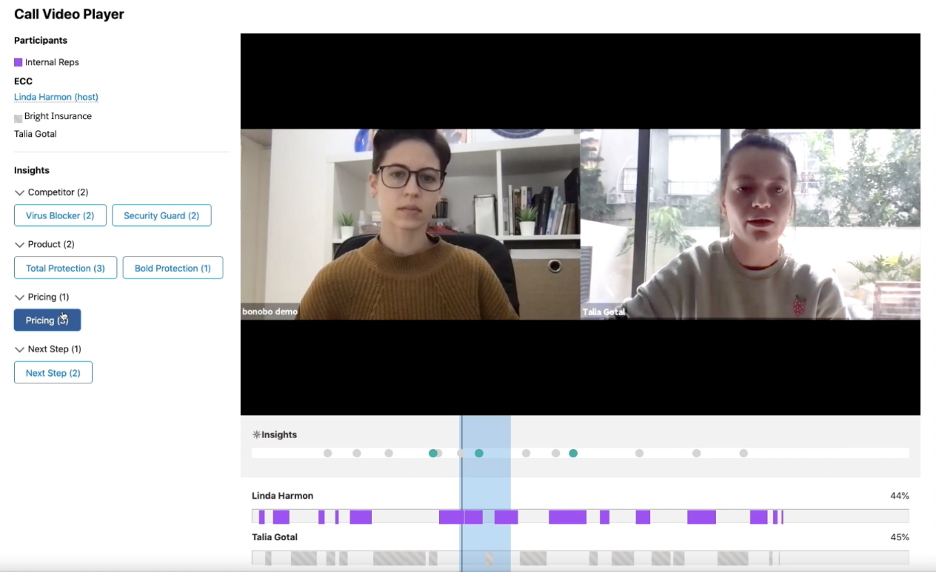 Einstein Conversation Insights records conversations with time stamps to relevant keywords. Source: Salesforce
We found the Einstein Conversation Insights tool especially beneficial. You can see how your business is being discussed online with visual trends. Plus, Einstein records conversations and highlights keywords so that you can easily access information and share it with colleagues. The Social Intelligence add-on takes things further, providing industry insights from social media to help you find and reach leads.
Einstein GPT combines Salesforce's AI with ChatGPT's generative capabilities. It creates tailored automations, recommendations and alerts so you can work quicker and better. It also generates personalized customer responses and interaction summaries. We love that it learns your customers and lets you know when it's best to reach out.
Zoho
Zia provides accurate data while saving you time.
AI studies customers and makes timely recommendations.
Zia comes with premium plans only.
We love that Zoho's AI-powered assistant makes everything about communicating with your contacts easier. Zia provides you with instant customer data, takes notes during an interaction, conducts sentiment analysis and even chats with customers on your website. Plus, it analyzes customer interactions and behaviors, letting you know when you should make contact and which products to sell. Zia can also build custom reports, monitor your sales, make predictions and recommend workflow automations.
Zia is available only with the Enterprise or Ultimate plan, but at a lower price than Salesforce's plan with built-in AI.
Winner: Salesforce
Both platforms have powerful AI, but Salesforce edges out Zoho because of its generative capabilities. Not only can you save time with helpful insights and automations, but Einstein creates useful content so your team can focus on the most important communications.  However, we were disappointed that the best features don't come standard with either software.
To send successful emails, you need to make them personal. AI data capture and personalization is the future of email marketing.
Ease of Use
Salesforce
The dashboard and mobile app are first-rate.
You can choose from a large number of add-ons and external integrations.
The most intuitive tools are in premium plans only.
We found using Salesforce painless despite how complex the platform and its expansive features seem. The foolproof dashboard gives you a full picture of your business with accessible actions to build sales. Plus, you can do everything out of office with the fully operative mobile app.
Salesforce's seemingly endless list of customizable features makes doing everything smoother. You can purchase additional tools to expand functionality as your business evolves. Plus, thousands of CRM integrations in the App Exchange let you take things further. But we were disappointed that the Starter plan limits integrations and that many of the most valuable tools, like generative AI and advanced automations, don't come standard. 
Setting up the Starter plan is straightforward, even for first-time CRM users, with online implementation resources. We love how customizable Salesforce's solutions are, but larger businesses with complex needs might find setup to be challenging.  
Zoho
The platform is highly customizable. 
Zoho's tools are great for connecting remote teams.
Onboarding help comes with all plans.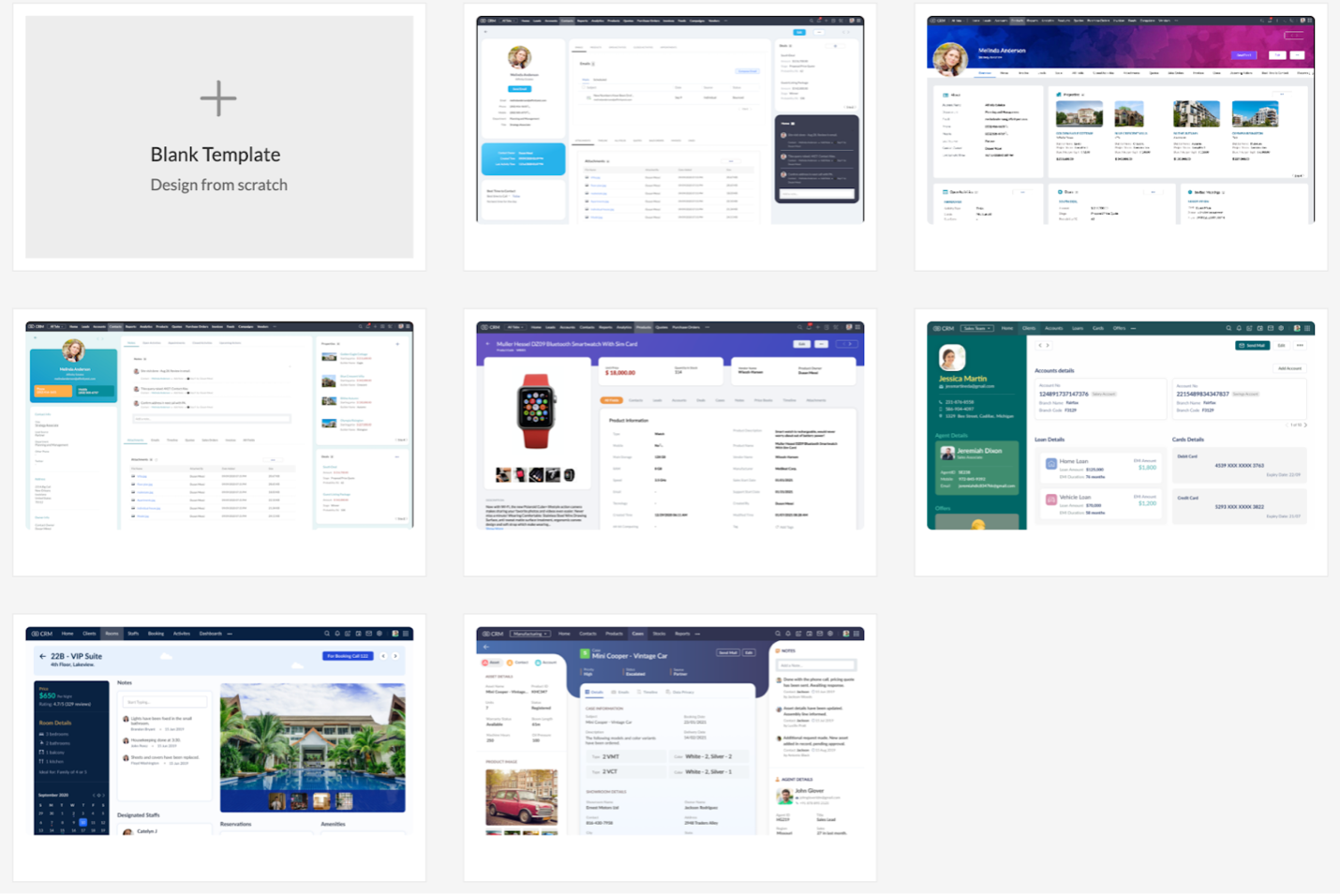 Canvas allows you to use a template or design your own custom dashboard. Source: Zoho
Zoho's user-friendly platform is easy to customize, allowing you to prioritize the most relevant data and tools. We love that you can personalize your dashboard's look with Canvas. Plus, Zoho integrates with hundreds of external apps so your teams can work with the solutions they already love. 
Zoho shines for helping teams work remotely. The fully functional mobile app allows employees to connect from anywhere. Collaboration tools and conference call service integrations connect teams directly via the platform. We found Feeds, which lets your teams communicate in real time and keep up to date on deals, especially handy.
Setup is simple and every plan includes onboarding help. We think most teams will be able to implement the platform efficiently without needing to dig into Zoho's comprehensive online training materials.
Winner: Salesforce
Salesforce is our choice for usability. Zoho's platform is also straightforward, but Salesforce outpaces Zoho across most features. With Salesforce, you'll get more customizable native features, thousands more external integrations and superior advanced features in high-tier plans.
Customer Service
Salesforce
There are three levels of customer service.
Phone support isn't included for free.
Online resources help with navigating the platform.
Salesforce's has three customer service options:
Standard Success comes free with all plans and provides online learning tools, a help portal, community forums and online technical support through case submission. 
Premier Success comes free with Unlimited Plans or for 30 percent of your license fees. You'll get all the free resources plus 24/7 phone support, developer support, coaching and onboarding. 
Signature Success includes expanded service that most small businesses won't need. You'll have to call for custom pricing.
We don't like that phone support isn't included free, especially considering how much premium plans could set you back. We appreciate that filing a technical support case ensures you're connected to the right person, but the waiting period could be problematic.
Zoho
There are three customer service options.
All plans include phone support and onboarding.
Zoho offers abundant online help and learning resources.
Zoho's offers three customer service plans:
Classic is free and includes access to many first-rate resources, like articles, e-books, videos, webinars, a community forum and a self-service portal for support requests. You get email, chat and phone support eight hours a day, five days a week, plus 45 days of onboarding. Support request responses may take up to eight hours.
Premium provides expanded customer service and costs 20 percent of your subscription fee. You get round-the-clock support five days a week, a dedicated onboarding specialist for 75 days and support responses within three hours.
Enterprise provides comprehensive, 24/7 live support for 25 percent of your subscription price, but it requires a 25-seat minimum. Support responses take less than an hour. You get a dedicated Zoho Technical Account Manager and quarterly usage reports with recommendations to help your team get the most out of the platform. 
We found Zoho's extensive support resources to be especially useful. We also like that with Jumpstart, you can pay for additional onboarding help for $200 per hour. 
Winner: Zoho
Zoho is the clear winner for customer service. We like that all plans include phone support and excellent online resources. Expanded service can be costly, but the rate is still lower than Salesforce's, especially when you consider Zoho's much lower subscription rates. 
Salesforce offers top-rate features, add-ons and integrations, but plans can be pricey. Zoho provides a solid solution and helpful support for affordable prices. For more help deciding, read our guide to choosing CRM software.