Zoho CRM offers useful tools for remote teams, helping automate tasks and improve communication with real-time notifications and follow-up prompts.
Pros
You can conduct team meetings and client presentations from the CRM.
You can set notifications to alert remote workers when new leads interact with your business.
The platform is easy to use without any in-office training sessions.
Cons
Standard support is limited to weekdays. You'll have to pay extra for Premium or Enterprise support with any plan.
Many of the best features rely on Zia AI, which is only included with the upper-tier Enterprise and Ultimate plans.
Many features, including email notifications and webhooks, are restricted with daily limits.
CRM tools help you organize and streamline your lead and customer data, identifying the areas where you should focus your marketing and sales efforts.
Zoho CRM is a widely adopted customer relationship management (CRM) platform, which has a strong emphasis on lead generation, accelerating sales and measuring performance. This user-friendly platform integrates with hundreds of popular apps and software, helping centralize data and make it more accessible for remote teams. Zoho CRM also makes great use of artificial intelligence (AI) tools with advanced options such as Zia, Zoho's AI-powered assistant. These tools provide exceptional lead generation and deal predictions to identify the potential customers who are most likely to convert, helping sales teams focus their efforts in the most efficient way possible.
Zoho CRM Editor's Rating:
9.2 / 10
Ease of use

9.5/10

Features

9.4/10

Integrations

9.4/10

Pricing

9.2/10

Customer service

8.7/10
Why We Chose Zoho CRM as Best CRM for Remote Teams
We found Zoho CRM's ease of use, effective mobile apps and built-in communications features make it an excellent CRM for employees and teams that spend the majority of their time away from the office. Teams in different areas can come together easily within their CRM for sales pitches and product demos through a wide range of conferencing integrations, including BlueJeans, GoTo Meeting, Join.me, TeamViewer, Zoom Meeting and Cisco Webex.
We especially liked how real-time prospect alerts notify the appropriate members of your sales team when anyone visits your website, opens your email or talks about your brand on social media. This system keeps your employees looped in to important developments and helps them stay on top of evolving customer interactions from wherever they're working.
Subscribers to the Enterprise and Ultimate plans get access to Zia AI, a virtual assistant with data analysis capabilities to identify patterns in your platform's activity history and suggest workflow improvements and time-saving automations. Zia can also determine when your clients are most likely to open an email, answer a call or visit your website. Zia can even help you cross-sell by analyzing sales patterns and recommending products for each customer at the ideal time. The mobile app with business card-scanning capabilities puts all of your customers' data in one place and automatically logs call data for added accuracy and convenience.
To make the best use of tools like Zia AI, you should determine the key CRM metrics you want to track first. Spend time thinking about which data is most relevant to your business and how it will provide value in optimizing your processes.
Usability
Zoho's dashboard is user-friendly, thanks to the ability to quickly toggle between classic, personalized and custom homepage views. The upper navigation bar puts many sales-focused tasks, notifications and features at your fingertips, but you can also add components and reorder your page to better suit your needs. The sales agent's personalized homepage sets the day's open tasks and leads as the top priority.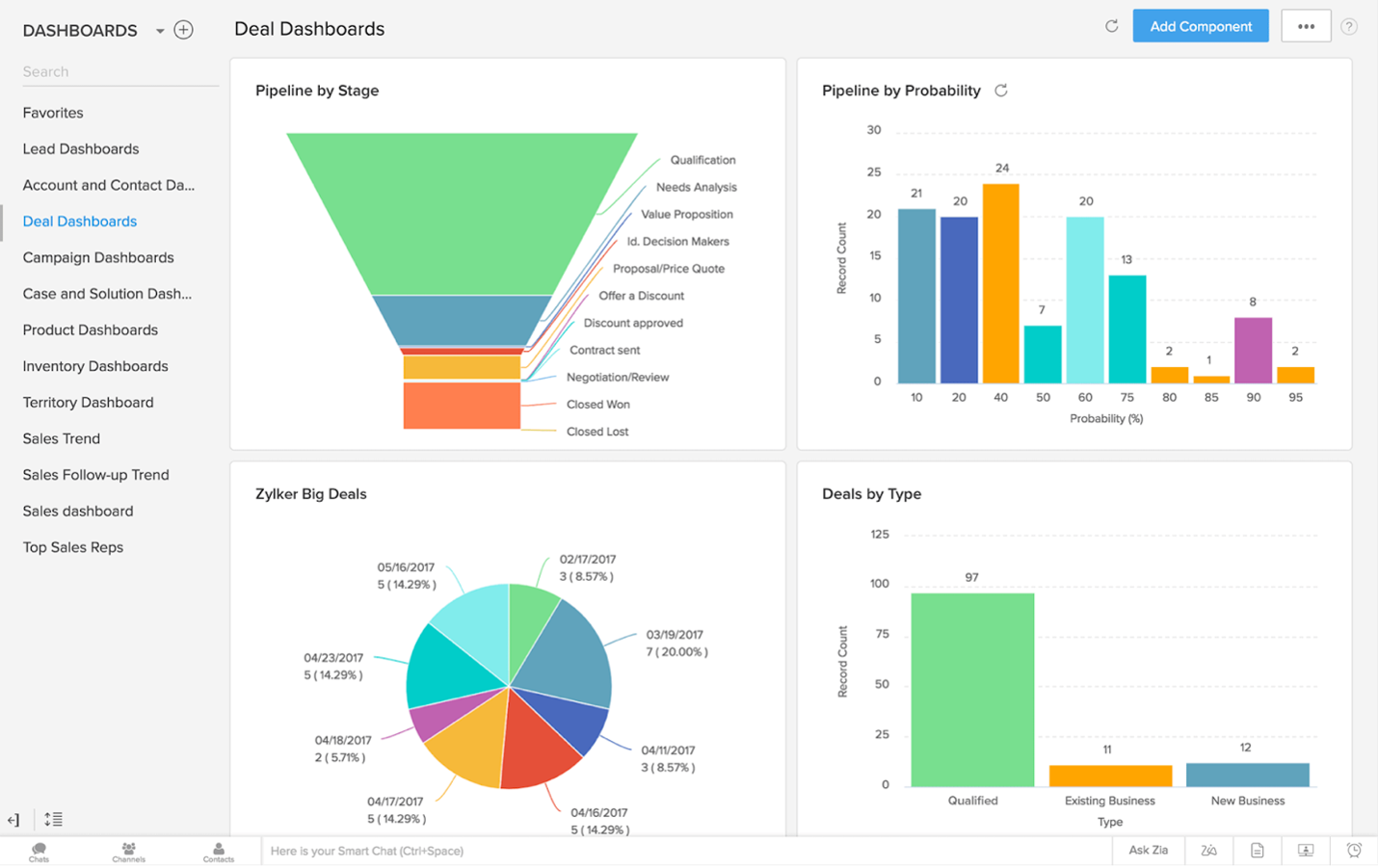 You can configure Zoho CRM's dashboard to quickly provide visualizations of the data most important to your role. Source: Boosted CRM
Other helpful tools that are easily accessible from the top navigation menu include the "Feeds" notification module. From here, you can communicate with remote team members and share your views to speed up the decision-making process – as if you're all in the office together. It will also notify you when someone makes changes to a relevant lead or deal you're following. When utilized properly, this area serves as both a system of record and collaborative space to ensure that remote team members are always working on the same page with the same information. [See our list of the most important features to look for in CRM software.]
You can also use the modular dashboard-building Canvas design studio tool to easily create custom solutions for yourself and other departments across your organization. Users can work from a gallery of templates created by certified designers or browse through Zoho's list of design partners to develop a custom solution. The drag-and-drop system provides endless homepage combinations, so it won't take long to cobble together a tailored solution for your business. Once you've built your CRM dashboard, you can save it and share it across your team, department, division or company.
Zoho CRM Features
| | |
| --- | --- |
| Leads | Custom modules store and display the details about your leads as individual records. |
| Motivator | You can gamify sales efforts by turning routine tasks into rewarding, routine-breaking contests. |
| Artificial intelligence | Enterprise and Ultimate subscribers receive a full suite of prediction and AI features. |
| Add-ons and integrations | Zoom, Slack, Mailchimp and Amazon Seller are just some of the integrations that all paid subscriptions include. |
Leads
Leads are the second drop-down menu after "Home" on Zoho's dashboard navigation menu, letting you know how important it is to Zoho's functionality. The software collects all of the individuals or representatives of an organization with whom you could potentially convert to a customer.
You can also use the SalesSignals feature to track your leads' interactions with your brand across multiple channels, such as emails, cold calls, surveys and social campaigns, and get notifications when your lead visits a new section of your website. Details like where your lead is interacting on your website and for how long can provide valuable information to help your sales agents nurture leads into loyal customers.
Motivator
The sales floor can be an exciting atmosphere – something that can be a challenge for remote teams to manage – and Zoho builds on that to take your sales team's targets, incentives and promotions to new levels of success. Every lead generated, call made and deal closed turns into trophies and badges to create a competitive sales atmosphere – no matter where your team takes calls.
Features such as pop-up notifications can keep your teams on their toes and let them know how close they are to reaching their daily, weekly, monthly, quarterly or annual goals.
Artificial Intelligence
Zia, an AI-powered assistant available at the top two tiers, can help your team collect customer data, write documents and find helpful information such as sales numbers to make everyone's job easier. Zia analyzes when each client usually opens emails, answers calls or visits your website, and then suggests the best time to contact them. The intelligent assistant can also streamline your sales efforts by predicting which deals are most likely to close soon, letting your team members focus on those deals and delegate tasks accordingly.
Add-ons and Integrations
Each of the four paid subscription bundles includes the option to integrate with popular third-party software and apps for online meetings, team collaboration, telephony, productivity, storage, analytics, email marketing, customer service, finance, business operations and website visitor tracking. You'll find tools for Zoom, GoTo Meeting, Slack, Trello, Dropbox, Google Analytics, Mailchimp, Zendesk and QuickBooks. [Learn more in our review of QuickBooks.]
Zoho CRM Pricing
Zoho offers transparent pricing based on monthly and annual terms with savings of up to 34 percent for annual subscribers. There are four stand-alone CRM service options, which range in price from $14 to $52 per monthly user when billed annually. Free trials are available for each subscription level.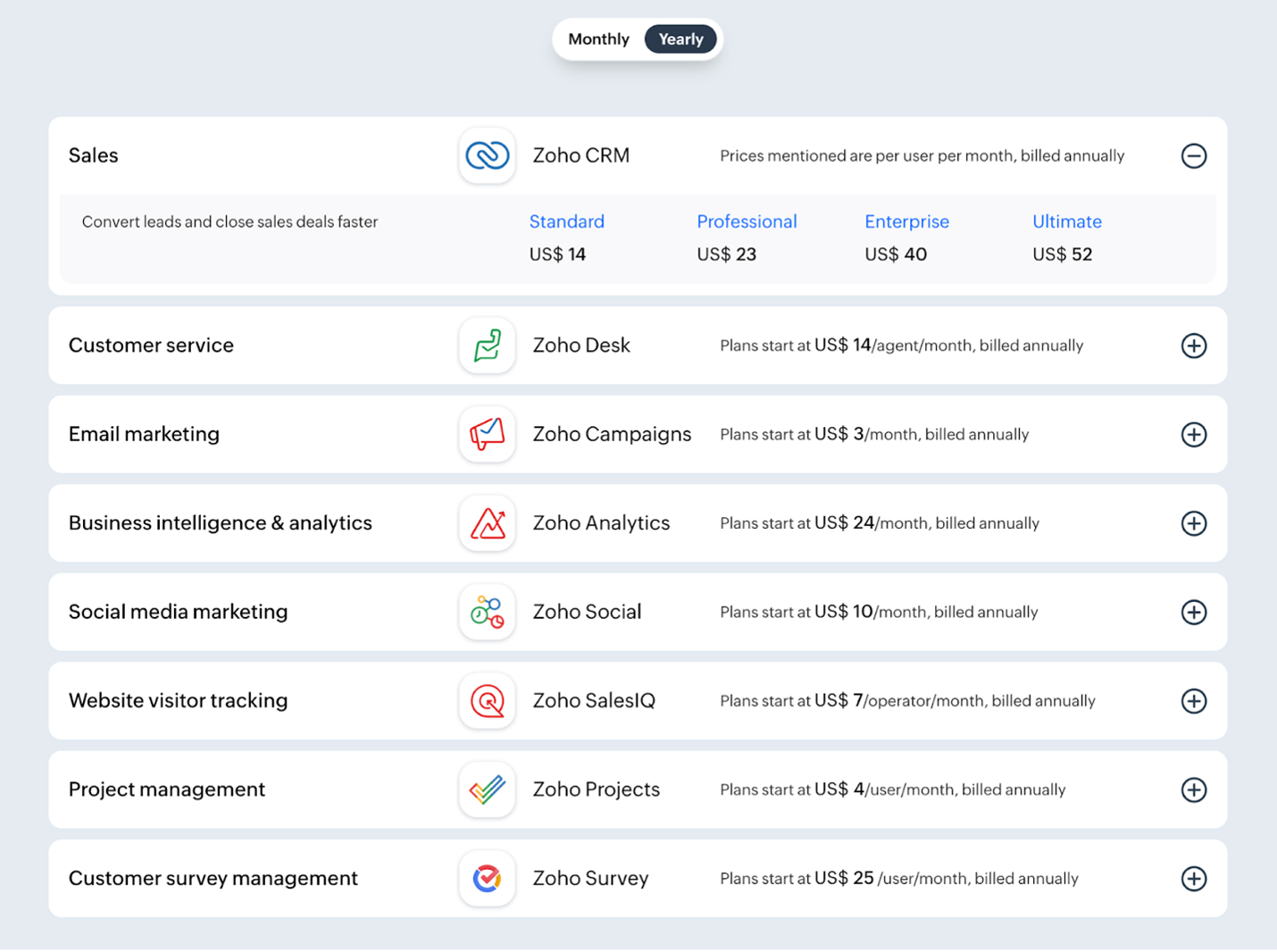 Choose from Zoho's eight apps to build the perfect sales and marketing platform for your organization's requirements. Source: Zoho
Standard

Pricing: $14 per user per month when billed annually
Additional features: Automated workflows, custom dashboards, 250 daily bulk emails, prospect scoring, sales forecasting, email insights, reminders, 50 custom modules, HIPAA compliance, 1GB of file storage plus 512MB per user

Professional

Pricing: $23 per user per month when billed annually
Additional features: Real-time sales notifications, blueprint business processes, inventory management, validation rules, web-to-case forms, up to 10GB of data storage and 500 mass emails per day

Enterprise (most popular)

Pricing: $40 per user per month when billed annually
Additional features: Zia AI, customer journey command center, Canvas visual CRM view, advanced customization, mobile software development kit and mobile device management, up to 15GB of data storage, two web forms, multiuser portals, 1,000 mass emails per day

Ultimate

Pricing: $52 per user per month when billed annually
Additional features: Advanced business intelligence and analytics software, 5GB of file storage, up to 30GB of data storage, 10 web forms, higher feature limits across the system, 2,000 mass emails per day
Zoho also offers two bundle options in CRM Flex and CRM Plus. The Flex option, which includes the Standard CRM, starts at $14 per month for two users and lets you add additional Zoho products like Zoho Desk for customer service and Zoho Social for social media marketing for an additional fee. With Flex, you can design a Zoho platform that suits your business needs. The all-in-one Plus plan costs $57 per month for two users and comes with all eight of Zoho's product offerings including its sales CRM, Zoho Survey, Zoho Projects and Zoho SalesIQ. 
Setup
Zoho customers are provided with personalized onboarding help through a specialist. Your support specialist will walk you through your tailored implementation plan in a series of one-on-one meetings to help you set up and configure the platform to your needs.
If you require any additional help or prefer to hand the implementation over to Zoho, the company offers a "jump-start" service that costs between $2,000 and $8,000, with 10 to 40 hours of work done by a dedicated expert.
Customer Service
Zoho has Basic, Classic, Premium and Enterprise customer service plans. The Classic plan is free and includes live chat and toll-free support eight hours a day, five days a week. The Premium option, which costs 20 percent of your license fee, adds remote assistance, product onboarding, configuration assistance and 24-hour support five days a week. The Enterprise option costs 25 percent of your license fee and provides support within one hour, 24 hours a day, seven days a week. It also gives you access to a technical account manager and quarterly reporting with recommendations.
Zoho has an impressive resource list for its customers, including free training webinars and paid courses for administrators, developers, sales reps and sales managers. It also has e-books, guided step-by-step tutorials, useful tips and a self-service request portal. You can also request a concierge to serve as a personalized consultant for any questions you have.
Drawbacks
Zoho's standout features, such as Zia AI and unlimited customization, are not available unless they are bundled with many other features. While Zoho provides a great set of basic tools for free, there is a large gap between the lower- and upper-tier options, pushing most customers to a high-priced bundle. Standard data and file storage may also feel low for some businesses.
Customer support could be incredibly expensive for larger organizations, as the price would be a significant percentage of their license fee. The free support provided by the entry-level bundle provides basic support during business hours. However, the potential of having to wait until the next day for a response could spell disaster for some companies should an emergency arise. These types of service options are similar to what some of the other CRM solutions we looked into offer, such as the one in our Salesforce review and Salesforce comparison.
Methodology
Our editorial team and contributing writers considered all of the major CRM software providers in 2023 for review. After spending many hours participating in live product demos and testing each platform, we created a list of our favorite CRM systems to help small business owners and managers choose the best CRM for their needs. In our review of CRM systems, we considered factors like tools and features, overall cost, usability, and integrations in our reviews. We also considered a range of different use cases common to many small businesses and selected the service we found to be the best fit for each. For the best CRM system for remote teams, we considered in-app communications features, alerts and notifications, and features that can help bring hybrid and remote teams closer together.
Zoho CRM FAQ
Zoho CRM is a stand-alone CRM platform designed to help sales teams generate leads and ultimately sell more products and services in less time. CRM Plus is an all-in-one bundle that includes all eight of Zoho's software apps in a single, fully integrated system to support all of your customer-facing teams.
No. Zoho does not offer a free version of its customer relationship management software. However, you can try any of Zoho's four CRM plans free through a 15-day trial that includes access for up to three users. Bigin, which is powered by Zoho CRM, does offer a free pipeline-focused CRM with a single user account.
According to Zoho, more than 250,000 companies use its software to build excellent customer relationships. Companies like Bose, Suzuki, Abu Dhabi Aviation and Prolite are only a few of the global brands that use Zoho's tools to deliver personalized experiences and grow their businesses.
Overall Value
We recommend Zoho CRM for …
Small businesses looking to implement their first unified CRM solution.
Any business with a sales-focused model that wants to gamify the selling process to build camaraderie and competitiveness across remote teams.
Midsize businesses that want to streamline their sales processes with helpful organization and insights from an AI-powered assistant.
We don't recommend Zoho CRM for …
Small businesses without a tech-savvy staff member to handle issues.
Small and midsize businesses that want to pay for certain core and premium features only.