A CRM dashboard provides a broad overview of sales activity and KPIs.
A CRM dashboard typically includes new leads and deals, sales pipelines, KPIs, and recent and upcoming activities.
When creating your CRM dashboard, think about sales goals, design, KPIs, user-friendliness and possible future revisions.
This article is for business owners and sales department heads interested in using CRM dashboards to streamline their sales processes.
Customer relationship management (CRM) involves all kinds of variables and data points that frequently change, so keeping up can be tough. CRM dashboards, though, update key data in real time so you and your sales team can make the smartest decisions. Using their dashboards to their fullest extent is a key element of sales success.
What is a CRM dashboard?
Dashboards are an important tool in the best CRM software. They provide a quick snapshot of your sales activity and key performance indicators (KPIs). CRM dashboards typically focus on images, graphs and figures instead of lengthy sections of text. You and your sales team can use them to see an overview of your sales pipeline's effectiveness and determine which tasks need to be completed next.
Perhaps most importantly, CRM dashboards are extensively customizable. This customization gives you the flexibility to highlight which metrics matter most to you and your team. Such metrics can include acquired leads, secured deals and, of course, KPIs. CRM dashboards are also useful for tracking the progress of individual sales team members toward certain goals. [Read related article: 12 Features to Look for in a CRM]
A CRM dashboard is a customizable tool in many CRM software platforms that gives a high-level overview of a business's sales activity and KPIs.
Benefits of CRM dashboards
These are some of the reasons a small business might want to use a CRM dashboard:
It keeps your team on track. An in-depth sales report might not always be what your team needs to stay on pace to meet its goals. The top-level information that a CRM dashboard presents can be enough to tell your salespeople what needs to get done now and what can wait, saving the time and effort of analyzing detailed reports.


It streamlines your team's work. Analyzing reports isn't the only sales activity that takes time – so does generating those reports. With CRM dashboards, your team can rapidly determine which tasks should be done first without clicking through your CRM software to pull up reports. This function can save tremendous amounts of time.


It updates in real time. A CRM report is a static document that inflexibly presents data for a given period. A CRM dashboard, on the other hand, reacts to and reflects changes in your data instantly. This way, your team gets to build its strategy based on your most recent KPI data rather than outdated numbers.


It results in stronger sales processes overall. Since CRM dashboards bring your sales team's work into the present tense, they result in better overall sales performance. A current picture of your sales pipeline and your prospects' progress along it is far more meaningful to your team than data from an old report, so CRM dashboards are especially powerful in guiding your sales team.
Editor's note: Looking for the right CRM software for your business? Fill out the below questionnaire to have our vendor partners contact you about your needs.
What should you include in a CRM dashboard?
These are some components you should include in your CRM dashboard:
Your sales pipeline. Your CRM dashboard should let you see the progress of all your pending sales deals based on the pipeline stage at which they currently lie. It should point out deals in progress, aging leads, lost deals and urgent needs. Often, your sales pipeline widget will appear as a set of horizontal bars that show the value of all deals for each stage of the pipeline (e.g., $10,000 in possible post-proposal sales).


Your newest leads and secured deals. CRM dashboards often present leads and deals in terms of the percentage of sales value they represent across all possible opportunities. In other cases, your dashboard will simply present a list of new leads and deals. With either setup, you'll know that certain leads need immediate attention to convert to prospects. You'll also see which prospects have become customers.


Your sales team's recent activities. Given the number of calls, emails and other communications that a sales team can log in a day, sometimes it's difficult to rapidly determine who has done what and when. Your CRM dashboard can display this information alongside other interactions with leads, such as their website visits and social media engagement. If you see gaps in your team's approach, you can revise your strategy accordingly.


Your most urgent tasks. Like any good software interface, a CRM dashboard should include a list of pressing tasks and the deadlines for each. Your tasks should be a mix of objectives you've entered manually and tasks that your CRM has automatically designated as needs. Typically, you'll need to set up CRM workflows for your dashboard to auto-generate that data.


Your key performance indicators. Perhaps the most important CRM dashboard component, KPIs tell you the current values of the statistics you care about the most. Without a clear KPI display, your team might not know which tasks should come first.
Your CRM dashboard should include your new leads and deals, sales pipeline, KPIs, and recent and upcoming activities.
What to consider when creating your CRM dashboard
In addition to the above fundamentals, you should consider the following factors when creating your CRM dashboard:
The most important KPIs. The sales process involves no shortage of KPIs, and there is such a thing as too many KPIs on a dashboard. You should limit your dashboard's KPIs to those your team really needs an instant picture of to succeed. Such KPIs might include follow-up contact rates, average sales pipeline duration and lead response time.


The most important sales goals and methods. Your CRM dashboard should reflect the business activities that directly relate to lead generation. This could mean focusing on metrics of engagement with your blog content, repeat purchases from current customers, or sales cycle durations for corporate prospects.


The appearance of your dashboard. CRM dashboards can contain a lot of information, and you might feel tempted to go overboard on your dashboard design for the best results. You should resist this temptation and keep things simple by maximizing white space on your dashboard and using (at most) three colors in your graphics.


How easy your CRM dashboard is to understand. Smart design alone can't save a cluttered CRM dashboard. Widgets in a user-friendly CRM dashboard must be arranged for quick exploration. These widgets should also help your sales team understand the progress of every individual prospect along your sales pipeline. Contextualizing your prospects makes selling to them far easier.


How your dashboard can be improved. A CRM dashboard should never have a final form. No matter how proud you are of your dashboard's design and setup, you should commit to regular testing and modifying it as needed. At least once per quarter, ask your team what is and isn't working on your dashboard. Then, work alongside your sales reps to redesign it for higher chances of success.
When creating your CRM dashboard, you should consider your KPIs and sales goals, the design and user-friendliness, and the potential for future revisions.
CRM dashboard examples
To show how the above considerations play out with real-life CRM dashboards, here are some CRM dashboard examples and explanations of their structures.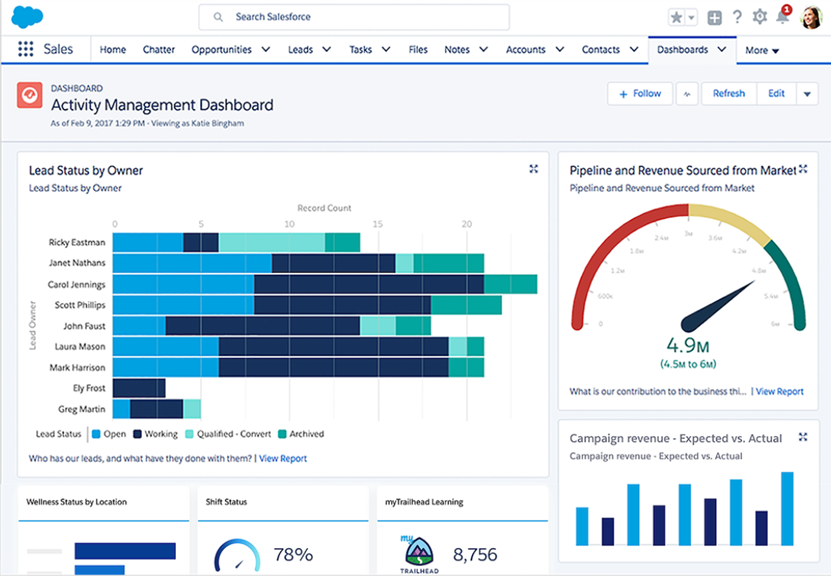 This CRM dashboard example from Salesforce is filled with graphics that display key revenue figures and sales rep KPIs. It uses only blue, green and navy as its colors (except in its top right widget) while leaving plenty of white space. This design and the inclusion of both top-level data (revenue) and more specific information (lead status by owner) fill in all kinds of blanks for the user company's sales team.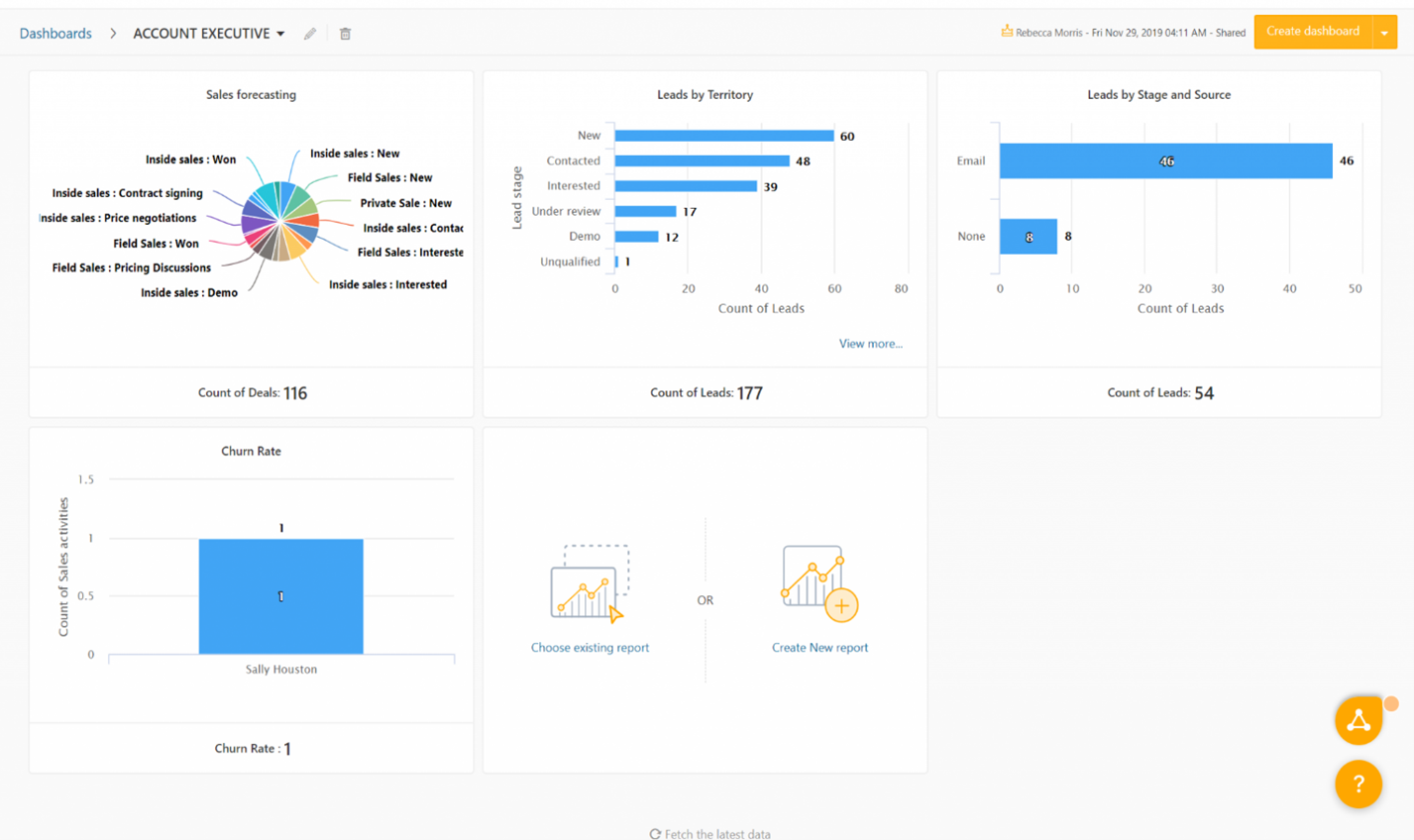 This CRM dashboard from Freshworks shows the user company's private, field and inside sales in a pie graph based on the progress of these deals. Elsewhere, this dashboard uses only blue bar graphs and plenty of white space, adhering to basic CRM dashboard color and design principles. The cherry on top is the center-bottom tool for quickly adding new or existing reports.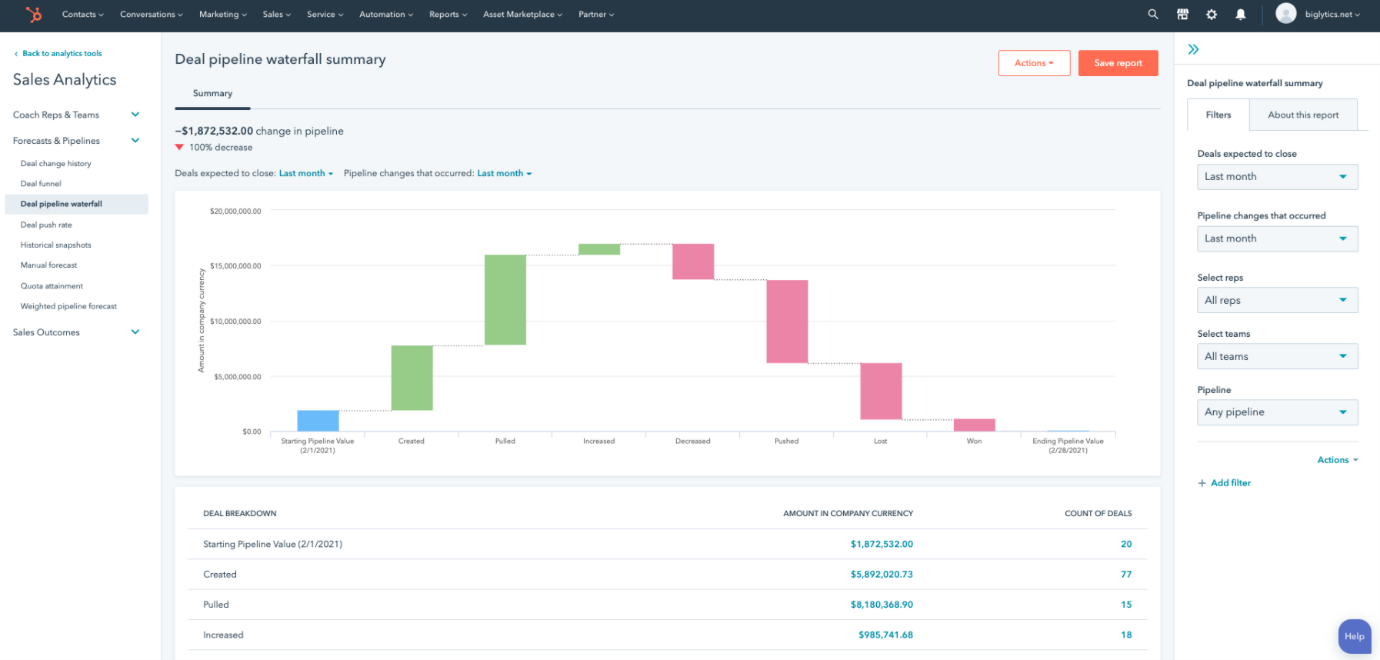 This CRM dashboard from HubSpot neatly provides deal pipeline graphics and figures for the user company. Through this dashboard, the user company can implement several filters to understand sales changes over several periods. The dashboard uses just one graphic and ample white space for a clean, intuitive feel. You can use this dashboard as a reference for designing a CRM dashboard with a strong emphasis on a narrow set of numerical KPIs.
If your CRM is more focused on several types of graphical data, the other examples might make better references. At the end of the day, the best CRM dashboard is the one that works for your team, no matter how many tweaks you do or don't make.