monday Sales CRM Review
Monday Sales CRM lets you collect and score leads from any source.
Anyone can build timesaving automations to eliminate repetitive tasks and manual work.
All five of the available monday CRM plans come with 24/7 customer support.
This review is for small business owners who are interested in implementing monday's sales CRM. 
Monday's sales CRM is a highly customizable customer relationship management (CRM) platform and robust sales tool to help collect and nurture qualified leads all the way through the fulfillment process. The dashboard is organized by a mix of folders and boards with as many as 50 columns you can use to manage groups such as leads, qualified leads and disqualified leads. Monday features an open API and ample native CRM integrations with popular software applications such as Outlook, Gmail, Excel, DocuSign, Salesforce and Shopify to centralize your entire sales pipeline. Setting up automations with third-party applications is easy to accomplish with "recipes" that do not require any coding experience to implement. For example, you can integrate with Mailchimp and decide to immediately track and organize the results in real time ("When a new campaign goes live, create an item in marketing campaigns"). The bolded sections in each automation template have populated fields that serve as easy triggers and actions for a myriad of timesaving tasks.

monday Sales CRM
The Verdict
Monday.com's sales CRM platform helps teams track customer data and manage the entire sales cycle with easy-to-build custom automations to eliminate repetitive tasks and manual work.

monday's Editor's Score: 95/100
| | |
| --- | --- |
| Ease of use | 97 |
| Features | 92 |
| Integrations | 95 |
| Pricing | 96 |
| Customer service | 97 |
Why We Chose Monday for Project Management
Monday's available automations can provide your CRM software with many of the timesaving and organizational capabilities associated with a project management platform. The sales CRM also comes with the core work management platform that's designed to run and scale any workflow. While automations are not unique to monday Sales CRM, the simple trigger and action templates that work with many third-party applications make it especially easy to automate a seemingly endless list of possible tasks. Rather than hold weekly status meetings, you can set up a notification to send a message via Slack once the status of a project is marked as ready for review. You could also get very granular and ensure that anytime an email is opened, one of your sales reps receives a message about it through their Slack account. The platform also offers centralized client communication that can automatically log sent emails, maintain a record of customer interactions and make use of personalized email templates to save time.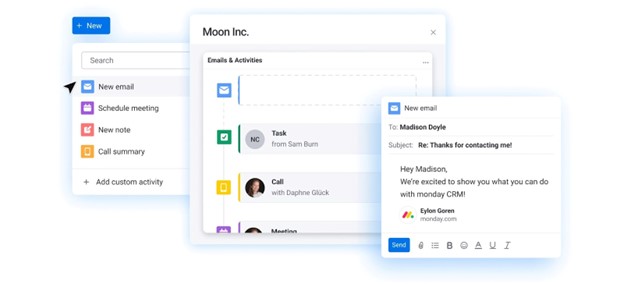 The Standard plan, which is the most popular, is a great choice for small teams that want to automate some tasks and streamline communication, while the Pro and Enterprise options are better suited for larger teams that will utilize high-frequency automation actions, sales forecasting and lead scoring.
Pros
All plans include unlimited boards to organize projects, clients and processes.
Timesaving automations are especially easy to build and deploy.
All monday Sales CRM plans have 24/7 customer support.
Cons
All paid monday Sales CRM plans have a three-seat minimum.
Automations are limited to a set number of actions per month.
HIPAA compliance and some security features are limited to the Enterprise plan.
Monday's core work management platform is included with the sales CRM.
Usability
Monday is in the top tier for ease of use thanks to hundreds of available templates and easy-to-use custom automations with many third-party integrations. From the template section, you can quickly add a full CRM workflow to capture leads, track sales pipelines and manage contacts using integrations with HubSpot, Gmail, Mailchimp, Facebook Ads, SurveyMonkey and Salesforce with a single click to install it all. The platform will also provide you with a list of recommended templates based on the answers you provide during the setup process so your system can launch quickly using properly constructed processes that adhere to best practices. Everything from developing a high-level marketing budget to implementing an effective visual sales pipeline can be accomplished quickly and easily through the template center and customized over time to fit your teams perfectly.
Monday Features
Monday Sales CRM has all of the features you will need to manage the entire sales pipeline from lead to close without switching between different programs or tabs. The easy-to-use automation tools can support post-sale activities with automatic alerts for your financing team to collect 30 days after a sale. For the majority of businesses to get the most out of monday's CRM platform, the Standard plan is adequate, but for larger operations, there are far more desirable features and action limits available at the Pro level. We've identified a few of the top features that make this CRM stand out. All monday products include the core work management platform to plan, organize and track your company's work in one place.
| | |
| --- | --- |
| Automation recipes | You can easily integrate with third-party business tools to automate tasks and streamline your sales pipeline. |
| Work management | All monday products include the complete workflow platform. |
| Lead scoring | You can prioritize effectively by identifying the highest-value leads. |
| Template center | Your team can get started in minutes with ready-made templates for any industry. |
Automation Recipes
Monday's CRM stands out with incredibly easy integrations and automations that you can build based on simple if-then statements without the need for any complicated coding. For example, you can use "When a task is overdue, notify the project manager" to ensure that nothing important slips between the cracks. You can also use automation with many third-party apps, such as sending messages via Slack when a new lead is turned into a qualified lead based on specific criteria you can customize. It's important to note that automations and integrations are measured in terms of actions. These actions become available with the Standard plan, but they're capped at 250 per month for each type. That limitation is extended to 25,000 with the Pro plan and 250,000 with the Enterprise plan.

Work Management
Monday's work management platform is a separate, five-tier product that's included with the sales CRM and accessible from the home dashboard. The most popular Standard plan is designed for collaboration across teams with workflows that feature timeline views, calendar views, Gantt views, guest access, whiteboard collaboration, five dashboards per account and a six-month activity log. Other plans add features such as time tracking, multilevel permissions, private boards and formula columns.
Lead Scoring
Lead scoring is an Enterprise-only feature that automatically scores each of your leads based on custom criteria. The standard settings will calculate a score based on the lead contact's job title, the company's revenue and number of employees. You can use scoring to ensure your best-qualified leads experience the shortest wait times or receive service from your top salesperson.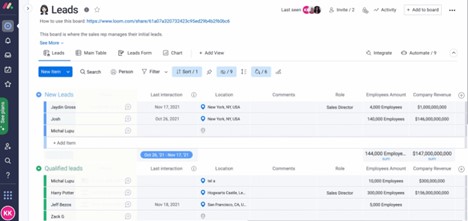 Template Center
A big part of what makes monday's platform so easy to use at a high level is the template center. Everything from a complete sales pipeline to customer onboarding to new-seller training is waiting to be accessed and implemented. In many cases, these templates include helpful integrations and automations that would be difficult to visualize or build from scratch without a great deal of experience using similar tools.
Explore as many of the expert-built templates as possible to refine (if not replace) your existing workflows and processes.
Even if you have an existing sales pipeline that's worked for years, it's always valuable to see how the experts at monday have constructed their CRM dashboards to make the best use of their available features and tools. Dozens of timesaving templates are available across 19 categories, including sales and CRM, marketing, operations, and project management.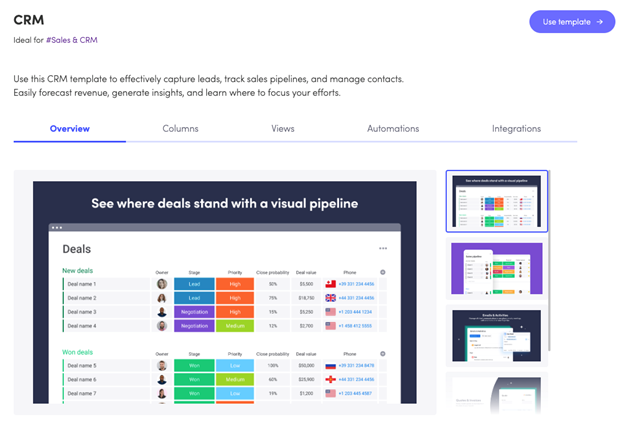 Monday Cost
In addition to the free Individual version, monday Sales CRM has four paid plans — Basic, Standard, Pro and Enterprise — with listed prices ranging from $8 to $16 per monthly seat with an annual plan. Annual subscribers can save up to 18%, while students and nonprofits may qualify for free or discounted access. Shoppers should note the total monthly cost with three-seat minimums for most plans. The free plan has a two-seat limit, and companies purchasing more than 40 seats will need to contact sales for a custom quote. Monday is priced well below its competitors, as you can see in our Freshsales review and our review of Keap. You can try the Pro plan for free with a 14-day trial.
Pricing is not transparent for the Enterprise plan, requiring you to contact the company, but that's not uncommon for the highest-tier plans. Interested businesses should reach out to the monday sales team for a specialized quote.
| Plan | Starting price (per user per month based on three seats) | Features |
| --- | --- | --- |
| Individual | $0 | Unlimited boards, mobile apps, 5GB of storage, 200+ templates, 20 column types, web-to-lead capture, two-factor authentication, limited mobile apps and 24/7 customer support |
| Basic | $10 | Everything in Individual, lead-through-deal management, unlimited visual sales pipelines, unlimited contacts, custom fields, full mobile CRM, full API access and document management |
| Standard (most popular) | $14 | Everything in Basic, timeline view, calendar view, guest access, email sync, sales analytics, Mailchimp integration, 5-board dashboards, 20GB of storage, sales forecasting, automations with 250 monthly actions and integrations with 250 monthly actions |
| Pro | $24 | Everything in Standard, custom notifications, commission management, time tracking, workflow and approval automations, 10-board dashboards, advanced reports, private boards, 100GB of storage, automations with 25,000 monthly actions, and integrations with 25,000 monthly actions |
| Enterprise | Custom quote | Everything in Pro, enterprise-scale automations and integrations, enterprise-grade security, advanced analytics, multilevel permissions, guided onboarding, priority support, 50-board dashboards, 1,000GB of storage, automations with 250,000 monthly actions, integrations with 250,000 monthly actions, and HIPAA compliance |
Most of the monday Sales CRM plans have minimum seat requirements that may significantly increase the total cost for very small teams.
Setup
For most small businesses without thousands of active leads to migrate, setting up monday's CRM is a quick and painless process that can be accomplished in a matter of hours. However, with so much room for customization, the difference between the basic setup and a fully optimized sales pipeline can be significant. As with every CRM we've reviewed, the setup time and effort are largely dependent on the size and complexity of the operation. Small businesses using monday should expect to get set up in one day, with a few weeks of fine-tuning to build the most efficient custom boards, automations and workflows.
Customer Service
All monday Sales CRM plans include 24/7 customer support by email and chat. Enterprise subscribers receive priority support and a dedicated customer success manager who will provide tailored onboarding, extensive training hours and continued personalized support. During our guided demo, we found monday's support staff to be especially knowledgeable and helpful.
The in-app CRM Learning Center has articles and videos to help you learn how to import your data from Microsoft Excel, manage your leads, connect your boards and perform other tasks to help you get the most of the CRM's capabilities. This section also has training modules categorized by difficulty from beginner to master, as well as popular features including automations and integrations.
Drawbacks
Some of the most desirable CRM features, such as automations and integrations, are limited by the number of actions per month, and those limits vary by plan. Automations become available with the Standard plan, but the plan's limit of 250 automated actions per month will keep them out of reach for all but the smallest businesses and teams. Standard plan subscribers who need more actions in a given month will need to upgrade to the Pro or Enterprise plan. You can make changes to your plan at any time, and refunds are prorated for annual subscribers.
All four of the paid monday Sales CRM plans require a minimum of three seats, and there's no option to mix or match plans for different team members. The always-free Individual plan has a maximum of two seats.
Methodology
Our editorial team and contributing writers considered all of the major CRM software providers for review. After performing our initial research into each platform, we selected 11 of the leading CRM solutions available today for small businesses: Salesforce, monday, Freshworks, Keap, Zoho, Oracle NetSuite, HubSpot, Insightly, Pipedrive, SugarCRM and Zendesk. After spending many hours participating in live product demos and testing each platform through trial or paid accounts, we identified the best use case for 11 providers to help small businesses owners and managers choose the best CRM for their needs. We've also taken a deeper dive with six of our top performers, providing greater insight into the features and tools that separate these CRMs from the rest of the competition. Monday's Sales CRM is technically an add-on module to the company's work management platform that's designed to run and scale any workflow. The platform's easy-to-use recipe templates for automations provide you with many of the timesaving capabilities typically associated with project management software platforms.
Monday FAQs
Is Monday free?
Yes. Monday offers forever free versions of its sales CRM, marketer, projects and dev products. In each case, the free version is highly limited in terms of features, with a maximum of two seats per account. The free Individual version of the sales CRM comes with web forms to capture leads, templates for lead contacts, deal management and a mobile app.
Is Monday a CRM or project manager?
Monday was initially developed as a work management tool and approaches all of its products from that perspective. Over the past two years, monday has developed its sales CRM into a complete tool for modern businesses to manage the entire sales cycle through the fulfillment process.
Who owns Monday?
Monday was co-founded by Roy Mann and Eran Zinman. The company went public on June 10, 2021, and trades on the Nasdaq stock exchange under the symbol MNDY.
Overall Value
We recommend monday Sales CRM for …
Businesses looking to save time with easy-to-use automations.
Small businesses looking for basic CRM functionality in free and lower-tier plans.
We don't recommend monday Sales CRM for …
Small agencies and independent contractors that may not be able to meet Monday's user minimum.
Users who don't like working with Gantt charts or Kanban cards.
Businesses that won't make use of third-party integrations.

monday Sales CRM
The Verdict
Monday.com's sales CRM platform helps teams track customer data and manage the entire sales cycle with easy-to-build custom automations to eliminate repetitive tasks and manual work.

Jeff Hale
Contributing Writer
Jeff Hale is a writer and editor based in San Diego with a background in business development and marketing. He has identified new market opportunities for Fortune 500 companies and developed communications strategies and digital branding for tech startups and small businesses. Jeff covers emerging technologies and business solutions with a focus on efficiency and growth. He holds a Bachelor's degree in English from the University of California, Irvine, and an MBA from Chapman University.