Pipedrive CRM is a process-driven platform built by salespeople to help businesses automate growth and immediately identify the most attractive deals. Its focus on sales funnels, lead management and deal forecasting helps make it our pick for the best CRM for visual sales pipelines.
Pros
Pipedrive is a sales-focused CRM that's specifically designed to grow your business from your sales funnel.
The platform can automate routine tasks and administrative work to let you focus on closing more sales.
Cons
Many key features — like automations, two-way email syncing and team goals — are missing without an advanced plan.
Many important tools have user limits that could effectively force businesses into a more expensive plan.
Modern CRM platforms help you collect and process customer information, allowing you to make fast decisions with objective data to drive revenue.
Pipedrive CRM makes it easy to create sales funnels and mass emails either from scratch or through a variety of templates.
Pipedrive CRM offers five paid options starting at $14.90 per user per month.
This review is for business owners and professionals who are searching for a sales-focused platform like Pipedrive CRM, our best pick for visual sales pipelines.
Most customer relationship management (CRM) platforms are designed to serve the differing needs of sales, marketing and customer service professionals. However, Pipedrive CRM was created as a sales-first CRM to meet the needs of sales teams without compromise. The process-focused platform utilizes a Kanban card system to provide a visual overview of every deal in your system, and it updates sales forecasts each time a deal moves down the sales funnel. Automatic alerts and reminders help keep sales teams on track and managers up to date, while artificial intelligence (AI) tools identify the best opportunities to close deals. Pipedrive gives sales teams the tools they need to nurture leads and empowers salespeople to collaborate for an overall optimized sales process.
PipeDrive Editor's Rating:
9.1 / 10
Ease of use

9.2/10

Feature

8.8/10

Integrations

8.9/10

Pricing

9.5/10

Customer support

9/10
Why We Chose Pipedrive CRM as the Best CRM for Visual Sales Pipelines
Although not every company wants a sales-focused CRM platform, those that do will appreciate the features and user experience provided by Pipedrive. The entire platform is built around a visual sales pipeline that can provide anyone at the company with an immediate and accurate view of every deal at every stage. Features such as revenue projection show each deal's value and progress through the sales pipeline; monthly totals indicate where attention is needed most. You can also filter your views to drill down into specific time frames, departments, categories, business units and individuals on your sales team to make sure the right members of your staff are working on your biggest deals. 
With a full set of active automations running in the background, simple adjustments — like changing the status of a contact from "warm lead" to "customer" — can trigger a list of necessary tasks. For example, you can share documents with a client, get notified when documents are opened, and close the deal with e-signatures. When you pair these features with group emailing that's available at some subscription levels, you can launch up to 100 emails per group directly from your CRM dashboard.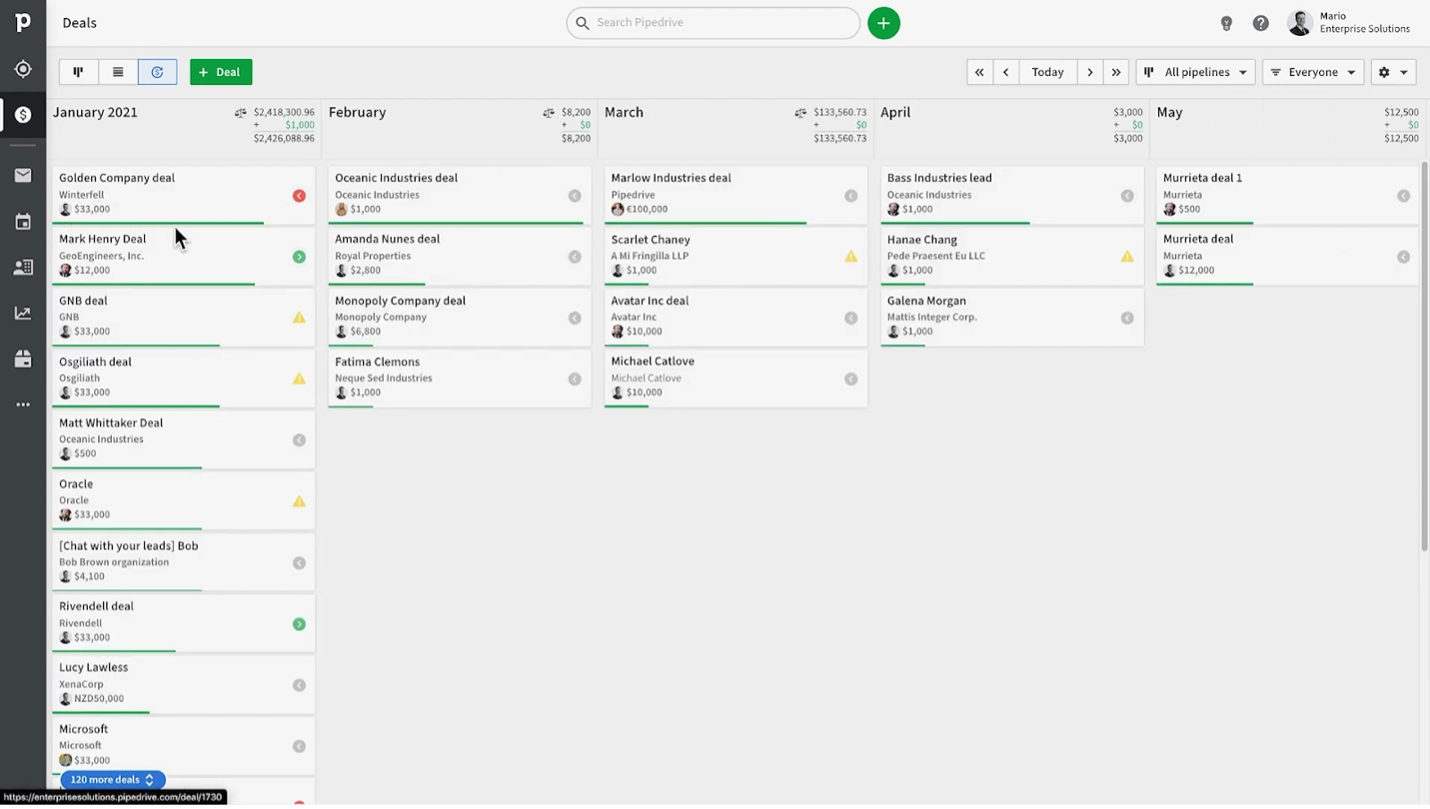 See your projected revenue at a glance with green status bars that indicate how far each deal has moved through your pipeline. Source: Pipedrive
Usability
The helpful templates and drag-and-drop elements within the sales pipeline make Pipedrive very easy to use and manage on a basic level. However, implementing and mastering the advanced features, such as automations and revenue forecasting, are a bit more complex. Experienced sales teams and managers with a deep understanding of the sales process in their industry or market will have a much easier time customizing the platform to meet their requirements. If you don't know exactly what you need in a sales pipeline, Pipedrive's array of options could be overwhelming. In addition to maintaining a centralized customer database with a full history of calls, emails, meetings and notes, Pipedrive includes simple web forms that you can use to generate quality leads from your website. We liked that you can begin to segment new leads with active automations and engage them with fully automated lead-qualification flows and customer-relationship-nurturing sequences.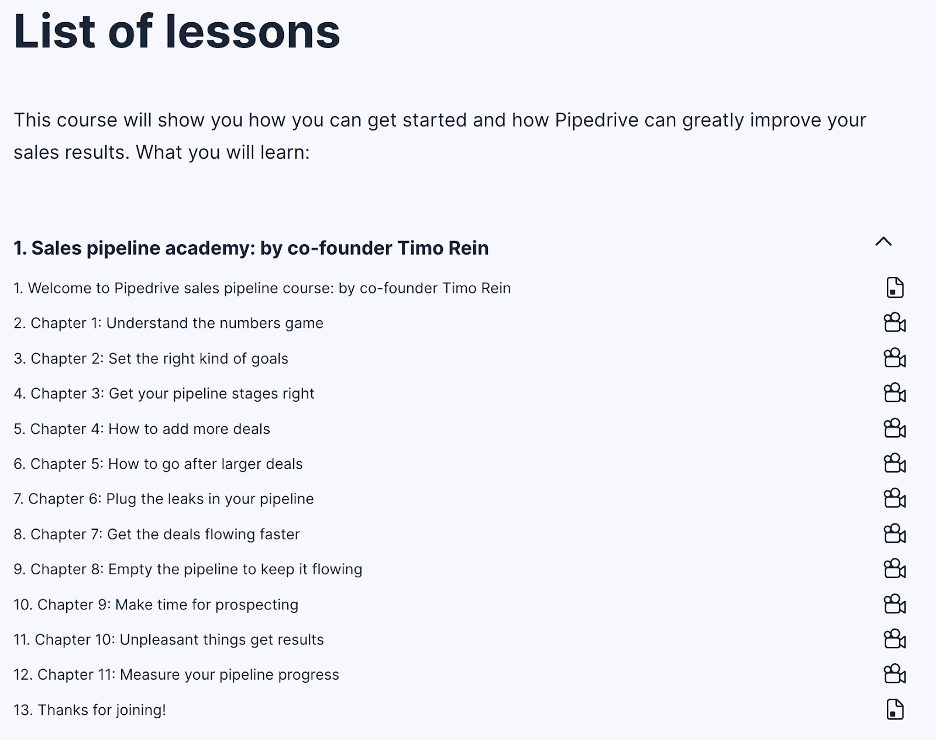 This view shows a list of lessons in Pipedrive's Sales Pipeline course, which is one of nine available academy courses. Source: Pipedrive
We also really like Pipedeive's virtual training programs and online video courses, which help users make the most of their CRM. The course catalog includes dozens of lessons that teach you how to use the software, manage sales teams, sell more effectively, market through email and make sales results easier to predict. 
If you're looking for a sales-focused CRM that's especially easy to use, you may want to consider monday Sales CRM, which has a user-friendly look and feel.
Pipedrive Features
| | |
| --- | --- |
| Rotting | Stay aware of idle deals in your pipeline by using Pipedrive's rotting feature. |
| Deal filters | Find unique deal opportunities and manage your team effectively thanks to the software's wide array of deal filters. |
| Automation builder | Automate repetitive tasks to help you save time and improve efficiency. |
| Group emailing | Send templated bulk emails to anyone on your list at any stage in your pipeline. |
Rotting
Pipedrive's rotting feature allows you to set specific time frames for the deals you want to see completed, and it passively alerts you when a solid lead begins to slip away due to inactivity. After a set period, you'll know your deal has begun to rot by the red color in the deal pipeline. Like many of Pipedrive's tools, the rotting feature adds another visual element to your sales pipeline to provide everyone at your organization with an immediate and digestible view of all deals in progress for the whole company or a specific member of your sales team. 
Once a deal has rotted, you can schedule a new activity for that deal or edit details such as the expected close date and deal value. Taking a second look at a deal that failed to close can allow you to approach it under different circumstances to increase your chance of closing it.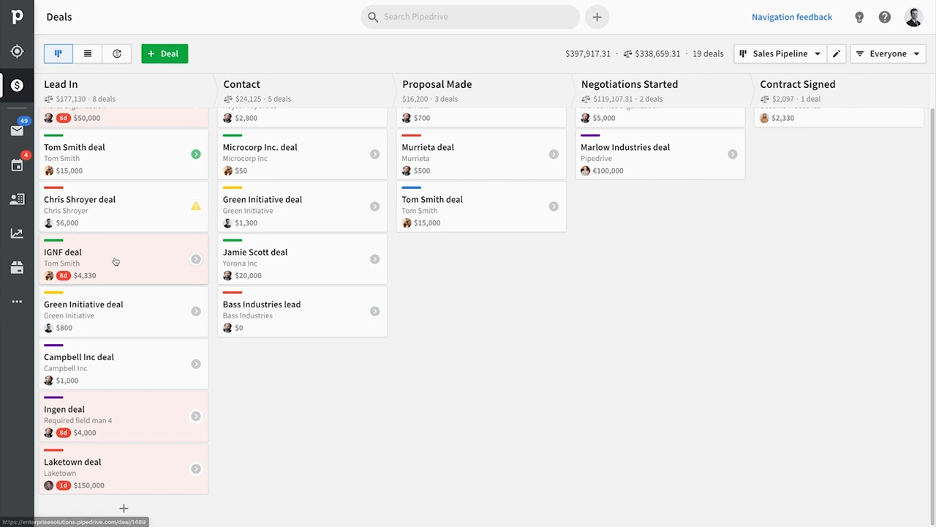 This screen shows the deal rotting feature, with examples of an eight- or one-day time frame. Source: Pipedrive
Deal Filters
Pipedrive's visual sales pipelines are focused on making sales through deals. With an abundance of custom fields, the deal filter lets you see all of your open deals that are worth at least $10,000 and are tied to one of your social media channels. You can use the expansive criteria to segment your deals or find different types of opportunities to capitalize on. Managers can use this feature to check on all warm leads that have not been followed up on, to ensure their teams are working effectively. You can also filter by individual rep to make sure staff members are updating their deals in a timely manner for transparency.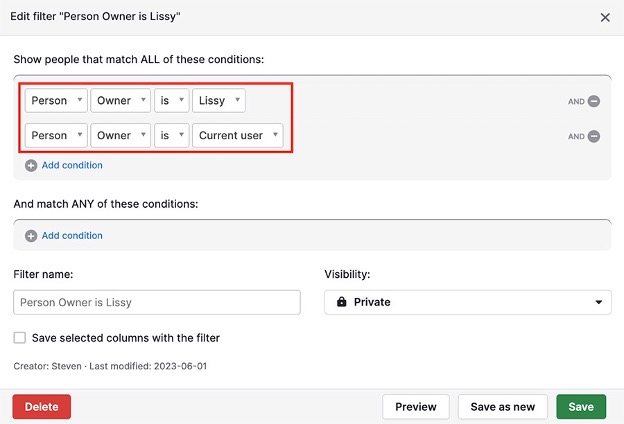 Set your conditions to quickly and easily find the deals or customer information you need. Source: Pipedrive
Automation Builder
Time-saving automations are among the most important features in a modern CRM platform. Pipedrive makes it easy to create your own custom automations to eliminate tedious and time-consuming tasks or start from a template to help you reengage with all of your inactive deals at the same time. Setting up a new deal from a template takes about two minutes and grants you the potential to save countless hours. It's easy to build new automations from scratch; a sidebar provides a long list of trigger options or events to determine when to begin an automated action. For example, you can send a templated email when someone's label changes from "warm lead" to "customer," and once they reply to it or click a link, you can send a templated follow-up.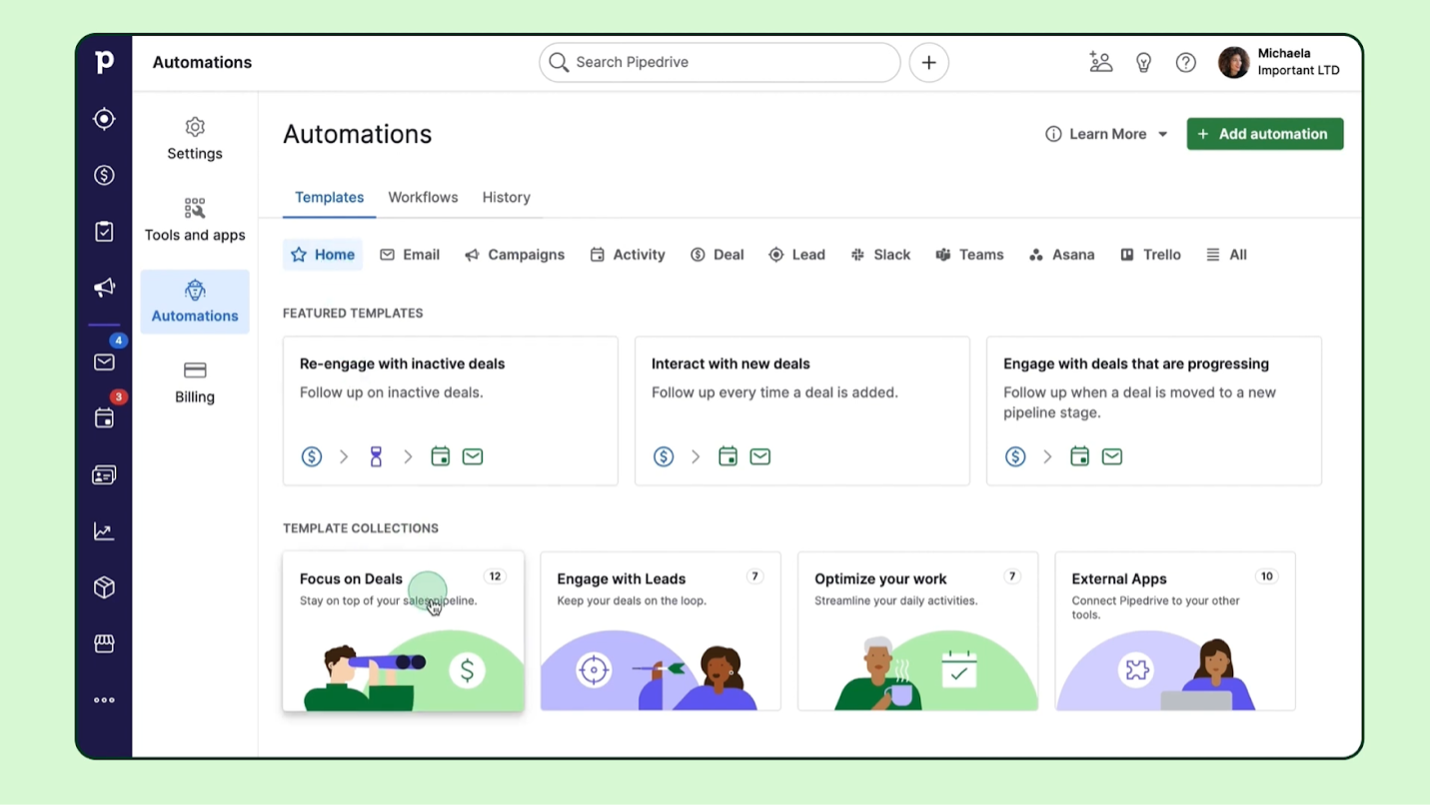 Pipedrive includes a wide array of sales-focused automation templates to help new users optimize their sales funnels. Source: Pipedrive
Active automations have usage limits that change depending on the subscription plan you select. Not all plans include the automation feature.
Group Emailing
Another key time-saving feature that removes potentially tedious tasks is group emailing. You can contact up to 100 email addresses at one time, and the system includes a 30-second delay, sending out the emails over a 50-minute period to prevent your provider from blocking scheduled emails. Pipedrive includes a list of templated emails for a variety of sales scenarios and lets you send a personalized response to everyone in your email list with just a few clicks. 
Group emailing is available in Pipedrive's deal, contact, contact timeline and activity lists. If you run into an incomplete contact card, Pipedrive will notify you of missing information to ensure you know everyone on your desired list can be reached. Once your email has been sent, you can view each one in your sent section or through each customer's timeline.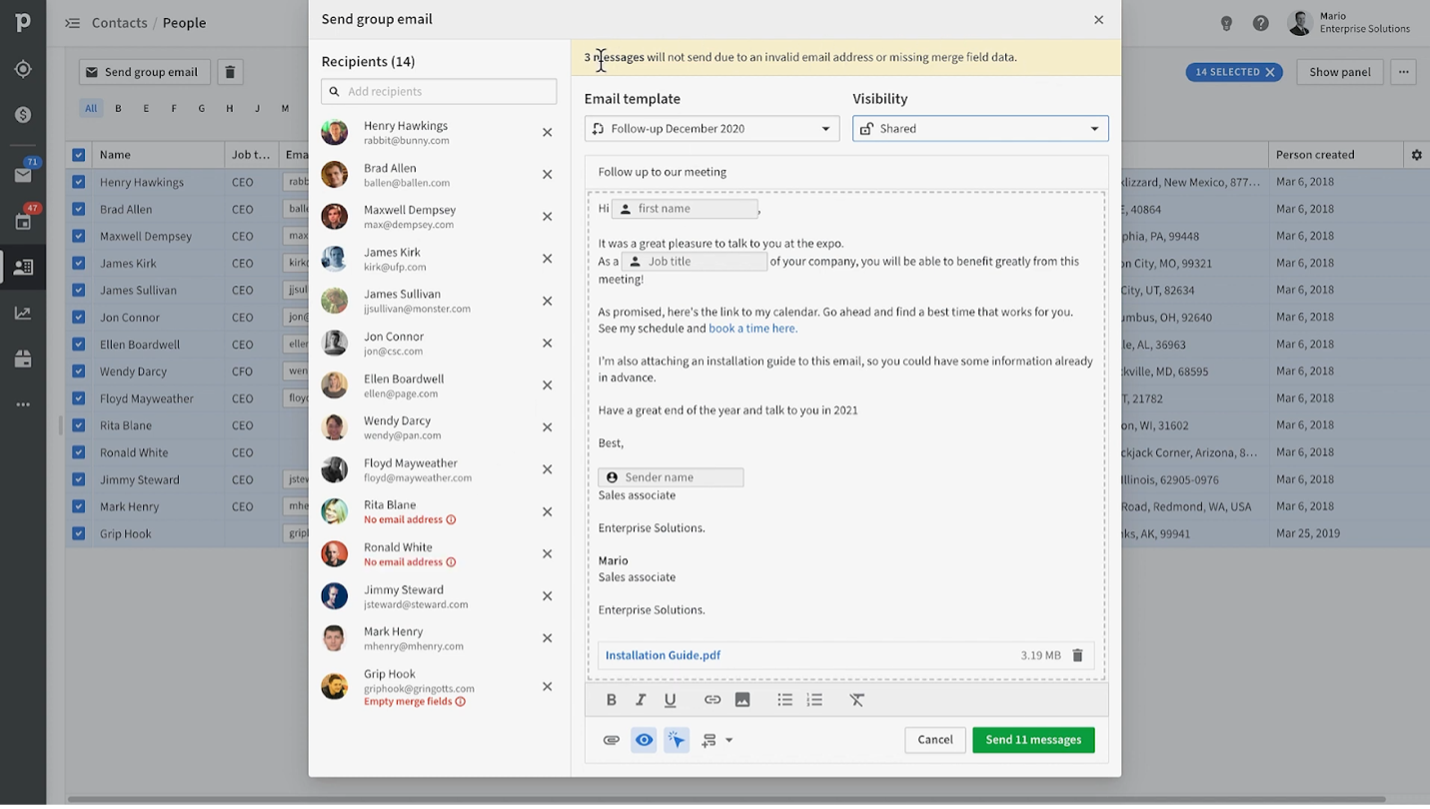 Pipedrive will let you know about incomplete information in your contact list before you send a group email. Source: Pipedrive
Pipedrive does not limit the total number of emails you can send in one day, but you should check to make sure your email provider can meet your daily email demands.
Pipedrive Cost
With five paid options, Pipedrive segments its features and tools a bit more than most of its competitors, most of which offer three or four dedicated CRM plans. In addition to the standard features with each plan, Pipedrive offers a handful of extra tools. For example, the web visitor add-on can determine which organizations are browsing your website, how your visitors found you and how long they stayed. Most of the add-ons, including the lead-boosting tool and Smart Docs, are billed once per company instead of per user, thus reducing price increases as the result of a customized plan.
| Plan | Starting price (per user per month) | Features |
| --- | --- | --- |
| Essentials | $14.90 | Lead management, deal management, multilanguage support, deal rotting, 24/7 live chat support, 400+ integrations, visual dashboards, deal reports, single sign-on, two-factor authentication, mobile apps, calendar sync, automatic call logging and 3,000 open deals |
| Advanced | $27.90 | Everything in Essentials, plus 30 active automations per user, two-way email syncing, custom email templates, bulk email, web-to-mobile calls, recurring revenue reports and 10,000 open deals per company |
| Professional (most popular) | $49.90 | Everything in Advanced, plus the Smart Docs add-on, required fields, contacts timeline, 60 active automations per user, automatic lead assignments, revenue forecast reports, team goals and 100,000 open deals per company |
| Power | $64.90 | Everything in Professional, plus free project add-ons, customer support via phone, custom onboarding services, 90 active automations per user and 200,000 open deals per company |
| Enterprise | $99 | Everything in Power, plus unlimited reports and customizations, unlimited open deals, security alerts, and 180 active automations per user |
Pipedrive Setup
You can expect to have a simple account up and running in about two weeks. However, larger accounts or accounts that require heavy automation can take up to a month to fine-tune. Migration from another CRM can be accomplished with spreadsheets or software integrations, and raw data can be added at any time. Templates make it easy to build and customize your sales funnels. However, other tools — including custom field triggers, deal decay and forecasting — take time to implement properly. The upper-tier Power and Enterprise plans include Pipedrive's implementation program, which offers a personalized and guided onboarding experience.
Pipedrive Customer Service
Pipedrive includes 24/7 customer support via live chat at all subscription levels. According to the Pipedrive product specialists we spoke with during our live demo, issue resolution is usually handled within 48 hours. To access phone support, you'll need to subscribe to one of the two upper-tier plans, which start at $64.90 per user per month. Support is available in English, Spanish, Portuguese, French and German. Pipedrive also has an online self-help resource center with detailed academy-style courses, video tutorials, webinars, blogs and an active community forum. 
Pipedrive Drawbacks
While we really like Pipedrive's focus on supporting sales teams, its tagline as the "first CRM designed by salespeople, for salespeople" might exclude other departments that interact with customers regularly. As a result, the platform's Kanban-style funnels may be too focused on the sales process to be the right fit for everyone. Larger businesses with separate departments for marketing, customer service and sales may prefer a CRM such as Salesforce or NetSuite, which offer wider sets of tools to interact with customers in long-term marketing and service scenarios.
Some features — including active user automations, custom fields, insight reports, teams and open deals — have usage limits. For example, the entry-level Essentials plan limits you to 3,000 open deals at your company and lacks the ability to use active automations. Similar limitations include a maximum of 100 emails sent at one time with the group email feature. Some businesses will require one of the middle- or upper-tier plans to use the features as frequently as needed.
Methodology
Our editorial team and contributing writers considered all of the major CRM software providers for review. After performing our initial research into each platform, we selected 13 of the leading CRM solutions based on what they're best for, and took a deeper dive into the following that are available today for small businesses: Salesforce, monday Sales CRM, Freshsales, Zoho, Oracle NetSuite, HubSpot, Pipedrive and Zendesk. After spending many hours participating in live product demos and testing each platform, we identified the best use cases for 13 providers to help small business owners and managers choose the best CRM for their needs. We also took a deeper dive into nine of our top performers, providing greater insight into the features and tools that separate these CRMs from the competition. Pipedrive CRM is one of the few sales-focused platforms we reviewed. The dashboard and user experience are built around sales funnels that emphasize deals and help sales teams identify the best opportunities to make a sale. We selected Pipedrive as the best CRM for visual sales pipelines thanks to its ability to track the entire sales process at a glance and its AI-powered tools to help close more deals.
Pipedrive FAQs
With a starting price under $15 per user per month, Pipedrive is less expensive than many of its competitors, including Salesforce, which starts at $25 per user per month. Most CRMs that cost less than Pipedrive are free versions with very limited features and tools. At $10 per user per month, monday Sales CRM is one of the only platforms we reviewed that has a comparable set of features at a lower rate.
According to the company, Pipedrive CRM is used by more than 100,000 companies, including Amazon, Vimeo and Re/Max. As a sales-focused CRM, Pipedrive is best suited for tech-savvy sales teams that use the internet to capture customer data and email to engage with clients.
Pipedrive does not currently offer a free version of its CRM platform. However, you can try Pipedrive for 14 days through a trial account without entering your credit card information. If you're searching for a free CRM with basic features, you might want to consider Freshsales or HubSpot, both of which offer a free (but limited) plan.
Overall Value
We recommend Pipedrive CRM for …
Sales teams and any business looking for a sales-focused CRM platform.
Small companies that are searching for an affordable CRM system.
Businesses with operations built around a sales pipeline.
We don't recommend Pipedrive CRM for …
Businesses that are looking for a CRM to support sales, marketing and customer service equally.
Small and new businesses without enough reliable sales data to develop effective forecasting capabilities.