Freshsales is our best pick for a communications-focused CRM platform, largely thanks to its built-in cloud telephony and AI-powered chatbots for seamless selling across channels.
Pros
All paid Freshsales plans include Al-powered tools that provide actionable insights across the entire customer journey.
Freshsales has basic built-in VoIP phone service with virtual phone numbers available in more than 90 countries.
You can manage global transactions with over 150 currencies and multiple language support.
Cons
The built-in phone system is lacking in cloud-based call management features.
You'll have to pay $75 for 1,000 extra bot sessions if you go over your limit.
There's no discounted rate for purchasing a large number of seats.
Freshsales allows you to run outbound email campaigns from your CRM.
All subscription plans include cloud-based phone service.
Upper-tier plans include AI-driven insights to help you stay on top of deals and grow revenue.
This review is for small business owners who are interested in implementing Freshsales CRM. 
Freshsales by Freshworks is a top CRM platform with an excellent mix of built-in communications tools and AI-powered features that push the traditional sales pipeline beyond the basic functionality of tracking and managing deals. With built-in cloud telephony, you'll have far more context about your prospects. The software gives you an instant view of past activities, call notes, previous conversations and their overall score so you can win deals faster. The Freshsales platform can automatically log sales calls to help you analyze the key performance indicators that drive sales. 
Freshsales's AI-powered assistant, Freddy, will learn from your historical sales data, activities and customer engagement to deliver better recommendations that you can apply across the customer journey. With the chatbot enabled, you reduce the first-response time on your website with precise answers to popular customer questions and capture new leads.
Freshsales CRM Editor's Rating:
9.4 / 10
Ease of use

9.3/10

Features

9.5/10

Integrations

9.3/10

Pricing

9.6/10

Customer service

9.3/10
Why We Chose Freshsales as Best CRM for Communications
Freshsales' native cloud-based phone support includes toll-free and local business phone numbers available for purchase in more than 90 countries. In addition, it offers AI-powered chatbots, bulk email marketing tools, easy forms to capture customer data, and auto-enrichment to automatically add social and publicly listed information to your contacts' listings. By combining basic communications tools with an automated sales pipeline, your team will have access to vital customer information and AI-powered insights to focus efforts efficiently and close more deals in less time. If you're not ready to leave your existing phone provider, you can use numbers from an existing plan while leveraging the CRM platform's benefits through the Enterprise plan. With the mobile app that's included in all plans, you can run your sales from your phone no matter where you are. While the free version includes chat, email and phone service, the Pro plan is recommended for the best Freshsales experience, with AI-powered deal insights, time-based workflows and multiple sales pipelines to help teams sell effectively.
Freshsales CRM might be able to replace your existing business phone service provider and marketing automation software for email campaigns.
Usability
While far from a difficult CRM platform to learn and use, Freshsales is not among the easiest ones we've reviewed. The learning curve also applies to many of the AI-powered tools that improve over time with access to historical sales data, activities and engagement. However, once you and your team have your visual sales pipelines, sequences, workflows, enriched contacts and AI-based forecasting tools in place, Freshsales makes it much easier to understand and better serve your customers.
The platform features many automated sales productivity tools for workflows, chat campaigns, lead capture and sales sequences to boost your team's efficiency. With all of Freddy AI's features enabled, you'll benefit from predictive contact scoring to prioritize your efforts and recommendations for the next best action to close a deal. Freshsales also includes API access and easy integrations with popular business applications that sales teams across industries use on a daily basis.
Freshsales CRM Features
All three paid Freshsales plans include the features you'll need to manage your customer relationships and sell effectively. However, many of the standout tools that make Freshsales such a powerful CRM platform are available only with the Pro and Enterprise plans. Some features, such as bulk email and sales sequences, are limited by a set number of actions per day. This number varies by plan.
| | |
| --- | --- |
| Cloud telephony | Get inbound and outbound VoIP phone service with basic call management features and tools. |
| Freddy AI | Gain actionable insights across your customers' journeys with intelligent tools. |
| Bulk emails | Design personalized email templates and track key metrics to improve performance. |
| Deal management | Grow revenue by staying on top of deals with automated follow-ups and predictions. |
Cloud Telephony
Many Freshsales subscribers can ditch their business phone system provider and enjoy many of the same calling features and tools through their CRM software with a built-in cloud-based phone system. This feature provides everything you need for a successful sales call, including call recording, call logs, voicemail and phone numbers available for purchase in more than 90 countries. You can make calls directly from any laptop or mobile device and track all of the calling metrics to optimize your sales tactics and strategies.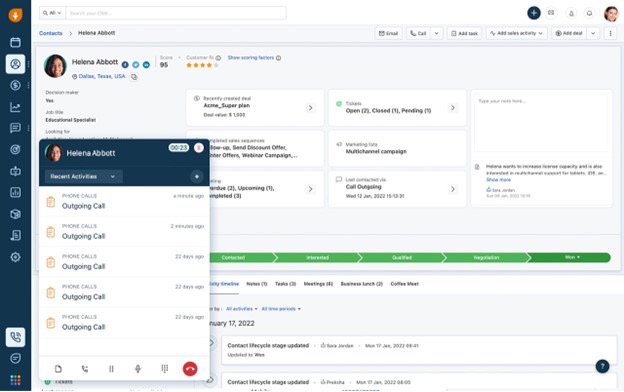 You can access call logs, notes and recordings to gain context quickly and improve customer experiences while using the built-in VoIP phone feature. Source: Freshsales
Freddy AI
Freddy is an AI-powered assistant whose main purpose is to help you understand your customers better. This feature improves over time as it learns from your CRM data to deliver predictions and recommendations that serve your specific business goals. You can increase your team's opportunities for success and avoid letting hot leads go cold with Freddy's data-backed suggestions for the next best action to keep the conversation moving forward. You can also reduce first-response times on your website by automating chat conversations to proactively interact with prospects and answer standard questions.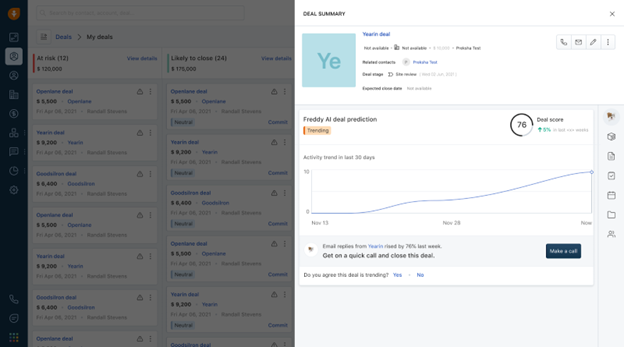 The CRM can identify at-risk deals and help drive deals to closure with data-backed recommendations. Source: Freshsales
Bulk Emails
Freshsales makes it easy to leverage the timesaving power of personalized bulk emails for outbound campaigns. You can tailor emails with highly targeted content, track open rates, and see your click-through rates with built-in tracking and reporting options. Freshsales helps teams deliver email messages at the right time and provides real-time notifications when a recipient interacts with your communications. You can also reawaken cold leads, send follow-up emails, and automatically capture leads from emails.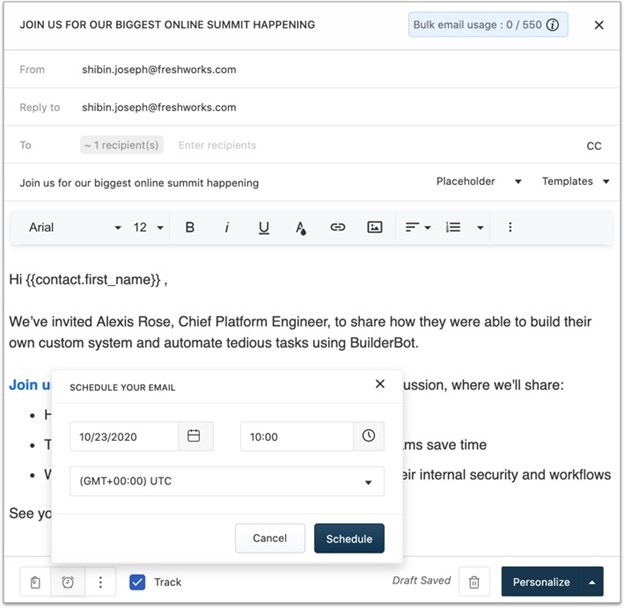 Freshsales lets you schedule bulk emails by time zone for optimal open rates and engagement. Source: Freshsales
Deal Management
Freshworks describes its deal feature as pipeline management 2.0, signaling a significant improvement over the basic functionality of tracking and managing deals. This feature can help you make smarter and more timely decisions by predicting each deal's performance, engaging with your prospects and forecasting revenue. With the Enterprise plan, your CRM can automatically enrich each of your prospect's contact sheets by adding any relevant publicly available information. You can also spot rotten deals to move on quickly as well as manage your incentive structure for different sales teams and situations.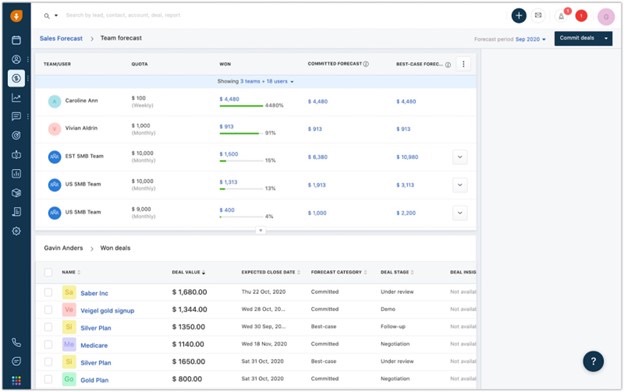 Freshsales can forecast revenue from deals to help you prioritize your efforts and stay ahead of your sales goals. Source: Freshsales
Freshsales CRM Cost
Freshsales is available through four plans — Free, Growth, Pro and Enterprise — that range in price from free to $69 per user per month when billed annually. Unlike many competitors, such as monday.com Sales CRM and Keap, Freshsales does not have a minimum seat requirement for any of their plans. Freshsales also offers separate add-ons for branding documents and extra bot sessions. You can test any plan free of charge for 21 days with a trial account.
| Plan | Starting price (per user per month) | Features |
| --- | --- | --- |
| Free | N/A | Contact and account management, lifecycle stages, deal management, built-in chatbot, email, phone, inbound caller ID, and mobile app |
| Growth | $15 | Everything in the Free plan, plus visual sales pipeline, AI-powered contact scoring, sales sequences, up to 2,000 bot sessions, five sales sequences and 250 personalized bulk emails per day, WhatsApp Business, activity dashboard, 20 workflows, 2GB of storage per user, two-way email sync, call recording, and messaging integrations |
| Pro (most popular) | $39 | Everything in Growth, plus multiple sales pipelines, time-based workflows, 10 sales sequences and 1,000 personalized bulk emails per day, AI-powered deal insights, up to 3,000 bot sessions, territory management, offline access, 50 workflows, 5GB of storage per user, advanced call queues, lead-gen bot, and answer bot |
| Enterprise | $69 | Everything in Pro, plus custom modules, AI-based forecasting, audit logs, up to 5,000 chatbot sessions, dedicated account manager, customer profile enrichment, 100GB of storage per user, 25 sales sequences and 5,000 personalized bulk emails per day, holiday call routing, and website tracking |
Freshsales CRM Setup
While setup is far from difficult, Freshsales is not among the easiest CRM platforms to get up and running. All but Enterprise plan subscribers will be tasked with setting up their system and making use of the 15 available "setting things up" articles from the knowledge base. These articles include easy-to-follow instructions for topics such as logging in to the platform, adding new users and converting sales emails into Freshsales leads. You may also use a small number of workflow templates to use as a starting point to optimize for your team's needs. If you're also purchasing and setting up a new local or toll-free phone number, the request process can take up to two days. Once the process is complete, a phone widget will appear at the bottom of your Freshsales account and you'll be able to start making calls.
Freshsales CRM Customer Service
All Freshsales plans include customer service via phone, email and chat 24 hours a day, five days a week. While many competitors, including monday.com Sales CRM, offer 24/7 customer support, not every company includes contact by phone, which we believe is an essential method of communication for support. Enterprise subscribers are assigned a dedicated account manager who will personally resolve any issues on your behalf.
In regard to self-help, Freshsales has a variety of customer case studies and how-to videos covering the basic features and tools. Freshsales also has an academy program with courses to improve your skills and certifications for admins and agents to demonstrate your knowledge of the system.
Freshsales CRM Drawbacks
Customer service availability is limited to weekdays. Many competitors in this industry offer 24/7 customer service support with basic and top-tier plans. However, Freshsales does offer support by phone at all plan levels, which is something that's not offered by competitors, including monday.com Sales CRM and Keap.
Even with an Enterprise plan, many feature actions, such as bot sessions, are capped each month. Enterprise subscribers will find limitations with daily sales sequence emails, personalized bulk emails and API access. Additional bot sessions are sold in batches of 1,000 for $75.
Keep a close eye on your use of chatbots, sales sequences, bulk emails and API access hours during your first few months to prevent overages or service interruptions.
Methodology
In our 2023 review of CRM software providers, we examined some of the leading solutions in the space. After participating in live product demos and testing each platform's features, we created a list of our favorites to help you choose the best CRM for your business. In our review of CRM systems, we considered the core features of the system, its ease of use, overall cost and available integrations. We also considered a range of different use cases common to many small businesses and selected the service we found fit best for each. When it comes to the best CRM for communications, we looked for the features that connect your sales team with your audience, empower your marketing team to cut through the noise and reach your target audience, and support your customer service team in driving customer satisfaction. 
Freshsales CRM FAQs
The Freshworks CRM is now called Freshsales. Freshworks has expanded with Freshdesk, Freshmarketer, Freshservice, Freshteam, Freshping and Freshstatus to support numerous business departments and teams.
Yes, the entry-level Growth version of Freshsales is free for up to three users. This version includes contact management, deal management, a built-in phone dialer, inbound caller ID, a chat widget, mobile apps, contact lifecycle stages, an activity timeline and 24/5 support.
Freshsales is a cloud-based CRM platform designed to help businesses collect new sales leads and manage interactions with potential customers. The CRM platform is accessible via mobile app for iOS and Android, and it includes an AI tool to help cultivate and convert leads.
Overall Value
We recommend Freshsales for …
Businesses looking for chatbots to reduce first-response time.
Small businesses that want to reduce recurring software and service costs.
Small teams with large lead lists.
We don't recommend Freshsales for …
Businesses that don't use online lead capture.
Businesses that don't want to worry about overages.
Large businesses that want enterprise-level discounts.