While every business can benefit from a customer relationship management (CRM) solution, their unique needs may make one platform more suitable than another. From email and marketing features to artificial intelligence (AI) assistance, the right tools at the right price can be a game-changer.
HubSpot vs. Zoho Comparison
Price and Plans
HubSpot
The free plan offers essential tools from every hub.
HubSpot charges a flat rate, but plans have seat and contact limits.
The premium plans offer stellar features that don't come cheap.
Unlike most competitors, HubSpot charges a flat rate with various user and contact limits. This pricing model makes HubSpot a cost-effective solution for many large businesses. However, companies that need additional contacts or sales seats will see prices balloon quickly. We were disappointed with the required annual commitment, lack of free trials and onboarding fees.
We appreciate that HubSpot offers a free plan with essential CRM tools, including one deal pipeline, so all your employees can connect to the platform's essential features. But we don't like that premium features come with a drastic price increase. Very small businesses with limited CRM needs and large companies with deep pockets will find value in HubSpot, but the sizable gap between plans means it won't be a good fit for many businesses. 
HubSpot's pricing structure is as follows: 
Plan

Price 

Includes

Free Tools

$0 

Limited sales, marketing, service, CSM and operations tools, including the following: 

One automated email action
Email reply tracking
One shared inbox
Three dashboards with 10 reports per dashboard
2,000 bulk emails per month
One deal pipeline
Contact management
Limited conversational bot
Five email templates 
Basic search engine optimization (SEO) recommendations

Starter 

$20 per month (annual billing, two paid users)
$30 per month (monthly billing, two paid users)

Additional costs:

$25 per month for each additional user
$50 per month for each 1,000 additional marketing contacts

Includes everything in Free Tools, plus: 

1,000 marketing contacts 
10 automated email actions
10 dashboards with 10 reports per dashboard
5x bulk emails
Email and chat customer service
Two deal pipelines
5,000 email templates 
Simple automations

Professional

$1,600 per month (annual billing, five paid users)
$1,781 per month (monthly billing, five paid users)

Additional costs:

$100 per month for each additional user
$250 per month for each 5,000 additional marketing contacts
One-time onboarding fee of $4,500

Includes everything in the Starter plan, plus:

Unlimited email automations
25 dashboards with 30 reports per dashboard
100 shared inboxes
10x bulk emails
Phone support 
15 deal pipelines
Advanced SEO analytics and recommendations
Advanced conversation bots 
300 sales workflow automations

Enterprise 

$5,000 per month (annual billing, 10 paid users)

Additional costs: 

$120 per month for each additional user
$100 per month for each 10,000 additional marketing contacts
One-time onboarding fee of $12,000

Includes everything in the Professional plan, plus:

50 dashboards with 30 reports per dashboard
200 shared inboxes
20x bulk emails
Behavioral event triggers
Predictive lead scoring
100 deal pipelines
1,000 sales workflow automations 
AI call analytics
Zoho
You can choose between five standard plans or bundled options.
Zoho offers a free plan and paid plans include a free trial. 
With no contracts or commitments, you can affordably scale with Zoho. 
We love that Zoho offers flexibility and affordability with two ways to subscribe. You can choose one of Zoho's five CRM plans or opt for a bundle that includes the standard CRM platform plus your choice of Zoho's eight additional products, including social media marketing and project management offerings. 
We're also impressed that Zoho has a free plan with basic tools and lead management functionality. However, we were disappointed that the platform's most powerful features, such as advanced CRM analytics, require a premium plan. You can try paid plans for 14 days and bundles for 30 days. Price differences between tiers are reasonable and no contracts or commitments are required, so you can scale easily as your business evolves.
Plan

Price

Includes

Free

$0 (three users)

Essential lead, contact and deal tools
Standard reports
10 email templates
One sales pipeline
2,000 active workflow rules 
Limited integrations

Standard

$14 per user, per month (annual billing)
$20 per user, per month (monthly billing)
15-day free trial

Includes all the Free plan's features, plus: 

Sales forecasting
Social media integrations
100 custom reports
10 custom dashboards
250 mass emails per day
100 email templates
Five sales pipelines 
One Canvas page view
Additional automation tools
10 email addresses 
More integrations, including Google

Professional

$23 per user, per month (annual billing)
$35 per user, per month (monthly billing)
15-day free trial

Includes all the Standard plan's features, plus:

SalesSignals tool
Motivator tool
Unlimited custom reports and dashboards
500 mass emails per day
10 sales pipelines
Unlimited email templates
Inventory management
Customer support tools
Three Canvas views
Basic process management
Webhooks

Enterprise

$40 per user, per month (annual billing)
$50 per user, per month (monthly billing)
15-day free trial

Includes all Professional features, plus:

Zia AI
Territory forecasts
Advanced analytics
1,000 mass emails per day
Five Canvas views
Advanced process management
More automation functions
Advanced integrations
Sandbox 
Translations

Ultimate

$52 per user, per month (annual billing)
$65 per user, per month (monthly billing)
15-day free trial

Includes everything in Enterprise, plus:
2,000 mass emails per day
Additional Zia predictions and recommendations 
Additional customizations

CRM Flex Bundle

Starts at $14 per month for two users (annual billing)
30-day free trial

Choose from Zoho's eight sales, marketing and service apps to create a custom solution.

CRM Plus Bundle

$57 per user, per month (annual billing)
$69 per user, per month (monthly billing)
30-day free trial

You'll receive full access to Zoho's apps in the following categories: 

Sales
Customer service
Email marketing
Business intelligence and analytics
Social media marketing
Website visitor tracking
Project management 
Customer survey management 
Winner: Zoho
Zoho offers the best value for most small and midsize businesses. Its flexible plan options give you the features you need at an affordable price. HubSpot is a powerful platform with robust features, but we think its high price makes it a better choice for larger businesses. However, businesses on a tight budget will find both vendors' free plans with essential CRM features quite helpful. 
Contact Management
HubSpot
HubSpot stands out for its robust contact management features, many of which come with its free plan:
Painless contact importation: Importing contact information into the centralized platform is painless, including from HubSpot's database of 20 million businesses. 
Centralized platform: You can see communication and interaction history, complete sales tasks and reach out over various channels from one place. 
Communication and marketing features: All users get powerful communication and marketing features, including a shared inbox, email templates, automations, lead segmentation, email reply tracking, insights into website interactions and chatbots with conversation routing. Paid plans include lead routing, in-app calling, WhatsApp integration, omnichannel automations and social media business tools.
While we appreciate that most contact management features come standard, many are limited in the lower-tier plans. We were disappointed that contacts are limited across all plans, as paying for more could cause costs to add up quickly. 
Zoho
Zoho has helpful contact management features across its plan levels:
Centralized platform: Zoho's platform displays complete contact information and lets you reach out across multiple channels. You can see a customer's communication history and where other team members left off, so you know where to pick up the conversation to close the deal.  
Essential contact management features: We appreciate that the Free plan includes essential features, like email templates and basic marketing campaign tools. The Standard plan gives you additional features for a bargain, like mass emails, tracking and insights. Plus, integrations with communication solutions allow you to reach your customers directly from Zoho via phone, WhatsApp or social media.
Advanced contact management features: Zoho's best contact management features are in the top plans, but we think they're worth the reasonable upgrade price. SalesSignals sends notifications whenever a lead interacts with your business, from opening emails to commenting on social media. And we especially like the platform's Zia AI-powered automations and recommendations on how best to connect with leads.
Winner: HubSpot
HubSpot edges out Zoho in this category because it's built around contacts and most features to improve customer communication are free. While we appreciate Zoho's competent tools and affordable plans, most businesses on a budget will find the same functionality with HubSpot for free. However, businesses with extensive contact lists that don't want to break the bank paying to increase limits might find better value in Zoho.
AI
HubSpot
HubSpot's AI-powered tools greatly enhance the platform's capabilities:
Conversation Intelligence: Conversation Intelligence, exclusively available to Enterprise users, records calls so you can get deeper insights, track key terms, monitor employee performance patterns, make notes and share transcript snippets.  
AI assistant: HubSpot's AI assistant generates content to help your sales, marketing and service teams work more cohesively and better manage customer relationships. It can create SEO-optimized blogs and websites, draft emails and chat with customers on your website. We especially love that you can adjust content to reflect the right tone. The assistant also runs custom reports based on simple questions, forecasts sales, gives ideas and makes recommendations. 
ChatSpot: ChatSpot, the conversational AI add-on, makes AI-powered assistance and recommendations even easier.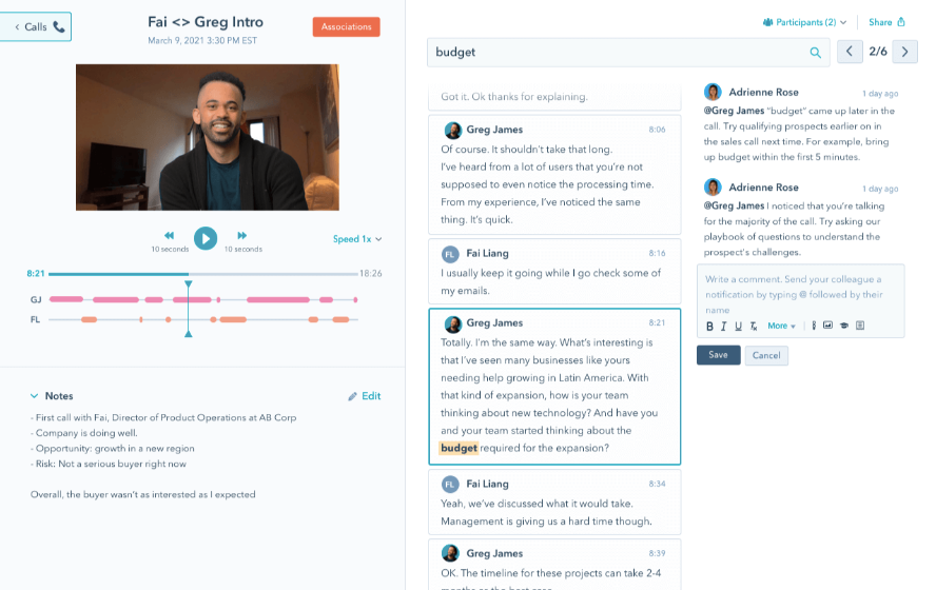 HubSpot's Conversation Intelligence tool gathers data from customer calls and lets managers give employees feedback directly in the transcript. Source: HubSpot
Zoho
Zoho's AI offerings revolve around its AI-powered assistant, Zia, which can help your team work smarter and sell better. Zia can do the following: 
Study customer communications: Zia records and studies every customer communication, providing insights like sentiment analysis and tips on products to sell and the best time to get in touch.
Recommend workflow automations: Zia saves time by recommending workflow automations and filling in customer details from the internet. 
Create reports and offer predictions: Zia also provides AI-generated custom reports and sales predictions. We especially like that you can chat with Zia and get help editing emails. 
We were disappointed that Zia's features aren't available outside of the Enterprise or Ultimate plans. However, considering their relatively low cost, you can get potent AI assistance for a bargain. 
Winner: Tie 
Both HubSpot and Zoho offer powerful AI tools with many of the same features. HubSpot wins in overall functionality thanks to its AI's generative capabilities that create customized content in the tone of your choice. Still, when it comes to affordability, Zoho beats HubSpot; its premium AI features are available for a much lower price than HubSpot's premium plans. 
Ease of Use
HubSpot
Comprehensive platform: We found that HubSpot's comprehensive, all-in-one platform makes it easy for all departments to work together from one place. We especially like that you can integrate with more than 1,500 external business solutions, so everyone can keep using the tools they love from the HubSpot interface. 
Intuitive and easy to use: We were impressed that HubSpot is intuitive and relatively easy to use. Free and Starter plan users will get up and running in no time. However, it may take some time to get the hang of HubSpot's advanced features in premium plans. 
Online resources: We were pleased to see that plenty of online learning resources are available to help users with more complex functions.
Zoho
Easily customizable platform: Zoho offers a straightforward, customizable platform that is painless to use. We especially like the Canvas tool, which lets you customize the appearance of your CRM dashboards, prioritizing crucial functions. 
Onboarding assistance: Most businesses won't find setup challenging. However, every plan includes onboarding assistance and access to online training courses and articles.  
Remote collaboration tools: We found Zoho especially helpful for remote workforces. The platform is stacked with features to help teams collaborate from anywhere. For example, Motivator uses gamification to turn every task into a potential reward. By stimulating friendly competition, Zoho increases employee engagement and drives sales. And the Feeds feature keeps everyone updated with a deal activity timeline and direct messaging. 
Integrations: Hundreds of integrations, such as video conferencing solutions, give your teams even more ways to connect.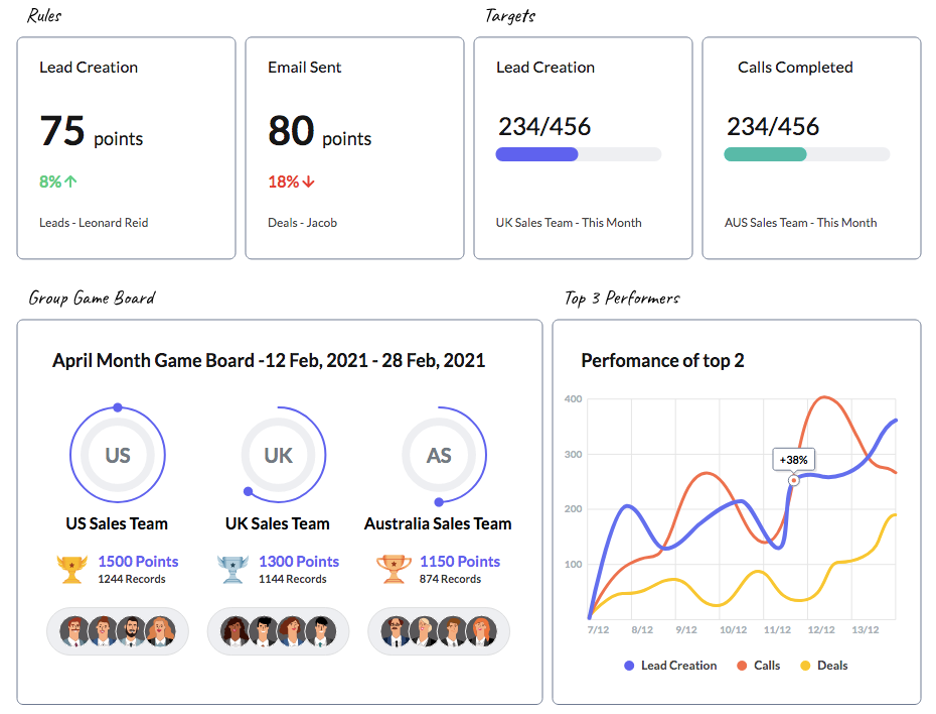 Zoho's Motivator tool engages employees by turning any task into a friendly competition with visual dashboards and performance reports. Source: Zoho
Winner: Tie 
When it comes to usability, you can't go wrong with either platform. Zoho is our choice for businesses looking to foster collaboration and increase productivity with remote workers. While HubSpot's premium plans have a learning curve, the intuitive interface and extensive CRM integrations make it worthwhile. 
Customer Support
HubSpot
HubSpot offers different levels of customer service based on your plan:
Free plan support: Free support is limited to an online knowledge base, HubSpot Academy courses and a community forum. 
Starter plan support: The Starter plan includes email and in-app chat support. 
Premium plan support: The two premium plans get phone assistance. 
Subscribers can also pay to receive onboarding assistance and additional training. 
Zoho
Zoho offers three levels of customer service. We like that each plan offers excellent online resources, such as articles, tutorials, webinars, courses and a community forum. Plus, all Zoho users get live email, chat or phone support. There's also a portal for support-request callbacks. 
Here's how the plans differ:
Classic: This free plan is available for any user with an active Zoho subscription and provides live support eight hours a day, five days a week. You also get three 30-minute one-on-one onboarding sessions weekly and callbacks within eight hours.
Premium: Premium support costs 20 percent of your subscription fee. You'll receive 24/7 live support on weekdays, extensive onboarding assistance and callbacks within three hours.
Enterprise: This support level costs 25 percent of your subscription fee. Note that there's a 25-seat minimum. You'll receive live support anytime, a dedicated technical account manager and callbacks within an hour.
Winner: Zoho
Zoho wins for customer service, as even its free plan includes live phone support and onboarding assistance. To get the same level of service with HubSpot, you must sign up for its most expensive plans.