Zoho Books is our pick for the best accounting software for microbusinesses. It is affordable and offers a simple online accounting app that lets you create and send invoices, track expenses, and seamlessly connect accounts.
Pros
Zoho Books features entry-level software that can grow with your business.
Intuitive and easy to use, the platform features a straightforward dashboard and versatile, multifunctional client portal.
Zoho Books offers an affordable pricing plan with options designed for microbusinesses.
Cons
There is a cap on your monthly invoices, which may become an issue for growing businesses.
Zoho Books lacks tools for calculating quarterly tax and other key business tax calculations. Its primary tax focus is on sales tax.
The audit trail tool isn't available to customers in the U.S. or Canada. It is only available to users in the U.K., Europe, and a few other countries.
Zoho Books is our pick for the best accounting software for microbusinesses in 2023.
This affordable accounting software lets you create, send and track invoices, and is extremely easy to use.
Zoho Books operates a client portal that enables you and your customers to collaborate in real time online.
This review is for small business owners who want to learn about Zoho's accounting software and why it's our best pick for microbusinesses.
Freelancers, entrepreneurs and microbusinesses need accounting software just as much as larger firms. Finding the right accounting software for a microbusiness requires a focus on both price and usability. Zoho Books stood out in our search as an elite accounting solution for microbusinesses.
Zoho Books Accounting Software Editor's Rating:
8.5 / 10
Affordable pricing

10/10

Free trial

10/10

Integrations

10/10

Invoicing and bill pay

10/10

Mobile app

5/10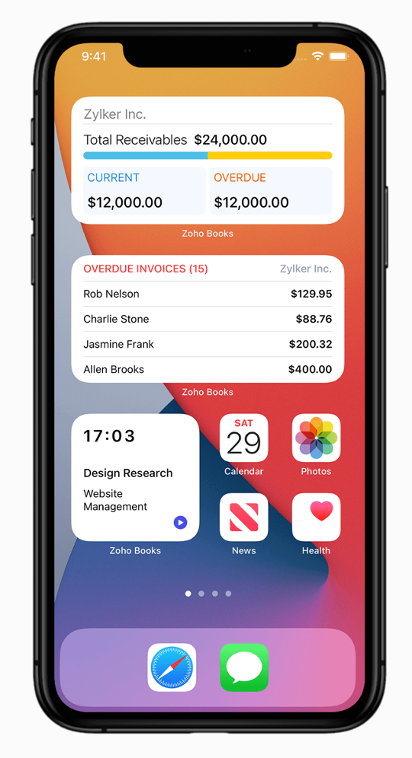 Zoho Books comes with mobile widgets that can keep your accounting top of mind wherever you are. Photo credit: Zoho Books
Why Zoho Books Is Best for Microbusinesses 
Not all accounting software programs are appropriate for very small businesses. Some are too complicated, too powerful or too expensive. Others just aren't designed for the needs of microbusinesses. Freelancers, consultants, sole proprietors and individuals who operate e-commerce and home-based businesses require specialized software that meets their needs without breaking the bank or overwhelming them.
While price is always a consideration, it's especially important for microbusinesses, so we looked for software that is both inexpensive and highly capable. We wanted to find a scalable application that very small businesses can continue to use as they grow, with options to upgrade to higher plans and integrate with other business applications. We also wanted it to have a mobile app that helps busy entrepreneurs keep up with their accounting tasks on the go. After much research and analysis of accounting software, we recommend Zoho Books as the best accounting software for microbusinesses.
Zoho Books is one of very few accounting software vendors that offers an entirely free package. Businesses with annual revenue of a maximum of $50,000 qualify for this package.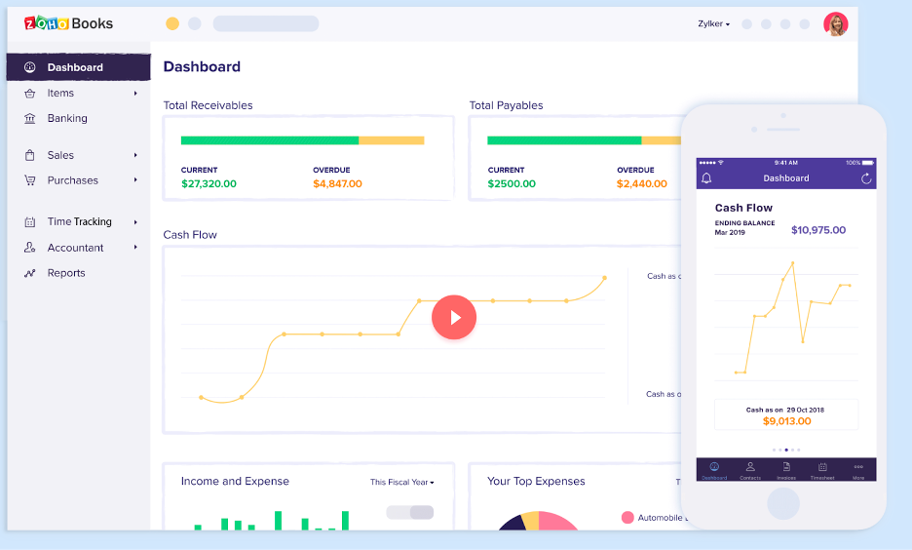 The Zoho Books dashboard offers clear visualizations that are easy to understand and designed to give you an overview of your business's financial situation. These visualizations are also available on the mobile app. Photo credit: Zoho Books
Usability
Zoho Books has many features that benefit microbusinesses, including accounting process automation, invoicing, online payments and tools for time tracking. Zoho Books also has a mobile app that supports more devices than most accounting software vendors do, including the Apple Watch.
Zoho Books saves you time by automating your workflow. You can set up this accounting software to automatically perform tasks like sending recurring invoices and payment reminders, tracking expenses, and notifying you when your bills are due. We also like that Zoho Books can set up bank rules to automatically categorize transactions when they're imported each day from your bank feed, and the software identifies possible matches when you're reconciling your accounts. 
A particularly useful feature we found with Zoho Books is that you can convert sales orders or estimates to invoices with a couple of clicks, edit the invoice as needed, and drag and drop lines to rearrange them. You can send them immediately or schedule them to send at a later time. 
The software also keeps an audit trail, so you can see which transactions are linked, the user who created or changed them, and the date and time of the change. However, this feature is only available to users in the U.K., the EU, the UAE, the KSA and India. We were disappointed by this restriction, as other accounting software platforms include this feature for customers in all territories. 
Zoho Books Features
| | |
| --- | --- |
| Workflow automation | Automation tools streamline repetitive tasks — such as sending invoices and payment reminders or reconciling accounts — and take them off your team's plate. |
| Invoicing | Zoho Books offered some of the easiest-to-use invoicing tools we found in our review of accounting software. |
| User-friendly dashboard | A clear and user-friendly dashboard displays a comprehensive overview of your business's financial health. |
| Online payments | Online payment integration makes it easy for your business to pay bills and accept payments from clients. |
| Client portal | The Zoho Books client portal offers a self-service space that creates a seamless experience for your clients to receive proposals, view project estimates and connect with your team. |
| Mobile application | A well-designed mobile application makes it easy to access the core features of Zoho Books anytime, anywhere. |
Workflow Automation
Microbusiness owners wear a lot of hats and have a lot of responsibilities, so saving time is essential. Zoho Books automates your workflow by eliminating otherwise time-consuming accounting tasks. With Zoho Books' workflow automation tools, you can create and send invoices on a recurring basis, as well as send automatic payment reminders for clients with overdue bills. You'll always know when your own bills are due with automatic reminders and notifications. Account reconciliation is also a breeze because this program does it for you, saving you from poring over the books to look for inconsistencies.
Invoicing
One of the best reasons to invest in Zoho Books its extraordinarily simple way of converting sale orders and estimates into invoices. All it takes is a couple of clicks, and then you can drag and drop as needed to create your invoices. The software even saves the information for you, so the next time you need to create the same type of invoice, it will be even easier. We found the invoicing functionality comparable to the tools in our FreshBooks review, which says a lot, since FreshBooks is our best pick for invoicing.
User-Friendly Dashboard
One of the most important things to look for in accounting software is an easily digestible and navigable dashboard. Zoho Books' dashboard is comparatively sparse but still informative. You will see important details, like income and expenses, receivables and payables, and cash flow, but the design is clean and lacks the overwhelming feeling of some of the more comprehensive accounting software. For microbusinesses, it's important that the data is easy to contextualize and understand quickly, as most microbusiness owners don't have a team at their disposal to focus on financial information all day. Zoho Books delivers the information you need to know in an organized package of a few helpful visualizations.
Online Payments
You want to get paid securely and without any unnecessary delays, especially as a microbusiness that survives on cash flow. In Zoho Books, online payments are simple: Just click the gear icon and select the integration you want. The complete list of payment gateways is Stripe, PayPal, Authorize.Net, Payflow Pro, Payments Pro, 2Checkout, Braintree, Forte, Square, ACH Payments and WePay.
If you want to accept debit and credit card payments, you need to partner with a credit card processor. Check out our list of the best credit card processing services available on the market today.
Client Portal
Customer service is a huge selling point for microbusinesses, and Zoho Books offers a tool that helps create an exceptional customer experience. The client portal is the designated space for your customers to view and manage their transactions, get estimates on projects, leave reviews for your business, interact in real time, and more. It offers a self-service space that connects your client with your team, without drawing on your precious time and resources for simple inquiries.
Mobile Application
Just about every accounting software offers a mobile app so you can do all of your business on the go. With the Zoho Books app, you can make payments, track your payables, gain instant insights, obtain financial reports, and send invoices. You can also add widgets to your home screen. The mobile application is available for iOS and Android mobile devices at no extra cost.
Zoho Books Cost

Zoho Books offers five paid plans, as well as a free version for businesses that bring in less than $50,000 per year. Photo credit: Zoho Books
Like many accounting software platforms, Zoho Books offers a number of pricing plans. However, it was one of the few that offered a free version rather than just a free trial. Businesses with revenue under $50,000 can use Zoho at no cost. For a business owner just starting out, this can be a huge perk. 
Standard: This plan costs $15 per month and supports three users. You can manage up to 5,000 invoices, reconcile transactions, create invoices, track mileage and expenses, and manage projects and timesheets. 
Professional: This plan costs $40 per month and supports five users. You get everything in the Standard plan, plus the ability to make sales orders, manage purchase orders, and handle multiple currencies. 
Premium: This plan costs $60 per month and supports 10 users. You get everything in the two other plans, as well as a vendor portal, a custom domain, budgeting tools, and integration with Zoho Sign and Twilio. 
Elite: This plan costs $120 per month and supports 10 users. It includes everything in the Premium plan, plus cash flow forecasting reports, advanced inventory control, and email voice and chat support. 
Ultimate: This plan costs $240 per month and supports 15 users. You'll receive 25 custom modules, everything in the Elite plan and advanced analytics. You can view real-time reports and dashboards, to track key financial metrics, embed reports in websites, and more. 
You can add extra users to any of the plans for $2.50 per additional user per month. 
If your customers prefer hard copies of your estimates or invoices and you don't want to print them out and mail them yourself, you can purchase snail mail credits and have Zoho send them for you. Snail mail credits cost $2 each. 
Auto-scans cost $8 per month for 50 scans per month. This add-on feature scans the documents you upload, such as receipts or vendor invoices, and uses the data to create new transactions. Other software includes this feature for free, such as the one we examined in our Xero review.
Although adding users or accessing certain features results in extra costs, Zoho's pricing remains strikingly low given its breadth of features.
Zoho Books Setup
New users can click on the sign-up button to create an account. A setup page allows you to choose your time zone, and then you will add in your company information. Choose the modules you want for your business. If you want to collect money through the platform, you can add apps like PayPal. 
A major plus of Zoho Books is how easy it is to use, with a dashboard that is clear and simple to navigate. You get at-a-glance views of your business's financial performance through widgets for receivables and payables with current and overdue amounts, top expenses, projects with billable hours and expenses, bank and credit card accounts, and a cash flow chart. An easy-to-follow welcome video will take you through the steps to sign up and get started. 
To try Zoho Books yourself, consider signing up for a free 14-day trial — no credit card required. You can also learn more about this accounting software by watching the company's webinars and tutorial videos. As usual, we recommend using the free trial to better understand how the platform works and how it can benefit your business.
>> Learn more: Finding the Right Accountant for Your Small Business
Zoho Books Customer Service
Zoho Books offers email, live chat and 24-hour phone support five days a week in the U.S., the U.K., Australia, India and several other countries. This 24-hour support is available if you opt into Zoho Books' Premium or Enterprise customer support plans. Otherwise, phone support is available from 9 a.m. to 5 p.m. Monday through Friday. You can also find help online in Zoho Books' searchable knowledge base and customer forums.
In addition, Zoho Books maintains a help documentation center, which includes a data migration guide, how-to's and tutorials, and videos that can help new users get up to speed with the system. These self-guided materials are valuable sources of information that can help you resolve most basic questions without contacting the customer support team. We found the information on setting up custom invoices, branding and logos, user roles and permissions, and online payments especially useful in getting started on the right foot.
Zoho Books Drawbacks
The main drawback of Zoho Books is that while it provides ease of use and delivers the basic needs of new businesses, the functionality can be limited as businesses grow and their need for more features increases. For example, all Zoho Books plans set a maximum number of invoices you can issue per year. 
Zoho Books also lacks features for calculating any type of tax other than sales tax. This means you'll need to give an accountant regular access to your books to calculate your taxes and ensure you file and pay on time. Additionally, customers in many territories don't get access to Zoho Books' audit logs, a feature that's universal with competitors such as QuickBooks Online.
For businesses that outgrow Zoho Books, consider our QuickBooks Online review. Large businesses that require truly advanced features should consider our Oracle NetSuite review for comprehensive and powerful software, though small businesses may find these tools overkill.
Methodology
When we searched for the best accounting software for microbusinesses, we looked for a cost-effective platform that had all the core accounting tools bundled in a user-friendly, intuitive experience without a steep learning curve. After much research and analysis, we recommend Zoho Books as the best accounting software for microbusinesses, since it not only maintains a useful slate of easy-to-use features, but also extends a free version to businesses that bring in less than $50,000 in revenue annually. Overall, we found Zoho Books to be a simple, effective accounting software that meets the needs of microbusinesses without demanding a lot of time and resources from business owners.
Zoho Books FAQ
Zoho Books currently has roughly 13,000 customers, though across all its products, Zoho has over 80 million customers globally. These customers include microbusinesses that need basic accounting software tools.
Yes. Not only is there a 14-day free trial that will give you access to all the features that Zoho offers, but there is also a free plan for businesses with less than $50,000 annual revenue.
Yes. Through the users and roles tools within Zoho Books' settings, you can enter your accountant's email address, grant them access, and set their user permissions.
Overall Value
We recommend Zoho Books for …
Small businesses on a budget.
Users who need a simple platform. 
Users who want to set up accounting software quickly and without a steep learning curve. 
We don't recommend Zoho Books for …
Businesses that have outgrown basic accounting software solutions.
Businesses that would struggle with a cap on their monthly invoicing volume.
Businesses that can't afford an accountant to calculate and file their quarterly and annual business taxes.