It follows naturally that, since accounting software is where you store your business's client and vendor payments, it should include invoicing tools. QuickBooks, the biggest name in accounting software, excels on this front — and FreshBooks, a leading competitor, performs even better. These two prominent vendors are among the best accounting software platforms and offer similarly robust invoicing features, so they're well worth comparing side by side.
QuickBooks vs. FreshBooks Comparison
Pricing
QuickBooks
QuickBooks is priced as follows, though you get a 50 percent discount for your first three months if you skip the 30-day free trial. However, we always recommend saying yes to the free trial, so we find this pricing quirk very frustrating.
Simple Start: This plan starts at $30 per month for one user. Through this QuickBooks pricing package, you get tools for cash flow management, income and expense tracking, receipt capture, sales tax, mileage tracking, and tax deductions. You can also create basic accounting reports, generate and send estimates and manage your 1099 contractors.
Essentials: This plan starts at $55 per month for three users. This pricing package adds bill management, time tracking, connected sales channels and more in-depth reports to the tools included with Simple Start.
Plus: This plan starts at $85 per month for five users. This pricing tier adds project profitability tools and inventory management features to the Essentials package.
Advanced: Priced at $200 per month for 25 users, this plan gives you everything in Plus, but with more in-depth accounting reports and integrations. You'll also get tools for managing employee expenses, controlling access, batch-creating invoices and expenses, analyzing your business through Excel, automating workflows, and restoring data. Plus, you'll get a dedicated account team for on-demand training.
Self-Employed: At $10 to $20 per month for one user, this QuickBooks pricing package is separate from the above pricing tiers. The introductory Self-Employed pricing package ($10 per month) comes with tools for separating personal and business expenses. You'll also get tools for tracking mileage, automatically calculating quarterly taxes and maximizing tax deductions. The two higher-priced packages — $15 and $20 per month, respectively — come with, respectively, quarterly tax filing tools and help from a CPA. All prices double after your first three months.
We were impressed with the breadth and quality of features available with each QuickBooks pricing package. We were also happy that, before we tested QuickBooks, the platform's pricing page made clear what tools we could expect. This transparency is a highlight of QuickBooks as compared to many other accounting software providers.
FreshBooks
Monthly FreshBooks subscriptions are priced as follows, with no differences in pricing if you use the 30-day free trial. However, each team member you add besides yourself will add $11 per month to your FreshBooks pricing. Additionally, for $20 per month, you can add the Advanced Payments tool for storing client payment information and creating automatic, subscription-like payments. You'll pay fees of 3.5 percent plus 30 cents per client payment.
Lite: This plan costs $13.60 per month for the first year and increases to $17 per month thereafter. It comes with unlimited expense and estimate tools, plus the ability to send unlimited invoices to at most five clients. You can also use the FreshBooks mobile app, run simple tax reports, and accept payments via credit card and bank transfer.
Plus: This plan costs $24 per month during your first year and $30 per month thereafter. On top of everything included in Lite, Plus adds unlimited estimates and proposals, automatic expense tracking, and automatic receipt data capture and emailing. You can implement recurring client retainers and bills; track miles via the mobile app invite your accountant; and run business health, financial and accounting reports. Additionally, you can send unlimited invoices to as many as 50 clients.
Premium: For your first year, you'll pay $44 per month, and after that, the cost is $55 per month. This pricing package adds tools for tracking and paying bills and vendors. It also adds project profitability features, email customization tools, late fees, payment reminders and checkout links. Perhaps most importantly, it removes the cap on the number of clients you can invoice.
Select: FreshBooks will quote you for this customizable pricing package based on your business needs. You'll get lower transaction fees, dedicated account management with custom onboarding, and assistance migrating your data from other platforms. You can also securely take credit card payments, instantly capture bill line items and call an exclusive number for premium support.
We like that FreshBooks' base subscription rates are comparatively low, though the extra charge per user disappointed us. FreshBooks is nevertheless an affordable and attractive option for small teams. However, Zoho Books is our top accounting software for microbusinesses, Read our Zoho Books review to learn why.
Winner
QuickBooks is our winner for pricing. Sure, its base subscription prices are higher than for FreshBooks. However, QuickBooks doesn't charge an additional cost per user, unlike FreshBooks. When you do the math, these charges make  FreshBooks Premium more expensive than QuickBooks Advanced if your team, including yourself, comprises 15 people. 
Free Trial
QuickBooks
To obtain QuickBooks' 30-day free trial, you must give up the 50 percent discount that this vendor offers for your first three months. This frustrated us — lower pricing shouldn't be dangled in front of users at the cost of trying the platform first. We always recommend pursuing the free trial, so it felt like a letdown that QuickBooks incentivizes potential customers in the other direction.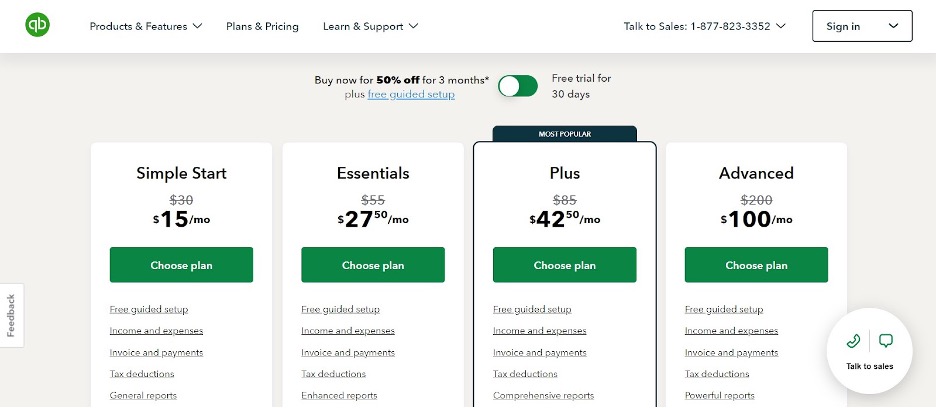 QuickBooks' pricing table indicates that you only get the prices the platform advertises if you skip the free trial. Source: QuickBooks
FreshBooks
There's no catch with FreshBooks' 30-day free trial. Your subscription price won't change if you use the free trial — in fact, no matter what, you pay discounted monthly prices for your first year. Your free trial also doesn't require a credit card or any commitment to use, and you can end your trial at any time. We were pleased with this lack of attached strings as well as the trial itself, which gave us a comprehensive introduction to the platform.
Winner
FreshBooks offers the superior 30-day free trial. It comes with no impact on your monthly subscription costs, nor does it involve any other commitments. We also found it to be a thorough introduction to FreshBooks and all its capabilities.
Third-Party Integrations
QuickBooks
You can access over 750 integrations with QuickBooks, including native integrations with vendors that lead their fields. These include Shopify for e-commerce, Gusto for payroll and Square for POS systems. There are also nonnative integrations, including with the expense management software Expense and the bill pay tool BILL. Between its quantity of integrations and these integrations' quality, QuickBooks strongly impressed us.
FreshBooks
Over 100 integrations are available with FreshBooks, including a native Gusto integration. This integration, though, comes with an added fee not specified on FreshBooks' website. We were unable to obtain a figure through conversations with company representatives. 
That said, FreshBooks' native integrations with Gmail, HubSpot CRM and Squarespace impressed us, as did its nonnative integrations with Expensify and Dropbox. We liked how well these integrations streamlined our workflows across platforms. 
Winner
Although both platforms offer strong integrations with great third-party tools, QuickBooks is our winner given its integrations' quantity and slightly higher quality. QuickBooks offers seven times as many integrations as FreshBooks, plus QuickBooks offers more native integrations with brands that lead their fields. You're good with either platform in regard to integrations, but you're better off with QuickBooks.
Invoicing Tools
QuickBooks
You can send QuickBooks invoices via the QuickBooks mobile app and customize them with your logo and branding. You can see your clients' payment status and send payment reminders as well. Plus, you can set up one-click client payments, convert estimates into invoices, add billable hours and generate recurring invoices. These tools are all standard within accounting software.
QuickBooks' most unique accounting features, though, were standouts. You can add clients' outstanding balance amounts to their payment reminders in QuickBooks, a feature we didn't encounter elsewhere. You can also accept tips via invoices and break your estimates into more than one invoice, and we liked these one-of-a-kind tools. Plus, QuickBooks will automatically record and match your customer payments, which streamlines your bank reconciliation.
Additionally, since QuickBooks is the most commonly used accounting software, it has the power to operate its own network of customer accounts. If your clients also use QuickBooks — and that's likely — you can easily find them through this network. We liked how easy it was to conduct transactions with customers we were fully connected with via QuickBooks. We also appreciated being able to pay these and all customers via card, ACH, PayPal and Venmo. We found that QuickBooks' invoicing software is among the best around.
FreshBooks
FreshBooks is our top accounting software for all things invoicing. We find its single-screen custom invoice creation tool especially intuitive — there's no need to jump back and forth between tabs like with other platforms. We were also impressed that you can distribute several invoices through FreshBooks in just one click and automate recurring invoices. If you still want to manually handle recurring invoices, you can easily convert your old invoices into new ones too. We liked how simple FreshBooks is to use whether you're executing tasks yourself or automating them.
As with QuickBooks, you can generate payment reminders for clients who owe you money. We found this easier to do with FreshBooks than QuickBooks, plus FreshBooks allows you to add late fees to overdue invoices. FreshBooks also makes it easier for clients to pay you directly from their invoices, with payment options including Apple Pay, ACH, Visa, Discover and Mastercard. With the Advanced Payments monthly add-on, you can store customer card information and create subscriptions, further automating your invoicing.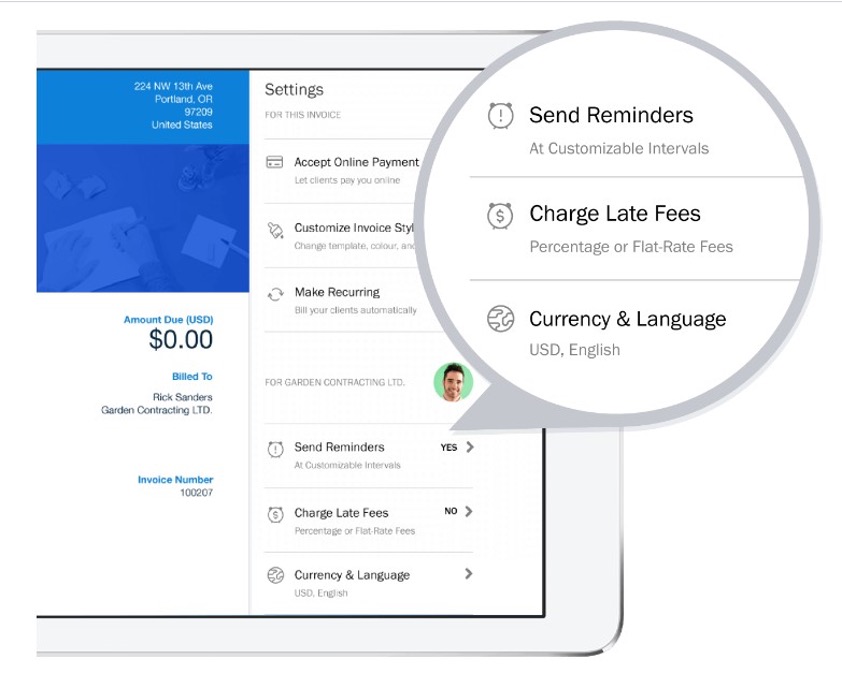 You can send reminders and charge late fees from the same window within FreshBooks. Source: FreshBooks
Even without this add-on, FreshBooks tremendously streamlines your invoicing. We were pleased that we could convert estimates and proposals to invoices in just two clicks — few other platforms make this so easy. We also liked that we could request deposits on our invoices at any point during a project and offer discounts for early payment. FreshBooks made invoicing easier for us and payment easier for our clients, which floats it to the top of our list for accounting software invoicing features.
Winner
FreshBooks doesn't just beat QuickBooks when it comes to invoicing. It outperforms every accounting software we've reviewed in terms of invoicing tools. If streamlining your invoicing is your single biggest accounting priority, there's no better choice than FreshBooks.
Freelancer Quarterly Tax Calculation
QuickBooks
Via the least expensive of QuickBooks Self-Employed's three pricing tiers, you can calculate your quarterly taxes as a freelancer. This is important — not paying your freelance taxes quarterly leads to penalties, and not all freelancers know this. QuickBooks Self-Employed automatically tells you what you owe in taxes before the quarter ends and reminds you to pay, which minimizes the potential for fees.
We liked that, alongside these proactive quarterly tax calculation tools, the first QuickBooks self-employed tier includes tools for organizing your expenses and income. We found that this made filing our taxes much easier when the time came. 
Better yet, we were impressed that, with QuickBooks Self-Employer's two highest pricing tiers, we could also pay — not just calculate — our quarterly taxes. We did so directly from QuickBooks itself, and found the process easy and well worth paying for the upgrade during our testing period. Across the board, QuickBooks delivered for freelance taxes.
FreshBooks
Although freelancers are among the user bases that FreshBooks names on its website, it includes no tools whatsoever for freelance tax calculation or payment. This was a major frustration for us, especially because not just freelancers but all invoice-based businesses — FreshBooks' core audience — pay quarterly taxes. We expected corresponding features in FreshBooks, and we were let down.
Winner
When comparing QuickBooks vs. FreshBooks, the former is the only choice when it comes to quarterly tax payments for freelancers. FreshBooks entirely lacks freelance quarterly tax tools, whereas we found QuickBooks' tools on this front robust, comprehensive and user-friendly.
Reporting Features
QuickBooks
With QuickBooks, you can generate approximately two dozen prebuilt reports via desktop or mobile. You can also create your own customized reports via QuickBooks Plus and Advanced. All QuickBooks pricing tiers allow for the creation of custom tags. We felt that this reporting flexibility, and the reports themselves, were among the highest quality we saw across all accounting platforms that we reviewed.
FreshBooks
Basic reports that can help you assess your finances as you file taxes are available with FreshBooks Lite. With the other FreshBooks packages, you get performance dashboards for quick review, alongside business health and double-entry accounting reports. These reports include but aren't limited to profit and loss statements, sales tax summaries, invoice detail reports, and accounts aging reports. 
We found that these reports gave us a solid understanding of our financials but left us wanting a bit more information. We were also disappointed that these reports weren't extensively customizable. This meant we could only assess our finances on FreshBooks' terms, not our own.
Winner
QuickBooks is the superior platform for reporting. More reports are available, and they're much more customizable. If anything, QuickBooks offers the very best reports of any accounting software platform, not just when compared to FreshBooks.
Project Management Tools
QuickBooks
In QuickBooks, you can create projects and add customers to them. You can also assign transactions, timesheets, expenses, invoices and labor costs to these projects. This way, you can track your project's profitability and generate reports pertaining to solely the project in question. We found it easy to review project profitability as well as our team's work by date and labor costs per team member.
FreshBooks
You can quickly turn an estimate into a new project in FreshBooks. Through the FreshBooks project management suite, you can also chat with your team in real time and add clients or contractors to your projects. You also get robust access controls too for determining what other people on your project can and can't see. We felt that these features made FreshBooks feel nearly as much like project management software as an accounting service.
We also liked that we could set costs and billable rates for our projects in QuickBooks while adding and tracking progress against their included services. Similarly, we were excited that we could share files and images from the FreshBooks project suite. This was another way in which FreshBooks resembled project management platforms. We briefly considered abandoning our actual project management software for FreshBooks — that's how much we liked it.
Winner
FreshBooks functions nearly like an actual project management platform, whereas QuickBooks simply offers some financial tools that streamline project accounting. Choose FreshBooks if you want to manage your books and your projects side by side.