Plooto's technology is powerful for automating bill pay in ways not possible through Xero and QuickBooks, with which it integrates. For one-click, low-cost electronic bill payments, Plooto is user-friendly and effective.
Pros
With Plooto, you can automate and time your bill payments to suit your cash flow and eliminate late fees, with next-day payment available.
You can import all your bills into Plooto in one click and pay them with another click.
Plooto integrates seamlessly with QuickBooks and Xero to ensure error-free reconciliation.
Cons
Plooto is an AR and payable automation solution. It's not an accounting software platform that covers all accounting needs ranging from time tracking to finance report creation.
All payments you make through Plooto come with extra charges on top of your monthly premium. Choosing the more expensive of Plooto's two pricing plans eliminates these fees on online domestic payments.
At $10 per transaction, international transactions with Plooto are especially expensive.
Looking for more options?
For more options, check out the rest of Business News Daily's picks for the The Best Business Accounting Software Services of 2023.
It's one thing to choose accounting software with excellent bill pay options. It's another thing to choose accounting software that ditches manual individual bill pay for automated mass bill payment. Plooto does the latter and offers timed payment options for managing cash flow and claiming early payment discounts. Alongside its robust AP automation tools come basic accounts receivable (AR) tools for tending to both sides of your cash flow. For these reasons and more, we've named Plooto our top accounting software pick for automating AP.
Plooto Editor's Rating:
9 / 10
Affordable pricing

5/10

Free trial

10/10

Robust integrations

10/10

Invoicing and bill pay

10/10

Automation features

10/10
Why Plooto Is Best for Automating AP
Plooto is our top pick for automating AP since you can use it to pay all your outstanding bills in literally one click. When you do so, Plooto posts your payments automatically to your accounting software, which must be QuickBooks or Xero, and reconciles your transactions. We found no other software that could eliminate the manual work of paying off one bill at a time so seamlessly while also streamlining reconciliation.
Alongside these streamlined bill pay tools, Plooto also offers timed and next-day payments for full control of your cash flow. With timed payments, you can pay your vendors when you know you'll have cash available. With next-day payments, you can claim early payment discounts. Plus, Plooto's network includes more than 120,000 payees and the platform comes with basic AR automation tools too. It has everything you need and more to automate your AP management from start to finish.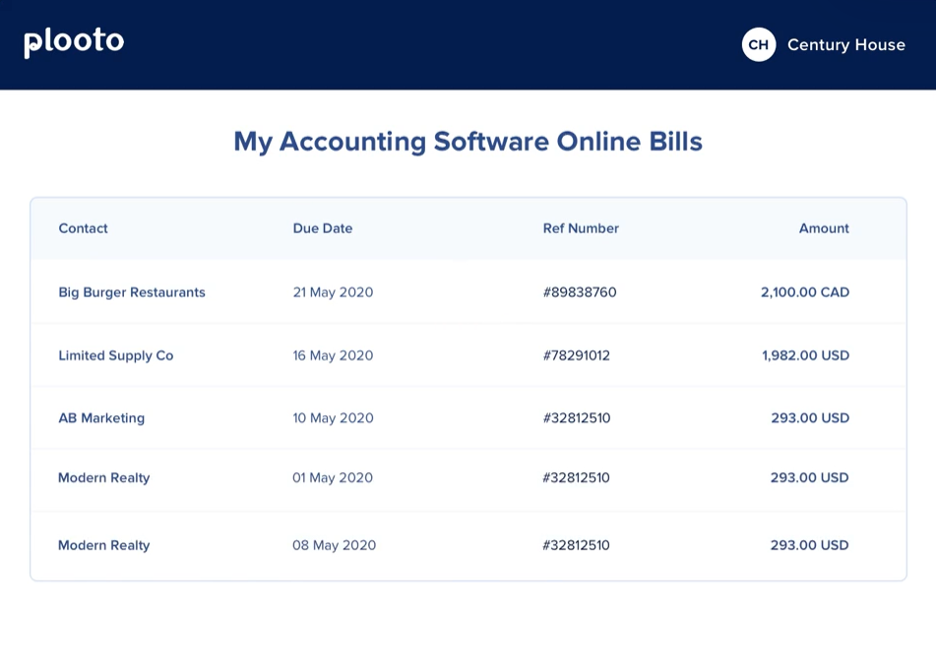 With Plooto, you can view all your outstanding bills in one place — and then pay them all in one click.
There are more than 120,000 payees within the Plooto network, and you can add your vendors in a few clicks as well.
Usability
Plooto is among the user-friendliest accounting software platforms we reviewed, precisely because it isn't full-scope accounting software. This vendor offers AP and AP automation software, covering only one of accounting software's many aspects. Thus, you'll see significantly fewer features in the Plooto dashboard than with other accounting software vendors. We found that this reduced clutter made Plooto a breeze to navigate.
You can't customize your Plooto dashboard and you shouldn't need to as it's incredibly intuitive and straightforward. The two primary integrations available are with QuickBooks and Xero and these integrations are as user-friendly as Plooto itself. That said, we couldn't quite see what the pairing of Plooto and Xero offers. Xero is already our top pick for tracking and paying bills, so automating Xero's AP feels redundant. Read our Xero review to learn why we hold its bill pay features in such high regard.
Although Plooto doesn't offer guided training, the platform is so simple that you might not need any assistance to get started. However, Plooto does offer guides for setting up your account, connecting your banks and taking other key first steps. Once you've gotten through all that, you probably won't need much further assistance.
Plooto Features
| | |
| --- | --- |
| Custom automation workflows | Set your own rules about who approves bills before payment and when approval must occur. |
| Timed and next-day payments | Claim early payment discounts with scheduled payments and avoid late fees with next-day payments. |
| Automated invoice management | When you upload your invoices to Plooto, the platform will automatically pay them and add the invoice and payment to your accounting software. |
| Online check payments | Plooto is one of few vendors we reviewed that allows you to make check payments without printing or physically mailing anything. |
| Vast vendor network | More than 120,000 payees exist on the Plooto network and you can add your payees too in seconds. |
| AR automation | Plooto offers introductory AR automation tools alongside its advanced AP automation suite. |
Custom automation workflows
Finance teams often complain about the delays that accompany having to wait for the right team member to approve expenses and Plooto eliminates this headache. You can use Plooto to create custom rules that direct bills in need of payment to the right team member for approval automatically. These rules deliver the expense at the appropriate time as well. The result is streamlined, timely bill payments no matter your AP volume.
Custom AP automation workflows are good for more than paying your bills in mass, on time, on your own terms. They also ensure that the right team members approve your payments before you send them.
Timed and next-day payments
Plooto includes tools for scheduling your payments in advance and this can be great for capturing early payment discounts. Time your payment to hit before the discount period ends and you'll automate your way into paying less.
We were also impressed with Plooto's next-day payment feature, available to all Plooto users. To get started with this tool, transfer money from your bank account to Plooto and select "Plooto Instant" upon bill payment. From there, Plooto deposits the money into your vendor's account the next day, circumventing long bank holding periods. The cherry on top is that this feature comes at no extra cost, unlike most same-day payment technologies.
Automated invoice management
When you upload your invoices into Plooto, the platform adds your invoices to your accounting software automatically. Then, it pays your invoices and updates your accounting software to reflect your payments. 
We were impressed with this feature since it saves several manual steps often required for bill pay when you use standard accounting software. For example, in QuickBooks, you need to manually pay bills once they're populated in your account. With Plooto and QuickBooks integrated, you'll just upload your invoices to Plooto and then payment will happen automatically. Plooto will also auto-add your invoice to QuickBooks, which is our top accounting software for small businesses. Read our QuickBooks review to learn why.
Online check payments
We liked that you can use Plooto's fully digital platform to make check payments. Although electronic payment dominates in business now, payment will never be entirely digital and some vendors will still prefer checks. However, most accounting software platforms don't accommodate check payments. In fact, of all the brands we reviewed, only Plooto and Zoho Books, our top accounting software for microbusinesses, offer check payment. Read our Zoho Books review to learn more about why the tiniest businesses will likely prefer this platform.
Plooto's check payment tools are more robust than the check features Zoho Books offers. While you must print and mail your own checks with Zoho Books, Plooto will do so for you. Plooto will also reconcile the transaction in your accounting software and maintain a full audit trail. However, we were disappointed that all check payments with Plooto cost $1.99 per transaction. No such added fee is part of the Zoho Books check payment suite.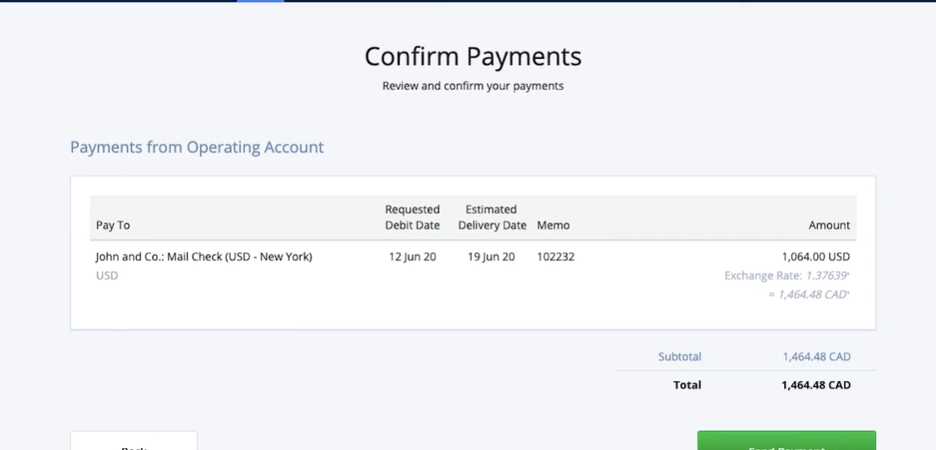 Plooto's tools for creating checks for vendor payment are easy to use, plus Plooto will print and send the check on your behalf.
Vast vendor network
The Plooto network is home to more than 120,000 vendors, suppliers and payees. This means that the organization you're trying to pay likely exists on the network — if not, you can add it in a few seconds. To do so, just confirm the payee's name and address and add your account number. Payment is as easy thereafter — choose the payee, enter the payment amount and write a short memo. From there, Plooto will send your payment.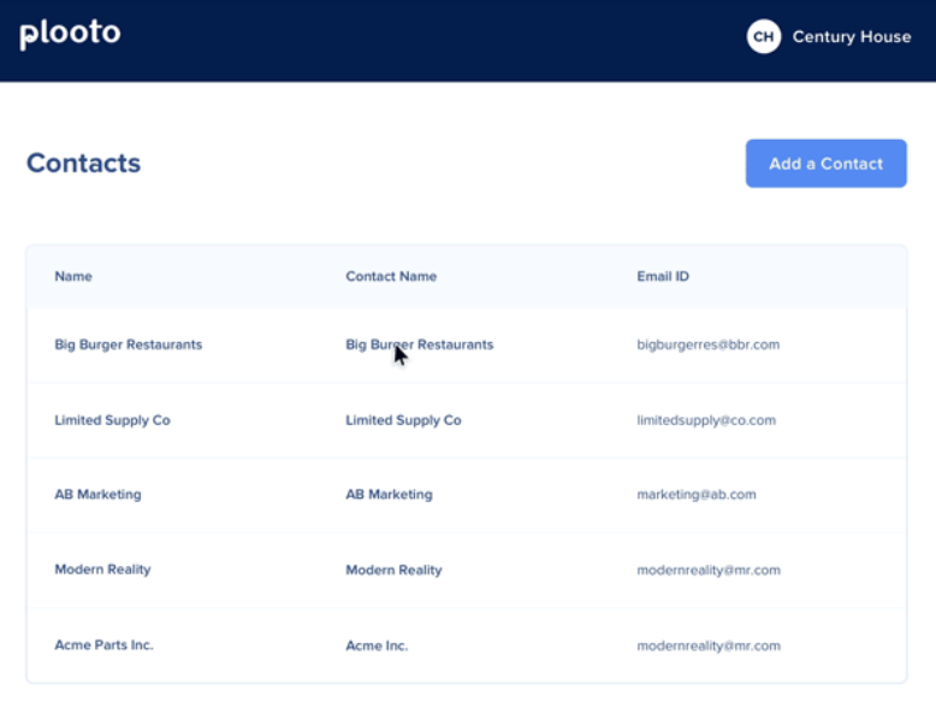 Plooto displays all your contacts within its network clearly, with an easy button for adding new contacts available on the same screen.
Basic AR automation
Plooto couples its extensive AP automation features with basic AR automation tools. This way, you automate your cash flow on both sides of the equation. 
Since Plooto's AR automation features are just basic, you can't do a ton with them. However, the handful of features available are enough to loosen any major shackles on your cash flow. You can auto-import invoices, set up preauthorized debit and establish recurring payments. You can also accept credit card payments and view your receivables' payment status. It's not the fanciest AR suite, but it gives you the essentials — a nice bonus alongside the high-quality AP features you'll get.
Plooto Costs
Plooto offers two pricing plans: Grow costs $32 per month and Grow Unlimited costs $59 per month. These prices are comparatively high, especially for software that only offers AP and receivable automation rather than a full suite of accounting features. Zoho Books and Sage Accounting, for example, offer more features at considerably lower prices, even if you choose the lowest-cost plan. Sage Accounting is our top pick for basic accounting features. Read our Sage Accounting review to learn more.
On top of its comparatively high costs, Plooto charges additional fees for almost every transaction. Unless you opt into Grow Unlimited, each domestic electronic transaction costs 50 cents. For both Grow and Grow Unlimited, the following additional transaction fees apply:
Checks: $1.99 per transaction
International payments: $10 per transaction
Credit card payments: 2.9% plus 30 cents per transaction
While the latter is standard pricing for credit card payments, we found the first two add-on fees to be needless. That said, unlike many accounting software platforms, you get an unlimited number of users no matter which pricing plan you choose. Plus, you get a 30-day free Grow trial, including 10 free domestic transactions, to see for yourself whether you like the software. This is longer than the 14 days that many accounting software vendors offer. Plooto also doesn't charge setup, integration or next-day payment fees, somewhat making up for its costs.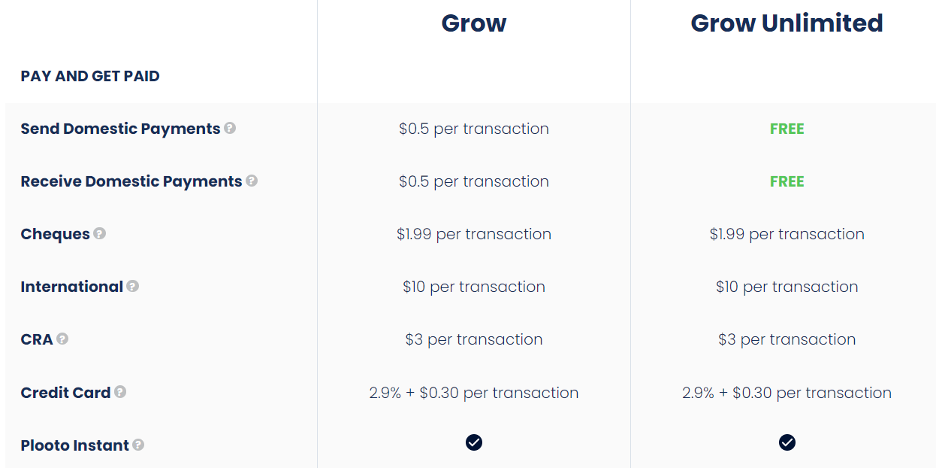 Plooto's official pricing table lays out the costs you'll pay per transaction clearly. Notably, Plooto Instant (next-day payments) are included at no extra cost.
Plooto Setup
Plooto is pretty much ready to go the moment you create an account — there's no complicated setup. We liked that Plooto is equally easy to implement and use as not all accounting software is ready to go out of the box. Plooto is so straightforward to launch that we were fine with Plooto's lack of dedicated implementation assistance service.
Although you're unlikely to face issues setting Plooto up, the vendor provides written tutorials with screenshots just in case. These include tutorials to Plooto's QuickBooks and Xero integrations, which the brand heavily promotes. These are the company's only two integrations, which we found disappointing. It means you can only use Plooto with these platforms, which means not Wave Financial or any of our other picks for the best accounting software.
Once you've moved past implementation into use, you can use Plooto's "getting started" guide to get yourself up to speed. This should be easy too — the only custom figuration to set up will be your automation workflows. While customizable dashboards are common among full-scope automation software platforms, Plooto's relatively narrow use case doesn't quite merit such complexity. We liked how simple the dashboard was — you likely won't need onboarding features or training sessions to get everyone onboarded.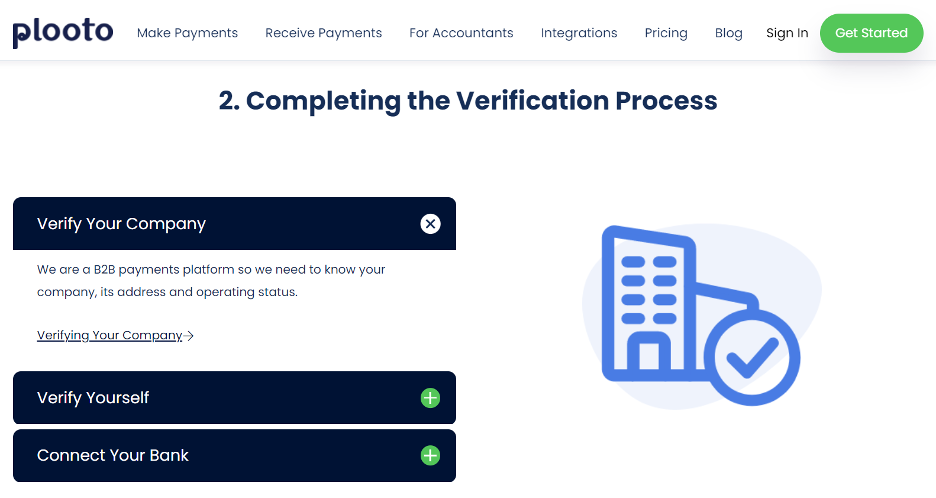 Plooto's "getting started" guide is available from its website before you even open an account. The guide is a step-by-step tutorial that includes relevant links for your setup journey.
Plooto Customer Service
Plooto customers can access the brand's customer service from 9 a.m. to 8 p.m. Eastern time on Mondays through Fridays. Phone, email and live chat customer support are all available at no additional cost. There are also free resources for answering questions yourself without contacting Plooto, such as frequently asked questions (FAQs), blogs, videos and a help center.
During setup, you'll have access to similarly rich support resources. We felt that the written tutorials and how-to guides available for setup were among the strongest Plooto customer support materials we reviewed. The quality of its written materials, combined with the brand's extensive availability for actual conversations, stood out to us. We felt that Plooto's customer service was superior to that of Xero, which uses a support system that imposes needless barriers to support calls.
Plooto's customer service offerings are among the strongest we encountered when reviewing accounting software vendors. Where others operate support ticket systems that introduce delays or lack easily findable contact information, Plooto is easy to reach and often available.
Plooto Drawbacks
Plooto's main drawback is quite blatant: It's just an AR and AP automation tool, not a full accounting software platform. You can't use Plooto to generate reports, track time worked that you can convert into invoices, pay taxes and the like. Comprehensive features like this are instead part of the two platforms that Plooto integrates with: QuickBooks and Xero. Plooto is thus a lacking platform if you need full-on accounting software but a great supplement if you choose QuickBooks or Xero.
We also found it frustrating that all Plooto payments result in extra charges unless you opt into the higher-priced Plooto plan. Even then, only domestic electronic payments are free — check payments and international transactions still cost extra. The latter cost is particularly prohibitive, at $10 per transaction. Zoho Books, by comparison, doesn't charge at all for check payments and many solutions for low-cost international payment exist outside accounting software.
Plooto Methodology
To determine the best platform for automating AP, we sought a platform that allowed for near-instant bulk payments with little to no manual work. We also looked for software that was user-friendly during and long after setup, with easy integrations with major full-scale accounting software platforms. 
After thorough research and analysis, Plooto emerged as our top pick for automating AP. Its tools for custom automation workflows, timed and next-day payments and automated invoice management are all simple yet powerful. Its vast payee network and accompanying entry-level AR automation features make for nice complements to its AP automation features as well. Plooto is a highly navigable, immensely time-saving platform that takes the legwork out of several AP needs that major accounting software platforms don't quite cover.
Plooto FAQs
Businesses use Plooto to automate all bill payments to both United States and international payees. It streamlines bill pay in ways that supplement but don't replace full-scope accounting software.
Yes, Plooto is a Canadian company and thus offers tax payment features only to Canadian customers, not U.S. customers.
Electronic payments to payees within the Plooto network take three to five business days. For paper check payment, Plooto sends checks the business day after your request, with payee deposit typically happening three to five days later. Timed and next-day electronic payments are also available.
Overall Value
We recommend Plooto for …
Businesses looking to automate high volumes of bill payments.
Businesses looking to streamline vendor payments within their existing QuickBooks accounting software.
Businesses in need of timed or next-day payments to avoid late fees or claim early payment discounts.
We don't recommend Plooto for … 
Businesses in need of accounting software with all the usual features.
Businesses in need of cost-effective solutions for making international payments.