ADP TotalSource is our choice as the PEO with the best customer service thanks to its dedicated customer support, global reach and mobile access.
Pros
Customers get access to a wide range of HR experts who can provide personalized support on specific benefits, payroll, compliance and other HR questions.
ADP TotalSource offers comprehensive benefits options for employees.
The tech platform is user-friendly and includes strong employee self-service tools.
Cons
ADP TotalSource does not offer transparent pricing, so businesses need to contact the company to obtain a quote.
There is a five-employee minimum.
ADP TotalSource provides businesses with high-level benefits options at rates that smaller companies typically cannot access.
ADP TotalSource is a PEO that gives businesses access to a dedicated team of HR subject-matter experts for ongoing personalized support.
The service helps businesses stay on top of compliance issues through helpful technology tools and access to knowledgeable compliance experts.
This review is for small business owners who want to learn more about ADP TotalSource PEO.
ADP provides all of the standard professional employer organization (PEO) tools — including payroll processing, onboarding, compliance support and benefits administration — on a user-friendly HR platform. The company excels most in the area of employee benefits. ADP works closely with many of the top benefits providers in the country to seamlessly administer high-level benefits. ADP's tech platform also provides an excellent benefits enrollment process that allows employees to easily compare plans and enroll in their selected benefits. For these reasons, ADP is our choice for the top PEO for benefits administration.
Editor's note: Looking for the right PEO service for your business? Fill out the below questionnaire to have our vendor partners contact you about your needs.
ADP TotalSource Editor's Rating:
9.1 / 10
Customer service

9/10

User interface

9/10

Benefits offerings

10/10

Payroll functionality

10/10

Pricing

7.5/10
Why ADP TotalSource Is Best for Benefits Administration
Most PEOs provide benefits support, but ADP's benefits tools stand out from the crowd. ADP offers several plans, including custom plans that can meet the needs of your employees. Working with ADP is a great way for smaller businesses to provide high-level benefits that would not typically be available to them. 
With its API-driven technology, ADP can speed up your benefits administration process and improve accuracy by automatically syncing data between the platform and benefit carriers. Because the system updates in real time, employees can seamlessly configure their benefits and view live updates as changes are made. ADP's ability to help organizations of any size deftly manage complex benefit offerings, along with its tried-and-true services and platform, make it one of the strongest, most comprehensive PEOs on our list.
Usability
We tested the ADP TotalSource platform through ADP's self-guided tour and found it very easy to navigate. The user interface is clean and intuitive, even though the features themselves are fairly advanced.
One standout feature for us was the benefits enrollment process. We walked through the enrollment process from the employee's perspective and found it very easy to navigate. We liked the clear presentation of the plan information and the option to easily compare different plan offerings.
The compliance dashboard was another platform highlight we particularly liked. A lot of small businesses have trouble keeping track of regulatory changes or making sure they have collected all of the right paperwork from employees, but the ADP TotalSource dashboard provides great visibility into pending compliance items.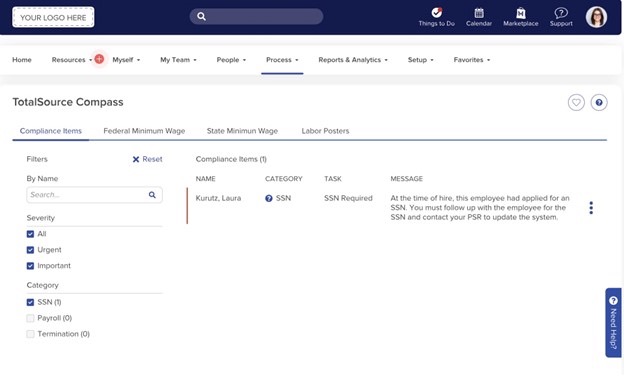 ADP TotalSource tracks regulatory changes and alerts users to any urgent compliance matters. Source: ADP
Adding to the PEO's excellent usability are its integrations; ADP's platform integrates with over 300 software tools. The ADP marketplace includes an easy-to-use add-on that allows customers to integrate the software with compatible third-party applications, including applicant tracking systems, productivity tools and accounting solutions. Some popular integrations include Slack, Intuit QuickBooks and Xero. ADP can also create a custom API if you need an integration that the company doesn't currently offer.
Unlike HR software vendors, PEOs typically don't offer free trials. However, you can test out the ADP TotalSource platform with the self-guided tour on ADP's website.
ADP TotalSource Features
| | |
| --- | --- |
| Benefits | ADP provides companies with access to benefits advisors and a variety of benefit offerings. |
| Onboarding | Both employers and employees can benefit from ADP's streamlined employee onboarding process. |
| Payroll processing | ADP offers helpful payroll tools, as well as access to knowledgeable payroll and HR specialists. |
| Compliance | The ADP platform seamlessly tracks compliance updates and to-dos. |
| Reporting and analytics | Businesses can use ADP's advanced reporting and analytics features to improve decision-making. |
Benefits
ADP TotalSource provides employees of small and midsize businesses with high-level benefits at rates that are usually available only to large enterprises. Available benefits include medical, vision and dental insurance; an employee assistance program (EAP); commuter benefits; 401(k) plans; and more. ADP TotalSource can offer benefits to employees in all 50 states, though employers that need to offer benefits internationally should check out our Papaya Global PEO review.
The open enrollment process is very easy for employees to complete through ADP. The platform lets users compare plans and costs side by side so employees can select the best option for them. Employees can also access benefits through the ADP mobile app.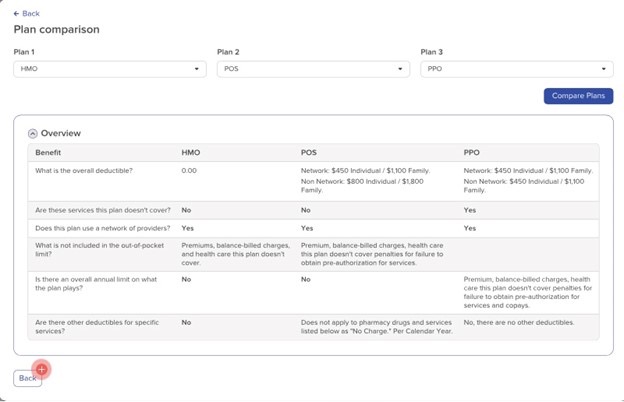 ADP's plan comparison tool helps employees understand the benefit plan options available to them. Credit: ADP
Onboarding
ADP TotalSource provides onboarding workflow templates to make onboarding new hires a quick-and-easy experience. The selected workflow template guides employers through the process of entering employee information and payroll data, with easy-to-follow on-screen prompts. The onboarding process is similarly easy from the employee side. New hires can fill out their information by following a series of prompts and sign any required documents on their computer or mobile device through ADP.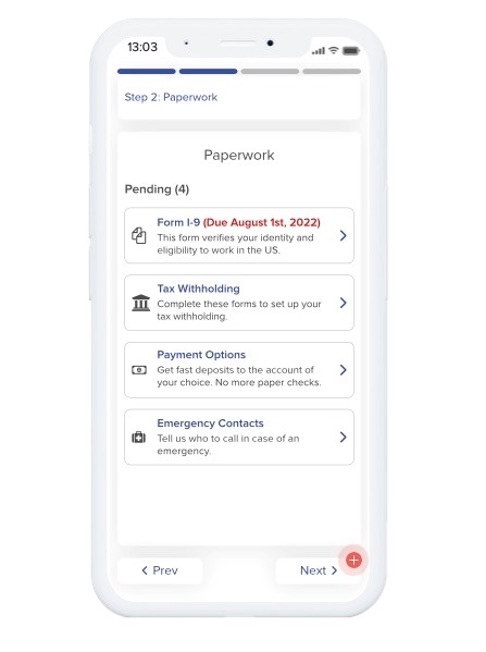 The ADP onboarding process is mobile-friendly and allows employees to get a head start on setting up their direct deposit information and completing the required onboarding paperwork. Credit: ADP
Payroll Processing
The ADP platform provides easy payroll processing and a helpful to-do list where business owners can review any items that require their attention. ADP calculates and withholds federal, state and local payroll taxes and automatically sends them to the government. The company also prepares and files the required payroll tax documents and W-2 forms. ADP will even handle unemployment taxes and claims. If clients ever have questions about payroll or taxes, they can reach out to their dedicated payroll and tax support specialists for guidance.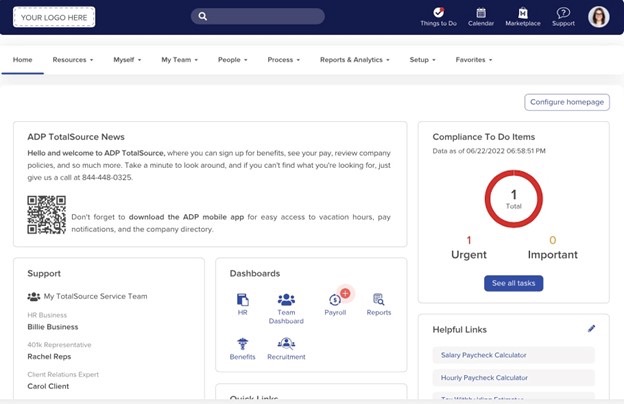 The ADP payroll dashboard clearly displays recent payroll data and outstanding payroll tasks. Credit: ADP
Compliance
ADP TotalSource monitors changes to payroll regulations and employment laws, such as minimum-wage laws, and alerts customers to necessary updates to their employment practices. Each customer is assigned an ADP HR business partner who will assist the company in creating new policies or refining existing ones. ADP TotalSource also has an HR handbook team for employers that want to create and order full employee handbooks.
For better visibility, compliance to-do items are displayed on the ADP homepage. The compliance tracking features on ADP's platform make it easy to review any pending compliance items. The database alerts users to regulatory changes, missing data and pending compliance matters.
Reporting and Analytics
The ADP reporting dashboard includes over 300 pre-built reports related to payroll, time and attendance, and more. There is also a tool that allows users to create their own customized reports, which can be exported as PDF, CSV or Excel files. Users can also have reports emailed as one-off requests or on a recurring basis. Recurring reports are helpful for time and attendance tracking and payroll. The reporting dashboard provides helpful real-time insights to help business owners make better decisions.
ADP Human Resources Outsourcing
HR outsourcing (HRO) can be a good alternative to a PEO. ADP's human resources and payroll outsourcing services combine ADP's robust tech platform with a personalized support team of HR specialists who can advise on HR, payroll or benefits matters. The service supports payroll processing, open enrollment, compliance, employee training and more. Businesses can select only the services they need across ADP's HR, payroll and benefits administration outsourcing options.
ADP HRO Pricing
ADP provides customized pricing rather than clear pricing packages. As such, you'll need to reach out to ADP to provide information on your business's size and needs. This is fairly standard for HRO providers, but it can be a bit of a pain when you are trying to shop around for HRO services. ADP's main HRO service package includes a wide range of bundled services, including payroll, expert HR support and access to the popular ADP tech platform.  
Strategic HR Advising
ADP can provide strategic advising for businesses that need hands-on support from an experienced HR partner. ADP says this service is ideal for small businesses that don't have their own HR team. The ADP advisors can help businesses address employee retention, build recruiting strategies and more. Customers may also receive support for compliance matters related to employment laws and regulations, workplace safety, payroll and taxes, among other issues. Businesses that select these services get a strategic HR expert assigned to them; this representative will act as a go-to resource for HR questions. 
Administrative Support
ADP HRO can help small businesses offload administrative services, such as time and attendance tracking, payroll processing and benefits administration. ADP staff can also support businesses in creating employee policies and handbooks, a time-consuming process that many small businesses struggle with. ADP MyLife Advisors are available for employee phone support to answer common questions and free up even more time for business owners.
ADP TotalSource Costs
Like many PEOs, ADP provides customized pricing, so you'll need to provide information on your business's size and needs to obtain an accurate price quote. ADP's main service includes a wide range of bundled offerings, including payroll, expert HR support and access to the popular ADP tech platform. ADP has a five-employee minimum, which is also standard in the PEO industry. 
It is worth noting that ADP lists the following services as add-ons. If you want access to these tools and support services, your quote may be a bit higher:
ADP Marketplace with third-party integration tools
Talent acquisition tools and specialists
ADP DataCloud enhanced data insights and benchmarking
Resume search service by ADP certified recruiters
Organizational development consultation
Time-tracking and scheduling tools
We recommend that you request a written breakdown of pricing and fees before signing any agreements. Ask an ADP representative to spell out exactly what services you will receive and which features you can access for the price you will pay each month. Doing so will help you adequately compare ADP TotalSource with other PEO options you might be considering.
ADP TotalSource Setup
When you sign up for ADP TotalSource, the PEO asks that you designate a staff member to act as a point of contact throughout the setup process. The ADP team will take care of most of the process but will partner with the employee to keep them in the loop throughout the implementation phase and system testing. The company estimates that this will require about one hour per day for the first couple of weeks.
From there, ADP will assign you a dedicated human resources business partner, who will walk you through the different PEO features and available HR experts. The total setup takes a few weeks, which is fairly average for a PEO.
ADP TotalSource Customer Service
ADP offers exceptional expert support. With HR consultants specifically for your business, you can get quick answers to all of your HR or payroll questions. These consultants can also provide important guidance and input on administrative business decisions. We were impressed with the team of experts ADP puts together on your behalf, which effectively acts as an extension of (or substitution for) your internal HR team.
In addition, ADP offers general customer support by phone or email. The HR experts are there to help clients with HR, payroll and compliance concerns, but PEO customers can contact customer service for login issues, tech support or billing inquiries. ADP also offers automated phone support for common questions, which may be a more efficient solution for less-complex concerns. You can reach a customer service agent Monday through Friday from 7:30 a.m. to 10 p.m. ET. That's a wider window than many competitors provide, though some, like the service featured in our Paychex PEO review, offer 24/7 support. ADP also has help and support pages to walk administrators through common concerns. 
ADP TotalSource Drawbacks
One drawback is that ADP's pricing is available only via custom quotes. This is fairly standard in the PEO industry, but it is a bit of a hassle for business owners who are shopping for a PEO. Another minor drawback related to pricing is that some services, like recruiting support and employee scheduling, are priced as add-ons. They're still helpful tools to consider adding to your service package, but they are extra costs to keep in mind. And because ADP doesn't list its pricing, it is hard to estimate how much these add-ons inflate the overall cost.
Like many of the PEOs we reviewed, ADP requires a minimum of five employees, which means the service may not be an option for microbusinesses. If you have fewer than five employees, take a look at our Justworks PEO review, as this PEO has a lower minimum. 
Methodology
We conducted comprehensive research and analyzed dozens of PEO offerings to identify the top PEO solutions on the market. We watched product videos, reviewed customer feedback, completed a self-guided demo and looked at ADP informational materials. When evaluating the benefits tools provided by PEO services, we prioritized the network of benefits partners, integration options and ease of use.
ADP TotalSource FAQs
Yes, ADP TotalSource is an IRS-certified PEO, meaning the company can work directly with the IRS. ADP also has ESAC certification.
Companies that are getting started with ADP TotalSource PEO should expect the process to take about two to four weeks, on average.
With ADP TotalSource, eligible employees can enroll in competitive health, vision, dental, mental health, EAP, commuter benefits, employee perks and discounts, 401(k) plans and more.
In addition to the helpful payroll, HR and reporting tools available from the ADP Workforce Now technology suite, ADP TotalSource PEO customers can access HR support from a team of specialized HR experts with backgrounds in payroll, compliance, benefits and other key areas.
Overall Value
We recommend ADP TotalSource for …
Small businesses that want to offer comprehensive benefits to their employees.
Companies of any size that want comprehensive PEO services.
Business owners that need hands-on, personalized HR support.
We don't recommend ADP TotalSource for …
Very small businesses with fewer than five employees.
Businesses that prefer a transparent pricing model.