Papaya Global provides international businesses with PEO support and compliance. This is essential for small businesses with employees and teams spanning multiple countries.
Pros
Papaya Global supports payment processing and benefits administration for employees in more than 160 countries.
The platform offers strong reporting and automation tools.
Papaya Global is one of the few PEOs that list pricing information on their website.
Cons
Papaya Global is more expensive than several of the other PEOs we reviewed.
It takes approximately three months to go live with Papaya Global, which is longer than average.
Papaya Global is an international PEO that provides payroll, HR and compliance support in over 160 countries.
Employees can receive payments and expense reimbursements in their local currencies.
Papaya Global provides international compliance support, including assistance with navigating labor laws, immigration and visa requirements, and data security standards.
This review is for small business owners who are considering using Papaya Global's PEO service.
Papaya Global offers a full-fledged professional employer organization (PEO) service that provides support to small and midsize businesses both domestically and abroad. The company's payroll, compliance and HR support features are exemplary on their own, but Papaya Global goes above and beyond by providing these services internationally. This international PEO also offers talent acquisition and employee onboarding services, so you can easily find workers from all over the world to join your growing team. 
We especially liked that Papaya Global can also provide support in navigating immigration and visa matters and setting up your business to legally employ people in new jurisdictions. Because of Papaya Global's flexible service options and expertise across many countries, Papaya Global is our pick for the best PEO for international compliance.
Papaya Global Editor's Rating:
9.2 / 10
Customer service

10/10

User interface

9/10

Benefits offerings

9/10

Payroll functionality

9/10

Pricing

9/10
Why Papaya Global Is Best for International Compliance
Very few of the companies we reviewed offer international services, and many of those offer only basic international payment processing. Businesses with employees in multiple countries often need PEO support, especially when it comes to navigating international HR compliance. To fill this need, Papaya can support businesses in over 160 countries.
Papaya Global's services include fast onboarding options, compliant cross-border payroll processing, and real-time reporting and analytics. Papaya takes all the benefits of the best PEOs and provides them to companies abroad, making it a great option for any company looking to do business in other countries.
Usability
Overall, we found Papaya Global's platform incredibly user-friendly; the payroll, onboarding and benefits tools are easy to navigate. We were highly impressed with the data and reporting tools. Keeping track of labor costs, headcounts, retention and other key metrics is a bit harder when your employees are dispersed across multiple global workplaces. However, Papaya Global provides a wealth of tools that allow business owners to view the big picture as well as location-specific data.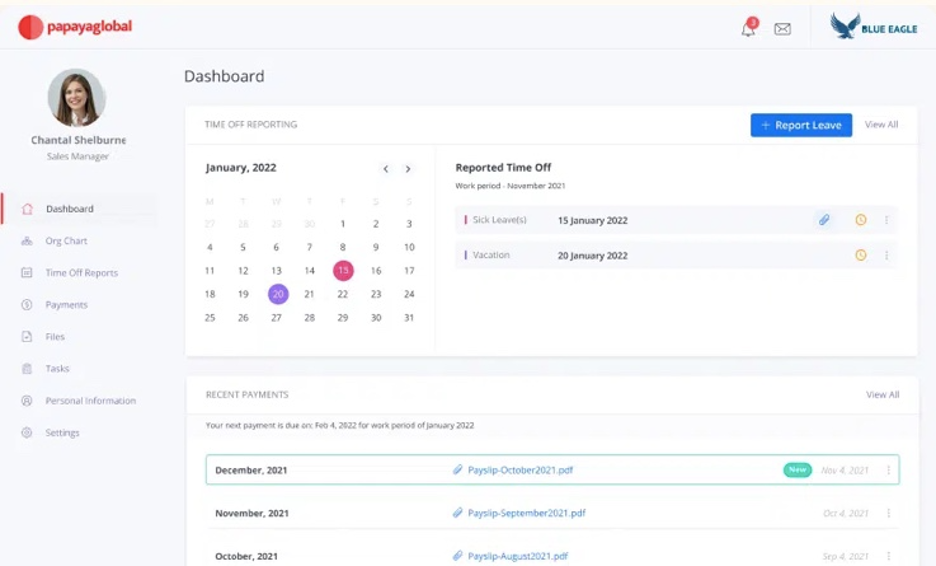 Papaya Global's self-service tools allow employees to quickly view past payments, scheduled time off and more. Credit: Papaya Global
Payapa's onboarding workflow makes it easy for small businesses to onboard new employees across different jurisdictions. Employers can easily select the country that they will be hiring in and the associated project or billing entity and build out a clear, compliant employment contract for the new hire in the Papaya Global platform. Papaya's HR experts can also provide support in identifying relevant compliance concerns or providing immigration support when hiring in a new country or starting a new project.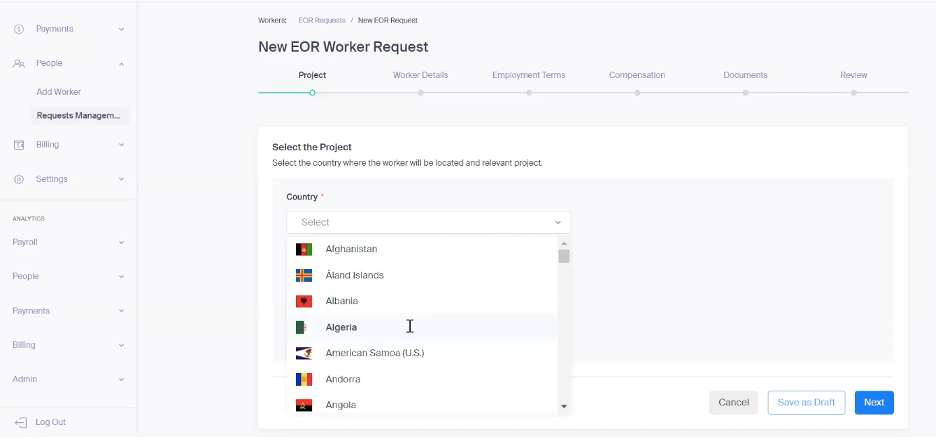 Quickly add a new international worker with Papaya Global's seamless onboarding process. Credit: Papaya Global
Papaya Global also has a user-friendly employee dashboard where employees can check on their payments, request paid time off (PTO) and review assigned tasks. They can also update their own information in the portal if they move. We liked that employees can view all of the information in their own currency, which is automatically updated if the employer's local currency is different from the employee's.
We also liked the feature that allows users to review the company's organizational chart within the platform. This chart is updated as new staff are onboarded; we found this helpful because it can be a bit confusing to keep track of everyone's role and where they fit in the organization when you're working at an international company. This is especially true if there are significant time zone differences that prevent everyone from working together regularly.
Papaya Global Features
| | |
| --- | --- |
| Compliance | Manage international payroll, visa and HR compliance with Papaya Global's platform and local experts. |
| Onboarding | The platform provides a centralized onboarding process with payroll setup, employee paperwork and benefits enrollment all in one place. |
| Payroll | Papaya Global can accurately process payroll for international employees in their local currency. |
| Expense management | Papaya Global can help with expense management and process reimbursements for domestic and international employees. |
| Benefits administration | With Papaya Global, businesses can offer health insurance and other key benefits to employees in all locations. |
| HR analytics | Papaya Global's advanced analytics dashboards provide key insights into a company's workforce. |
Compliance
One of the biggest benefits of working with an international PEO is compliance support. Staying on top of all of the regulations, paperwork and compliance requirements is already a struggle for employers, but those challenges multiply when businesses operate internationally. Papaya Global makes it easier to stay compliant by connecting businesses with compliance experts who know the requirements for each country in which they operate.
There are also compliance tools built into Papaya Global's tech platform to help automate compliance processes. The company's global compliance engine ensures that country-specific payroll and labor laws are up to date and strictly followed. The platform also conducts a compliance check before processing payroll.
Onboarding
Papaya Global can help businesses onboard employees in over 160 countries, and the new-employee onboarding process is seamless via the tech platform. Employers can easily invite new hires onto the platform, where they can fill out their new-hire paperwork, select benefits, set up direct deposit and complete other onboarding tasks. Local experts familiar with each country's employment laws will review employment contracts and onboarding documents to ensure they meet the appropriate compliance requirements.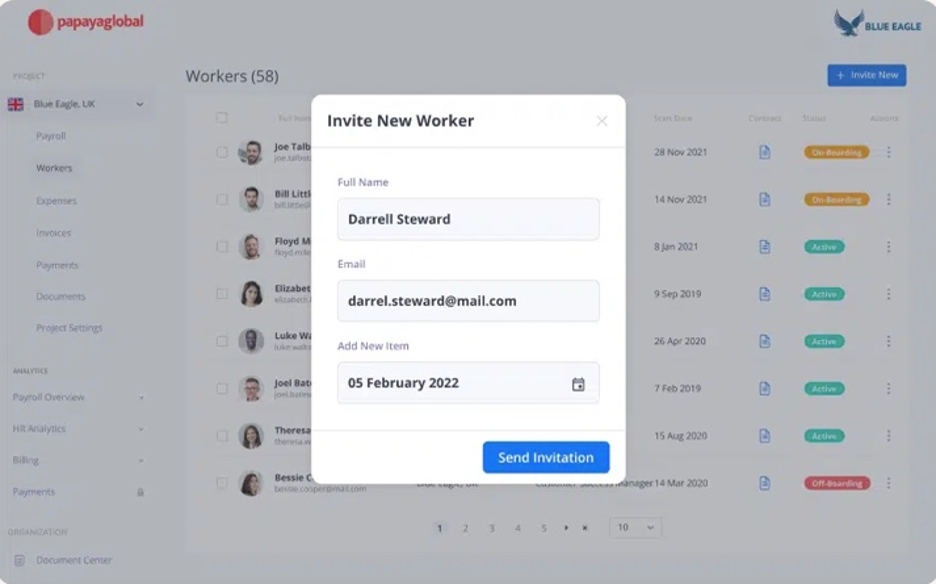 Easily onboard international employees with Papaya Global's user-friendly electronic onboarding tools.  Credit: Papaya Global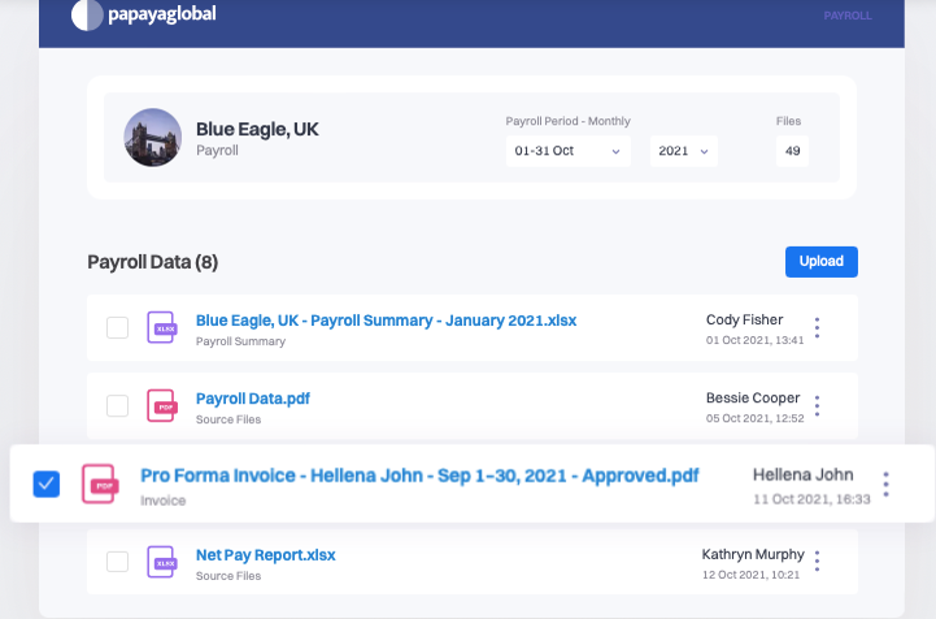 Papaya Global allows business owners to run payroll, collect the necessary payroll forms and view in-depth payroll insights. Credit: Papaya Global
Expense Management
Papaya Global can manage employee expense policies and limits, automate receipt collections and generate real-time payment reports. Because the company has partnered with Mesh Payments, businesses can offer their global employees a seamless expense management process no matter where they are in the world. Employees will receive reimbursements in their local currency.
Benefits Administration
With different providers, requirements and cultural norms, providing the right benefits to a global workforce can be a challenge. However, by partnering with Papaya Global, companies can offer competitive benefits packages to international employees. Regardless of the number of eligible employees a business has in each country, Papaya Global can enroll them in health benefits in their local region, if applicable. The company can also provide recommendations to international employers to help them build a benefits plan that will be competitive in each local market. Benefits offerings include health insurance, short-term and long-term disability, vision, dental, and maternity leave.
HR Analytics
Papaya Global provides in-depth HR and payroll analytics through easy-to-read reporting dashboards. One dashboard that stood out to us was the diversity, equity and inclusion (DE&I) dashboard. DE&I is an important topic for many employers right now, and Papaya Global's DE&I dashboard allows business owners to clearly see where their company stands in equity of gender, age and pay. The company also offers retention insights to help businesses better understand the causes of employee turnover within their business.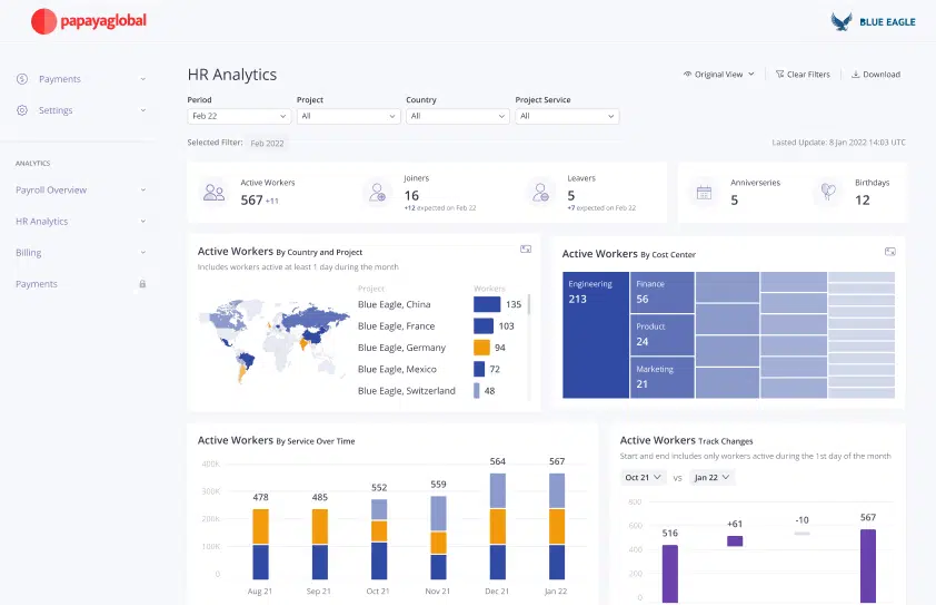 Papaya Global provides advanced payroll and HR analytics to give employers a clearer view of their workforce and costs. Credit: Papaya Global
Papaya Global Payroll
Because it's been designed from the ground up for companies and firms with overseas staff, Papaya Global excels at handling international payroll. Its cloud-based payroll platform supports payments in a dozen currencies, including Hong Kong and New Zealand dollars, British pound sterling, euros, Swedish krona, and Swiss francs. Thanks to segregated accounts with J.P. Morgan and Citibank, Papaya can provide full liability for payments in over 160 countries, from Algeria to Zimbabwe.
With such a broad spread of coverage, clients may be concerned about the logistics or practicalities of setting up and running multinational payroll. Papaya has a team of local and international specialists ready to advise on issues like compliance, immigration, foreign taxes and benefits. We liked that Papaya does this through a single point of client contact for all global workforce issues, rather than redirecting different international inquiries to separate teams.
As you'd expect from a multinational platform, there is round-the-clock technical support for payroll services, including during weekends.
Scope and User Interface
Papaya describes itself as the only regulated fintech designed specifically for global payroll payment, having built the first fully automated global payroll payments platform. Marketing claims aside, there's no doubt that its expertise in overseas payments far outstrips rival providers like Gusto and ADP. All types of workers are supported, from employees to contractors, and it's possible to create as many different workforce locations as clients require.
The interface is colorful and intuitive, with overseas locations identified by their national flags, while simple drop-downs allow you to adjust variables like pay periods. Payments themselves are handled through the Payments Management tab. Papaya converts funds in its proprietary wallet, displaying upcoming payments in graphical form forecasted on workforce and exchange rates. Once this summary is approved, payments are issued to workers, authorities and third-party vendors alike. Salaries, holidays and regulatory changes are all immediately updated across the platform.
Papaya has a detailed online resource library, with payroll advice and information contained in white papers, infographics, videos and webinars.
Regulation and Verification
For peace of mind, regulatory issues are managed on behalf of clients. Papaya regularly conducts anti-money laundering checks and transactional monitoring, with regulatory audits underpinning full liability for client funds. The company has also developed its own double-verification mechanism for payments, occurring both on payroll calculation and during the payment process. This helps to minimize risky payments and delays.
It can take up to three months to set up client accounts, even for just one or two overseas locations, so this isn't a quick process. However, once everything is up and running, payments can be made in just 15 seconds. Virtual payroll wallets can be set up in as little as two business days. Papaya guarantees transactions won't take longer than three days, and it also promises that 95 percent of payments will be made on the same day.
Papaya Global Pricing
PapayaGlobal offers a number of plans to meet different business needs. The a la carte pricing is convenient for employers that need the flexibility to add more services or regions as they grow.
Full-service payroll: $12 per employee per month
Payroll platform license: $3 per employee per month
Data and insights platform license: $150 per month per location
Payments-as-a-service: $3 per employee per month
Employer of record: $650 per employee per month
Contractor management and compliance support: $25 per employee per month
Global expertise service: $250 per employee per month
There is a setup fee for new customers or those adding a new location. There is also a year-end tax filing fee for plans that include tax filing. Businesses can contact Papaya Global to get a tailored quote based on their unique needs and explore these additional fees.
Ask Papaya Global about a volume discount before you sign up. If you have a lot of employees, you may be able to save money on the PEO service.
Setup
Papaya Global provides a team of professionals to guide new customers through the setup process. Each customer receives a dedicated project manager and works with implementation managers to help answer questions and facilitate account and payroll setup. There is a setup fee for this process.
Papaya Global can onboard clients with one to 15 locations in three months, on average. This may sound like a lengthy onboarding period, but it is relatively short for an international PEO. Domestic PEOs' onboarding periods are approximately 30 days, but they deal with only one country. There are more data requirements, paperwork and processes for multinational PEO setups.
If you already have a payroll service or other vendors that you want to keep working with, Papaya Global can onboard them onto the platform. This process takes only three business days, on average. Papaya also integrates with several popular human resources information systems and payroll software vendors, including Gusto payroll, Workday and SAP SuccessFactors.
Customer Service
Papaya Global offers support by phone, email and web chat. The company provides support in multiple languages to meet the needs of its diverse, multinational clientele. We like that the automated chat feature is user-friendly and that it's easy to find answers to questions or get connected to a representative.
The phone support hours are a bit more limited than those of some other PEOs we reviewed. Customers in the U.S. can receive support from 9 a.m. to 5 p.m. ET. This is not ideal for businesses based on the West Coast, but we did find the phone support staff helpful. If you anticipate needing expanded phone support hours, consider the PEOs featured in our Justworks PEO review and Paychex PEO review.
Drawbacks
One downside of Papaya Global is that it's on the expensive side for PEOs. Although the company's payroll and compliance offerings are competitively priced, it's quite costly if you want Papaya Global to be the employer of record for your employees. While you should expect to pay more for international PEO and payroll support, smaller businesses may be unable to swing the $770 per employee per month.
Similarly, because Papaya Global is designed for international businesses, the setup takes longer than usual for a PEO – approximately three months – compared with about one month for a domestic PEO. The higher implementation time and costs aren't unreasonable considering the extra complexities of operating in multiple countries with different payroll and employment compliance issues, but companies that don't plan to expand internationally may find a domestic PEO more practical.
Methodology
We conducted thorough research on the top PEOs to identify the best options. Papaya Global offered the best international support of all the PEOs we reviewed. When evaluating PEOs for international compliance and support, we looked for services that offered services in a multitude of countries, currencies and languages, and took a close look at providers' international immigration and regulatory expertise.To evaluate Papaya Global's service, we attended a demo with Papaya Global staff, watched product videos, reviewed customer feedback and communicated with Papaya Global customer service via chat and phone.
Papaya Global FAQ
Papaya Global's immigration experts can assist companies with immigration issues, including obtaining work visas for employees.
Yes. While most PEOs manage payments only for traditional W-2 employees, Papaya Global offers independent contractor payment processing and compliance support.
Yes. Papaya Global meets all of the requirements set by the European Union's General Data Protection Regulation (GDPR) for data security. Papaya Global takes all of the appropriate technical and organizational measures necessary to protect clients' data.
Overall Value
We recommend Papaya Global for …
Businesses with international staff.
Business owners who need assistance in navigating the immigration process for employees.
Companies that want advanced data reporting and automation features.
We don't recommend Papaya Global for …
Small businesses that are looking for a low-cost PEO.
Domestic businesses that need short setup periods.