Paychex offers a flexible contract and pricing structure, as well as extensive online and onsite training resources ‒ it's our pick as the best PEO for startups.
Pros
PEO customers gain access to dedicated support from HR and payroll specialists.
The plans are customizable and offer flexible terms.
Paychex provides access to very comprehensive benefits offerings that startups usually would be unable to access.
Cons
The pricing structure is not transparent, so interested business owners will need to obtain a custom quote from the company.
Organizations must have a minimum of five employees to enroll in Paychex Oasis PEO services.
Paychex provides flexible contract and pricing options for small businesses, making it ideal for startups and other newer companies.
Paychex is a major HR outsourcing, payroll and PEO company, which means partnering businesses have access to a wide range of services.
Paychex provides tailored plans based on certain industries, making it a flexible, custom PEO option for certain small businesses.
This review is for small business owners who are looking to learn more about the features, costs, and pros and cons of Paychex's PEO services.
We recommend Paychex as the best professional employer organization (PEO) for startups because of its flexible plans that allow fast-scaling startups to get exactly what they need from a PEO. When many startups secure financing, one of their first investments is to build the team they will need to launch and grow their business quickly. But that team needs the support of HR services and benefits administration, which is where a PEO such as Paychex comes in. By partnering with Paychex, you can keep your company lean by outsourcing human resources, payroll administration and employee benefits, thereby freeing up precious dollars to invest in operations.
Paychex PEO Editor's Rating:
9.4 / 10
Customer service

10/10

User interface

9/10

User interface

10/10

Payroll functionality

9.5/10

Pricing

8.5/10
Why Paychex Oasis Is Best for Startups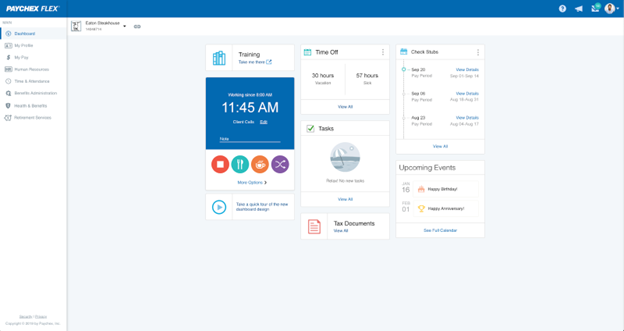 The Paychex platform has a well-organized and easy-to-navigate interface. Source: Paychex
Paychex is a good fit for startups because its pricing structure and plans are flexible and scalable. Startups often have to scale quickly – for example, by hiring large numbers of new employees when funding comes in or as the business expands. Having the flexibility to easily adapt PEO services to the changing needs of the business is important for startups.
Paychex also offers extensive training resources to help startups that are newer to human resources and employment practices. Subscribers gain access to a dedicated HR specialist and a dedicated payroll specialist for support and guidance. Paychex also has a knowledgebase with additional self-guided educational resources that are helpful for startup founders who may be very knowledgeable about their product and market but have limited experience with the HR and compliance aspects of running their business.
Paychex offers excellent support and educational resources for employers and employees through online training and articles.
Usability

The Paychex cloud-hosted platform is accessible from anywhere with an internet connection. Credit: Paychex
Paychex's user interface does feel slightly outdated compared with newer platforms, like the ones featured in our Justworks PEO review and our Rippling PEO review. The platform is well-rounded, though, with all of the core PEO features we looked for, including payroll management, benefits administration and paid time off (PTO) tracking.
Paychex offers online demos to help new users learn how to navigate the applicant tracking, employee onboarding, performance management, and time and attendance features. The interactive product tour is also a great way for you to try the software before signing up for Paychex's PEO services.
Both the cloud-based platform and the mobile app are easy to access, so you and your employees can view payroll and HR information whether you are in the office or working remotely. The employee self-service options include time tracking, timesheet submission, PTO requests and scheduling functions.
Before you sign up with this PEO, take advantage of Paychex's demo so you can get firsthand experience with the features, including the applicant tracking system, time and attendance, performance management and employee onboarding.
Paychex Features
Paychex is a great option for startups that want a PEO that can provide flexible solutions that are specific to their industry and company size. Paychex specializes in PEO solutions for businesses working in architecture, banking, country clubs, financial services, franchises, hospitality, law, light manufacturing, property management and retail. It offers bundled services – including HR administration, employee benefits, payroll, risk and compliance management, and employee training – with the option to add features such as master medical or workers' compensation policies.
| | |
| --- | --- |
| HR administration | Paychex offers an extensive HR administration suite. |
| Employee benefits | Paychex's co-employment model provides small businesses access to health, dental and vision insurance; 401(k) retirement plans; prepaid college savings plans; health savings accounts; flexible spending accounts; and an employee assistance program. |
| Payroll processing | Paychex can process your payroll and handle your payroll tax needs. |
| Risk and compliance | Paychex provides extensive risk and compliance features, including help in developing safety programs and adhering to OSHA requirements. |
| Employee training and development | With Paychex, you can offer your employees extensive training materials. |
HR Administration
Paychex can manage all of your administrative HR tasks, such as creating an employee handbook, drafting workplace policies, writing job descriptions, recruiting and onboarding employees, handling new-hire reporting, advising you on return-to-work programs, and assisting you with employee termination.
We found the employee handbook and policy tools particularly helpful for startups. Having an employee handbook is important, but handbooks can be challenging and time-consuming for startups to create.
Employee Benefits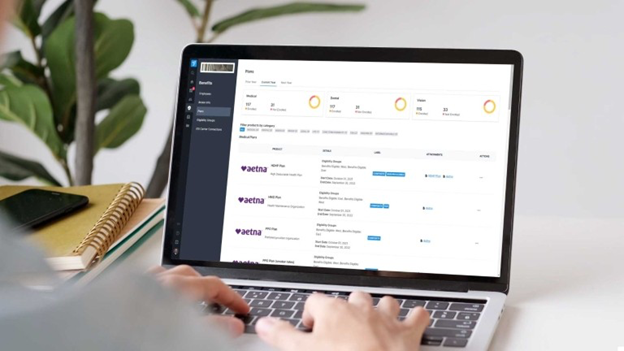 Paychex makes it simple for employees to sign up for health insurance policies. Source: Paychex
Paychex provides Fortune 500-level employee benefits, including health insurance, vision insurance, dental insurance, 401(k) retirement plans, prepaid college funds, HSAs and FSAs, commuter plans, employee assistance programs, and health and wellness coaching.
Because of financial limitations, startups often cannot offer expansive employee benefits packages. However, PEOs can negotiate better rates because they have more employees on the books. This gives even brand-new startups access to better and more cost-effective employee benefits than they would have on their own.
Because larger PEO services such as Paychex technically have thousands of employees on their books, they can bargain with major healthcare companies and other business services for ideal benefits and rates.
Payroll Processing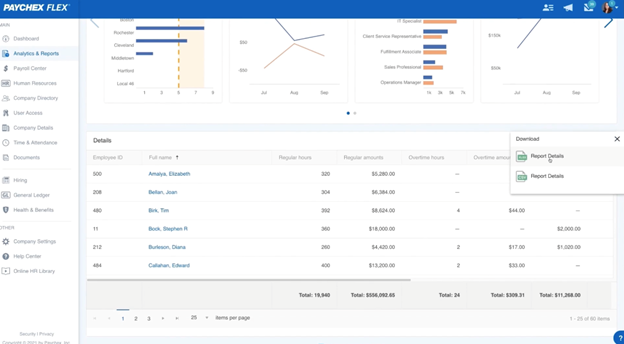 Paychex has robust payroll functions and reporting to make paying your employees easy and efficient. Credit: Paychex
Paychex manages all of your payroll processing. You can choose your pay schedule and pay employees via direct deposit or pay cards. Paychex also handles payroll tax compliance for you. Additionally, with Paychex's software, you can track employee time and attendance and PTO.
Risk and Compliance
Paychex can help your business stay up to date with laws and regulations. It offers workers' compensation insurance, safety training for your employees, Occupational Safety and Health Administration (OSHA) and Affordable Care Act (ACA) guidance, and return-to-work programs.
Understanding all of the compliance requirements facing your business is one of the hardest aspects of launching a startup. Startup founders can feel confident that the compliance tools built into the platform and the dedicated Paychex HR specialists can help them learn about and navigate common compliance issues.
Employee Training and Development
Paychex provides one of the best training programs of any PEO we reviewed. It offers online books, videos and courses on a range of topics, including professional development, soft skills, computer and technical skills, HR, workplace safety and conflict management. This is a great resource for startups that do not yet have internal training resources.
Paychex Cost
You must have a minimum of five employees to be eligible for Paychex's PEO services. You also will be asked to commit to Paychex for a full year (although you can cancel at any time by providing a 30-day written notice). You may be subject to an early-termination fee if you cancel early.
Paychex provides a bundled package of PEO services, and you can mix and match additional services to customize your own PEO solution. This is a major advantage for startups and growing companies that don't want to commit resources to pay for services they will not use.
Paychex also offers a number of other services, including Paychex HR outsourcing, Paychex HR software, Paychex time and attendance and Paychex payroll.
Paychex Setup
Setup begins with your Paychex HR representative, who will help you import your data and get set up in the software with any desired customizations. Once the setup is complete, you will be assigned dedicated contact points for all your HR, payroll, and benefits-related support needs. Your Paychex representatives also can put you in touch with other Paychex experts if your business needs more support.
When we spoke with a customer service representative, they emphasized that the implementation process and timeline can vary based on your business's size and service needs. If your company is very large or chooses to add several extra services, the setup can take longer. However, they did say the average setup time was about two to four weeks.
Paychex Customer Service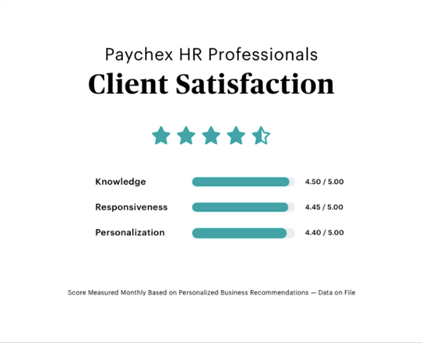 Paychex PEO users have access to both a payroll manager and an HR generalist who can answer non-payroll-related questions. Credit: Paychex
Paychex is one of the few PEOs we reviewed that offers 24/7 customer support through phone, chat and email. One other key benefit is that they have a dedicated PEO customer support number for employees and a separate number for employers. However, Paychex does warn that the company cannot help employees with all issues and advises employees to first contact their employer if they have any concerns.
Paychex's customer service structure is slightly different from those of other PEOs. Rather than having designated representatives for each area of the PEO model – risk management, payroll, benefits administration and HR consulting – Paychex provides you with two key people to help you with all areas of your account. You'll work with an HR generalist and a payroll account manager to streamline your PEO services.
If you're looking for more specialized support, consider a PEO service like the one in our Insperity review. Insperity maintains specialists focused on each area of HR services and benefits administration.
Paychex Drawbacks
One downside of Paychex is that, like many other PEOs, it requires you to have at least five employees to be eligible for its services. This is a common requirement among PEOs, but startups are less likely than other businesses to meet this requirement, at least before they secure funding and build a team. If you have fewer than five employees, you will need to look for another PEO or wait until you hire more employees before you can sign up with Paychex.
Another downside is that Paychex doesn't provide pricing information online. While this practice is standard in the PEO industry, some providers are more transparent with their pricing.
Methodology
We thoroughly researched and analyzed the PEO offerings on the market to identify the top PEO option for startups. We reviewed product videos, spoke to Paychex customer service representatives, and used the interactive product tour to review the features and user interface. When evaluating PEO services for startups, we prioritized customer service, ease of use, payroll flexibility, benefits offerings and compliance features.
Paychex FAQ
Paychex's PEO service includes HR support, payroll, benefits and risk management services. Employers can add services a la carte.
Yes, employers must have a minimum of five employees to register for Paychex's PEO services.
Paychex PEO supports medical, dental and vision coverage. Employees can also enroll in flexible spending accounts, retirement savings programs, health savings accounts, and additional ancillary benefits.
Overall Value
We recommend Paychex for …
Startups that are looking for immediate HR support.
Businesses that prefer industry-specific services.
Businesses with at least five employees.
We don't recommend Paychex for …
Businesses with fewer than five employees.
Businesses that prefer separate contacts for their company's HR services.