Insperity PEO Services Review

Skye Schooley
Business News Daily Staff
Updated Aug 17, 2022
Insperity provides scalable services that can grow with your small business.
It offers an extensive library of training resources.
Insperity offers "a-la-carte" services in addition to its PEO bundles.
This review is for small business owners interested in learning about the features, costs, and pros and cons of Insperity's PEO services.
Due to its competitive PEO pricing, intuitive online platform and extensive employee training options, we recommend Insperity as the PEO with the best resources for small businesses in 2021. Insperity provides flexible PEO services for small businesses that need HR administration, payroll processing, employee benefits, risk and compliance management, workplace training, and development courses. Insperity bundles these services and charges on a per-employee basis. However, you can also sign up for the services you need and scale up as your business grows. Insperity is accredited by the Employer Services Assurance Corporation (ESAC) and is certified by the IRS.

Insperity PEO Services
The Verdict
Insperity, our choice as the PEO with the best small business resources, offers great payroll, employee benefits, HR administration, risk management, training resources and customer service.
Insperity PEO Pricing
Two of Insperity's standout features are its flexible pricing and terms. Insperity doesn't require new customers to sign a long-term contract. Instead, small businesses with fewer than 150 employees generally sign a one-year agreement. That agreement can be terminated without cause by either party by giving 30 days' written notice. Only businesses with middle-market agreements (more than 150 employees) may be charged an early termination fee.
While you must have at least five employees, Insperity charges a per-employee fee instead of taking a percentage of your total payroll. This model means that your PEO costs – not including healthcare, benefits, payroll taxes and workers' compensation – remain the same as long as your number of workers remains the same.
Insperity PEO plans include a standard set of HR features bundled together. However, you have the option to add supplemental services for additional fees (e.g., pre-employment screening, expense management, insurance services, organizational planning, performance management, recruiting services and retirement services).
Ease of Use
Insperity provides small businesses with simple yet effective PEO support. Its intuitive, cloud-based platform makes it simple for employees to view their hours or HR-related information from a desktop, laptop or mobile device. Your employees should be able to get up to speed on the new system quickly, thanks to Insperity's intuitive online system.
Another usability feature to note is Insperity's ability to scale. It can support a wide range of business sizes, from very small businesses up to medium-sized companies with employee numbers in the thousands. That means when you partner with Insperity, you're partnering with a company that's committed to ensuring you get the best services at the right price. It also means that as you grow, Insperity can grow with you to meet new HR challenges and needs.
While most of the companies we reviewed provide bundled PEO services, Insperity is one of the few we looked at that also offers "a-la-carte" services. These add-ons mean you can add and drop services, depending on your plan, as your business needs them, adding flexibility to Insperity's product offering.
With Insperity, you sign up for HR services and features that match your business's needs, regardless of the size or stage of your company. If, for example, you're a small business looking only for payroll processing and HR administration, Insperity can start you off with those two services. Then, as your business grows, Insperity could build out more features. Keep in mind that you still may be charged for the set bundle of features.
You can receive hands-on support from a dedicated team of HR professionals at Insperity, which includes an HR manager, a client liaison, an HR specialist, a payroll specialist, a performance specialist, a benefits specialist, a recruiting specialist and a safety consultant.
There is a long list of services that can scale to meet your small business's needs. These services include:
Recruiting services
Employee onboarding
Insurance services
HR consulting
Retirement and 401(k) services
Accounting and bookkeeping services
Payroll
Time and attendance
Applicant tracking
Performance management
Job sourcing services
Group health insurance services
COBRA and fringe benefits
ACA compliance and reporting
HR policy development
Manager training
Signing up for individual services may nullify your opportunity to participate in Insperity's co-employment model. By working closely with your sales representative, you can ensure your business is set up for success. Insperity's breadth of services is one of the largest of the companies we reviewed.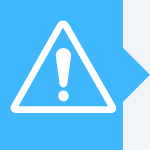 Did you know? PEOs can grow and change with your business, and Insperity is a company that's very good at this. As your business grows, you'll have new HR needs, and you can discard services that no longer benefit your company or employees.
Insperity PEO Features
| | |
| --- | --- |
| HR administration | Insperity offers the most extensive HR administration services of any company we reviewed. |
| Employee benefits | Small businesses can enjoy competitive employee benefits under Insperity's co-employment model. |
| Payroll Processing | Insperity provides exemplary payroll processing features, including time and attendance tracking and payroll management reports. |
| Risk and compliance | Insperity's risk offering includes workers' compensation and liability insurance. |
| Training and development | Insperity offers some of the best resources of any PEO we reviewed. It's a major reason why we selected it as a best pick. |
Insperity offers many essential PEO features in one bundled package. Its comprehensive PEO offering can accommodate your small business and scale with you as you grow.
HR Administration
Insperity can take care of HR administration tasks for your business so you don't have to. HR administration includes paperless onboarding, end-to-end benefit plan management and administration, employment eligibility verification, custom-built reporting, and employee self-service access.
Employee Benefits
Offer and manage employee benefits for your team, including medical, dental, and vision insurance with Insperity's comprehensive insurance offerings. Insperity also offers a flexible spending account (FSA), a health savings account (HSA), life and disability insurance, an employee assistance program, and 401(k) plans.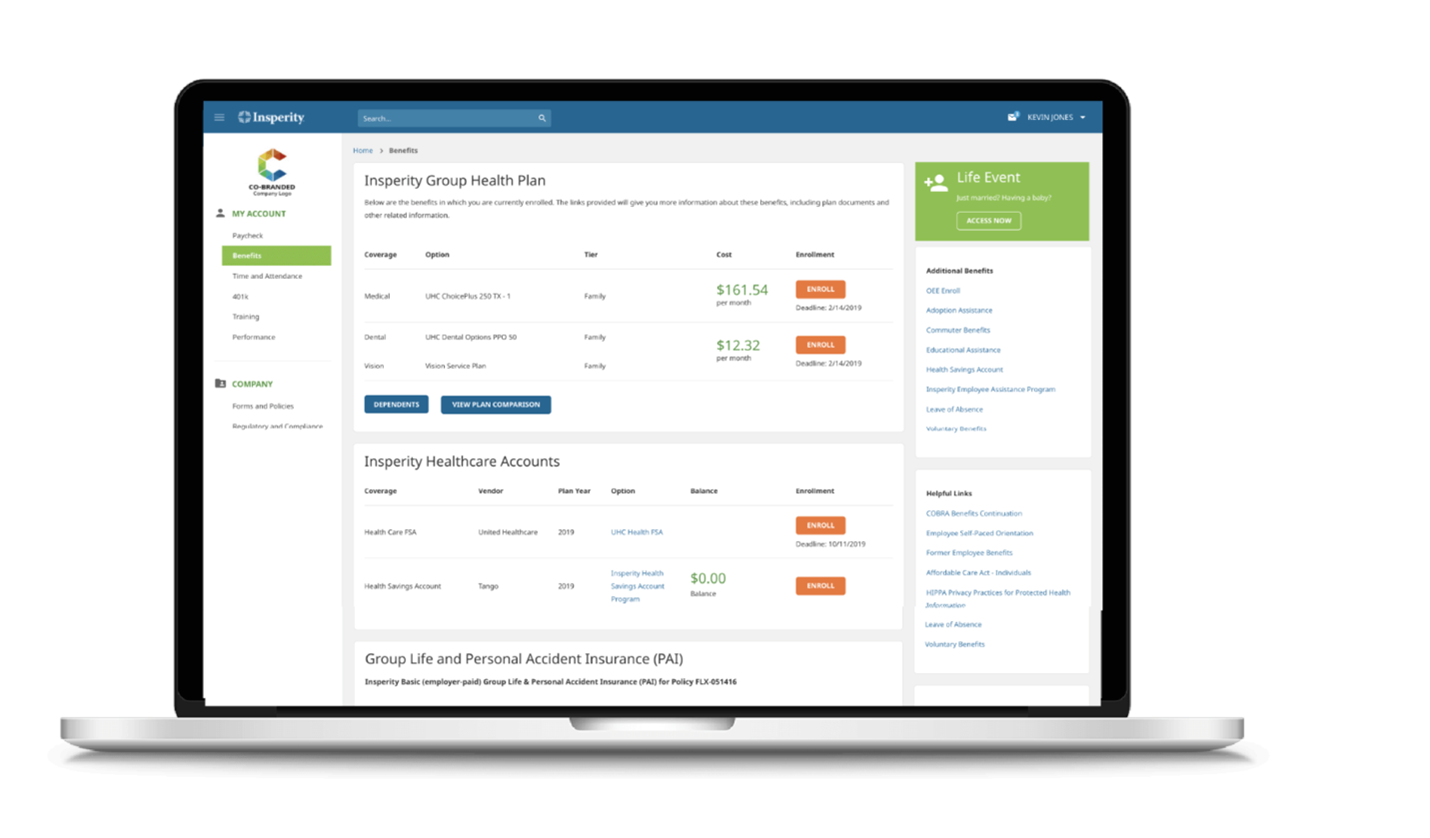 Payroll Processing
Insperity can track and process your payroll. It offers features such as time and attendance tracking; paid time-off (PTO) accrual; vacation and sick-time tracking; W-2 preparation; wage garnishments and deduction administration; employment verification; payroll management reports; and FICA, FUTA, and SUTA withholding and remittance.
Risk and Compliance
Insperity can help you take the proper risk-management and compliance measures to keep up with current laws and regulations. For instance, it can help you with workers' compensation, employment practices liability insurance, safety training and on-site safety inspections, interview and selection training, termination, unemployment claims, Fair Credit Reporting Act and "ban the box" practices (in which employers inquire whether a job candidate has a prior criminal history), drug-free workplace policies, and Equal Employment Opportunity Commission services.
Employee Training and Development
Of the PEOs we evaluated, Insperity offers some of the most extensive employee training services, with access to over 5,000 self-paced online courses and 30,000 online books, live virtual training, on-site safety training, conflict management, and sexual harassment training.
You can add on features like pre-employment screening, expense management, insurance services, organizational planning, performance management, recruiting services and retirement services for additional fees.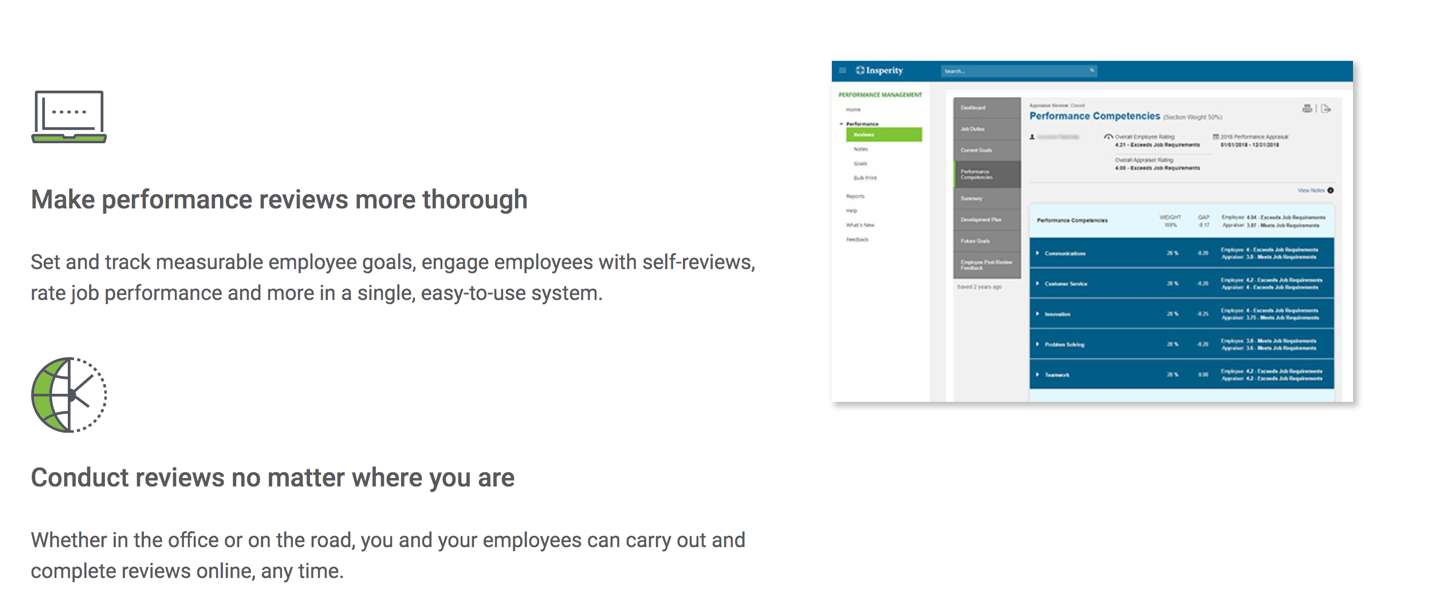 [Read Related: Choosing a Professional Employer Organization (PEO)]
Inperity PEO Setup
Getting set up on Insperity's system isn't complicated. The company provides an account executive who will help you get set up on the cloud-based platform. This point of contact also acts as a liaison to Insperity's other services, should you add more PEO-related features to your service offering as your company grows. Overall, it's nice to have a direct point of contact to work with; it ensures your company can get the most out of its partnership with Insperity.
In addition to an account executive, Insperity provides a wide range of how-to's on using its system.
Insperity makes it easy for you and your employees to access your HR and payroll information through an intuitive online portal or mobile app. Insperity's portal is secure with two-factor authentication. In the portal, employees can access information about their paychecks, 401(k), benefits, an HSA or FSA, time and attendance, and performance, along with training materials and company information. Your employees can easily log their hours, request time off and modify their 401(k) contributions as needed.
This company is accredited by ESAC and is certified by the IRS, grouping it with other industry-leading PEOs. The IRS has a certification process that ensures PEOs are healthy and can provide the services they claim to offer. ESAC is an independent rating organization that grades PEOs on the quality and depth of their services. Insperity also fares well with the Better Business Bureau, earning accreditation and an A+ rating. Many companies we reviewed either aren't rated or have very low grades with the private rating agency.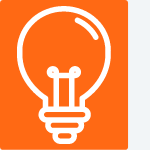 Tip: It's good to work with PEOs that are accredited by the ESAC and IRS. It ensures that their services meet high standards.
Customer Service
We interacted with Insperity by email, webchat and phone, posing as small business owners searching for a PEO. In all instances, Insperity's sales team was helpful and informative, going the extra mile to answer all our questions. Representatives explained important healthcare concepts and didn't push for a sale in our interactions with them.
Insperity provides a team of experts who can handle your HR, benefits, payroll and risk-management needs. You can collaborate with these experts to develop HR policies, select benefits packages and address compliance issues. Insperity provides a point person to coordinate your services between you and the expert team. This team can provide in-depth advice and analysis on all the major HR and PEO topics.
Drawbacks
Although Insperity is a great PEO, you must have at least five workers. This requirement is common among PEOs, but it is something to be aware of if you are a microbusiness searching for a PEO provider.
Another potential downside is that Insperity doesn't post pricing on its website. While many in the industry don't include pricing details on their website because of how much variance there is with PEO pricing, it would be nice to have some idea of how much Insperity's services may cost, just so one can get an understanding of where it may fit within one's budget. If getting an idea of pricing before moving forward with your research is important, consider Justworks, which includes pricing details on its website.
Summary
We recommend Insperity for:
Businesses aiming to scale that want a PEO service that will grow with them
Businesses that want extensive educational and training resources in a PEO partner
Businesses that need consultative support from HR experts
We do not recommend Insperity for:
Small businesses with fewer than five employees

Insperity PEO Services
The Verdict
Insperity, our choice as the PEO with the best small business resources, offers great payroll, employee benefits, HR administration, risk management, training resources and customer service.

Skye Schooley
Business News Daily Staff
Skye Schooley is a staff writer at business.com and Business News Daily, where she has written more than 200 articles on B2B-focused topics including human resources operations, management leadership, and business technology. In addition to researching and analyzing products that help business owners launch and grow their business, Skye writes on topics aimed at building better professional culture, like protecting employee privacy, managing human capital, improving communication, and fostering workplace diversity and culture.