Insperity PEO Services Review
Insperity provides comprehensive risk management features.
Insperity's PEO service is accredited by the IRS and the Employer Services Assurance Corp. (ESAC), proving that it meets established compliance guidelines and risk management best practices.
The company offers a-la-carte services in addition to its PEO bundles.
This review is for small business owners who are considering implementing Insperity PEO.
Due to its competitive PEO pricing, intuitive online platform and extensive employee training options, Insperity is our choice for the best PEO for risk management. Insperity provides flexible PEO services for small businesses that need HR administration, payroll processing, employee benefits, risk and compliance management, workplace training, and development courses. Insperity bundles these services and charges per employee. The company also offers legal compliance and risk reduction tools that other PEOs don't offer. Insperity is accredited by the Employer Services Assurance Corp. (ESAC) and is certified by the IRS.

Insperity PEO Services
The Verdict
Insperity, our choice as the PEO with the best small business resources, offers great payroll, employee benefits, HR administration, risk management, training resources and customer service.
Insperity Editor's Score: 91/100
| | |
| --- | --- |
| Customer service | 100 |
| User interface | 95 |
| Benefits offerings | 85 |
| Payroll functionality | 100 |
| Pricing | 75 |
Why Insperity Is Best for Risk Management
Insperity takes a very comprehensive approach to risk management and risk mitigation. The company offers tools to reduce risk across a number of areas, including legal compliance, safety and employee relations. Specialists are available to conduct on-site safety audits, respond to Equal Employment Opportunity Commission (EEOC) complaints, help you create compliant employment policies, and provide training on harassment and other common compliance issues.
One thing that impressed us about Insperity's risk management offerings is that the company is proactive about alerting businesses to any changes in employment law. Keeping track of changing laws and requirements can be hard for business owners, and it's easy to miss an update and make a compliance mistake. Insperity doesn't wait for employers to have questions; instead, the PEO reaches out to the employer when changes occur. Insperity can provide training to supervisors on new compliance matters and help businesses update their written employee policies to reflect the new requirements.
Pros
Insperity offers well-rounded compliance and risk mitigation tools and support from leading experts.
Insperity is ESAC accredited and IRS certified.
Employees can access a large library of training and development resources.
Cons
Insperity does not offer transparent pricing, so you will need to contact the sales team to get a quote.
There is a five-employee minimum to work with Insperity.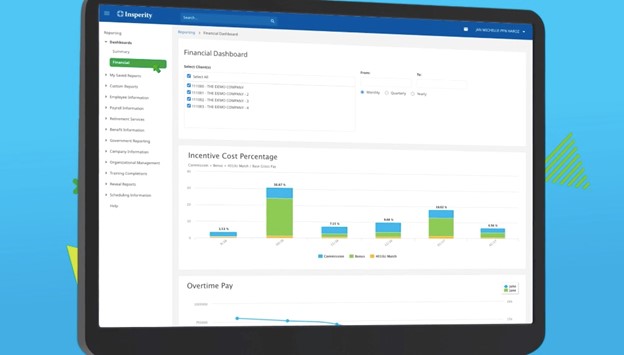 Insperity's user-friendly platform makes it easy to access data, compliance resources and financial insights for a comprehensive approach to risk management. Credit: Insperity
Usability
Insperity's online platform features a clean, simple interface design. We liked that it was easy to navigate on both the employee and employer sides. All of the information displayed on the dashboards and reports is presented very clearly. This platform should have a relatively minor learning curve, even for less-tech-savvy staff members.
Information displayed on your dashboard includes pending tasks, recent payroll information and key metrics. Users can customize their dashboards by adding or removing widgets that display different menus or data points, such as time and attendance, pay and taxes. The platform uses graphs and charts on many of the dashboards, which is great for people who prefer a more visual presentation of data.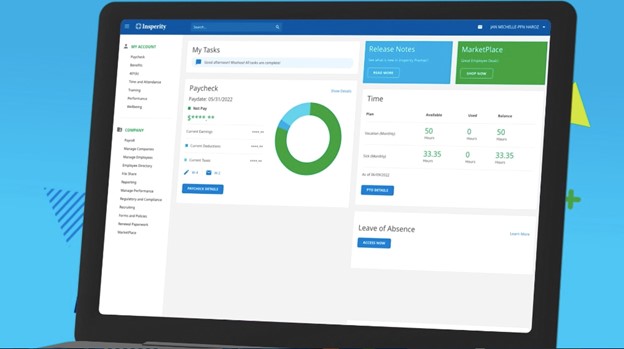 Employees can quickly view their payroll, tasks and PTO information on their Insperity dashboards. Credit: Insperity
Insperity hosts an e-learning portal that gives employees and managers access to hundreds of online training courses. This portal is easy to navigate and provides training materials in a variety of formats. We like that it's easy for employees to find courses on the topics they want to learn about. Users can search for a specific topic or compliance issue, select from the featured courses, or view recommended or assigned training materials. We appreciate that Insperity has a vast selection of courses covering key compliance matters so that managers can learn about important employment laws or risk management practices.
Lastly, Insperity offers user-friendly employee self-service tools, including paperless onboarding and benefits enrollment. Employees can log in to the Insperity platform or mobile app to view their pay stubs, benefits information and time entries.
Insperity Features
| | |
| --- | --- |
| Risk and compliance | Insperity's risk offering includes workers' compensation and liability insurance. |
| HR administration | Insperity offers the most extensive HR administration services of any company we reviewed. |
| Employee benefits | Small businesses can enjoy competitive employee benefits under Insperity's co-employment model. |
| Payroll processing | Insperity provides exemplary payroll processing features, including time and attendance tracking and payroll management reports. |
| Training and development | Insperity offers some of the best resources of any PEO we reviewed. |
Risk and Compliance
Insperity can help you take the proper risk management and compliance measures to keep up with current laws and regulations. For instance, you can get help with workers' compensation, employment practices liability insurance, safety training and on-site safety inspections, interview and selection training, termination, unemployment claims, Fair Credit Reporting Act and "ban the box" practices (in which employers inquire whether a job candidate has a prior criminal history), drug-free workplace policies and EEOC services.
While most of the companies we reviewed provide bundled PEO services, Insperity is one of the few we looked at that also offers a-la-carte services. That means you can sign up for only the services you need and avoid paying for the ones you don't.
HR Administration
Insperity can take care of HR administration tasks for your business so you don't have to. HR administration includes paperless onboarding, end-to-end benefit plan management and administration, employment eligibility verification, custom-built reporting and employee self-service access.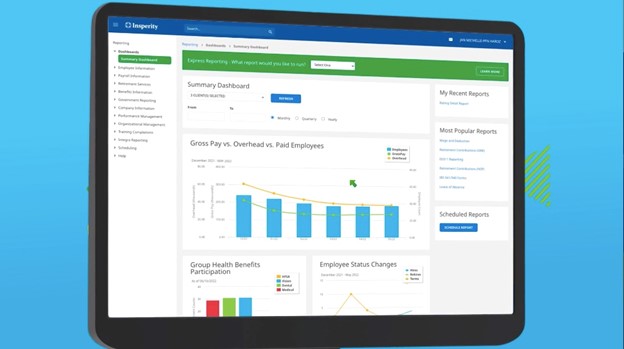 Insperity's convenient HR dashboards make it easy to track common HR activities such as payroll and benefits enrollment. Credit: Insperity
Employee Benefits
Offer and manage employee benefits for your team – including medical, dental and vision insurance – with Insperity's comprehensive insurance offerings. Insperity also offers a flexible spending account (FSA), a health savings account (HSA), life and disability insurance, an employee assistance program, and 401(k) plans.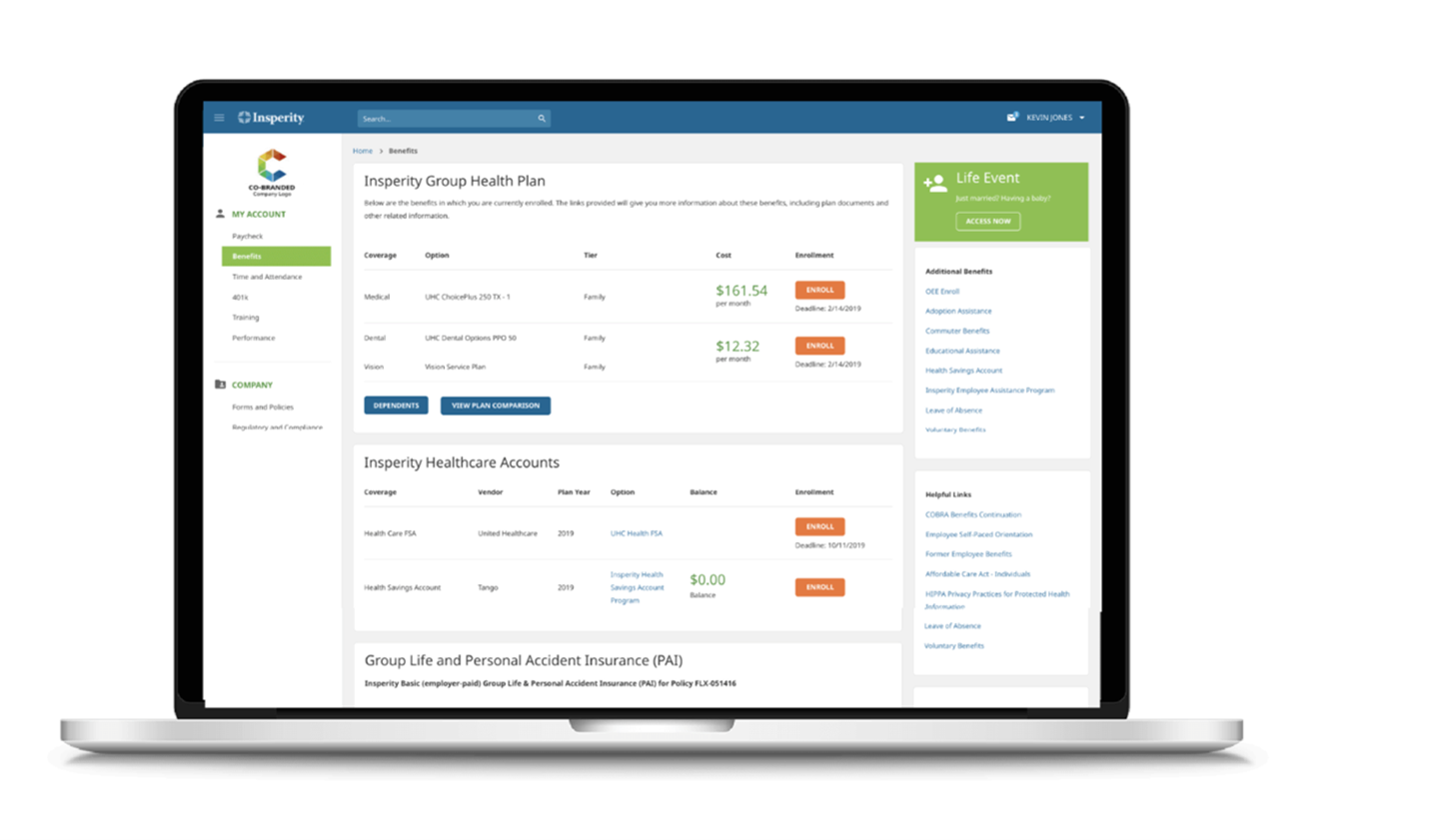 Insperity makes it simple for employees to choose their benefits. Credit: Insperity 
Payroll Processing
Insperity can track and process your payroll. It offers features such as time and attendance tracking; paid-time-off (PTO) accrual; vacation- and sick-time tracking; W-2 preparation; wage garnishments and deduction administration; employment verification; payroll management reports; and FICA, FUTA and SUTA withholding and remittance.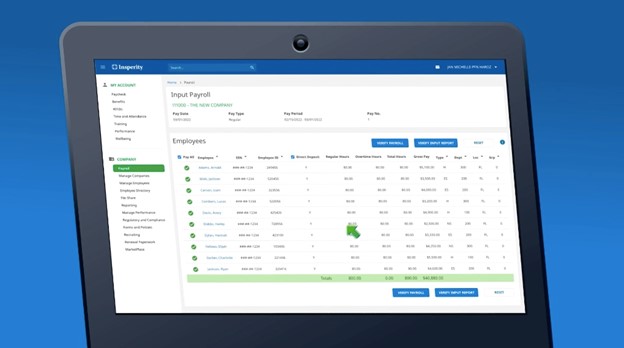 Insperity's payroll processing features allow employers to efficiently run payroll and verify that everything is correct before finalizing it. Credit: Insperity
Employee Training and Development
Of the PEOs we evaluated, Insperity offers some of the most extensive employee training services, including over 5,000 self-paced online courses and 30,000 online books, live virtual training, on-site safety training, conflict management, and sexual harassment training.
For extra fees, you can add features such as preemployment screening, expense management, insurance services, organizational planning, performance management, recruiting services and retirement services.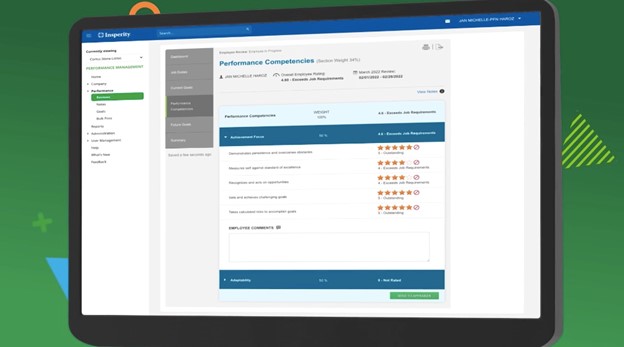 With Insperity, you can manage the entire employee review process. Credit: Insperity 
Insperity Cost
Insperity stands out for its flexible pricing and terms. The company doesn't require new customers to sign a long-term contract; instead, small businesses with fewer than 150 employees generally sign a one-year agreement, which can be terminated without cause by either party with 30 days' written notice. Only businesses with middle-market agreements (more than 150 employees) may be charged an early-termination fee.
Although you must have at least five employees, Insperity charges a per-employee fee instead of taking a percentage of your total payroll. This model means that your PEO costs – not including healthcare, benefits, payroll taxes and workers' compensation – remain the same as long as your number of workers doesn't change.
Insperity PEO plans include a standard set of bundled HR features. However, you have the option to add supplemental services for additional fees (e.g., preemployment screening, expense management, insurance services, organizational planning, performance management, recruiting services and retirement services).
Insperity Setup
Getting set up on Insperity's system isn't complicated. The company provides an account executive who helps you get set up on the cloud-based platform. This point of contact also acts as a liaison to Insperity's other services if you add more PEO-related features as your company grows. Overall, it's nice to have a direct point of contact, as it ensures your company can get the most out of the partnership with Insperity.
In addition to an account executive, Insperity provides a wide range of tutorials. The company makes it easy for you and your employees to access your HR and payroll information through an intuitive online portal or mobile app. Insperity's portal is secured with two-factor authentication. In the portal, employees can access information about their paychecks, 401(k) benefits, an HSA or FSA, time and attendance, and performance, along with training materials and company information. Your employees can easily log their hours, request time off and modify their 401(k) contributions as needed.
Insperity is accredited by the ESAC and certified by the IRS, which groups it with other industry-leading PEOs. The IRS has a certification process that ensures PEOs are healthy and can provide the services they claim to offer. The ESAC is an independent rating organization that grades PEOs on the quality and depth of their services. Insperity also fares well with the Better Business Bureau, earning accreditation and an A+ rating. Many companies we reviewed either aren't rated or have very low grades with the private rating agency.
Working with a PEO that is accredited by the ESAC and/or the IRS helps you minimize risk and ensures you are working with a reliable and compliant PEO.
Insperity Customer Service
Insperity's phone support hours are 8 a.m. to 8 p.m. ET, which is a fairly wide time window that should accommodate most businesses in all U.S. time zones. The company also has offices in the San Francisco Bay Area where local business owners can receive support.
Insperity provides a team of experts who can handle your HR, benefits, payroll and risk management needs. You can collaborate with these experts to develop HR policies, select benefits packages and address compliance issues. Insperity provides a point person to coordinate your services between you and the expert team. This team can provide in-depth advice and analysis on all of the major HR and PEO topics.
Insperity Drawbacks
Although Insperity is a great PEO, one drawback is that you must have at least five workers. This requirement is common among PEOs, but it is something to be aware of if you are a microbusiness.
Another potential downside is that Insperity doesn't post pricing on its website. Although this limitation is common among PEOs because of the variance in PEO pricing, it would be nice to have some idea of how much Insperity's services may cost so that businesses can see whether this PEO may be within their budget. If getting an upfront price estimate is important to you, consider our Justworks review, which includes the pricing details listed on the company's website.
Methodology
We conducted comprehensive research and analyzed dozens of PEO offerings to identify the top PEO solutions on the market. As we conducted this research, Insperity's risk management tools stood out to us. When comparing the risk management features of each PEO, we looked for a wide array of compliance tools related to common issues, such as harassment, labor law violations, EEOC complaints and employment practices.
We reviewed the statistics on the tangible outcomes that Insperity provided its customers when managing EEOC complaints, legal challenges and other compliance matters efficiently and with minimal cost to the customer. Insperity was the only PEO to clearly display quantitative data on the outcomes of its risk mitigation efforts.
Insperity FAQs
How much does Insperity PEO cost?
Pricing varies based on the number of employees you have and the services you choose. Insperity does not publish its pricing. Instead, the company provides customized quotes to customers based on their selections.
Is Insperity a certified PEO?
Yes, Insperity has ESAC accreditation and is IRS certified. It is also accredited with the Better Business Bureau and has an A+ rating.
What employee benefits does Insperity offer?
When working with Insperity PEO, employers can offer their employees a variety of medical, dental and vision insurance options. Insperity also provides employees with access to flexible spending accounts, life insurance and disability insurance.
Overall Value
We recommend Insperity for …
Scaling businesses that want a PEO service that will grow with them.
Businesses that want extensive educational and training resources in a PEO partner.
Companies that need consultative support from HR experts.
We don't recommend Insperity for …
Small businesses with fewer than five employees.
Businesses that want transparent pricing without having to speak to sales staff.

Insperity PEO Services
The Verdict
Insperity, our choice as the PEO with the best small business resources, offers great payroll, employee benefits, HR administration, risk management, training resources and customer service.

Kaylyn McKenna
Contributing Writer
Kaylyn McKenna is a freelance writer specializing in business, tech, and leadership. She received her MA in Industrial-Organizational Psychology from Touro University, and enjoys using her industrial psychology background to share management, HR, and organizational effectiveness tips with small business owners. She has covered topics related to business law, compliance, employee retention, company culture, and management strategies.