Deel is a global PEO service that provides robust payroll and HR expertise in over 150 countries. With intuitive payroll features and international payroll compliance expertise, Deel earned our best pick for international payroll.
Pros
Deel customers have access to a dedicated support agent as well as 24/7 chat support.
Deel supports international payroll and HR in over 100 countries.
Businesses can also pay contractors internationally.
Cons
Immigration support is more limited than it is with some other international PEOs that we reviewed.
Like many international PEOs, Deel is more expensive than most domestic PEO services.
Deel is an international PEO that operates in over 100 countries across the globe.
Small businesses can use Deel to hire, onboard and pay employees within the U.S. and internationally.
Deel employs a team of international payroll experts that can guide employers through local payroll compliance.
This article is for small business owners who are interested in learning more about Deel's international PEO offerings.

Deel is a professional employer organization (PEO) that acts as a co-employer for international businesses. The organization, founded in 2019, is a newer PEO vendor but already has an expansive suite of payroll and PEO service offerings available in over 150 countries across the globe. The company's standout feature is its global payroll capabilities that allow companies to pay international employees and contractors in a compliant and efficient manner. With an intuitive payroll platform and a large team of international payroll experts, Deel is our choice as the best PEO for international payroll.
Deel Editor's Rating:
9.4 / 10
Customer service

10/10

User interface

9/10

Benefits offerings

9/10

Payroll functionality

10/10

Pricing

9/10
Why Deel Is Best for International Payroll
While many PEO services that we reviewed treat international payments as an add-on or second thought, Deel puts international payroll at its core. The service offers flexible payment options for international employees and contractors along with intuitive payroll technology. Deel can run payroll in over 100 countries currently and handles local tax and payroll compliance. We liked that Deel employs in-house payroll experts in local jurisdictions across the globe to provide detailed local expertise on payroll matters.
When reviewing Deel, one thing that stood out to us was the large number of positive customer reviews on third-party sites praising Deel's international payroll features. Current customers noted Deel's platform ease of use, large number of supported countries, seamless setup process and expert payroll support. Registering in new countries and complying with different payroll and tax laws across different regions can be a complex process that many other PEO services cannot help with, so we were impressed with Deel's international payroll offerings and the fact that so many customers have had positive experiences.
Deel is a relatively new company within the PEO industry. The company started in 2019 as a product designed to help businesses hire and pay contractors. Deel now offers a wide range of services and supports over 15,000 businesses.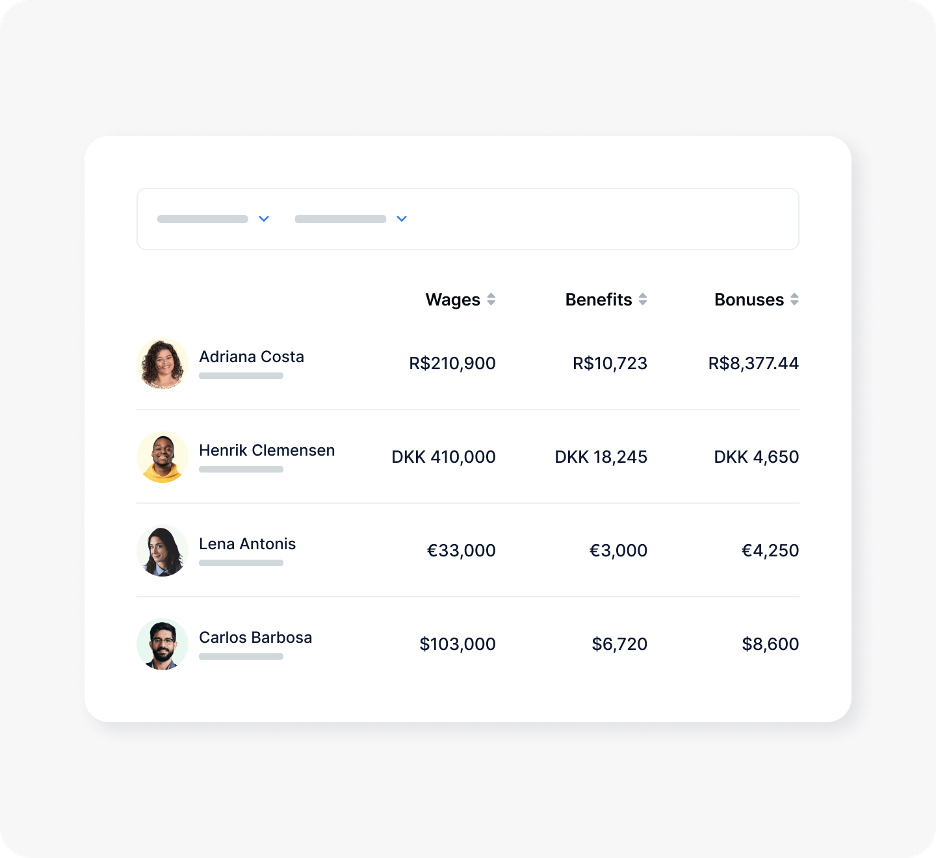 Pay international employees in their local currency with flexible payment options and expert payroll compliance support. Credit: Deel
Usability
Deel is a relatively new PEO provider compared to many of the other vendors that we reviewed. So it wasn't surprising that Deel's platform user interface felt more updated and user-friendly than those of many of the legacy PEOs we reviewed. The payroll workflows and onboarding processes are particularly user-friendly and efficient, and it's easy to customize your dashboard on the platform to showcase the most relevant HR and payroll information.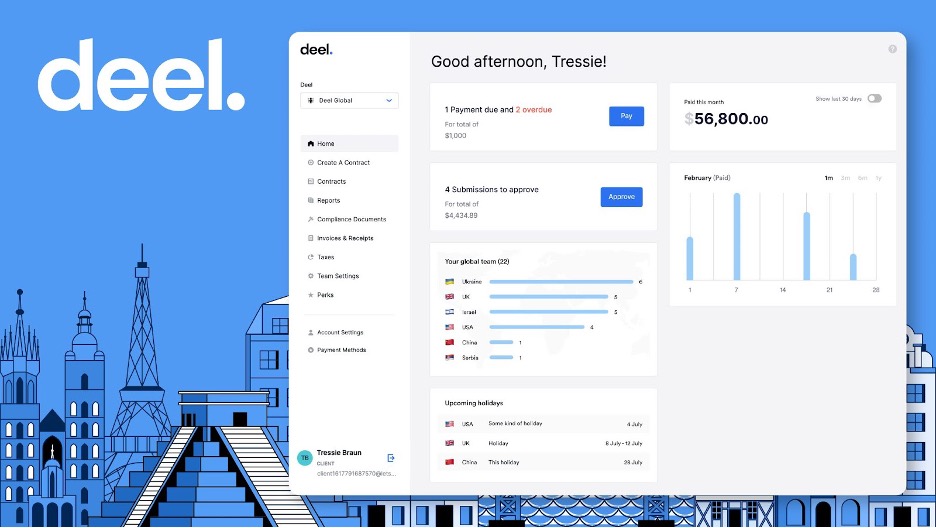 Deel's user-friendly, customizable dashboard showcases upcoming tasks, key reporting and payroll data. Credit: Deel
We liked that Deel makes it easy to set user permissions within the platform. Deel offers four organization admin levels and seven team manager levels that dictate what users can edit and view within the platform. There are special admin levels for outside IT or payroll contractors so that they can manage relevant platform settings and integrations without having access to sensitive employee information.
Deel also offers integrations with over 20 other popular HR and accounting software. It also integrates with Slack for easy remote workplace communication. The company is regularly expanding its integration library and plans to integrate with Lever, a popular hiring platform, soon. Companies can also dig into Deel's API and build custom automations and integrations to sync the platform with their existing tech stack.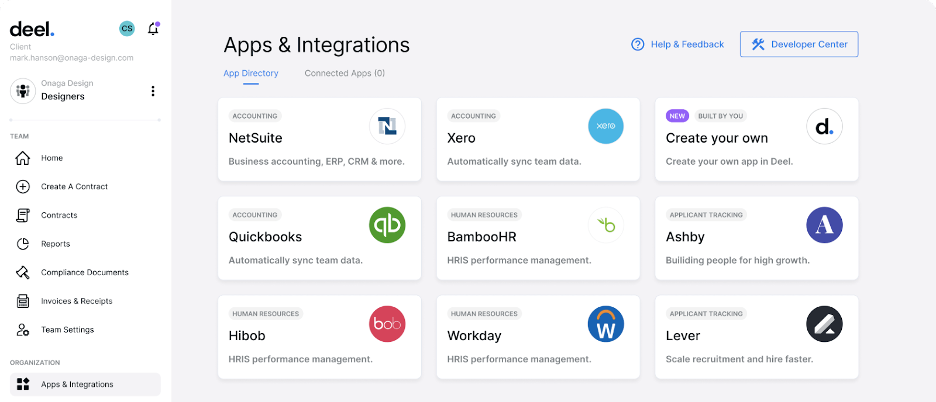 Deel offers a number of prebuilt integrations and the ability to create your own. Credit: Deel
With Deel API, businesses can go beyond the available prebuilt integrations to customize their user experience and sync with other technology.
Deel Features
| | |
| --- | --- |
| International payroll | Pay employees and contractors in local currencies with flexible payment methods. |
| Domestic payroll and tax filing | Create and file W-4s and 1099s for domestic employees. |
| Global background checks | Conduct international background checks to ensure that you are hiring trustworthy staff members.  |
| Immigration support | Handle immigration and visa issues with the help of Deel. |
| Compliance | Hire compliantly in 150+ countries with localized contracts and onboarding support. |
Deel has a large number of excellent features designed for international businesses, earning it a spot on our best PEO services list. Deel's strongest offerings relate to international payroll, but there are plenty of other features that can also help your business manage both domestic and global HR.
International Payroll
Deel's platform can automate payroll processing to save time on administrative activities. Deel will calculate payments, taxes and deductions, and then automatically create pay stubs and invoices. Employers can easily view and approve payments with one easy-to-read report each pay cycle. Depending on the countries that you wish to operate in, Deel may be able to fully manage the payroll process and pay taxes and employee wages on your behalf.
Deel isn't just for paying employees; customers can also use the service to hire and pay international contractors. Contractor payment can be managed within the Deel payroll platform so that you can easily view everything in one place.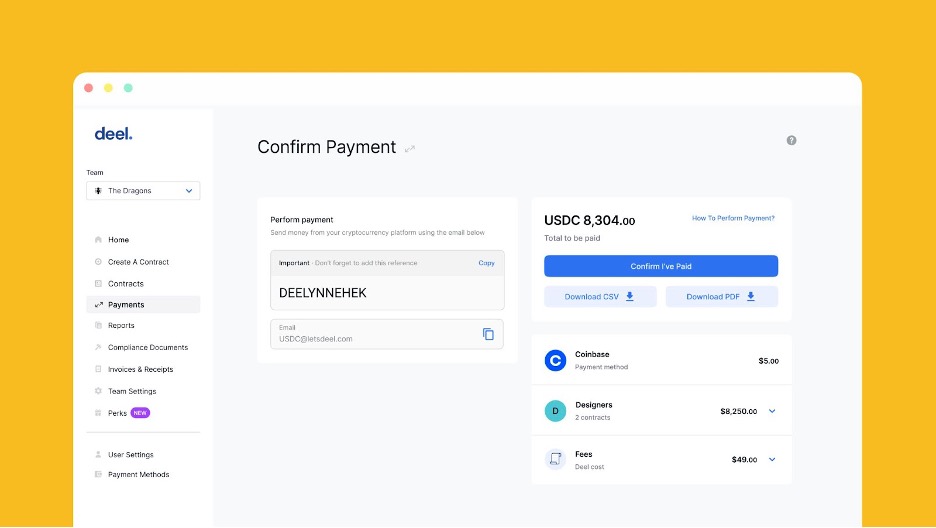 Deel allows you to pay vendors and ensure subscriptions remain active on a user friendly payments screen. Credit: Deel
Domestic Payroll and Tax Filing
Deel also supports U.S.-based staff and local payroll compliance. The platform can automate state and local compliance related to different wage and hour laws that vary across the United States. It will also calculate U.S.-based withholdings and taxes, such as Social Security and Medicare. Deel will also create and file tax documents, such as W-4s and 1099s, for domestic employees.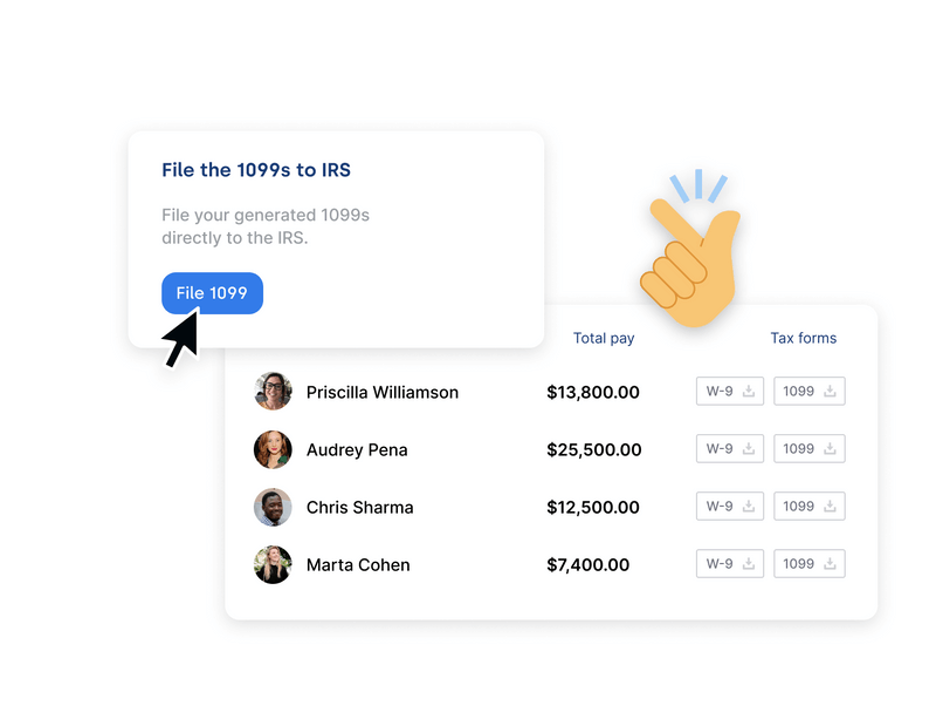 Deel makes it easy to file contractor and employee tax documents for U.S.-based employees. Credit: Deel
Global Background Checks
Hiring internationally doesn't mean that you should skip over key hiring steps such as pre-employment background checks. Deel can support background screenings in more than 200 countries and regions with international background check capabilities. Background check capabilities are built into Deel's platform so that hiring managers can quickly request background screenings. Deel states that results may be ready in just minutes. We like how efficient the process is and that employers don't need to log in to a separate platform to track results.
Immigration Support
Working with Deel can speed up the process of hiring international employees or acquiring visas. Deel has established entities set up in different countries, so they can hire employees and acquire visas on your behalf. Setting up an entity in a new country can take months and be very expensive, so this is a huge benefit for companies expanding globally. Not all of the countries covered under Deel's international payroll and PEO services are included in the company's visa support offerings, so be sure to double-check that the regions that you are interested in are covered.
Compliance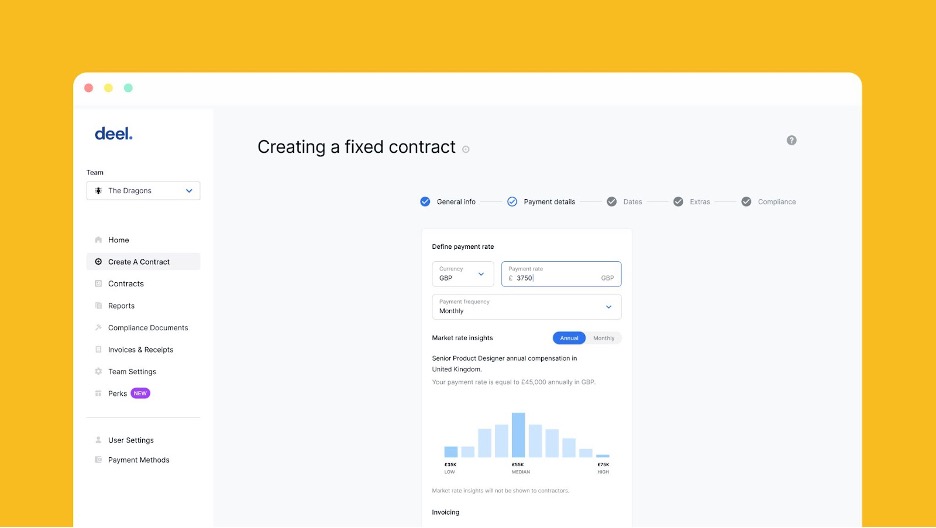 Deel's platform makes it easy to set up localized contracts for international employees. Credit: Deel
It's important to localize employment contracts and HR policies when employing people in other countries in order to meet each region's local compliance guidelines. Deel provides localized employment contacts for both employees and contractors and regularly updates them based on legal changes.
Deel also offers Deel Shield, a product designed to protect businesses from compliance issues related to employee misclassification. When organizations choose to use Deel Shield, Deel classifies and hires contractors on your behalf. Businesses do need to pay a deposit of one month's pay for the contractor to use this service, but it can significantly reduce risk for the business.
Deel Pricing
One thing that we appreciated about Deel was that the company offers relatively transparent pricing compared to most PEO services. You'll still need to speak with sales to get an exact quote, but Deel provides starting prices as well as a few free features that act as a decent way to test-drive the platform. 
Deel's international employer of record service starts at $599 per month. Additional services are priced as follows:
Contractor management: Starting at $49 per month
Global payroll: Custom pricing (contact Deel for a quote)
Immigration support: Custom pricing (contact Deel for a quote)
Deel's HR platform is free for companies with up to 200 employees. This platform does not include payroll processing in the free service, but you can access the HR reporting, document management and workflow automation functions on a free plan.
Setup
The specific setup time for Deel will vary based on your company's needs. Deel states that the implementation process will typically take one to three months depending on different factors, such as the number of employees who need to be onboarded as well as the regions selected and each country's compliance complexity. The process begins with a meeting between all stakeholders to create a plan and set a go-live date. Then Deel will work with the organization to migrate data, onboard employees onto the platform and configure payroll.
Alternatively, small businesses interested in trying out Deel can create a client account on Deel's website to setup Deel HR access right away. To do this, you can simply select the "Log In" button in to top right corner of Deel's website and then select "Sign Up" on the login page. You'll be prompted to create an account and enter some basic company information. The Deel HR tech platform is free for organizations with fewer than 200 employees, so this can be a good way to access basic features right away and test out Deel's platform.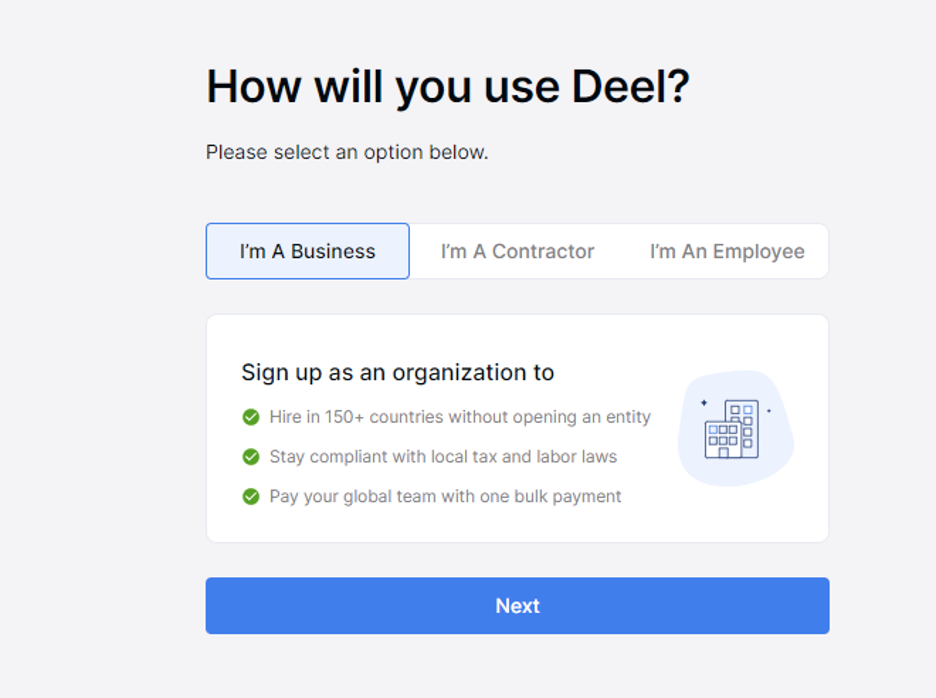 Organizations can sign up for Deel HR in minutes to start using Deel's tech platform for free. Credit: Deel
Customer Service
Customers can contact Deel support 24/7 via live chat. The company advertises that it has a five-minute response window and a 1.25 minute average response time with in-app chat support. There is also a webform available where Deel says that you can expect a response within eight hours.
Deel also offers a Help Center with a great deal of information for businesses, employees and contractors. We appreciated how easy it was to navigate the help center to find answers to common questions. The Deel Help Center even has a section designed for new customers who need help getting started with Deel, understanding pricing, and other common introductory questions. Deel also offers a "Global Hiring Toolkit" with plenty of self-help tools for employers, including employee classification quizzes and cost calculators.
Drawbacks
As an international PEO, Deel is more expensive than many of the other PEOs that we reviewed. Businesses that do not need international PEO support will likely want to stick with a domestic provider to save money. Small businesses on a budget may want to check out our Justworks PEO review for an affordable PEO option.
Another thing to consider is that while Deel provides employer of record and payroll services in over 100 countries, the company handles immigration and visa support in only about 25 of those countries. This may or may not be an issue depending on the specific needs of your business and the countries that you plan to expand to. The service provider featured in our Papaya Global PEO review does offer immigration support in over 160 countries, so you may want to consider that option if you need immigration expertise beyond Deel's service areas.
Methodology
We analyzed dozens of PEO providers to determine the top options on the market, as well as the best use cases for each PEO service. We analyzed platform features and watched platform videos, reviewed customer ratings, read through platform and service help articles, and accessed Deel's free employer resources to learn about the company's service offerings and tech platform. When looking for the best PEO for international payroll, we prioritized ease of use, local payroll compliance expertise and service availability.
Deel FAQ
Deel's PEO service is not free, but the company does offer some of its HR tech platform tools for free to businesses with fewer than 200 employees.
Yes. Deel supports payroll and hiring within the United States. The company is best known for its international services, but employers can also use Deel as an employer of record within the U.S.
Yes. Deel will deduct payroll taxes from employee payments in accordance with local regulations.
Overall Value
We recommend Deel for …
Small and midsize businesses that hire internationally.
Businesses of all sizes looking for international payroll support.
We do not recommend Deel for …
Companies looking for a budget-friendly domestic PEO.