Paychex Payroll Review
Paychex is a payroll service that works well for businesses of all sizes.
Paychex excels at supporting businesses that are required to abide by labor law requirements due to their size and/or complexity.
In addition to its online payroll solution, Paychex provides a variety of HR tools that help organizations run smoothly.
This review is for small business owners who are considering implementing payroll software.
Paychex is a full-service payroll provider that also offers tax preparation, HR services, benefits management, and time and attendance tools. It offers packages designed to fit companies of all sizes, and you can use the service whether you have one employee or more than 1,000. Its customized solutions make Paychex a great option for businesses with complex needs, though we love that the service is just as helpful for small teams.

Paychex Payroll
The Verdict
Paychex is the best online payroll service for larger businesses, as it can manage payroll from 50 to over 1,000 employees. It has multiple plans and add-on services, and it integrates with popular HR, time and attendance, and business software platforms.
Paychex Editor's Score: 91/100
| | |
| --- | --- |
| Pricing | 85 |
| Features | 90 |
| Usability | 90 |
| Employee self-service | 95 |
| Customer service | 95 |
Why Paychex Is Best for Businesses of All Sizes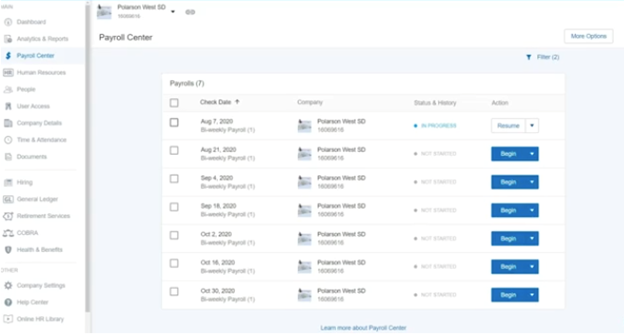 Paychex can manage all of your payroll, HR and benefits needs.
Source: Paychex
Paychex provides a full-featured payroll service for W-2 employees and 1099 contractors. You can choose weekly, biweekly, semimonthly or monthly payroll. The vendor also offers a variety of payment methods for employees, including paper checks, online direct deposit and payroll cards. We really appreciate that Paychex can manage any payroll compliance issue, like local taxes, shift differentials and customized reporting.
Paychex's services are so well rounded, it's a great solution regardless of how many employees you have. Beyond traditional payroll tasks, the system can handle HR administration, time and attendance tracking, and other essential employee management functions. This allows business owners to streamline operations through one software suite instead of relying on multiple programs.
While Paychex offers different plans to fit a variety of company sizes and budgets, its higher-level pricing tiers allow employees online access to their payroll documents, including pay stubs and year-end tax forms. These features make Paychex an excellent payroll service for businesses of any size.
In addition to its payroll software, Paychex also offers HR outsourcing and PEO solutions.
Pros
Paychex is suitable for businesses of all sizes, whether you're a company of one or have more than 1,000 employees.
Paychex provides robust employee onboarding tools.
You can use Paychex to automate your local, state and federal tax filings.
Cons
Paychex is more expensive than some other payroll providers, so it may not be the best option for businesses on a tight budget.
The company's entry-level plan isn't as comprehensive as what competitors offer.
Usability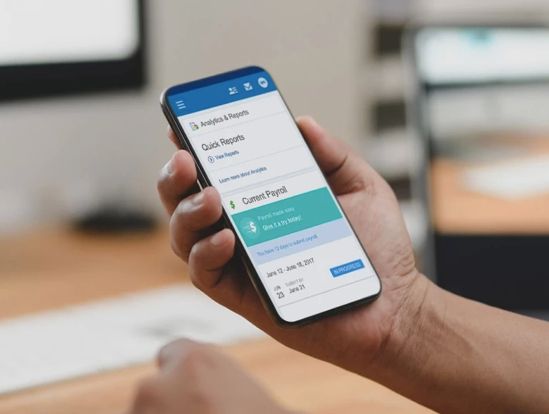 Paychex's software is intuitive and easy to use on both desktop and mobile.
Source: Paychex
Once you're set up with a Paychex account, you and your employees should find the software easy to use. The cloud-based platform comes with intuitive menus and dashboards, and you can even manage payroll from the vendor's mobile app.
When you log into the platform's homepage, you'll be notified when your next payroll is due. You'll see a link to start the payroll process and view previous payroll reports. You can also review how much cash is needed to run your next payroll.
Running payroll takes just a few steps each pay period. You'll start by entering your payroll information, confirm that the data is correct, and submit the payroll for processing. If you prefer, you can set up payroll to run on a recurring schedule.
If you upgrade to Paychex Flex, the system offers employee self-service with a secure mobile login so your team members can securely see their personal information and pay stubs, as well as download their year-end tax forms.
The Paychex Flex platform also takes advantage of other Paychex services your business may use, such as the HR functions. Overall, the Paychex software suite is designed to provide a holistic experience, so it makes carrying out the people-oriented tasks of running your business extremely
Once you're set up with Paychex, it's easy to start payroll for new hires and to process payroll for your team. You can rest assured that your payroll and payroll taxes are accurate and that the necessary forms will be ready for you come tax season.
Paychex Features
Part of Paychex's appeal is that it goes above and beyond a traditional payroll service by incorporating a number of functions you'd typically find in standalone human resources solutions. Below are a few of our favorite features.
| | |
| --- | --- |
| Full-service payroll | Paychex will calculate how much your employees should be paid and pay them via direct deposit, check or pay card. |
| Managing payroll taxes | Paychex manages your payroll taxes and year-end W-2 and 1099 filings. |
| Onboarding | You can access employee onboarding requirements like tax withholdings, I-9 and direct deposit forms. |
| Third-party integrations | Paychex integrates with dozens of accounting, point-of-sale and productivity software. |
| HR administration | All-in-one HR technology makes it easier for businesses to manage their employees. |
| Time and attendance | The cloud-based time and attendance service fully integrates with the company's payroll and HR software. |
Full-Service Payroll
Paychex calculates how much each employee should be paid based on their hours and pay rate. The software accounts for additional income sources like bonuses or commissions. It also includes deductions for factors like health insurance, uniforms and wage garnishments. You can pay your employees by direct deposit, check or pay card. If your employees want to be paid by check, Paychex can print the checks and mail them to you, or you can print checks yourself onsite.
Manage Payroll Taxes
Paychex manages your payroll taxes and year-end W-2 and 1099 tax filings. It accurately calculates, files and pays state, federal and local payroll taxes on time. The company guarantees accuracy and will even pay penalties you incur for any mistakes in your payroll taxes.
Paychex also provides employers with more than 160 payroll-related reports. Paychex Flex Pro users are able to create their own custom reports. These analytics are valuable for staying on top of company financials related to payroll and tax payments.
Onboarding
Paychex Flex users gain access to employee onboarding tools like paperless onboarding for new hires, which includes digital forms for tax withholdings, I-9 and direct deposit. Enterprise plans include pre-employment background checks as well. We especially like that regardless of the plan you purchase, Paychex manages all state-required new-hire reporting for you.
Third-Party Integrations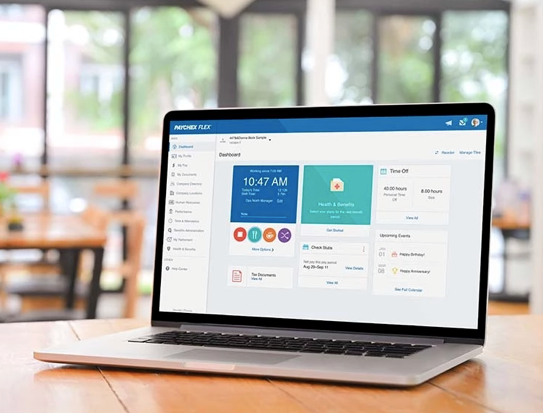 Paychex integrates with a number of third-party apps to make running your business easier.
Source: Paychex
Paychex integrates with popular third-party apps like QuickBooks, Sage, Workday, and dozens of accounting, point-of-sale and productivity software. These integrations allow businesses to share data between platforms without having to rely on manual entry. [Learn more about QuickBooks and Sage in our overview of the best accounting software.]
HR Administration
Paychex supplies all-in-one HR technology that complements its payroll service so it's easier for businesses to manage their employees. You'll find tools to track performance reviews, organize employee training and store company and employee documents securely.
You'll also receive access to dedicated HR professionals who can assess your company's people management needs, develop an action plan, and help you implement it. This is particularly great for businesses that lack the resources for a dedicated in-house HR department. That's another reason Paychex stands out as one of the best partners for companies of all sizes.
Time and Attendance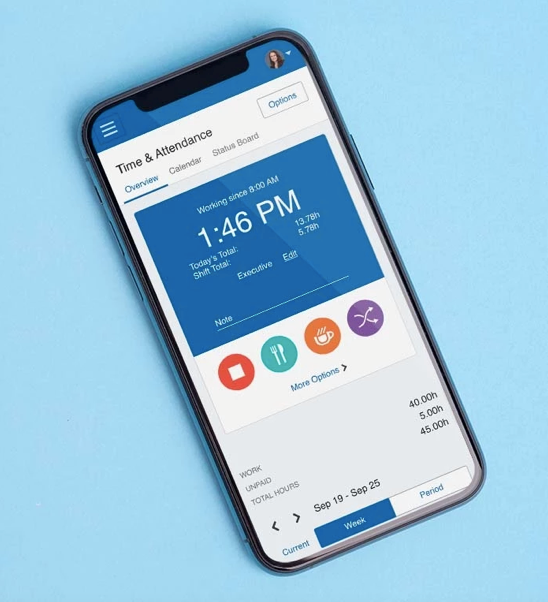 Paychex's time-tracking software fully integrates with its payroll and HR services.
Source: Paychex
Paychex Flex Time is the company's cloud-based time and attendance software. It fully integrates with the company's payroll and HR services, saving you time and preventing unnecessary errors.
Employees can sign in to the program via their laptop, the Paychex mobile app or tablet. This means they can easily clock in whether working remotely or onsite. They can use the employee self-service app to view their time cards, request time off and submit pay adjustments. [Find out more about these tools in our Paychex Flex time and attendance software review.]
Paychex Cost
Paychex offers three service plans, and each includes the vendor's core payroll processing and payroll tax administration services. However, the company only provides transparent, upfront pricing on its Paychex Flex Essentials plan, which has a base fee of $39 per month, plus an added fee of $5 per month per employee.
The other two plans, Paychex Flex Select and Paychex Flex Pro, are customized for your business, so we recommend you contact Paychex to receive a price quote. Quotes are based on the number of employees you have, the services you need and how often you run payroll.
Here is some additional information about the three plans available through Paychex.
Paychex Flex Essentials
This is the only plan for which Paychex advertises its pricing online – packages start at $39 per month, plus $5 per employee per month. In addition to payroll processing and payroll tax services, the Paychex Flex Essentials plan includes the following services.
New hire reporting
Automated W-2s and 1099s
General ledger integration
Labor law posters
24/7 phone and chat support
Paychex Flex Select
This plan, which requires a custom quote, is the most popular plan for larger businesses. It includes everything in the Flex Essentials plan, plus additional employee pay options and a learning management system.
Paychex Flex Pro
Designed for larger businesses, this is the most comprehensive plan Paychex offers. It includes everything in the above packages, plus a guided setup, accounting software integration, state unemployment insurance services and advanced HR services.
Once you provide your business and employee information to Paychex, a representative will give you a detailed price quote and estimated implementation timeline.
Paychex Setup
When you sign up with Paychex, the vendor will work with you to ensure the setup process goes smoothly. Your sales representative and client transition partners will help you gather the necessary paperwork to begin implementation.
If you're switching services from another payroll provider, Paychex may be able to pull your information directly from that company's system. This significantly speeds up the implementation process – in fact, once Paychex has the required information, your account could be ready to go within 48 hours.
An implementation specialist will also show you how to use the software. They'll walk you through running your first payroll, viewing reports and granting employee access.
Paychex Customer Service
Paychex provides around-the-clock customer service both for payroll administrators and employees via phone, chat, and an online form. But if you're interested in any of Paychex's products, be forewarned: You're likely to receive a number of sales calls that try to upsell you on additional services.
On the plus side, Paychex Flex Pro users get a dedicated payroll specialist to handle payroll issues. Many rival payroll providers only offer a call center or require you to email questions to a service desk. Keep in mind that 24/7 customer support is a great feature only if the person you're talking to can genuinely help. Online reviews are mixed as to the quality of Paychex's customer service.
Paychex Drawbacks
The biggest drawback we found with Paychex was the sales process. Nearly all of the other payroll companies we investigated provided detailed answers to questions about their services and how their solutions work. Most also gave us price estimates to help us understand how much their payroll software would cost. We didn't experience that same transparency with Paychex. For upfront pricing from a company that won't give you a hard sell, read our review of Gusto.
Paychex doesn't offer as many perks with its entry-level Paychex Flex Essentials plan as other providers do with their plans, such as online onboarding tools and payroll apps. As an alternative, check out our OnPay review – that provider has just one robust and affordable plan for small businesses.
While Paychex is an accredited member of the Better Business Bureau with an A+ rating, it has hundreds of complaints, and Consumer Affairs gives it a low rating. However, Paychex is a large company, and it's common for large organizations to receive a seemingly high number of complaints. Paychex does appear to engage with most dissatisfied customers to work toward a resolution, which is reassuring.
Methodology
To evaluate Paychex and find the best payroll services, we compared the Paychex software to dozens of other payroll solutions on the market. This helped us see what the company did well and where it lagged behind other providers. As we investigated Paychex's products, we paid particular attention to payroll processing, ease of use, integrations, customer service, pricing and implementation. We also researched each company's online ratings and customer reviews to get a sense of customer satisfaction.
When looking for the best payroll software for businesses of any size, we sought a vendor that offered plans geared toward companies of varying sizes. We like that Paychex's plans are fitting for all organizations no matter how many employees they have. For further insight, see our guide for choosing a payroll service.
Paychex FAQs
What is Paychex payroll software?
Paychex's payroll software is a system that allows business owners to easily process payroll and file related taxes with the help of intuitive technology that can also manage other HR functions.
What does Paychex cost?
The cost for Paychex starts at $39 per month, plus $5 per employee per month, for its lowest plan.
What is the difference between ADP and Paychex?
The difference between ADP and Paychex is that while both are leading payroll providers and have been around for a long time, ADP is a good option for small and growing businesses. In contrast, Paychex is a good option for businesses of all sizes. See our detailed ADP review to learn more.
Bottom Line
We recommend Paychex for …
Companies of all sizes seeking a comprehensive payroll provider.
Businesses looking for additional HR services.
Organizations that need employee time-tracking tools.
We don't recommend Paychex for …
Businesses on a tight budget that are looking for the cheapest option.
Companies seeking robust entry-level plans.

Paychex Payroll
The Verdict
Paychex is the best online payroll service for larger businesses, as it can manage payroll from 50 to over 1,000 employees. It has multiple plans and add-on services, and it integrates with popular HR, time and attendance, and business software platforms.

Jamie Johnson
Contributing Writer
Jamie Johnson is a Kansas City-based freelance writer who writes about finance and business. She has also written for the U.S. Chamber of Commerce, Fox Business and Business Insider. Jamie has written about a variety of B2B topics like finance, business funding options and accounting. She also writes about how businesses can grow through effective social media and email marketing strategies.